Here are some Chinese New Year menu ideas to help you plan for your dinner party! I've planned a few themes for everyone, no matter whether you want to celebrate the Lunar New Year in the traditional style or entertain guests from all over the place.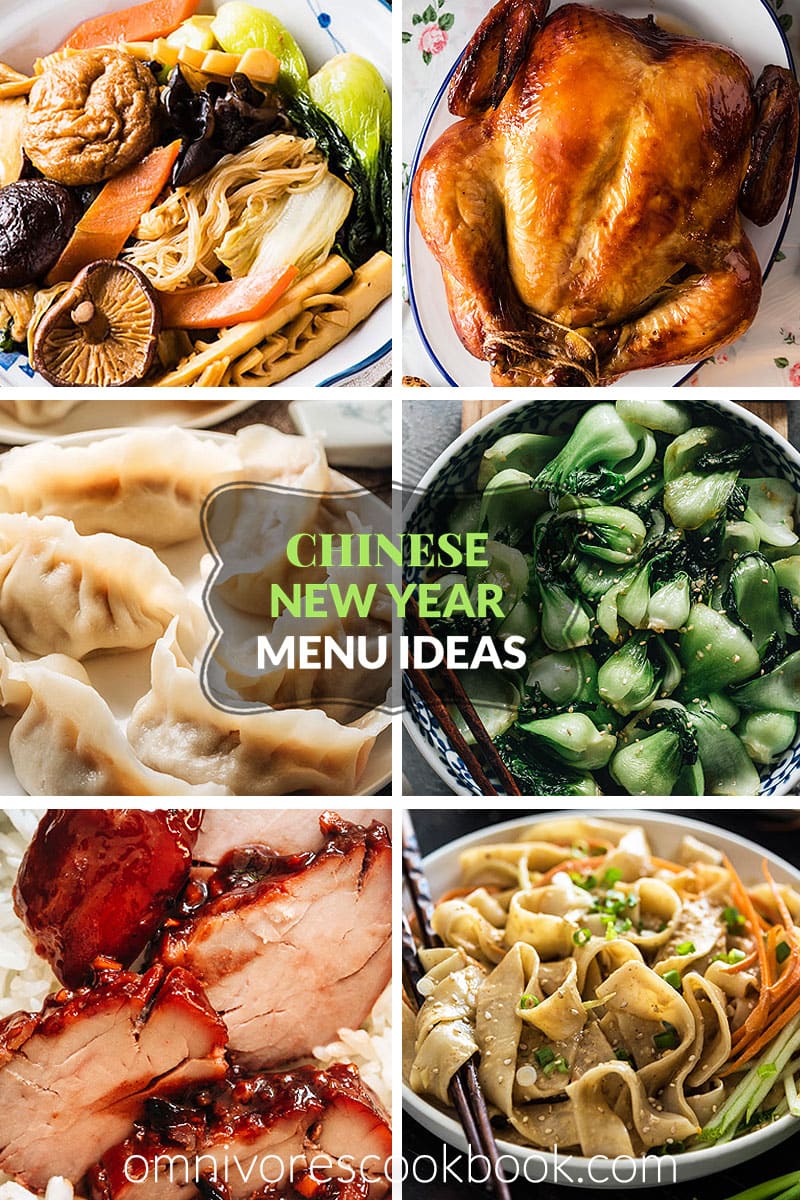 To showcase the abundance, a Chinese New Year feast usually includes all types of meat, poultry, fish, and seafood. I've tried to cover all types of protein in each menu except the vegan menu. Like I mentioned in my other post on How to Host a Successful Chinese New Year Party, you want a balanced menu that includes heavier mains along with lighter veggie dishes. Noodles and dumplings are a must, not only because they represent fortune, longevity and good luck, but also because they are too delicious to miss! In each menu, I also tried to include dishes that can be prepared in advance, so you will have time to entertain your guests during the dinner party.
Here we go!
Chinese New Year Menus
The American Chinese Menu
This menu includes some of my most popular recipes that everyone loves. Some of the dishes are traditional and some have a modern twist. It's a combo that keeps everybody happy if your guests are from all over the place.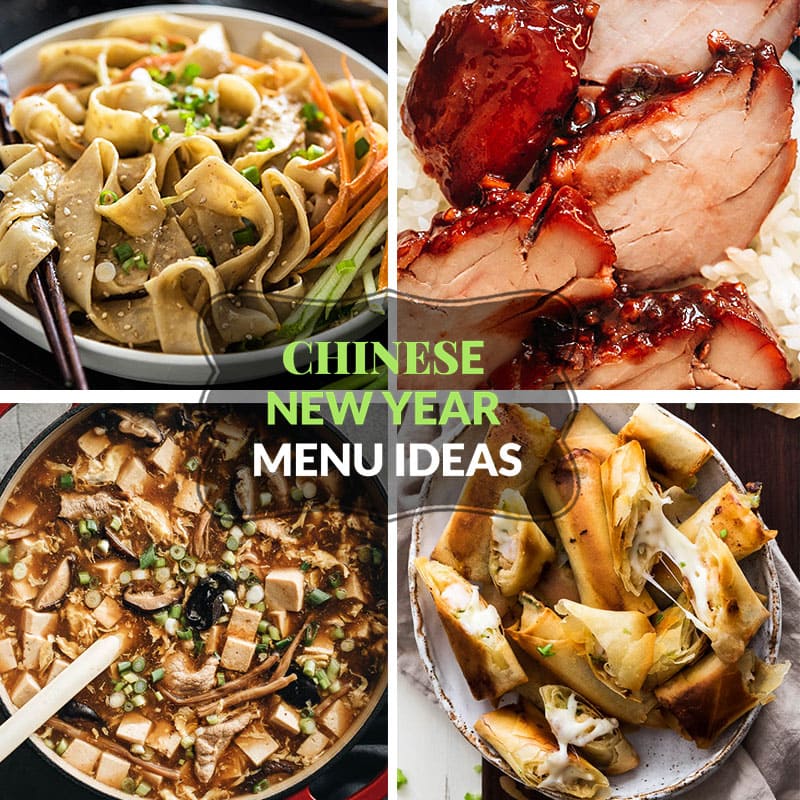 To start
Soup
Main
Noodles/Dumplings
Side
Dessert
Northern Chinese New Year
I ate most of these dishes growing up and you can see many of them on my family's Chinese New Year dinner table!
To start
Soup
Main
Noodles/Dumplings
Side
Dessert
Sichuan Food Lover's New Year Menu
You can't miss this menu if you want to host a Sichuan-themed party. Sichuan food is very trendy nowadays. The spicy and bold flavor is perfect for the holiday. Of course, you can't make every dish spicy. I've added some lighter dishes here and there to help cleanse the palate.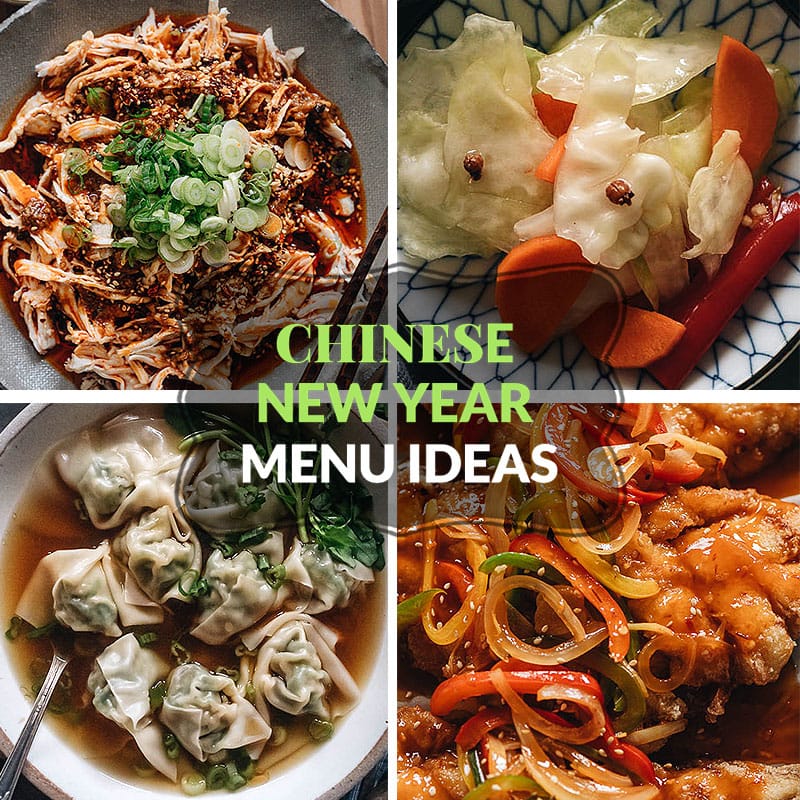 To start
Soup
Egg Drop Soup – Keeping the soup course simple because the rest of the dishes are pretty heavy
Main
Side
Noodles/Dumplings
Dessert
Vegan / Vegetarian Menu
This menu is for you if you want to host a vegetarian- or vegan-themed Chinese New Year party. On top of this menu, there are two other approaches:
(1) Host a Vegan / Vegetarian Hot Pot party – Asian markets usually carry a wide range of soybean products and mock meat that work perfectly in hot pot. See my Ultimate Hot Pot Guide for more info.
(2) Make a few dozen Duck Pancakes and serve them with various types of roasted or stir fried veggies. Use hoisin sauce or Chinese sweet bean sauce to serve. (Duck pancakes are vegan. They are the pancakes commonly served with Peking duck.)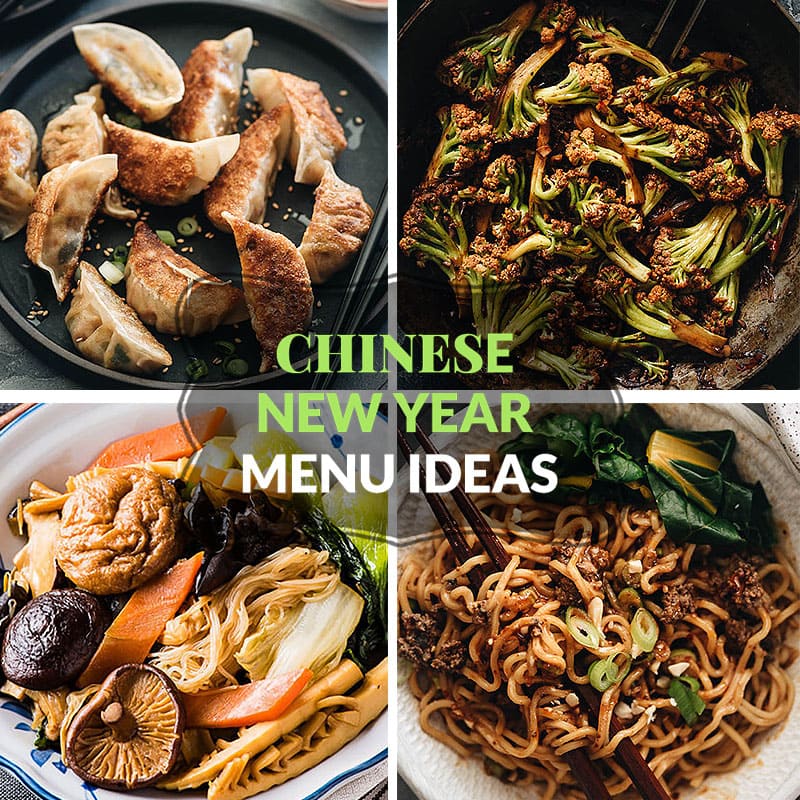 To start
Soup
Main
Side
Noodles/Dumplings
Dessert
How to plan your own Chinese New Year Menu
There is never one menu that works for everyone. I've included many of my favorite dishes above, and hopefully you'll be inspired and create your own menu.
How many dishes to prepare
I've included many dishes in each of my Chinese New Year menus. Of course, you don't have to prepare so many dishes as I listed.
As a rule of thumb, the number of dishes you prepare should be equal to or slightly greater than the number of people eating. It usually doesn't matter what type of dishes they are. Chinese dinners are usually served family style and it usually evens out.
For example, if I'm preparing a dinner party for 8, I would do 1 to 2 appetizers, 3 main courses, 1 soup, 1 to 2 side dishes, 1 noodle dish, 1 dumpling dish, and 1 dessert.
Just like cooking for Thanksgiving, it never hurts to prepare a bit more and have some leftovers.
Alternatively, you can also host a party that focuses on one big thing. For example, an artisanal themed party with homemade dumplings from scratch and / or hand-pulled noodles. In this case, you should make sure everyone gets a main-dish serving size for the dumplings / noodles. Then you simply need to add 2 to 3 cold dishes or vegetable dishes to balance out the meal. Maybe a dessert at the end.
How to serve
Sometimes the courses can be blurry when it comes to Chinese food, because the dishes are served family style. A few general rules of thumb:
Serve cold appetizers and snacks first
Main dishes along with side dishes and soup
Dumplings and noodles come the last
Serve dessert afterward
What kind of drinks to serve
Light beer is the default drink pairing for most Chinese dishes, especially when you serve something spicy. Prosecco is a great way to start the party, and it pairs well with many Chinese dishes too. It's possible to serve wine, but it's more like a standalone drink and might not go well with the food.
For non-alcoholic beverages, you can serve tea or juice.
If you want to showcase something homemade, check out my Citron Tea recipe (made with lemons). You can make it into hot and/or cold drinks, or a cocktail if you add in a splash of bourbon (highly recommended).
Now it's your turn! If you host a Chinese New Year party this year, leave a comment and let me know what you've cooked. Looking forward to it!