A real-deal dan dan noodle recipe that stays true to the authentic Sichuan flavor. This post covers all the key ingredients and includes a super rich and balanced sauce to recreate the classic dish that tastes like China.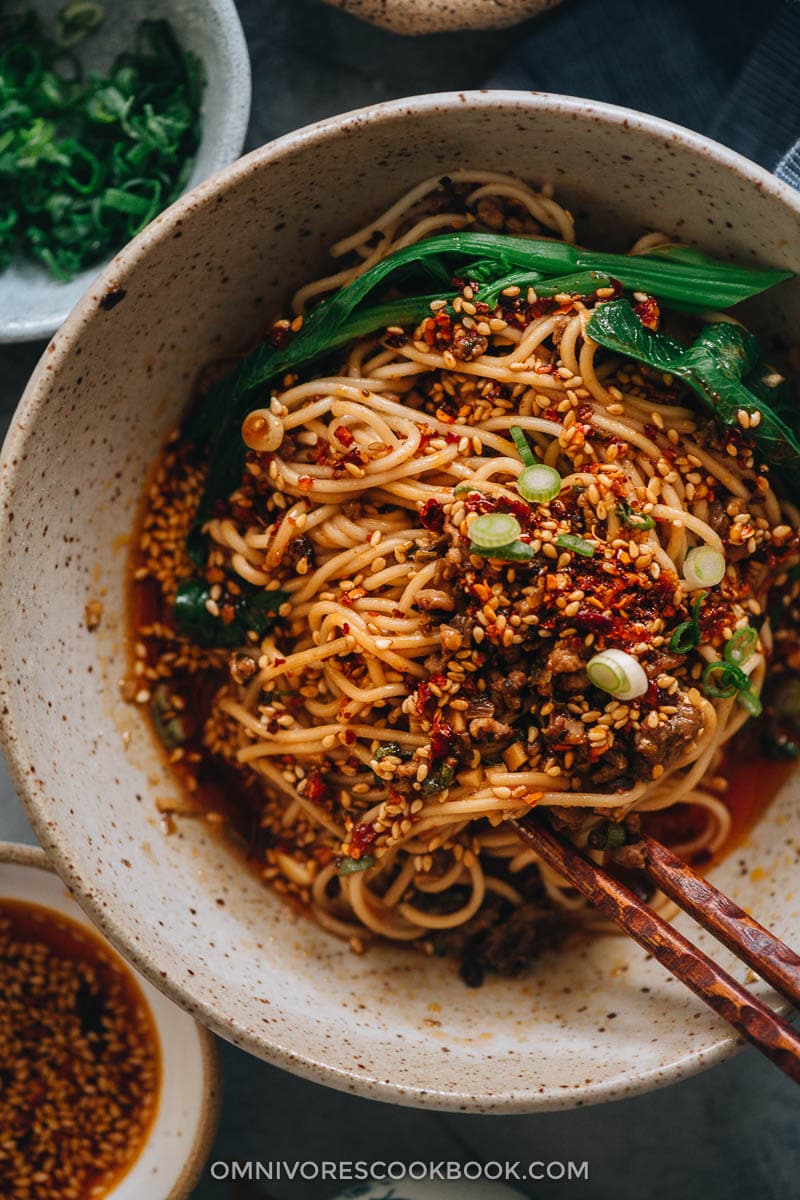 Dan dan Noodles is such a classic dish that is really worth the effort to master. I've been improving the recipe since I first published it back in 2014, and this is the third version.
Go straight to the recipe directly if you're familiar with the dish. If you're new to Chinese food, make sure you browse through the post to learn about the ingredients and cooking tips.
What are Dan Dan Noodles?
Dan Dan Noodles (担担面, dan dan mian) are one of the most famous of Sichuan street foods. The freshly boiled thin noodles are served in a savory, spicy sauce topped with crispy pork and peanut flakes. Simply stir everything together with a pair of chopsticks to coat the noodles with a bit of everything and slurp! The numbing, smoky, spicy sauce will shock your taste buds, leaving you craving for more.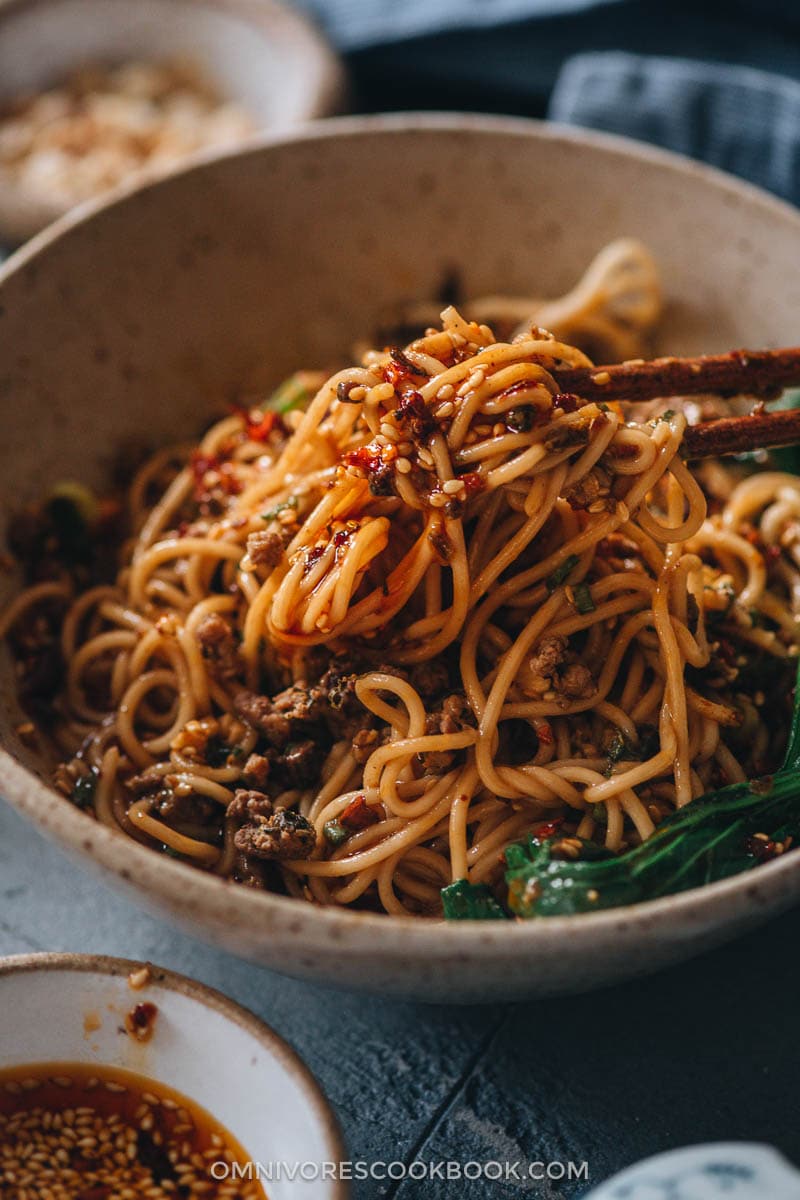 When you go into different restaurants, you'll find each chef has their own interpretation on dan dan noodles.
In Sichuan restaurants in China, the dan dan noodle dish is more of a snack than a main and is usually served in a small bowl. The noodles are mostly immersed in a thick red broth made with chili oil, with a small amount of pork on top. The dish can sometimes be more soupy and very spicy, but it depends on the chef.
After the dish was introduced in the US, it was transformed and now looks more like a pasta dish — boiled noodles with a meat sauce on top. Sometimes the sauce is more sweet and sour than spicy, almost like a General Tso stir fry (e.g. the Dan dan noodles at Pei Wei). Sometimes the chef will mix Chinese sesame paste into the chili oil to make the sauce creamier and mellow out the spiciness.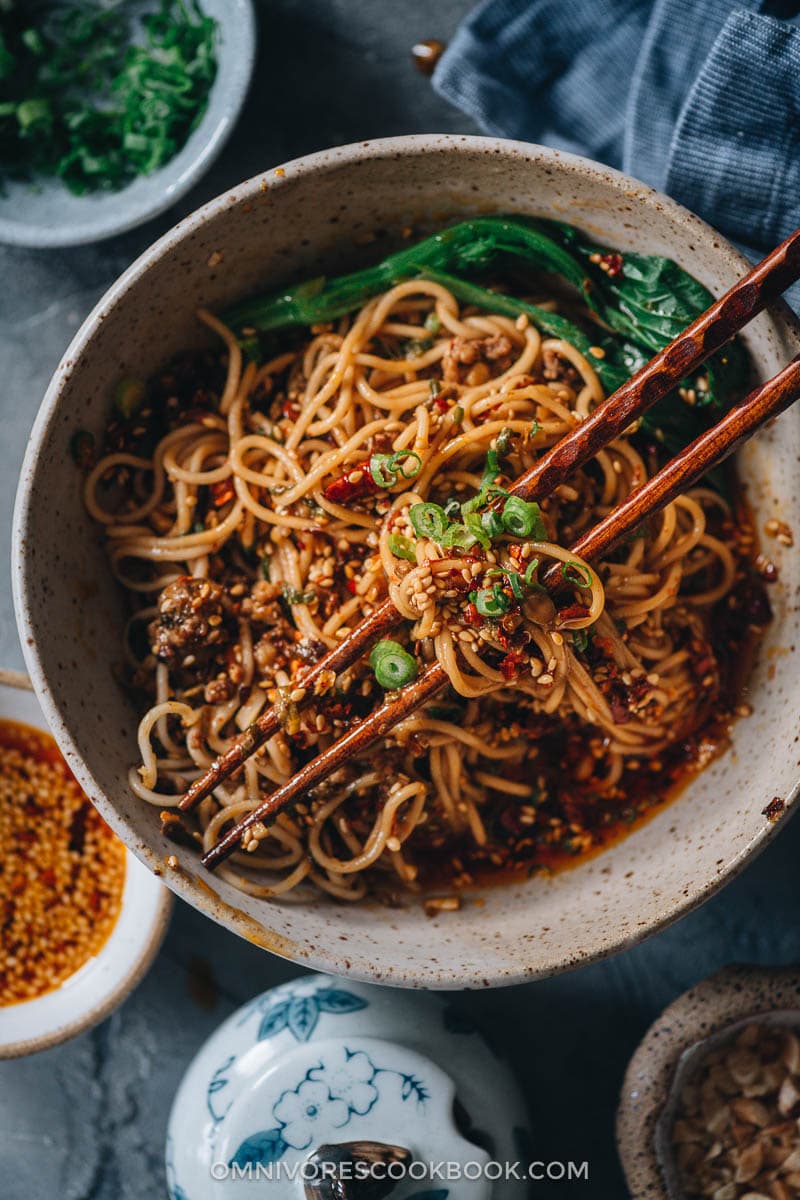 My own interpretation of dan dan noodles
When I make dan dan noodles at home, I use an approach that is 80% true to the original version from Sichuan. You get the ultra-umami, spicy and numbing-ness coming from the fried pork, pickled mustard greens, homemade chili oil, and Sichuan peppercorns. But I also mix in some sesame paste to make the sauce creamier and more appealing to anyone who prefers milder food.
Key ingredients
Sui Mi Ya Cai – or preserved mustard green
Sui Mi Ya Cai (碎米芽菜) is a must-have ingredient if you want to call a dish dan dan noodles in China. It is a type of cardamine bean sprout that is native to Sichuan. It is dried, flavored with sugar and spices, and fermented. The end result is a dark brown pickle that has a crunchy texture and a one-of-a-kind taste — a bit sweet, salty, and savory, with an earthy umami.
It can be tricky to find Sui Mi Ya Cai, since it's a specialty ingredient, even in China. You can usually find it in the un-refrigerated section of the Asian supermarket with the pickles. If you do not live near an Asian market you can also purchase it on Amazon.
NOTE: It's totally possible to create a delicious bowl of dan dan noodles without this ingredient.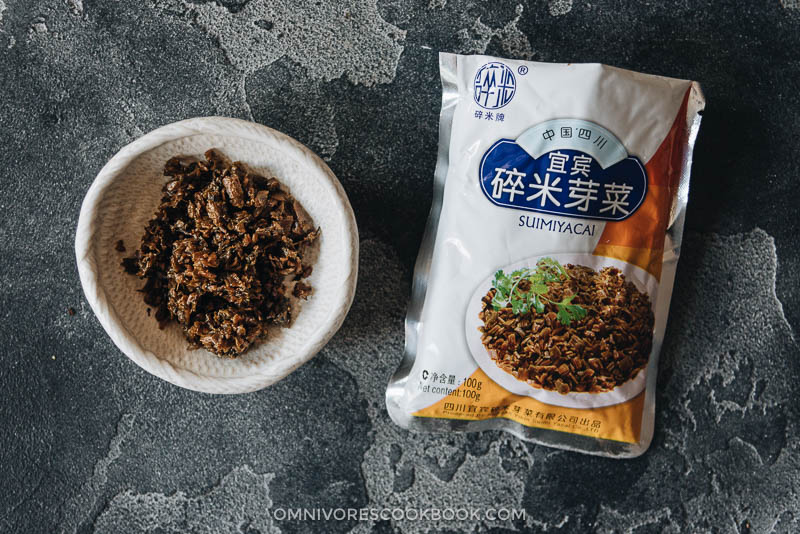 Homemade chili oil
Chili oil is a staple in every family household in Sichuan and the homemade version is a must. It is the main ingredient in dan dan noodles and I highly recommend you make your own. Making chili oil might look daunting at first, but trust me, it only takes 5 minutes. Check out this post to learn how.
NOTE: to anyone who prefers not to eat spicy food — you will still benefit from the homemade chili oil. When you're making the noodle sauce, you can add a small amount of chili oil to infuse aroma and smokiness; your dish won't end up very spicy.
Chinese sesame paste
Chinese sesame paste (芝麻酱, zhi ma jiang) is a thick paste made from toasted sesame seeds. Although a lot of original Sichuan dan dan noodle recipes do not contain this ingredient, I prefer to use it to make the sauce creamier. It also balances the spiciness to round out the flavor. It adds great umami too, so your sauce will still taste great if you don't want to add too much chili oil.
You can find Chinese sesame paste in most Asian grocery stores, or purchase it online. I prefer the sesame paste made with 100% sesame seeds, which has a better taste. You can also find cheaper sesame pastes made from a blend of sesame and peanuts.
NOTE: Chinese sesame paste tastes VERY different from tahini. Do not use tahini as an alternative. If you don't want to purchase Chinese sesame paste, you can also use natural peanut butter with a few teaspoons of sesame oil mixed in.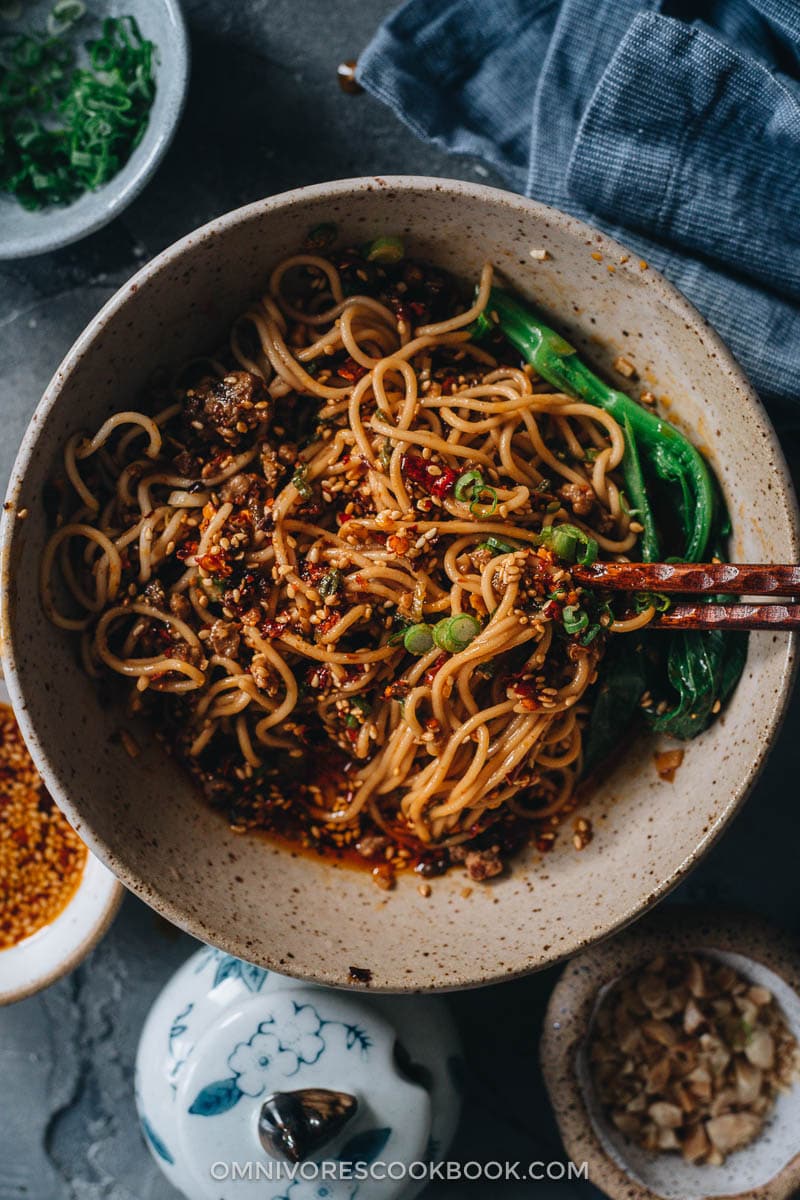 Cooking notes
What type of noodles to use
Dan dan noodles usually use the thin type of wheat noodles. Although it's usually just a tad thicker than somen noodles. If you're lucky, you might be able to find the semi-fresh Dan Dan noodles in the refrigerated section in an Asian market. Or you can use any type of dried noodle that is made with wheat and on the thin side.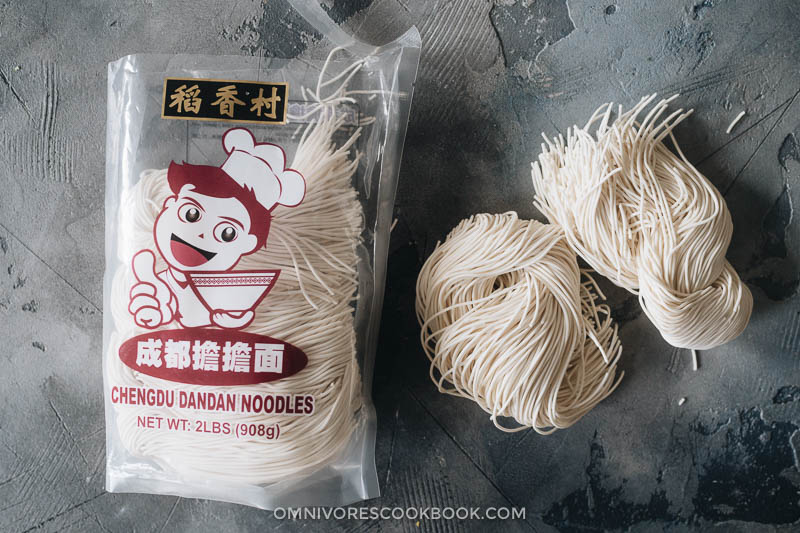 How to mix the sauce properly
If this is your first time cooking with Chinese sesame paste, you will usually find it is separated into oil on top and thick paste underneath. To make it easy to use, stir the sesame paste thoroughly in the jar to incorporate the oil with the paste. Without this step, you will find the sesame paste very thin on the top of your jar and very dry on the bottom.
Sesame paste has a tendency to thicken when you stir in the liquid. The best way to mix the sauce is to add the sesame paste first, then mix in the liquid ingredients little by little. Whisk the mixture with a pair of chopsticks (or a spoon) until the solid paste is fully blended with the liquid. Then add more liquid and repeat, so everything will dissolve evenly.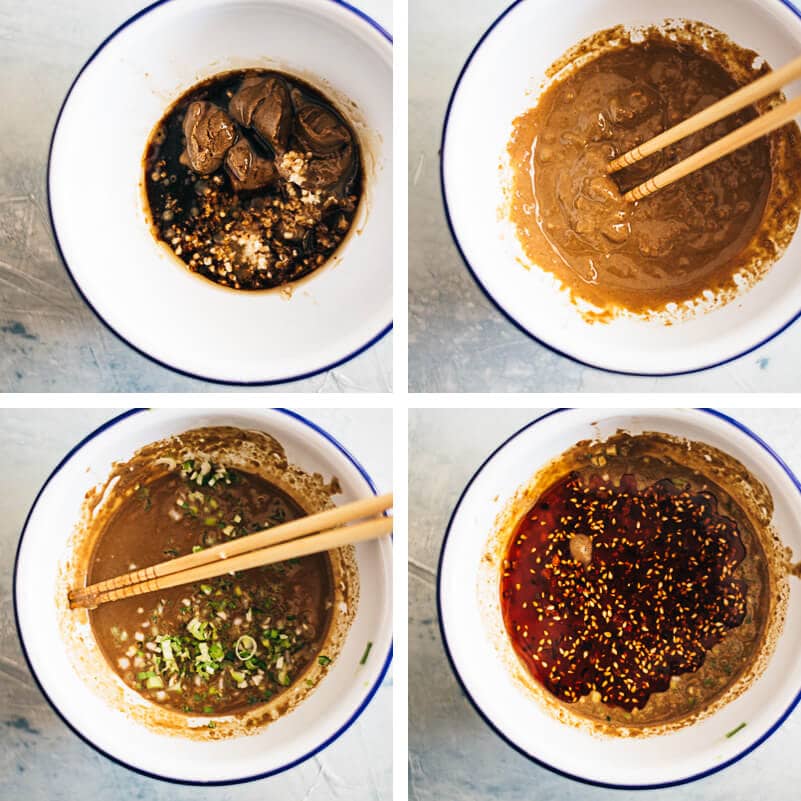 How to fry the pork properly
To properly prepare the pork for dan dan Noodles, you'll need to "overcook" the pork.
Use medium-high heat to cook brown surface first, then turn to medium heat to let it roast until the liquid in the meat is fully released and evaporated.
In the end you will have dark-brown colored pork without adding any soy sauce. The pork bits will be a bit chewy and have an almost-crispy texture when hot.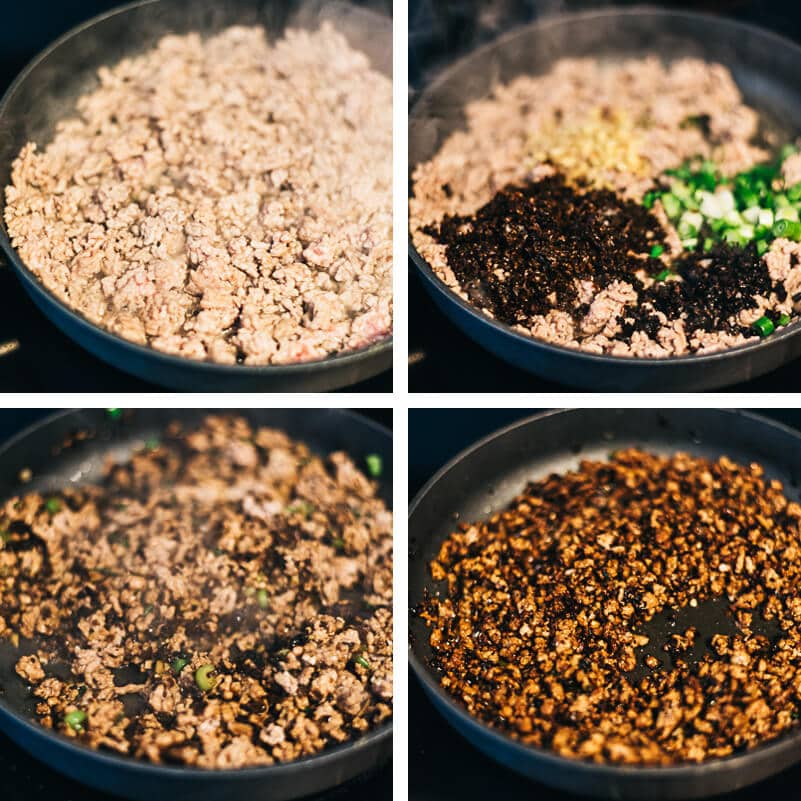 The best workflow
The ingredient list for dan dan noodles might look overwhelming,. The best approach is to get organized and cook one component at a time.
The best workflow is:
Chop and prep all the vegetables and aromatics
Mix the sauce (and make chili oil if needed) – this can be prepared ahead
Cook the pork – Can be prepared ahead
Boil the noodles
Use the noodle-boiling water to quickly blanch the vegetables
Serve everything family-style, so everyone can assemble their noodles the way they like
If you're preparing this dish for a party, I highly recommend you prepare the sauce and the pork ahead of time. They will stay good in the fridge for a couple of days. Simply boil the noodles and heat up the pork in the microwave right before serving.
To assemble dan dan noodles like a local
To assemble dan dan noodles like a Chinese street vendor:
Pour some sauce in a small bowl and chili oil according to your taste
Add the noodles
Top with minced pork, green veggies, crushed peanuts, and green onions
Mix and enjoy!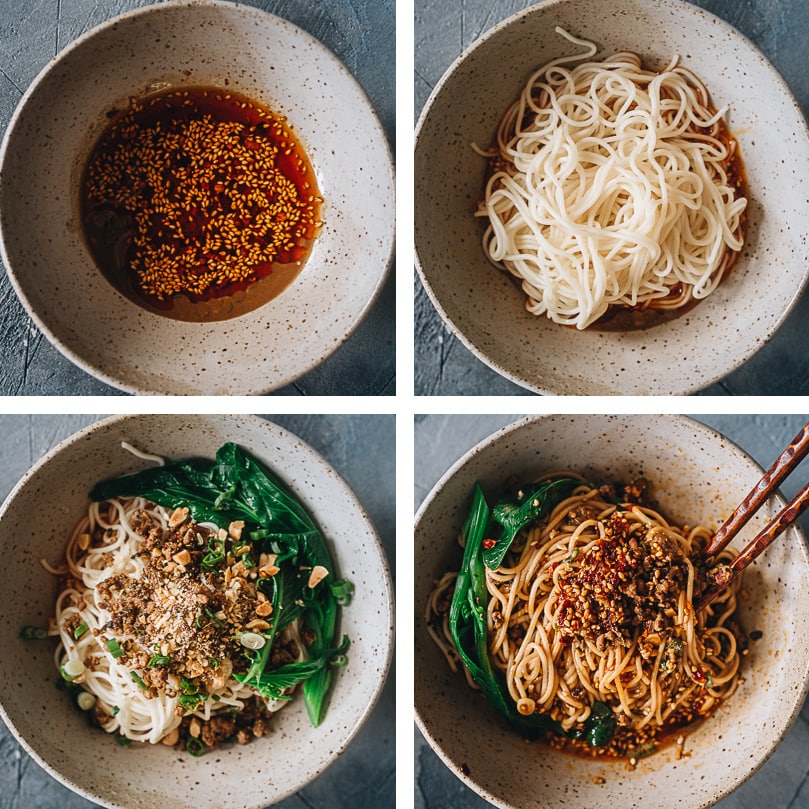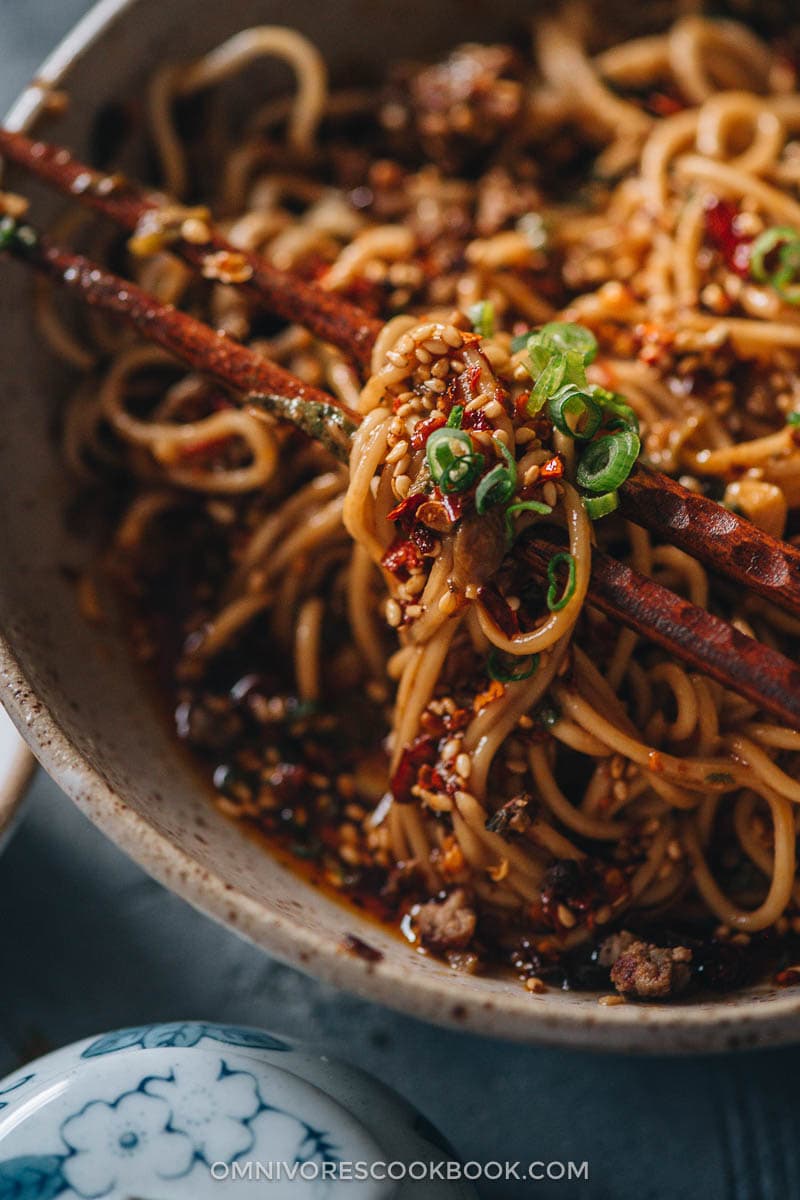 More Sichuan food recipes
If you give this recipe a try, let us know! Leave a comment, rate it (once you've tried it), take a picture and tag it @omnivorescookbook on Instagram! I'd love to see what you come up with.
Want to Know More?
Receive our 5-Day Chinese Cooking Crash Course & Recipe Updates! Subscribe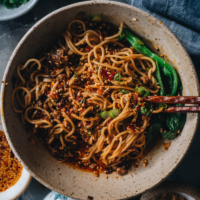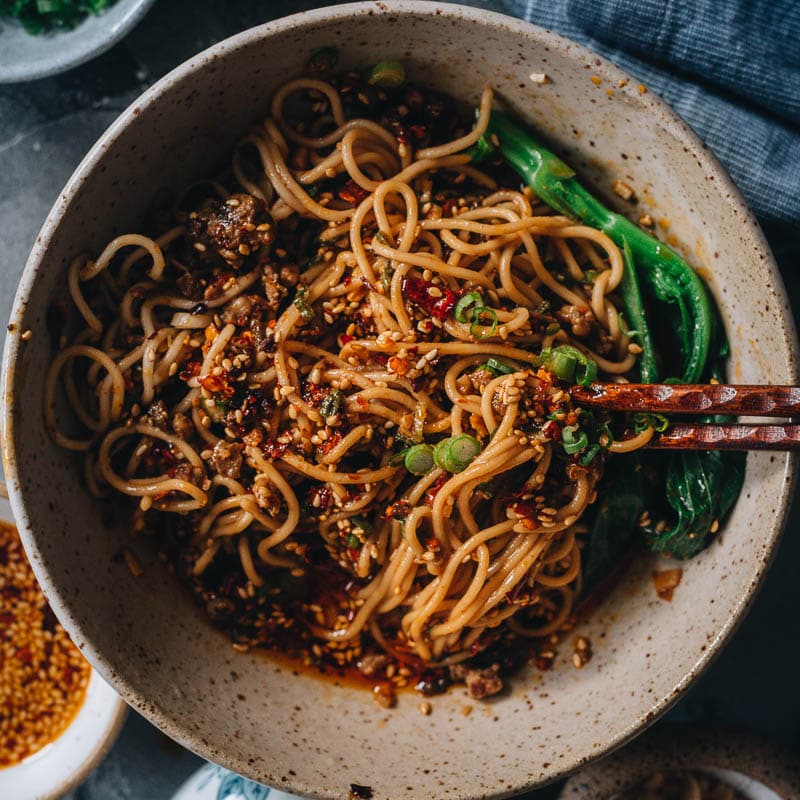 Dan Dan Noodles (担担面)
A real-deal dan dan noodle recipe that stays true to the authentic Sichuan flavor. This post covers all the key ingredients and includes a super rich and balanced sauce to recreate the classic dish that tastes like China.
Ingredients
Pork topping
1

tablespoon

peanut oil

(or vegetable oil)

1

lb (450 g)

ground pork

1

tablespoon

minced ginger

2

green onions

, chopped

1 1/2

tablespoons

fermented black beans

, rinsed and chopped

1/2

cup

Sui Mi Ya Cai

(Sichuan preserved mustard greens)

2

tablespoons

Shaoxing wine

(or dry sherry)

1/2

teaspoon

sugar
To assemble
1/3

cup

roasted peanuts

, crushed

14

oz (400 g)

Dan Dan noodles

(or thin wheat noodles)

1

small batch

leafy green vegetables

, roughly chopped (spinach, choy sum, baby bok choy etc.)

Homemade chili oil

, to taste (*footnote 1)
Instructions
Prepare sauce
Whisk the sesame paste and light soy sauce together in a bowl until fully incorporated. Add the Chinkiang vinegar. Continue stirring until mixed. Then mix in the garlic, green onion, honey, and Sichuan peppercorns.
Prepare the pork topping
Heat the oil in a large nonstick skillet over medium-high heat until hot. Add the pork. Cook and stir until the surface is lightly browned.

Turn to medium heat. Add the ginger, green onion, fermented black beans, Sui Mi Ya Cai, cooking wine, and sugar. Cook and chop the pork into small pieces, until all the liquid has evaporated and the pork turns a dark brown color. Transfer to a bowl and set aside.
Prepare the noodles
Cook the noodles according to instructions.

Briefly blanch the leafy green vegetables, drain, and set aside.
To assemble the noodle bowls
For each noodle bowl, add 1/4 cup of noodle sauce. Add the chili oil according to your taste. Add some noodles, then top with a few spoonfuls of the cooked pork and green veggies. Garnish with peanut crumbles and chopped green onion. Sprinkle with a pinch of toasted ground Sichuan peppercorn, if you like the numbing taste.

Serve hot or cold.
Notes
1. Do add some chili oil even if you prefer not to eat spicy food, because it will add aroma to the sauce and your sauce won't end up very spicy.
2. I usually roast the Sichuan peppercorns in a bit of oil until they turn dark brown. Then pat them dry with paper towel and grind them into powder. The oil-roasted peppercorns will be less pungent and have a more rounded flavor. I prefer the cooked peppercorns in cold dishes and sauces so they won't overpower the other ingredients.
Nutrition
Serving:
1
serving
,
Calories:
636
kcal
,
Carbohydrates:
30.5
g
,
Protein:
25.6
g
,
Fat:
27.8
g
,
Cholesterol:
47
mg
,
Sodium:
980
mg
,
Fiber:
4.6
g
,
Sugar:
9.1
g
The recipe was originally published by Feb. 26, 2015 and updated on Apr. 27, 2017.