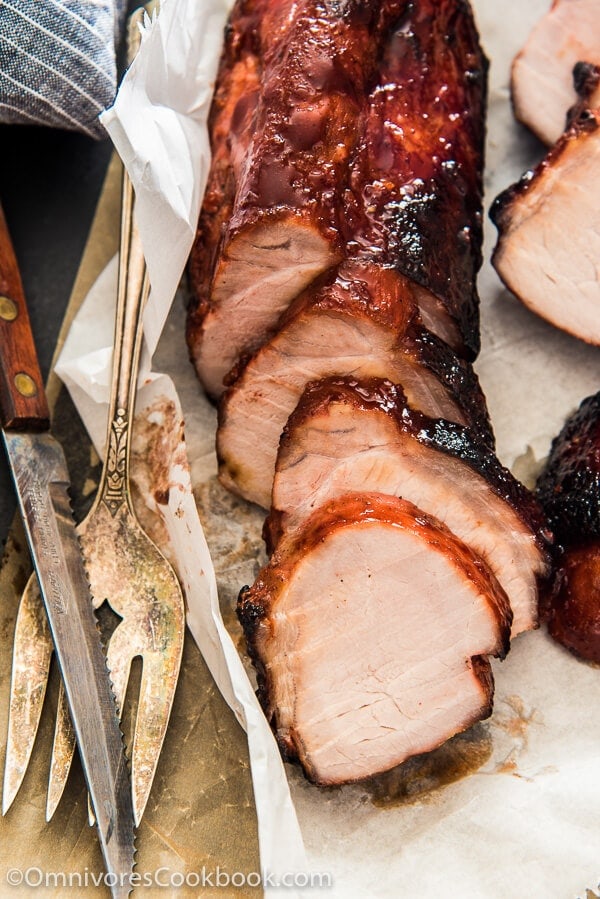 .
Chinese BBQ Char Siu is the perfect main dish to serve at a party. It's also a great staple to have in your fridge because it's so versatile and can be used in a variety of other dishes.
It's getting time to pick out the main dish for your Chinese New Year dinner party!
The Spring Festival golden week starts on February 7th this year. If you're not familiar with Chinese New Year, we determine New Year's Day based on the lunisolar calendar, so it falls on a different date each year. The holiday is also known as Lunar New Year.
Chinese New Year is about praying for a great start to the year and driving away bad luck. It's the day that all the family members get together to celebrate a fresh start with a big feast (a bit like Thanksgiving). The celebration starts on New Year's eve (we call it da nian san shi, which literally means the 30th of the year). It's the night that we northerners make and eat boiled dumplings while watching the national New Year's gala.
The New Year of 2016 will be a special one for me. After getting married and moving to the US, this will be the first New Year I spend in my new home in Texas.
Combining the local BBQ culture with my Chinese culture, I chose to share this Chinese BBQ char siu recipe with you today, to celebrate Chinese New Year!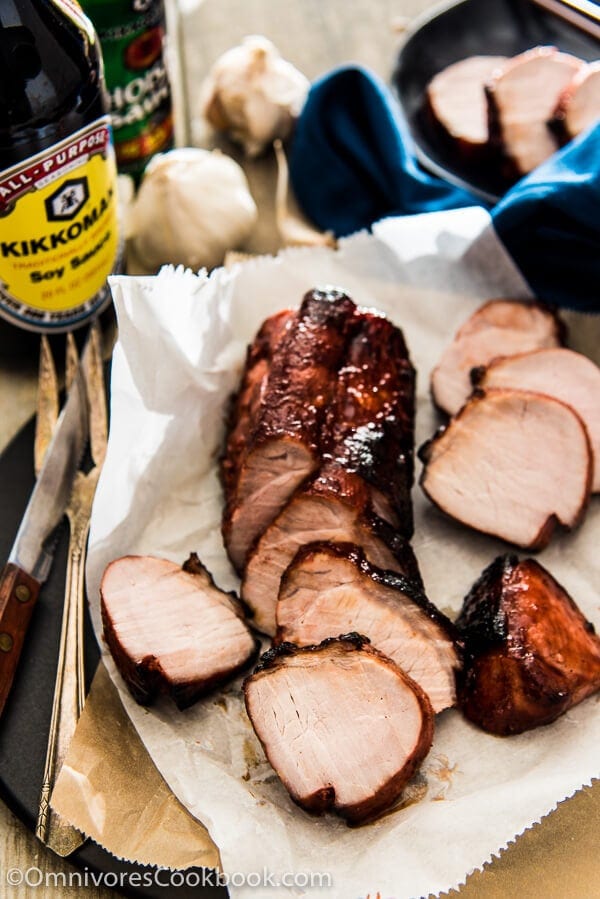 How to create the perfect Char Siu pork in three steps
A glorious piece of BBQ pork might look daunting to cook, but once you look at the process, you'll realize that it is surprisingly easy.
To create a great char siu pork, there are two important steps.
1. Choose the right cut of pork
I chose pork loin for my char siu, because it's economical, produces good results, and is not too fatty. If you're cooking for a crowd, you can get a whole boneless pork loin from Costco. It cost me just 17 dollars for a 7-pound piece, which is enough for 12 servings.
2. Create a marinade that is rich and well-balanced in flavor
There are many ways to make a char siu marinade. But you need to remember, the foundation of a good char siu marinade is a high quality soy sauce. In this recipe, I chose Kikkoman all-purpose soy sauce. Kikkoman soy sauce is traditionally brewed and a versatile flavor enhancer. Like a fine wine, Kikkoman Soy Sauce is aged for several months to develop its characteristic rich, yet mellow flavor, appetizing aroma, and distinctive reddish-brown color. It's the perfect soy sauce to use in the char siu recipe.
You can easily find Kikkoman soy sauce at lots of supermarkets, such as Walmart and Target. If you are not sure whether there is a supermarket that carries the soy sauce, you can use this product locator to find the closest store.
3. Roast the pork properly
You need to roast the pork at high heat and constantly baste it with marinade to create the glossy look, crispy crust, and juicy texture.
A reliable roasting method will create a sticky and perfectly charred surface without overcooking the pork. After many trials and experiments, I found that roasting the pork under boiler creates the best results (it's very close to that of char siu pork cooked on the grill).
It requires a bit more flipping and supervision, but generates a stickier surface while keeping the pork moist inside. The total roasting time is only 20 to 25 minutes.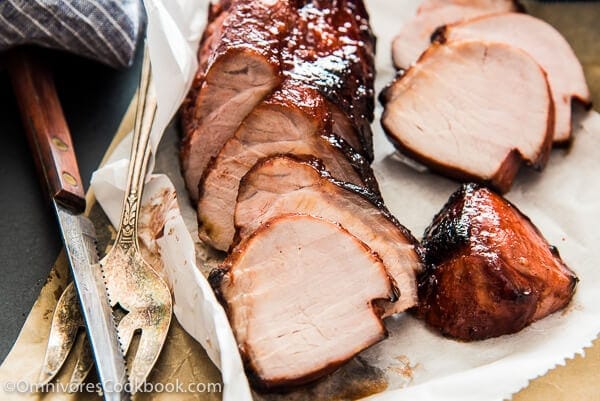 How to serve char siu
Chinese BBQ char siu can be served warm or cold. The just-out-of-the-oven char siu will be tender and moist. It will be a great main course to serve over some steamed rice with simple veggie dishes. On the other hand, the pork will become even more flavorful if you let it sit overnight. The texture will toughen up, and create this nice crunchy mouthfeel with a sticky coating.
I like to roast a big batch of char siu on the weekend and use it to cook all sorts of dishes during the week. You can serve cold sliced char siu as an appetizer. You can also use it as a topping for ramen noodles. Or use it as filling in dim sum. Or use it as an ingredient in lo mein, fried rice and fried noodles.
This marinade can be used with chicken, too. You can use the same method to marinate and cook bone-in skin-on chicken thighs. To do this, bake at 300 F, skin side down for 40 minutes. Flip and continue to bake for another 20 to 30 minutes, until the thickest part of the biggest thigh registers 165 degrees F (74 C). Turn on broiler. Cook until the surface turns crispy.
Ready to cook char siu pork to celebrate Chinese New Year? Let's start cooking!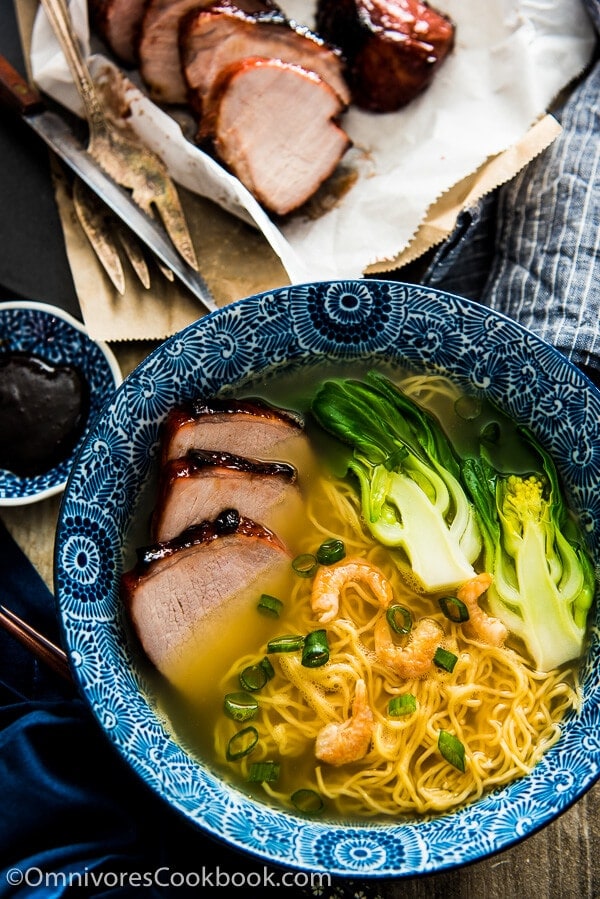 Do you like my recipes? Sign up for Omnivore's Cookbook's weekly newsletter to get the latest updates delivered to your inbox and a free e-cookbook!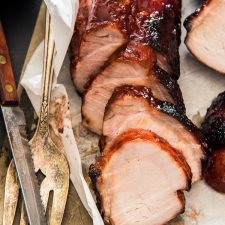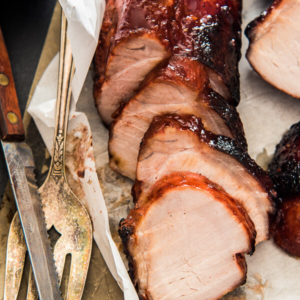 Chinese BBQ Char Siu
Chinese BBQ Char Siu is the perfect main dish to serve at a party. It's also a great staple to have in your fridge because it's so versatile and can be used in a variety of other dishes.
Print
Pin
Rate
Ingredients
2

pounds

boneless pork loin
Marinade
4

tablespoons

soy sauce

2

tablespoons

hoisin sauce

2

tablespoons

oyster sauce

2

tablespoons

dry sherry

(or Japanese sake, or Shaoxing wine)

2

tablespoons

sugar

1

teaspoon

garlic

, grated

1/2

teaspoon

five spice powder

10 drops red food coloring

(Optional)
Instructions
Combine all the ingredients for the marinade in a sauce pan. Heat over medium low heat. Cook and stir occasionally, until the sugar is completely dissolved. Remove the pan from the stove to cool off.

Cut the pork along the grain, into 2 strips about 2 inches wide and 1 inch thick.

Transfer the pork to a gallon-sized ziplock bag. Pour half of the marinade onto the pork and save the rest in an airtight container in the fridge (for later use). Seal the bag and press as much as air out as possible. Rub the bag so that the pork is covered well with the marinade. Let marinate at room temperature for 3 hours, or in the fridge overnight.

Preheat oven to 400 degrees F. After the oven is preheated, turn on broiler.

Place oven rack in the lower third of the oven, about 10 inches from the broiler element.

Add the red food coloring into the remaining marinade.

Line a baking pan with aluminum foil and add 1/4-inch of water. Place a baking rack on top. Drain pork loin and discard the marinating liquid. Transfer pork onto baking rack.

Bake for 20 to 25 minutes in total, until the internal temperature registers 140 to 150 degrees F (60 to 70 C). Flip pork every 4 to 5 minutes, 3 times, until the surface is cooked.

In the last 5 to 6 minutes, flip the pork every 1 to 2 minutes, and generously brush marinade onto the pork using the remaining marinade we saved earlier.

When it's finishing up, the pork should be covered with a thick coat of marinade, slightly charred/caramelized, with the inside is still a bit pink (or just cooked through).

Remove the pan from the oven. Tent loosely with aluminum foil. Let rest for 10 minutes.

Slice and serve warm or cold. You can serve the char siu by itself over steamed rice, atop noodles, or in other dishes.
Nutrition
Serving:
256
g
|
Calories:
381
kcal
|
Carbohydrates:
13.8
g
|
Protein:
59.9
g
|
Fat:
8.2
g
|
Saturated Fat:
2.8
g
|
Trans Fat:
0.1
g
|
Cholesterol:
166
mg
|
Sodium:
604
mg
|
Potassium:
977
mg
|
Sugar:
10.3
g
|
Calcium:
20
mg
|
Iron:
2.7
mg
I was selected for this opportunity as a member of Clever Girls and the content and opinions expressed here are all my own.