The ultimate Chinese hot pot guide that explains the different types of broth, dipping sauces, ingredients and equipment, plus all you need to know to host a successful hot pot party. If there is one thing that makes a Chinese person happier than the
Chinese New Year festival
in the winter, it is a hot pot party. Like a summer barbecue, a Chinese hot pot party is as important as a social event as it is a meal, where friends and family gather and cook around a common pot while chatting and sipping beer. The great thing about a hot pot party is, it's easy to prepare and very affordable. Plus, a group of people can share so many ingredients, so everybody has an opportunity to try out a variety of things, as well as enjoy their favorites.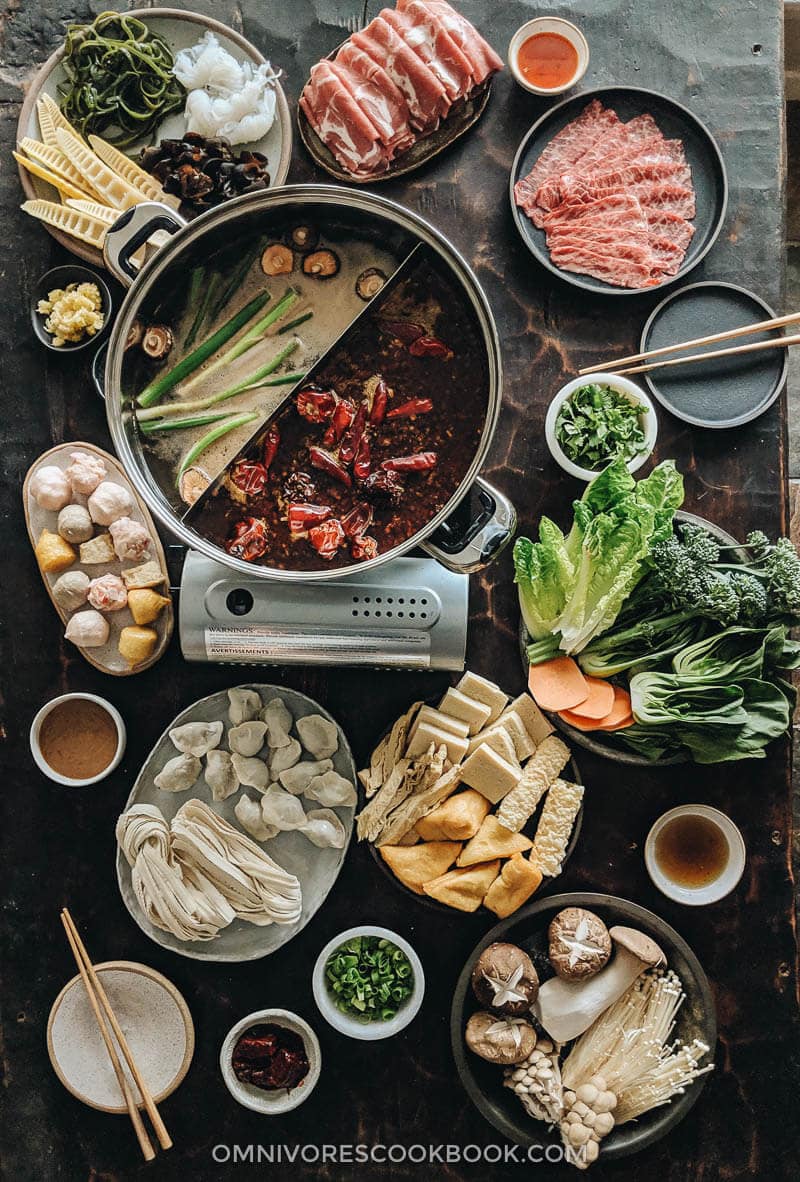 What is Chinese Hot Pot?
Hot pot is a Chinese cooking process. A big pot is set in the center of the table containing boiling hot broth with a heating element underneath. Various raw ingredients are served around the pot, such as thinly sliced meat, seafood, vegetables, tofu, dumplings, and noodles. The guests cook the ingredients in the broth and eat them with a dipping sauce. There are many types of winter pot-based dishes across Asia, where many ingredients are added to a big pot and cooked in the center of the table. However, Chinese hot pot has a distinguishing characteristic – only a small amount of ingredients is added to the pot by the individuals at the table and cooked just long enough, then the food is taken out and consumed immediately before more ingredients are added. This is the part that makes Chinese hot pot really easy to prepare as a host, since the host only needs to wash and cut the ingredients – no need to cook anything beforehand. Plus, the fact that the meal is cooked on the dinner table makes the eating process so much more fun. Because everyone will be able to select their favorite ingredients, cook them to the degree they prefer, and combine ingredients to make their own sauces.
Soup base
There are many different styles of hot pot in China, depending on the region. The primary difference from region to region is the broth. Choosing the type of broth is one of the most important considerations when planning a hot pot party, because all the food will be cooked in this broth. So it's essential to choose a flavor that pleases all your guests.
Hot pot broth – buy or make your own?
Despite the fact that I enjoy making most of my Chinese food at home, I highly recommend you purchase a hot pot broth base. Depending on the type of broth you use, it could require so many special ingredients that are expensive to buy or unavailable at your local Asian market. Plus, the broth you make at home might not taste as good as a store-bought one, since many brands have their own secret formula. A hot pot party is supposed to be easy to prepare and fun to host, so save yourself the trouble and buy the broth base in an Asian store or online.
Spicy broth
One of the most popular broths across China and you can never go wrong with it. The spicy broth was a must-have in 99% of the hot pot dinners I've eaten. There are a few types of spicy hot pot base that you can choose from – Sichuan, Chongqing, and Mongolian style. The Sichuan and the Mongolian ones might be the most popular, but personally I prefer Chongqing style, which features a thicker, richer broth.
Sichuan spicy hot pot base
Red chili oil (made with vegetable oil) based spicy broth is balanced with spiciness, numbness (from Sichuan peppercorns) and various herbs. You can find my
homemade version HERE
.
Recommended brands
Chongqing spicy hot pot base
Red chili oil base that is made with beef fat and very little spices. The aroma and flavor mostly come from the animal fat and chili peppers. The finished broth is usually more oily, spicier, and heavier than the Sichuan style.
Recommended brands
Mongolian spicy hot pot base
Red chili oil base (using vegetable oil) that's quite heavy on the cumin. The finished broth is less spicy and lighter than the Sichuan type.
Recommended brands
Clear broth
Clear hot pot broth is the default type in northern China. Growing up in Beijing, this was the only broth I knew about until spicy broth took over the hot pot world. This is actually a broth we used to make at home, using simple ingredients such as water, scallions, ginger, peppers, shiitake mushrooms, and jujubes. However, nowadays, to make the broth more flavorful, I often use a packaged soup base. You can easily find this broth base at an Asian market or online. Both Little Sheep and Hai Di Lao produce a plain hot pot soup base (
shop on Amazon
). I sometimes also buy the
mushroom hot pot base
, which can be used as a clear broth.
Other types
There are other types of hot pot base too, such as tomato, seafood, satay, and even soy milk. But to be honest, we rarely go for those. If you want to experiment with different soup bases, I highly recommend you purchase some and try them out before your party.
What hot pot base should I use?
Ideally, you can use a split pot (see the equipment section below) and serve two types of soup. In this case, you can use a spicy broth (the most popular) and a mild broth. The mild broth is designed to balance things out, in case you want a break from the spicy food. Plus, if you have a guest that does not eat spicy food, it's very helpful to have the mild broth available. If you do not own a split pot, you might consider using two pots, each with a different type of soup, depending on the size of your party.
How do you use a hot pot base?
Most of the time the hot pot base will have instructions on the back of the package. And usually one package is sufficient for one meal, diluted with 6 to 8 cups of water. Simply combine your hot pot base with water and heat it until boiling, then your dinner party is ready to start. During the cooking process, the broth will reduce by quite a lot. When it's reduced to about half, you should add more water and wait until it starts to boil again. Only cook ingredients when the broth is boiling, to ensure proper cooking.
Hot pot party equipment
Obviously, the most important piece of equipment is the hot pot itself, because you probably already have the rest of the things in your own kitchen.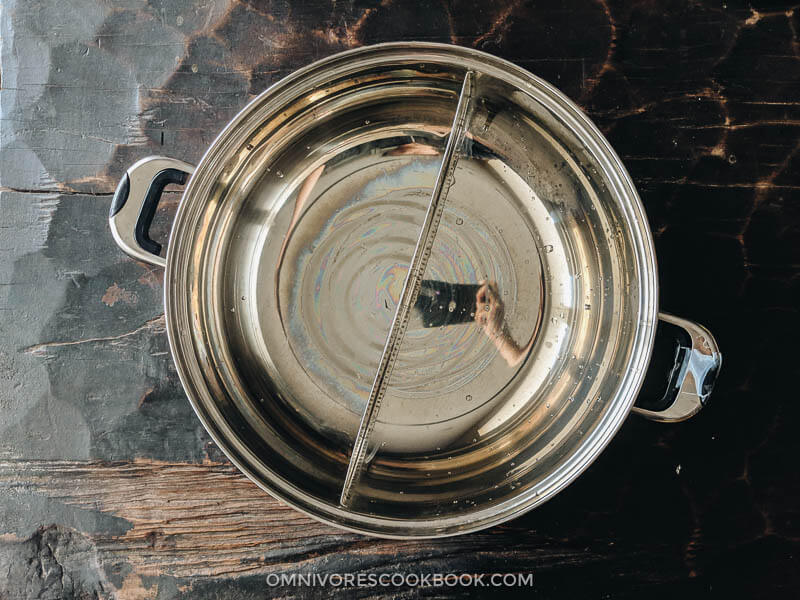 I highly recommend a split pot, which will allow you to serve two types of broth, like
this one on Amazon
. If you want a fancier hot pot, check out the
brass hot pot at The Mala Market
. To use the pot, you'll also need a portable stove to heat up the broth. I use the Iwatani gas stove (
purchase on Amazon
), which heats up the pot very quickly. Plus, I sometimes use the stove to make proper stir fries when I host dinner parties. Don't forget the canned butane, which you can easily find at Walmart or Home Depot.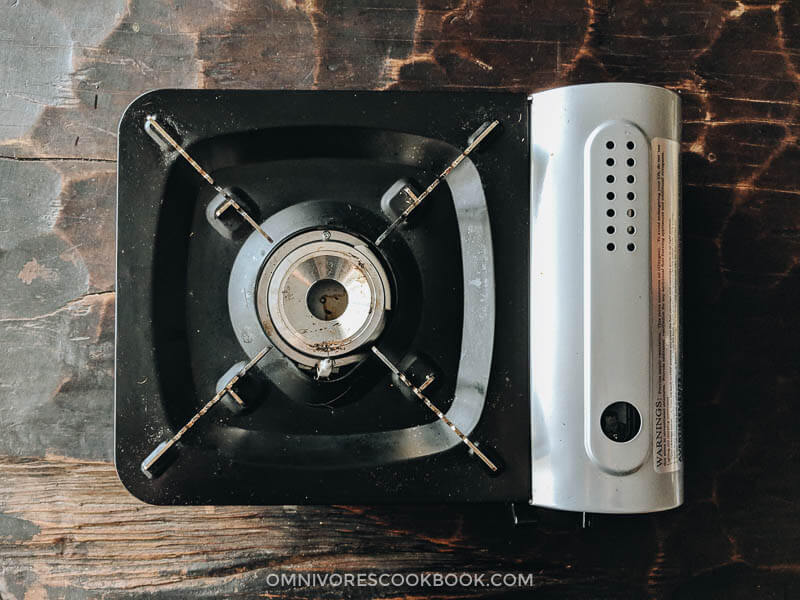 Alternatively, you can use a split hot pot that comes with a heating element included, such as
this one on Amazon
. Aside from the hot pot, be sure to prepare a
slotted ladle
on the side, so your guests can fish the cooked food out of the hot pot. Make sure you also have lots of
small bowls
and
plates
for your guests. Everyone should have one to two small bowls for dipping sauce(es), and one plate for the food.
Dipping sauce
This is actually a topic that I could write an entire post about, because there are so many ways to make a hot pot dipping sauce. To make things less confusing, I want to introduce three types of sauces.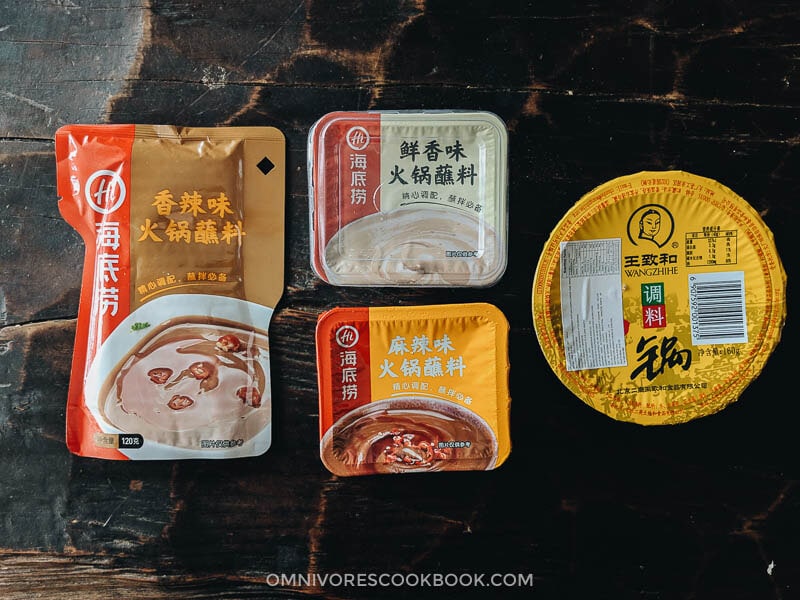 Sesame paste based sauce
This is the default hot pot sauce in northern China and it's quite popular in other regions, too. It's usually made with toasted sesame paste diluted with water, soy sauce, fermented tofu, fermented garlic chives (jiu cai hua), sesame oil, chopped cilantro, and green onions. I have a
homemade version HERE
. To make things easier, I usually buy the packaged sauce (at an Asian grocery store or
on Amazon
). But I also make sure to serve sesame oil, chopped green onion, and cilantro on the side. So my guests can add these things into the packaged sauce to make it taste better.
Shacha sauce for seafood
A sauce that is perfect for seafood and very popular in Cantonese and Taiwanese restaurants. The sauce is made from fish paste and various spices, with a hint of sweetness. Since the paste is quite thick, you should use a bit of broth from the hot pot to thin it out a bit. You can buy the sauce in an Asian grocery store or
on Amazon
.
Garlic sesame oil
A "weird" and lesser-known sauce that I love. The sauce uses toasted sesame oil and finely grated garlic (ratio 1:1). It might sound gross, but it works perfectly with the Chongqing style spicy soup. To make it more approachable, add some sesame sauce, sesame oil, and a generous amount of garlic for a rich sauce. For other sauce ideas, do check out the three
dumpling dipping sauce recipes
I shared in the past. They work well with hot pot, too. When I serve the dipping sauces, I prepare a few things so my guests can mix and match as they like. They include: store-bought sesame paste,
homemade chili oil
, finely grated garlic, chopped green onions, chopped cilantro, toasted sesame oil,
fermented tofu
, light soy sauce, and Chinkiang vinegar.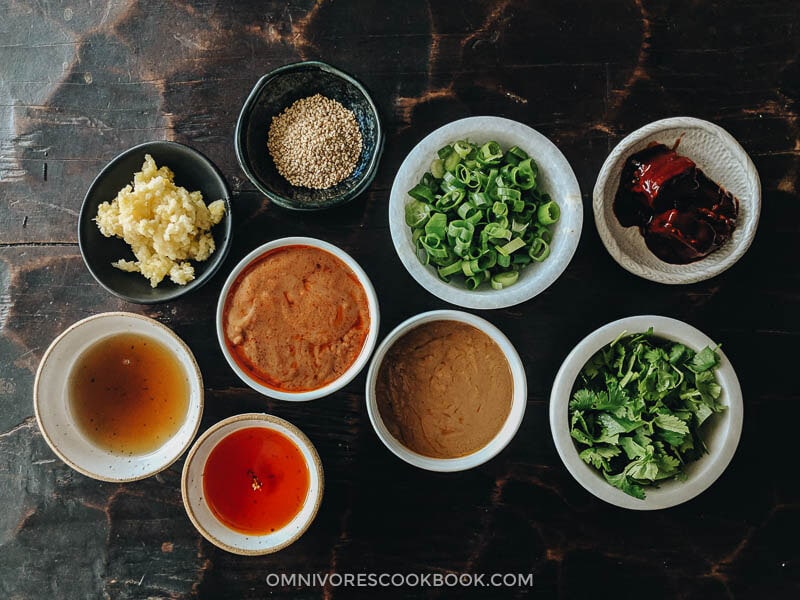 Essential hot pot ingredients
Now is the fun part. I love shopping for hot pot ingredients because you have practically unlimited options. And it's a fact that almost everything will taste good thrown into a hot pot. Here are a few food groups that I recommend. It's almost impossible to make a grocery list when it comes to hot pot ingredients because each grocery store carries so many different things. You should check out each food group and try to get a few diverse items from each group.
Meat and seafood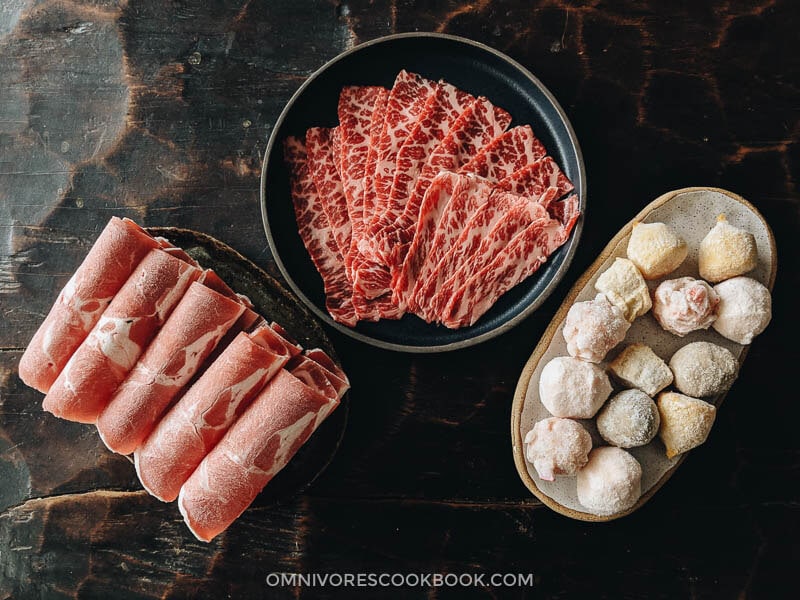 Some of my personal favorites include sliced beef, sliced lamb, and fish balls. Ideally you should shop for these ingredients at an Asian grocery store. Because you can find machine-sliced meat that is intended for use in hot pot. You can find these meats in the freezer section. The meat slices are rolled and packed in plastic containers.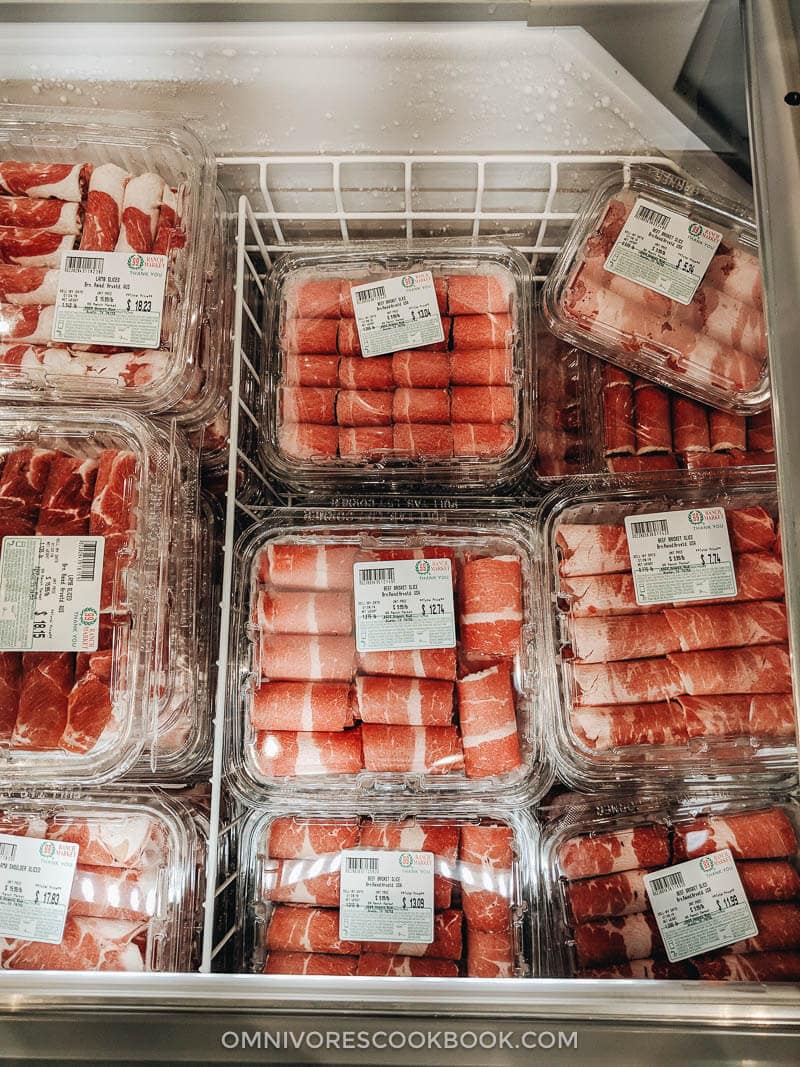 Of course you can always buy the meat and cut it at home. In this case, you'll want to buy some well-marbled meat and slice it as thinly as possible, so the cooked meat will remain juicy and tender. Seafood such as shrimp, squid, and sliced fish filets all work well in hot pot. But my personal favorite is fish balls, which you can find in the freezer section. 99 Ranch Market carries a type of fish ball that is filled with lobster. (OMG it is SO GOOD!)
One thing to remember is to never leave meat in the hot broth and forget about it. The thinly sliced meat usually needs less than 30 seconds to cook through. What I usually do is hold the meat with my chopsticks and dip it in the hot broth, then immediately take it out when the color has just changed to cooked (or medium rare, sometimes). Seafood needs to be cooked according to the same rule, that you always want to keep an eye on it so it won't overcook. Frozen fish balls require more cooking time, maybe 2 to 4 minutes, depending on their size.
Tofu and soy bean products
This food group is always a star at a Chinese hot pot party because there are so many varieties. In the picture below I shared some of the products I bought from 99 Ranch Market. There are tofu slices, beancurd sheets, fried tofu, beancurd sticks, etc. All of them are made from soy beans but they have very different textures. The great thing is that they soak up flavor really well, so they taste so good when cooked in a hot pot.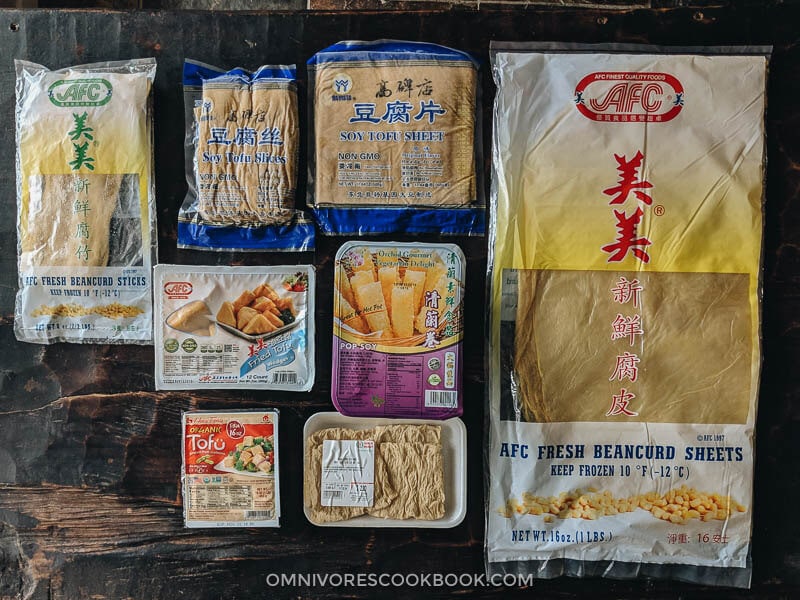 What if you don't live near an Asian grocery store? Here is a trick. Buy some firm tofu and throw the package in the freezer for a day, then thaw it before using. This will change the structure of the tofu and create a very porous texture. This tofu works perfectly in a hot pot. Tofu usually requires the longest cooking time. So it's very common to add a few pieces at the beginning of cooking and fish them out after 10 minutes or longer, when you're ready to eat them. The various tofu products require relatively little cooking time but they hold their shape well even when you cook them a bit too long. And they are edible even when cold, so they are ready to eat when tender and heated through.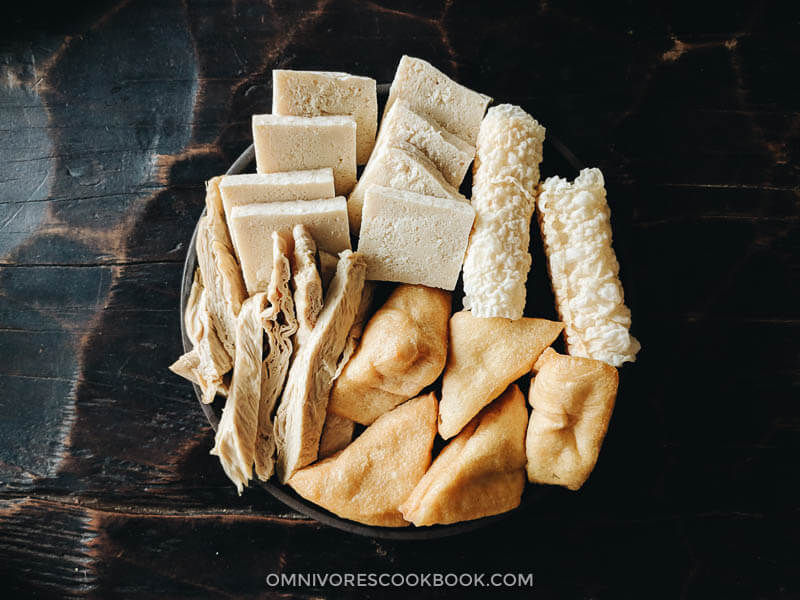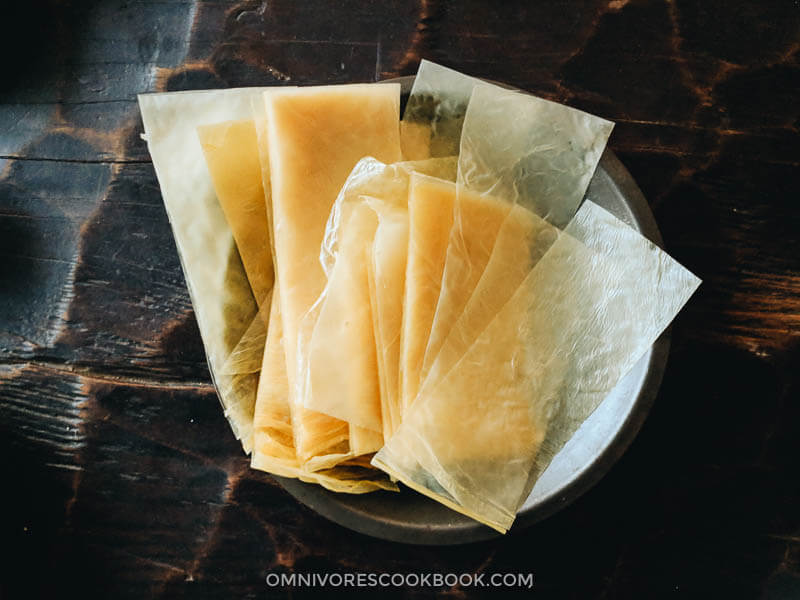 Mushrooms
Another must-have on my hot pot table. Although regular white mushrooms work well, do venture out and try out some different types. Some of my favorites include golden needle (enoki) mushrooms (separated into smaller threads), shimeji (separated into smaller bunches), king oyster mushrooms (sliced), and shiitake mushrooms (sliced or halved). The smaller mushrooms only take 2 to 3 minutes to cook, versus the large shiitake mushrooms, which can take 5 minutes or more.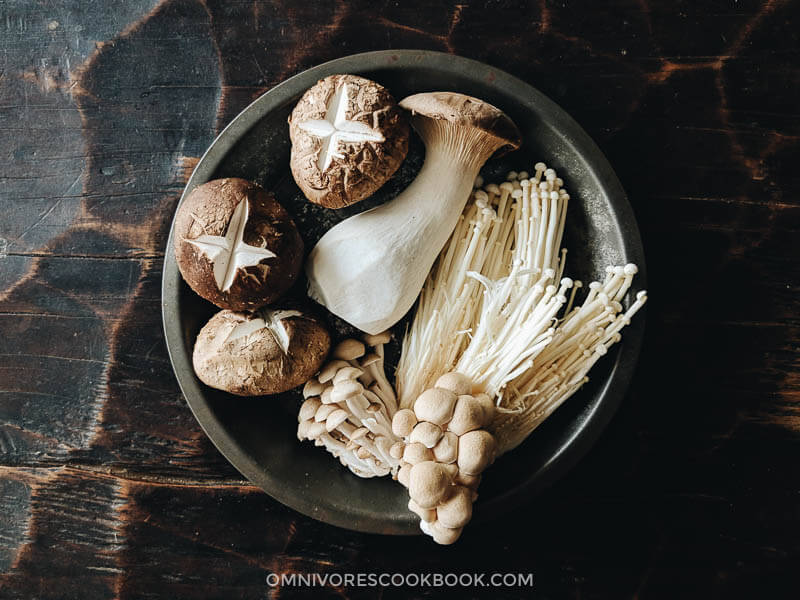 Vegetables
Not all vegetables are created equal when it comes to hot pot. The types that work best are leafy greens and root vegetables. For example: Lettuce (torn into large pieces), spinach, napa cabbage (sliced), baby napa cabbage (quartered), baby bok choy (quartered or halved), gai lan (cut to bite size), cauliflower and broccoli (cut to bite-size florets), sliced lotus root, sliced potato, sliced sweet potato, sliced daikon, sliced winter melon, sliced squash, and corn on the cob (cut to 2-inch long round pieces). Note that some leafy greens such as lettuce and spinach only need 30 seconds of cooking before they turn soft and are ready to eat. Meaty veggies such as bok choy and napa cabbage require more cooking, 2 to 4 minute depending on their size. Root vegetables require even more cooking time, so just throw them into the broth and test their texture along the way.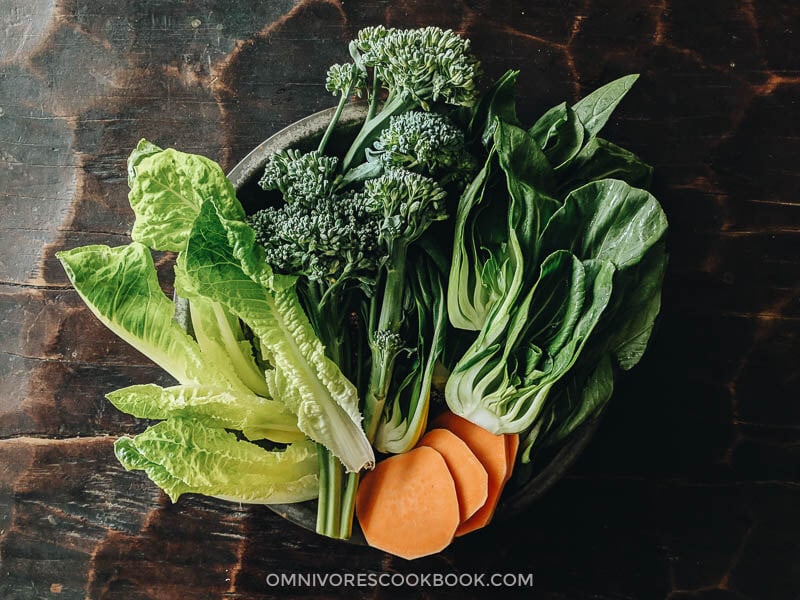 Noodles and dumplings
Noodles and dumplings are considered staples in Chinese hot pot and are usually served at the end of the meal. Even though
hand-pulled noodles
are often seen in hot pot restaurants, I think packaged noodles work just as well. Find some thick shaved noodles (dao xiao mian) or udon noodles in an Asian market if they're available. For dumplings, simply find one or two of your favorite flavors in the frozen aisle and you'll be all set. For noodles and dumplings, simply cook them according to the instructions on the package.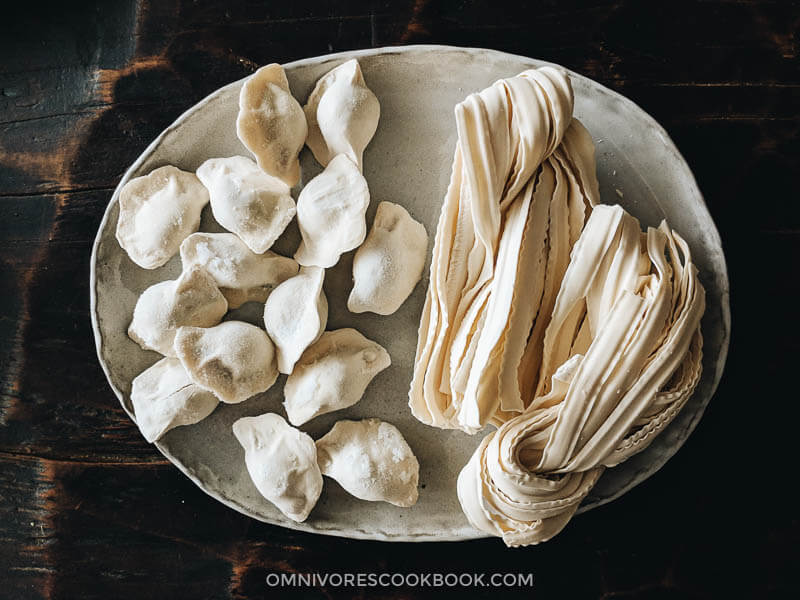 Other delicious ingredients
Other popular ingredients that work well in hot pot include sliced seaweed, rehydrated wood ear mushrooms, bamboo shoots (sliced to bite-size), and tied shirataki noodles. These ingredients hold together well in the soup, taste great, and add an interesting texture to your meal.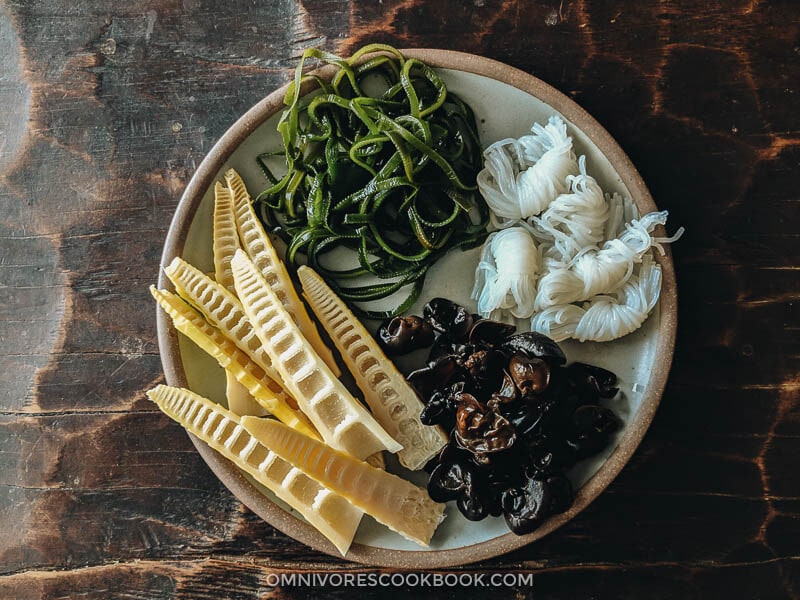 The prep you'll need for a hot pot party at home
The best thing about preparing a hot pot party is that it requires very minimal prep work. All you need is:
1. Consider the dietary restrictions of your guests, then decide the type of soup broth you will serve.
Also, you need to plan based on the number of guests. A big hot pot usually serves six people perfectly, but could possibly serve eight. If you have more guests, you'll need to consider setting up two hot pot sets, so your guests will have enough room to cook and will not be waiting forever for small amounts of food.
2. Shop for the ingredients, preferably at an Asian market where you can get everything you need.
If there are no Asian markets where you live, you might want to plan a few days ahead and order some of the ingredients and equipment online. When shopping for food for the hot pot, you simply need to consider the amount of meat and seafood. I usually prepare 4 to 8 ounces of meat and seafood per person. And I usually get plenty of other ingredients so I have a beautiful spread of food. I'll save all the leftovers and use them to cook soups and noodles in the days following the party.
3. On the day of the party, wash and chop all the ingredients.
Prepare the dipping sauces. Add the hot pot base and water into the hot pot, set it on the portable stove and place it in the center of the table. Prepare a slotted ladle on the side. Arrange all the ingredients around the pot. Prepare one to two small bowls, one plate, and one pair of chopsticks for each person.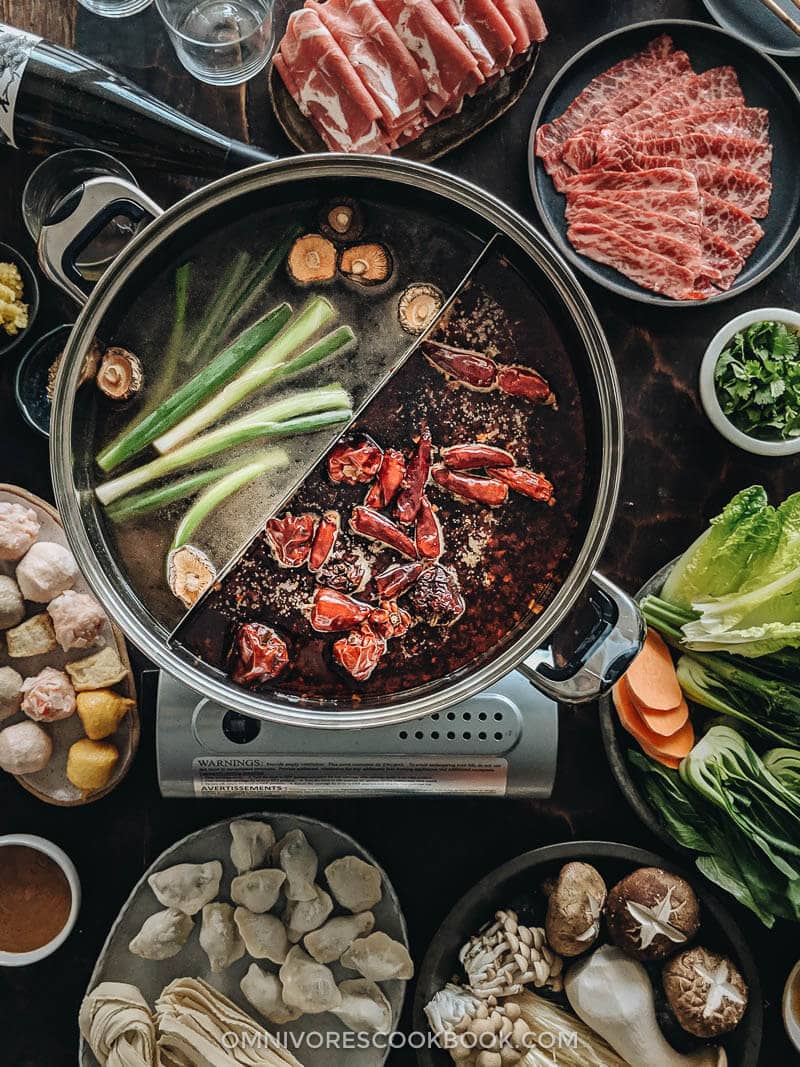 A few important rules when cooking hot pot
1. Be patient and wait until the broth is boiling
I know you'll be tempted to start cooking right away, but remember to be patient and wait until the broth starts boiling. This way the food will be cooked quickly and remain juicy.
2. Add a small amount of food each time
Always remember – you're not cooking a pot of soup. Only add the few pieces of food that you plan to eat in the next couple of minutes. Overcrowding the pot will cause the broth temperature to drop, so the all the food will be cooked more slowly and may not be properly done.
3. Do not overcook
This is the most important thing and a lot of first timers forget it. Always keep an eye on the food you've just added and take it out when it is ready. Meat cooked in a hot pot is supposed to be soft and juicy, not dry and hard like cardboard.
4. Only cook the food you plan to eat
There are different table rules when it comes to hot pot. As a rule of thumb, you should only cook the food you yourself plan to eat. Sometimes the host will cook items for everyone. Or maybe a friend knows everyone's preferences and throws in a few more items. But most of the time, everyone only cooks the items they plan to eat.
5. Sanitize your chopsticks
Since you'll be using your chopsticks to pick up and cook raw meat, as well as serve the cooked food, it's important that you dip the chopsticks in the boiling broth for a few seconds before picking up any cooked food. The hot broth will quickly sanitize your chopsticks to prevent food-related illness.
Chinese hot pot restaurants
Lastly, I want to list a couple of hot pot restaurants I like.
Little Sheep
If you're in a major city in the US, chances are, you can find a branch of Little Sheep, a very famous Chinese chain that serves Mongolian style hot pot.
Hai Di Lao
It's probably the most popular hot pot chain in China. They are well known for their solid food selection, a dipping sauce bar where you have two dozen options, and exceptional customer service. However it's too bad that there are only two locations in the US – one in LA and one in San Francisco. But if you're lucky enough to travel to China, this is a must-try spot.
Did I forget anything?
Thanks for reading! I know this is a super long post, so I'm glad that you read to the end. I hope you got some useful information out of this. If you have any questions, please leave a comment below and I'll try my best to answer you. I know I mostly focused on hosting a hot pot party and how to source ingredients, but if you want to learn a specific recipe, such as one for a hot pot base or dipping sauce, please don't hesitate to ask. Lastly, happy cooking and I wish you a successful hot pot party! If you give this recipe a try, let us know! Leave a comment, rate it (once you've tried it), and take a picture and tag it
@omnivorescookbook
on Instagram! I'd love to see what you come up with.
Related recipes
Even though you can buy most of the ingredients in a store, I understand you might want to add a personal touch to your hot pot party. Here are some great recipes for making your own noodles and dumplings to spice up your party.