The spam is grilled until crispy, perfectly caramelized with soy sauce and sugar, and wrapped with sushi rice. Made ahead of time, these Spam musubi are perfect for your lunchbox, appetizer platter, or potluck. They are also a fantastic game-day snack. This recipe uses just the right amount of seasoning to create a balanced flavor that's addictively tasty.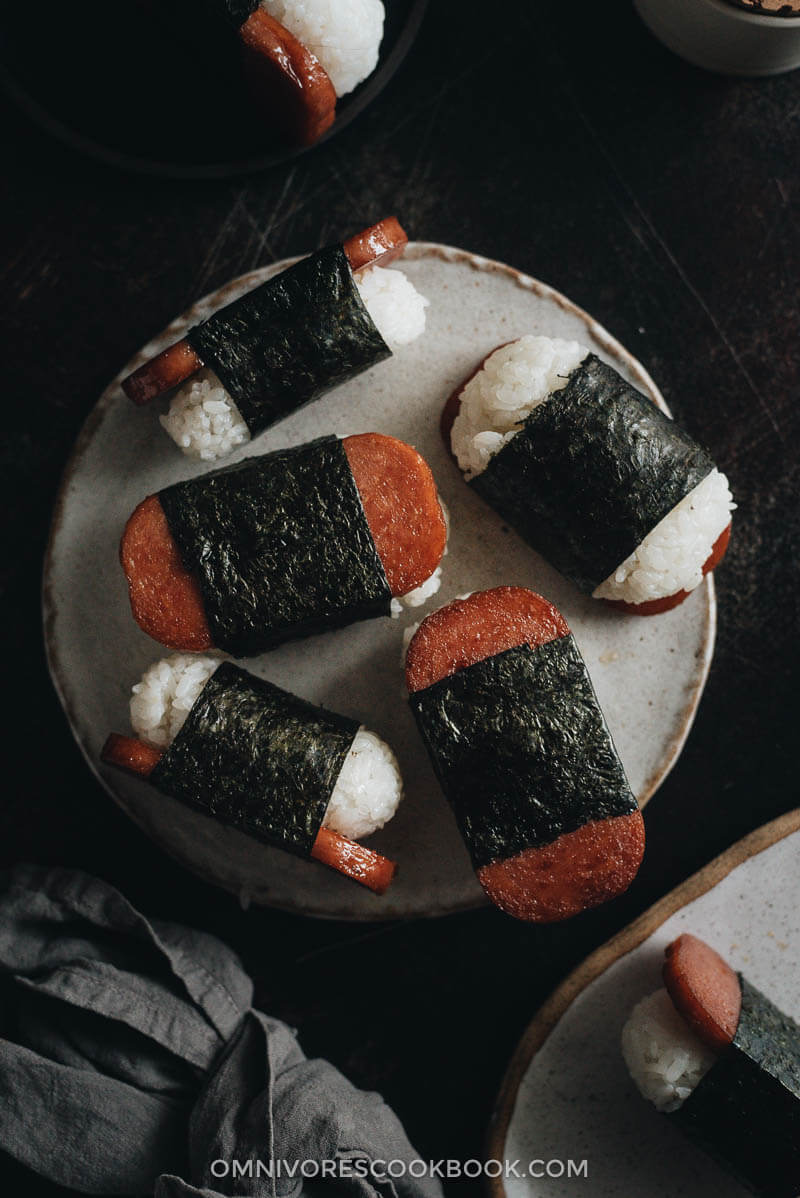 Spam & Chinese cooking
The name Spam might make you think of high-sodium military rations. But in China, it's a popular ingredient that people use in comfort food. Spam and pepper stir fry, Spam omelette, Spam grilled skewers, Spam fried rice, or Spam sandwich. You name it.
Spam is also a popular ingredient in Chinese Hot Pot and Sichuan Mala Pot – a popular type of Chinese restaurant where you choose a spicy sauce and various ingredients that are cooked in it and then everything is served in a big pot. Every time I go to Mala Pot restaurants with friends, I remember to order a few slices of Spam and it's always the most popular ingredient in the pot.
Spam is so intertwined with Chinese food culture that I'd never considered Spam a foreign food until I moved the US. Then I started to wonder when it came to China.
After some digging, I found out the following. According to Wikipedia:
"In China, Hormel decided to adopt a different strategy to market Spam, promoting it as a foreign, premium food product and changing the Spam formula to be meatier in order to accommodate local Chinese tastes."
Apparently, Hormel also decided to name it "luncheon meat" (午餐肉) instead of Spam, to make it sound glamorous. No wonder. Back in old days, Spam was considered a fancy thing that people would serve for dinner on Chinese New Year.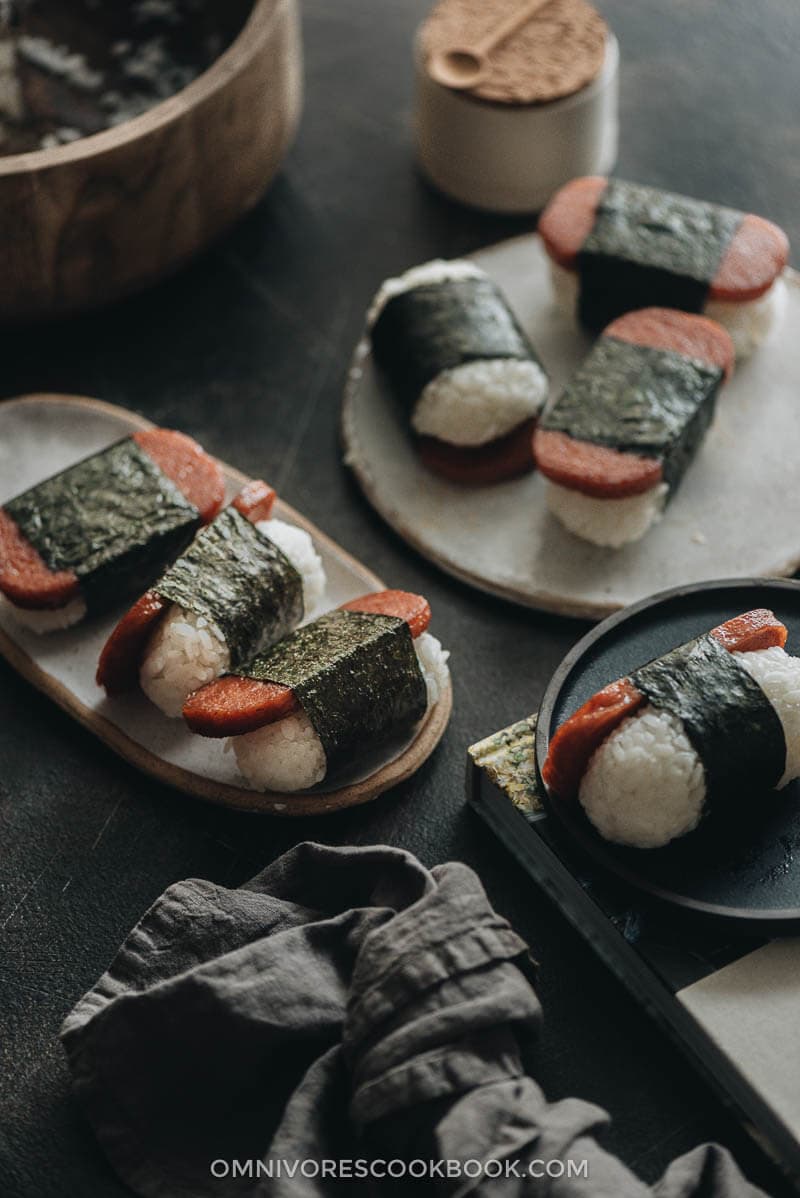 A Common Table
This spam musubi recipe is quoted from the cookbook A Common Table –  80 Recipes and Stories from My Shared Culture, written by my friend Cynthia Chen McTernan, who is the author behind the award-winning blog Two Red Bowls.
With a Southern Chinese upbringing, having grown up in the US, and married to a Korean husband, Cynthia shares 80 modern Asian-inspired recipes that are creative, practical to make, and extremely delicious. The book makes my mouth water every time I flip through it.
I truly resonate with her cookbook. With recipes such as Kimchi Brined Spicy Chicken Biscuits, Bulgogi Burgers, Egg Custard Steamed Buns, and Black Sesame Twists, it reminds me of how I cook in my American family. A melting pot of traditional Chinese, with elements borrowed from various Asian cuisines, and comforting American food.
I wanted to share a recipe from her book and introduce it to you a while ago, but it took me a long time to nail down the recipe. The reason? I'd bookmarked more than 20 recipes I wanted to make, but it was nearly impossible to pick just one.
Eventually I decided to share her Spam Musubi recipe – a great representation of how Asian food inspired local cuisine and became a part of its culture. Even though I got to know this Hawaiian dish only after moving to the US, it makes me feel nostalgic because of the use of Spam, an ingredient that reminds me of time spent with family and friends.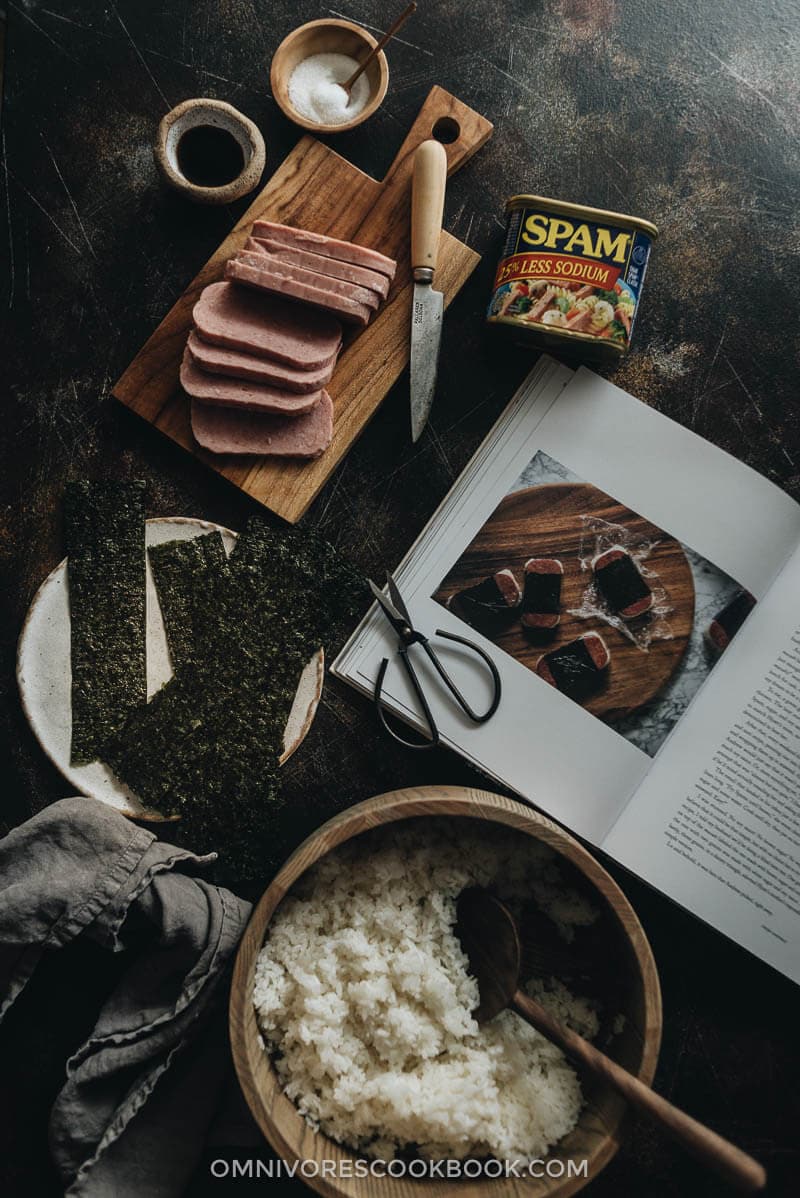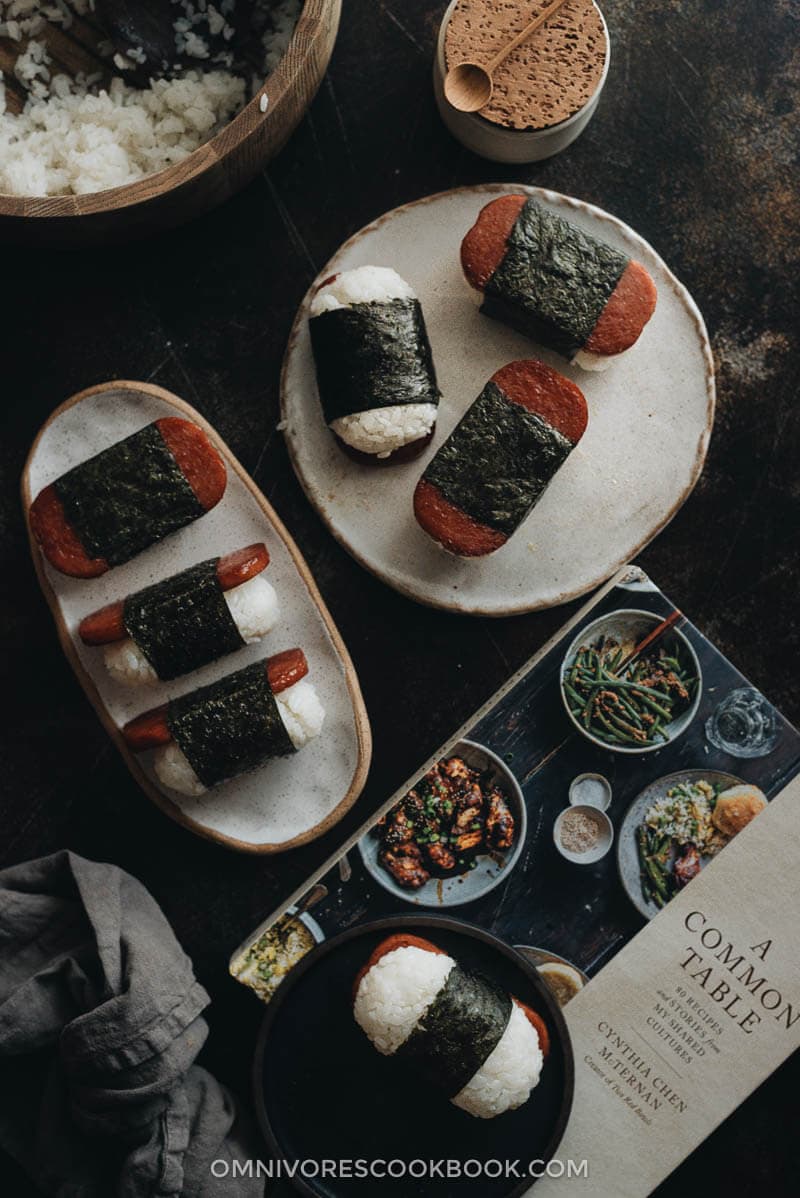 Spam musubi cooking notes
Cynthia did such a great job documenting the cooking process, that it was extremely easy for me to follow. Even though I'd never made spam musubi in the past. I've changed the wording of the recipe slightly, based on my own cooking experience and recipe style. For example, I added the metric measurements to make cooking easier for my international readers. And I didn't include the saucier version in the footnotes, because I think the original version is perfect.
Here are a few notes worth mentioning:
1. Experiment with sushi rice
The original Hawaiian spam musubi does not use sushi rice, which has added rice vinegar and sugar. But I decided to experiment with it. I ended up liking the result so much more than the original version. The refreshing acidic note cuts the greasiness of the Spam, mellows its saltiness, and works perfectly with the sweet taste.
If you're feeling adventurous, use the sushi rice recipe from Just One Cookbook. The extra time is definitely worth it.
2. Perfectly caramelized Spam
It's very important that you brown the spam slowly and thoroughly. It renders some fat and makes a very crispy crust. Then you will use some sugar and soy sauce mixed with water to quickly braise the Spam. You will end up with a beautifully caramelized dark brown surface that is still chewy and sticky. It's perfect.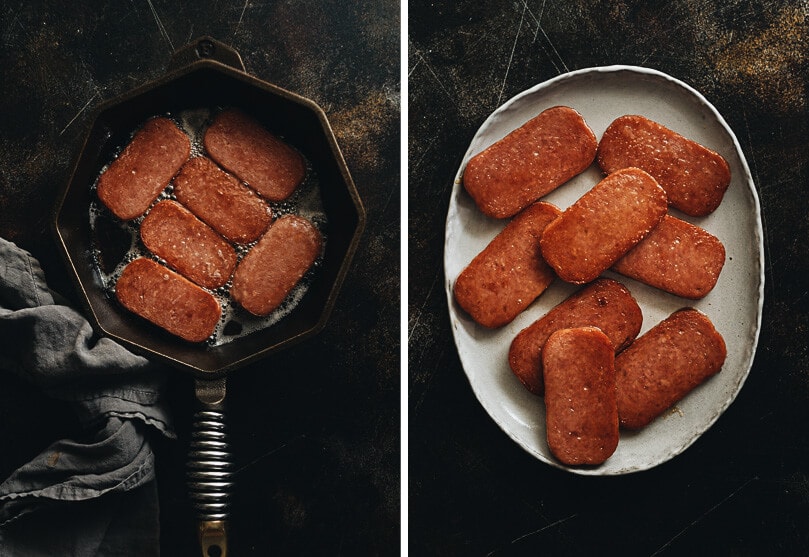 3. Wrapping the musubi
In Cynthia's cookbook, she includes an assembly method using a musubi mold. It makes the process much easier and less messy. Since I don't own a musubi mold, I only included the traditional way in the recipe, where you use your hands to press the rice.
Below are the step-by-step pictures showing how to assemble the musubi. When you press the rice by hand, it's important to use proper strength so that that the rice is pressed together but not overly mashed. If you don't press enough, the musubi might fall apart when you bite into it. If you press too hard, the rice texture will be too dense. It takes a bit of practice but once you make a few musubi, you'll get the idea.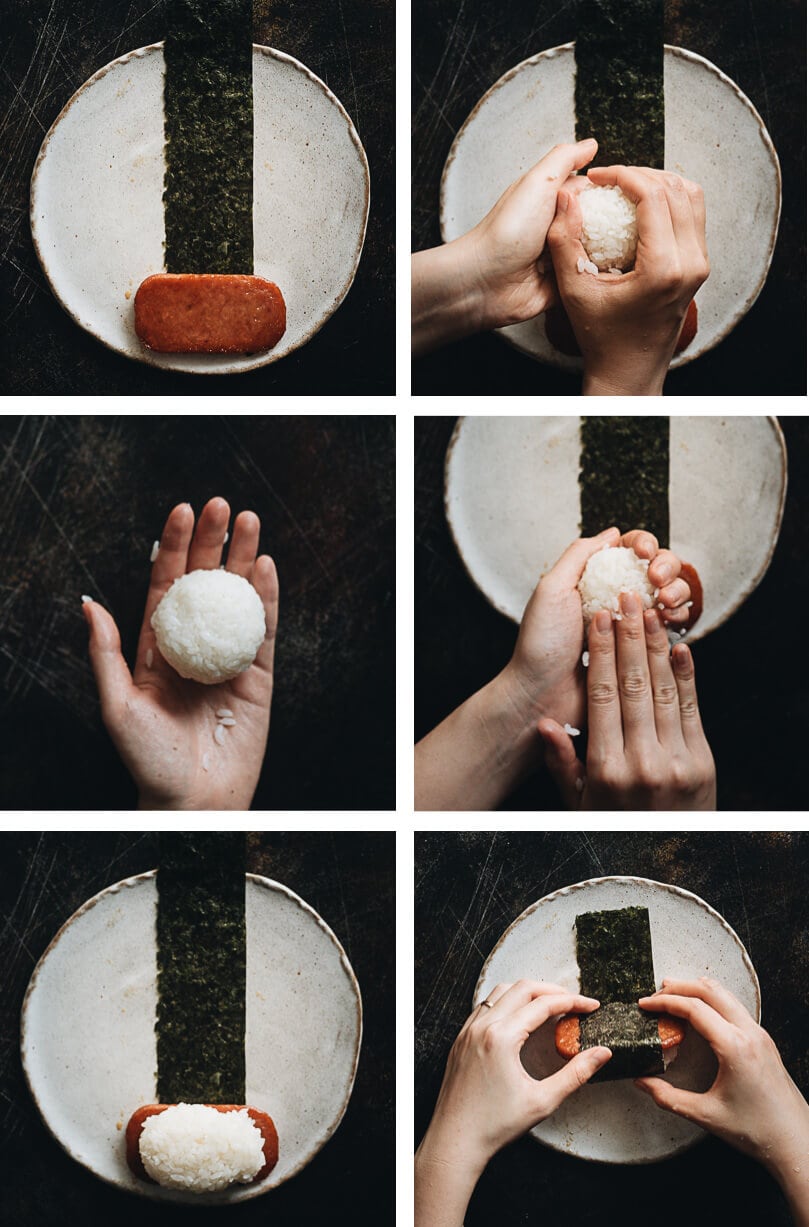 Cookbook Giveaway (CLOSED)
Chinese New Year is right around the corner. So I'm hosting a giveaway to celebrate the festival. This week I'm giving away 5 copies of A Common Table –  80 Recipes and Stories from My Shared Culture to 5 lucky winners (sponsored by yours truly). Not only does the cookbook contain great recipes, it is also so beautiful that it makes a perfect coffee table book gift.
Giveaway rules
This giveaway will be open from Jan 20th 2019 and will close on Jan 27th at 11:59 pm CST.
This giveaway is open to everyone. Please note, if you do not reside in the US, you will receive a $25 Amazon gift card.
Four winners will be selected via Pick Giveaway Winner and contacted via email so please include a valid email address in the email address entry box (Your email address won't appear on the website).
The winner is required to respond within 48 hours to claim the prize.
How To Enter:
Leave a comment below this blog post, sharing some of your favorite Chinese and Asian dishes.
Good luck and I hope you win!
Winners announced:
Joyce Der, Ashley Medina, Sarah Wong, Amy La, Vivian Walker
Congratulations!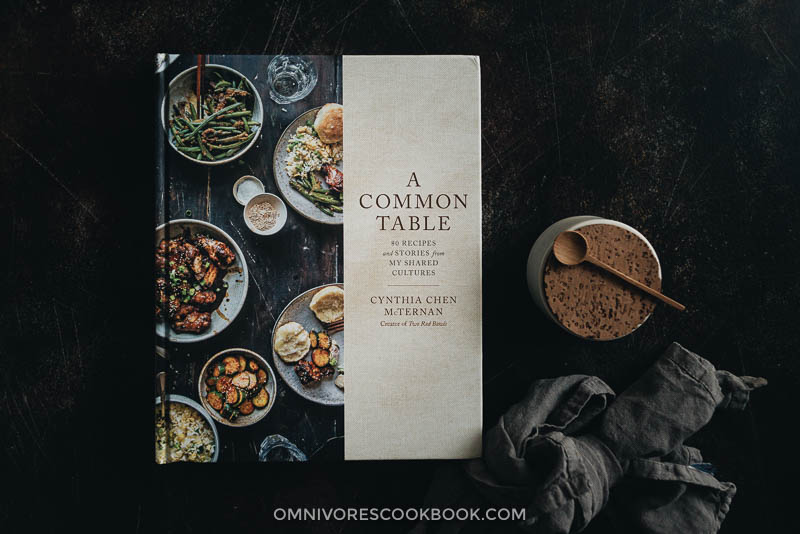 If you give this recipe a try, let us know! Leave a comment, rate it (once you've tried it), take a picture and tag it @omnivorescookbook on Instagram! I'd love to see what you come up with.
Want to Know More?
Receive our 5-Day Chinese Cooking Crash Course & Recipe Updates! Subscribe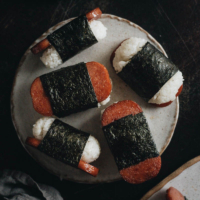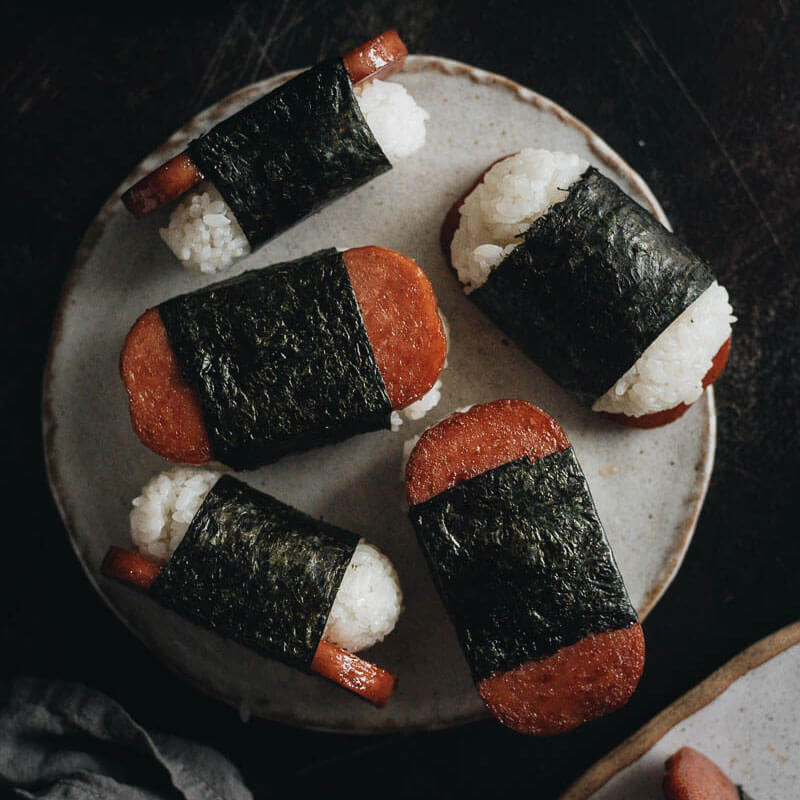 Barter-Worthy Spam Musubi
The spam is grilled until crispy, perfectly caramelized with soy sauce and sugar, and wrapped with sushi rice. Made ahead of time, these Spam musubi are perfect for your lunchbox, appetizer platter, or potluck. They are also a fantastic game-day snack. This recipe uses just the right amount of seasoning to create a balanced flavor that's addictively tasty.
Ingredients
1

teaspoon

vegetable oil

1

can (12 oz. / 340 g)

Spam

, sliced into 8 pieces

1/4

cup

water

2

teaspoons

soy sauce

2

tablespoons

sugar

4

cups

cooked sushi rice

(or regular cooked white rice (*Footnote))

3

sheets roasted seaweed

nori, cut into 8 strips about 2" (5 cm) wide and 9" (23 cm) long
Instructions
Start making steamed rice (or sushi rice) if you don't have any on hand.

Heat a 12-inch (30cm) nonstick or well-seasoned cast-iron skillet over medium heat. Add the Spam slices and cook until browned and crisp on the bottom side, 2 to 3 minutes. Flip and cook until the other side is also browned and crisp, 2 to 3 minutes.

Whisk together the water and soy sauce in a small bowl. Sprinkle the sugar evenly over the Spam slices, then add the soy sauce mixture. Swirl to evenly distribute, then let the Spam simmer until the liquid is nearly absorbed, 3 to 4 minutes. Flip once in between, so the sugar will melt completely and camalize well. Transfer the Spam slices to a plate to cool.

To make the sushi: Place one slice of Spam perpendicular to the nori strip on the bottom of the strip (forming a cross shape). Wet the palms and fingers of both hands, measure 1/2 cup of rice, and transfer the rice to your palm. Use both hands to firmly press the rice into a ball. Then hold the rice ball with your left hand, with your thumb and the other four fingers to secure both sides, use your right hand to gently press the rice ball into a rectangular shape about the size of the Spam slice. Place the rice on top of the Spam. Roll up the Spam and rice to let the nori sheet wrap around it. Seal the end with a bit of water and place the musubi seam-side-down while you work on the rest. Repeat with the remaining nori strips, Spam slices, and rice. Remember to rinse your hands every time, to minimize rice sticking to your hands.

Enjoy the spam musubi immediately at room temperature. You can store them in an airtight container or wrap them with plastic wrap and place them in the fridge. To serve refrigerated musubi, warm them in the microwave for 20 seconds or so, to get the best texture.
Notes
A couple notes on the rice:
When making sushi rice, always use short grain rice. Medium and long grain rice are less starchy and don't hold together well when pressed into sushi
The original recipe uses regular steamed rice, and so do most Hawaiian Spam musubi recipes.
However, I personally prefer making sushi rice, which contains rice vinegar and sugar. The acid and mild sweetness of the sushi rice complement the salty Spam and create more depth of flavor.
The original recipe calls for 3 to 4 cups of rice, depending on how much rice you use per musubi. I found my personal favorite ratio is: slice the Spam into 8 slices, and use 1/2 cup of rice per musubi. In my case, I used 4 cups cooked sushi rice, which was generated from 2 rice-cooker cups (180ml per cup) of raw short grain rice.
Nutrition
Serving:
8
g
,
Calories:
276
kcal
,
Carbohydrates:
40.6
g
,
Protein:
6.9
g
,
Fat:
8.9
g
,
Saturated Fat:
3.2
g
,
Cholesterol:
20
mg
,
Sodium:
368
mg
,
Potassium:
187
mg
,
Fiber:
0.6
g
,
Sugar:
3.1
g
,
Calcium:
10
mg
,
Iron:
2.2
mg