Szechuan spicy peanuts are an addictive beer accompaniment. Crunchy, salty, slightly sweet, and fiercely hot, with the citrusy tingle of numbingness. You won't able to stop once you pop the first peanut into your mouth.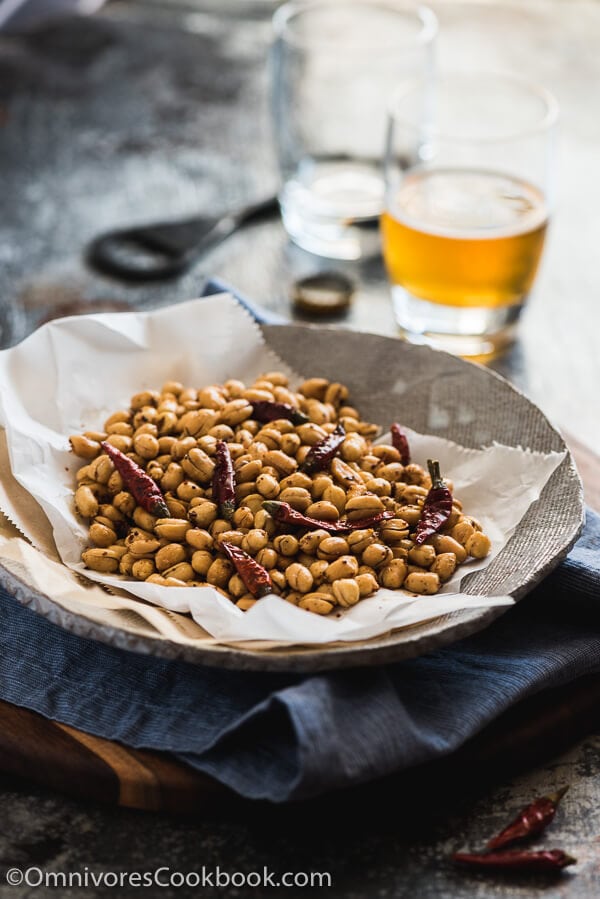 The real name of this spicy peanut dish is Huang Fei Hong spicy peanuts (黄飞鸿花生), a famous Chinese snack that combines the numbing spicy Szechuan seasoning with fried peanuts. I wasn't surprised when I saw it recommended by Saveur as "pure dynamite".
It's difficult to find this snack in Asian markets here in the US. And they are pricey on Amazon. The good news is that now you can make them at home.
Creating the perfect Huang Fei Hong Spicy Peanuts requires quite a bit of effort.
The most time consuming part is peeling the peanuts.
In this recipe, I used the old-fashioned method – soaking the peanuts in warm water and peeling them one by one. Not that it's the fastest or the easiest way to do it. It's what my mom does. I'm sentimentally attached to this method because it reminds me of the good ol' homemade food at my parents' place. If you're going to use the same method, make sure you turn on the TV while peeling the peanuts. It makes the process less tedious.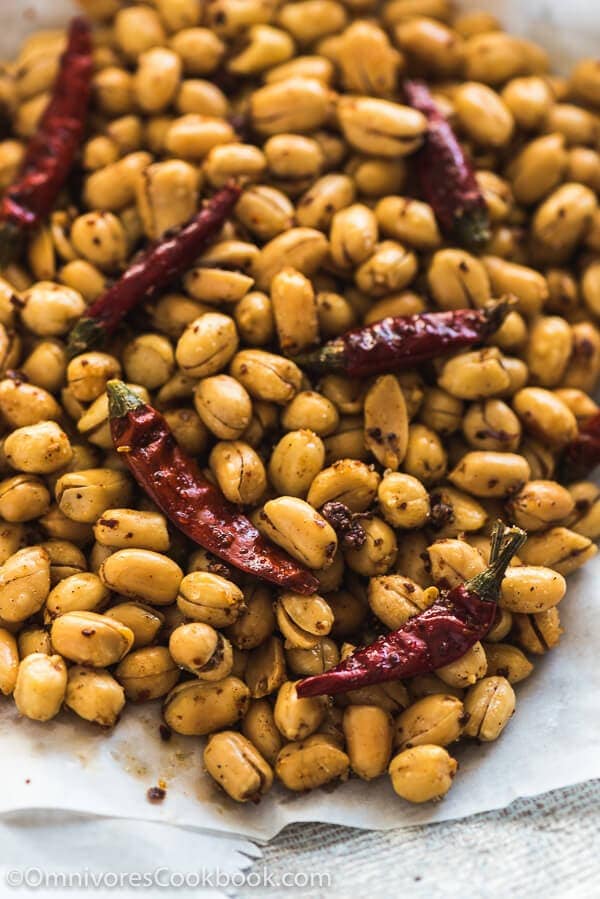 The second step is frying the peanuts. To make proper crispy and crunchy peanuts, you need to roast them very slowly without burning them. You could (1) cook them with a little oil and constantly stir them; or (2) fry them. I tried both and the latter was the winner. The peanuts cooked more evenly. Plus, it saved a lot of stirring. I suggest you use a wok, so you can use the minimum amount of oil to cover all the peanuts. The peanuts will barely absorb any oil and you can save the oil for later use.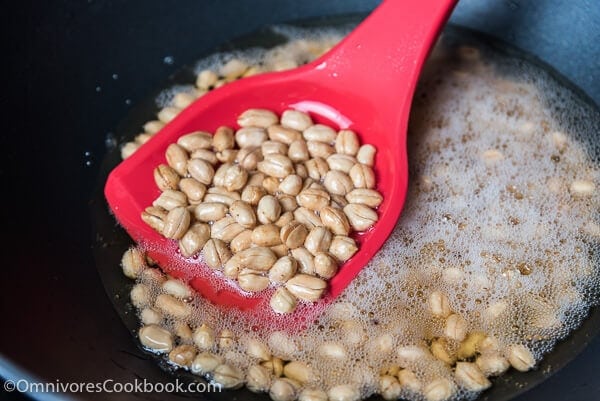 The third step is to season the peanuts.
To do this step properly, you have to remove the extra oil from the wok. Otherwise you'll end up with oil-soaked peanuts that are bland and flavorless.
The other key to seasoning is to use ground spices instead of whole chili peppers and Szechuan peppercorns. Yes, the real-deal Huang Fei Hong peanuts contain whole chili peppers in the bag. They are just there as garnish. The peanuts won't absorb enough flavor during the short cooking time. So always use plenty of ground spices to properly season the peanuts.
It might seem like a ton of flavoring for such a small batch of peanuts. But trust me, it is not too much. This won't be the healthiest thing in the world, but using less spices will definitely kill the joy.
You will spend an entire hour (or two, if including the soaking time) to make this small appetizer. But once you pop a peanut into your mouth, you'll know it was worth every single minute.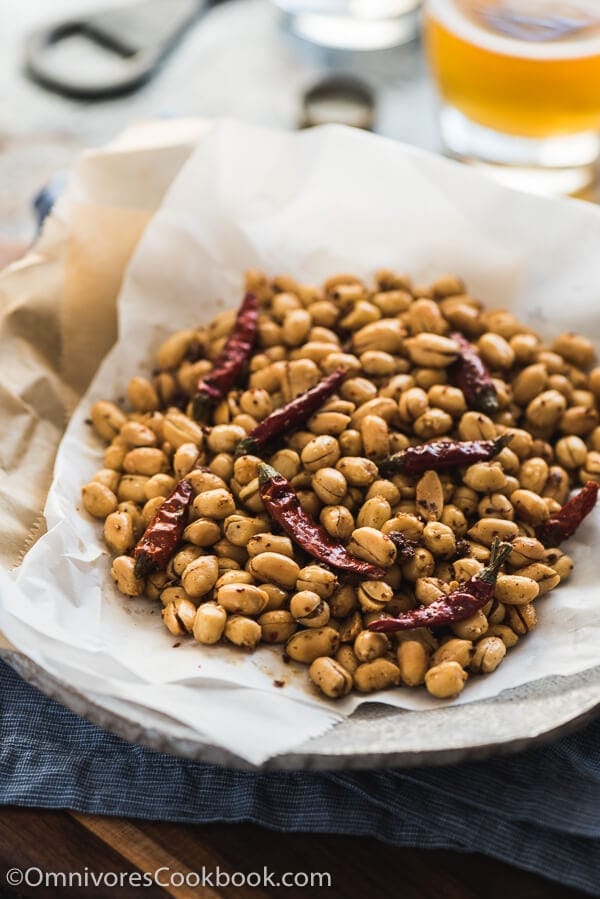 If you give this recipe a try, let us know! Leave a comment, rate it (once you've tried it), and take a picture and tag it #omnivorescookbook on Instagram! I'd love to see what you come up with. Cheers, friends!
Want to Know More?
Receive our 5-Day Chinese Cooking Crash Course & Recipe Updates! Subscribe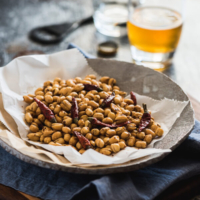 Szechuan Spicy Peanuts (黄飞鸿花生, Huang Fei Hong Spicy Peanuts)
Szechuan spicy peanuts are an addictive beer accompaniment. Crunchy, salty, slightly sweet, and fiercely hot, with the citrusy tingle of numbingness. You won't able to stop once you pop the first peanut into your mouth.
Ingredients
1

cup

raw peanuts

1/2

cup

vegetable oil

(or enough to cover the peanuts)

dried chili peppers and 1 teaspoon Sichuan peppercorn for garnish

(Optional)
Spice mix
1

teaspoon

chili flakes

1

teaspoon

sugar

1

teaspoon

sea salt

1

teaspoon

Sichuan peppercorn powder

, toasted (*See footnote 1)

1/4

teaspoon

white pepper powder

1/4

teaspoon

five spice powder
Instructions
Cover peanuts with warm water. Let soak for 30 minutes to 4 hours. Peel and discard the skin. Drain and pat dry peanuts with paper towel.

Combine all the ingredients for the spice mix in a small bowl.

Add peanuts into a wok and oil to cover. Turn on medium heat. Cook until the peanuts start to sizzle. Turn to medium low heat. Cook and stir occasionally until the surface turns pale yellow. Transfer peanuts using a colander onto a plate layered with paper towels. Remove extra oil from the wok and reserve just 1 teaspoon.

(Optional) Add chili peppers and Sichuan peppercorns into the same wok. Cook and stir until fragrant.

Return peanuts to wok. Add the spice mix. Stir to mix well so the peanuts are evenly covered with spices. Transfer peanuts onto a big plate to cool. Don't worry if the peanuts are not crispy enough when they're still warm. They'll crisp up and become crunchy once completely cooled.

Serve immediately as a snack or store in an air-tight container.
Notes
To make roasted Sichuan peppercorn powder, cook whole Sichuan peppercorns with a bit of oil until dark and very fragrant. Let cool and transfer to a coffee grinder. Grind until peppercorns turn to flakes. You can make extra and save it in an air-tight container in the fridge. It will stay good for many months.
I won't suggest using store-bought Sichuan peppercorn powder. But if using, add less (1/4 teaspoon as a start) to the dish.