3-Ingredient Fried Shrimp is the easiest fried shrimp recipe that generates the best results. The juicy shrimp are wrapped in a light, crispy, and fluffy crust that is similar to tempura. So good!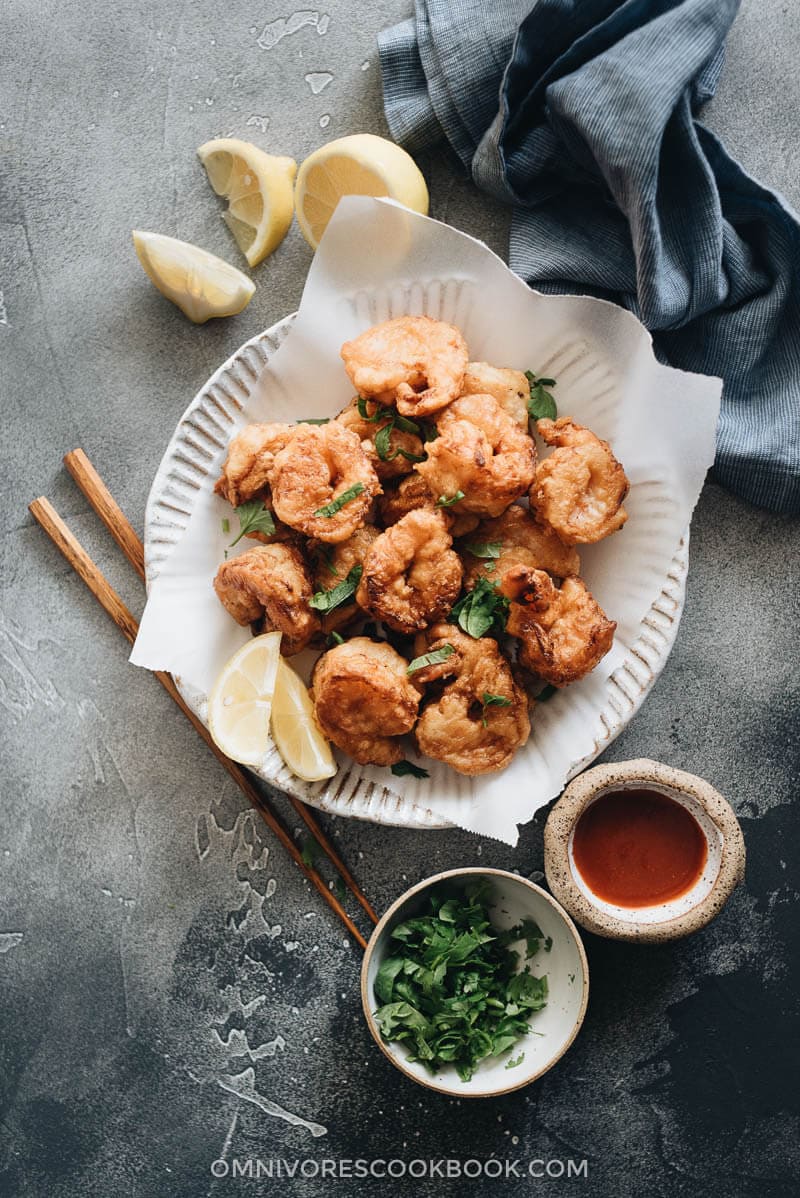 Growing up, I was accustomed to eating very healthy food that my mom made every day. Although my dad also knows how to cook, (as a matter of fact, he cooks better than my mom), he only goes into the kitchen once in a while to showcase his skills. This super simple fried shrimp is one of my favorite dishes from him. You know, my mom hates frying food in the kitchen because it makes the room very smoky. That's why I could only enjoy this super delicious dish 4 to 5 times a year as a treat 🙂
Just like for every other dish my parents cook, they've never had a recipe for this one. But since I've watched my dad cook this one so many times, I'm quite good at guessing the measurements from the consistency of the batter.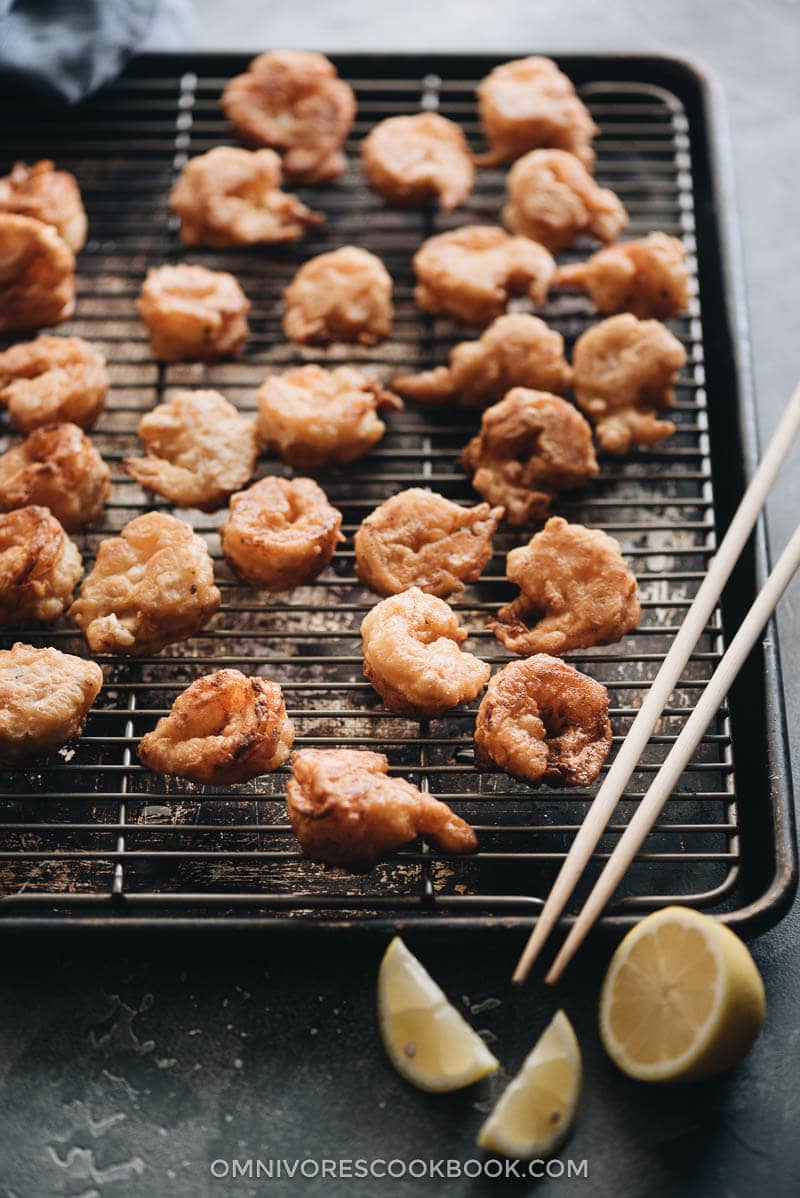 Why this recipe?
This fried shrimp recipe might be the easiest one out there, but it yields such great results.
The main ingredient is the Shaoxing wine (which can be replaced by dry sherry). It gives a tangy, savory taste to the shrimp and compliments its light sweetness. The coating has a thin consistency, like pancake batter. The result is a light, crispy, and fluffy texture that is almost like tempura.
The frying process is easier than your average fried shrimp.
To speed up the process, use less oil, and generate the best results, my technique involves shallow-frying the shrimp in a large nonstick frying pan.
I only add just enough oil to cover 2/3 of the shrimp, about half an inch (1.5-cm). Then I heat it to hot over medium-high heat. Because of the large contact surface area of the pan on the stove, you can fry quite a large batch of shrimp at one time without lowering the oil temperature too much. The bottom of the shrimp will turn golden brown in 1 to 2 minutes. Then you flip the shrimp to cook the other side.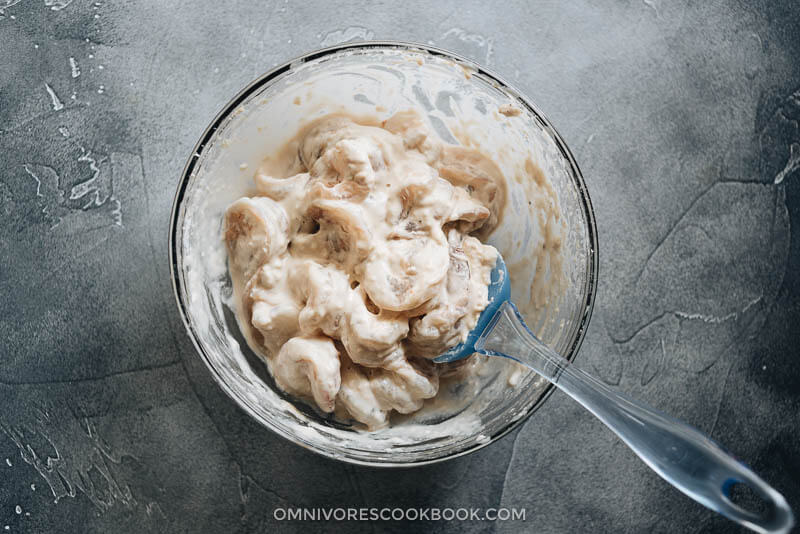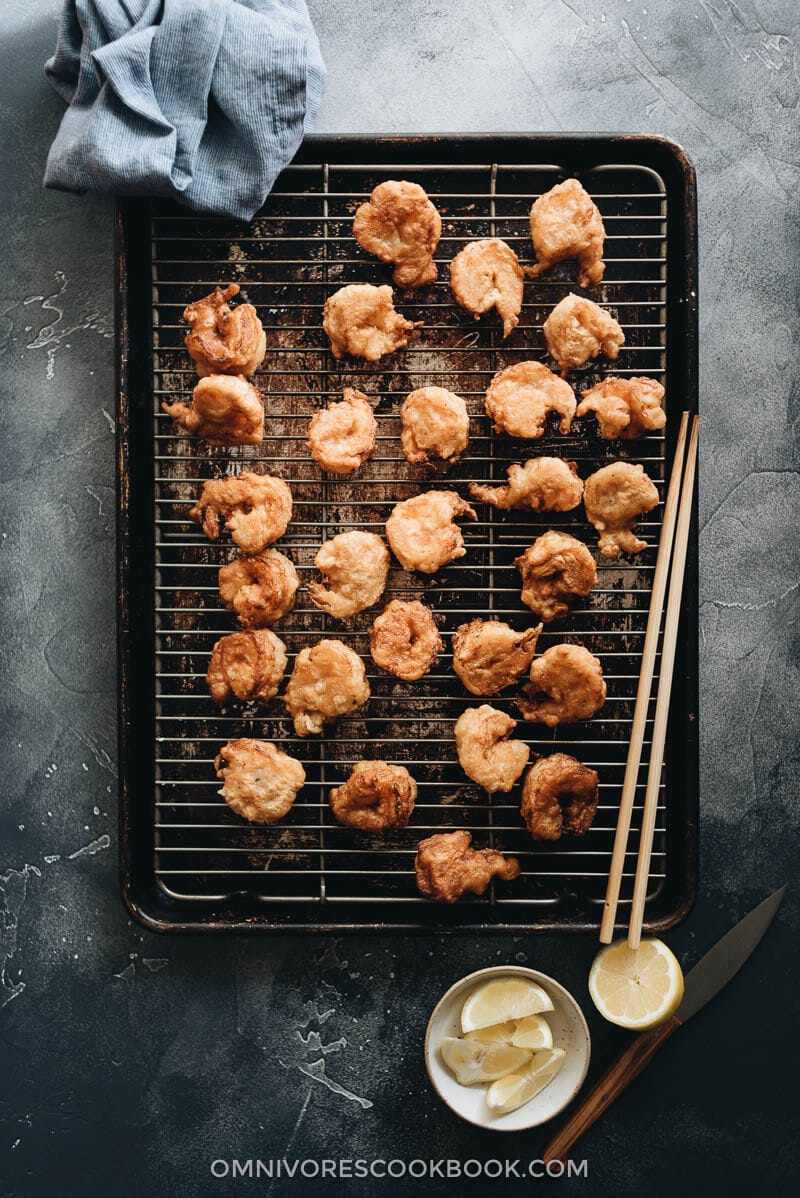 When I fry 1 pound of shrimp, it only takes me like 10 minutes to finish cooking the whole batch. Not bad, right?
The finished product might not be the prettiest fried shrimp out there, but I guarantee you it tastes SO GOOD. My husband gave it five stars and said it tastes even better than the fried shrimp tempura at the Japanese restaurant.
More delicious appetizer recipes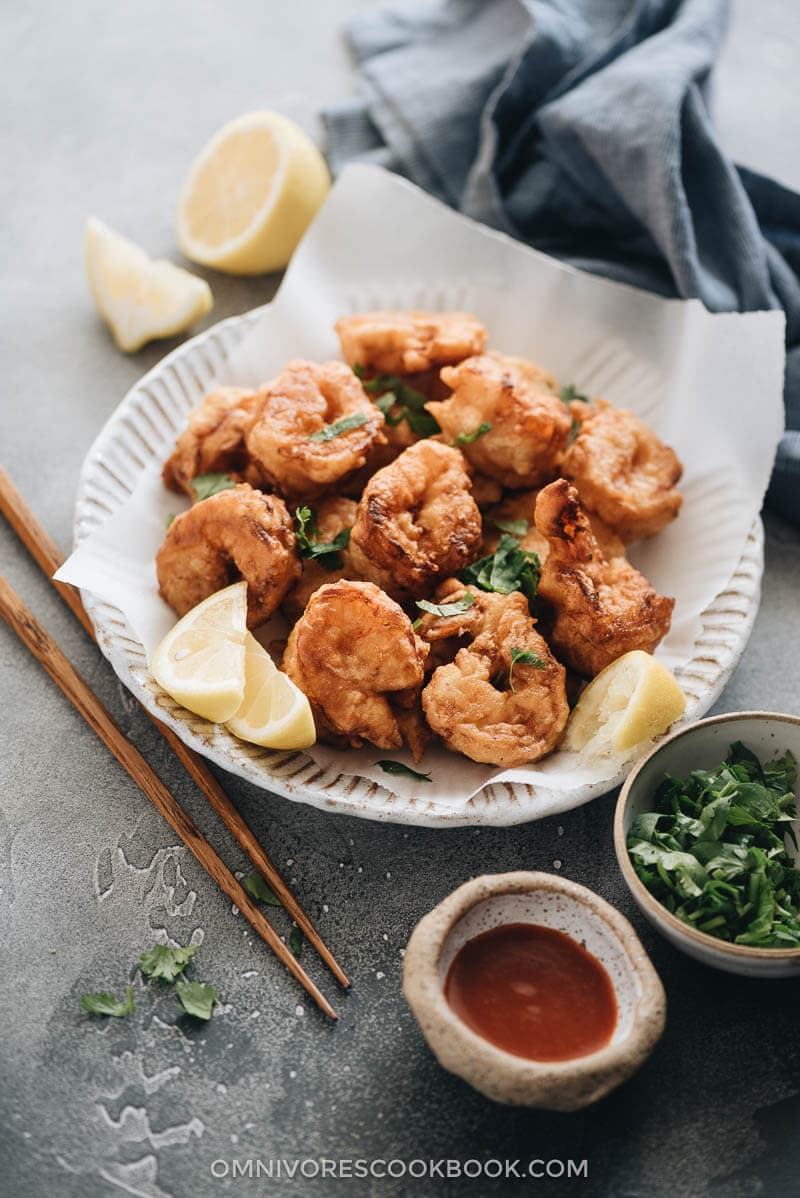 If you give this recipe a try, let us know! Leave a comment, rate it (once you've tried it), and take a picture and tag it @omnivorescookbook on Instagram! I'd love to see what you come up with.
Want to Know More?
Receive our 5-Day Chinese Cooking Crash Course & Recipe Updates! Subscribe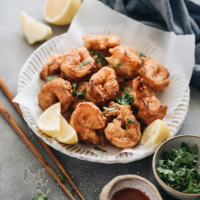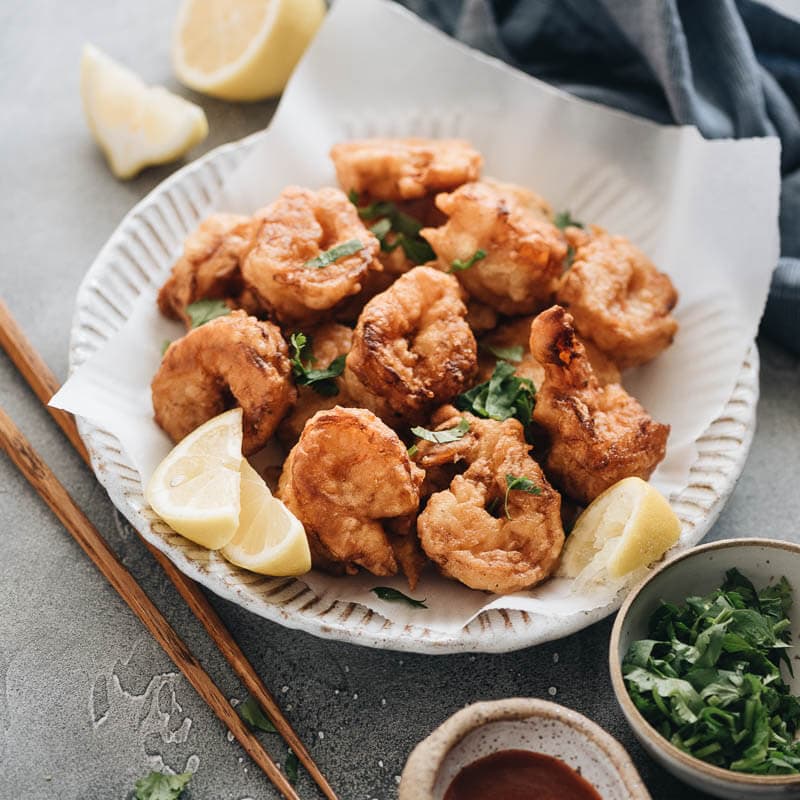 3-Ingredient Fried Shrimp
The juicy shrimp are wrapped in a light, crispy, and fluffy crust that is similar to tempura. So good!
Ingredients
1

lbs (450 g)

shrimp

, peeled and deveined

1/4

cup

Shaoxing wine

(or dry sherry)

1/2

teaspoon

salt

1/4

teaspoon

black pepper powder

2/3

cup

all-purpose flour

1/3

cup and 1 tablespoon

water

Vegetable oil for frying
Serving options (*Footnote 1)
Chopped cilantro for garnish

Lemon wedges

Mayonnaise

Sriracha sauce
Instructions
Combine shrimp, Shaoxing wine, salt, and black pepper in a big bowl. Mix well and marinate for 5 to 10 minutes.

Add the flour and water. Stir to mix well. The batter should be like a pancake batter, slightly runny but thick enough to coat the shrimp. Prepare a baking tray topped with a cooling rack.

Heat 1/2 inch (1.5 cm) vegetable oil in large nonstick pan over medium-high heat until hot. To test the oil temperature, insert a wooden chopstick into the oil. When you see small bubbles rapidly rise around the chopstick, it's ready for frying. Fry shrimp in 3 to 4 batches. Coat shrimp with the batter and gently place in hot oil. Cook until the bottom side turns golden brown. Flip and fry until the other side until golden brown, 1 to 2 minutes per side. Transfer the shrimp to the cooling rack.

Serve hot. Squeeze with lemon juice, and serve with any preferred sauces on the side.
Notes
1. The shrimp will taste great without any sauce.
Nutrition
Serving:
1
serving
,
Calories:
216
kcal
,
Carbohydrates:
16
g
,
Protein:
17.5
g
,
Fat:
8.1
g
,
Saturated Fat:
1.7
g
,
Cholesterol:
143
mg
,
Sodium:
361
mg
,
Potassium:
138
mg
,
Fiber:
0.6
g
,
Sugar:
0.1
g
,
Calcium:
50
mg
,
Iron:
1.3
mg
The recipe was originally published on  Dec 19, 2013 and updated on Apr 13, 2018.