My mom's secret recipe for creating the best pork dumplings. The dumplings are juicy, tender and taste so good even without any dipping sauce!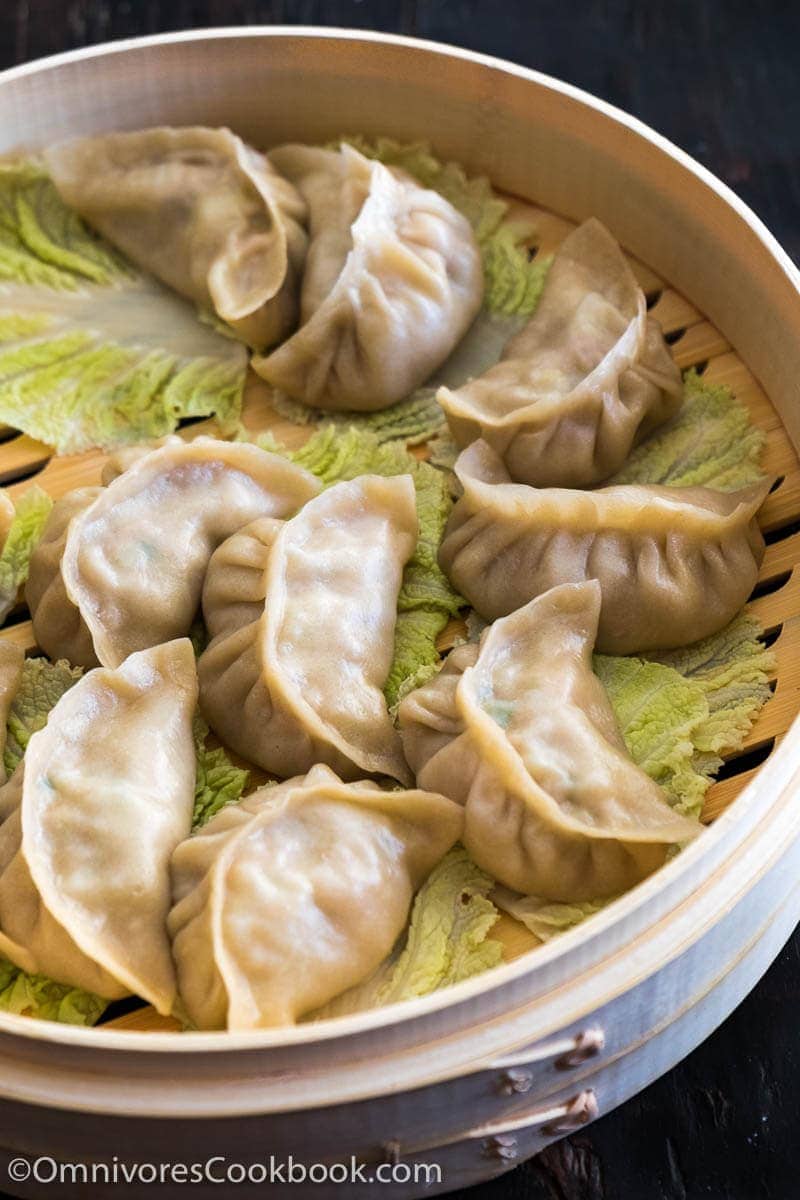 Dumplings are one of the most important foods in northern Chinese cuisine. Unlike potstickers served in Japan and in the US, dumplings are a staple for us and we enjoy them as a meal instead of appetizer. The other difference is we always cook with freshly made dumpling dough instead of frozen dumpling wrappers. Even when you buy dumpling wrappers at a vegetable market you will certainly find small packs of freshly machine-made dumpling wrappers that come in small plastic bags.
I have been spoiled with great homemade dumplings ever since I was a kid. My grandma was a northern lady who loved cooking and sharing food. And, she was really good at it! Preparing and making dumplings was one of her favorite tasks, and my dad learnt all the secrets from her, passing the the skill to my mom.
My grandma's secret weapon to making great pork dumplings was fresh shrimp. In traditional pork dumpling recipes, home cooks usually use rehydrated dried shrimps to increase flavor. But my grandma insisted on using fresh shrimp. Not only does it add umami and depth of flavor, the texture of the dumplings will be perfect when you use fresh shrimp, producing some of the best dumplings I've ever had.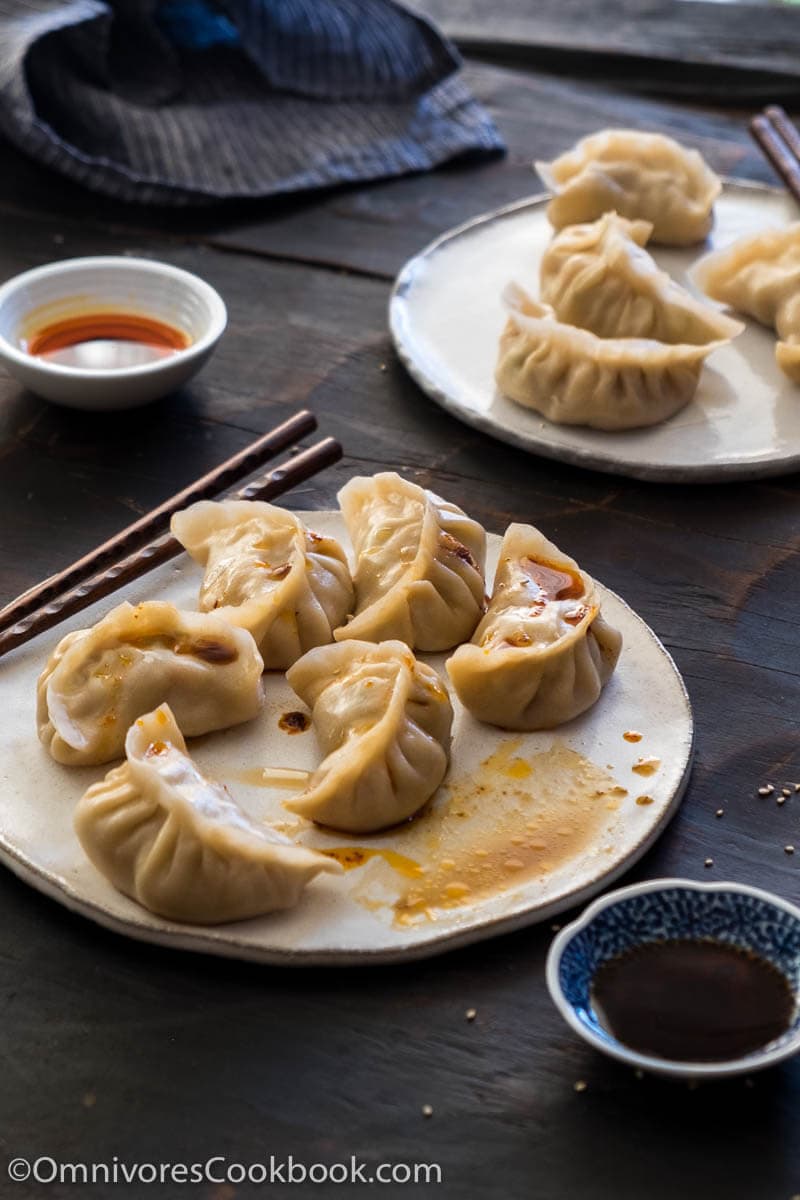 I remember the first time my cousin tried dumplings at my parents' place. He was astound how great a pork dumpling can taste. He was still in middle school. Back then it' was a luxury thing to use expensive fresh shrimp in the dumplings because dumplings are considered a common daily staple, like rice, and should be cheap to make. When he went back home and insisted on using shrimps in the dumplings, my uncle scolded him saying it's a crazy thing to do. When my mom told me the story, I suddenly realized how special these dumplings are, and I've been eating them all the time.
Today I'm sharing this family recipe with you. It is simple, elegant, and fresh. You can use store bought dumpling wrappers as well. But if you're into Chinese food, I highly recommend you to make the dumpling dough from scratch. To make the task easier, you can make steamed dumpling dough instead of boiled dumpling dough. Either way, these dumplings will turn out juicy, tender, and with great texture.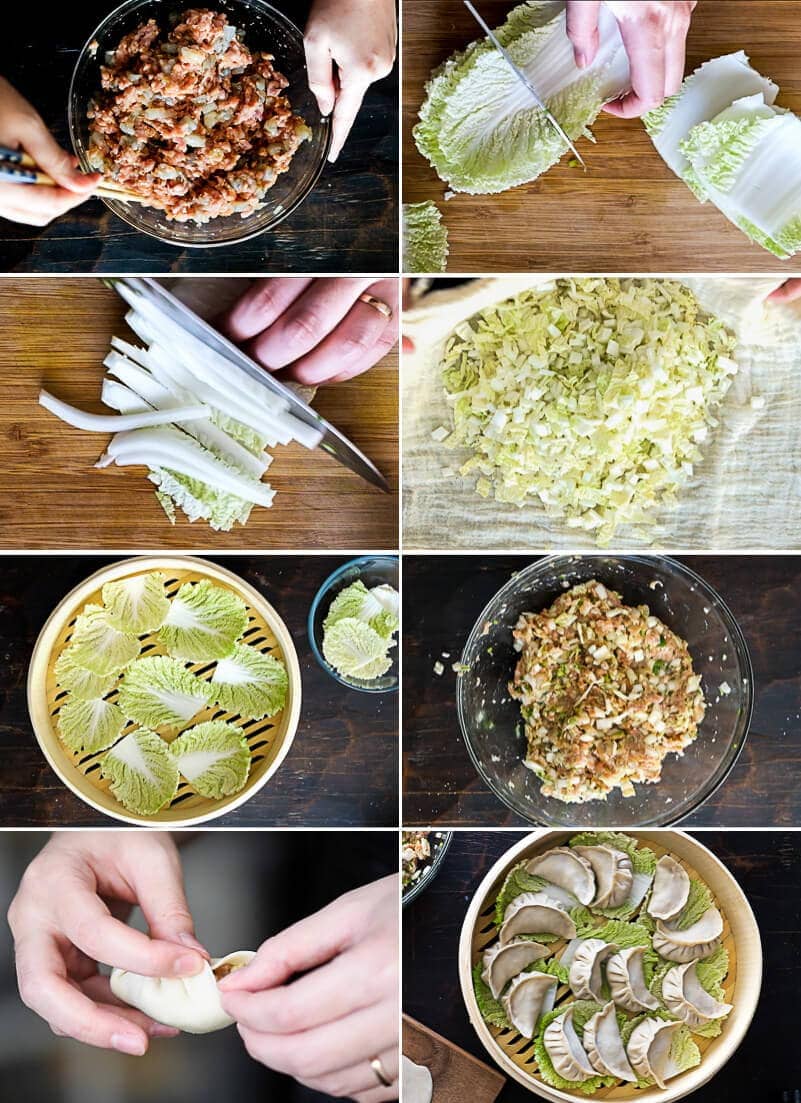 As I mentioned in my previous post, great dumplings emphasize the freshness of the filling and dough. By using homemade dumpling dough, not only do you create a soupy dumpling filling, you can make bigger dumplings that taste (and are more) satisfying. You'll see my recipe has a very simple ingredient list. Once you've tried fresh dumplings, you'll be surprised how flavorful they are. You'll never go back ready made dumplings.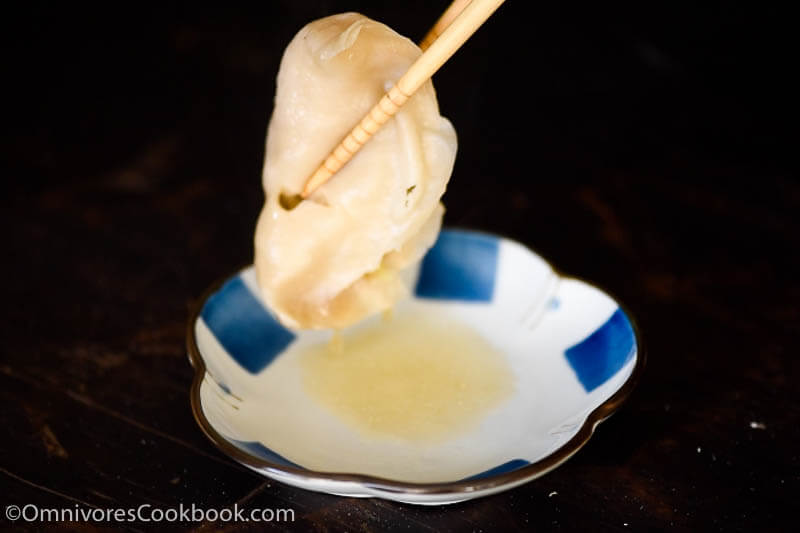 These dumplings are very satisfying and you can serve them as a main dish. You can add a simple appetizer, such as cucumber salad, wood ear mushroom salad, spinach salad, or you can serve the dumplings with millet congee and quick pickles. That's exactly what we do in China.
For more filling recipes for dumplings, check out my favorite lamb dumpling recipe, vegetarian dumplings, and pork mushroom dumplings.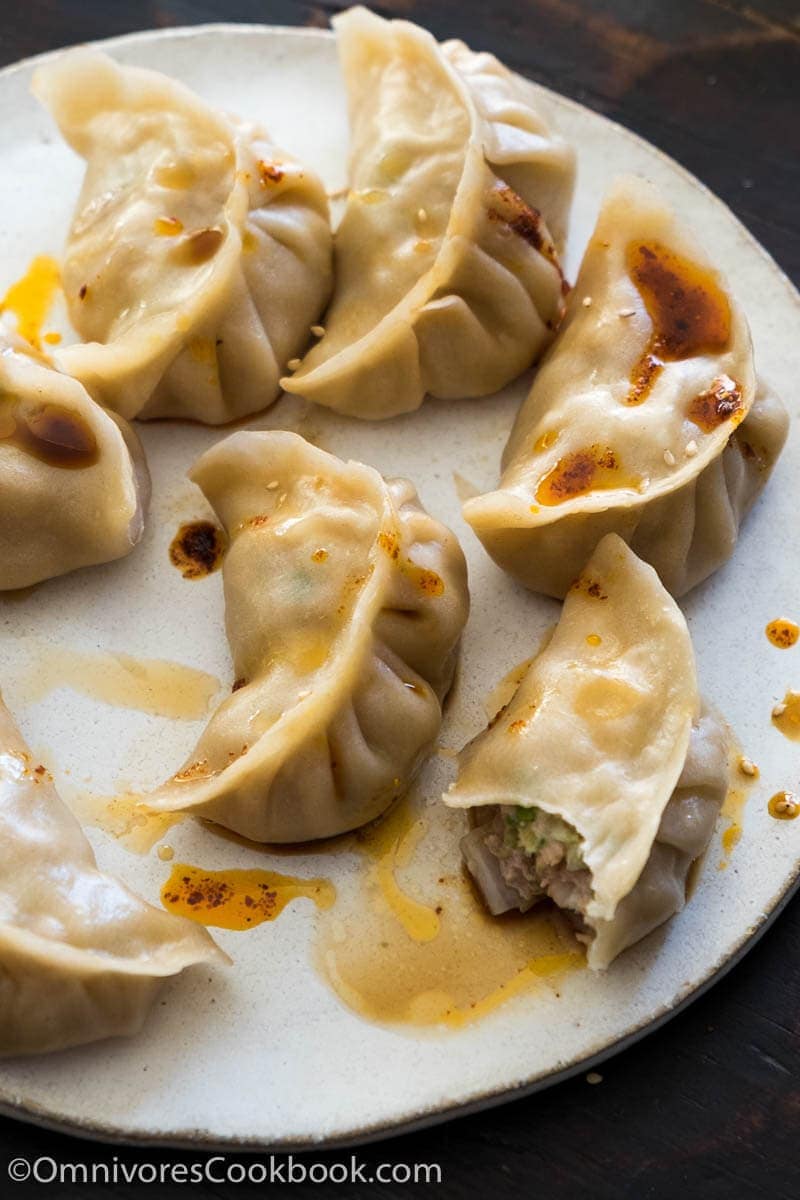 Cooking video
I recorded a short video to show you how easy it is to cook this dish. Find more videos to learn Chinese cooking on my YouTube channel!
Happy cooking!
Want to Know More?
Receive our 5-Day Chinese Cooking Crash Course & Recipe Updates! Subscribe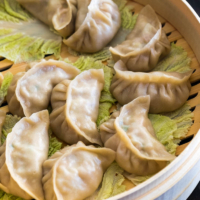 Mom's Best Pork Dumplings with Cabbage
My mom's secret recipe for creating the best pork dumplings. The dumplings are juicy, tender and taste so good even without any dipping sauce!
Servings:
40
to 50 dumplings
Ingredients
1

pound (450 grams)

ground pork

(at least 20% fat)

1/2

pound (250 grams)

shrimp (about 16 medium-size shrimp)

, peeled and deveined and chopped to small pieces

1

tablespoon

ginger

, freshly grated

2

tablespoons

light soy sauce

(or regular soy sauce)

2

tablespoons

Shaoxing wine

(or dry sherry)

1

teaspoon

sea salt

1/4

teaspoon

white pepper

1

pound (450 grams)

napa cabbage

4

green onions

, finely chopped

2

tablespoons

sesame oil

1

package

frozen dumpling wrappers

(or homemade steamed dumpling wrappers OR homemade boiled dumpling wrappers)
Instructions
Prepare filling
Combine ground pork, shrimp, ginger, light soy sauce, Shaoxing wine, salt, and white pepper in a large bowl. Stir with a spatula until the ingredients are well combined and form a sticky paste. Thorough mixing is essential here, so your dumpling filling will stay together when you wrap dumplings. Cover with a plastic wrapper and allow to marinate in fridge until you're ready to wrap the dumplings.

Cut 6 to 8 pieces napa cabbage leaves (just enough to line the steamer) and keep for later. Cut the rest of the cabbage into small cubes and set aside.

Sprinkle 2 pinches of salt onto the cabbage and mix well with your hands. Allow this to sit for 10 to 15 minutes. Use a few layers of cheesecloth or paper towel to squeeze out extra water.

Just before wrapping dumplings, add the napa cabbage, green onion, and sesame oil into the pork mixture. Stir to mix well.
Wrap
Work on the dumplings one by one. You can watch

this video

if you're using frozen dumpling wrappers. Or watch

this video

if you're using homemade dumpling wrappers.

Scoop about 1 to 2 tablespoons (depends on the size of dumpling wrapper you use) of dumpling filling and place it in the center of the wrapper. If you're using pre-made dumpling wrappers, dip your finger into a small bowl of water and wet the outer edge of the dumpling wrapper. Fold both sides into a half-moon shape and pinch the middle points together. Hold the dumpling with one hand and start sealing the edges into pleats with the other hand. Once you have sealed the dumpling, firmly press the pleated side with your fingers to make sure the dumpling is well sealed. If you put in too much filling and have trouble sealing the dumpling, remove extra filling and fold the dumpling again.

If you plan to cook the dumplings immediately, place dumplings onto a well-floured cutting board about a finger width apart.

If you plan to freeze the dumplings, line a baking sheet with aluminum foil and place dumplings on top.
Cook
Line the bamboo steamers with napa cabbage leaves. Place dumplings into the steamer a finger width apart. Add two inches of water into a wok or a large pan that can comfortably fit your steamer. Place the steamer into the wok making sure the water doesn't touch the dumplings when it begins to boil. Cover the steamer and cook over high heat for 10 minutes.

Serve immediately.
Store
Store the wrapped, uncooked dumplings in the freezer for up to 1 month. To freeze properly, seal the baking sheet tight with plastic wrapper and allow the dumplings to freeze completely. To save freezer space, transfer the frozen dumplings into large containers or a gallon bag. Be careful not break them when you stack the dumplings and do not place other things on top of your dumplings bag.

To cook the frozen dumplings, steam directly from the freezer without thawing. It takes about 15 to 20 minutes to cook through.
Nutrition
Serving:
43
g
,
Calories:
63
kcal
,
Carbohydrates:
8
g
,
Protein:
4.9
g
,
Fat:
1.2
g
,
Cholesterol:
18
mg
,
Sodium:
121
mg
,
Potassium:
93
mg
,
Vitamin A:
500
IU
,
Vitamin C:
6.6
mg
,
Calcium:
20
mg
,
Iron:
0.7
mg