These traditional northern-style Chinese noodles are comfort food in the truest sense. The sauce cleverly uses a few dried ingredients to make a rich and complex tomato-based sauce that you'll want to devour by itself.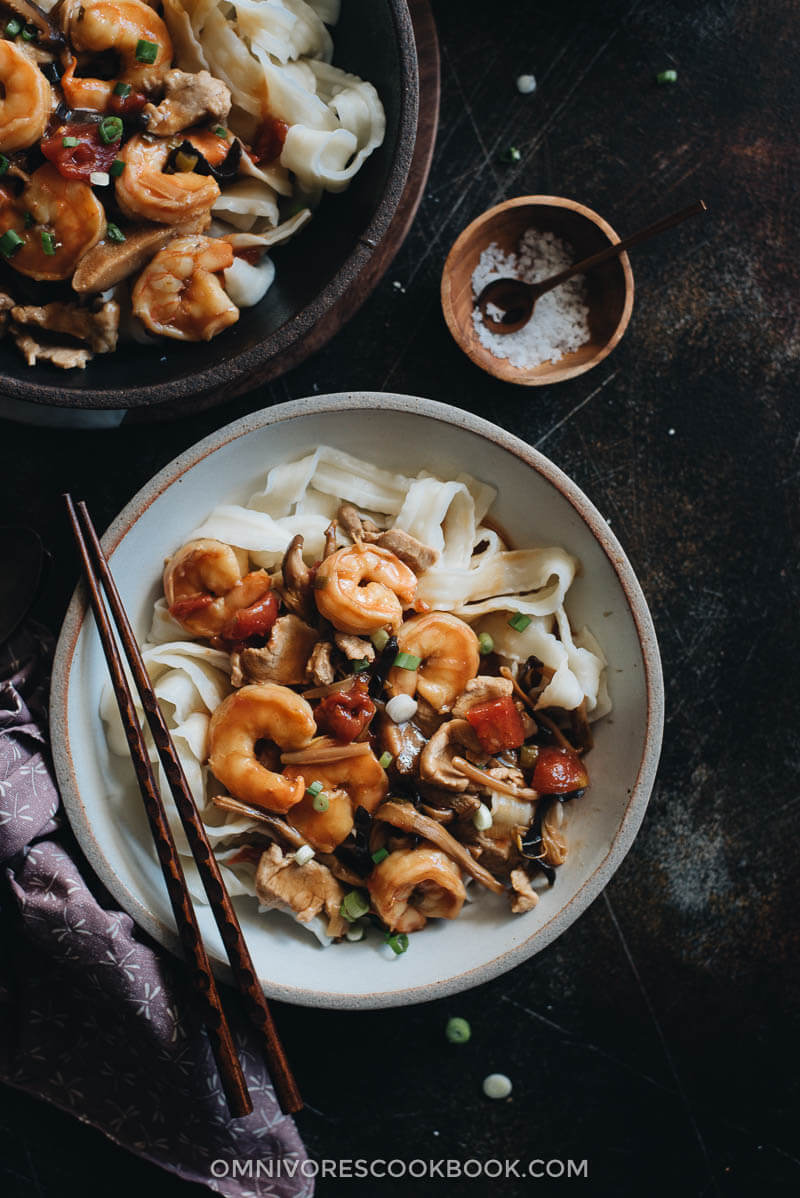 If I had to pick just one noodle dish to eat for the rest of my life, it would be this one. The noodle sauce is tomato-based. However it tastes different from any tomato sauce you've ever tried because of the added dry ingredients. The lily flowers and shiitake mushrooms add tons of veggie essence that make the sauce extra rich and full of umami. The sauce is so rich that you actually can turn it into a very flavorful vegan dish by simply skipping the pork and shrimp.
The original name of the dish is da lu mian (打卤面), a type of northern Chinese comfort food that is frugal and little-known outside the region. Da lu mian literally means noodles with any type of gravy or sauce, but usually refers to a simple sauce made with everyday ingredients. For example, a popular da lu mian uses the classic scrambled eggs and tomatoes as the sauce for the noodles. That one takes, like, ten minutes to make.
The traditional northern-style sauce is a brown sauce very similar to this one, with just a little pork and no shrimp. It is designed to be made with the cheapest ingredients that every household already has in its pantry. Of course, these dry goods are something of a luxury in the US, and you might need to make a trip to an Asian market or shop online to acquire them.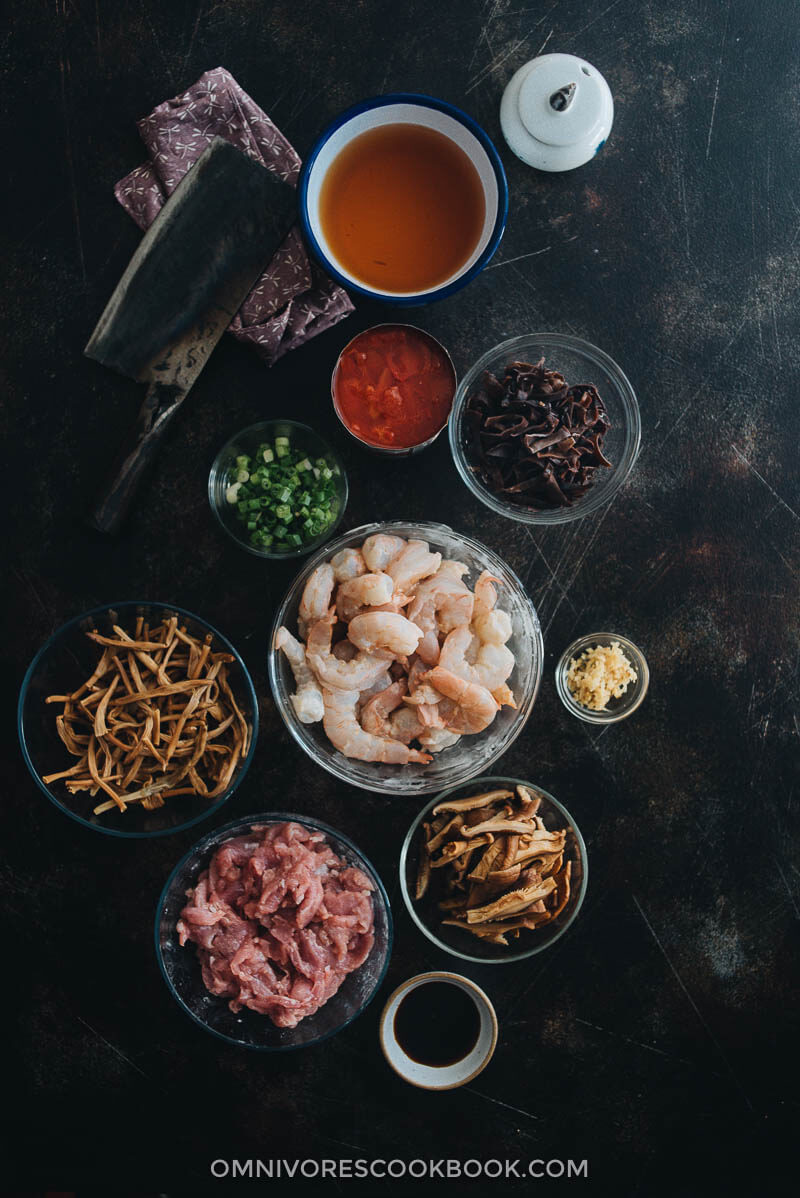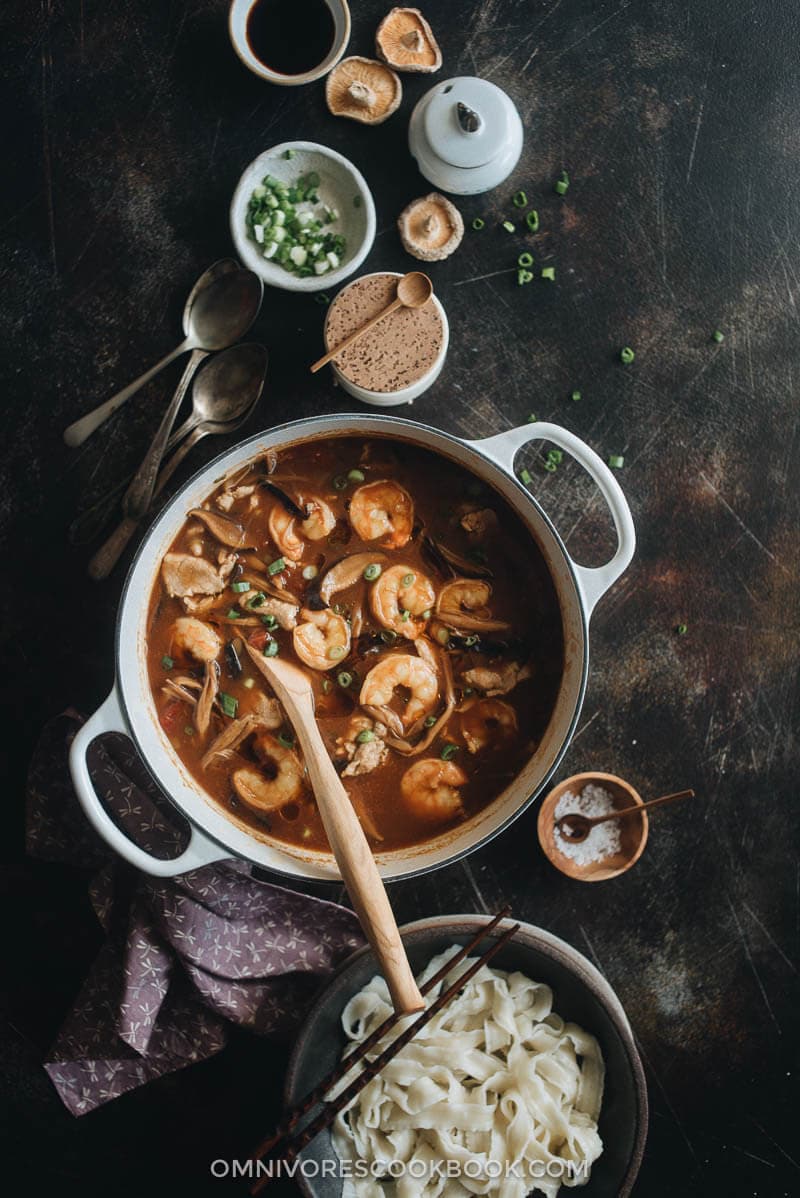 The recipe I'm sharing today is quite an elevated version and uses tons of pork and shrimp. This is a family recipe that was handed down from my grandma and is a default celebration dish we serve at every Chinese New Year and at many family gatherings.
My grandparents were quite wealthy in the old days, back when China still did not have a free market for everyday necessities. While the rest of the citizens had to use food vouchers to get rice and a limited number of veggies, my grandma could afford a few pounds of pork and even some shrimp here and there. She added these luxury ingredients to the noodle sauce, to make it a festive dish and, of course, to show off her wealth to the neighbors.
So I consider myself to have been very spoiled and lucky, because now, the shrimp and pork version is the only one that satisfies my appetite.
There was one time I served the sauce with hand-pulled noodles when I was catering a dinner party for a family. Most of the family had never cooked Chinese food before. And they were a bit concerned because the lily flowers and shiitake mushrooms smelled like mud when I was rehydrating them. The mom whispered in my ear that her six-year-old son probably wouldn't eat the noodles and told me not to take any offense. She said he is a picky eater and prepared him some chicken and broccoli separately. When he tried the kid-sized sample portion of noodles, he got really excited and asked for more. The mom was stunned. And of course, that dinner party was a blast and ended with smiles on everyone's faces.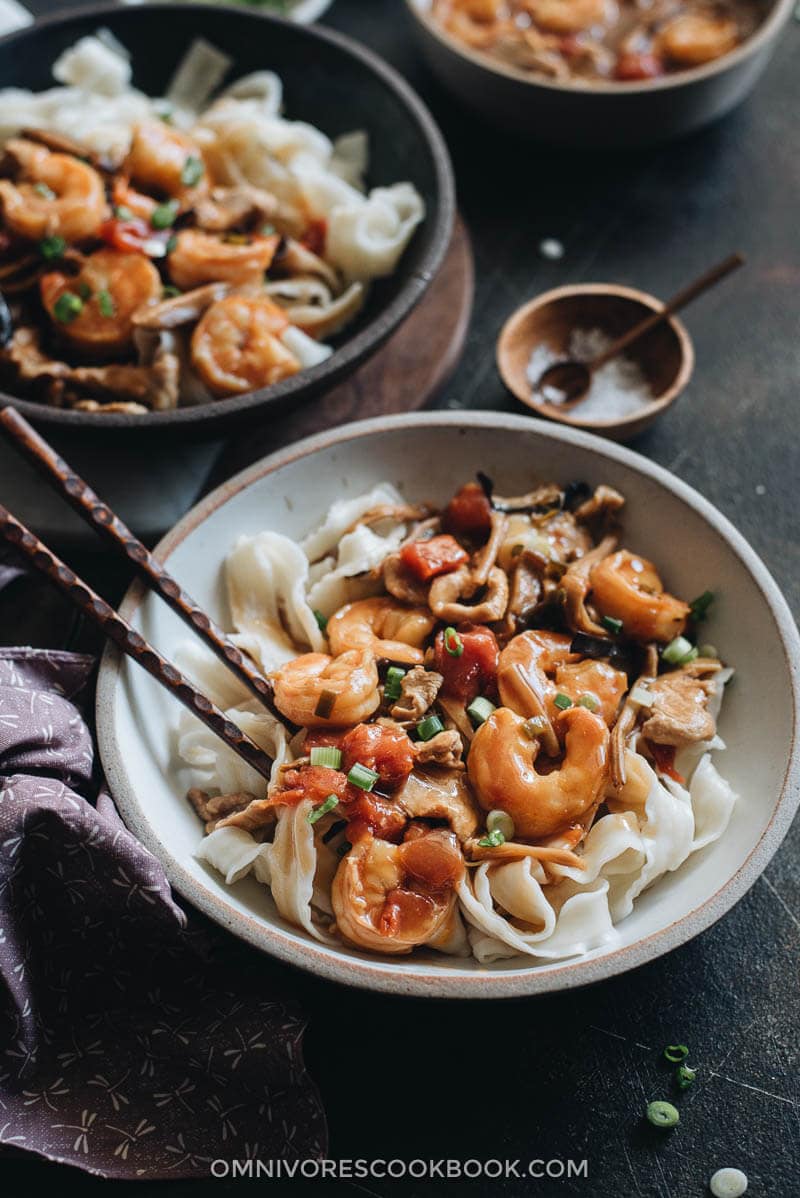 Cooking notes
1. Dry ingredient
I previously discussed how to use Chinese dried veggies to create a superior flavor in another recipe – Buddha's Delight, a Jai (Buddhist vegetarian) dish. The logic is the same here. The foundation of the broth consists of dried lily flowers and dried shiitake mushrooms. They both have a very concentrated smoky, earthy, and woody aroma. Once you rehydrate them, the rehydrating water will turn to a dark brown color as it becomes infused with great flavor. Do not throw this water away. It is the best vegan broth and you should use it in this recipe.
The other dry ingredient is wood ear mushrooms. It is a flavorless fungus that adds a crunchy texture to the dish.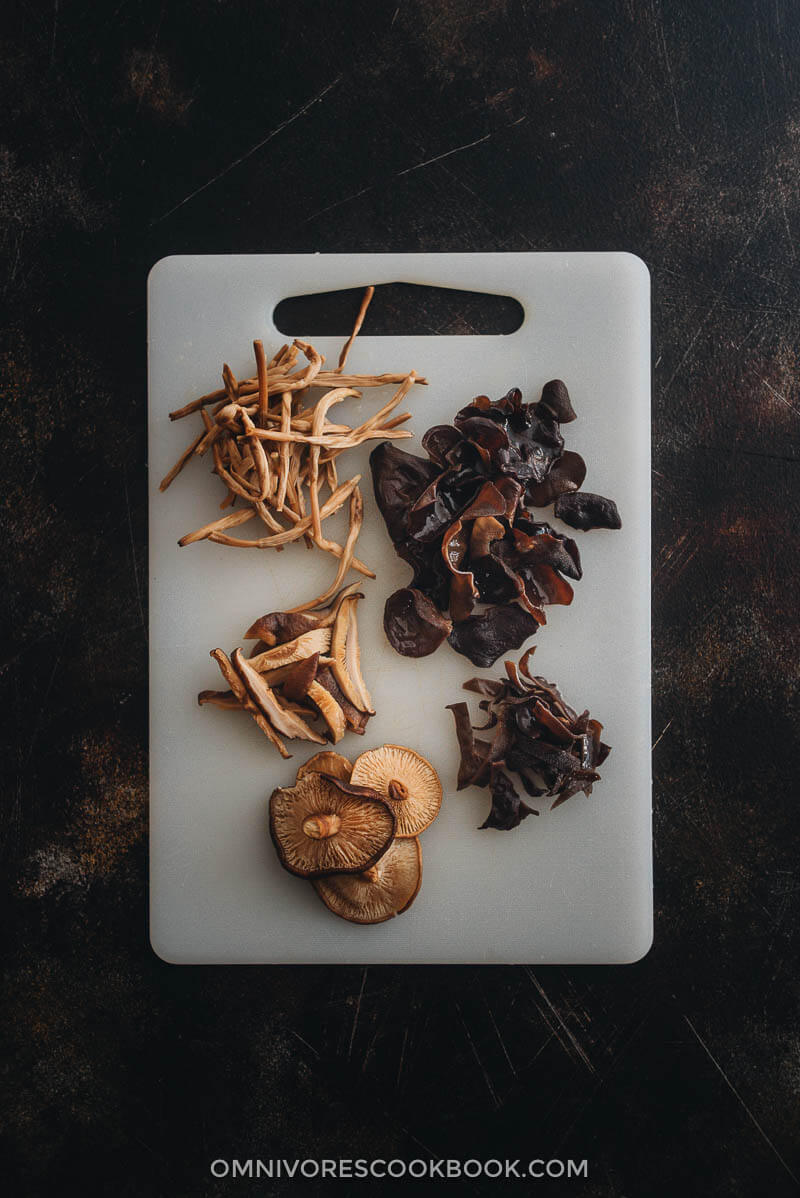 2. Adaption
The ingredients and seasonings in this recipe are very flexible:
The amounts of dried lily flowers and shiitake mushrooms can be difficult to measure. Feel free to use a bit more or less than called for in this recipe.
You can add other vegetables into the gravy, too, such as Chinese cabbage, fresh mushrooms, and bamboo shoots.
You can turn this dish vegetarian by skipping the shrimp, pork, and oyster sauce. In this case I'd highly recommend adding a bit more of the dry ingredients, plus some bamboo shoots and tofu.
You can add various types of seafood, like squid and scallops, to make the sauce even fancier.
You can add more salt, so the same amount of gravy can be used to serve more people. Or you can add a moderate amount of salt, and top each bowl of noodles with a huge amount of gravy and goodies. My family prefers the latter style. Sometimes we end up eating more gravy than noodles, simply because the gravy is so delicious.
Handmade noodles are the perfect choice for special occasions. The next best choice is the wide, thick noodles that you might find in the refrigerated section of an Asian market. You can also use thick dried noodles (udon noodles).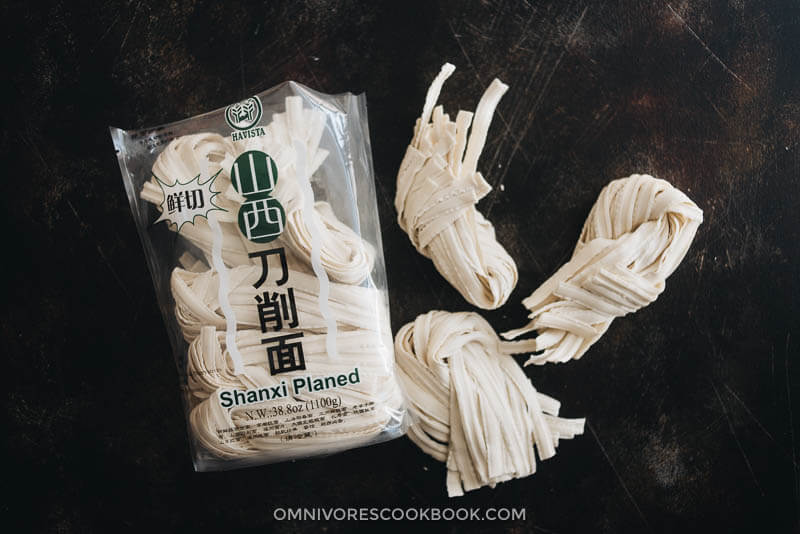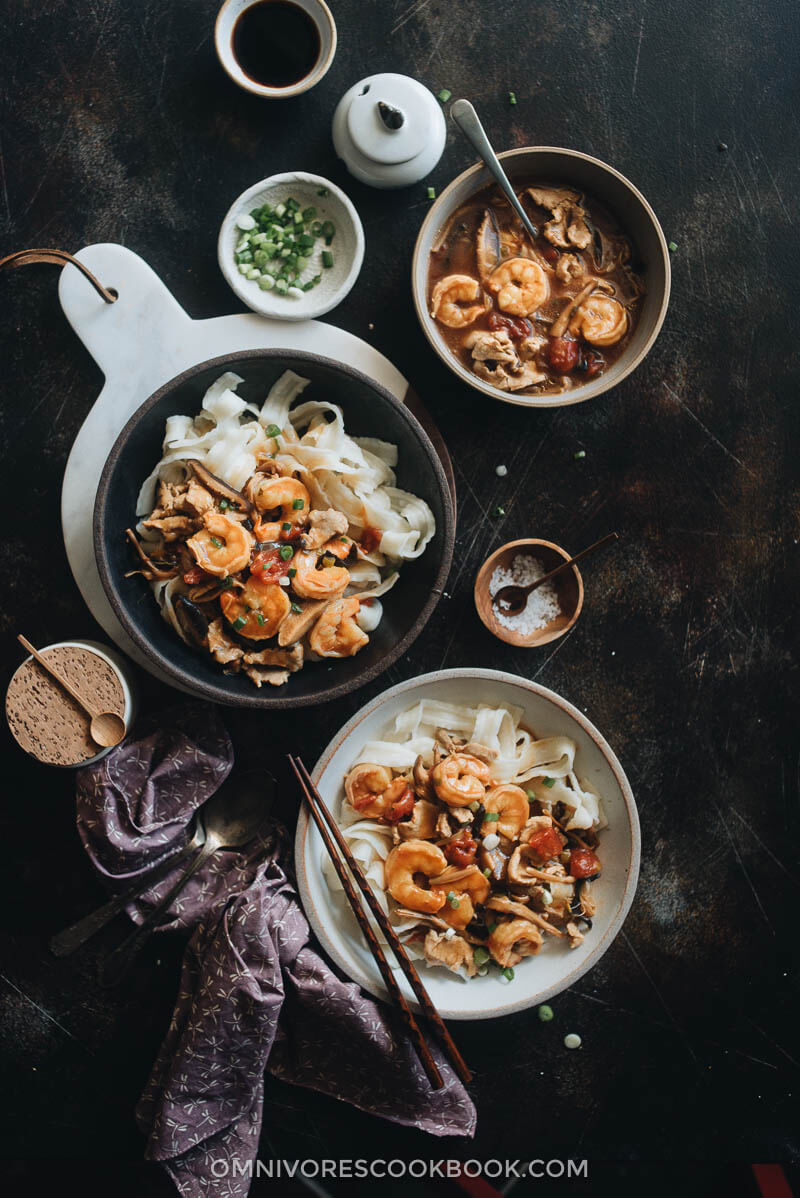 3. Workflow
The recipe might look really long and intimidating. But trust me, the cooking is very simple and straightforward. It is a perfect recipe for a dinner party and/or celebration because you can prepare everything beforehand.
You need to leave about 1 hour to rehydrate the dry ingredients. But if you're short on time, you can also simmer the sauce for a bit longer to soften the ingredients faster.
If you make the sauce beforehand, you can let the pot of sauce sit covered on low heat. But always boil the noodles right before serving.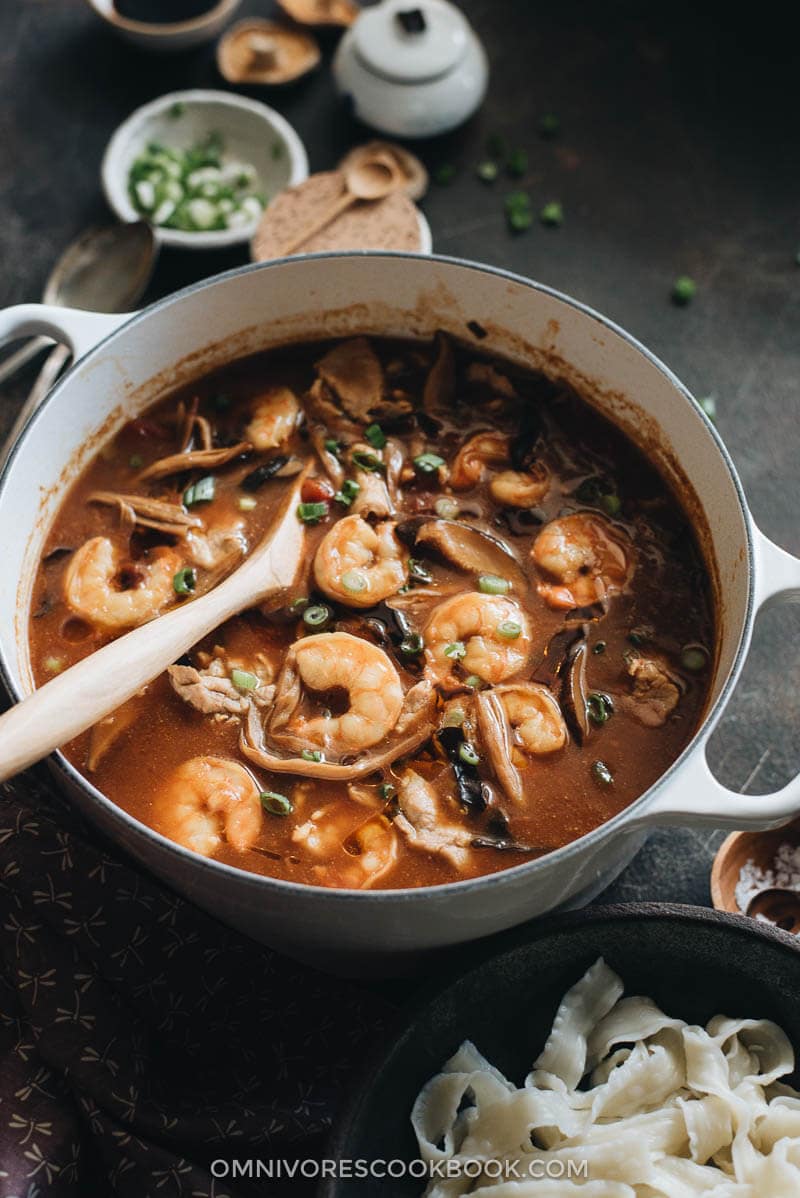 More noodle recipes for Chinese New Year
If you give this recipe a try, let us know! Leave a comment, rate it (once you've tried it), and take a picture and tag it @omnivorescookbook on Instagram! I'd love to see what you come up with.
Want to Know More?
Receive our 5-Day Chinese Cooking Crash Course & Recipe Updates! Subscribe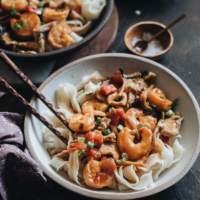 The Best Chinese Noodle Sauce (Da Lu Mian, 打卤面)
Although the recipe yields six servings, I highly recommend you make a full batch and not cut the recipe in half. This is the type of recipe that takes some time to prepare, no matter how many portions you make. Plus, the leftovers taste even better and you will finish them in no time.
Servings:
6
to 8 servings
Ingredients
Marinade
1

lb (450 g)

shrimp

, peeled and deveined

12

oz (350 g)

pork tenderloin

, thinly sliced

2

tablespoons

Shaoxing wine

, or dry sherry

4

teaspoons

cornstarch

3/4

teaspoon

salt
Sauce
2

tablespoons

vegetable oil

1

can (28 oz/794 g)

diced tomato

4

green onions

, sliced

1

tablespoon

ginger

, minced

4

cups

chicken stock

2

tablespoons

soy sauce

1

teaspoon

salt

, or to taste

2

tablespoons

oyster sauce

(Optional) (*Footnote 2)

1/4

cup

cornstarch

1

tablespoon

toasted sesame oil or homemade chili oil

(Optional)
Instructions
Rehydrate
Gently rinse the dried lily flowers with tap water. Transfer to a big bowl and add 4 cups hot water. Rehydrate until tender, about 15-20 minutes. Then remove tough ends of rehydrated lily flowers (*Footnote 3). Transfer 2 cups of the marinating water to another bowl without any of the solids that may have settled on the bottom. Set aside.

Gently rinse dried shiitake mushrooms with tap water. Add mushrooms and 2 cups hot water to a big bowl. Rehydrate until tender, about 15-20 minutes. Then drain and slice the mushrooms.

Add wood ear mushrooms to a small bowl and add hot water to cover. Let rehydrate for 15-20 minutes. When woodear mushrooms turn soft, gently rinse, drain, and set aside.
Marinade & Prep
Combine shrimp, 1 tablespoon Shaoxing wine, 1/4 teaspoon salt, and 2 teaspoons cornstarch in a small bowl. Mix well by hand and marinate for 15 minutes.

Combine pork, 1 tablespoon Shaoxing wine, 1/2 teaspoon salt, and 2 teaspoons cornstarch in a small bowl. Mix well by hand and marinate for 15 minutes.

Chop and prepare the other vegetables.

Combine the the 1/4 cup cornstarch with 1/2 cup water in a bowl. Mix well and set aside.
Cook
Heat oil in a 5.5-quart dutch oven over medium heat until hot. Add lily flowers, shiitake mushrooms, and wood ear mushrooms. Stir and cook for 1 minute.

Add green onion and ginger. Stir a few times until fragrant.

Add canned tomato, stir, and cook for 1 minute.

Add the 2 cups marinating water from the lily flowers, chicken stock, soy sauce, and salt. Bring to a boil over medium high heat, stirring constantly. Turn to medium low heat and simmer for 15 minutes.

Add the shrimp and pork. Stir and cook until the shrimp turns white and the pork is just cooked through, 1 to 2 minutes.

Whisk the cornstarch water again and swirl in half of it. Stir until fully incorporated. Slowly add the rest of the cornstarch water and stir, until the gravy reaches the desired thickness (you will have some slurry left if you prefer a thinner gravy). Taste the sauce and add more salt if needed. Drizzle with sesame oil or homemade chili oil to finish up, if using. The sauce should be slightly salty by itself. Remove the pot from your stove and cover to keep hot.

Cook noodles according to instructions. Drain and transfer to each serving plate.

Serve the sauce hot over the noodles. Enjoy!
Notes
Wide, thick noodles made with wheat flour work the best. If you want the meal to be extra fancy, you can make

hand pulled noodles

.

I used some oyster sauce to add more flavor and sweetness. If you do not have a bottle of it on hand, use 1 tablespoon soy sauce and 2 teaspoons sugar instead.

Not all lily flowers have tough ends. Depending on the quality of your flowers, you might not need this step. Feel the end of the flower with your hand. If there is a thin, tough, woody stick (less than half an inch / 1 cm), snip it off and discard it.
Nutrition
Serving:
1
serving
,
Calories:
292
kcal
,
Carbohydrates:
33
g
,
Protein:
22
g
,
Fat:
7.5
g
,
Cholesterol:
125
mg
,
Sodium:
785
mg
,
Fiber:
3.6
g
,
Sugar:
4.6
g
I posted this recipe back in May of 2015, but I have been improving the workflow ever since, to make it more friendly for Western kitchens. The recipe was updated in January of 2018 with quite a few changes.