A addictive dim sum dish made easy! This recipe does not require deep frying, pre-cook the filling, and is so easy to get ready.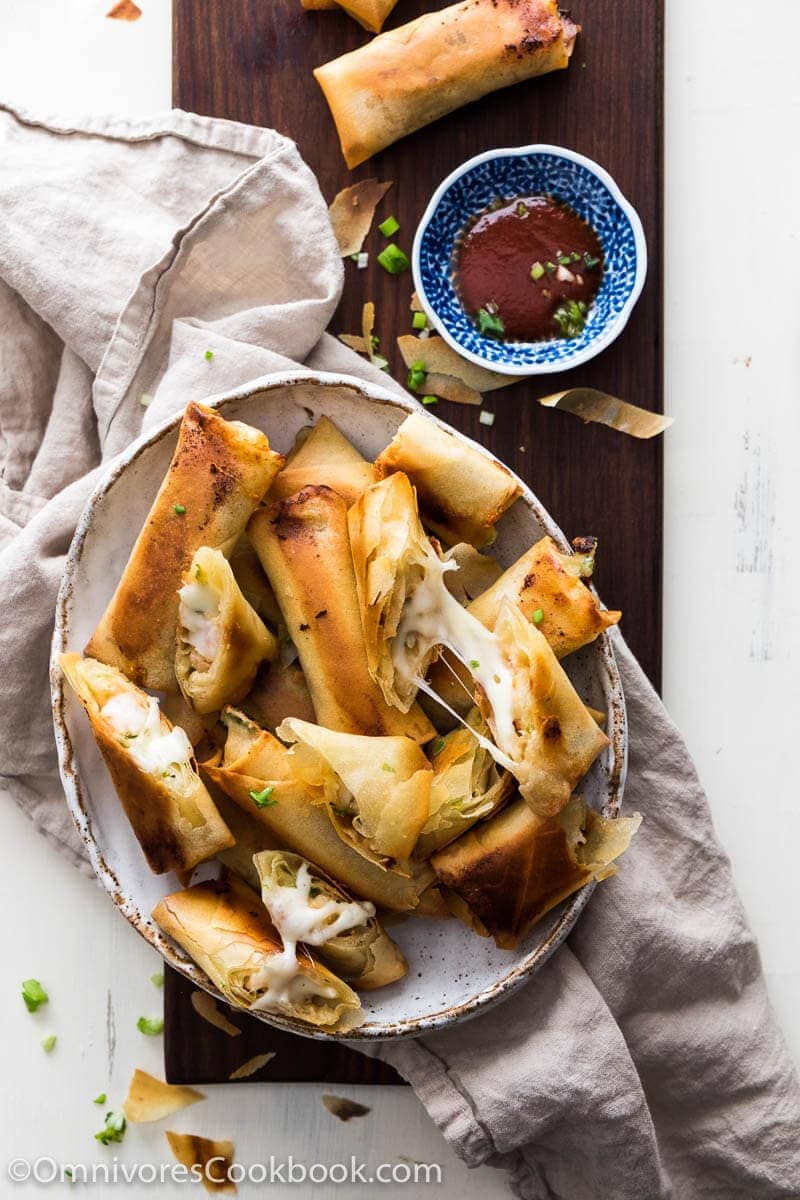 Authentic Chinese spring rolls are delightful treats, but the cooking makes my head ache every time I think about it. Nobody likes deep frying at home. Neither do I. Unless I'm cooking for a party or celebrating Chinese Spring Festival (Chinese New Year), I seldom use tons of oil just to fry a few spring rolls.
So, what do you do when you're craving those crispy and crunchy rolls? The solution is – bake them!
Baked spring rolls do not look as pretty as deep fried ones, which have an even golden color and a nice sheen. I almost gave up publishing this recipe at first because of the look of the dish. Let's admit it, nobody would like to try a new recipe if the picture doesn't look appealing.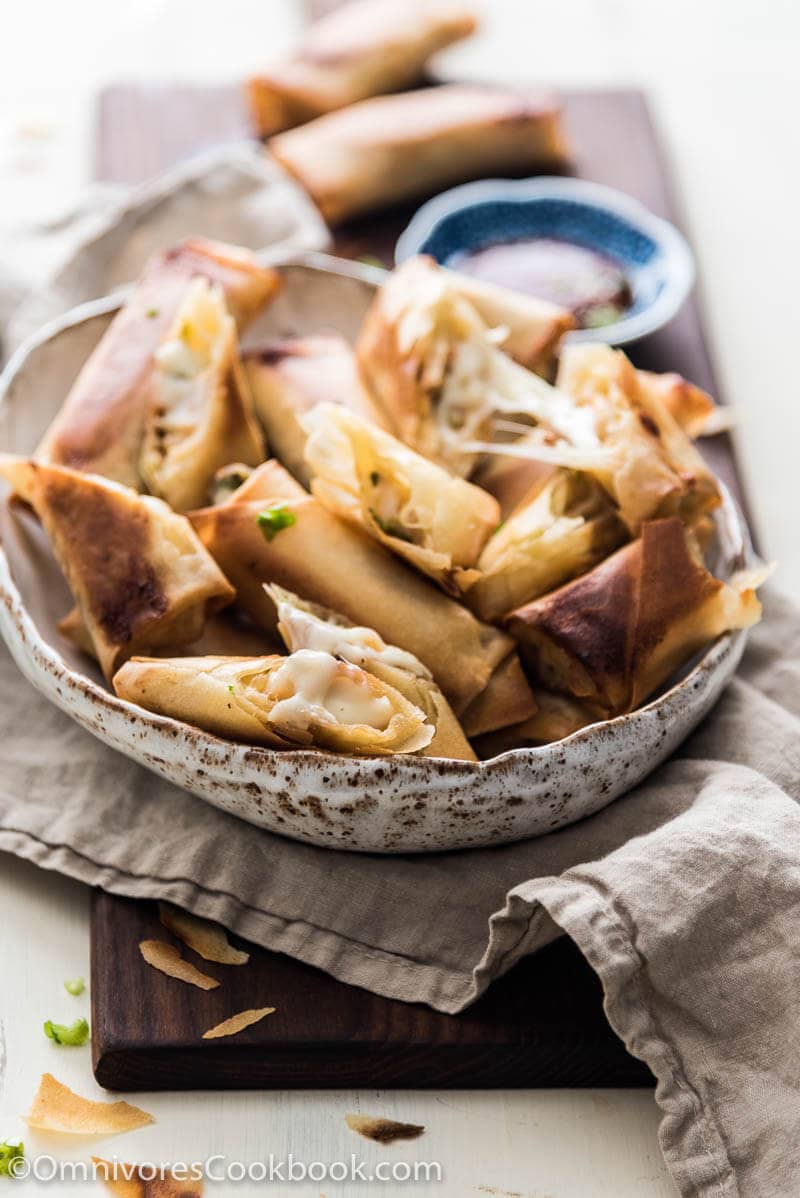 But these rolls are too good to pass on. So I decided to find a perfect way to bake them to make them look slightly prettier (and more delicious, of course!).
To test the best baking temperature, I tried baking the spring rolls at low and high heat. I found out that although baking at lower temperature cooks the spring rolls more evenly, it takes a lot longer to get them colored. By the time the wrapper is done, the filling will be way overcooked.
The spring rolls turned out much better when I raised the oven temperature to 200 degrees C (400 F). You're probably not going to get an even color on the surface, but the whole thing is crispy, so it's as great as the fried rolls.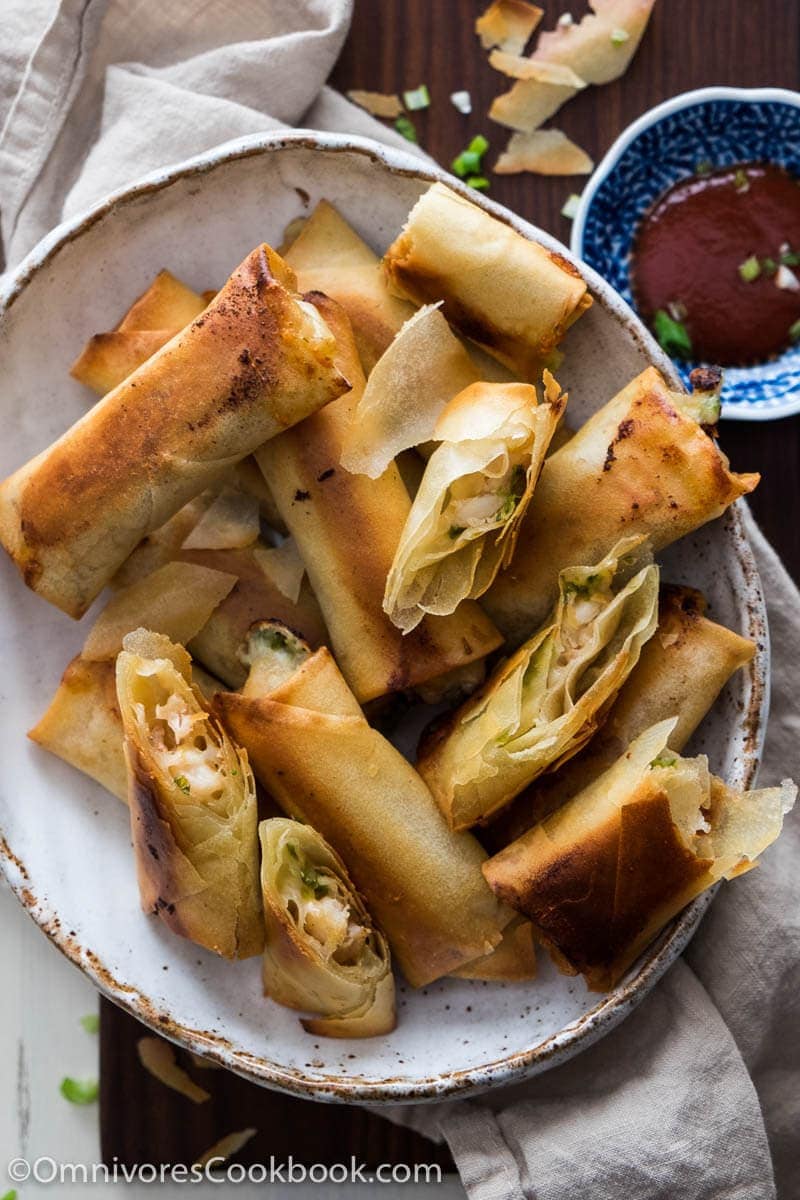 As you might have known, most spring roll (and egg roll) recipes require you to cook the filling before assembling them. So much work, isn't it? To make the cooking process easier, I used a simple filling in this recipe that does not require precooking. You only need to marinate the shrimps for 10 minutes, then mix them with cheese and green onions. The shrimps will be just cooked through, the cheese will melt, and the wrapper will turn super crispy. I served these baked spring rolls with a ketchup based dipping sauce. They are addictively good!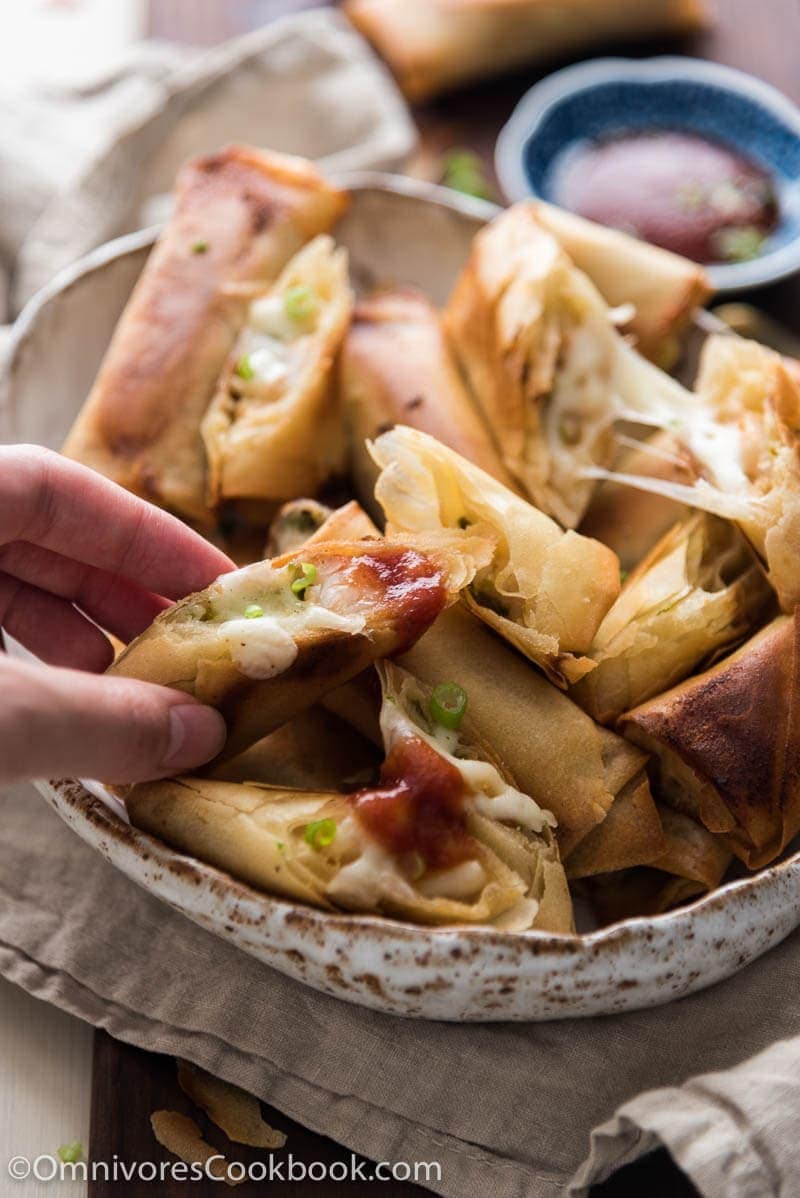 This is not an authentic Chinese recipe but I cannot wait to share it with you. Who says we can't be playful with food once in awhile? I have no problem with that, as long as the food is tasty! 😉
Hope you enjoy!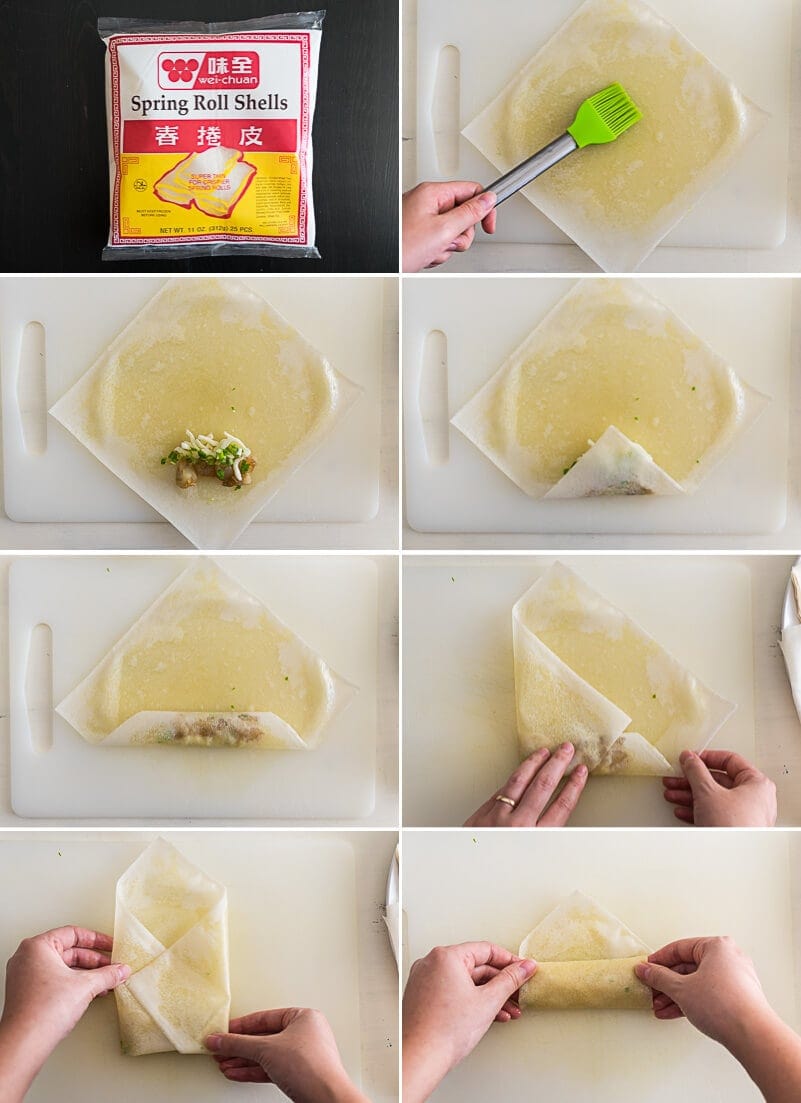 Want to Know More?
Receive our 5-Day Chinese Cooking Crash Course & Recipe Updates! Subscribe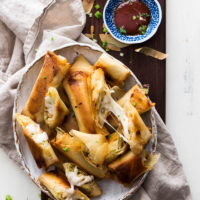 Cheesy Shrimp Baked Spring Rolls
A addictive dim sum dish made easy! This recipe does not require deep frying, pre-cook the filling, and is so easy to get ready.
Servings:
18
spring rolls
Ingredients
Marinade
1/2

pound (230 grams)

shrimps

, peeled and deveined (about 16 to 20 medium size shrimps) (*footnote 1)

1

tablespoon

Shaoxing wine

(or rice wine, or lemon juice)

1

tablespoon

soy sauce

1

teaspoon

ginger

, grated

1/4

teaspoon

white pepper powder
Spring rolls
4

green onions

, finely chopped

1

cup

shredded mozzarella cheese

1

pack spring roll wrappers

4 to 5

tablespoons

peanut oil

(or vegetable oil for baking)
Sauce
4

tablespoons

ketchup

2

tablespoons

rice vinegar

2

teaspoons

Sriracha sauce

2

teaspoons

honey
Instructions
Chop the shrimps to 1-cm (1/2-inch) pieces. Transfer to a bowl. Add Shaoxing wine, soy sauce, ginger and white pepper powder. Mix well and let marinate for 15 minutes.

Preheat the oven to 200 degrees C (400 F).

Set up all the ingredients before assembling the spring roll. Drain the shrimp thoroughly and discard the marinade. This is very important, so the shrimp won't be too wet to cause the wrapper to break apart during baking.

Wrap the spring rolls one by one. Spray or brush a thin layer of oil onto the top of the spring roll wrapper (*footnote 2). Place 4 to 5 pieces of shrimp, about 1 tablespoon mozzarella cheese and 1 teaspoon green onion on the lower third of the wrappers (*footnote 3). Fold the bottom to cover the filling. Then fold both side of the wrapper towards the center. Tuck and roll the filling upward to seal the wrapper until it forms the spring roll. Place each spring rolls onto the lined baking sheet, seam side down, with about 2 fingers apart in between.

Bake for 9 minutes, or until the bottom turns to a golden color. Flip the spring rolls and put them back in the oven. Bake for another 6 to 8 minutes, until the other side looks golden too.

To preheat any leftover spring rolls, bake at 180 degrees C (350 F) until warmed through, or for about 10 minutes or so. The rolls will remain crispy.
Notes
I used Wild Caught Gulf Shrimp from SizzleFish in this recipe. These shrimps are much more flavorful, have a firmer texture, and are a better mouthfeel. The shrimps are peeled, deveined, and packaged into serving sizes that are ready to cook.
This step helps the spring rolls become even more crisp and it gives them a better color. If this is too much oil for you, you can skip this step and only brush oil onto the spring rolls after putting them together.
Just like pizza toppings, the rule "less is more" applies here too. Keep the filling small so the ingredients won't leak during baking.
Nutrition
Serving:
63
g
,
Calories:
148
kcal
,
Carbohydrates:
20.7
g
,
Protein:
6.6
g
,
Fat:
4
g
,
Saturated Fat:
0.8
g
,
Cholesterol:
31
mg
,
Sodium:
282
mg
,
Potassium:
73
mg
,
Fiber:
0.7
g
,
Sugar:
1.5
g
,
Vitamin A:
100
IU
,
Vitamin C:
1.7
mg
,
Calcium:
30
mg
,
Iron:
1.3
mg