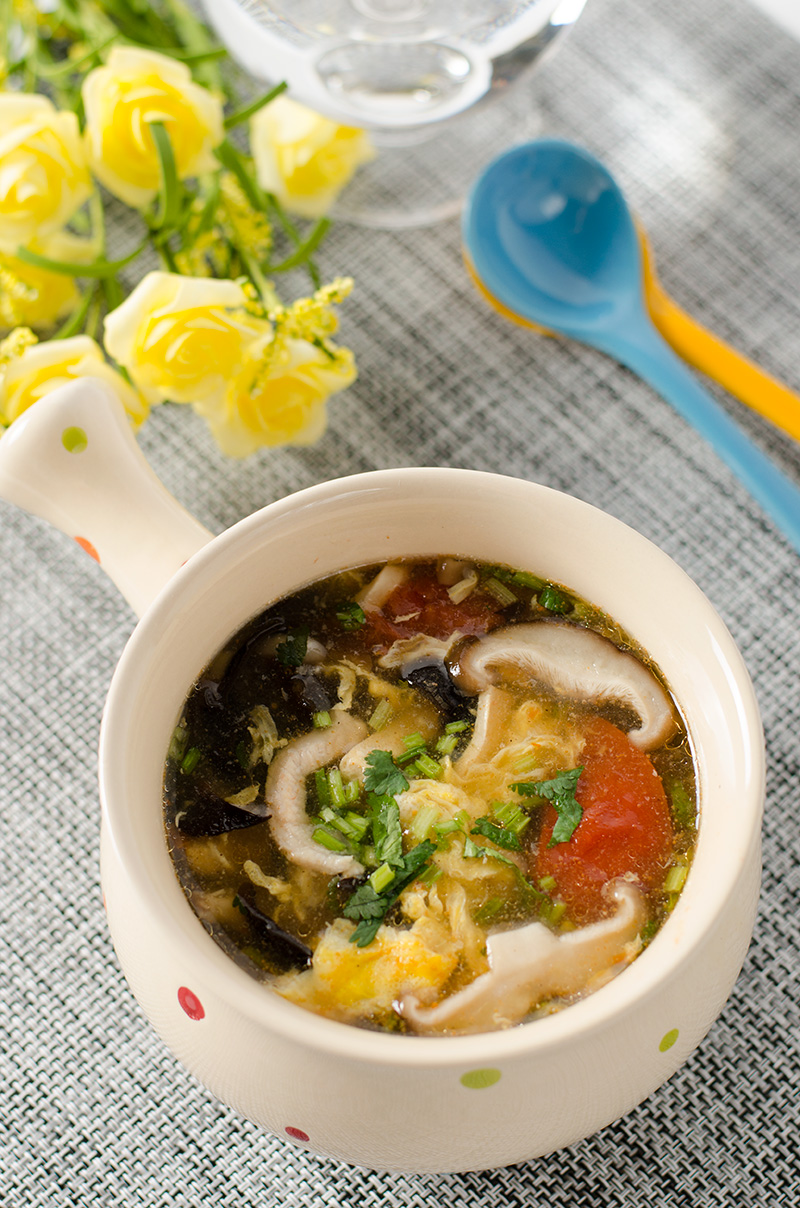 Hot and sour soup is a very popular dish, whether in China or at overseas Chinese restaurants. The soup has an appetizing sour and spicy flavor and contains various vegetables, eggs and meats. Although it's a nice soothing winter soup that will warm you up immediately, I really enjoy eating it throughout the year.
The different ways one can cook hot and sour soup are very diverse. For example, you can add practically any vegetables or meat you like into the soup. My personal favorite choices are: mushrooms (dried or fresh shiitake, golden needles or wood ear), vegetables such as tomato and bok choy, tofu (fried or fresh), and meat such as lean pork, chicken breast, and ham. If you want  a vegetarian soup, you can simply skip the meat.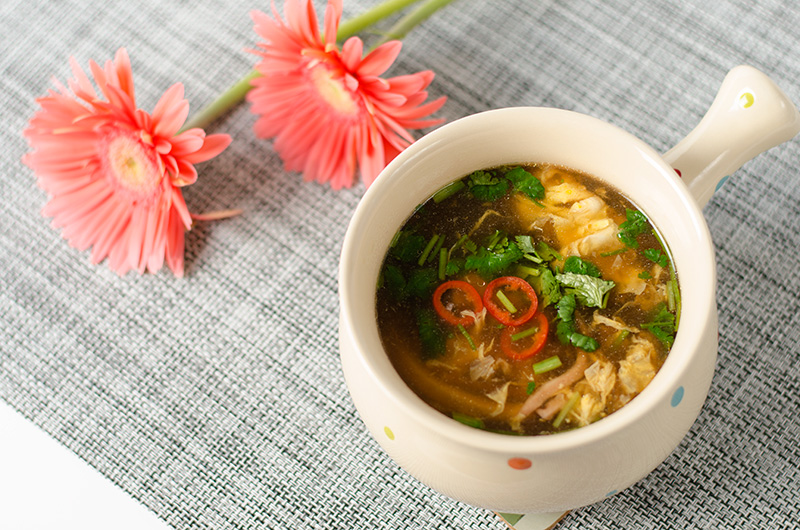 Here are some tips for making a successful hot and sour soup:
First of all, the spiciness of  authentic hot and sour soup should only come from white pepper. You shouldn't add chili pepper, bell pepper, or any other type of pepper. The combination of  white pepper and rice vinegar will create a pungent, refreshing and crisp flavor that is not too spicy.
The key to making delicious hot and sour soup is the ratio of vinegar, soy sauce and white pepper. After making this soup countless times, I have worked out the golden ratio of these ingredients in the recipe below. You could easily double or reduce the amount of water, or adjust amount of vegetables you prefer, as long as you follow the ratio of the three key ingredients.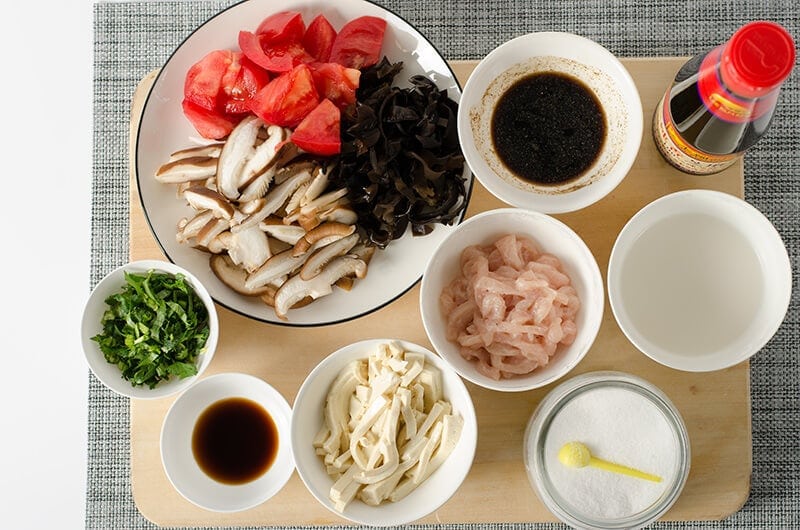 Some other things to take note of are:
(1) Add a mixture of cornstarch and water to make a richer and thicker soup – It will also add some calories, but the texture of soup will be thicker and more satisfying.
(2) Add meat or poultry at the end of cooking – The meat/poultry in the soup is to add texture and nutrition, but not to infuse flavor into the soup, so they should be added later, in order to keep the meat soft.
(3) Add vinegar and white pepper at the last minute and stop heat immediately – Otherwise the nice kick of vinegar will disappear as the vinegar evaporates and the white pepper will release a bitter taste if heated for too long.
(4) My recipe does not require chicken broth – I promise the result will still be great. However, if you want to make a richer soup, you can use chicken broth instead of water.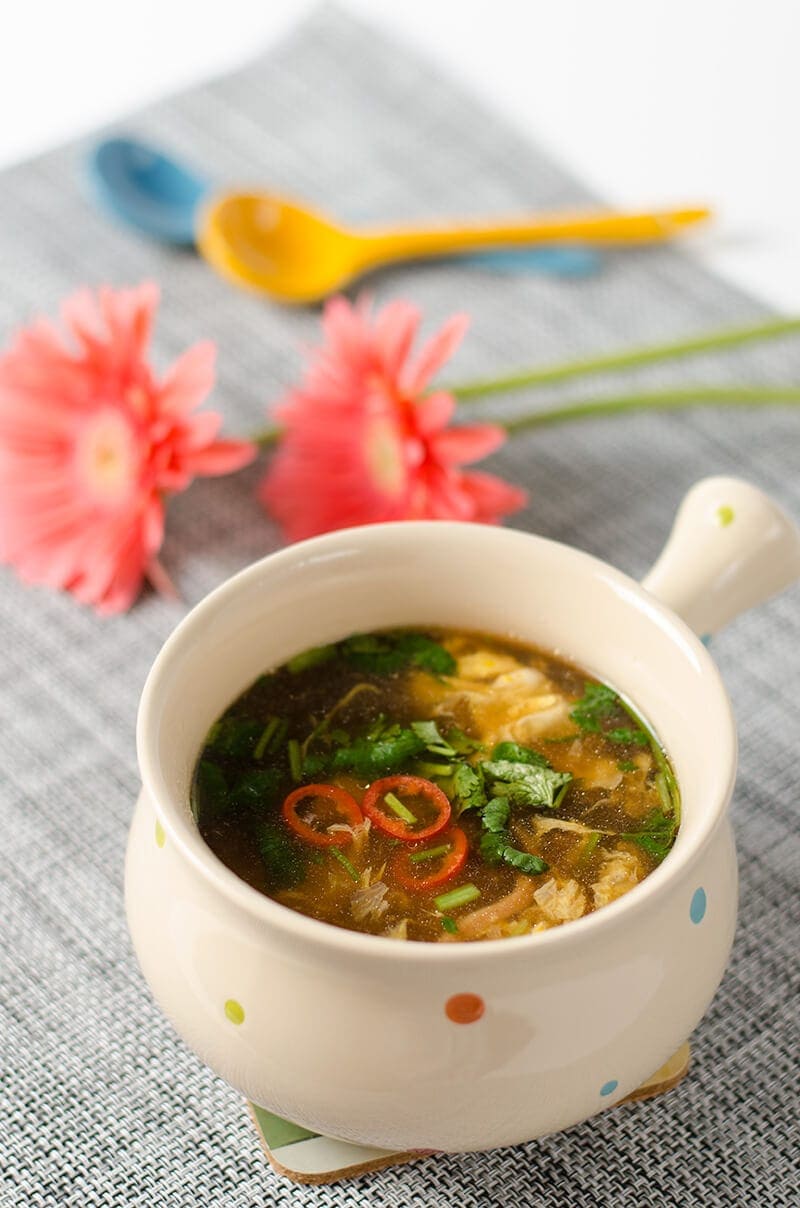 I also made a short video to show you how to easily cook an authentic hot and sour soup.
I hope you'll enjoy this hearty and delicious soup. Happy cooking! 🙂


Authentic Hot and Sour Soup
Ingredients
100 grams (1/2 cup) sliced pork tenderloin (see footnote)
2 teaspoons rice wine
1 and 1/4 teaspoons salt
4 tablespoons cornstarch
2 tablespoons rice vinegar
1 teaspoon white pepper powder
1 tomato, chopped
1/2 cup chopped cilantro
(optional) 1 cup sliced fresh or rehydrated wood ear mushroom
1 cup sliced firm (or semi-firm) tofu
1 cup sliced shiitake mushroom
1 tablespoon light soy sauce
1 egg, beaten
1 teaspoon sesame oil
Instructions
Add pork tenderloin, Shaoxing wine, and 1/4 teaspoon salt into a bowl, mix well by hand. Add 1 tablespoon cornstarch and mix again, until pork is evenly covered. Marinate for 10 - 15 minutes.
Add rice vinegar and white pepper into a small bowl, mix well and set aside.
Add 1.2 liters of water into a pot and heat on medium high heat. Add tomato, wood ear mushroom and tofu to the pot, cover, and bring to a boil. Turn heat down to medium low, add soy sauce, and boil without lid for 5 minutes.
Mix the rest of the cornstarch with 2 tablespoons of water in a bowl until cornstarch is fully dissolved in the water. Slowly add cornstarch-water mixture into soup, stir well. The soup should be thickened but not too heavy.
Add pork from step one into the soup, stir several times to avoid the pork strips sticking together. Add the rest 1 teaspoon salt. Slowly swirl in the beaten egg and stir well. The egg should be scattered and not clotted.
Add the vinegar and pepper mixture and stir well, then remove from heat immediately.
Add cilantro and sesame oil, give a final stir.
Serve while warm.
Notes
You can replace the pork with ham slices and skip Shaoxing wine, 1/4 salt and 1 tablespoon cornstarch.
The nutrition facts are calculated base 1 of the 6 servings generated by this recipe.