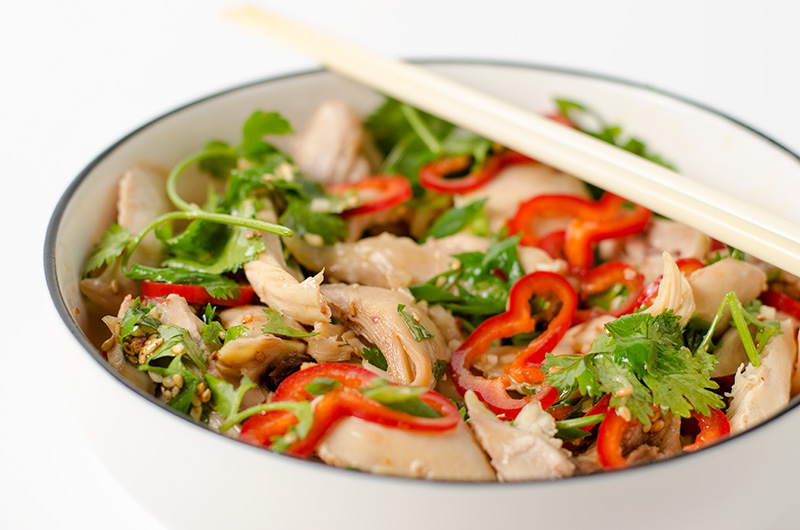 Bang bang chicken (棒棒鸡) is a great appetizer or salad dish on a hot and humid summer day. The tender and moist boiled chicken is drizzled with a super hot and numbing savory sauce, accompanied by pungent green onion, and citrus cilantro. After one bite of this chicken, your forehead will start to sweat. The next thing you should do is grab a nice cold beer. You'll feel so refreshed and all the worries from your long day will suddenly melt away! If you're not familiar with Chinese cuisine, you might be a bit confused by the recipe name. Bang bang chicken is a famous Szechuan dish. The name literally means "chicken beaten by wooden baton". The authentic method to cook this dish is exactly reflected in its name. It uses boiled chicken breast and prescribes beating it repeatedly with a stick. The theory behind the cooking method is that it softens the chicken meat and creates a better texture.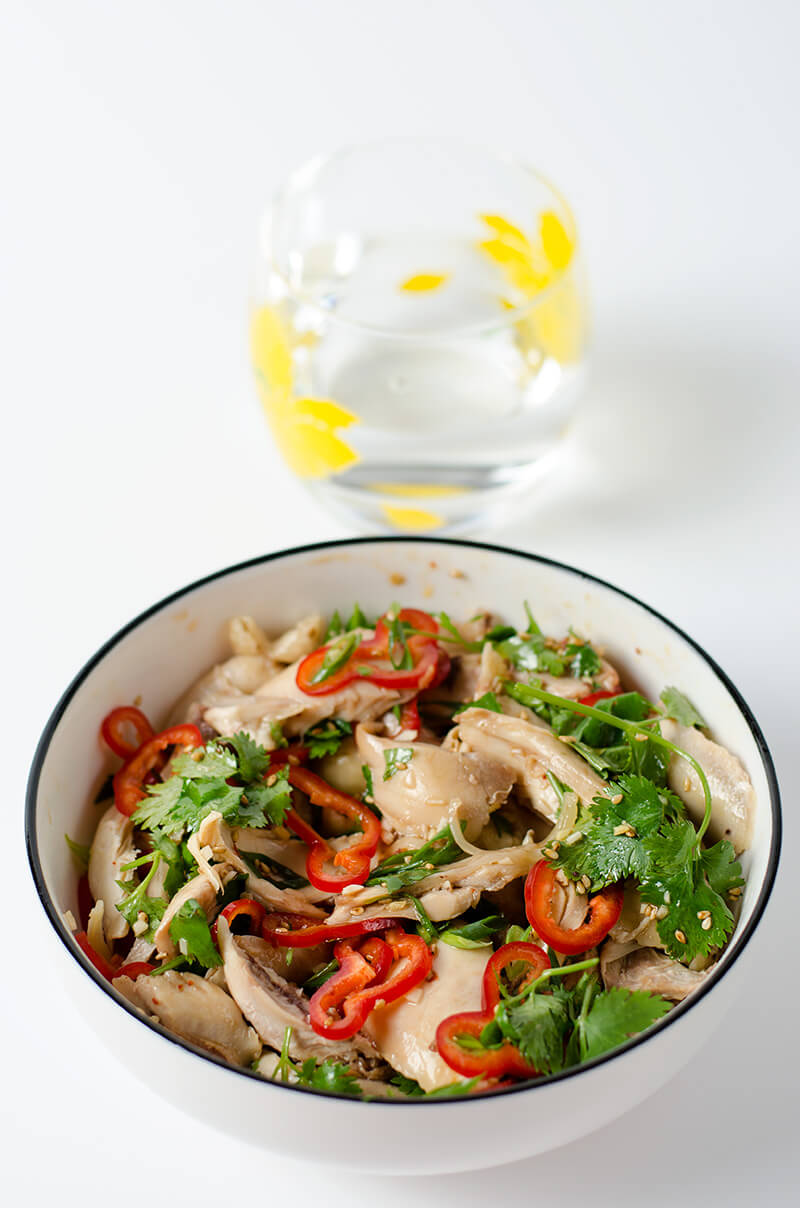 I highly doubt that, though, because I have actually tried the original method, and the resulting chicken was not even close to tender, and was hardly moist. My theory is, the person who invented the recipe was so pissed off at the moment and had to punch someone (something?). Then the chicken breast became the scapegoat and a new dish was born. I was happy and felt delighted while cooking this dish. So, unfortunately, you won't find any wooden baton or beaten chicken in my recipe. In this recipe, I chose to use chicken leg instead of chicken breast, which is more flavorful and retains a juicy texture after boiling. I used the drumstick with bone, because it's difficult to find the boneless kind here. Feel free to replace with boneless chicken thigh and/or drumstick. You could also cut the chicken instead of shredding it, which saves time. I have introduced how to make fresh Chinese chili oil in another post. Or if you have chili oil in your pantry, feel free to use it with a spoonful sesame seeds. However, I strongly recommend  cooking some fresh oil instead of using the bottled one. It only takes 5 minutes and tastes much, much better!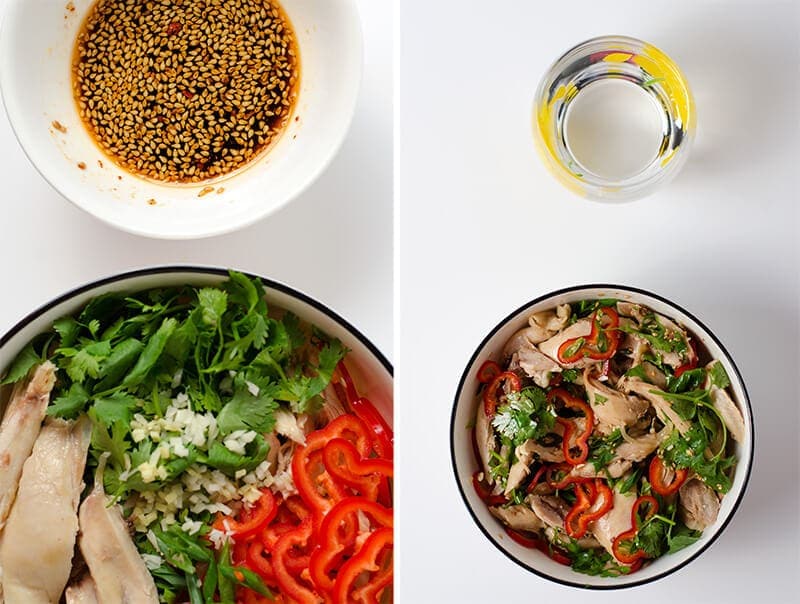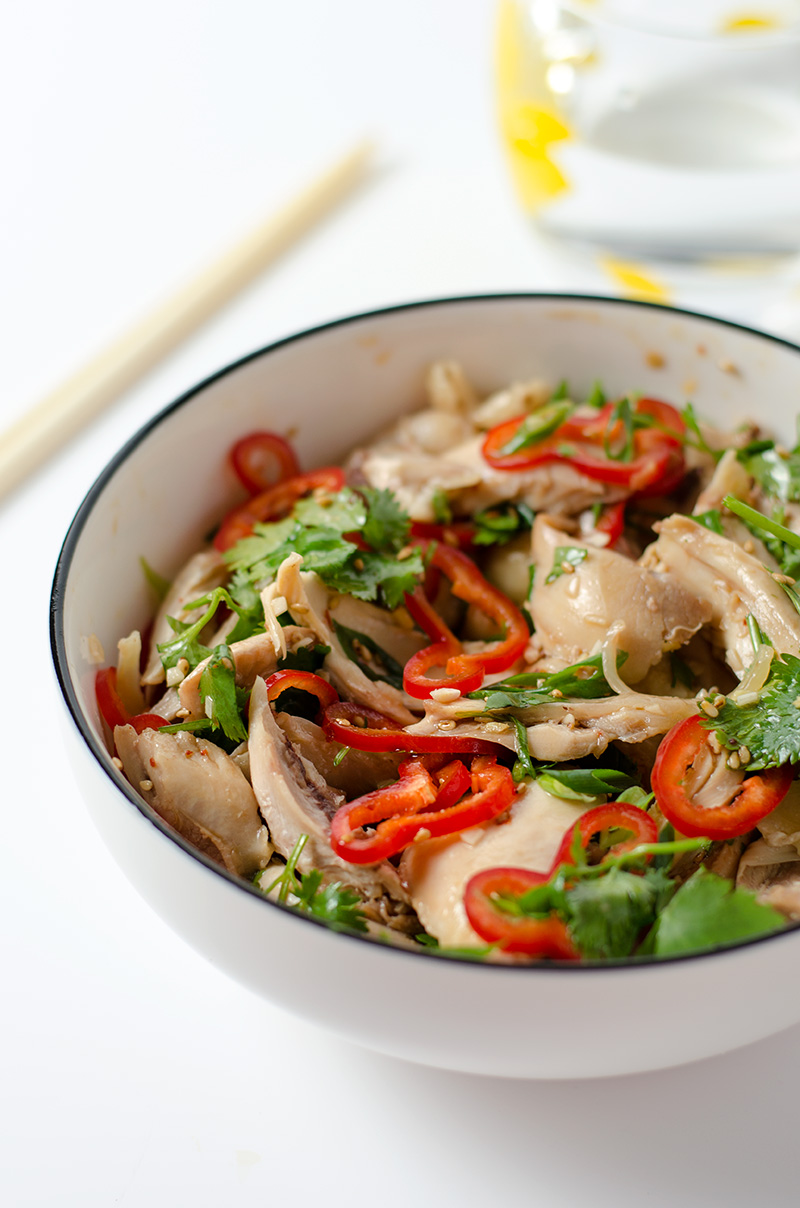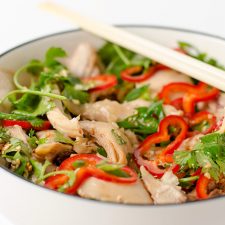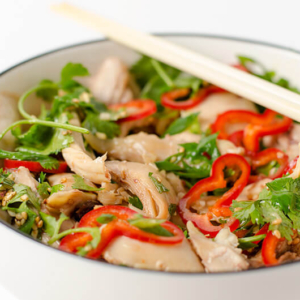 Ingredients
3

chicken legs

drumstick

3

green onion

white part

4

cloves

garlic

2

slices

ginger
Instructions
Add chicken legs, green onion, chili pepper, garlic and ginger to a medium size pot. Add enough water to cover chicken leg. Put on stove at medium heat and cover pot. After bringing to a boil, turn to low heat, simmer until chicken leg is just cooked through, about 15 to 20 minutes. Set aside to cool.

Mix soy sauce, sesame oil, chili oil, sugar and salt in a small bowl.

When chicken leg has cooled down, tear the meat from the bone. Discard chicken bones and place chicken meat on a plate.

Before serving, top chicken with red pepper, cilantro and green onion. Pour sauce over chicken leg, mix well and serve warm or at room temperature.
The nutrition facts are calculated base on 1 of 2 servings generated from the recipe.