The real-deal Sichuan version of Bang Bang chicken made with juicy tender shredded chicken covered with a savory, nutty, spicy sauce with a hint of tangy and sweet notes. Originally a traditional Chinese appetizer, make it ahead and serve it at your next movie night or game day party. Mind blow guaranteed. {Gluten-Free Adaptable}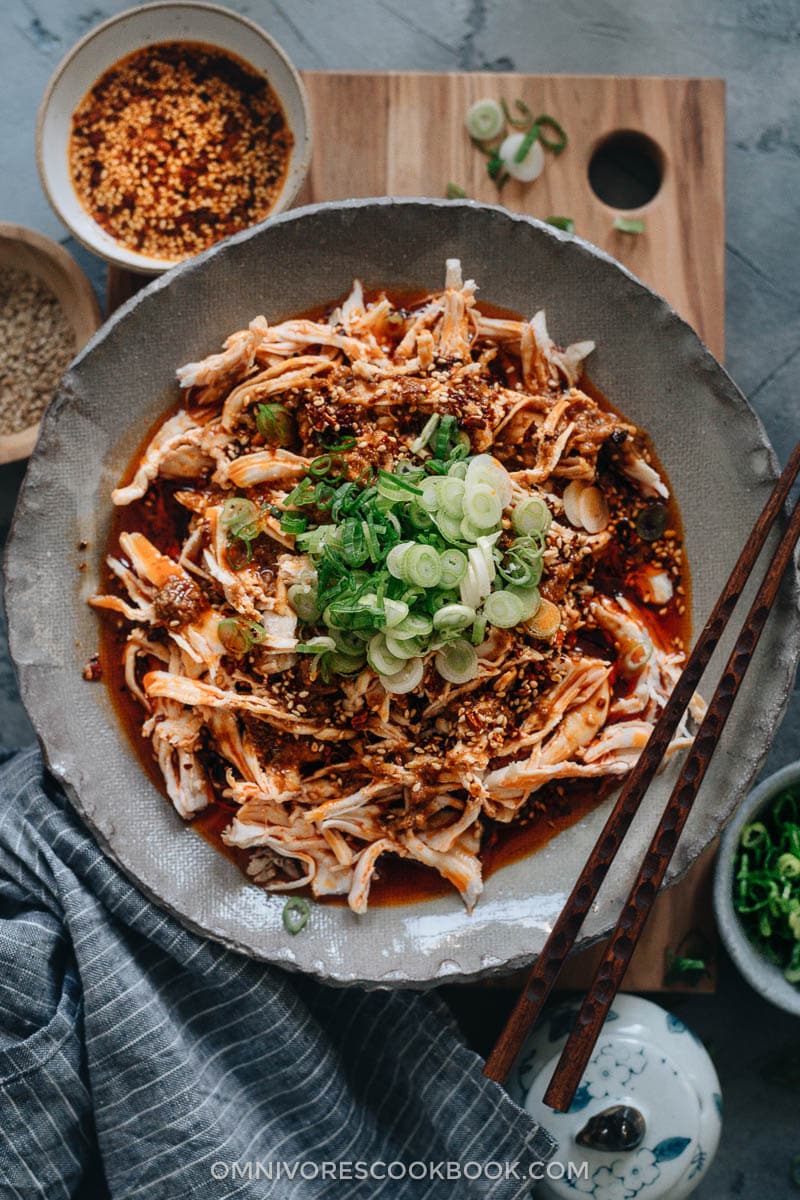 This famous Sichuanese dish is as mind-blowing as its name suggests! (I know I've used "mind-blowing" twice, but that's how my friend described it when I served the dish.) You may have seen Bang Bang Chicken on Chinese takeout menus or in new hipster Chinese restaurants. But it's pretty rare that you'll find a Bang Bang Chicken that is true to the original. In the American version, chicken chunks are usually breaded, fried, and served with a nutty or sweet chili sauce. Or even mayonnaise! (I'm not sure if that should even be called Bang Bang Chicken…?!)
Let me tell you about real-deal Sichuan-style bang bang chicken. The funny-sounding name comes from the legend of its creation. In order to fairly divide chicken that was in high demand, merchants would use small wooden sticks or batons (棒棒, bàng bàng) to shred up the meat evenly. That's what creates the tender, melt-in-the-mouth texture so vital to good bang bang chicken. Finely smothered in a rich sauce of intense Sichuanese guài wèi (怪味). Translated literally, it means 'strange flavor', but refers to a sauce that has so many flavors – spicy, savory, sour, nutty, and sweet – and is perfectly balanced. With the addition of fragrant homemade chili oil and Sichuan peppercorns, you've got yourself a legit bang bang. Watch out – it could get explosive!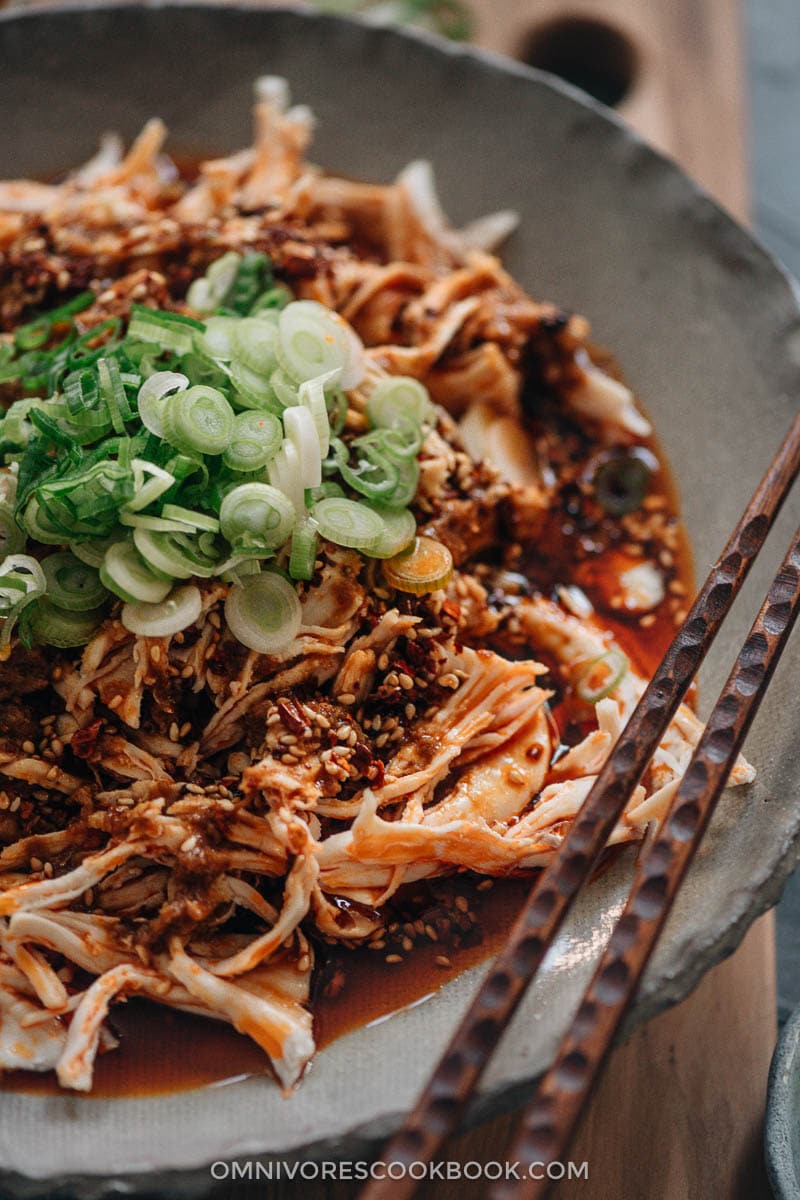 Cooking notes
1. How to make extra tender chicken
Despite the legend, I personally think the reason that Chinese people use a baton to shred the chicken is because they hadn't yet started using forks. The legend also says the chicken-beating process creates extra tender meat. I think the real trick here is to not overcook the chicken. I've tried beating the chicken with a rolling pin before shredding. It does make the shredding faster but it also makes your kitchen counter a bit messy. I'll leave it to your judgement to decide whether to beat the chicken or not before shredding.
Now here is the real trick. Even though the traditional approach is to boil the chicken in an aromatics-infused broth, I found that steaming the chicken creates a better result.
Simply chop up some green onions and make a bed of them on a plate, place the chicken breast on top, and sprinkle with salt. Set up your steamer, place the plate into it, and cook for 20 minutes for small pieces of chicken, or about 30 minutes for larger pieces. Compared to the boiling method, the steaming method seasons the chicken better without letting the delicious juice get lost in water.
2. Addictive sauce
It's hard to believe you can make an addictive sauce so easily. OK, the ingredient list is not super short, but all you need to do is grate some ginger and garlic using your lemon zester and stir a few sauces together. It creates a perfectly balanced sauce that is spicy, savory, tangy, and sweet, with the numbing aroma of the Sichuan peppercorns.
I highly recommend you grind the Sichuan peppercorns from whole pods. NEVER buy the Sichuan peppercorn powder from the Asian market. It is not fresh and doesn't even taste close to the real thing. To source premium quality Sichuan peppercorns, get The Mala Market brand online. The fastest way to grind them is to use a coffee grinder (you'll want to wipe the grinder clean with a wet paper towel once finished, so your next cup of coffee won't numb your entire mouth). Once you grind the Sichuan peppercorns, store the powder in an airtight container in the fridge and use within a month.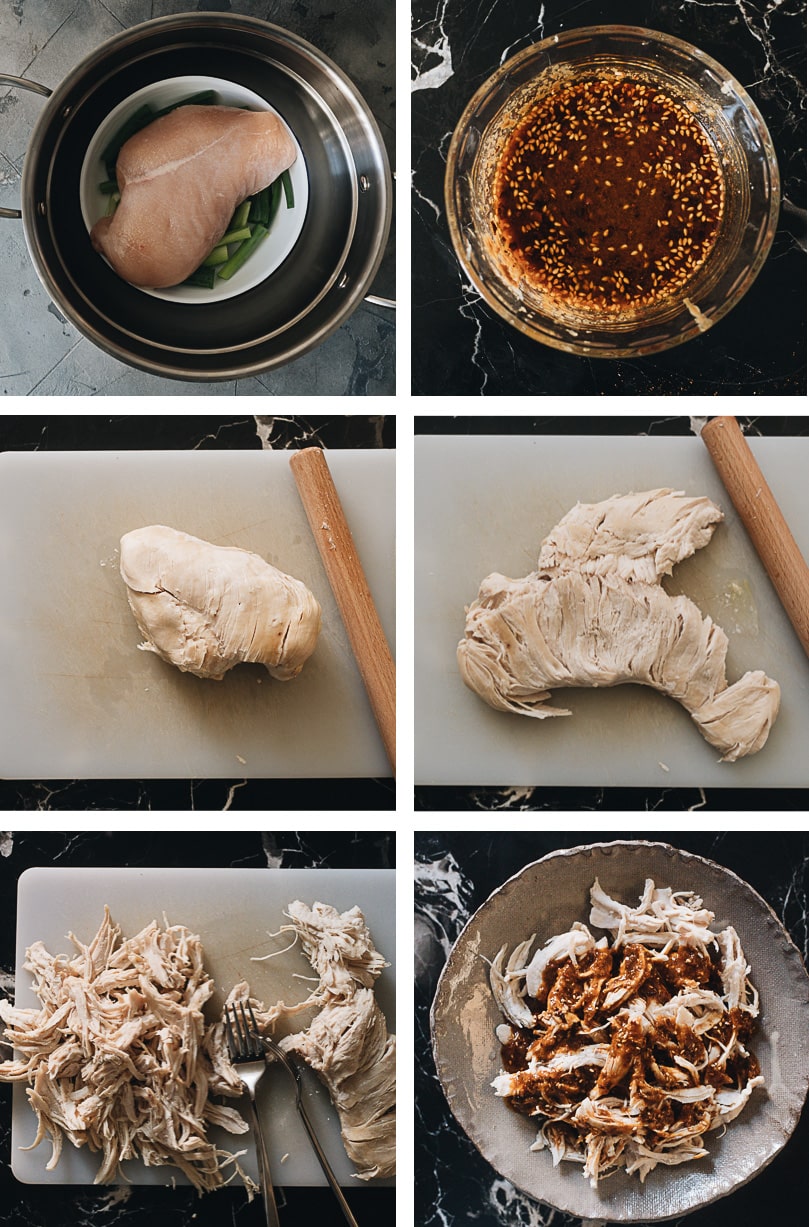 3. Homemade chili oil
I would say this is the most important part of the dish. If you've never made chili oil before and are intimidated by the process, check out my homemade chili oil recipe. It takes 5 minutes to put together and it will make all your Sichuan cooking (or Chinese cooking in general) better.
A word on the amount of chili oil used in this recipe: if you want to recreate the authentic Sichuan experience, you need to use a LOT of chili oil. By a lot, I mean, the plate of chicken should be half-covered in oil (using anywhere between 1/4 to 1/3 cup of chili oil). I know it's not the healthiest dish, but you'd be surprised how great it tastes if you pour on the extra chili oil. Of course, you won't consume all the oil and there'll be plenty left once you finish eating the chicken. The idea is to have a stunning presentation. Plus, each piece of chicken you pick up will be coated with sauce and chili oil, which delivers the extra fragrance.
If you want to keep the dish healthier, feel free to reduce the amount of chili oil. The result will still be very delicious.
4. Best party food
Growing up in China, bang bang chicken was always a humble appetizer to me. The dish you order in a restaurant so you have something to snack on before the main dishes arrive.
I changed my mind after I served it a few times in the US. One friend raved about it and another is serving it at her Super Bowl party next year. It occured to me, why not serve bang bang chicken at a party? You can make it ahead and store it in the fridge. The chicken will taste even better the next day, after it soaks in the sauce. It might be different from your regular party food, but I think it's stunning looking. Don't you?
More Sichuan-inspired party food
Want to Know More?
Receive our 5-Day Chinese Cooking Crash Course & Recipe Updates! Subscribe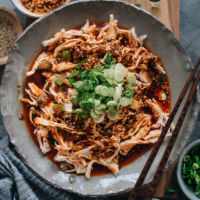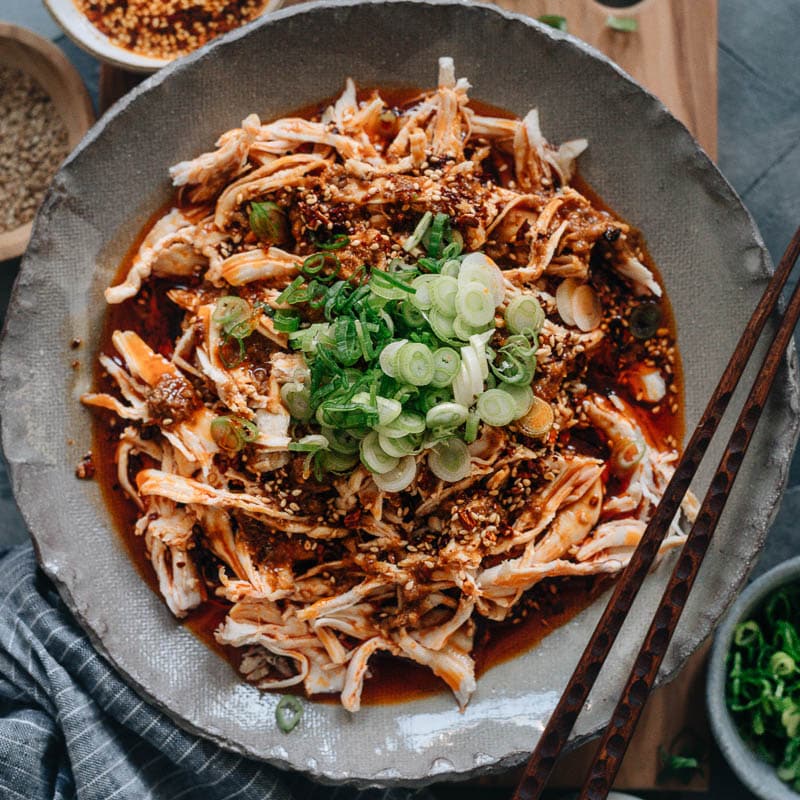 Chinese Bang Bang Chicken (棒棒鸡)
The real-deal Sichuan version of Bang Bang chicken made with juicy tender shredded chicken covered with a savory, nutty, spicy sauce with a hint of tangy and sweet notes. Originally a traditional Chinese appetizer, make it ahead and serve it at your next movie night or game day party. Mind blow guaranteed.
To make the dish gluten-free, use tamari or coconut amino to replace soy sauce, and use rice vinegar instead of Chinkiang vinegar.
Ingredients
1.5

lbs (700 g)

boneless skinless chicken breasts

(or chicken thighs)

1

teaspoon

salt

4

green onions

, separated
Instructions
Chop 2 green onions into 2" (5 cm) sticks. Slice the remaining 2 green onions into thin slices.

Prepare a steamer by adding 2" (5 cm) water into the pot. Cover and heat over medium-high heat until boiling.

Use a plate that can fit into your steamer rack. Spread the green onion sticks onto the plate to make a bed. Place the chicken breast on top. Sprinkle salt evenly over the chicken.

When steam comes out of the steamer, place the steamer rack with the chicken on top, and cover the steamer. Cook for 20 minutes. Test the chicken by using a thermometer inserted into the thickest part. It should read 165 degrees F (73 C). Or insert a knife into the thickest part, and the juice should run clear. If the chicken is still pink inside, steam for another 5 to 10 minutes. Once done, transfer the chicken to a plate to cool.

While cooking the chicken, combine the rest of the ingredients in a large bowl. Whisk to mix well.

Once the chicken is cooled, transfer it onto a cutting board. Use a meat pounder or a rolling pin to pound the chicken (optional), then shred into thin slices using two forks.

Place the chicken into a large bowl or deep plate. Drizzle the sauce on top and mix well. Garnish with thinly sliced green onion. If you want to create the authentic look, like at a Sichuan restaurant, drizzle more chili oil (about 1/3 to 1/2 cup) onto the chicken.

Serve as a cold appetizer or a main dish.
Notes
If you want to re-create the authentic Sichuan experience, you need to pour chili oil onto the chicken until the plate is half-smothered in chili oil. Of course, you won't consume all the oil and there'll be plenty left once you finish eating the chicken. The idea is to have a stunning presentation. Plus, each piece of chicken you pick up will be coated with sauce and chili oil, which delivers the extra fragrance.
Nutrition
Serving:
4
g
,
Calories:
372
kcal
,
Carbohydrates:
6.6
g
,
Protein:
41.5
g
,
Fat:
19.4
g
,
Saturated Fat:
2.7
g
,
Cholesterol:
109
mg
,
Sodium:
994
mg
,
Potassium:
827
mg
,
Fiber:
1.6
g
,
Sugar:
2.2
g
,
Calcium:
33
mg
,
Iron:
2
mg
The original recipe is published on Aug 11, 2014 and updated by Oct 12, 2019.