This rich, savory, and buttery sticky rice stuffing is made with sweet Chinese sausage, smoky mushrooms, and crunchy water chestnuts. Cooked with butter, fresh aromatics, and finished up with a drizzle of soy sauce, this hearty stuffing will go well with your regular Thanksgiving dishes while spicing up your dinner party with an exotic touch.
We're all guilty of staying in our comfort zones when it comes to Thanksgiving dinner. I get it – no one wants to mess up the most important meal of the year! But if you'd like to try something different this year, Asian-inspired sides might be a good starting point if you're not ready to make the centerpiece Asian-style turkey yet!
Today I want to introduce you to the Chinese-inspired sticky rice stuffing.
This recipe uses sticky rice, crunchy water chestnuts, tender Chinese sausage, umami shiitake mushrooms, and soy sauce. The end product has a great texture and a comforting and rich taste. The recipe does require you to soak the rice in advance. But once that's done, I guarantee you'll be surprised how easy this recipe for sticky rice stuffing is.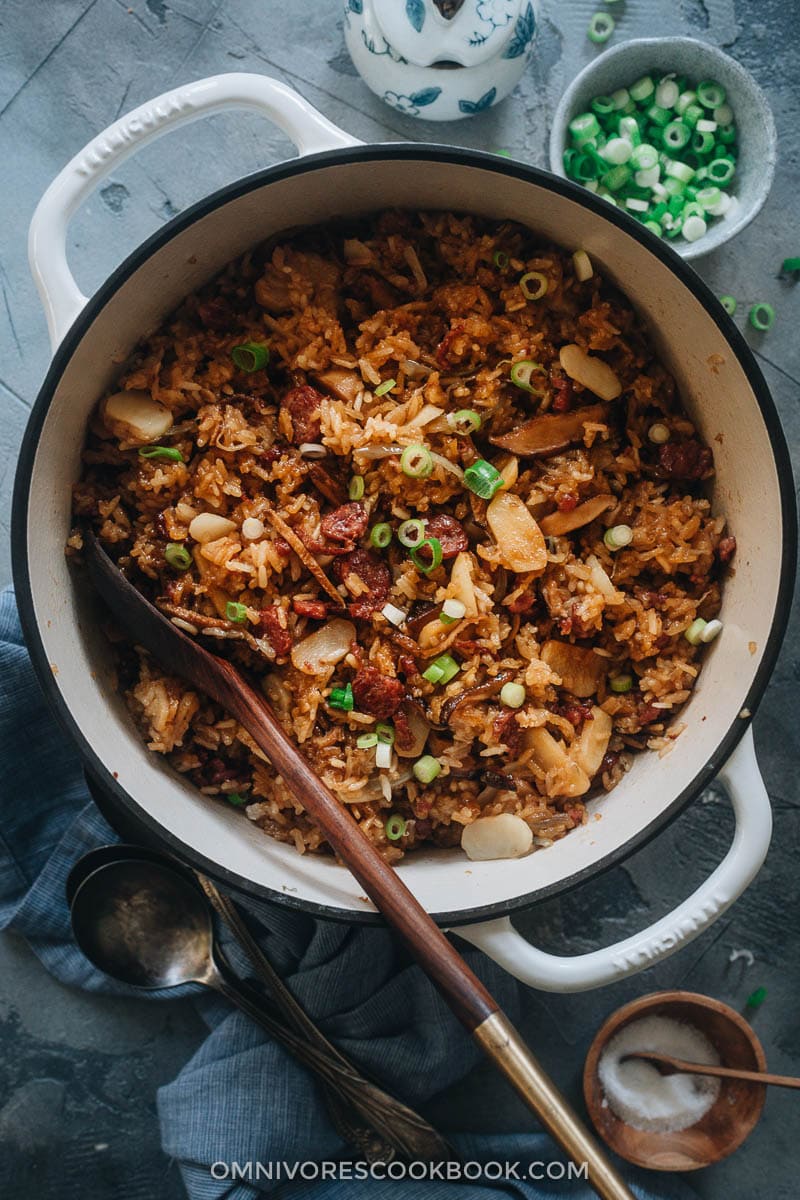 Cooking notes
1. What is Chinese sausage
Chinese sausage is made from fatty pork. It is normally smoked, sweetened, and seasoned with rose water, rice wine, and soy sauce. Depending on the brand, the sausage itself can be quite tough and very sweet. But once cooked with the rice, it becomes buttery tender. The fat and sweetness melt into the gooey rice and all the diverse flavors in the pot come together.
These days you can easily find Chinese sausages in an Asian market. I even saw Costco carry them a couple of times. If you can't find them in your local stores, you can also purchase them from Amazon.
2. Sticky rice stuffing workflow
You do need to prepare a few things before cooking.
Prep
(1) Soak the sticky rice the day before cooking. This step is very important, otherwise the rice will take forever to cook through.
(2) The day of cooking, soak the dried shiitake mushrooms before preparing the other ingredients.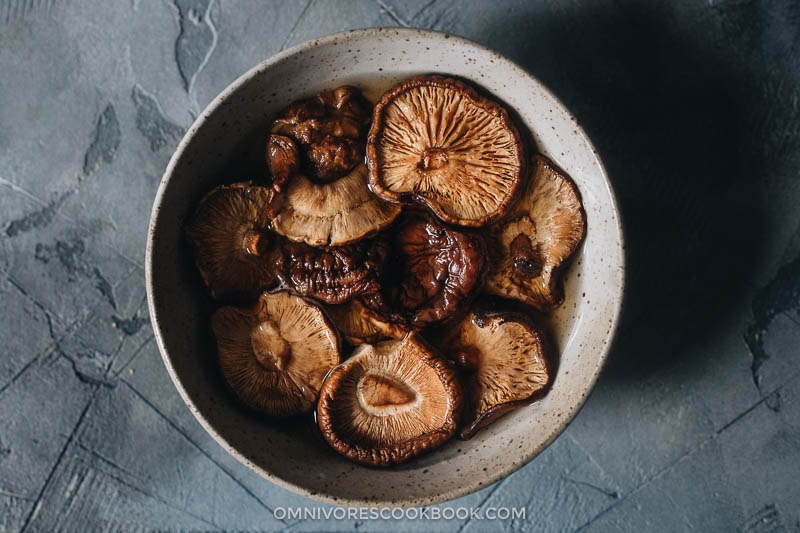 (3) Slice all the ingredients into even-sized pieces, to ensure a pleasant texture.
Cook
(1) Saute the aromatics in butter. You can use vegetable oil too, but I found that butter gives the dish a richer aroma.
(2) Cook the shiitake mushrooms and sausage.
(3) Lightly saute the sticky rice so it is coated evenly with butter.
(4) Add the water chestnuts and seasonings.
(5) Cover the pot and steam until the rice is cooked through.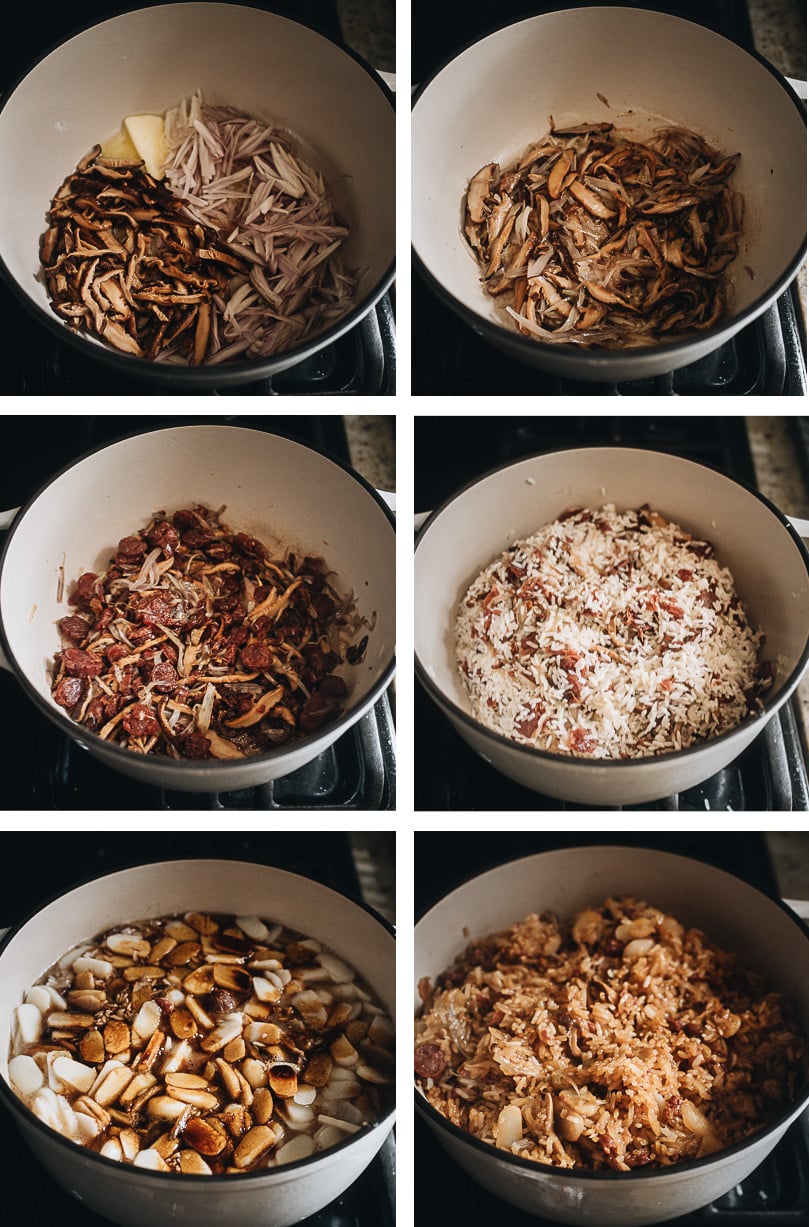 3. Burning bottom issue and how to clean up
In traditional Chinese cooking, chefs always use a steamer instead of a pot to cook sticky rice. Due to its starchy texture, the rice can very easily stick to the bottom of your pan and burn. The added soy sauce makes it even more susceptible.
There are some sticky rice stuffing recipes that steam the rice first then bake it again after assembling. I found that process too complicated and decided to use an easier approach. The problem is, the bottom layer of the rice will be quite charred and stick to your pot.
The good news is, you can easily clean off the toasted rice by boiling some water once you're done cooking. You need to add about 2 inches of water to the pot and let it boil for 5 minutes or longer. Then use a wooden spatula to gently lift the rice from the bottom of the pot. Then rinse it with tap water.
Afterthoughts
Trying a new Thanksgiving recipe can be intimidating. In reality, it's pretty easy to follow a recipe and transform your homemade feast into something memorable. Which is why I'm going to show you this foolproof way of creating an Asian-style Thanksgiving dinner. You can also make the sticky rice stuffing a few days ahead so you'll only need to heat it up before serving.
Spice up your Thanksgiving this year with this sticky rice stuffing recipe. Your family will beg you to make it every year after!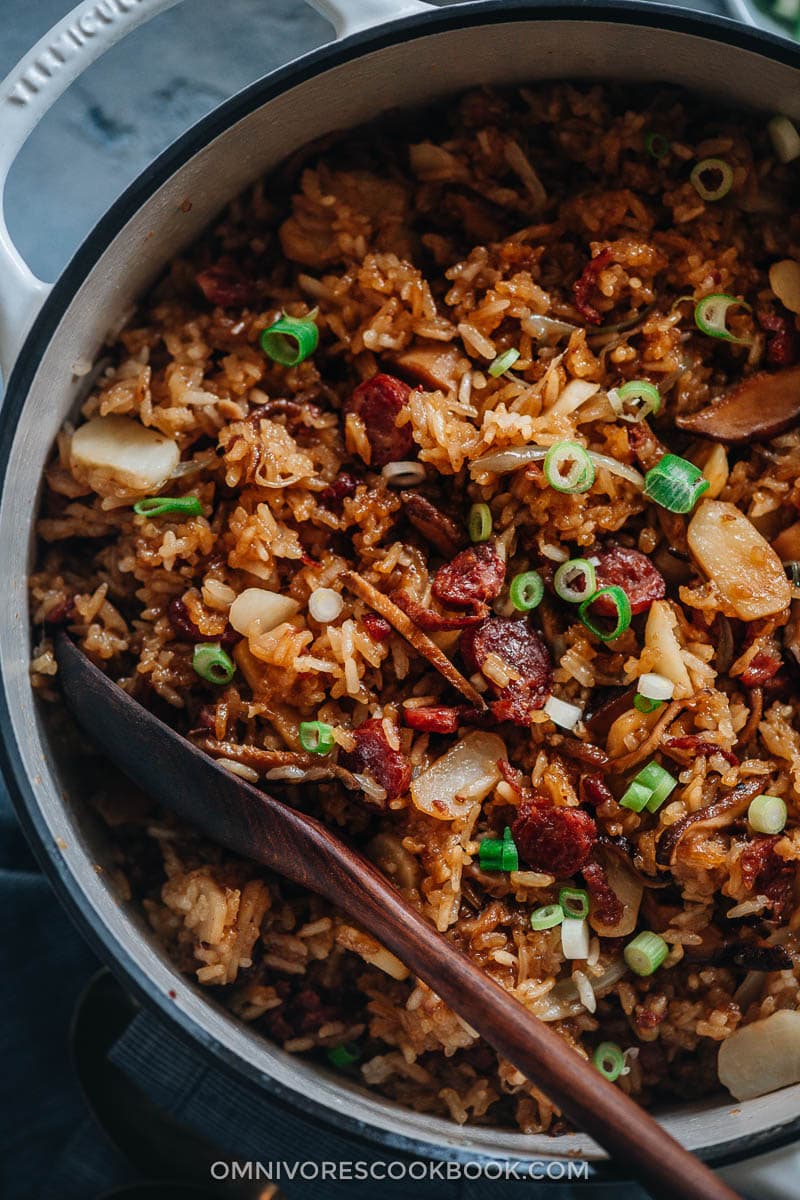 More Asian inspired Thanksgiving recipes
If you give this recipe a try, let us know! Leave a comment, rate it (once you've tried it), and take a picture and tag it @omnivorescookbook on Instagram! I'd love to see what you come up with.
Want to Know More?
Receive our 5-Day Chinese Cooking Crash Course & Recipe Updates! Subscribe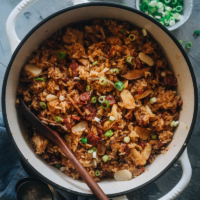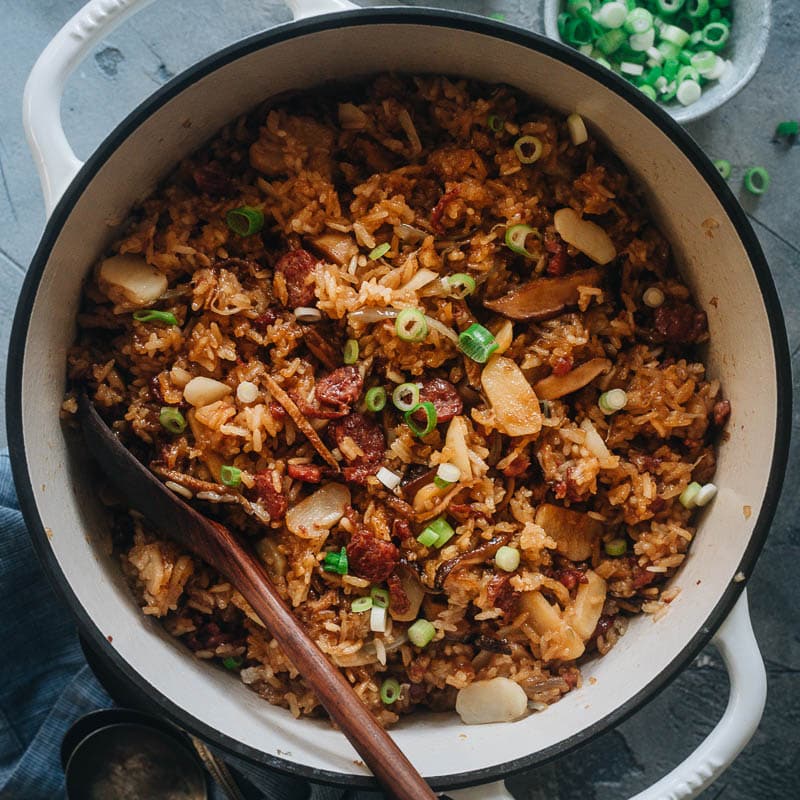 Sticky Rice Stuffing (A Chinese-Inspired Thanksgiving Recipe)
This rich, savory, and buttery sticky rice stuffing is made with sweet Chinese sausage, smoky mushrooms, and crunchy water chestnuts. Cooked with butter, fresh aromatics, and finished up with a drizzle of soy sauce, this hearty stuffing will go well with your regular Thanksgiving dishes while spicing up your dinner party with an exotic touch.
Ingredients
2 1/2

cups

glutinous rice

(long grain or short grain sticky rice)

4

tablespoons

unsalted butter

2

large shallots

, sliced (or 1 onion)

8

to 10 (about 0.7 oz / 20 g)

dried shiitake mushrooms

, medium-sized (*Footnote)

5

links (7 oz / 200 g)

Chinese sausage

, sliced

1/4

cup

Shaoxing Chinese wine

(or dry sherry)

2 1/2

cups

chicken broth

1/2

teaspoon

salt

1

cup

whole water chestnuts

, sliced

2

tablespoons

soy sauce

2

teaspoons

dark soy sauce

(or soy sauce)

2

green onions

, thinly sliced, for garnish
Instructions
1 day before cooking
Add rice and water to cover into a large bowl. Use your fingers to gently rinse the rice in a swirling motion, then drain the water. Add water to cover the rice with 1" (2 cm) of water. Soak at room temperature overnight. Drain thoroughly before cooking.
Prep
Heat 1 cup of water in the microwave until hot. Add the dried shiitake mushrooms. Soak until the mushrooms turn soft, 15 to 20 minutes. Once done, squeeze the liquid out of the mushrooms into the soaking water. Slice the mushrooms thinly. Reserve the soaking water for cooking.

Cut the rest of the ingredients while rehydrating the mushrooms.
Cook
Heat the butter in a 4-quart dutch oven (or tight-sealing heavy pot) over medium heat. When the butter has melted, add the shallot and shiitake mushrooms. Cook, stirring frequently, until the onions turn golden and translucent, 6 to 8 minutes.

Add the Chinese sausage. Cook and stir for 1 minute.

Pour in the Shaoxing wine. Use your spatula to release any brown bits stuck on the bottom of the pan. Cook until the wine has evaporated completely.

Add the rice. Stir to mix the rice evenly with the other ingredients. Add the chicken stock and salt. Stir to mix well.

Add the water chestnuts. Pour in the soy sauce and dark soy sauce. Gently stir a few times to mix the soy sauce.

Cook until the liquid comes to a low simmer. Turn to very low heat and cover the dutch oven. Steam until the rice is cooked through, 20 to 25 minutes. Uncover the pan and taste the rice at the 20-minute mark. If the rice still has a bit of a raw texture, let it cook for another 5 minutes.

Once done, uncover the pan and stir with a rice paddle or spatula to fluff the rice. Garnish the stuffing with sliced green onions.

Serve hot as a side.

This dish can be cooked 1 to 2 days in advance. Reheat it in the same dutch oven in a 350 ℉ (176 ℃) oven with the lid on until warm. You can reheat it in the microwave, too. To heat it evenly, be sure to stir the rice several times over the course of reheating.
Clean-up
It's very likely that the sticky rice will stick to the bottom of the pot once you're done cooking. This is due to the starchy texture and the added soy sauce. To clean up the pot, add 2" (5 cm) of water to the pot and boil for 5 to 10 minutes, until the sticky rice can be lifted easily with a wooden spatula. Scrape off any stuck residue and rinse the pan using detergent.
Notes
I highly recommend using dried shiitake mushrooms because they have an intense smoky flavor that fresh ones do not have. However, if you prefer using fresh shiitake mushrooms, you can replace the dried mushrooms with 8 to 10 medium-sized fresh ones.
Nutrition
Serving:
1
serving
,
Calories:
365
kcal
,
Carbohydrates:
59.4
g
,
Protein:
10.8
g
,
Fat:
8.1
g
,
Saturated Fat:
3
g
,
Cholesterol:
21
mg
,
Sodium:
767
mg
,
Potassium:
336
mg
,
Fiber:
1.6
g
,
Sugar:
1.8
g
,
Calcium:
31
mg
,
Iron:
3
mg