Learn the secrets to cooking paper-thin duck pancakes that are moist, light, and tender!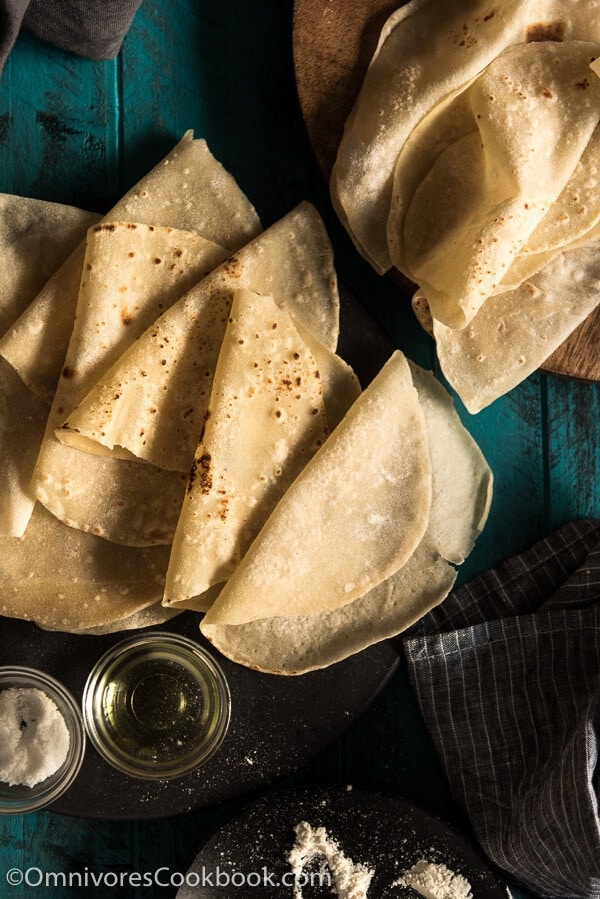 Duck pancakes, or mandarin pancakes, have a totally different name in China. We call them chun bing (春饼), which literally means spring pancakes. It is a dish that we northerners cook as part of our celebration of Spring Festival (Chinese New Year). Making them is a way to welcome the new year and pray for good yields from spring crops.
How we serve duck pancakes in China
In fact, we've never served these pancakes with Peking duck at any family dinner. I believe most families in China don't. First of all, an oven is not standard equipment in the average Chinese kitchen, so roast duck is a no-go. Second, when you can spend 20 dollars to get a perfectly roasted duck, including the pancakes, dipping sauces, and veggies, at a restaurant, it doesn't make any sense to roast a duck at home with a much less desirable outcome.
On the other hand, we do make pancakes and enjoy them fresh. And we serve them with stir-fried vegetables – no dipping sauce or meat required. The vegetables can include carrots, bean sprouts, wood ear mushrooms, stir-fried eggs (not a vegetable, I know), cucumbers, dried bamboo shoots, etc. All the veggies are cut into thin long strips. We cook them separately, like when cooking for Korean bibimbap. Each vegetable is seasoned very simply, with the likes of garlic, green onion, soy sauce, sugar, and sesame oil, and cooked in a work until tender and smoky.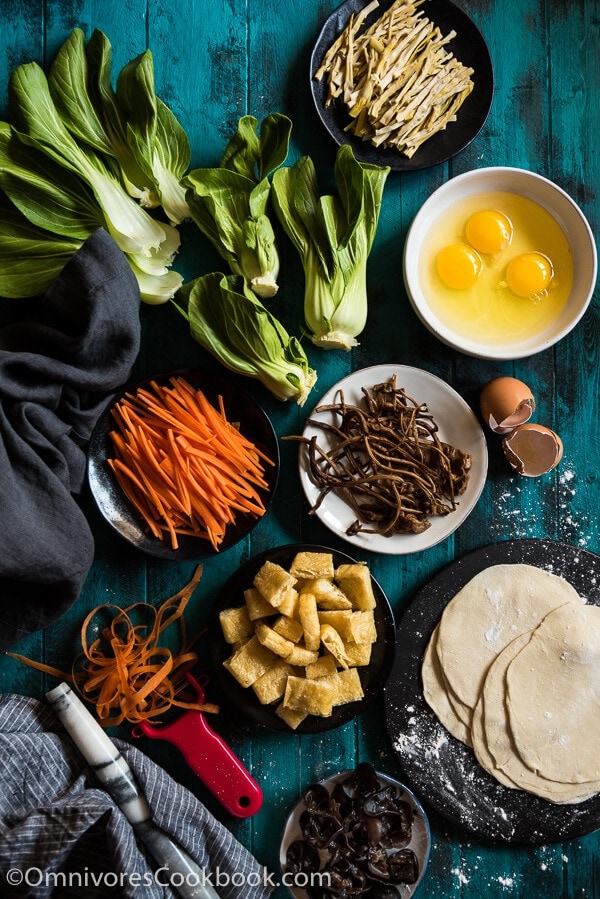 Duck pancakes for everyday meals
When you serve these fresh-off-the-stove pancakes with a good variety of small veggie dishes, your dinner table will be very beautiful and colorful. And you won't even need hoisin sauce to enjoy the meal. Simply place a small amount of each veggie and some egg in the center of the paper thin pancake and wrap it up like a burrito. They are finger-licking good! It's incredible that you can make this kind of magic happen just using flour, water, and a few veggies.In the traditional way of serving the pancakes, the cook (usually mom or grandma) will make all the small veggie dishes first and display them on the table while allowing the the pancake dough to rest. She then shapes and cooks the pancakes in small batches and serves them immediately after cooking. The rest of the family (including me), is in charge of assembling the hot pancake veggie wraps and eating them before the next batch is ready.
I understand this might not be the case when you serve these pancakes.
In the recipe below, I've included all my tips on prep and storage, so you can cook the pancakes way ahead of time and reheat them right before serving. These pancakes reheat and freeze well. I believe they're a great staple to keep in your freezer.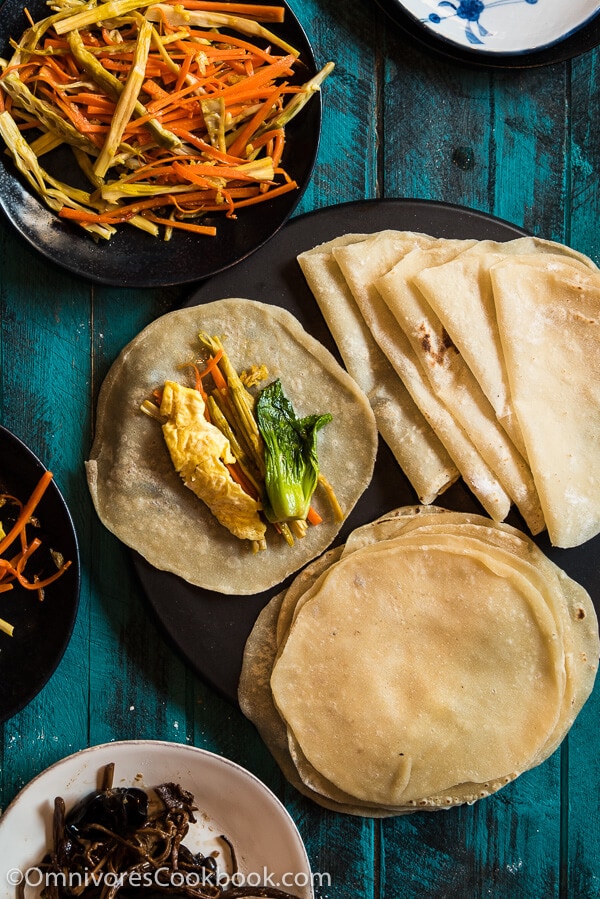 Mom's best duck pancake recipe
Making Chinese pancakes might look daunting. But you'll find that it's actually simple and fun when you're following a reliable recipe.
My mom taught me the method for making the perfect pancakes, but unfortunately, she did not have measurements in her recipe. It took me a few attempts to finally figure out a good water-to-flour ratio, and I believe I still need a bit more practice to make them prettier.
The real key to moist, tender, paper-thin pancake is a very tender dough. Different from making steamed buns and boiled dumplings, duck pancakes require the use of boiling water in the dough (we call it "cooked dough", or tang mian / 烫面 in Chinese). The hot water will soften the gluten, which will produce tender and moist bread (i.e. pancakes, in this case), even though the dough is heated to a high temperature.
On the other hand, "cooked dough" tends to be very sticky and difficult to work with. Plus, if you use water that is too hot, the end product will have an undesirable slimy texture. That's the reason we are using both boiling and cold water in this recipe, to make two separate doughs that are combined in the end. This way, we can add enough water to make the dough tender without turning it slimy, as well as prevent the dough from becoming too sticky to work with.
I have also optimized the workflow to make it foolproof. (Some recipes ask you to add boiling water to the flour and mix it, then add cold water. I found this method not very reliable due to timing issues.)
Thus, the recipe I'm sharing with you today is the easiest and most reliable I've used.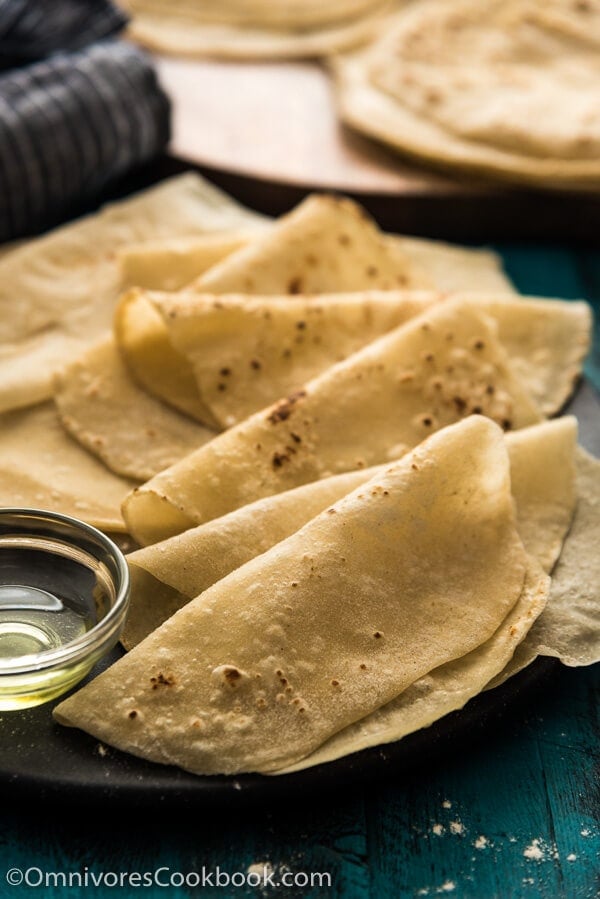 How to prepare a vegetarian dinner party
These handcrafted pancakes might not be a quick dish that you can crank out during a busy week. But it is a fun thing to try on a weekend. And if you're hosting a dinner party, this will be a very special dish that you can share with your family and friends.
At the end of the recipe, I've introduced a few ways to serve and enjoy the pancakes. In addition to all these methods, I found it very easy to create a vegetarian dinner party menu with these pancakes.
All you need to do is make the pancakes and several small vegetable dishes. About 2 hours (2.5 if you're not familiar with the pancake making process) before dinner, you can start making the dough. While the dough is resting, rinse and chop all the veggies. When the veggies are ready to be cooked, work on the pancakes and finish cooking them. It usually takes me about 1 hour to finish shaping and making the pancakes. You might need a bit more time if it's your first time making them. Thirty minutes before dinner, you can start cooking the veggie dishes. You can cook 4 stir fried dishes, 36 pancakes, and 1 appetizer for 4 to 5 people. For 6 people, add a soup and maybe another appetizer.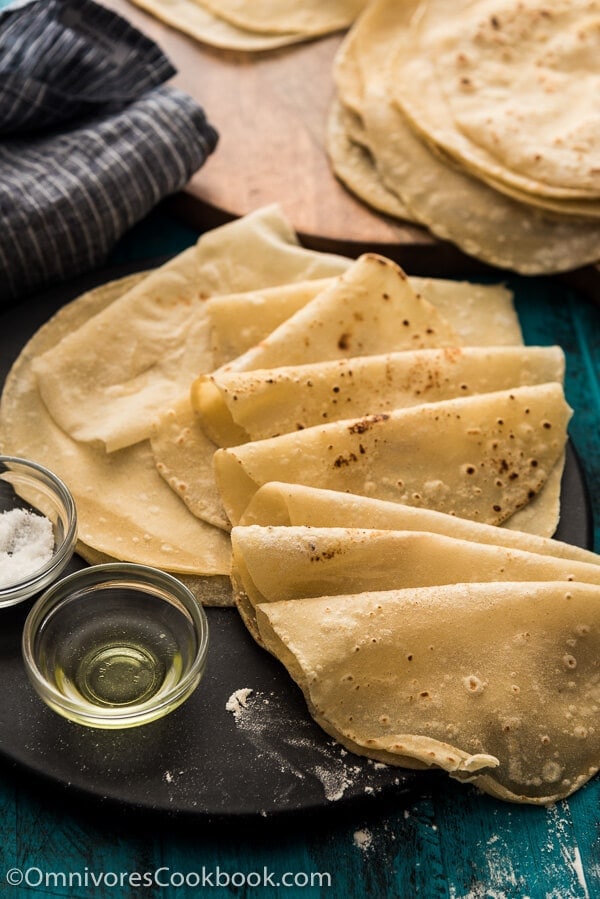 What to serve with the pancakes
Meat dishes
Vegetarian
Scrambled eggs – A must have. You can serve them with hoisin sauce and green onion.
Moo Shu Vegetables – Don't forget to soak the wood ear mushrooms and lily flowers 2 hours ahead of cooking.
Bok Choy stir-fry with Crispy Tofu – This one goes perfectly with the pancakes
Stir fried carrot strips – My family's favorite. Start by slicing the carrot with a julienne peeler and crush 2 to 3 cloves of garlic. Heat plenty of oil (twice the amount you'd use for other veggies) until warm. Cook garlic until fragrant. Add carrot. Stir and cook until it turns very tender and the surface is slightly charred. Season with salt. Carrots cooked this way are every bit as sweet and tender as as roast carrots.
Szechuan shredded veggie stir fry – Use this recipe and skip the chicken.
Stir fried bean sprouts – Season with green onion, a bit of soy sauce, salt, and a bit of sugar. You can add some carrots and green peppers for color.
Raw veggie – Cut carrots and cucumbers into long strips. Serve with hoisin sauce.
Other simple stir-fried dishes – for example, mushroom stir fry, green pepper stir fry (cut into thin long strips, cook with garlic and soy sauce), stir fried green beans (use this recipe and skip the meat)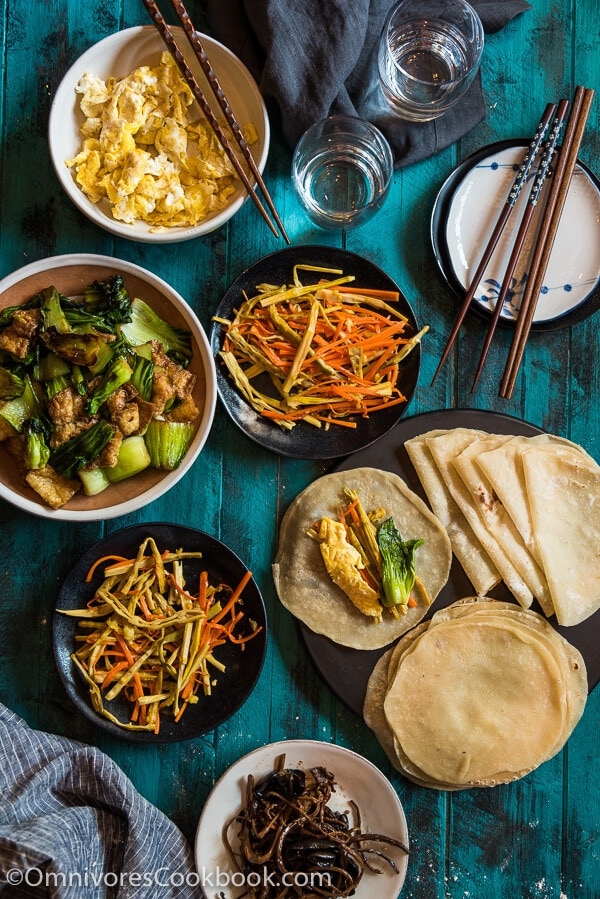 Want to learn more about Chinese Cooking? Sign up my newsletter to receive the 5-Day Chinese Cooking Crash Course and recipe update!
Want to Know More?
Receive our 5-Day Chinese Cooking Crash Course & Recipe Updates! Subscribe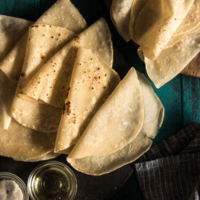 Mom's best duck pancakes (春饼, mandarin pancakes)
Learn the secrets to cooking paper-thin duck pancakes that are moist, light, and tender!
Ingredients
2

cups (300 grams)

all-purpose flour

(please read how to convert grams to cups properly), and extra to dust the working surface

3/4

cup (180 milliliters)

boiling water

90

milliliters

1/4 cup + 2 tablespoons cool water

(room temperature)

2

tablespoons

vegetable oil for brushing
Instructions
Prepare dough
Bring a small pot of water to a boil. Dust a working surface with plenty of flour.

Add 150 grams (1 cup) flour into a large bowl. Slowly add boiling water into the first bowl. Whisk with a pair of chopsticks (or a spatula), until the water is fully absorbed. It will form a soft, sticky mass. Use a spatula to scrape the dough onto the working surface.

Add the remaining 150 grams (1 cup) flour into the same bowl. Slowly add cool water and whisk until the water is fully absorbed. It will form a soft mass, but should not be too sticky. Scrape dough onto the first dough on the working surface.

Dust both hands with flour. Knead and press the two doughs together. Dust with more flour if needed. Knead the dough by hand until texture turns consistent, about 5 minutes. You should feel that the dough is slightly sticky while kneading, but it shouldn't stick to your hands. Be careful not to dust the working surface with too much flour. The dough will become less tender as you blend in more dry flour.

Dust the dough with flour. Cover with plastic wrap and let rest for 30 minutes.
Shape pancakes
Dust working surface with flour again. Knead the dough a few times until smooth. Do not over-knead it.

(Optional) The dough might still be springy and a bit difficult to roll. Dust the dough with flour and cover with plastic wrap again. Let rest for another 10 to 20 minutes.

Shape the dough into a log and divide it into two equal pieces. Wrap one piece with plastic wrap (to prevent the dough from drying out) and work on the other piece.

Pull and roll the dough log back and forth until it turns into a long roll, about 36 cm (18 inches) in length. Cut into 2-cm (1-inch) pieces. You should get 18 pieces of dough. Dust both cut sides of each dough piece with flour and let stand on one of the cut sides.

Work on the dough pieces two at a time. Cover the rest of the dough pieces loosely with plastic wrap (or a clean, damp towel), to prevent drying out.

Add oil into a small bowl. Prepare a small brush.

Shape two doughs into a cylinder shape and press them as much as you can into two small, round discs.

Brush oil thoroughly onto the top of one dough disc. Make sure the oil covers the entire surface, otherwise the two pancakes will be difficult to separate later. This process of doubling up the pancakes cuts rolling and cooking time in half.

Place the other one onto it, to form a two-layer pancake. Press the two doughs again, into a flat disc.

Dust the working surface with flour. Use a rolling pin to roll the double pancake into a thin round disc, about 13 to 15 cm (5 to 6 inches) in diameter. Turn the dough a few times during rolling, to ensure both pancakes are evenly rolled out. The pancakes will be very thin and might stick to the working surface when rolled. Dust with more flour if needed.

Dust both sides of the double pancake with flour again and place it aside, keeping them in a single stack. Cover with a damp towel (or damp paper towel) to prevent the pancakes from drying out.

When you finish working on the first batch of dough pieces, you should have 9 double-pancake doughs. You should cook them before rolling out the rest of the dough pieces. Because the pancake dough is very moist and tender, the pancakes will stick together if let sit for too long. On the other hand, if you're cooking with your family or friends, you can have someone else help you cook the pancakes while you work on the rest of the dough.
Cook pancakes
Prepare two plates beside the stove.

Heat a heavy skillet over medium high heat until hot. Turn to medium low heat. Place a pancake in the center and let cook until the surface puffs up and the bottom side shows small light-brown spots, about 30 to 40 seconds.

Flip and cook the other side. The whole process should take 1 minute or less. The finished pancake should be tender, springy, and slightly crispy on the surface. It should not feel dry.

If the pan is too hot, the pancakes will burn too quickly before they puff up. If the pan is not hot enough, the pancakes will dry out due to the long cooking time. Adjust the heat of the pan and keep the total cooking time for each double pancake under 1 minute.

Transfer the cooked pancakes to a plate to cool. Place another raw double pancake into the skillet. While cooking that pancake, split the just-finished double pancake in two by peeling off the top layer. If the pancake is too hot to touch, you can wait a bit longer and cook other pancakes first. Since we brushed oil between the pancakes, it should be very easy to separate them. Place the separated pancakes on top of each other on the other plate. Repeat the process until you've finished 30 pancakes. Cover the pancakes with a damp paper towel to keep them moist.
(Option 1)
If you will be serving the pancakes immediately after cooking, you can serve them directly. They will be very tasty, even after they've cooled off.
(Option 2)
You can make the pancakes ahead of time and reheat them when you're ready to serve the meal.

To serve them the next day or within the next few hours, let the pancakes stay covered, and wait until they've cooled off. Transfer them to an air-tight container and store them at room temperature for up to half a day, or in the fridge overnight.

To serve the pancakes, place them onto a heatproof plate or a bamboo steaming rack. Steam until hot, 3 to 5 minutes. Serve immediately.
(Option 3)
If you will serve the pancakes a few days later, you can freeze them. Let the pancakes cool off completely. Wrap tightly with plastic wrap and seal in a ziplock bag. Store in the freezer for up to a month.

To serve the pancakes, reheat them by steaming until hot and tender, 10 to 15 minutes. You don't need to thaw the pancakes before steaming.
How to serve
(Option 1)

Serve with duck

– you can cook pan-seared duck breast according to

this recipe

(minus the sauce). Serve the duck breast, hoisin sauce, green onions, and sliced cucumber with the pancakes. If you prepare the pancakes ahead of time, you can easily serve a Peking duck dinner for four in just 30 minutes.

(Option 2)

Serve with moo shu vegetables or other stir-fried veggies

(vegetarian meal – refer to the blog post above this recipe). If you're cooking other stir-fried veggies, try to select veggies with lower moisture content (such as root vegetables).

(Option 3) Serve with scrambled eggs, green onion, and hoisin sauce – this is the easiest way to enjoy these fresh pancakes.

(Option 4)

Serve with crispy chicken

– Use

this recipe

to cook crispy chicken without deep-frying. Serve with hoisin sauce, green onion, and sliced carrot (or cucumber).
Nutrition
Serving:
17
g
,
Calories:
37
kcal
,
Carbohydrates:
6.4
g
,
Protein:
0.9
g
,
Fat:
0.8
g
,
Potassium:
9
mg
,
Iron:
0.4
mg