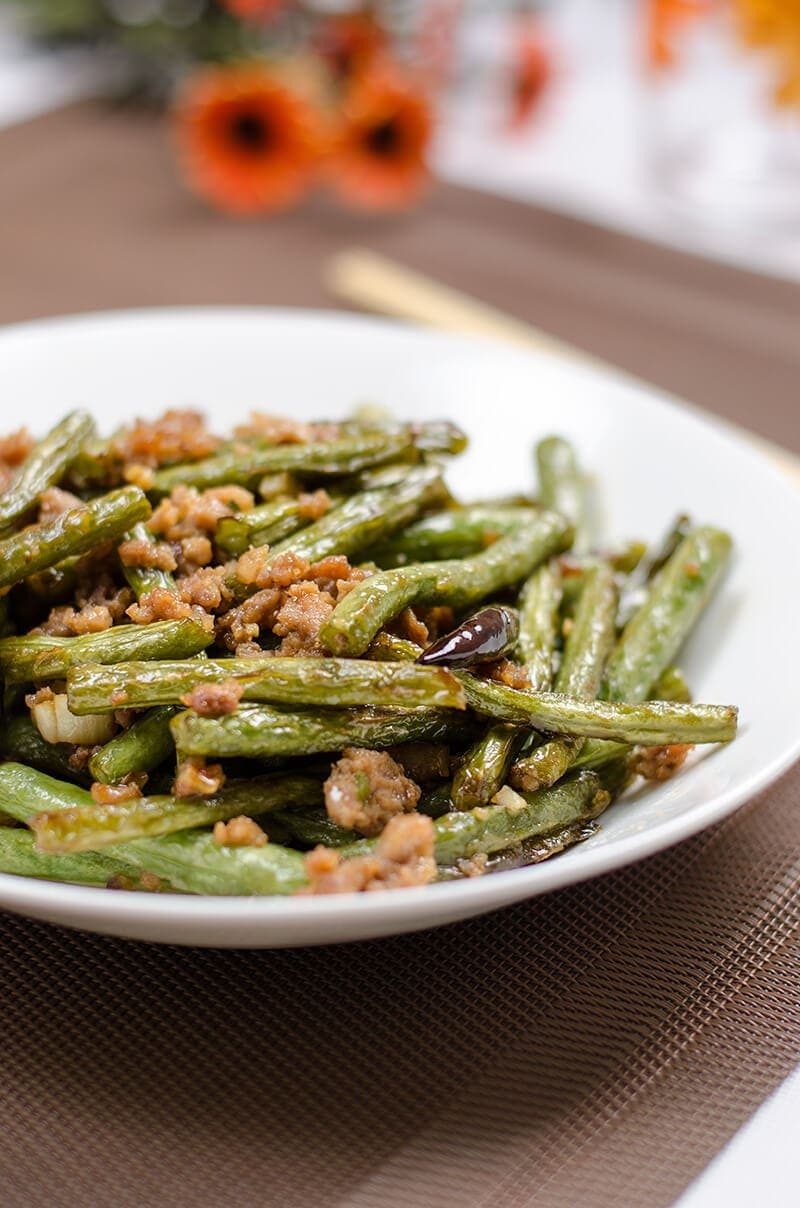 Szechuan Dry-Fried Green Beans (干煸豆角, Gan Bian Dou Jiao) is a signature dish within Szechuan cuisine. As the name of the dish suggests, it uses a cooking technique called "dry-frying". Dry-frying uses less oil, with a longer stir frying time, to cook vegetables or meat, to slightly dehydrate them and thus create a crispy and charred surface. The texture of dry-fried vegetables is similar to that of grilled ones, with a hint of smoky flavor. Seasonings are added after dry-frying; in this recipe, soy sauce, dried chili peppers and Szechuan peppercorns are used. The withered surface of the green beans holds the spices well, thus creating an appetizing, intense and pungent flavor.
To make the best Szechuan dry-fried green beans, you should pick French beans (or French filet beans). They're shaped like pencils, around 20 centimeters (8 inches) in length, with pointed ends. They have a tender yet crisp texture and typically yield the best results when dry-fried. I tried to cook this dish with Romano beans and long beans, as well, but neither was as good as the French dry-fried beans.
Szechuan Dry-Fried Green Beans is a very versatile dish and there are many ways to cook it. The authentic recipe uses green beans and ground pork, but you can replace pork with ground chicken breast or dried shrimp. For a vegetarian alternative, use minced shiitake mushrooms instead of pork. It even tastes quite nice with green beans by themselves, but you might need to add a dash of oyster sauce for a little flavor enhancement.
Is it possible to cook this recipe without a wok?
Of course it is! I even wrote an article about why you should stir fry with a frying pan instead of a wok.
The recipe in this post does use a wok. If you don't have one, you can use a nonstick skillet instead. Please take note that the cooking time will be longer if you use a skillet. A skillet gathers less heat than a wok does, and so you may end up with soggy green beans if you're not careful. The solution: for step 4 in the recipe below, after adding the liquid seasoning, stir fry until all liquid is absorbed. This process only takes a few seconds with a wok, but might take a minute or two with a nonstick skillet.
Even though cooking this dish with a wok can yield better results, the cooking process with a wok is a bit more difficult to control. Always choose cooking equipment you feel comfortable using.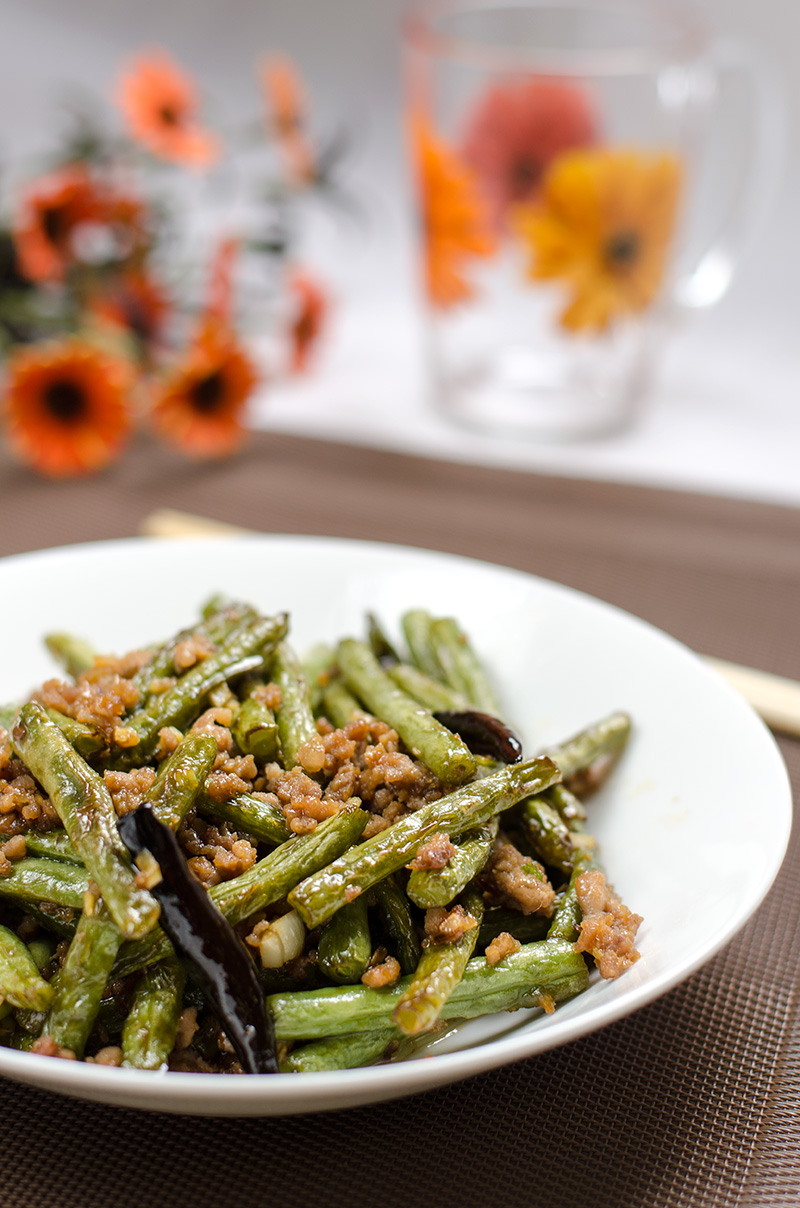 Several tips for cooking vegetables with a wok
Heat the wok until it begins to smoke before adding oil
A wok holds a much greater amount of heat than a metallic or nonstick skillet does. It will take longer to heat up, but the temperature in the wok will get much higher than a that of a heated flat skillet. This results in shorter cooking times and generally better textures in cooked food. Most Chinese stir fry dishes will require the wok be heated until smoking, after which oil is added (without being given time to heat), the wok is swirled, coating the bottom of the wok with oil, then immediately ingredients are added and cooking begins.
Always get prepared before cooking
You should always get all of your ingredients and seasonings ready beside you when starting to cook. Otherwise, by the time you have walked over, opened the cupboard, taken the soy sauce out, opened the bottle, and poured it into the wok, the vegetables will already be overcooked.
When it comes to stir-frying, the key objective is to be fast! fast! fast!
(1) When you stir, do so with a faster speed than you would when using a skillet. Because a heated wok holds a very high temperature, it's very easy to burn vegetables on the bottom of the wok.
(2) Mix vegetables quickly after adding spices or liquid ingredients. The high heat in the wok will evaporate half a cup of liquid in a few seconds.
(3) Transfer vegetables to a plate immediately after cooking is finished. The heated wok will continue to cook the food for quite a long time after you turn off the heat.
If you have any further questions concerning this recipe, just post a comment below or drop me a note and I will try to answer your question as soon as possible. Let me know how it goes if you cook this dish, and happy cooking! 🙂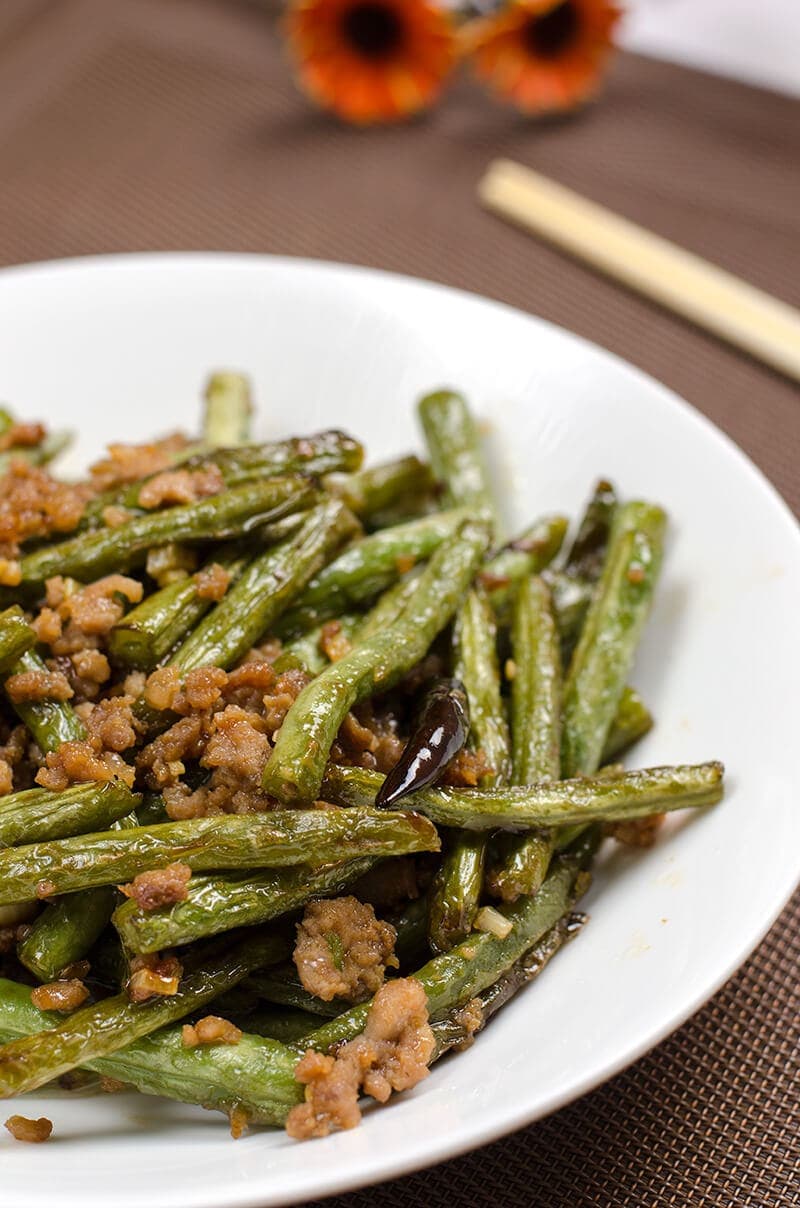 Szechuan Dry-Fried Green Beans (干煸豆角)
I used a traditional black cast iron wok in this recipe. It generates better heat than does a carbon steel wok, so the stir-frying time is quite short in this recipe. Consider doubling the stir-frying time if you use a carbon steel wok, or tripling or quadrupling it if you use a normal flat-bottom skillet or nonstick skillet.
Author:
Omnivore's Cookbook
Ingredients
2 tablespoons Shaoxing wine (or Chinese cooking wine)
2 teaspoons soy sauce
1 teaspoon sugar
1/2 teaspoon chicken stock
1/2 teaspoon salt
100 grams (3.5 ounces) ground pork (lean:fat 6:4)
1 teaspoon cornstarch
3 tablespoons vegetable oil
320 grams (12 ounces) green beans, tough ends removed, cut to 2-3 parts, lengthwise
3 dried chili peppers
1 tablespoon minced garlic
(optional) 1 tablespoon chopped green onion
1 teaspoon minced ginger
Instructions
Combine 1 tablespoon Shaoxing wine, soy sauce, sugar, chicken stock and salt in a small bowl and mix well. Set aside. Dry green beans thoroughly with a paper towel.
Right before cooking, combine cornstarch with ground pork and mix well by hand.
Heat 2 tablespoons vegetable oil in a large nonstick skillet over medium high heat. When oil is hot, carefully add green beans. Stir green beans with a spatula to coat them well with oil. Then, arrange the beans on the bottom of the skillet so that as many beans are in contact with the bottom of the skillet as possible. Flip every 10 seconds so that all sides are heated evenly. Repeat for 10 - 15 minutes, until surface of all green beans is mostly brown and withered. Around half of the green beans will still be green and not so withered, but it's OK. Scoop green beans out with a spatula, transferring them to a plate, and set aside. Save the oil in the skillet.
Heat a wok over medium high heat. When wok is hot, transfer the oil (about 1 tablespoon) from the nonstick skillet into wok. Add the rest of the vegetable oil and swirl wok to let oil coat bottom of wok. Add chili pepper and Szechuan peppercorn. When the spices become fragrant, after about 15 seconds, immediately turn to lowest heat and carefully scoop peppercorns out with a long-handled spoon and discard. Turn to medium high heat, add green onion, garlic and ginger, and stir until fragrant. Add pork and stir-fry, chopping the ground pork into small bits with a spatula as you do so. Pour in the rest of the cooking wine and stir constantly. When pork is cooked through and slightly browned, add fried green beans, quickly mixing them with the pork. Then, pour in the spice mixture from step 1, quickly stir and mix everything well for a few seconds. Turn to lowest heat, and taste a green bean. If it's not salty enough, add a bit more salt (do not add more than 1/4 teaspoon at a time), turn back to medium heat and mix well. Stop heat and transfer green beans and pork onto a plate. Discard leftover oil.
Serve warm.