Sticky rice cake is crispy on the outside with a gooey texture inside. You will smell the toasted sesame seeds from afar. The first bite of the slightly spongy and pleasantly fragrant rice cake has such a delightful mouthfeel. The sweet and moist red bean paste will melt in your mouth so quickly that won't be able to resist devouring the whole cake!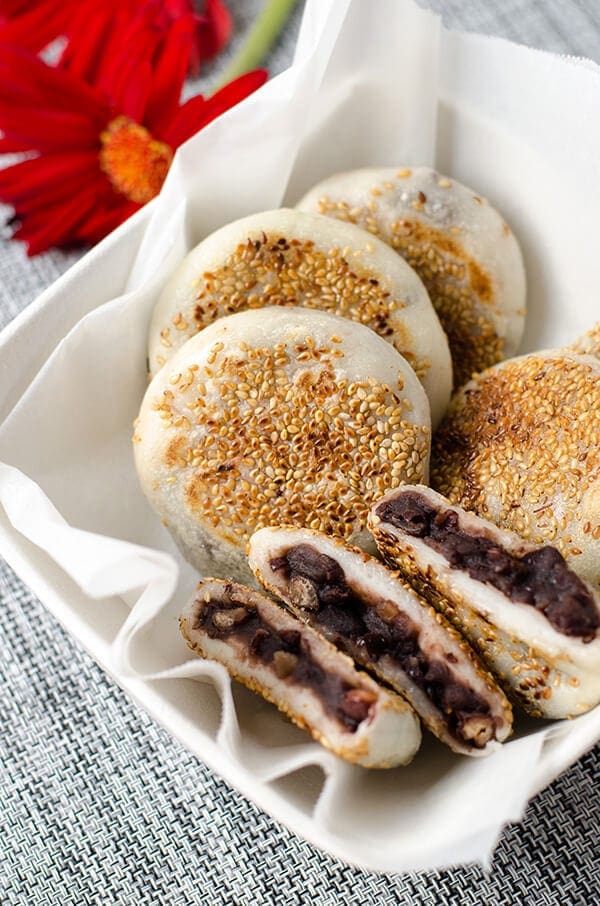 The sticky rice cake with red bean paste is one of my favorite desserts in local Chinese restaurants. Actually, it is not a very standard Chinese dessert and not many restaurants serve it. But since both red bean paste and sticky rice are commonly used in Chinese desserts and pastries, to combine them into one treat makes perfect sense.
I tried my best to recreate this delicious pastry, but I chose to grill the cake in a skillet instead of deep frying. The original version of the cake isn't coated with sesame seeds and has a golden surface. However, I really don't like to fry things at home as I always prefer cooking with less oil. So, I invented this method to coat the cake with sesame seeds so the dough won't stick to the bottom of the skillet, even with little oil in the pan. Plus, it gives the cake a great nutty flavor.
A few more words about Chinese desserts
Compared to the cakes, cookies, and desserts from Europe or the US, Chinese desserts are not nearly as sweet. Instead of butter and flour, they often use lard and glutinous rice flour. Instead of butter cream frosting, they use red bean paste, date paste, or sesame paste to add sweetness. Instead of baking, they invariably require steaming or frying.
If you are not familiar with Chinese desserts, you might find all these elements very strange. However, if you've ever tried dessert from Japan or Southeast Asian countries, you might find some similarities among them. If you keep an open mind and would like to try out new things, I hope you will give Chinese desserts, such as this rice cake, a chance as well.
Sometimes, I tend to eat this dish as a snack instead of as a dessert. It is not as indulgent as a piece of cheese cake. Instead, it is quite filling and healthy. Unlike with a snickers bar, I won't feel guilty at all if I gulp down two slices of rice cake after a workout.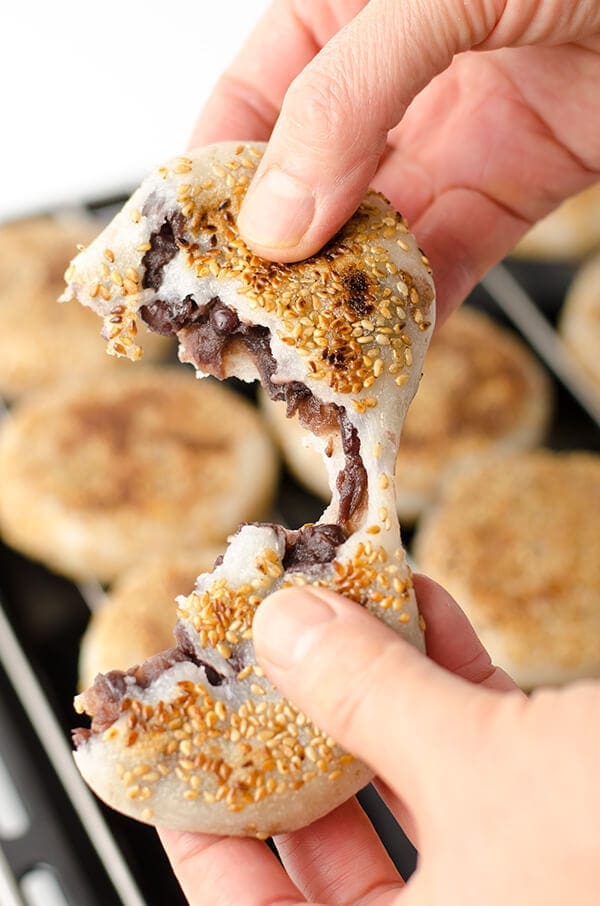 To make sticky rice cake with red bean paste
It is super easy to make this dish and you only need four ingredients. You can find both glutinous rice flour and red bean paste at a Chinese or Asian market. You could also make your own red bean paste at home. It is healthier and even tastier than the kind you'll find in the supermarket.
When you shop for glutinous rice flour (also called sweet rice flour), make sure you choose the kind that is milled from long grain sweet rice, which is for grilling and baking. The texture is stiff and will form a very crispy surface when heated. The one made from short grain rice is also called mochiko, often used to make cold desserts such as Japanese mochi. Even with the same label, "glutinous rice flour", it could be made from long grain or short grain rice. Pay attention to this when picking your flour.
Also notice, the so-called glutinous flour (because of the sticky texture) is actually gluten free. However, if you are gluten intolerant, you should look for the variety specifically labelled as gluten free.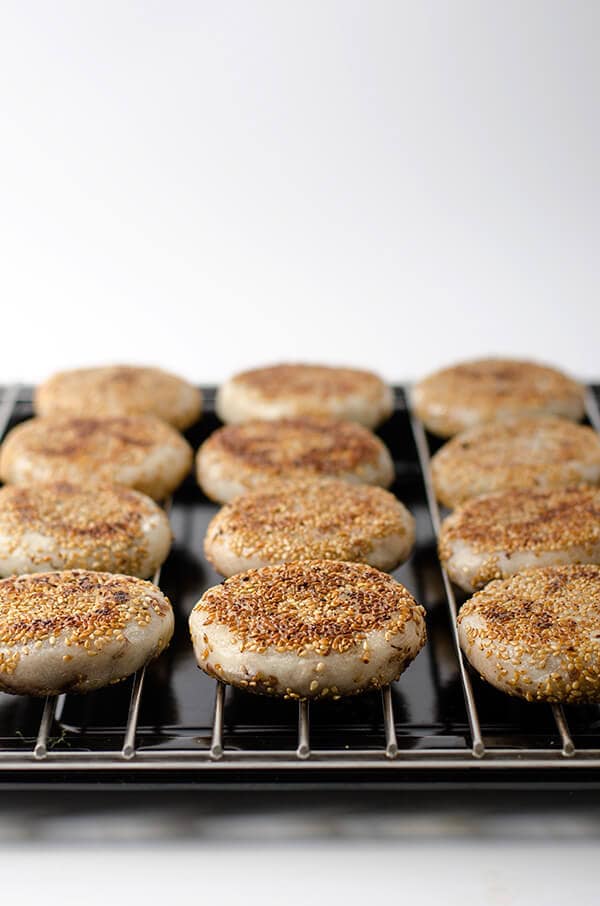 I have created a short video to help you through the cooking process, with an emphasis on how to wrap the red bean paste.
Want more rice cake recipes? Check out my savory Chinese BBQ Sticky Rice Cake and learn how to use kale to create a beautiful green colored rice cake!
Print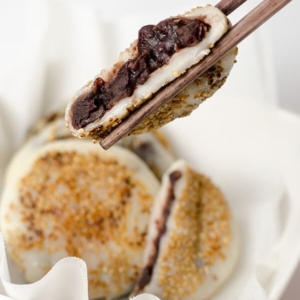 Sticky Rice Cake with Red Bean Paste
---
Author:

Prep Time:

25 mins

Cook Time:

15 mins

Total Time:

40 mins

Yield:

12

1

x
Category:

Dessert

Cuisine:

Chinese
---
Instructions
Add sweet rice flour into a large bowl. Measure out 1 cup of water (You will use slightly less than a cup). Slowly add water into the flour in 4 to 5 pours, and stir with a fork until the water is fully incorporated with the flour. There should be no dry flour left, and the flour should start to have the texture of dough – soft but not runny. If the dough gets too soft and becomes difficult to shape, add more rice flour, a tablespoon at a time. Use your hand to press and knead the dough a few times, until the texture becomes consistent (* see footnote). The dough should be soft and easy to shape. When you lift the dough from the bowl, it should slightly stick to the bottom of the bowl.
Dust a working surface with rice flour and transfer the dough onto it. Divide the dough in half. Roll the dough with both hands to shape it into a long, even rod. Divide the dough equally into 6 pieces. Shape each piece into a round ball and set aside.
To make the cake, place one rice dough ball in your palm and use the other hand to gently press it into a round, flat piece (it's very easy to shape, so you won't need a rolling pin), about 6 centimeters (2.5 inches) in diameter, 6 millimeters (1/4 inch) in thickness.
Scoop about 2 tablespoons of red bean paste and shape the paste into a ball. Place the ball of bean paste in the center of the round dough. Pinch the edges of the dough together to completely enclose the bean paste. When the cake is shaped like a ball, gently use your palm to press it, until it is shaped like a pancake, about 6 centimeters (2.5 inches) in diameter and 1.2 centimeters (1/2 inches) in thickness. Spread 1 tablespoon of sesame seeds onto the working surface, place the cake on top of them, and gently press. Shake off the extra sesame seeds, flip the cake, and press the other side onto the seeds. Craft the rest of the cakes in the same manner.
Heat 1 teaspoon of vegetable oil a non-stick skillet over medium heat. When the oil is hot, turn to medium low heat and place 4 cakes into the skillet. Cook until the bottom of the cake turns golden brown, after 2 to 3 minutes. Flip and cook the other side. Transfer the cakes to a large plate to cool. Cook the rest of the cakes in the same manner.
Serve the rice cakes warm.
Notes
Unlike dough made from wheat flour, rice flour dough is much easier to knead and doesn't need time to rest. The dough does not contain gluten, so it won't hold very well when stretched. The way to handle this type of dough is different, but you will find it very easy to get used to.
The nutrition facts are calculated based on 1 of the 12 cakes generated from this recipe.