These real-deal Chinese sesame noodles are way better than takeout. The post teaches you how to use secret ingredients to make the sauce addictively tasty.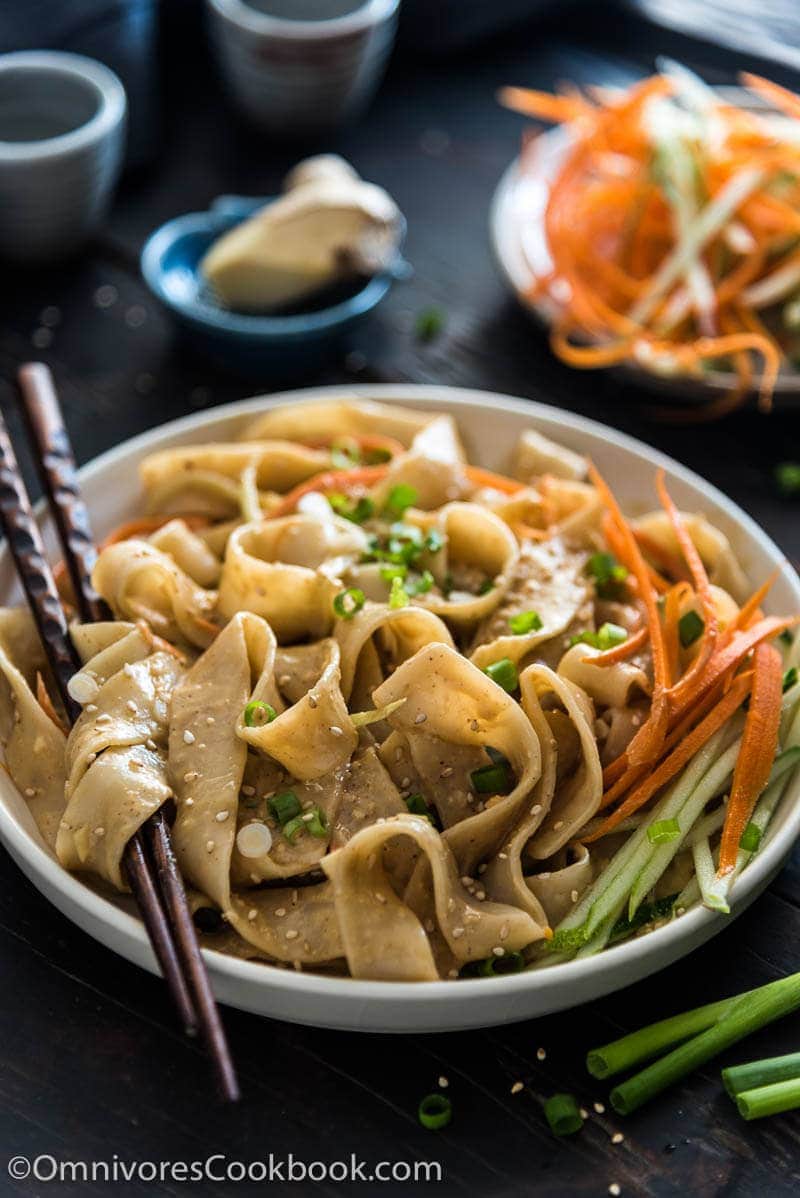 Sometimes I hear complaints that Chinese recipes tend to have super long ingredient lists, which scare people away. I couldn't agree more. The fact is that Chinese cuisine is really good at playing with flavors. It brings together herbs, fermented sauces, and many ingredients that are sweet, salty, sour, and nutty to play a symphony. The tones and rhythms all come together, to create a beautiful melody. Everything is balanced, without a single ingredient jumping out or screaming loudly.
For "poor folks' food" like noodles, the idea is to use the cheapest ingredients to maximize flavor. The goal is to make you happy with a stomach full of noodles, vegetables, and a minimal amount of meat (or no meat at all). A simple sesame noodle dish requires more than 10 ingredients to achieve this goal. In fact, if you count the ingredients needed to make the chili oil, you'll need about 20 in total.
Sometimes I try to simplify recipes as much as I can, so you can actually make them at home. But in this case, I'd say you need the whole set of ingredients if you want the sauce to be interesting and not just taste like peanut butter.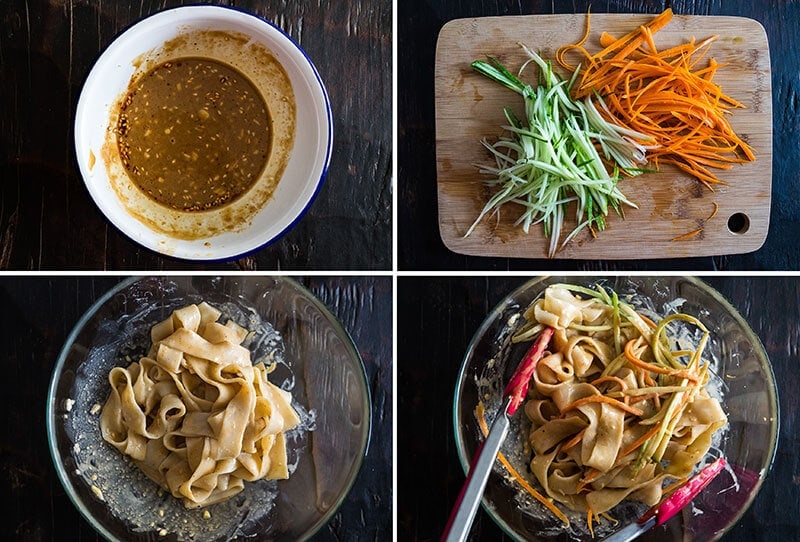 The flip side is that you can make more sauce ahead of time, store it in the fridge, and serve it during the week. For example,
This sauce makes a very nice vegetable dip.
It is also a great sauce for zucchini noodles.
You can use it on roast chicken or leftover meat to make it more interesting.
And you can thin it out a bit with water and use it as a salad dressing.
If you hate chopping, your best next choice is to use ginger paste and garlic paste from Gourmet Garden. When I'm feeling super lazy, I'll use these pastes straight from the tube instead of chopping (Shhhh! Don't tell anyone!). You'll need to add more paste than the amount listed in this recipe, because fresh ginger and garlic are more potent.
The secret ingredients in this recipe are the homemade chili oil and roasted Sichuan peppercorn powder. When I serve this dish at cooking classes and events, I always sneak these two in there so that the noodles will wow everyone. With these ingredients, you can turn "just your average sesame noodles" into "OMG this is so good".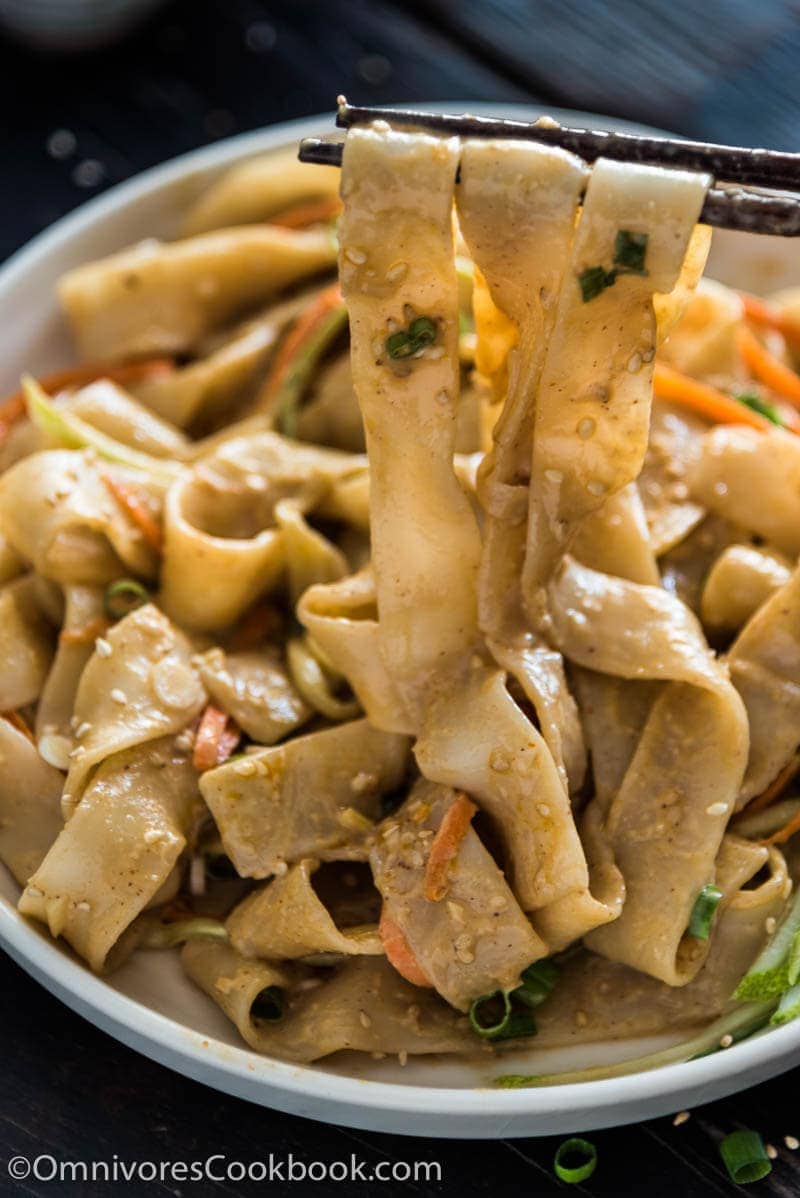 You can serve sesame noodles either as an appetizer or a main dish. They are easy to prepare ahead of time and the sauce only gets better after it has sit in the fridge a few hours. I might skip (or use very minimal) toppings on the noodles to keep them simple as an appetizer. On the other hand, you can add other things to make it a full meal. For example, leftover shredded meat, sliced avocado, eggs (boiled, poached, or fried), and more vegetables. In this case, make more sauce accordingly.
The last thing I want to emphasize is to always make more sauce than you expect you'll need. The problem with noodle salad is that you never get the exact amount of sauce correct. Every type and brand of noodles absorbs water and sauce in a different rate. Plus, you might want a bit of extra sauce on the side. The sauce in this recipe is plenty for two big servings or four small servings. But you won't regret making a double batch in any case.
I hope you enjoy!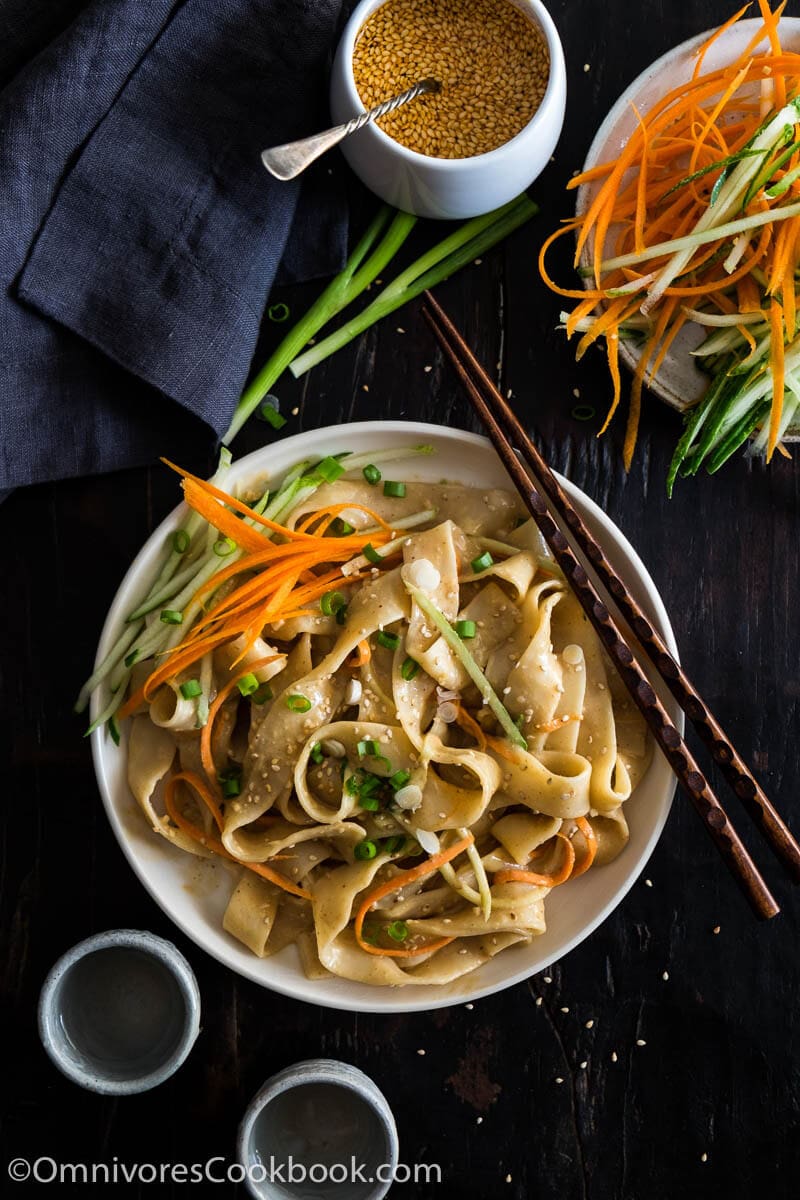 Want to Know More?
Receive our 5-Day Chinese Cooking Crash Course & Recipe Updates! Subscribe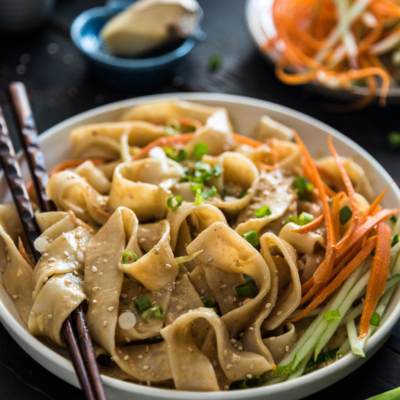 Real Deal Sesame Noodles
These real-deal Chinese sesame noodles are way better than takeout. The post teaches you how to use secret ingredients to make the sauce addictively tasty.
Ingredients
250

grams

noodles

, dried (*see footnote 1)

2

green onions

, chopped
Peanut sauce
1/4

cup

natural peanut butter

(or Chinese sesame paste) (*see footnote 2)

2

tablespoons

light soy sauce

(or soy sauce)

2

tablespoons

Chinkiang vinegar

1

tablespoon

honey

2

teaspoons

homemade chili oil

(or to taste) (*see footnote 3)

1

teaspoon

sesame oil

1

teaspoon

ginger

, minced

2

cloves

garlic

. minced

1/4

teaspoon

Sichuan peppercorn powder

, toasted (*see footnote 4)
Topping options
1

cucumber

, cut into thin strips

2

carrots

, cut into thin strips

tomatoes

, Sliced

sesame seeds

, Toasted (for garnish)
Instructions
Boil noodles according to instructions. Transfer cooked noodles into a colander, rinse with tap water to stop the cooking. Drain and set aside.

Combine peanut butter with 1/4 cup warm water in a small bowl. Stir with a spatula until the water is fully incorporated and it forms a smooth paste. Using warm water helps the peanut butter thin out and form a silky paste.

Add light soy sauce, Chinkiang vinegar, honey, chili oil, sesame oil, ginger, garlic, and Sichuan peppercorn powder. Stir to mix well. You can make the sauce ahead of time and let it sit in the fridge for a few hours before mixing, so the flavors will be more evenly blended.

Transfer cooked noodles into a large bowl and add two thirds of the peanut sauce. Toss with a pair of tongs to coat the noodles evenly with the sauce.

Garnish with cucumber, green onion and sesame seeds.

Serve at room temperature with the remaining sauce.
Notes
You can use many types of wheat noodles to cook this dish, including egg noodles, pasta, udon noodles, and somen noodles (the super thin type). To create the best texture, use homemade noodles such as hand pulled noodles or rolled noodles.
Chinese sesame paste is made from toasted sesame seeds. Unlike tahini, it is darker in color and has a nuttier flavor. You can use natural peanut butter here as an alternative.
The homemade chili oil is usually served separately and added according to personal taste. I personally prefer to use a small amount in the sauce because it adds a very fragrant umami that makes the sauce stand out. Always ask your guests if they can handle a bit spiciness. If not, serve the chili oil separately with the noodles.
To make toasted Sichuan peppercorn powder, cook whole Sichuan peppercorns in a tablespoon of oil until they turn dark (not black). Drain the peppercorns and grind them them in a coffee grinder (or use a mortar and pestle). It results in a nutty flavor that adds character to the dish without tasting too pungent. If you are using uncooked Sichuan peppercorn powder, cut the amount to 1/8 teaspoon or just a pinch.
Nutrition
Serving:
263
g
,
Calories:
166
kcal
,
Carbohydrates:
23
g
,
Protein:
2.8
g
,
Fat:
7.2
g
,
Saturated Fat:
1.1
g
,
Sodium:
948
mg
,
Potassium:
481
mg
,
Fiber:
2.6
g
,
Sugar:
14.5
g
,
Vitamin A:
10350
IU
,
Vitamin C:
12.4
mg
,
Calcium:
50
mg
,
Iron:
1.1
mg