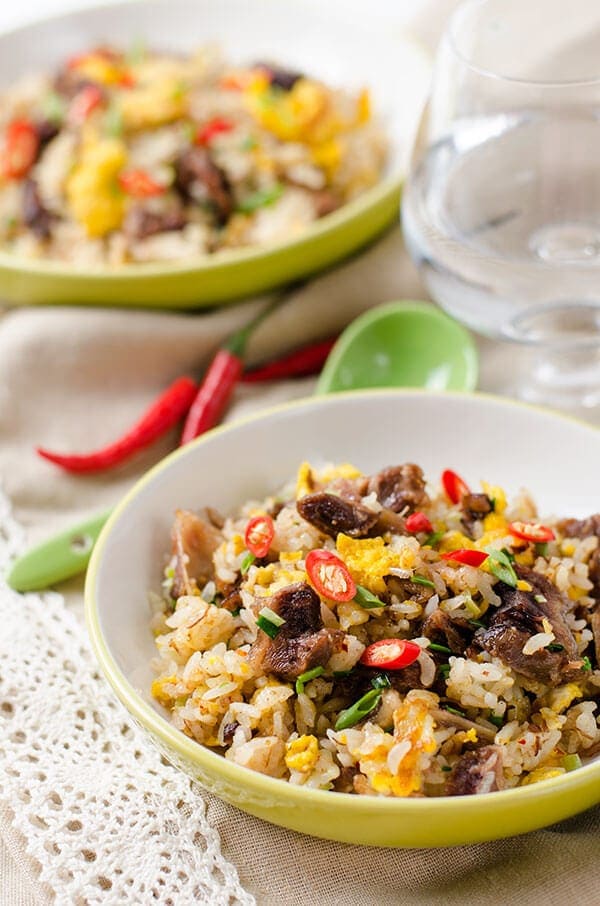 Mongolian beef fried rice has a tangy aroma of chili and cumin. It is simple yet satisfying. The fresh green onion and pungent spices turn leftover beef and rice to a feast. It only takes 10 minutes to cook and you will finish the whole plate under 5 minutes!
Have you ever tried to serve noodles or rice dishes as breakfast? We do that all the time in China. Fried noodles and rice dishes are favorite breakfast items in many other Asian countries too, including Japan and Singapore.
The Best Fried Noodles in the World
I had one of the best fried rice noodle dishes in Singapore during a business trip. It was at a small bistro under the office building. I'd never have discovered that place without my co-workers. Even if I had passed by the place by myself, I probably wouldn't have gone inside, because it looked very shabby and only had a few items on the menu.
It was almost nine in the morning, but the store was busy and packed with people. There was also a 5-meter (16-foot) queue out the front door. I ordered by following the crowd, a brownish fried rice noodle topped with two lonely pieces of fish cake. Man, it was too damn good! I don't know how they seasoned the noodles, but they had a very intense umami taste that I rarely get from a stir fried dish.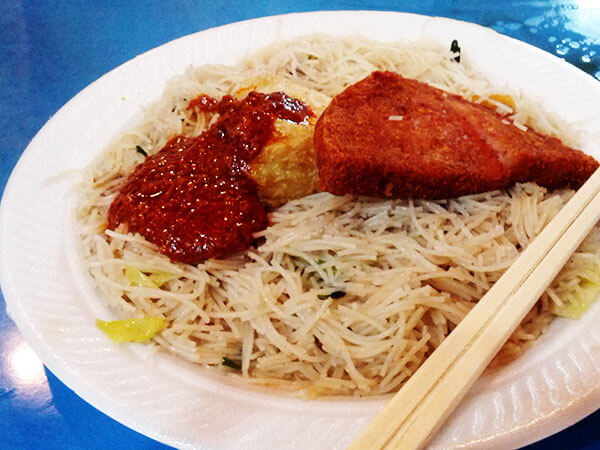 The Magic of Animal Fat
Later, my colleagues revealed its secret. The noodles were fried in lard. No wonder! That explained why the noodles tasted as great as pork fried noodles, without even a tiny piece of meat. It also explained why my hair smelled like a restaurant kitchen after breakfast, even though I only spent 10 minutes in that bistro.
The price of miserable hair for the rest of the day is a bit steep, but the noodles were awesome indeed!
Using lard or other types of animal fat is very common in Chinese cuisine. I heard from my mom that in the 60s and 70s, poorer families used lard as cooking oil because vegetable oil was in short supply. When my parents were young, they always got a cut of pork fat at a low price and used it to make lard at home. They even didn't dare to fry rice with the lard, because it uses a lot of lard and the dish would just become too delicious, so they'd eat more. Instead, they only mixed a small spoon of pork fat with warm rice and drizzled it with some soy sauce. It made a very simple meal taste much better.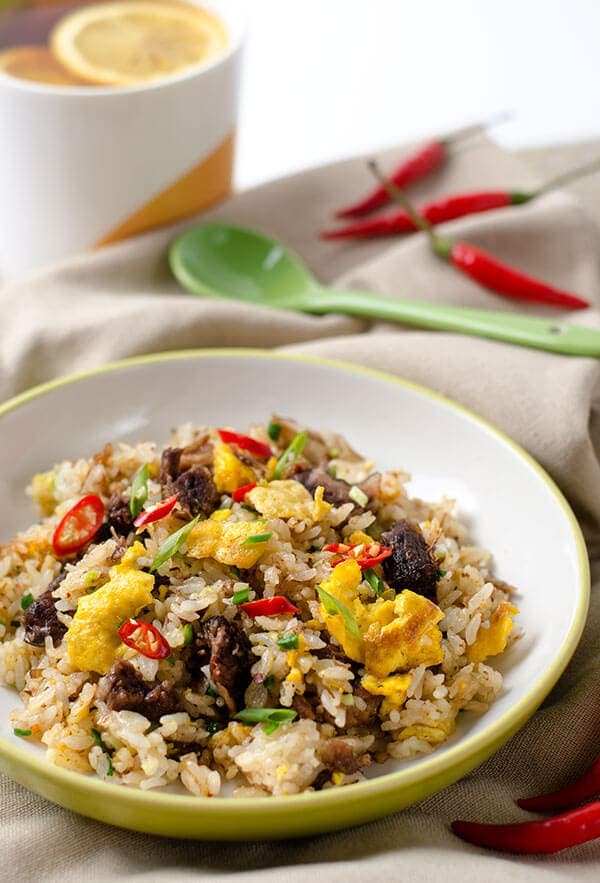 What You Can Do With Animal Fat
Using lard to fry rice, noodles or veggies adds tons of flavor and will make a plain dish as satisfying as a meat dish. Now we can afford to use lard to fry rice or add it into other dishes, but we tend to use vegetable oil most of the time for health reasons. However, if I ever have lard or grease left over from beef or chicken (like this wonderful chicken fat from making chicken stock), I will save it and use it in stir fried dishes. Have you ever tried fries cooked with duck fat? Same idea, same superiority of flavor.
I used some leftover beef and beef fat to cook this Mongolian beef fried rice. It is so easy and only takes 10 minutes to cook, but tastes 10 times more awesome than normal fried rice. It was made from leftover beef that didn't contain any seasoning (originally used to make beef stock), and I simply used some soy sauce, cumin, and chili powder. The finished dish had a tangy aroma of spices and the beef had a complex savory taste that you usually get from roast beef. The rice blended perfectly with all the ingredients and made me want to keep eating. This is the power of animal fat!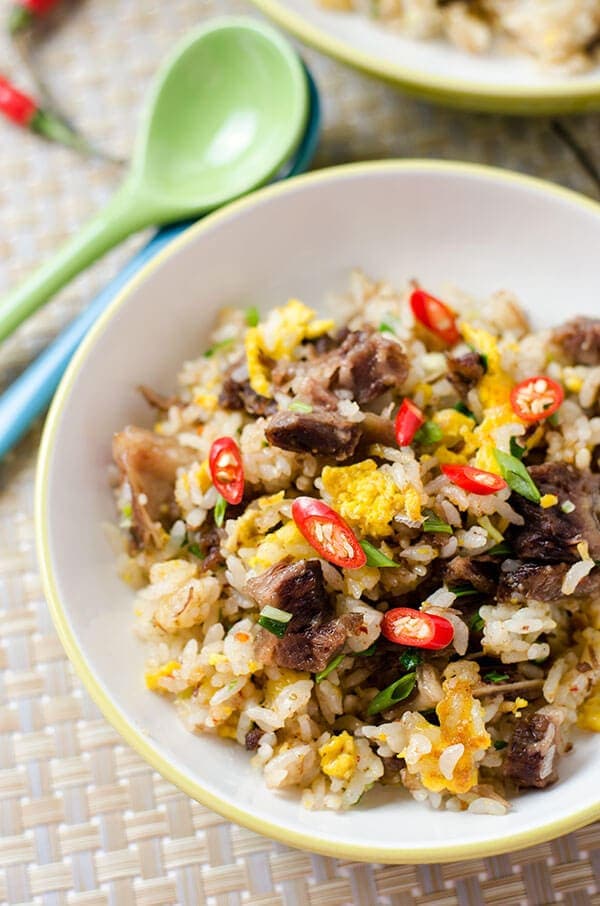 However, if you don't have any animal fat in your pantry, no worries! You can simply use vegetable oil instead. The dish will not be as rich in character, but will still be delicious.
A simple fried rice is a comfort dish for me year round and I eat it often for Saturday breakfast and brunch; that's the time I wake up lazy and craving something delicious, but with a mostly empty fridge!
Although I have shared fancy Thai fried rice and vegetable ham fried rice before, this sort of fried rice is what we cook on a daily basis, because it only contains a few ingredients, provides a great way to use leftovers, and requires very little time to put on the table!
Print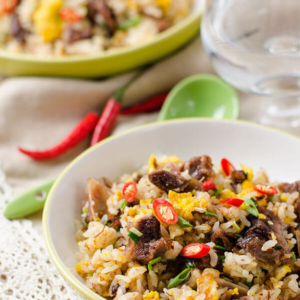 Mongolian Beef Fried Rice
---
Author:

Prep Time:

5 mins

Cook Time:

10 mins

Total Time:

15 mins

Yield:

2

1

x
Category:

Main

Cuisine:

Chinese
Description
This recipe requires cooked (leftover) beef and rice.
For the beef, I used boiled, unseasoned beef. You could also use roast or some other type of beef. If you use seasoned beef, you should reduce the salt used in the recipe.
You could use leftover rice or chilled, freshly cooked rice. To learn how to use rice for stir fried dishes, you can refer to the tips in this post.
---
Ingredients
1 tablespoon

beef fat (or vegetable oil)

3

eggs, beaten

3 cup

s cooked rice, chilled

1 cup

cooked beef (roast or boiled), diced

1/3 cup

green onion, chopped

1 tablespoon

light soy sauce

1 teaspoon

cumin powder

1/2 teaspoon

chili flakes (or powder)

1/2 teaspoon

salt or to taste
---
Instructions
Heat oil in a skillet over medium high heat. When oil is warm, add beaten egg and let it cook until the bottom side is cooked but the top is still raw, about 30 seconds.
Add rice on top of the egg and chop and stir it with a spatula immediately to coat the rice with the uncooked egg mixture. Keep chopping and cooking the rice until the grains are separated thoroughly, about 3 minutes. If the skillet gets too hot and starts to smoke intensely, lower the heat to medium or low. If the skillet is getting cold and you cannot hear a vibrant sizzle, turn back to medium or medium high heat.

Spread beef on top of rice and swirl in light soy sauce. Stir a few times to mix. Sprinkle cumin powder, chili flakes and 1/2 teaspoon salt (1/4 teaspoon if the beef is seasoned) over the rice and stir well.

Add green onion and stir a few times. Turn to low heat and taste the rice. Season gradually with salt, stirring well each time.

The rice is ready to serve when when the seasonings are mixed evenly and the rice is hot. If you like the mouthfeel of charred rice, turn off heat and let the rice sit a while without stirring. The rice on the bottom will become crispy in 1 to 2 minutes.
Serve warm.
The nutrition facts are calculated based on 1 of the 2 servings generated by this recipe.