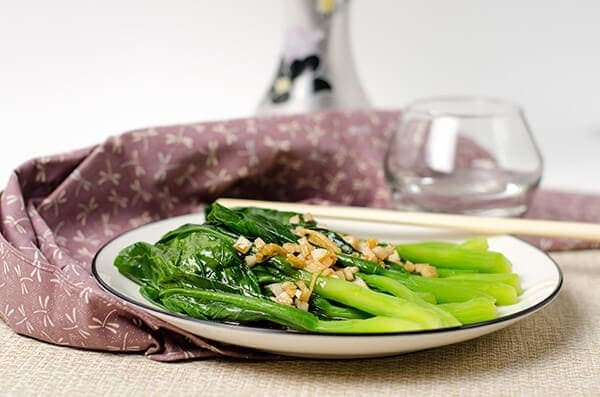 The fresh crisp Chinese broccoli is drizzled with a sizzling oyster sauce with a sweet savory flavor. Plenty of fresh ginger and garlic are added so that the pungent herby aroma is noticeable from far away. You will be amazed that a dish could be this simple yet so full of flavor.
Some of the Chinese vegetable dishes are famous for their simplicity. If you look at the cucumber salad, bok choy with soy sauce, or cabbage stir fry, you will be amazed that a very simple vegetable dish with a few ingredients will have such vibrant flavor.
Sometimes I compare the Chinese cooking ideology to that of Italian cuisine. Imagine a dish like spaghetti with olive oil and garlic or sauteed vegetables with olive oil and balsamic vinegar. By using fresh ingredients and high quality extra virgin olive oil as a foundation, plus garlic, black pepper or vinegar to boost flavor, the finished dish will turn out great, without a doubt.
The logic of Chinese cuisine is the same. To build a good foundation for cooking, you will need some high quality peanut oil, fresh ginger and garlic to add fragrance, plus soy sauce, oyster sauce or rice vinegar to infuse flavor. No matter whether it's a piece of raw cucumber or a batch of blanched bok choy, those simple ingredients will work like magic and turn those plain veggies into a savory feast.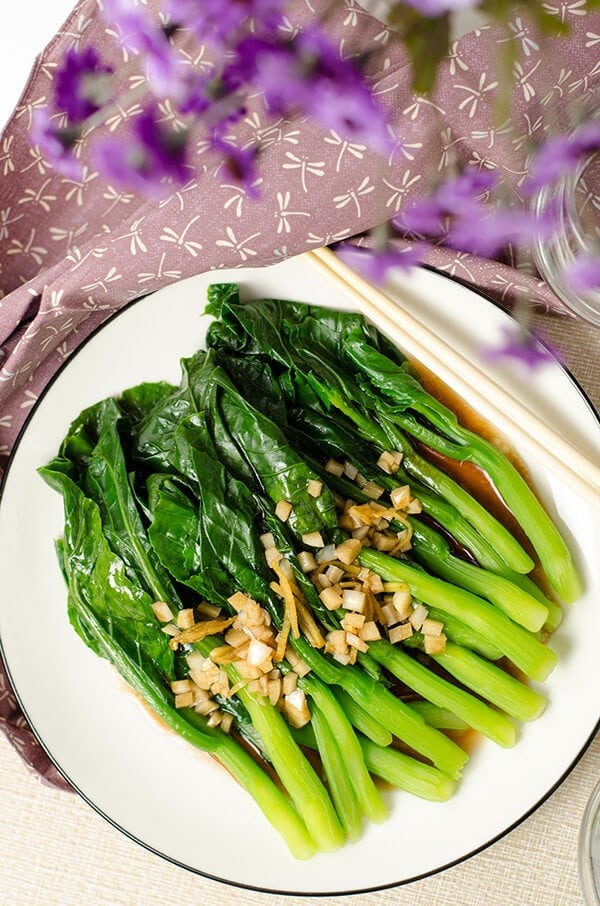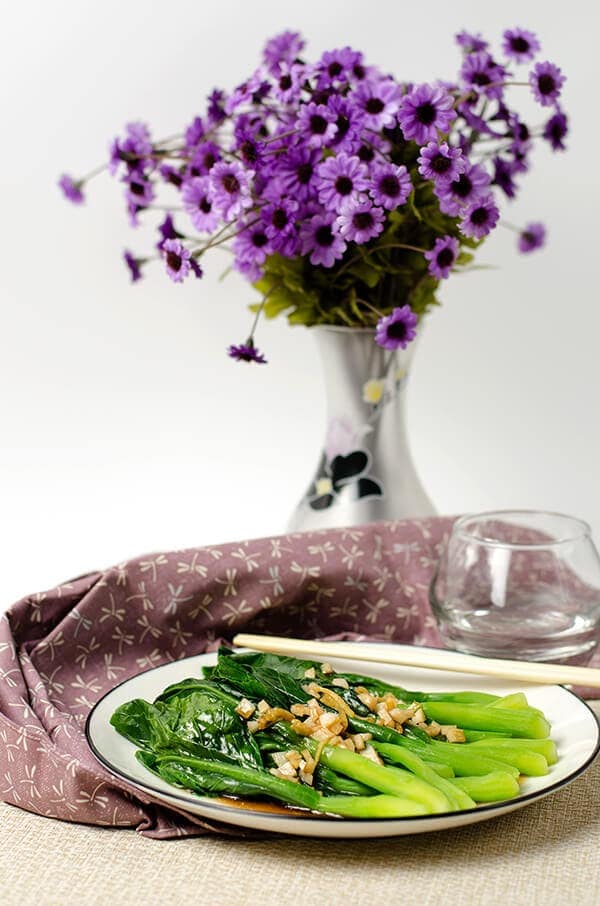 Chinese broccoli with oyster sauce is a well known Cantonese style vegetable dish. The blanched broccoli is drizzled with a hot sauce with a sweet savory flavor. Plenty of fresh ginger and garlic are added, so that the nice herby aroma is noticeable from far away. It's a great way to get a healthy amount of fiber and vitamins in a daily meal, because the dish is so easy to prepare and its taste is so appetizing.
The method to cook the oyster sauce varies, but I want to introduce an even simpler recipe. The whole recipe contains only six ingredients and takes only ten minutes to cook. The secret to a no-fail dish, in this case, is to blend some water into the oyster sauce. It will guarantee you a well heated sauce without burning the ingredients. The oyster sauce is savory enough that you don't need any other spices besides ginger and garlic to add flavor.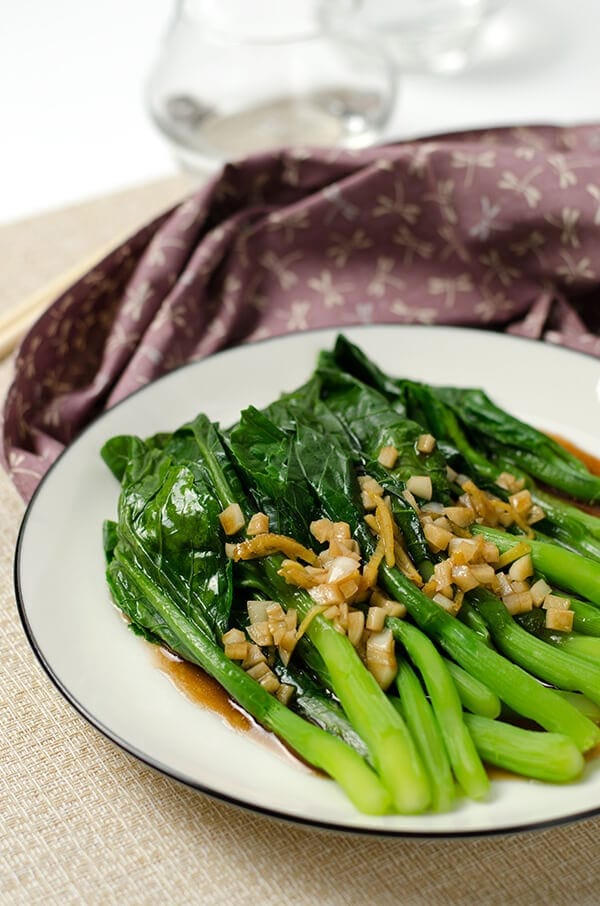 If you are not familiar with the preparation and cooking of Chinese broccoli, you should check out my pantry page. The short article provides the basic information about how to prepare the broccoli and some common tips for buying, cooking and storing it.
Besides Chinese broccoli, you could also use the same sauce on broccoli, bok choy, spinach or asparagus. Next time you're not sure which side dish to cook or are simply looking for an easy way to get some vegetables, look no further!
I also created a short video below to show you how easy it is to cook this dish. If you like the video, don't forget to subscribe to my video channel on YouTube to get the latest cooking tips. A new video is uploaded every one or two weeks, and it is the easiest way to become familiar with cooking Chinese food!
Bon Appetit!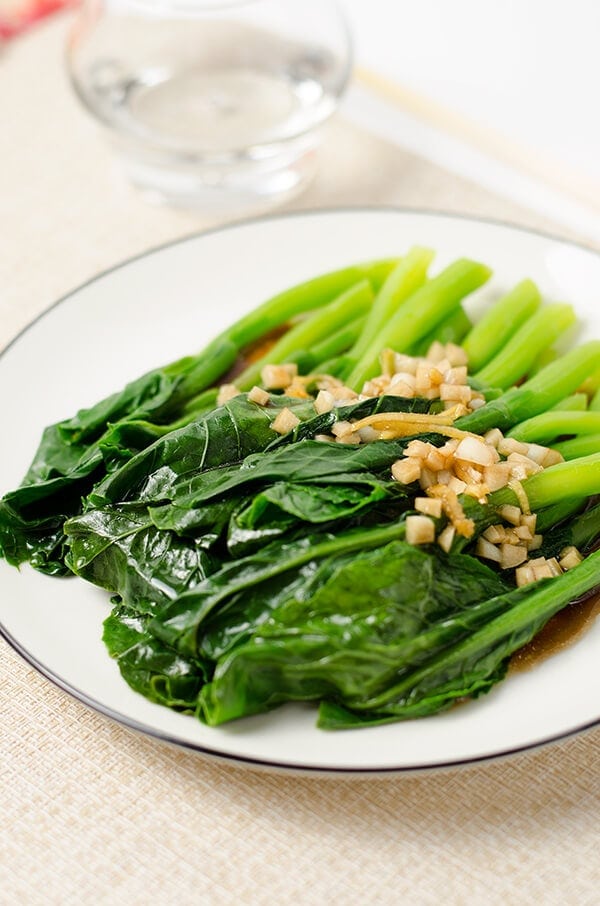 Print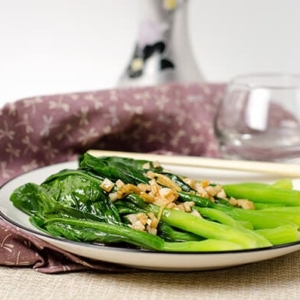 Chinese Broccoli with Oyster Sauce
---
Author:

Prep Time:

10 mins

Cook Time:

5 mins

Total Time:

15 mins

Yield:

2

1

x
Ingredients
2 tablespoon

s oyster sauce

1/2 teaspoon

sugar

1 tablespoon

peanut oil (or vegetable oil)

300

grams (10 ounces) Chinese broccoli, tough ends and stem surfaces removed

1 tablespoon

minced garlic

1 teaspoon

minced ginger
---
Instructions
Combine oyster sauce, sugar and 2 tablespoons water in a small bowl. Mix well and set aside.
Bring a large pot of water to a boil. Add broccoli and boil over medium heat, until the broccoli is cooked through and the stem part remains crisp. Drain broccoli, transfer to a large plate, and set aside.
Heat a small skillet on medium high heat until hot. Add peanut oil, garlic and ginger. Stir a few times with a spatula until fragrant. Turn to lowest heat. Add the oyster sauce mixture into skillet and stir with a spatula immediately to avoid burning the sauce. When the sauce becomes fragrant, after 10 to 20 seconds, stop heat.
Pour the oyster sauce over the Chinese broccoli and serve warm.
The nutrition facts are calculated based on 1 of the 2 servings generated from this recipe.