These Chinese egg rolls are filled with tender meat and crunchy vegetables. I've included three cooking methods in this recipe and all of them yield a very crispy crust. Simply make them ahead and serve them as an appetizer at your dinner party and you'll thank me later.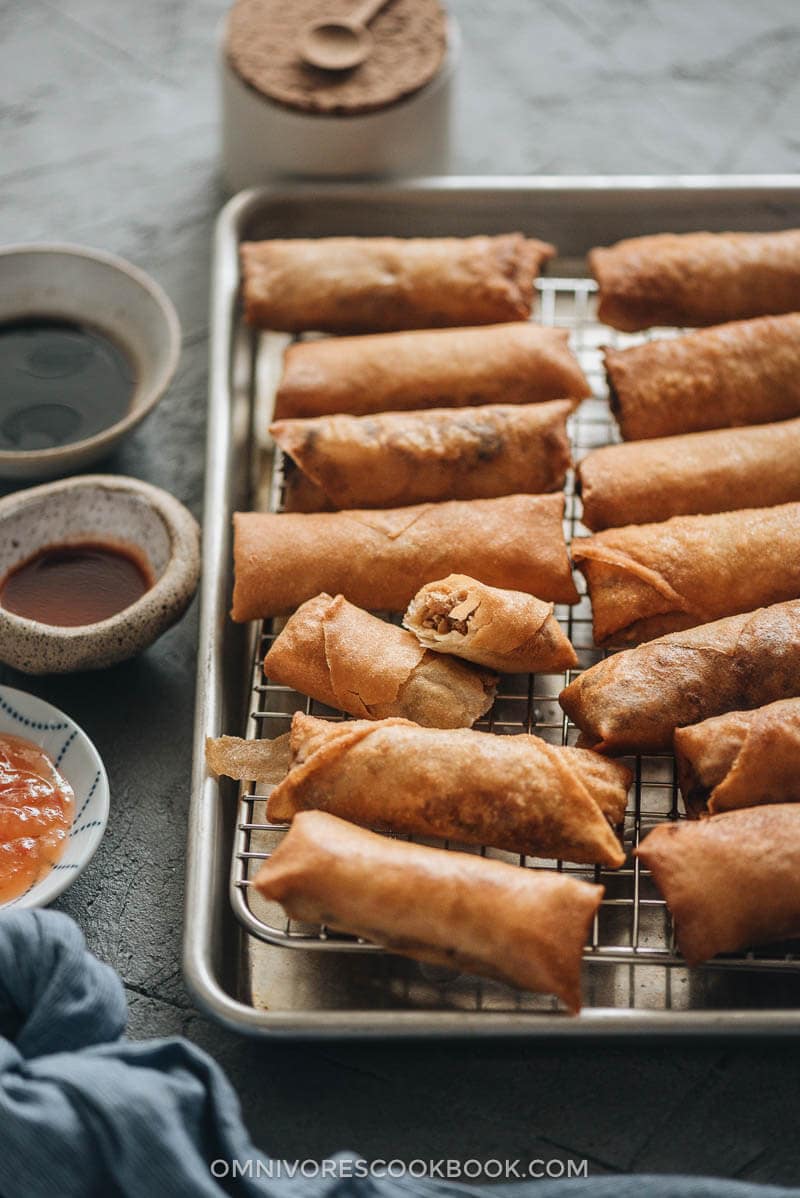 Egg rolls are one of those inventions that are so central to American-Chinese takeout. So much that you'd feel ripped off if you didn't get one in your lunch special. But did you know you can get perfect egg rolls every time, right in your own kitchen?
Egg rolls or spring rolls, whatever you call them, these magical crunchy little cigars have been around in the US since at least the beginning of the 20th century. But they've been a traditional spring dish in many parts of China for centuries, with the term 'spring roll' first recorded during the Qing Dynasty up to 400 years ago, but existing as far back as the Eastern Jin dynasty (266-420 AD)! Geographical significance is also diverse: while Southerners are frying egg rolls to celebrate the coming of Spring Festival, i.e. Chinese New Year, we Northerners are boiling dumplings. Another explanation for the name is that they are often filled with many crisp spring vegetables, like bamboo shoots, cabbage and bean sprouts.
Egg rolls often get a bad rap for being oily and chewy, when takeout restaurants don't make them so well or they store them for too long. Here I've put together the ultimate guide on how you can make the most perfectly crisp-on-the-outside, tender-on the-inside egg rolls, based on my go-to recipe from the wonderful Jessica Gavin's Easy Culinary Science (you can buy her book here). I love this book, especially the way she makes egg rolls, as she takes you through the evidence-based methodology to get that perfect texture. No guessing games!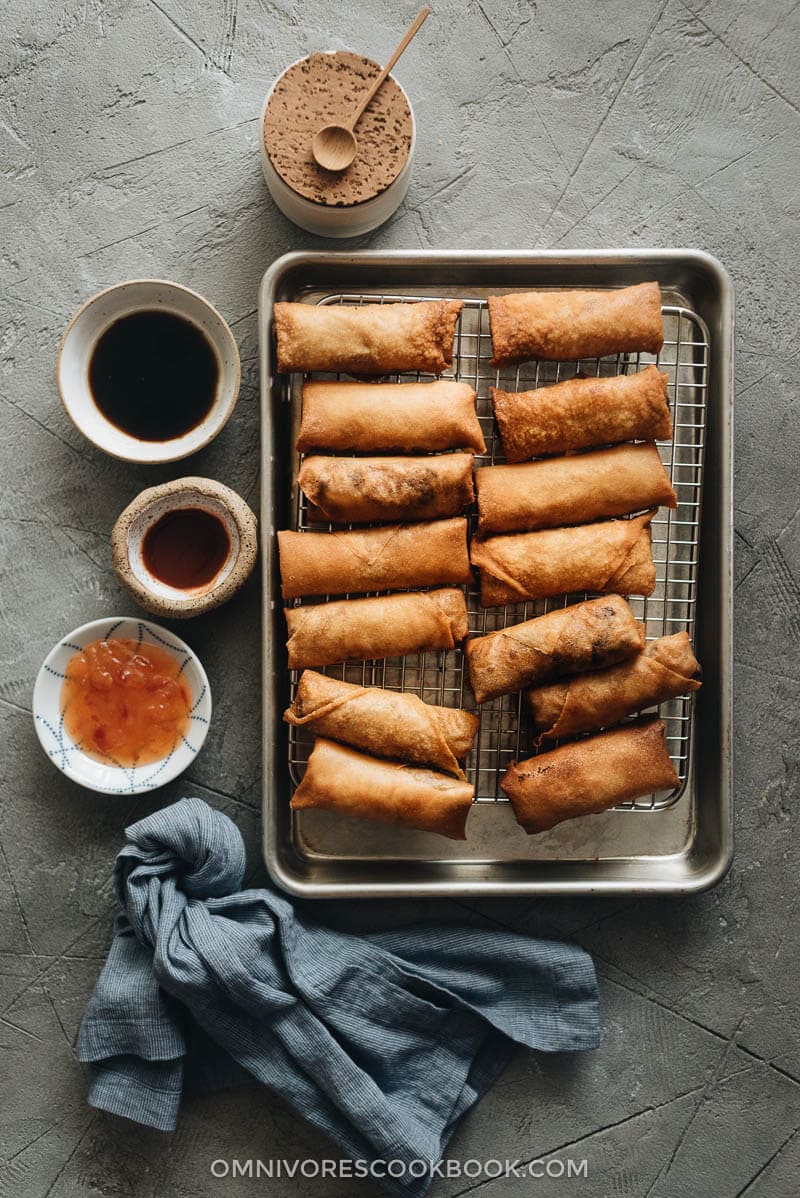 Cooking notes
1. Deep-frying vs. baking
I previously made traditional Southern Chinese style Chicken Egg Rolls using the deep-frying method. Later on, I tried baking instead of frying them in this Cheesy Shrimp Baked Spring Rolls recipe. After getting an air fryer, I also experimented with cooking egg rolls in the air fryer. I would say that all of these methods yield great results.
The one I'll show you today is the classic method, which generates an irresistible golden crust that's crispy and flaky.
However, you can baking them in the oven using the method in this recipe if you dislike deep frying. It creates very crispy results but you might not get an even golden color.
If you have an air fryer at home, definitely try it. You can spray the egg rolls with oil, or skip the oil for a healthier low-fat result. Preheat the air-fryer to 390 F (10 mins or so), then spread the egg rolls in the basket without overlapping. Bake for 6 minutes, flip, and bake for another 5 minutes. The result is so good that I like it just as much as deep fried.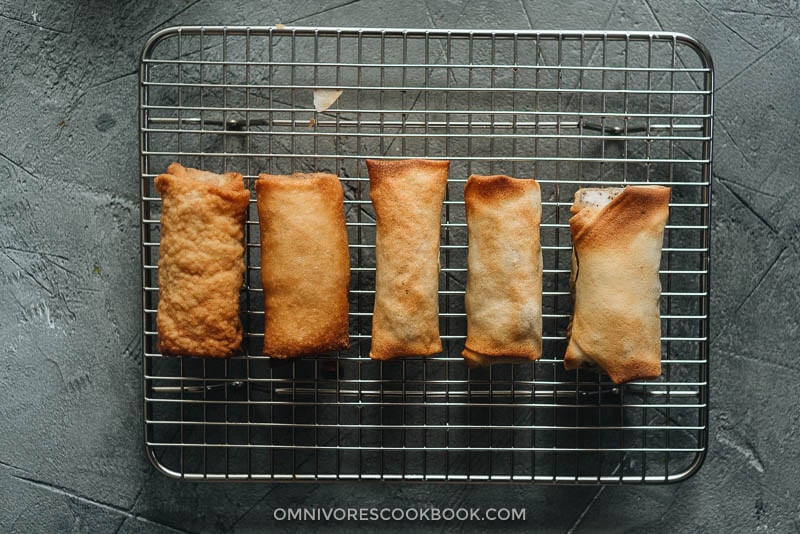 2. Egg roll wrappers
Do try to get ahold of the correct wrappers, and make sure you don't get the transparent Vietnamese spring roll wrappers that are made from rice flour. Normally egg roll wrappers don't actually contain any egg but are wheat-based. It is possible to make these from scratch, but you have to be very committed as it's no easy feat! This time I used Spring Home's Spring Roll Pastry which, if not available in the frozen or refrigerated section of your local Chinese supermarket, can be found on Amazon. You can also use other brands so long as they are labeled "春卷皮" (chūnjuǎn pí) in Chinese.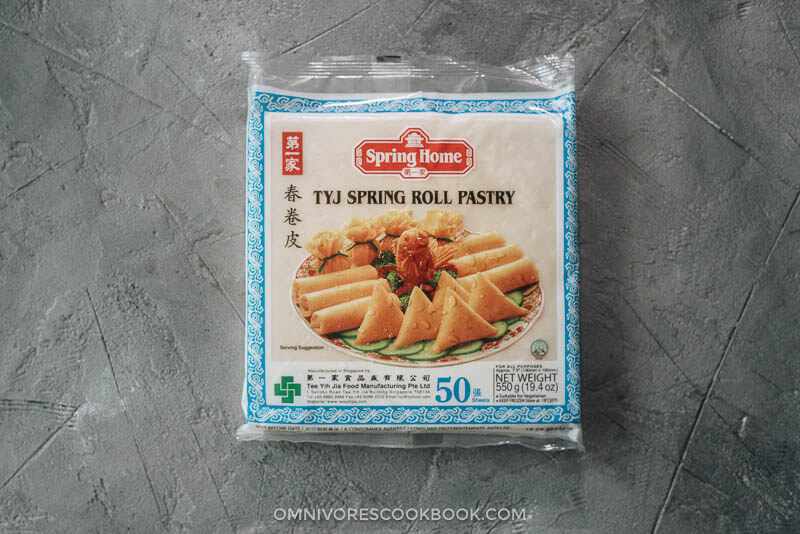 3. Chinese egg roll filling
Get adventurous with the filling, but make sure you use crisp veggies for that mega crunch factor. I went for sliced carrots, cabbage, bean sprouts, and scallions, as well as ground turkey (for a more flavorful taste instead of ground chicken).
Note, different from Chinese dumplings, which use raw meat in the filling, the filling for Chinese egg rolls requires pre-cooking. This step will make the filling more flavorful. Plus, the liquid from the veggies will evaporate, so it won't cause the egg rolls to turn soggy.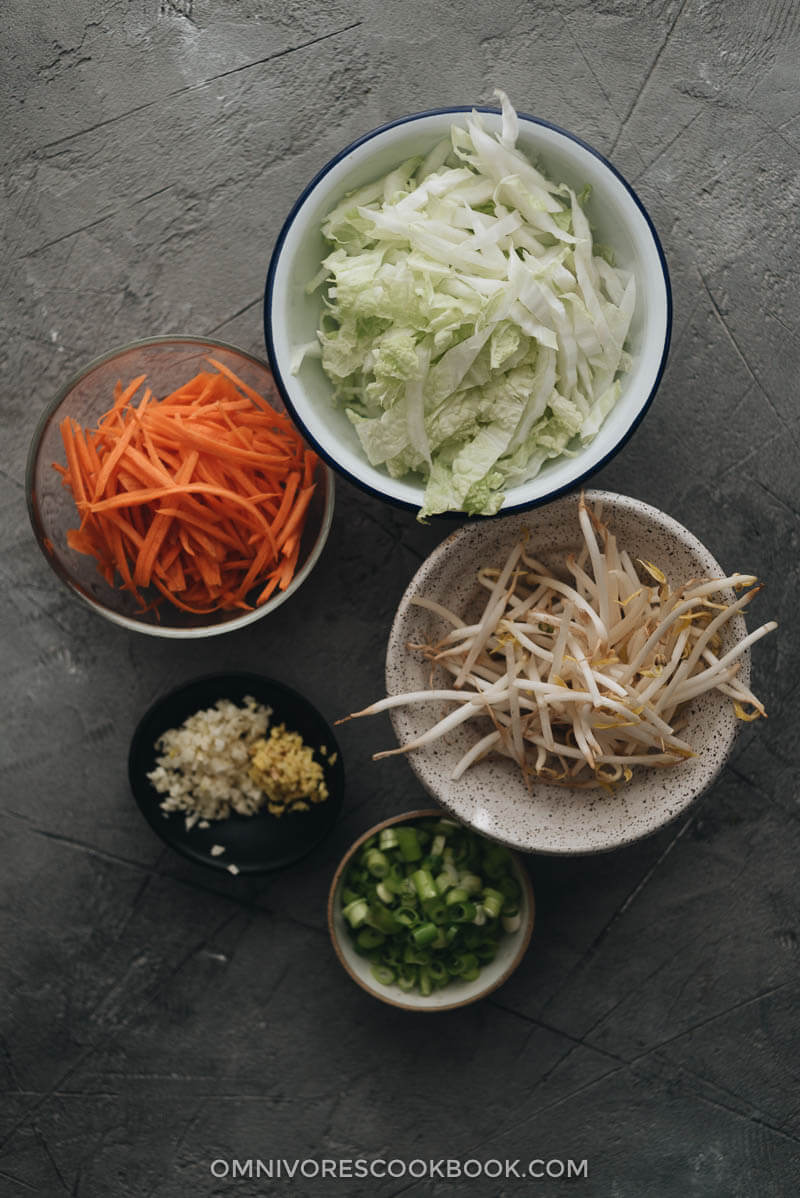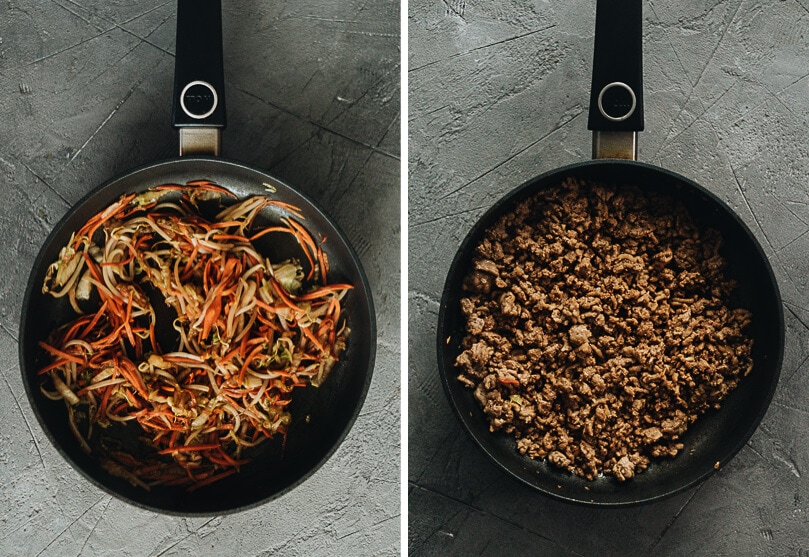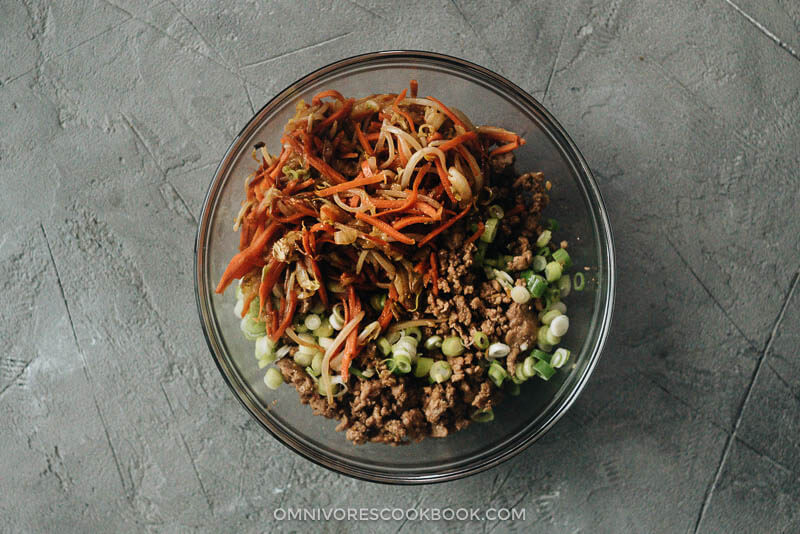 4. How to wrap Chinese egg rolls
When you start wrapping your rolls, go in with confidence and roll firmly! The filling needs to be properly encased as tight as possible so that the filling doesn't spill out. But rest assured, wrapping these is so much easier than wrapping dumplings.
Place the wrapper flat on a clean surface, with one corner nearest to you.
Place 2-3 tbsp of egg roll filling onto the wrapper, about one inch away from the edges and the corner nearest to you.
Take the corner nearest to you and tightly fold it over then underneath the filling as shown in the photo. This should roll the filling over once and leave half of the rest of the wrapper.
Take the two corners at either side of the filling and turn them inwards to pack it in securely. At this point it should look like an open envelope.
Continue to roll up the filled wrapper until it reaches the last corner. Moisten with a bit of egg white or water so that this corner seals the egg roll shut.
Repeat until your egg roll filling or wrappers run out!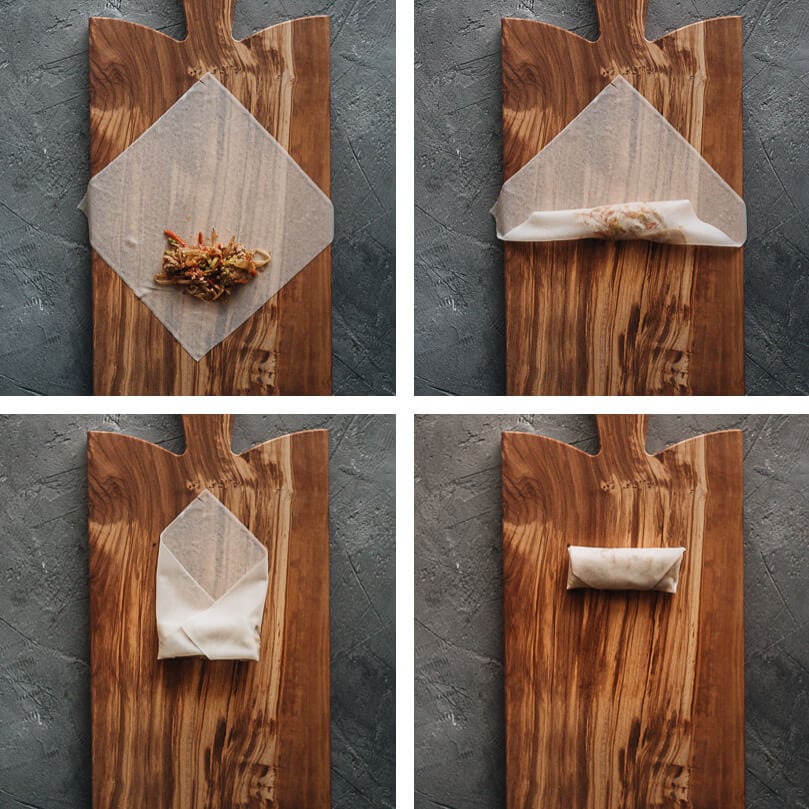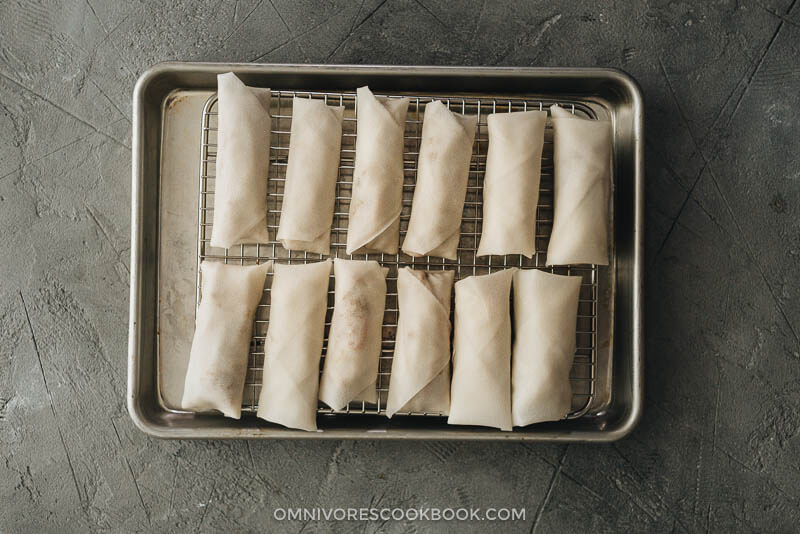 5. Cook the egg rolls
Now that you have your egg rolls prepped, it's time to get cooking! You can either bake or fry the cute bundles of yum and both methods will yield equally ravishing rolls. I deep fried these ones as I absolutely love the rich flavorsome crunch. But if you're on a health kick, baking them works too. Just follow my Shrimp Spring Rolls recipe method.
Do prepare a sheet pan with a cooling rack stacked on top. Rest the egg rolls on the rack once you're done cooking. You want the egg rolls to cool down a bit before serving or storing, so the crust remains crispy.
6. How to store egg rolls
Controversially, I do NOT recommend storing the egg rolls after wrapping and before cooking. The filling will make the wrapper wet and this will affect the cooking result.
What I've found works best is actually frying them straight after they've been wrapped, and then storing them in an airtight container in the fridge for up to three days or in the freezer up for a month. When you're ready to serve them, stick them in the oven at 450 F for about 10 to 15 minutes. They will crisp up and get as good as if they had been made fresh. Don't use the microwave to reheat them or they will come out soggy!
Finally, put away the knife and fork because these adorably scrumptious egg rolls were made to be dipped in sauce and eaten with chopsticks or even fingers! If I were you I'd be sure to buy plenty of wrappers because you'll be making these long into the future. Happy cooking!
More delicious dim sum recipes
If you give this recipe a try, let us know! Leave a comment, rate it (once you've tried it), and take a picture and tag it @omnivorescookbook on Instagram! I'd love to see what you come up with.
Want to Know More?
Receive our 5-Day Chinese Cooking Crash Course & Recipe Updates! Subscribe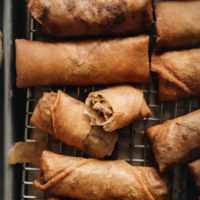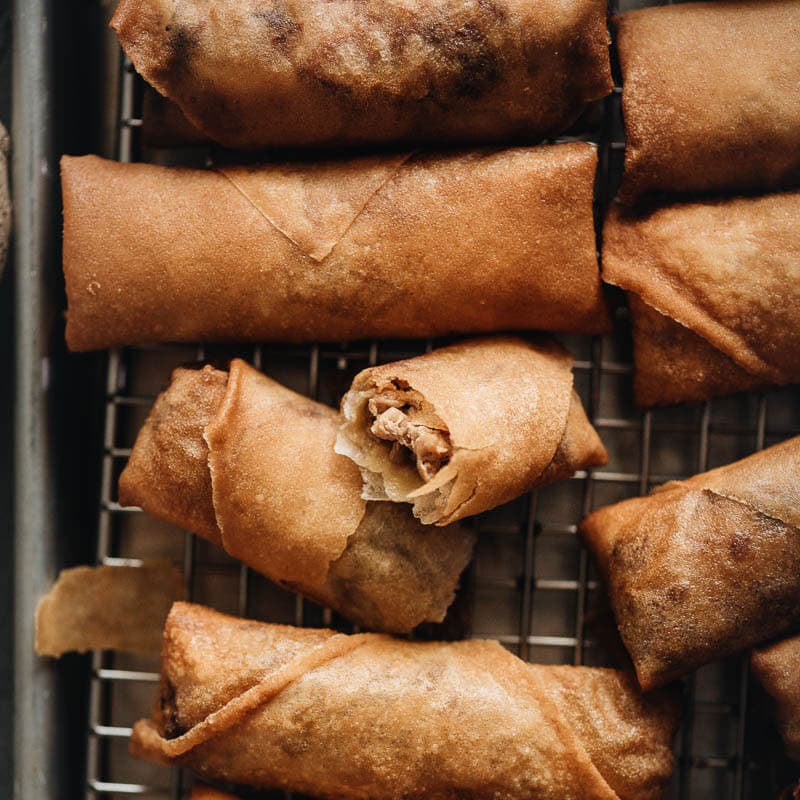 How to Make Chinese Egg Rolls
These Chinese egg rolls are filled with tender meat and crunchy vegetables. I've included three cooking methods in this recipe and all of them yield a very crispy crust. Simply make them ahead and serve them as an appetizer at your dinner party and you'll thank me later.
Servings:
20
25 egg rolls
Ingredients
Filling
2

tablespoons

peanut oil

(or vegetable oil)

1

cup

carrots

, shredded

2

cups

napa cabbage

, thinly shredded

1

cup

bean sprouts

3

tablespoons

soy sauce

1

teaspoon

honey

4

cloves

garlic

, minced

1

tablespoon

ginger

, minced

1

pound (450 grams)

ground turkey

(or chicken)

1

tablespoon

hoisin sauce

1/4

teaspoon

black pepper

1/3

cup

green onions

, thinly sliced
Egg rolls
25

egg roll wrappers

6 1/2 x 6 1/2 inches or 17 x 17 cm, thawed (Footnote 1)

Vegetable oil for deep frying
Dipping sauce (optional)
Homemade sweet chili sauce

(or store bought)

Chinese dumpling sauce

Homemade hoisin sauce

(or store bought)
Instructions
Egg roll filling
Heat 1 tablespoon oil in a large nonstick skillet (or cast iron skillet) over medium-high heat until hot. Add the carrot and napa cabbage. Cook and stir for 2 minutes.

Add the bean sprouts and stir for 1 minute.

Add 1 tablespoon soy sauce and the honey. Cook and stir for another minute until the liquid has evaporated. Transfer everything to a plate to cool.

Add the remaining 1 tablespoon of oil and the garlic and ginger into the same skillet. Stir for 20 to 30 seconds, to release the fragrance.

Add the ground turkey (or chicken). Cook while chopping the ground meat into small bits with a spatula, until lightly browned.

Add the remaining 2 tablespoons of soy sauce and the hoisin sauce and black pepper. Stir and cook until the liquid is absorbed, 2 to 3 minutes. Transfer everything to a medium-sized bowl to cool.

Add the cooked vegetables and green onions to the bowl of ground turkey. Stir to mix well.
Wrap the egg rolls
To prepare the wrapping station: Add some water to a small bowl. Place the egg roll wrappers on a plate along with a spoon and the filling. Prepare a large plate or oven tray to hold the wrapped egg rolls and a cutting board for wrapping the egg rolls.

To wrap an egg roll, gently remove one egg roll sheet from the stack using both of your hands and place it on the cutting board, with a corner pointed toward you. Add 2 to 3 tablespoons of filling onto the lower end of the wrapper, making a 4-inch (10 cm) wide, tight and even mound. Tightly roll from the bottom corner toward the top, until about halfway up. Tightly fold the left and right corners of the wrapper towards the center, so it looks like an opened envelope. Dip your finger into the water and brush the top corner of the wrapper. Tightly roll the egg rolls upward until it's completely sealed. Repeat the process, until you've used all the filling.

Although you can freeze the egg rolls at this stage, I personally prefer to cook them all and store the cooked ones so I only need to set up the deep frying equipment once. On the other hand, if you want to make the egg rolls in advance and serve them fresh at your party, you can freeze the egg rolls without cooking them. To do so, place the egg rolls on a baking sheet with gaps in between. Wrap them tightly with plastic wrap and store in the freezer until ready to cook. You can fry them directly from the freezer, with an additional 1 minute of fry time.
Cook the egg rolls
Prepare a baking sheet with a rack on top, for cooling the egg rolls.

Option 1 - To deep fry the egg rolls, heat 1-inch (2.5 cm) of oil in a deep medium pot or a dutch oven over medium heat to 350 F (177 C). If you do not have a thermometer, insert a wooden chopstick into the heated oil. You should see continuous tiny bubbles coming up around the chopstick. If the bubbles only come up here and there, the oil is not hot enough. If the bubbles are large and bursting to the surface, the oil is too hot.

Fry the egg rolls in batches of 5 to 6. Flip and move them occasionally for even browning. Fry until the egg rolls are golden, 5 to 6 minutes. Drain and transfer the egg rolls with a slotted spoon or wire spider onto the rack to let them cool. Repeat until you have cooked all the egg rolls.

Option 2 - To bake the egg rolls in the oven, preheat the oven to 400 degrees F (200 C). Place the egg rolls onto a lined baking sheet, seam-side-down, with about 2 fingers' width gap between. Generously spray oil on top. Bake for 9 minutes, or until the bottom turns a golden color. Flip the spring rolls and spray oil onto them again. Return the tray to the oven. Bake for another 6 to 8 minutes, until the other side is golden as well. Once done, let the egg rolls cool on a wire rack for 10 minutes before serving to maximize crispiness.

Option 3 - To fry the egg rolls in an air-fryer, preheat the air-fryer to 390 F (10 mins or so). Cook them in batches. Spread a few spring rolls in the basket without overlapping them. Spray with a thin layer of oil, or you can bake them without using any oil. Bake for 6 minutes, flip, and bake for another 5 minutes. Once done, let the egg rolls cool on a wire rack for 10 minutes before serving to maximize crispiness.

Serve the egg rolls hot with whichever dipping sauce(s) you prefer.
Store and reheat
You can store the cooked egg rolls and reheat them later. If stored and reheated properly, the egg rolls will be just as crispy as freshly fried.

To store the egg rolls, spread them on a wire rack and let them cool completely. The egg rolls will be very hot inside once cooked, so it might take 1 to 2 hours for them to cool completely. Once cooled, you can store them in an airtight container or in a large ziplock bag. To get the best result, I prefer to spread the egg rolls in a single layer in a gallon ziplock bag and lay them flat in the fridge (or freezer). This way, the egg rolls won't overlap and get soggy.

You can reheat the egg rolls in the oven or in an air fryer. Bake them at 350 F (180 C) until hot, or for about 10 minutes or so. The rolls will remain crispy.
Notes
The recipe was adapted from the one in Jessica Gavin's cookbook Easy Culinary Science for Better Cooking.
The nutrition facts are calculated based on 1 of the 20 egg rolls generated by this recipe, without any dipping sauce.
The best way to thaw the egg roll wrappers is to transfer the package from the freezer to the fridge and let them thaw slowly over a couple hours. If you're in a hurry, you can also place the package of egg roll wrappers on your kitchen counter for 20 to 30 minutes.
Nutrition
Serving:
20
g
,
Calories:
101
kcal
,
Carbohydrates:
9.4
g
,
Protein:
8.3
g
,
Fat:
4.1
g
,
Saturated Fat:
0.7
g
,
Cholesterol:
23
mg
,
Sodium:
244
mg
,
Potassium:
131
mg
,
Fiber:
0.6
g
,
Sugar:
1.2
g
,
Calcium:
20
mg
,
Iron:
1.1
mg