Learn how to create the most juicy and flavorful beef dumplings, with one special trick.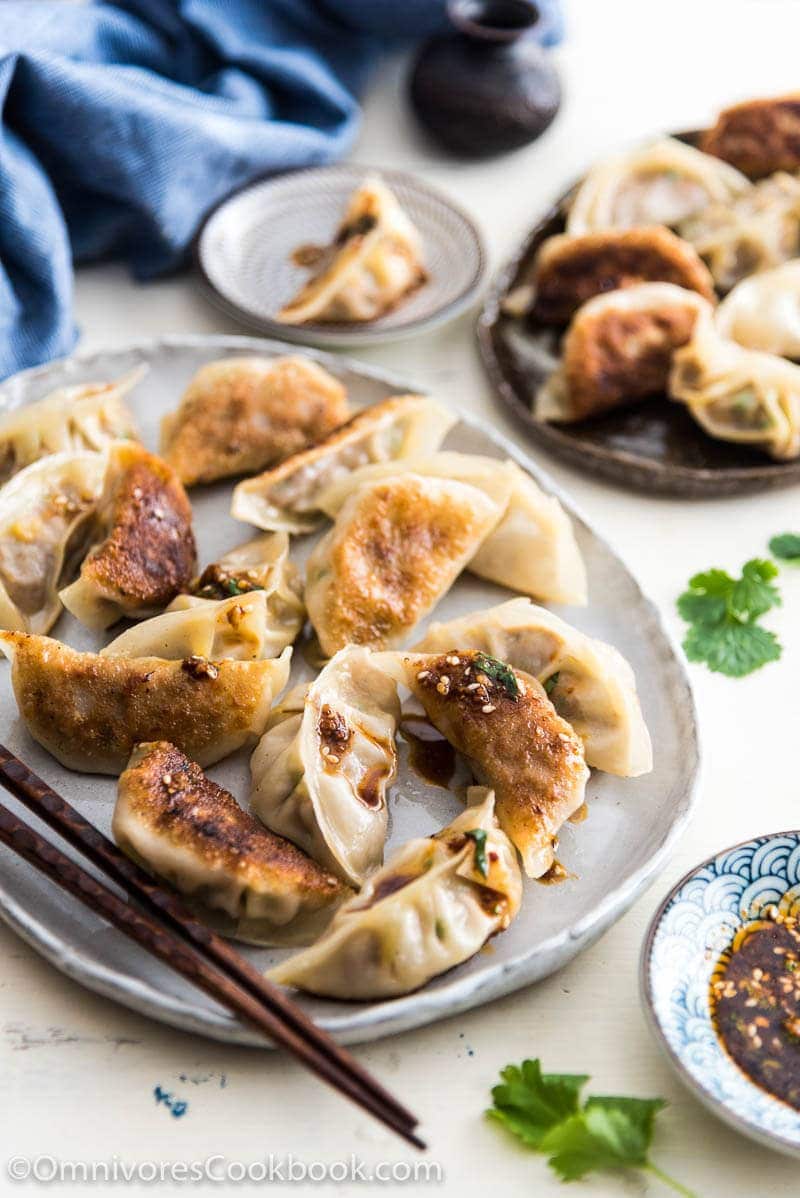 One of the perks of living in Beijing was having the various options of delicious frozen dumplings from grocery stores. Dumplings were a must-have in my fridge when I was living there. Whenever I felt too lazy to cook, I simply boiled a dozen dumplings and then had dinner ready in 10 minutes. Unlike the frozen dumplings (or potstickers) you can find in the US, Chinese frozen dumplings use a nicer dough that resembles homemade dumplings with a juicy filling. The filling is usually quite large, almost like a small meatball.
One of my favorite frozen dumpling brands is Wanchai Ferry (湾仔码头), a local brand owned by General Mills that sells dozens of flavors that are only available in China. Those frozen dumplings were so good that sometimes I needed to suppress the urge of writing to General Mill and demanding them to sell this line of product in the US!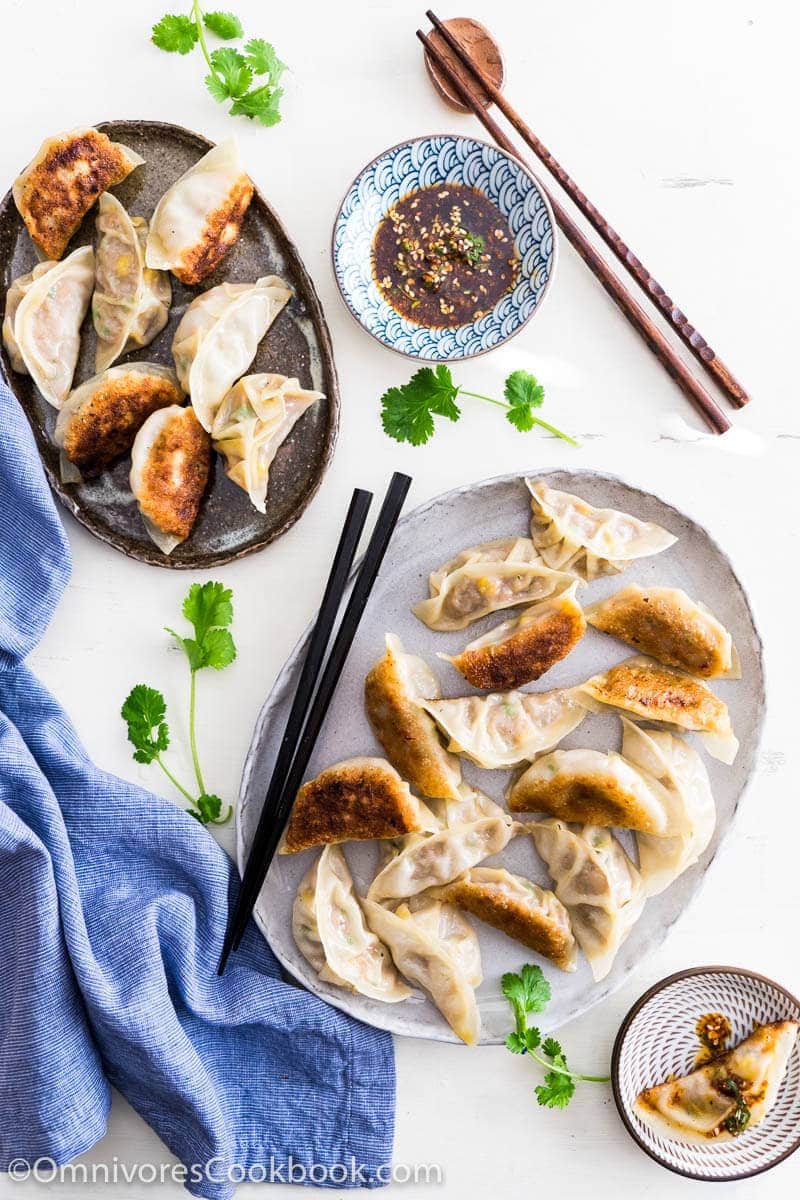 Although the most popular type is pork dumplings in northern China, my favorite flavor from Wanchai Ferry is beef and corn dumplings. Today I'm sharing this beef dumpling recipe with you, so you can also get to know how good they are!
Making beef dumplings is a bit more challenging than pork dumplings. Ground beef is leaner than pork, and the filling tends to end up dry and tough. In this recipe I introduced a great trick – blend liquid into the ground beef to create a juicy and flavorful dumpling filling.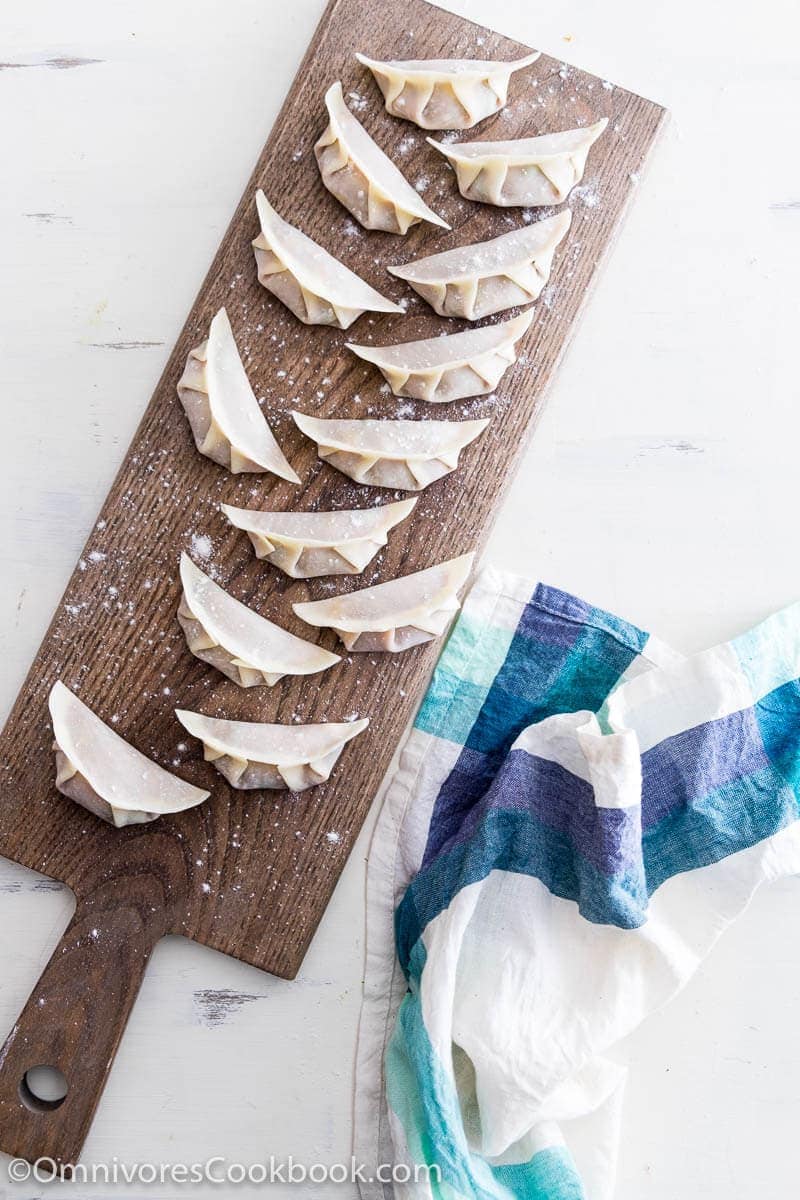 Just like injecting marinade into ribs before grilling, beating flavorful broth into ground meat will keep it juicy during cooking and create a better taste. I used chicken stock in this recipe. Alternatively, you can also use ginger and/or green onion infused water.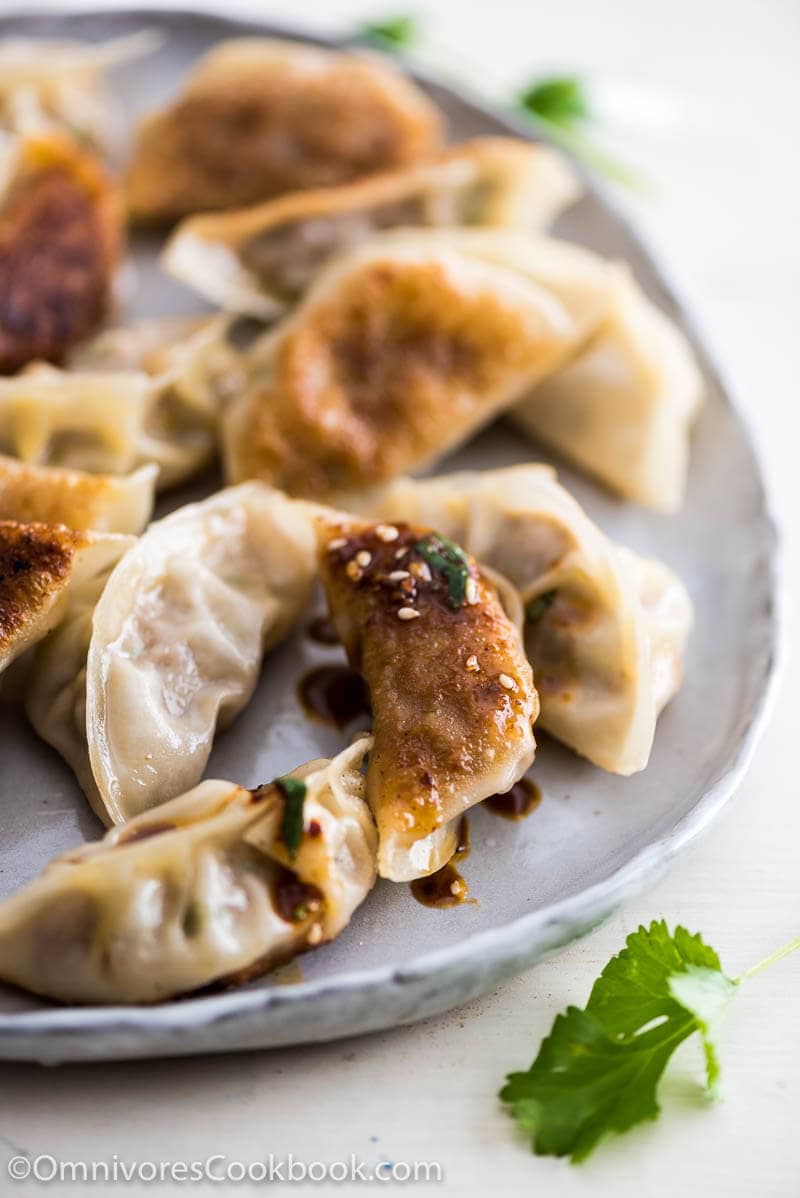 To create herb infused water, finely chop a thumb of ginger (and/or 2 to 3 of green onions), place in a bowl, and cover with 1/4 cup hot water. Let steep for a hour or so to make an aromatic tea. Filter and discard the herbs before using the mixture in the recipe. This method is perfect to create more delicate dumpling fillings (such as shrimp dumplings) when you want the nice aromatic flavor without having small bits of ginger in it.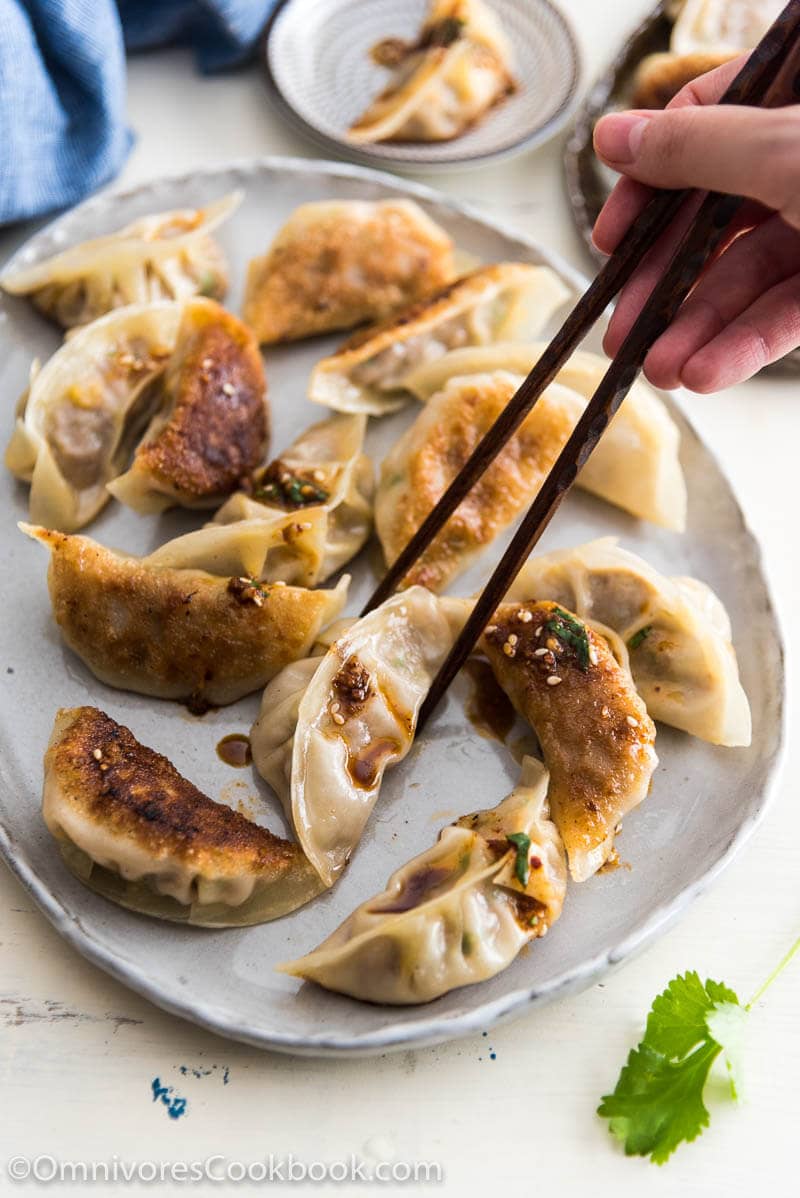 This recipe is less intimidating than my other dumpling recipes because you can prep most of the ingredients by using a food processor. It is one of those dumpling recipes that I feel comfortable to make even during the week.
I used Japanese gyoza wrappers in this recipe. They are thinner than dumplings wrappers and work great, especially when you want to create pot stickers instead of steamed dumplings. If you want to use homemade dumpling wrappers, you can refer to my steamed / potsticker dumpling dough recipe, or the water boiled dumpling dough recipe.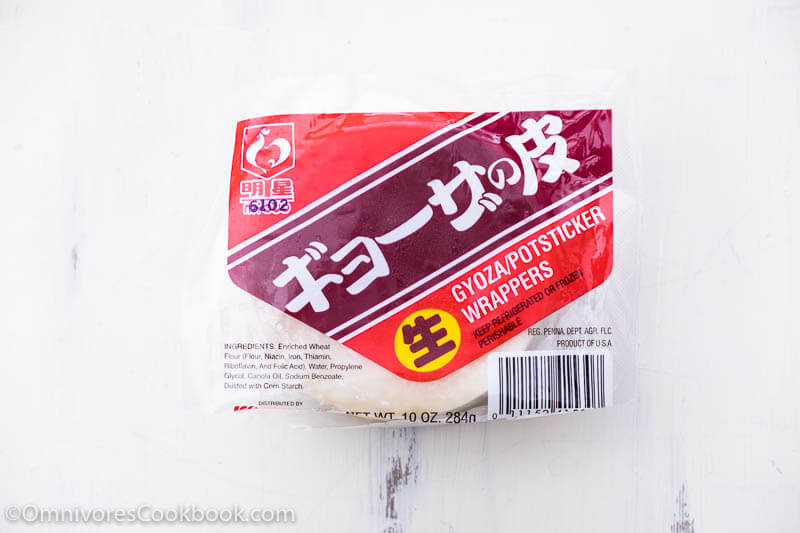 I recorded a short video to show you how easy it is to cook this dish. Find more videos to learn Chinese cooking on my YouTube channel!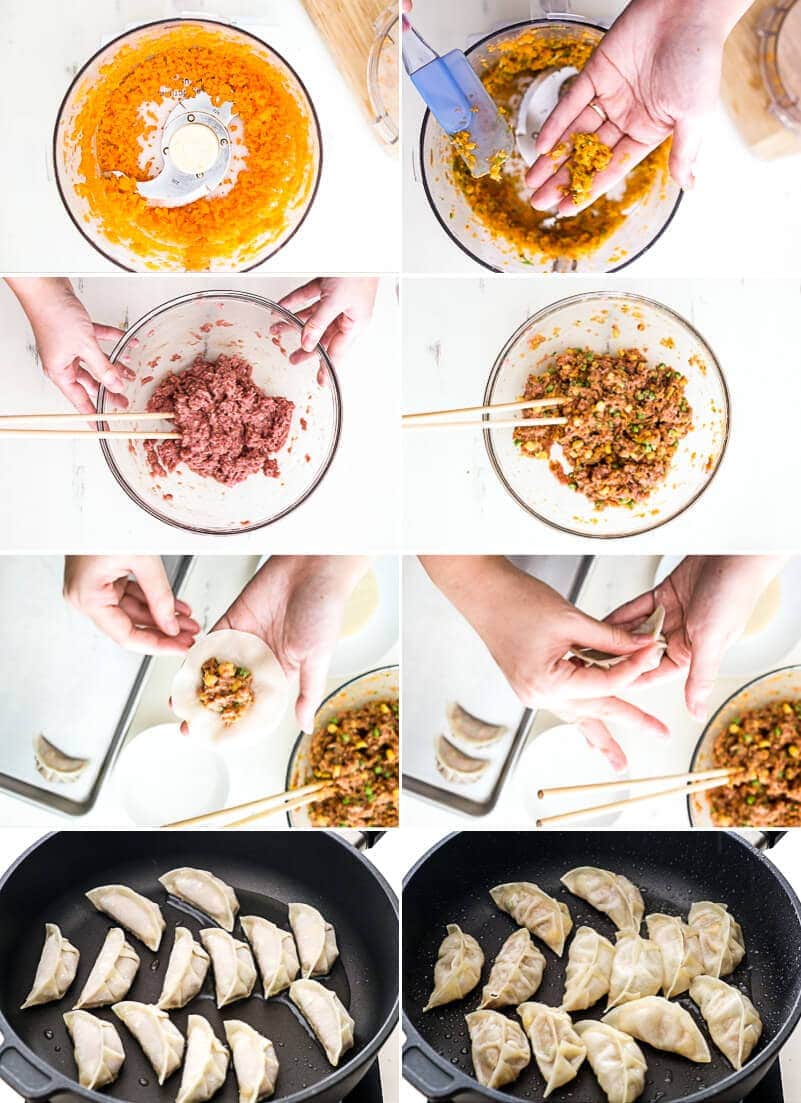 Need more recipes for delicious dumpling fillings? Check out these pork and cabbage dumplings, my mom's best lamb dumplings, and vegetarian dumplings.
Want to Know More?
Receive our 5-Day Chinese Cooking Crash Course & Recipe Updates! Subscribe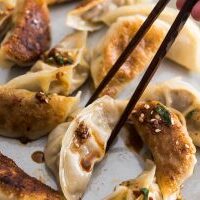 Chinese Beef Dumplings
Beef dumplings are an easy dim sum option for a weekday appetizer. You can make them ahead and freeze them for later too.
Servings:
36
to 40 dumplings
Ingredients
1/2

pound (230 grams)

ground beef

(at least 20% fat)

1/4

cup

chicken stock

(or beef stock, or water)

1

tablespoon

light soy sauce

(or soy sauce)

1

tablespoon

Shaoxing wine

(or dry sherry)

2

teaspoons

ginger

, grated

1

teaspoon

salt

1/4

teaspoon

ground toasted Sichuan peppercorn

(or black pepper)

4

green onions

, coarsely chopped

1

large carrot

, coarsely chopped

1/2

cup

frozen corn

, thawed

1/2

cup

frozen green peas

, thawed

1

tablespoon

sesame oil

20

homemade dumpling wrappers

(or packaged dumpling wrappers)

1 to 2

tablespoons

vegetable oil
Instructions
To make the dumpling filling, add ground beef into a big bowl. Add chicken stock, light soy sauce, Shaoxing wine, ginger, salt, and toasted Sichuan peppercorns. Mix by using a pair of chopsticks until the liquid is fully absorbed. Cover with plastic wrap, and let marinate in the fridge while you prepare other ingredients.

(Optional) You can start making dumpling dough now if you're planning to use homemade dumpling wrappers.

Add carrot into the food processor. Mix until finely chopped. Add green onions. Mix until the onions are finely cut. Transfer to a bowl.

When you're ready to make the dumplings, add minced green onion, carrot, corn, green peas and sesame oil into the ground beef mixture. Stir to mix well.

Scoop about 1 to 1.5 tablespoons dumpling filling and place it in the center of the wrapper. Hold the dumpling with one hand and start sealing the edges with the other hand. After folding, press the edges again to seal well. You can use any way to fold the dumplings as long as you're comfortable with it.

Now you can freeze these dumplings if you don't cook them immediately. Place them onto a baking tray and seal with a plastic wrapper. You can store the dumplings in the freezer for up to 1 month. Once the dumplings are completely frozen, after about a day, you can transport them to a gallon bag to save freezer space.

Cook the dumplings in batches. Heat 1 tablespoon oil in a nonstick skillet over medium heat until hot. Add dumplings. Cook until the bottom side turns golden. Add 2 tablespoons water, and cover. Cook until the other side also turns golden and the dumplings are cooked through, 2 to 3 minutes.

You can serve the dumplings immediately with

dumpling dipping sauce

(the spicy dumpling sauce works extremely well with these beef dumplings).
Nutrition
Serving:
19
g
,
Calories:
33
kcal
,
Carbohydrates:
3.6
g
,
Protein:
2.3
g
,
Fat:
1.1
g
,
Cholesterol:
5
mg
,
Sodium:
94
mg
,
Potassium:
47
mg
,
Vitamin A:
300
IU
,
Vitamin C:
1.7
mg
,
Iron:
1.4
mg