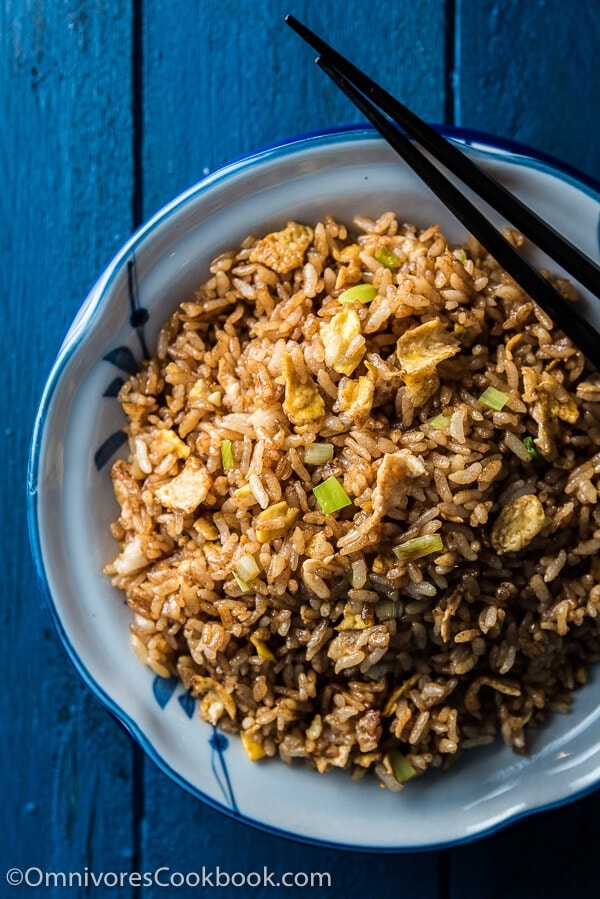 Soy Sauce Fried Rice is a classic Chinese side dish. It's slightly indulgent, bursting with flavor, takes just ten minutes to prep and cook, and is robust enough to serve as a main.
Before jumping into the recipe, I need to warn you – this is not a very healthy dish. If you are on a diet or if you generally choose health over deliciousness, please direct your browser elsewhere. This recipe contains animal fat, carbs, and tons of salt.
If you haven't closed this tab by now, you understand why the dish is delicious, don't you?
Soy sauce fried rice is a classic. It is not just another fried rice. It's a signature of Chinese cooking, as it uses quite minimal ingredients to create a wonderful flavor. It recalls the not-so-good ol' days, when the average household was pretty poor, but life was simple. Those were the days of the planned economy, when most families had to use government-issued tickets (liang piao) to acquire food, which included a lot of grains, a portion of oil that was never enough to last a month, and a bit of pork (the bulk of which was pure fat).
The amazing thing is, under such severe resource constraints, people could still create very hearty and delicious meals that would make your mouth water the moment you heard the name of the dish.
Such is the power and beauty of Soy Sauce Fried Rice. It's a dish we ate growing up and still crave all the time.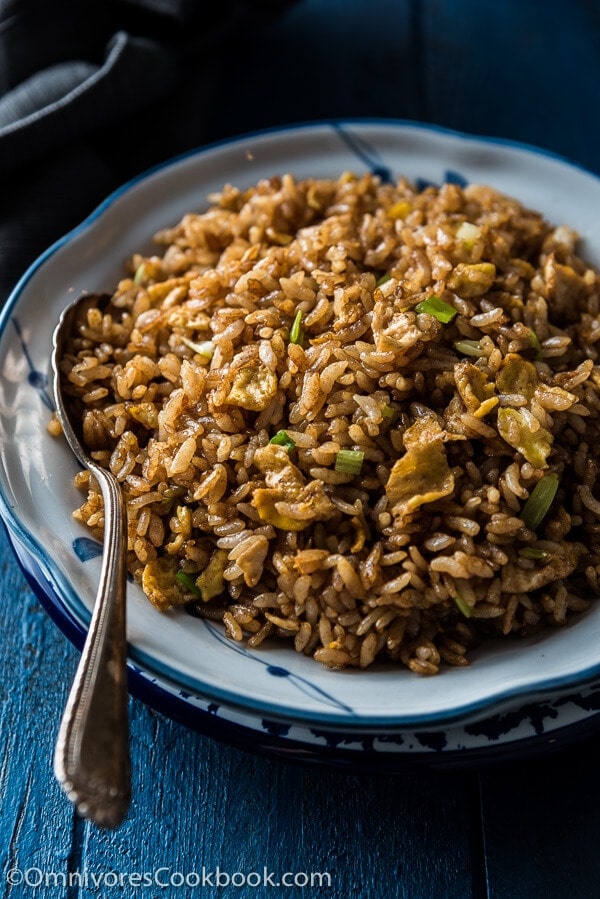 Like I suggested at the beginning of this post, this dish is far from healthy. It uses animal fat, leftover rice, tons of soy sauce, tons of green onions, and some eggs to create the BEST fried rice. I know you're running through this in your mind: high cholesterol, sodium, and carbs.
But in my philosophy, it is totally OK to eat food like this once in awhile, as long as you're eating healthy food the rest of the time. For example, I won't feel guilty at all to serve and eat soy sauce fried rice for a gathering of friends, for a dinner party, during the holiday season, or as a main for lunch when I happen to have chicken or duck fat in the fridge.
Funny story. The other day, when we were cooking this dish to serve as a side for roast lamb chops, Thomas suggested, after tasting it, that we should forget about the lamb and just have rice for dinner.
Yep. It's THAT good.
[bctt tweet="Soy Sauce Fried Rice – Slightly indulgent, bursting with flavor and good enough to serve as a main"]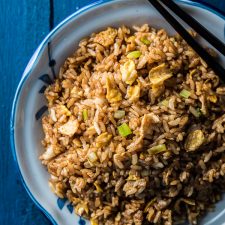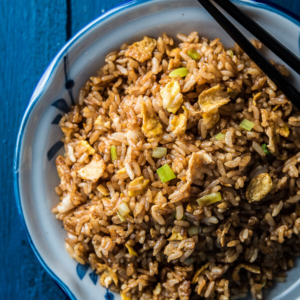 Soy Sauce Fried Rice (酱油炒饭)
Soy Sauce Fried Rice is a classic Chinese side dish. It's slightly indulgent, bursting with flavor, takes just ten minutes to prep and cook, and is robust enough to serve as a main.
Print
Pin
Rate
Ingredients
2

tablespoons

light soy sauce

1

tablespoon

dark soy sauce

1

teaspoon

sugar

1/8

teaspoon

white pepper powder

2 to 3

tablespoons

bacon fat

(or chicken fat, or other poultry fat) (*see footnote 1)

2

eggs

, beaten

3 to 4

cups

leftover rice

3

green onions

, chopped (*see footnote 2)

Sea salt to taste

(*see footnote 3)
Instructions
Combine light soy sauce, dark soy sauce, sugar, and white pepper in a small bowl. Mix well.

Add bacon fat into a large nonstick skillet and heat over medium heat until the fat is melted. Add eggs. Cook until the bottom is slightly set.

Turn to high heat and add leftover rice onto the egg. Cook and chop the rice, to separate the grains and coat the rice with egg. Cook until the heat builds up and you can hear a vibrant sizzling.

Swirl in the soy sauce mixture. Cook and stir constantly, until the rice turns an even color.

Add green onion, stir to mix well.

Carefully taste the rice. Season lightly with sea salt if necessary. Stir and mix thoroughly, so the salt is evenly dispersed.

If you like crispy and charred rice, you can turn off the heat and let the rice sit in the skillet for a minute or two. Be careful - the rice should be thoroughly cooked but not burnt.

Transfer the rice to a bowl and serve it as a side. Always serve the rice hot, or at least warm, to get the best flavor.
Notes
Using animal fat is very important in this recipe. Because the the recipe is very simple, using a flavorful oil will add tons of flavor to the rice. If you don't like the idea of using animal fat, you should at least use a high quality peanut oil, plus more eggs.
Because the dish uses very few ingredients and tons of soy sauce, it will leave a raw taste of soy sauce in your mouth if you don't use enough herbs to balance it. You should add at least 3 green onions, if not more.
As I suggested in the post, this dish is qualified to serve a main. Sometimes we cook it for lunch, and serve a very simple veggie dish alongside it. In this case, you want the dish to be salty enough to taste good. You can achieve this by adding a bit more soy sauce, but you also need to add a bit more green onion to balance it. Or you can add a bit of salt. To make the dish look more appetizing and darker in color, you can gently add more dark soy sauce.
Nutrition
Serving:
226
g
|
Calories:
773
kcal
|
Carbohydrates:
151.6
g
|
Protein:
14.5
g
|
Fat:
10.3
g
|
Saturated Fat:
1.9
g
|
Sodium:
914
mg
|
Potassium:
290
mg
|
Fiber:
3
g
|
Sugar:
2.2
g
|
Vitamin A:
150
IU
|
Vitamin C:
4.1
mg
|
Calcium:
70
mg
|
Iron:
8.5
mg