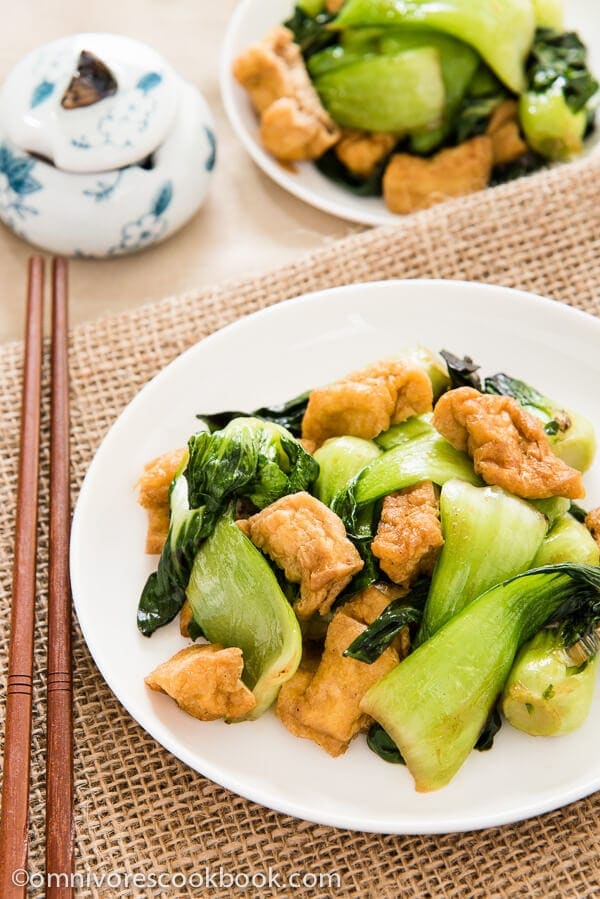 A super flavorful vegan dish that tastes almost as good as meat. No, it tastes even better!
Bok choy stir-fry with crispy tofu is one of my favorite vegan dishes. You only need a few spices – green onion, soy sauce and sugar, to create a flavorful sweet savory sauce. The cooking is quick, simple and straightforward. The dish has a great texture. The bok choy is cooked until slightly charred and meaty in texture. The rich fried tofu absorbs the sauce well and almost tastes meaty. It's a great way to get a good amount of green in your weekday dinner.
If you've never tried deep fried tofu before, I highly recommend you give it a shot. In Chinese cooking, fried tofu is usually used as an alternative to meat, in order to turn a dish into a vegetarian one. It is a bit greasy by itself but works like magic with veggies, both in stir fried dishes and in stews. Functioning similarly to meat, the fried tofu adds richness to a light dish. Plus, because of its fluffy texture, it will absorb tons of flavor from the sauce it's cooked in. That's why it tastes even better than chicken in a noodle soup, such as laksa.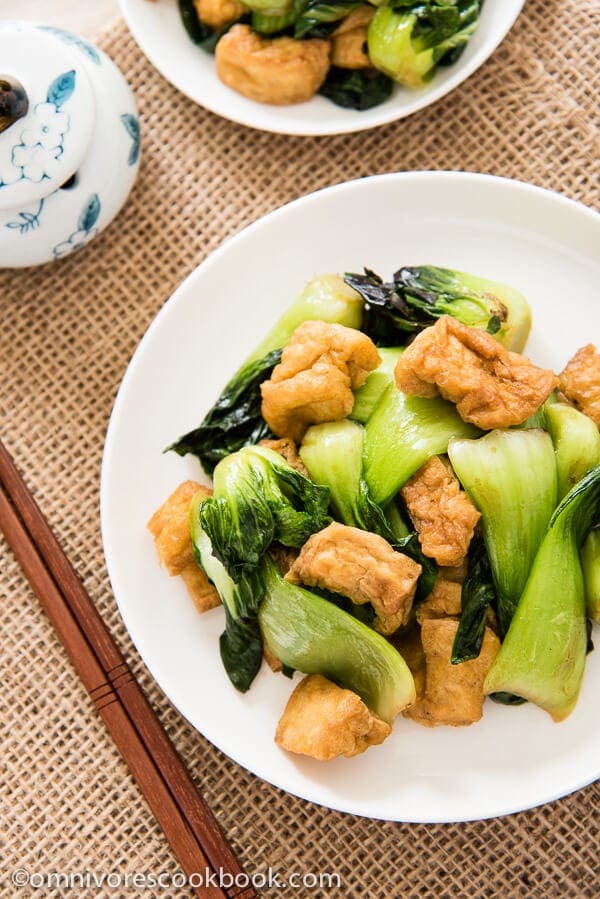 The Art of Stir-Fry
In the video below, I asked for my mom's help in cooking the dish while I shot the video. We have very different styles for cooking stir fried dishes. She grew up using a wok and feels most comfortable with it. For me, I really prefer to use a nonstick skillet (you can find the reason here).
Watching her cook is really enjoyable. I'm always amazed by the high heat she uses when cooking such a simple vegetable dish. She always turn the heat to the almost highest setting, so you can hear a vibrant sizzling all the way through the stir fry. You'll get the idea when you watch the video or from the thick wok hei (or wok air) in the cooking process pictures below.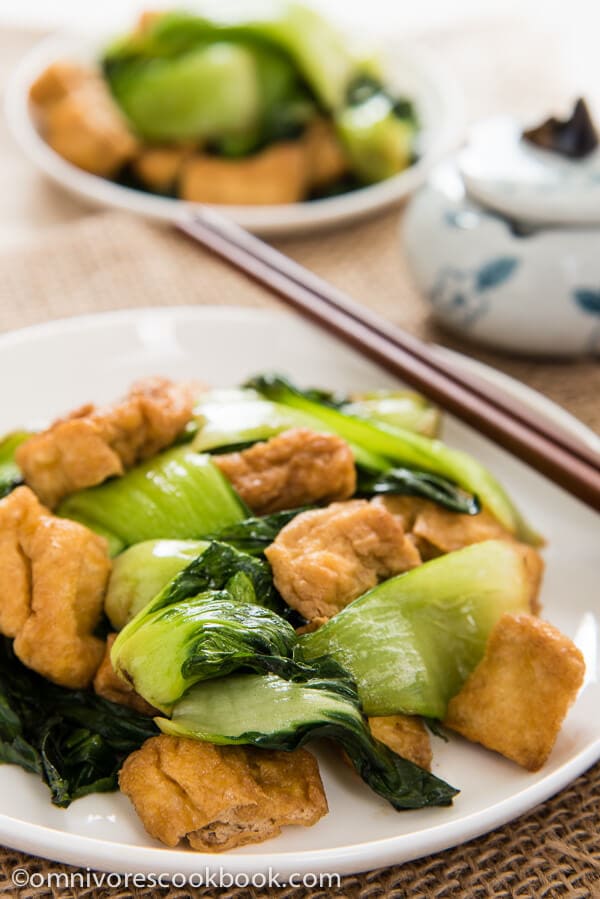 In this case, the cooking is finished quickly, within 4 minutes. On the other hand, if you prefer to use a normal skillet, especially a nonstick one, you might want to lower the heat a bit and prolong the cooking time, because a nonstick skillet cannot handle high heat for too long. You will move more slowly too, since the skillet is shallower and you'll need to stir carefully to keep all the ingredients in the skillet (otherwise you'll need to clean the floor instead of the plate afterward).
Always judge carefully with your eyes and ears during cooking. If you see too much smoke above the skillet, or the food gets charred too quickly, you need to lower the heat. On the other hand, if the sizzling sound disappears, turn it back to high heat.
Stir-frying is an art and takes a bit time to master. But you'll be hooked once you get the idea, because you can get a plate of super flavorful food in a very short time.
Want to Know More?
Receive our 5-Day Chinese Cooking Crash Course & Recipe Updates! Subscribe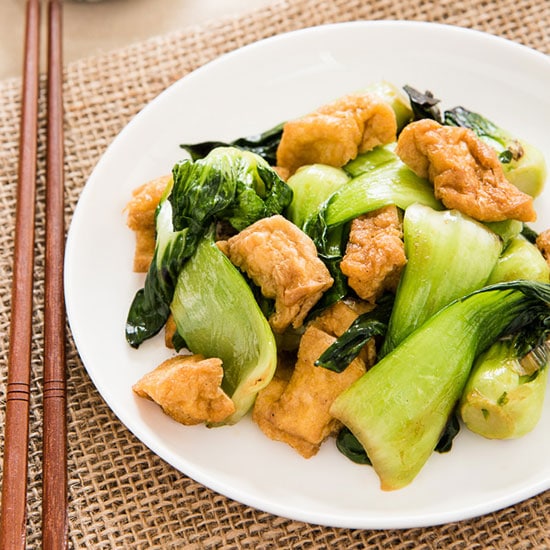 Bok Choy stir-fry with Crispy Tofu
A super flavorful vegan dish that tastes almost as good as meat. No, it tastes even better!


Ingredients
500

grams (18 ounces)

bok choy

(*see footnote 1)

1

cup (60 grams / 2 ounces)

deep fried tofu

, halved

2

tablespoons

scallion

, chopped (or green onion)

1

tablespoon

peanut oil

(vegetable oil)

1

teaspoon

sugar

2

tablespoons

light soy sauce
Instructions
Rinse bok choy. Tear apart the large leaves and remove tough ends (*see footnote 2). Wash carefully and drain in a colander.

Chopped deep fried tofu and scallion, set aside.

Heat 1 tablespoon oil in a wok over medium high heat (highest heat on an electric stove) until hot. Add scallion and stir a few times until fragrant. Add bok choy, stir and cook for 1 to 2 minutes, until the bok choy is half cooked.

Add sugar and swirl in light soy sauce. Immediately stir a few times to mix well the sauce. Add deep fried tofu, stir to mix well, about 20 seconds.

Cover and lower to medium low heat (medium heat for electric stove). Cook for 30 seconds. Uncover and stir to check, 20 seconds. Cover and cook for another 10 to 20 seconds again, if necessary, until bok choy is cooked through and slightly caramelized on the edges. Stop heat and transfer everything to a plate.

Serve warm over rice.
Notes
Make sure to pick a larger head of bok choy to cook this dish.
If the bok choy is very large, cut the large and thick leaves in half lengthwise, so they are easier to stir fry and will cook evenly.
Nutrition
Serving:
311
g
,
Calories:
191
kcal
,
Carbohydrates:
12.3
g
,
Protein:
10
g
,
Fat:
13.3
g
,
Saturated Fat:
2.1
g
,
Sodium:
1070
mg
,
Potassium:
725
mg
,
Fiber:
4
g
,
Sugar:
6.2
g
,
Vitamin A:
11250
IU
,
Vitamin C:
155.9
mg
,
Calcium:
380
mg
,
Iron:
3.8
mg