These freshly made hand-pulled noodles are springy and meaty, with a great mouthfeel that you'll never get from cooking dried noodles. Learn all the secrets of hand-pulled noodles so you can easily make them at home without fail!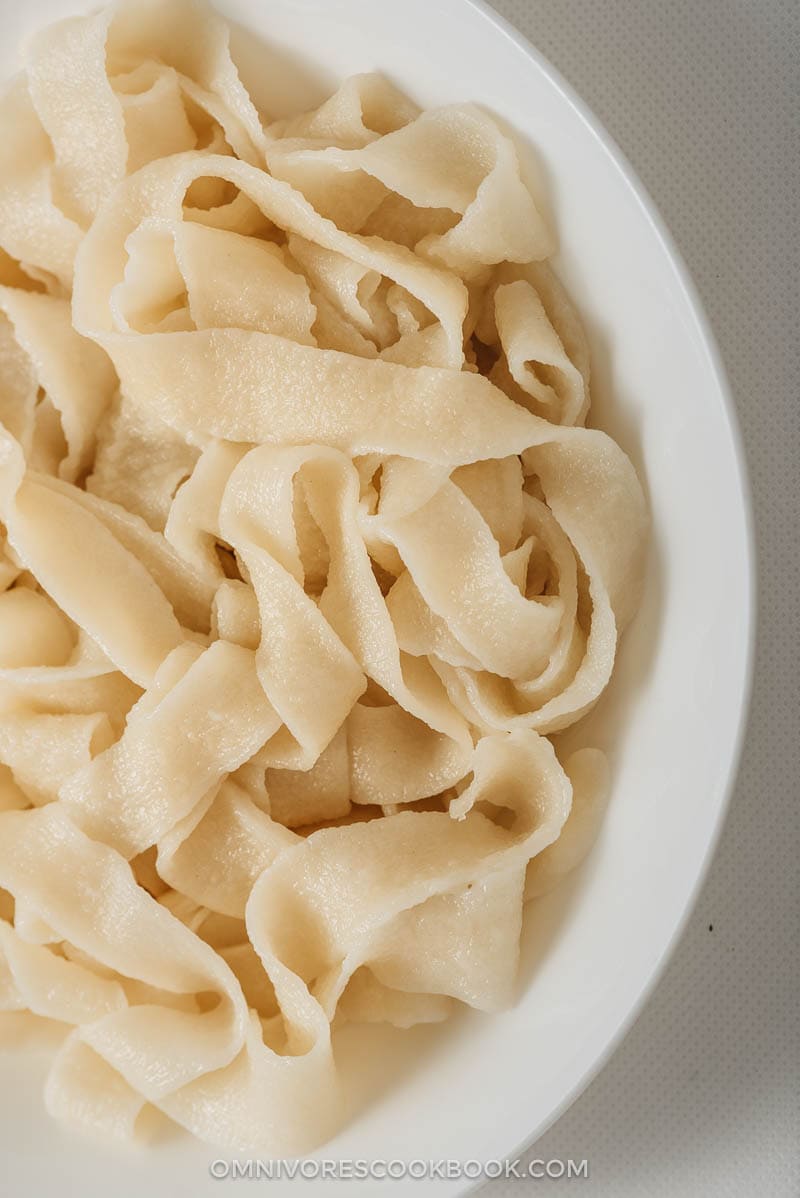 Noodles are one of the most important components of Chinese food culture. Handmade noodles might be a rarity, and even a pricey proposition outside of China. However, in the domestic market, they are an everyday cheap comfort food. No matter whether ordering a hot bowl of noodles in a restaurant or purchasing freshly made noodles to cook at home, it is one of the cheapest ways to have a fast, fulfilling, and hearty one-dish meal. Even in expensive cities like Beijing, you can still spend 3 to 4 dollars to get a very decent big bowl of noodles in a restaurant. The price drops to 2 dollars per meal when you go to smaller cities.
Why make noodles at home
Despite the low cost of noodles at restaurants, a lot of people still enjoy making them from scratch at home. The reason? Because:
It's just so easy to make hand pulled noodles once you've learned the trick
The homemade kind doesn't contain any additives. A restaurant's fresh noodles usually have additives for a better mouthfeel. Additives also allow the noodles to be easily produced in big batches and to have a longer shelf life
The finished dish is tailored to your taste. You can season it with whatever ingredients you prefer and add as many toppings as you like.
There are countless types of noodles in China and I will introduce you to the hand-pulled (拉面, la mian) variety first. It might sound daunting to make this type of noodle at home, especially if you've ever watched a noodle dance in China. But the truth is, hand-pulled noodles are one of the easiest handmade noodles for a beginner to make.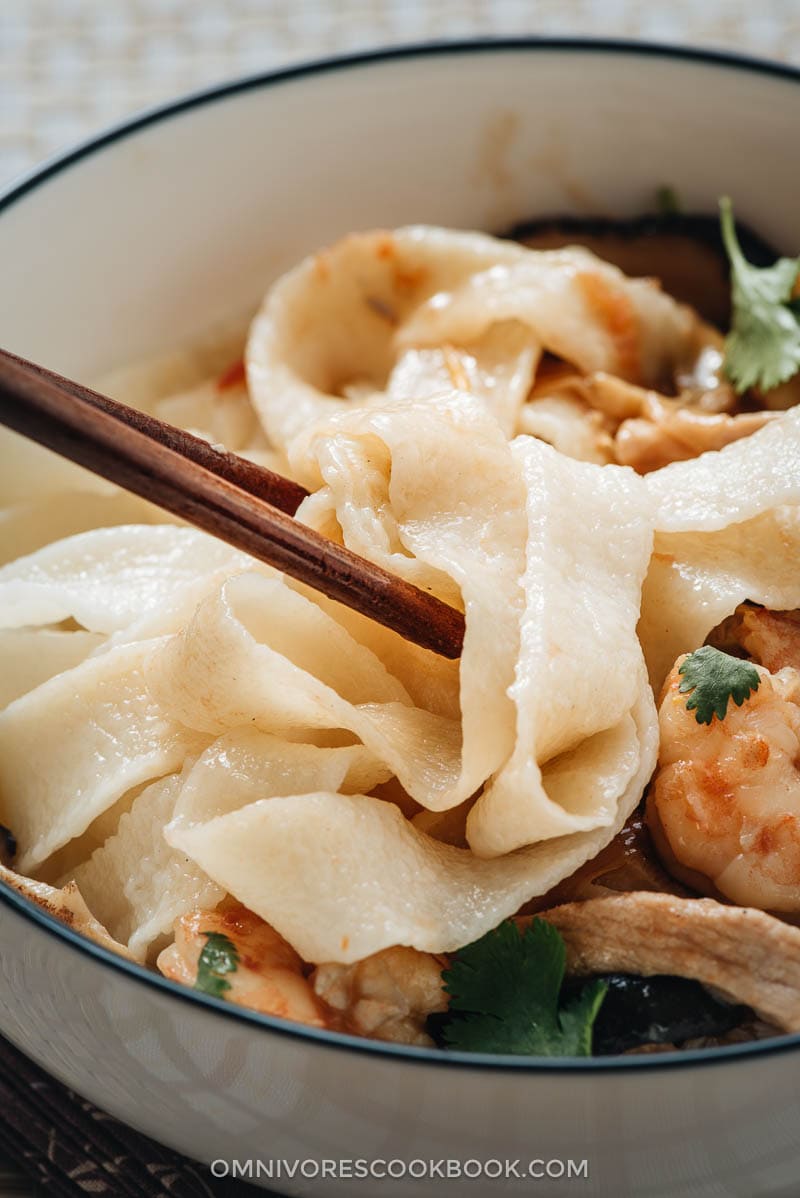 Why hand-pulled noodles are the easiest homemade noodles and the one you should learn first
This leads me back to one of my fun cooking experiences several years ago. Back in 2011, I was still quite bad at cooking and didn't cook as much as I do now. One day, my boyfriend and I decided to try to make hand shaved noodles (刀削面, dao xiao mian).
If you're wondering what the hell that is, it's a specialty from Shanxi province. To cook it, you need to make a block of very tough dough and use one hand to hold the dough and the other to use a special square-bladed knife to carve off thin pieces of dough directly into boiling water. Sometimes for the sake of performance, a chef will put the dough on his head and use both hands to slice noodles into the pot. It's quite a scene, in a circus act kind of way.
Long story short, we didn't manage to get the dough right and it was too soft to slice. Since we didn't want to waste it and the noodle sauce was ready, we started to pull the dough by hand and made our first bowl of hand-pulled noodles at home.
You see what I did there? Even when you fail at making other types of noodles, you can still use the dough to make hand-pulled noodles, because they're such a no brainer!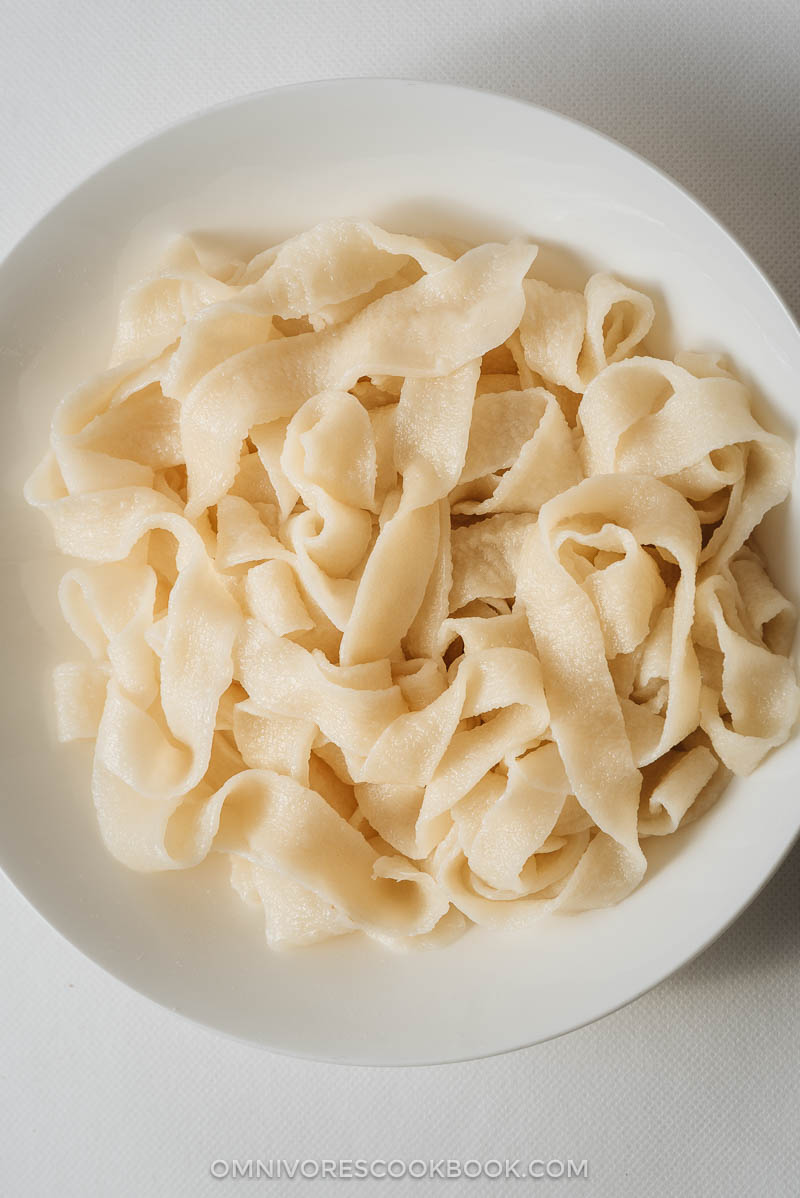 The ONLY three tips you need to make no-fail hand-pulled noodles:
(1) Make a dough that is not too tough
The texture of the dough depends entirely on the ratio of the flour, water, and salt. To make the dough work, it has to be tough enough, so the noodles won't break apart when you pull them. At the same time, the dough needs to be soft enough, so you can easily pull it into a thin piece. The salt adds springiness to the dough. If you add too much, the dough will be very difficult to pull. Conversely, the noodles will fall apart if you don't add enough salt.
(2) Fool-proof recipe
On the other hand, the ratio of the flour, water, and salt in the dough for hand-pulled noodles is actually quite flexible. This means, even if you didn't replicate exactly the same texture of dough in this recipe (especially if the dough is a bit drier), the dish won't fail. This leads us to the most important factor, the amount of time you allow the dough to rest.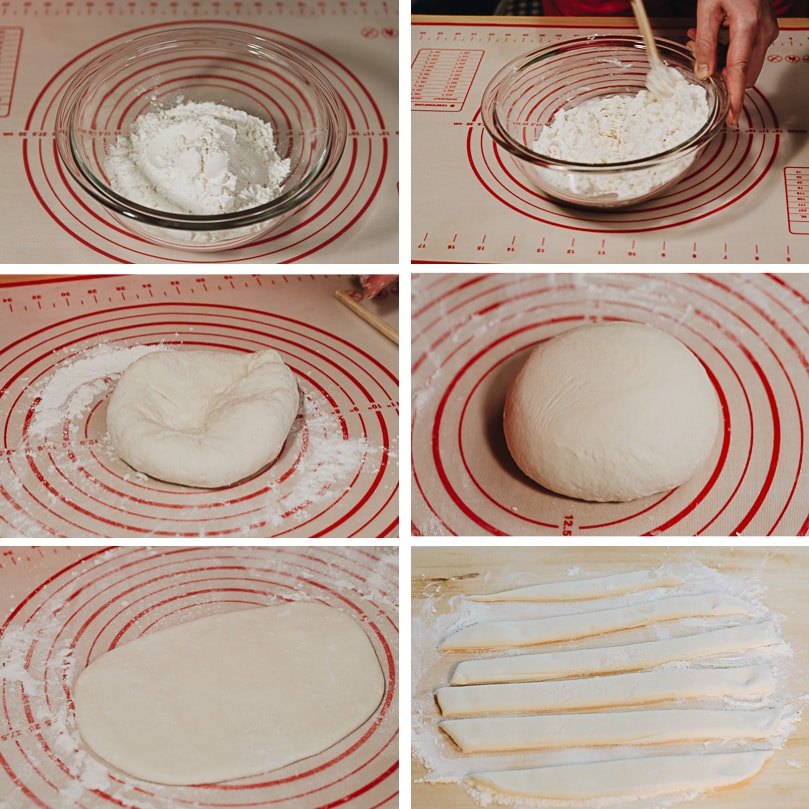 (3) Let the dough rest for enough time.
Let me put this in an extreme way – if you let the dough rest long enough, almost ANY ratio of flour, water and salt will work. What I mean by "enough" here, is more than a day, perhaps even longer. The longer you let the dough rest, the smoother and tenderer its texture will become. This makes the dough easier for you to handle when preparing and cooking it. For example, if you find the dough too tough and difficult to pull, simply let it rest a few more hours. You'll eventually get noodles out of it.
I have tried different ratios to make this dish work, but I found that the ratio in the recipe below works best. It's not too soft to knead and requires less resting time. Depending on your room temperature (particularly if it's warmer than average), you can even use less resting time than prescribed here. But remember, the longer you let the dough rest, the easier you'll have it, when it comes time to pull the noodles.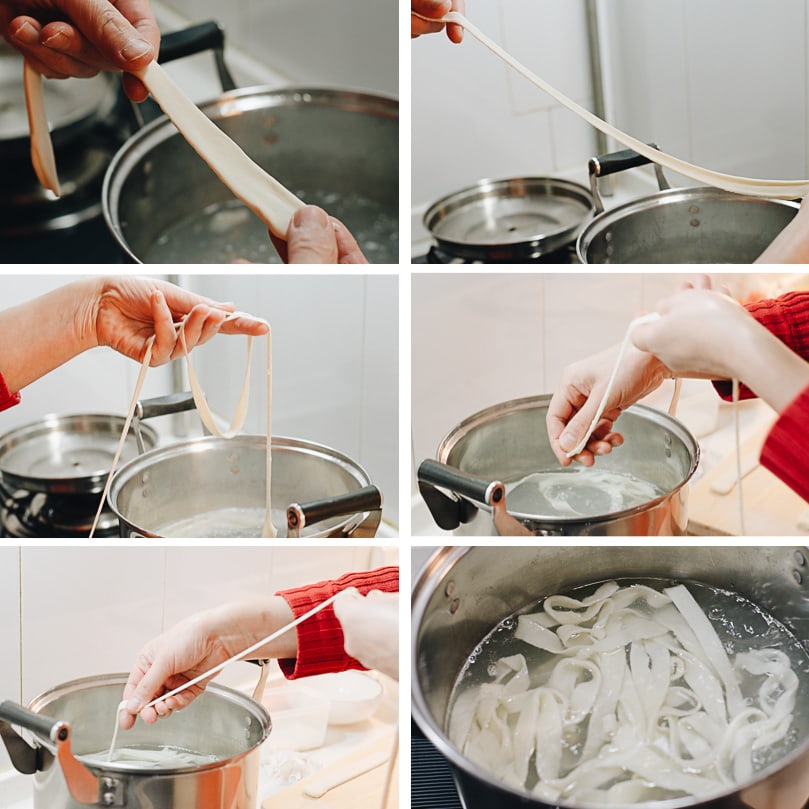 Why should you trust this recipe?
Here, I want to attribute this recipe to my grandpa's housekeeper, Ms. Jiang. She grew up in and has lived in Gansu province, which is famous for its hand-pulled noodles (Lanzhou hand-pulled beef noodles, to be specific), for more than 30 years. She has been cooking and eating this noodle dish almost daily, until now. When I asked for the recipe, she was happy to teach me, although she never uses any measurements for it. I followed her instructions as closely as I could, and I tried cooking the noodles multiple times to test them out.
Here, I created a short video to show you how easy it is to craft your own hand-pulled noodles at home.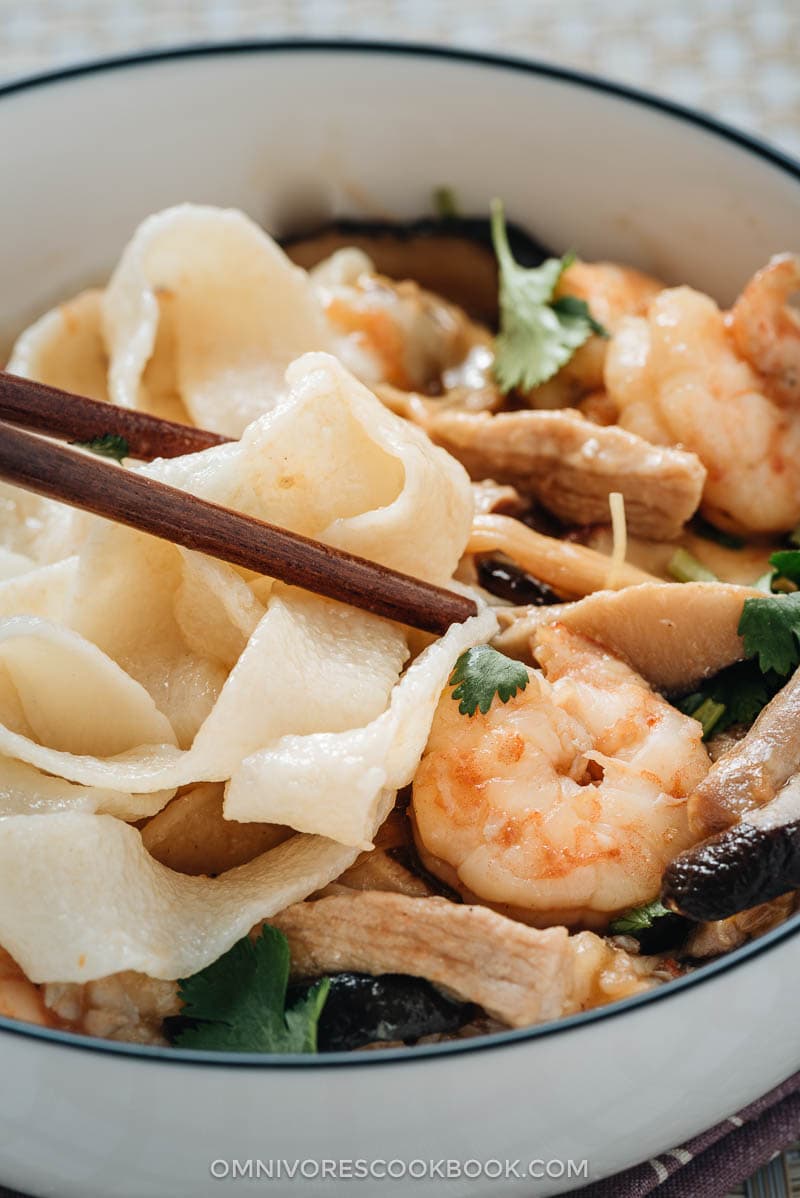 More delicious noodle recipes
If you like the video, don't forget to check out my YouTube channel! I have a collection of cooking videos that walk you through the delicious recipes at Omnivore's Cookbook. It is one of the fastest ways for you to get used to the techniques that are used in Chinese cooking!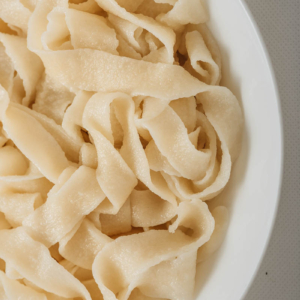 Easy Hand-Pulled Noodles
These freshly made hand-pulled noodles are springy and meaty, with a great mouthfeel that you'll never get from dried noodles. Learn all the secrets of hand-pulled noodles so you can easily make them at home without fail!

Print
Pin
Rate
Servings:
4
to 6 servings
Ingredients
400

grams (2 2/3 cup)

all-purpose flour

, and extra to dust the working surface

1/2

teaspoon

salt

280

ml (1 cup 3 tablespoons)

water

(room temperature)
Instructions
To prepare the dough
Combine flour and salt in a large bowl and mix well. Slowly blend in water and mix with a pair of chopsticks, until water is integrated with the flour and there is no dry flour left. Dust both hands with dry flour, then start to knead by hand until dough forms. The dough should be quite soft and sticky.

Dust a working surface with dry flour. Transfer the dough onto it and continue to knead until the surface turns smooth and the texture springy, 10 to 15 minutes. Dust hands and the working surface with extra flour whenever the dough starts to feel sticky during the process.

Alternatively you can use a stand mixer to make the dough. Attach the dough hook to the mixer, transfer the flour and the water into the bowl, and turn on low speed. Stop the mixer and scrape the flour from the bowl if needed. Mix until the dough becomes smooth and elastic, about 15 minutes.

Dust a large bowl with dry flour. Transfer the dough to that bowl and cover the dough with a damp dish towel. Cover the bowl with a lid (or plastic wrap). Let the dough rest at room temperature for at least 2 hours (or store the dough in the fridge if you're planning to use it the next day, after resting at room temperature).

Dust the working surface and both hands with flour. Transfer the dough onto the working surface and knead it a few times. Divide the dough into 2 equal pieces, then again to make 4 pieces total. Knead each piece of dough by hand to shape a ball.

Dust the working surface again. Take one piece of dough and press it into a round disc. Roll it with a rolling pin into a long and round sheet, about 5 to 6 millimeters (0.2 inches) thick. Roll out the rest of the dough pieces the same way. Use large bowls or plastic wrap to cover and seal the dough sheets, to keep them from drying out. Let rest for another 30 minutes to 1 hour.
To pull and cook the noodles
Right before making noodles, bring a medium sized pot of water to a roaring boil (very important).

Work on the dough sheets one by one. You should cover the rest of the dough with a damp dish towel or plastic wrap.

Slice the dough sheet into several strips, about 2 centimeters (0.8 inches) wide (or narrower if you want thinner noodles).

Pick up a strip of dough and start to pull it from one end to shape an evenly thick, long noodle, until it becomes quite thin and almost breaks apart. It's OK if the noodle breaks into 2 to 3 shorter segments. Drop the noodle immediately into the boiling water. (To get the idea of the process, please refer to this

short video

.)

Pull another 2 to 3 strips of dough and drop them into the boiling water. Cover the rest of the dough with a damp dish towel (see footnote). Boil the noodles until cooked through, 1 to 2 minutes. Transfer to a plate and set aside. Work on the rest of the dough in the same manner.
To serve and store
You can use the noodles in any noodle soup or mix them with sauce. If you aren't going to serve the noodles immediately, add a few drops of sesame oil onto them and mix by hand. You should always eat the noodles while they're warm and fresh, because they will become sticky and turn into a solid mass once they cool off.

Store leftover noodles in an air-tight container in the fridge for 1 to 2 days.

To serve leftover noodles, place them in a colander so that you can easily dip them into a pot of boiling water. When you do this, use a pair of chopsticks to gently separate the noodles, and leave them in the water until warm. Heating them this way shouldn't take more than 30 seconds.
Notes
The noodles are very easy to cook through, so I suggest you cook them in small batches, until you're familiar with the process. You should always cover the unused dough with a damp dish towel or plastic wrap, because it will dry out very fast.
Nutrition
Serving:
101
g
|
Calories:
364
kcal
|
Carbohydrates:
76.3
g
|
Protein:
10.3
g
|
Fat:
1
g
|
Sodium:
293
mg
|
Potassium:
107
mg
|
Fiber:
2.7
g
|
Calcium:
20
mg
|
Iron:
4.7
mg