This Watercress Wonton soup recipe is sponsored by B&W Quality Growers. All opinions expressed are my own. Thank you for supporting the companies that keep this blog going.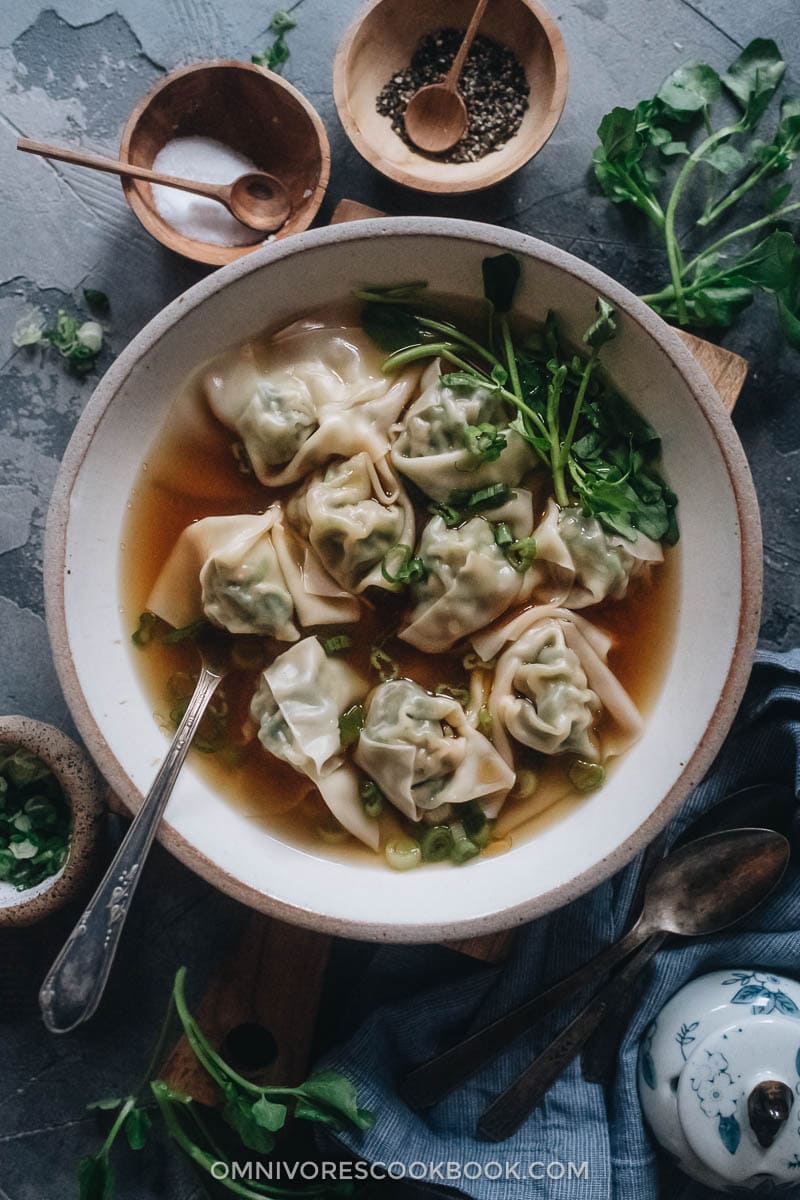 Hearty, healthy wontons made with crisp watercress and juicy pork, served in a quick and easy chicken broth. This post includes detailed step-by-step photos to help you create the authentic dim sum experience in your own kitchen.
The real essence of great Chinese food is balance and texture. Both are important elements to creating a satisfying taste and nourishing meal. Unlike many popular American Chinese dishes that are extremely meat-heavy, the food on a typical Chinese dinner table consist of lots of vegetables, a moderate amount of grains (or other staples, such as bread), and a small portion of meat. Meat is used in various veggie dishes as a seasoning. For example, the gorgeous Yu Xiang Eggplant, Sichuan Dry Fried Green Beans, and Braised Daikon Radish.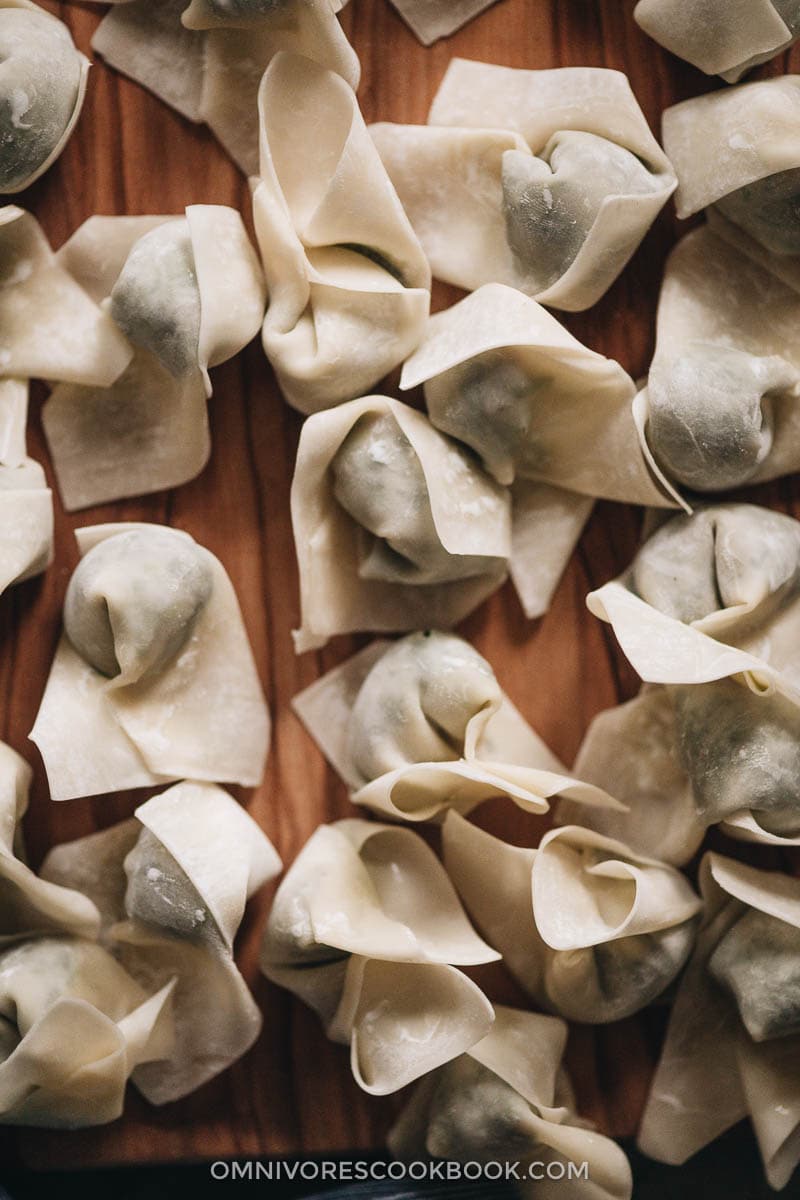 Why watercress wontons
If you go to a wet market in China, you'll see bowls of steaming hot veggie wonton soup, and those wontons are filled with watercress and just a bit of pork. You'd be surprised how hearty and satisfying these wontons taste.
Not only is watercress among the healthiest leafy greens in the world, it also contains abundant vitamins and minerals that make you feel great. With just a touch of soy sauce, cooking wine, and sesame oil, you can create some dim sum house level wonton soup in your own kitchen.
Can you believe a bowl of watercress wonton soup contains just 138 calories for a small snack bowl or 276 calories served as a main dish? Whether you're looking for a comforting breakfast, a quick afternoon snack, or a fix for your midnight craving, these watercress wontons hit all the right spots while keeping your caloric intake very low.
I got my watercress from B&W Growers. I love how fresh their watercress is. They're specialists in growing baby greens year round–allowing them to grow products where they are always in season to achieve the highest peak of freshness and flavor. To find more ways to use watercress, check out their recipe page.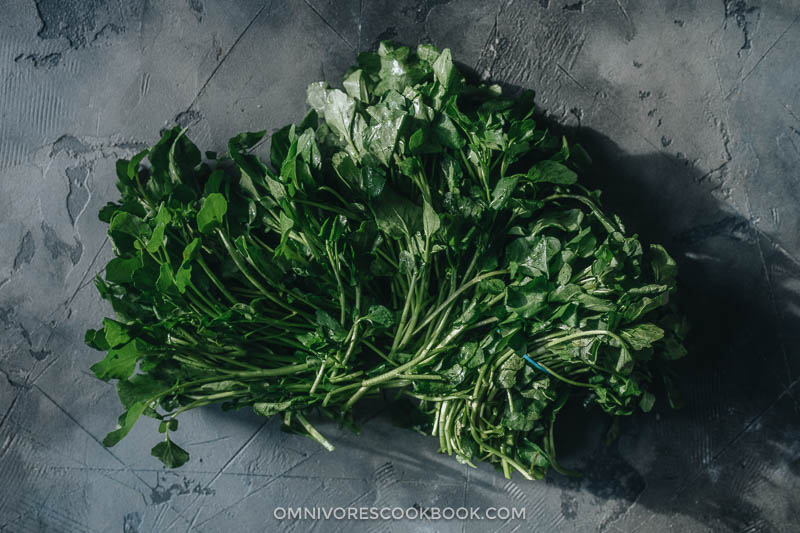 How to prepare watercress
You might be familiar with watercress in a salad context. But did you know that it's a delicious veggie that tastes great when cooked? Watercress is commonly used in dumpling and wonton filling in China. It has a peppery taste and crisp texture that works perfectly with rich pork.
1. Remove the tough stems
To make a great wonton filling, it's important to remove the tough stems from the watercress and only use the tender leafy part.
My preferred workflow is:
Rinse the watercress thoroughly with tap water
Place the watercress in a big bowl. Work on the leaves one at a time. Remove the stem and place the leaf in another bowl.
I started with an 8 oz. (225 g) batch of watercress and got about 6 oz. (170 g) of leaves once the stems were removed.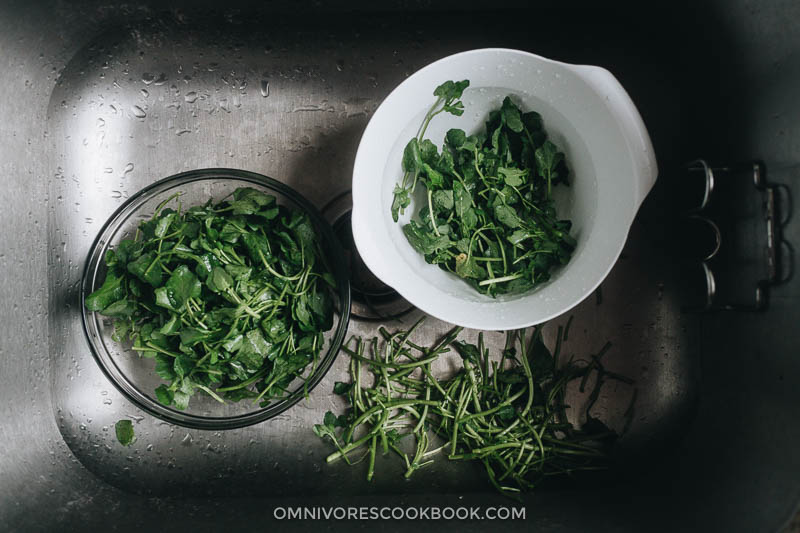 2. Salt the watercress
It's very important to salt the watercress before using it. Salting removes some of the bitterness, makes the watercress wither and easily wrapped into the filling, and makes the texture better.
You need to mix some salt with the watercress
Let it sit for 10 minutes
Squeeze out water as hard as you can
Mince the leaves into tiny bits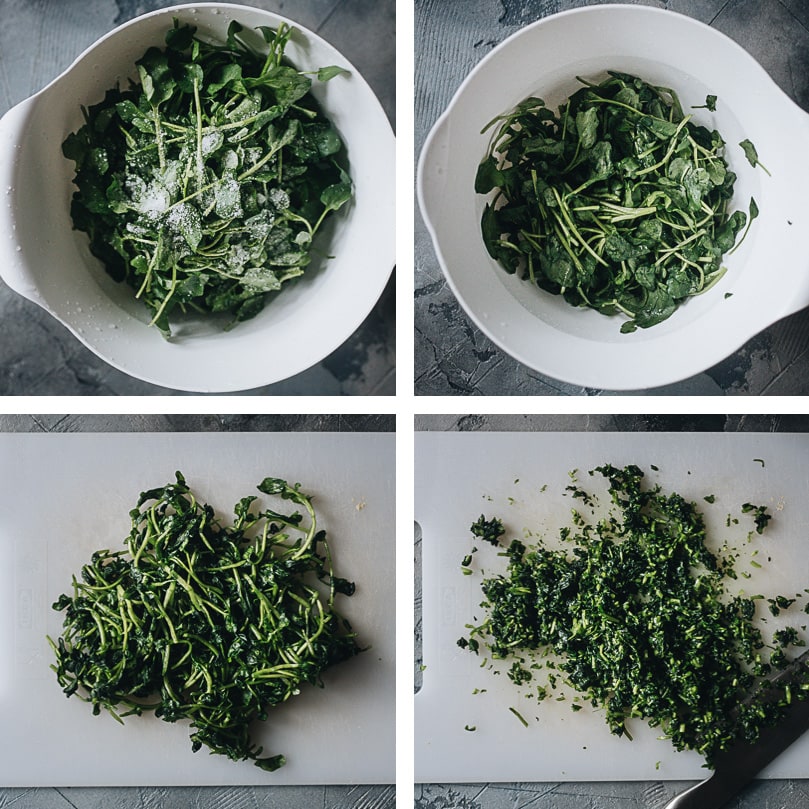 How to make wonton filling
You might be surprised how little pork is used in this recipe. My goal was to create a well-balanced wonton filling so you can enjoy the delicious taste of the watercress. If you prefer to have a meatier filling, you can reduce the watercress to 6 oz. (170 g), so you will get about 4 oz. (112 g) once prepared. The rest ingredients remain the same.
To make the filling:
Combine the pork with seasonings, without adding the watercress.
Whisk the filling very thoroughly, for 5 minutes, so it forms a paste. This help bind the ingredients together, creating a good texture.
Then add the watercress and mix again.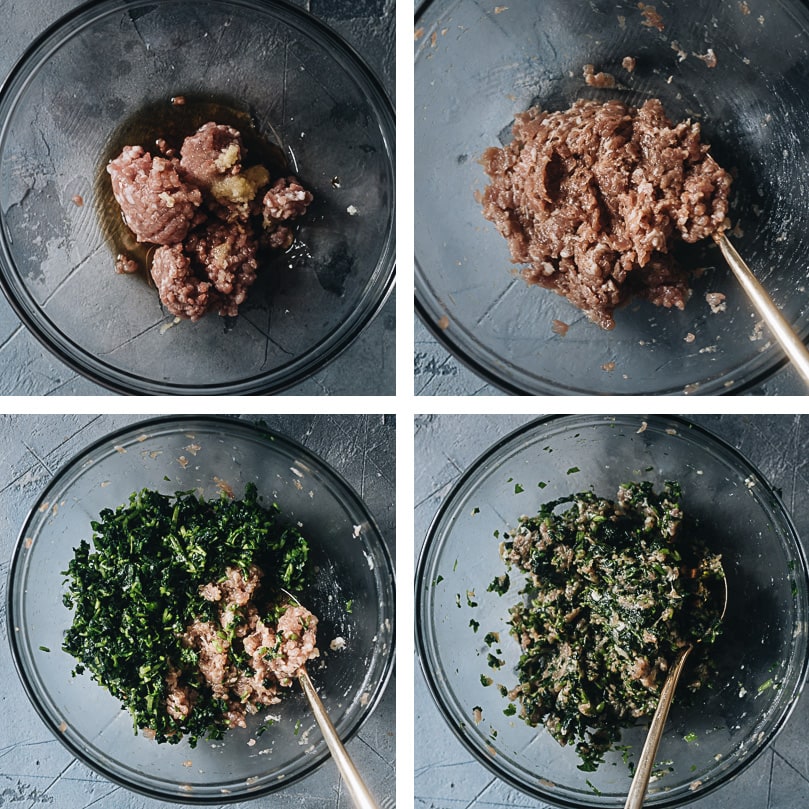 How to wrap watercress wonton
If you're shopping at an Asian grocery store, you usually can find wonton wrappers in different sizes. To make veggie wontons, I prefer to use bigger wonton wrappers. The wrapper I used in this recipe is about 3.5" x 3.5" (9mm x 9 mm).
There are many ways to wrap wontons. I shared 4 ways to wrap wontons in this video.
In this recipe, I used the method that create beautiful wontons:
Place some filling on one end of the wonton wrapper
Roll it up to wrap the filling
Press out as much air as possible
Seal the "tails" of the wonton
You can use whichever way you feel comfortable to wrap them.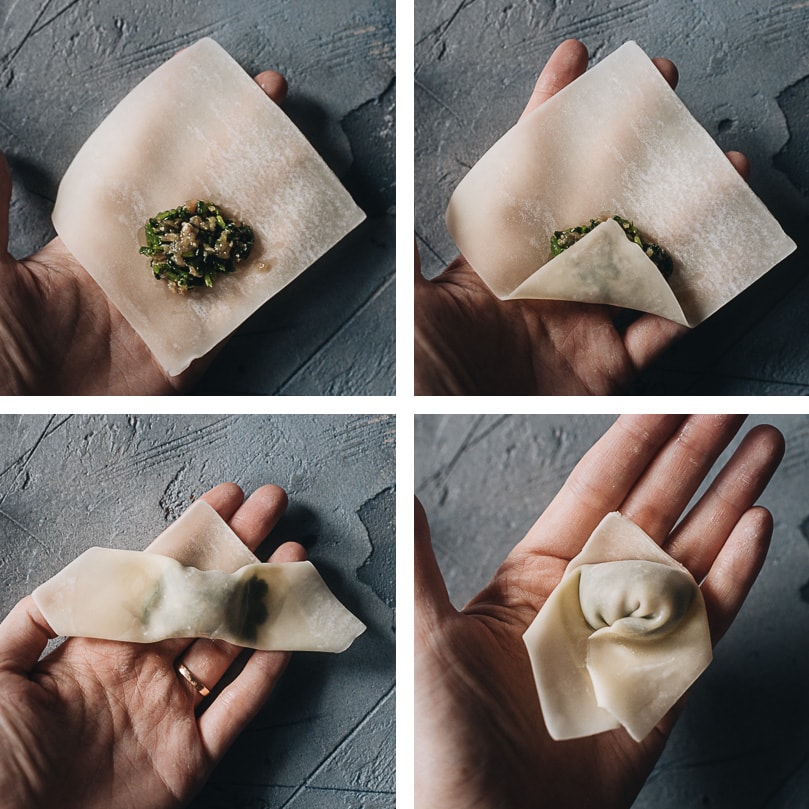 Make ahead, save for later
Yes, it takes some time and effort to wrap the wontons. That's why I always recommend to do it in bigger batch in advance and save for later. It's always more fun to wrap wontons slowly while watching your favorite Netflix show on a weekend, than rushing through things on an exhausting Monday night. Next time when you need some comfort food on a busy weekday night, forget about calling takeout and wait for the mediocre wonton soup to arrive. Instead, you can quickly boil the frozen wontons and put together the broth, all it takes is 10 minutes.
To freeze wontons, you should always spread them to a single layer, either on a tray or a container, and seal tightly. But once the wontons are frozen completely, you can transfer them into a ziplock bag to save freezer space.
This recipe yields about 28 to 30 wontons. If you're making a big batch in advance, do double the recipe so you'll have more for later!
More delicious dim sum recipes
If you give this recipe a try, let us know! Leave a comment, rate it (once you've tried it), and take a picture and tag it @omnivorescookbook on Instagram! I'd love to see what you come up with.
Want to Know More?
Receive our 5-Day Chinese Cooking Crash Course & Recipe Updates! Subscribe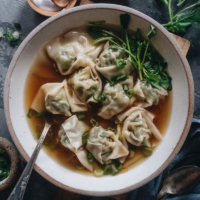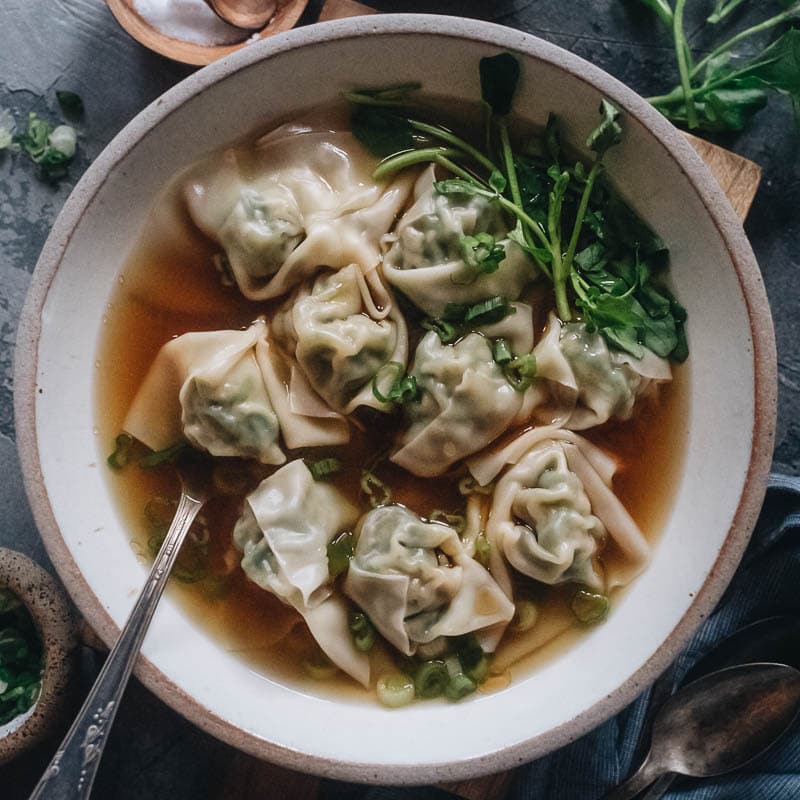 Watercress Wonton Soup
Hearty, healthy wontons made with crisp watercress and juicy pork, served in a quick and easy chicken broth. This post includes detailed step-by-step photos to help you create the authentic dim sum experience in your own kitchen.
Servings:
28
to 30 wontons
Ingredients
Filling
1

batch (8 oz. / 225 g)

B&W Quality Growers watercress

(or 6 oz. packaged leafy watercress) (*Footnote 1)

1 3/4

teaspoons

salt

, separated

4

oz. (112 g)

ground pork

1

teaspoon

light soy sauce

1

teaspoon

Shaoxing wine

(or dry sherry)

1

teaspoon

sesame oil

1/4

teaspoon

sugar

1

clove

garlic

, grated
Instructions
Make the wonton filling
Rinse the watercress thoroughly to remove any dirt. Remove the tough stems using your hands and discard the stems. Rinse the leafy parts with water again. Transfer to a big bowl. You will get about 6 oz. (170 g) of watercress after removing the stems. (*Footnote 1)

Sprinkle with 1 1/2 teaspoons of salt and mix well with your hand. Let sit for 10 minutes. Once done, use your hands to squeeze the water out of the watercress, as much as you can, then drain it thoroughly and mince it into very small pieces.

Combine the ground pork, light soy sauce, Shaoxing wine, sesame oil, garlic, and 1/4 teaspoon of salt in a big bowl. Stir for 5 minutes until it forms a sticky paste.

Add the drained watercress into the bowl with the pork. Stir to mix well.
Wrap the wontons
Work on the wontons one at a time. Place a wonton wrapper on your palm with a pointed end facing up. Add about 1 teaspoon of filling onto the lower third of the wrapper. Fold the bottom point onto the filling, and roll the filling upward. Use your fingers to press the dough on both sides of the filling, squeezing out as much air as possible. Dip your finger into a bowl of water, wet the wrapper on both sides of the filling, bend the two ends toward the middle so they overlap, then press them together to seal the wonton.

Place the wrapped wontons onto a tray and cover them with plastic wrap or a few layers of wet paper towel to prevent drying out.
Cook
Combine the chicken stock, green onions, light soy sauce, and garlic in a pot. Cook until bringing to a boil. Let simmer for at least 5 minutes.

While the wonton soup is cooking, heat another pot of water over medium-high heat until bringing to a boil. Add the number of wontons you plan to serve and make sure the wontons do not crowd the pot (the wontons should form a single layer in the pot without too much overlap). Gently stir to prevent them from sticking to the bottom. Cook until the wontons float on top. Continue boiling for another 1 to 2 minutes, until the filling is just cooked through.

Once the wontons are done, immediately transfer them into serving bowls and pour in the hot broth. Taste a wonton with the broth. Add more salt to the broth, if needed. Drizzle with sesame oil and serve hot.
Freeze & storage
You can freeze the wrapped uncooked wontons. To freeze the wontons, seal the tray tightly with plastic wrap and store it in the freezer for up to a month.

To cook the frozen wontons, follow the same procedure you would for fresh wontons. You will need to cook the wontons for 1 to 2 minutes longer to cook the filling through.
Notes
Skip the step of removing the tough stems if you are using the packaged watercress--B&W Quality Growers also offers that as an option-- that only contains the leafy part.
If you prefer a meatier wonton, reduce the watercress by using 6 oz. (170 g), if buying the batch, or 4 oz. (112 g) if using the packaged watercress that already has the stems removed.
Nutrition
Serving:
1
serving
,
Calories:
138
kcal
,
Carbohydrates:
9.9
g
,
Protein:
11.6
g
,
Fat:
5.4
g
,
Saturated Fat:
1
g
,
Cholesterol:
23
mg
,
Sodium:
1205
mg
,
Potassium:
265
mg
,
Fiber:
1.2
g
,
Sugar:
1.6
g
,
Calcium:
41
mg
,
Iron:
1
mg