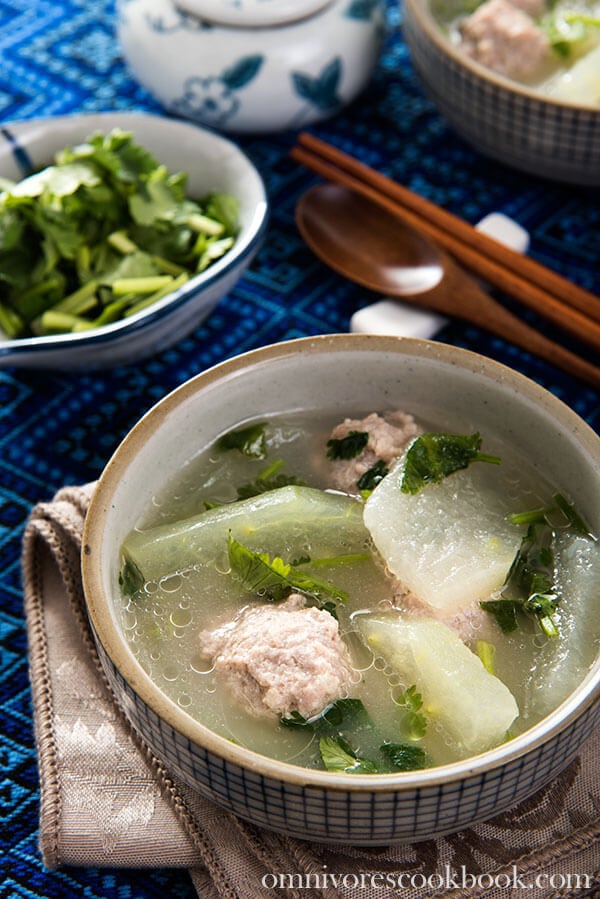 Winter melon soup is a soothing and comforting dish that is indispensable during the cold winter days. The winter melon is cooked in a rich pork broth until soft. The moist and tender pork meatballs make a simple dish taste especially fulfilling. The soup is very easy to prepare and is perfect as a side for a weekday dinner.
Winter melon is an indispensable vegetable for many Chinese families. As its name suggests, winter melon can be stored for months and is primarily consumed during wintertime, when there is less variety of fresh veggies available at the market. In the steamed bun post, I mentioned that Chinese cabbage was one of the only veggies around 30 years ago, before greenhouse-grown veggies became available during winter months. Winter melon is the second most important one.
Winter melon can grow into a very big fruit, measuring over 15 inches in diameter and weighing in excess of thirty pounds. At the supermarket, you're most likely to see them sold by the slice due to their extreme size. Although it's called winter melon, it's actually a summer vegetable. It is a type of fruit, but when mature, the fresh melon doesn't taste sweet. It is mildly flavored, and has a similar texture to that of a watermelon. It's typically used for cooking savory dishes, including soups and stews, with other flavorful spices. The white fresh part will turn very soft and absorb flavor easily as it's cooked.
Why You Should Add Winter Melon to Your Diet
Winter melon is considered a popular diet food. A big slice of winter melon (about 800 grams / 2 pounds) contains only 277 calories. It's low in saturated fat, doesn't contain cholesterol, and is high in dietary fiber, potassium and vitamin A, B and C. There is even a diet known as the winter melon diet. I won't go into details on that today, but you should definitely check out winter melon in order to add some more variety to your daily meals.
Maybe it's not a very delicious vegetable by itself, because it has such a mild flavor, but the melon will taste like whatever it's cooked with. In this recipe, it is briefly cooked in pork broth. This makes the melon very soft and gives it a refreshing and slightly meaty flavor.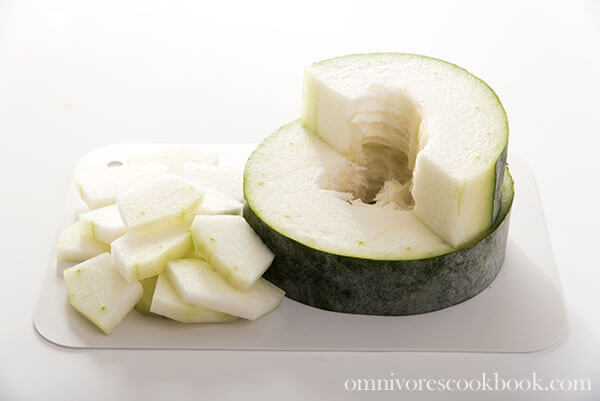 There are various ways to cook winter melon, but cooking it in the soup is one of the most popular. The classic winter melon soup can be cooked with chicken or pork broth. Some recipes use pork chops to make a slow cooked dish with it.
The recipe here is my family's favorite way to enjoy winter melon soup. By adding meatballs, you can easily turn a very light soup dish into a fulfilling one. You can easily replace the pork broth with chicken broth, or even use water with a bit of chicken bouillon.
When cooking winter melon soup, be careful not to overcook the melon, as it will turn very soft quickly. Always check the texture of the melon every 2 to 3 minutes and stop cooking when it starts to turn soft. It will break apart easily if overcooked.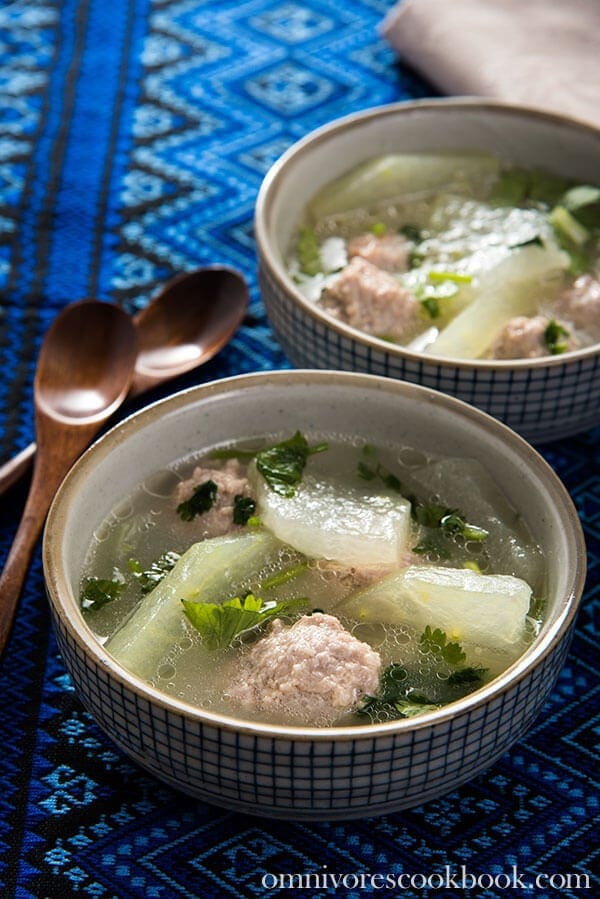 Have any questions about winter melon or want more recipes for it? Drop me a note below and I'll reply as best as I can!
I created a short video below to walk you through the cooking process. If you like the video, don't forget to check out my YouTube channel! I have a collection of cooking videos that walk you through the delicious recipes at Omnivore's Cookbook. It is one of the fastest ways for you to get used to the techniques that are used in Chinese cooking!
Print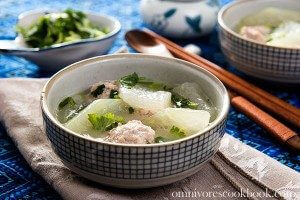 Winter Melon Soup with Meatball (冬瓜丸子汤)
---
Author:

Prep Time:

10 mins

Cook Time:

15 mins

Total Time:

25 mins

Yield:

4

1

x
Category:

Side Dish

Cuisine:

Chinese
Ingredients
150

grams (5 ounces) ground pork (lean fat ratio 7:3)

1 teaspoon

minced ginger

1 tablespoon

Shaoxing wine

2 teaspoon

s light soy sauce

3/4 teaspoon

salt

1

egg white

2 teaspoon

s cornstarch

600

grams (20 ounces) winter melon

4 cup

s pork broth (or chicken broth) (*see footnote)

1/3 cup

chopped cilantro
---
Instructions
Combine ground pork, minced ginger, Shaoxing wine, light soy sauce, 1/4 teaspoon salt, and egg white in a small bowl, mix well. Add 2 tablespoons water, mix until water is fully incorporated. Blend in cornstarch and mix until the ground pork becomes pasty.

Prepare winter melon. Use a knife to slice the rind off and discard it. Divide melon into 4 equal parts, then further into 8 parts. Cut off the inner soft part and discard it. Flip the winter melon so that it's skin side down, and slice along the cut side to make evenly thick pieces.

Add pork broth to a medium-sized pot and bring to a boil. Turn to low heat. Use a spoon to scoop about 1 tablespoon of the ground pork mixture to shape it into a ball, and add it to the soup. Make the meatballs one at a time. After the last meatball is added, stir the soup gently 2 to 3 times. Immediately transfer all the meatballs to a plate and set aside. The meatballs should be cooked on the outside but still raw inside.

Transfer the winter melon to the pot. Bring the soup to a boil over high heat. Turn to medium heat and boil until the winter melon is almost cooked through, 5 to 8 minutes. You can try a piece of winter melon; if the texture has begun to turn soft, it's cooked.

Add meatballs back into the soup. Bring the soup back to a boil and cook for 1 minute. Turn off heat, cover, and allow soup to sit for another 5 minutes. Add the remaining 1/2 teaspoon salt or to taste, and mix well.

Add cilantro to the soup and serve warm.
The nutrition facts are calculated based on 1 of the 4 servings generated by this recipe.