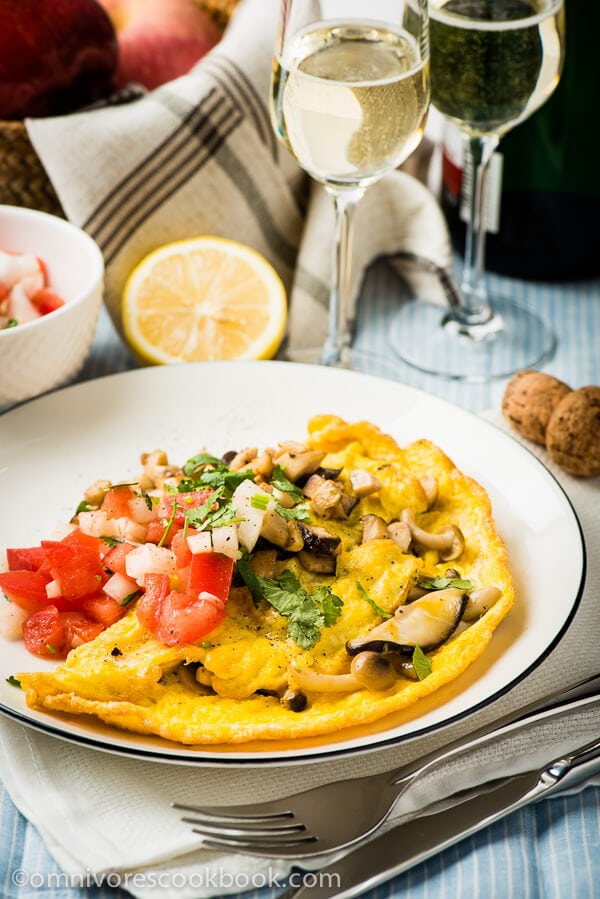 The post today is less about food than about life. Plus, I won't be doing much of the talking here.
If you've ever read my About page, you know that my boyfriend Thomas has been helping me with the blog behind the scenes for a long time. He reads every post before it's published, to help with grammar and style.
Today, I invited him to write a post to share our big news with all of you. Beyond this, you'll find a short recipe at the bottom of the post. It was our special way to celebrate Valentine's Day earlier this year. You will find out more about our celebration below.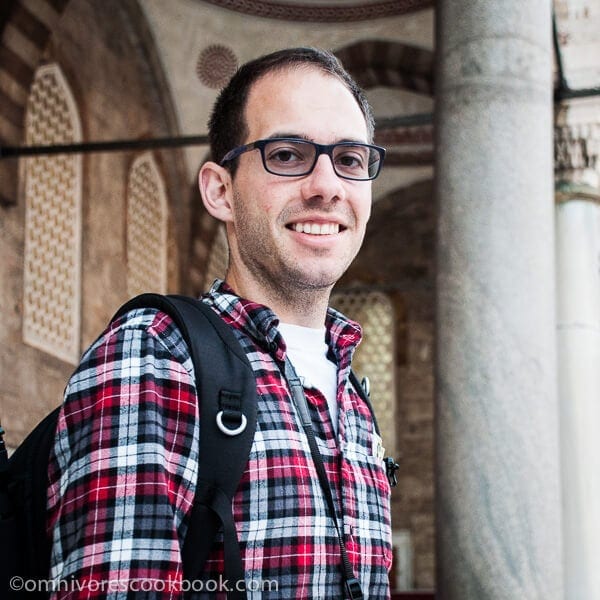 Hello everyone! I'm Thomas, Maggie's boyfriend. Although I have been helping a bit in the background of Omnivore's Cookbook, making a few edits, suggesting recipes, and doing kitchen prep, this is my first time actually writing a post for the site. I had known Maggie for nearly three years before the blog was born, and it's really been a treat to be a part of it and to watch it grow for nearly two years since.
Beijing beginnings
I was lucky enough to live in Beijing for a few years, and to meet Maggie while I was there. We shared an instant bond over living in unfamiliar countries (she had just moved back from Japan, I had just gotten to China), traveling to new places (at the time, she had recently returned from Egypt, I was soon to venture to South Africa), and the fascinating array of cuisines around the world.
Our adventures, both in and out of Beijing, often involved exploring regional specialty cuisine – together we discovered African Chicken in Macau, Rou Jia Mo in Xi'an, the best hot pot of our lives in Chongqing, and roast yak in Qinghai. The non-culinary parts of our trips brought us to the breathtakingly scenic Mount Hua and Mount Tai and to the vast deserts, mountains, and Buddhist monasteries of the Tibetan plateau. Each of these trips, as well as those that followed, have brought us closer together and helped shape our perspective on the world. We're both very interested in gaining insight on the world's cultures through cuisine, and travel is a huge part of that.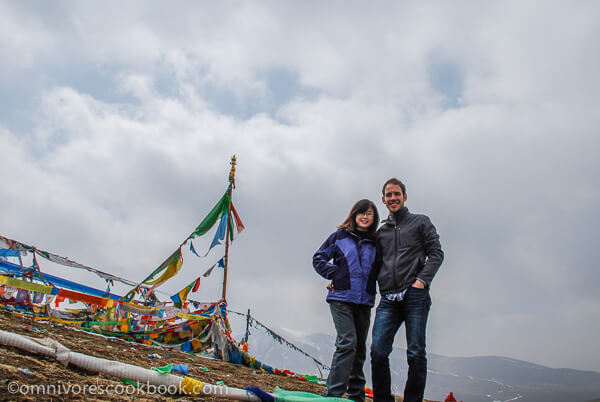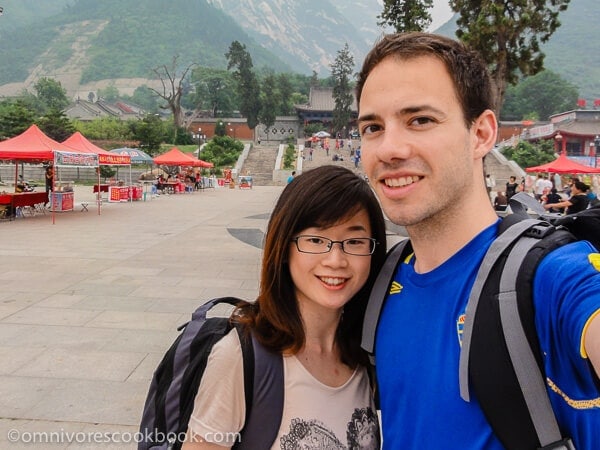 Staying connected
We did spend quite a bit of time cooking together while in Beijing, but I didn't really learn to cook any Chinese food before returning to the US and embarking on a long distance relationship.
Fortunately, this blog has given me a way to replicate the home-cooked Chinese dishes I miss (which are largely unavailable in the US). Deep down, I actually miss the entire experience of being in China – exploring a new world of unfamiliar of language and culture, yet having the comfort of being with one person who understands me.
For me, food offers a sort of time travel – a taste of a dish from my past can instantly bring me, mentally and emotionally, back to a certain time and place. Classic homestyle Chinese dishes, such as hot and sour soup and zhajiangmian, widely appealing and comforting as they may be, are specific and unique enough to allow me to relive the wonder I experienced in Beijing.
Another thing this blog has given us is an additional medium to connect through. Not only do the recipes here resonate with my fond memories of us being together in Beijing, but we have also spent a lot of time working with each other to make the blog better.
Whether brainstorming recipes together, giving feedback on what does/doesn't work, finding inspiration in books or on the web, or discussing the best expression to use in a post, we've almost certainly spent more time together because this blog exists. I can't claim very much credit for the awesomeness it's become, but the fact that I've been able to collaborate on it has brought us closer together – a great (and perhaps unintended) side effect.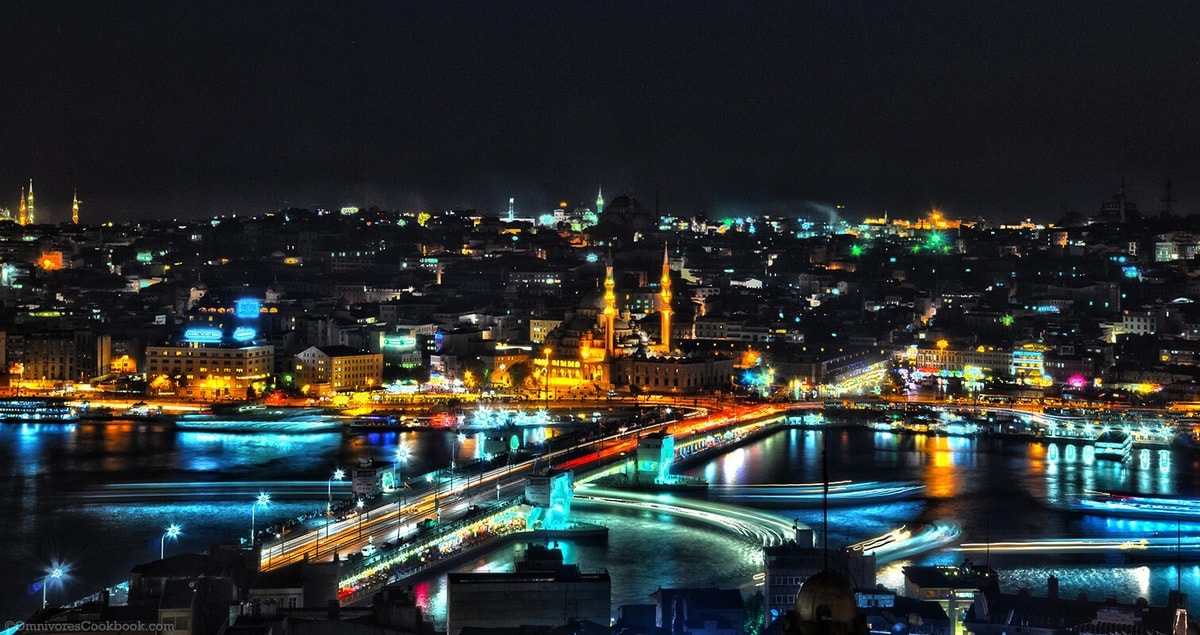 Bridging the longest distance
It has sometimes been challenging to stay close across the long distance over the past two and a half years. Some of the adventures we've taken together since being 7000 miles apart have been documented on the blog, and it's true that every time we meet is like going on a date.
Only meeting two or three times per year, we have to try to live an entire year in those few weeks. But the other 47 or so weeks out of the year, they can be difficult. Further complicating things is the reality of a 13-14 hour time difference, which realistically gives us a window of only a few hours per day in which we could talk, and those also happen to be the hours that one of us is getting ready for work and the other is getting ready for bed.
I will spare you the details of the pain of being so far apart, but for us, the relationship has been one of those things where you either have to give up or give it everything. There is no such thing as a half-hearted relationship over that kind of distance.
A new adventure
Fortunately, we have worked out a plan to eliminate those 7000 miles. A new adventure is on our horizon, an adventure that will last the rest of our lives. I am elated and excited to announce that Maggie and I are engaged and that she will be coming to live with me in the US! This summer we will be starting our life together in the fine city of Austin.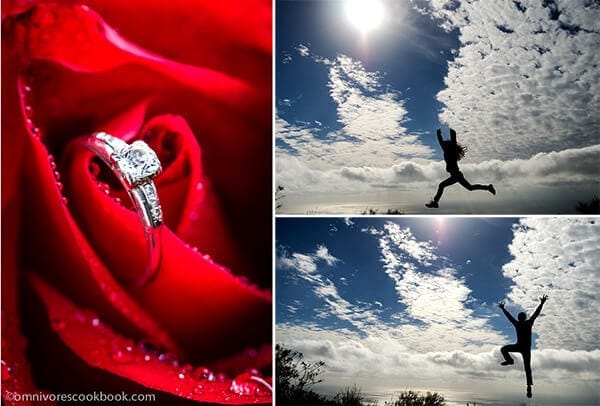 We have been working on this plan for quite a while, having submitted our original petition to Homeland Security back in August of last year. The immigration process is a long one, with countless forms, verifications, and evidence required. More than anything, though, it just requires waiting. I suppose there's not really any way around it, but that waiting, combined with the uncertainty of whether the petition will even be approved, is worrisome at times.
Luckily for us, the petition was approved after nearly seven months of waiting, and our case has progressed to the State Department for visa processing. The longest and most difficult part of the process is behind us, and we're eagerly looking forward to the visa application and interview to follow.
Another way food brings us together
Since this is a cooking blog, I'd like to take this opportunity to share a recipe with you. This past Valentine's Day, we weren't able to be in the same place physically, to celebrate the occasion. We decided that a virtual date over Google Hangouts was the next best thing, and that brunch was the optimal meal to have together, as whatever can pass for brunch can also pass for dinner (we both happen to like brunch a lot, especially with a bottle of bubbly).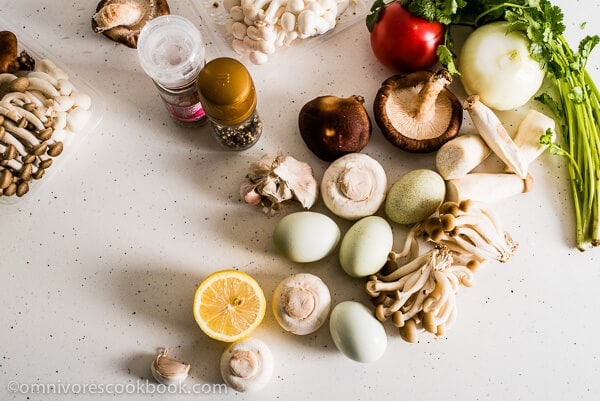 We also wanted to cook the same dish, as much as possible, given the different food available in our different locations. We chose a mushroom omelet, as it is a simple and satisfying classic.
The omelet is topped with a tomato sauce similar to the Spanish sofrito, which we habitually enjoy with tortilla española. There is something fundamentally delicious about the combination of tomato and egg, as evidenced by the Chinese tomato egg stir fry, sofrito and Spanish omelet, and the ubiquitous children's dish of scrambled eggs with ketchup, and we didn't hesitate to apply the principle here.
We prepared this dish and enjoyed it at the same time – she in the morning in Beijing and I in the evening in Austin. While there may be something inherently un-romantic about spending Valentine's Day dinner talking and toasting to a computer, I am extremely thankful that I live in a world where it is possible for us to share a moment like this.
Here you are – the 7000-Mile Omelet.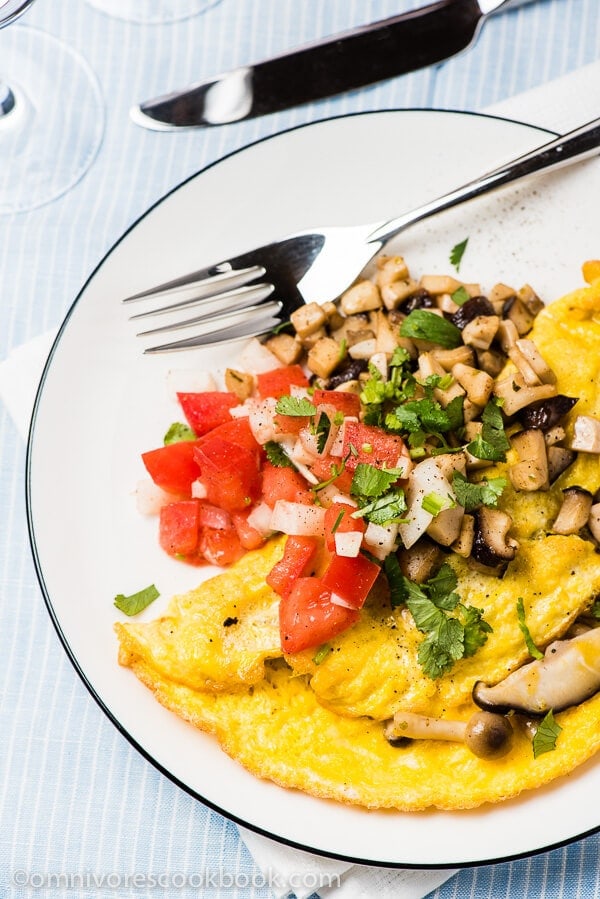 Want to Know More?
Receive our 5-Day Chinese Cooking Crash Course & Recipe Updates! Subscribe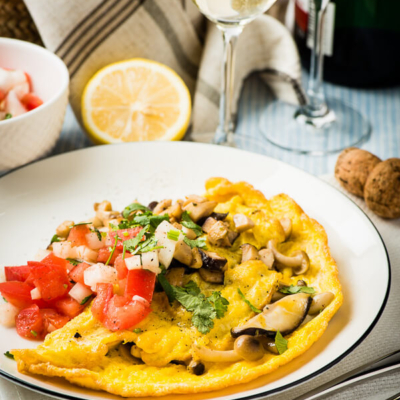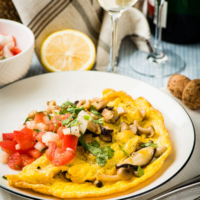 Mushroom Omelet with Tomato Sauce Recipe
Ingredients
For the omelet
2

tablespoons

olive oil

2

cloves

garlic

minced

2

cups

sliced mushrooms

I used shiitake, enoki and white mushrooms

4

eggs

salt and pepper
For the sauce
1

small tomato

cubed

1/2

small onion

cubed

salt and pepper

1

tablespoon

olive oil

1

clove

garlic

minced

1/2

teaspoon

lemon juice
For the mushroom topping
2

tablespoons

butter

2

cups

minced mushrooms

I used shiitake, eryngii and white mushrooms

1/8

teaspoon

dried marjoram powder
Instructions
To make omelet
Heat 1 tablespoon olive oil in a nonstick skillet over medium high heat until warm. Add garlic, stir a few times until fragrant. Add mushroom. Stir and cook until the liquid is evaporated. Lightly season with salt and pepper. Transfer all the mushrooms to a plate.

Combine 2 eggs and 1/4 teaspoon salt in a small bowl. Mix well.

Heat 1/2 tablespoon oil in the skillet over medium heat until warm. Pour the egg into the skillet and let it cook until the bottom is set. Add half of the mushrooms on top. Fold the omelet into a half-moon shape. Cook a bit more and transfer to a plate. (*see footnote) Cook the other omelet in the same way.
To make tomato sauce
Mix tomato and onion in a medium size bowl. Lightly season with salt and pepper.

Add olive oil and garlic into the same skillet. Heat over medium heat. Stir a few times until fragrant. Turn off heat and immediately pour everything onto the tomato.

Drizzle lemon juice and add cilantro. Mix well and set aside.
To make the mushroom topping
Heat butter in the same skillet over medium heat until melted. Add garlic and stir a few times until fragrant.

Add mushrooms. Stir and cook until the liquid is evaporated.

Lightly season with salt and pepper and sprinkle with marjoram powder. Stir to mix well.

Transfer to a small bowl.
To serve omelet
Add mushroom topping and tomato sauce onto the omelet. Serve immediately.
Notes
You can also choose to use less oil and cook scrambled eggs instead of an omelet. Turn to low heat. Transfer half of the mushrooms to a plate and leave the rest in the skillet. Pour the egg on top of the mushrooms. Stir and cook until the egg is just cooked. Transfer everything to a plate immediately.
The nutrition facts are calculated based on 1 of the 2 servings generated by this recipe.