Sharing a street-style recipe for Dou Fu Nao, a classic breakfast in Beijing. The extra soft tofu pudding is served with a brown gravy, made with pork, dried lily flowers and mushrooms, for a satisfying savory and earthy umami. Serve it with you tiao (Chinese fried donut) and you'll have a hearty Northern-style Chinese breakfast that will warm your soul.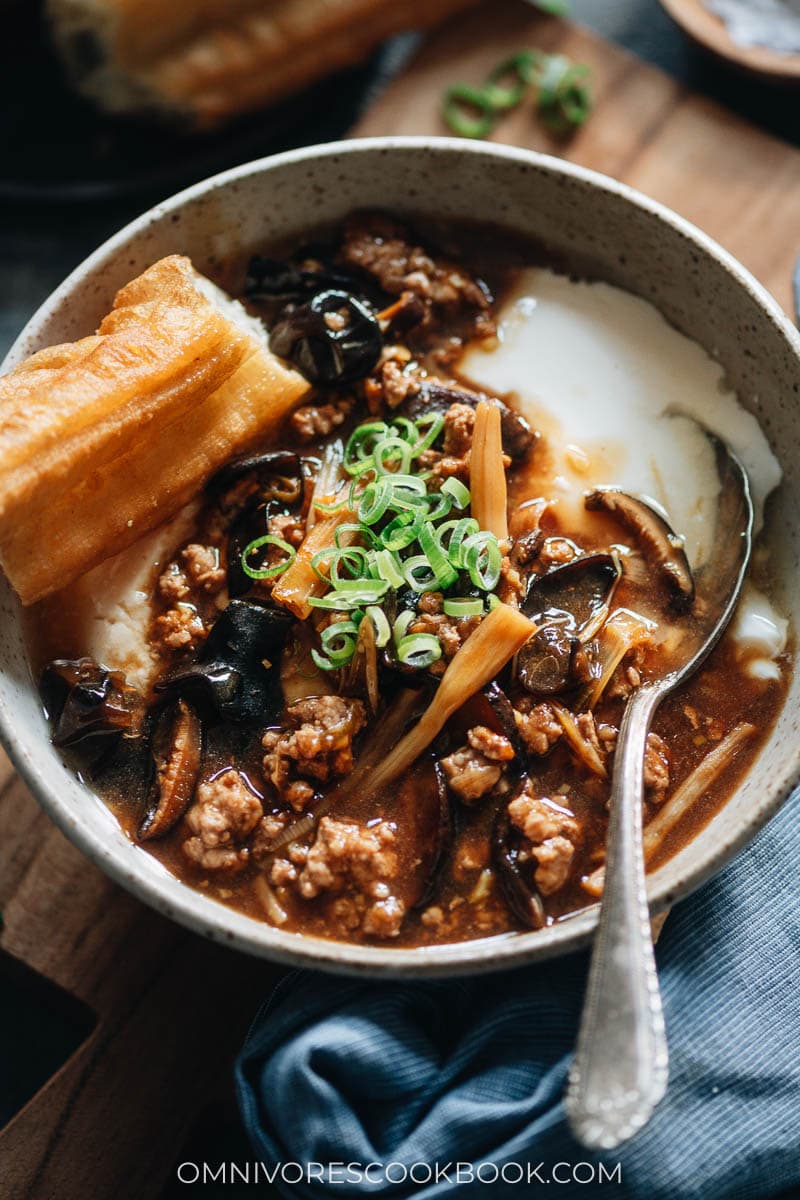 A few days ago I shared the Ultimate Guide to Making Tofu Pudding at home. In that post, I shared a sweet gingery syrup to serve with it. It's a very popular Southern Chinese way to serve tofu pudding and they call it "douhua" in the South.
Growing up in Beijing, I've only known the term Dou Fu Nao (豆腐脑), which, translated literally, means "tofu brain". It's not the prettiest name, but it accurately describes the texture of the dish – a super soft tofu curd. We serve it with a savory gravy, usually made with a bit of ground pork and dried ingredients such as lily flower buds and wood ear mushrooms. It's a breakfast dish that's usually paired with the savory donuts (You Tiao) or a fried sticky rice cake filled with sweet red bean paste (I have a pan fried version but the street-food version is deep fried and even tastier).
Dou Fu Nao is somewhere between a soup and a light stew. For breakfast, we usually have a choice between soy milk and Dou Fu Nao. Because you know, it's very important to serve some sort of soup for every meal in China so you can wash down the food.
The soft tofu curd
In my previous post, I introduced how to make the base of Dou Fu Nao. It is an extra soft curd that's made from congealed soy milk using a coagulant. Different from tofu, the soy milk is not curdled in this case, creating an extra tender and silky texture.
Do not confuse this with silken tofu. Silken tofu is very soft, but it's still made with curdled soy milk and it has a very different texture.
To make Dou Fu Nao, you will need to make the tofu pudding base fresh, ideally with freshly made soy milk. But I've found that it's possible to make tofu pudding using store-bought soy milk.
If you really don't want to make the tofu pudding from scratch, you can also use the tube tofu for Sundubu. It has a very similar texture, that's softer than silken tofu.
The gravy
This Northern-style gravy is made with a small amount of ground pork and several dried ingredients to create a super earthy and savory taste.
Dried lily flower buds (黄花)
A key ingredient for making hot and sour soup, dried lily flower buds are the unopened flowers of the daylily plant. They have a very strong and special woody, earthy aroma. Once rehydrated, they become tender and have a slight crunchy texture. In Northern China, we commonly use them in stew, soup, and stir fry to add umami and texture.
You can usually find them in Chinese grocery stores, but these days you can also find them on Amazon.
To use dried lily flower buds, you need to rehydrate them first. Then you need to remove the tough ends – because sometimes the lily flowers are harvested with a small part of stem attached to the bottom. To make them easy to eat, you should also chop them in half or into bite-size pieces.
The lily flower bud soaking water is very flavorful and I always reserve it to use in the cooking.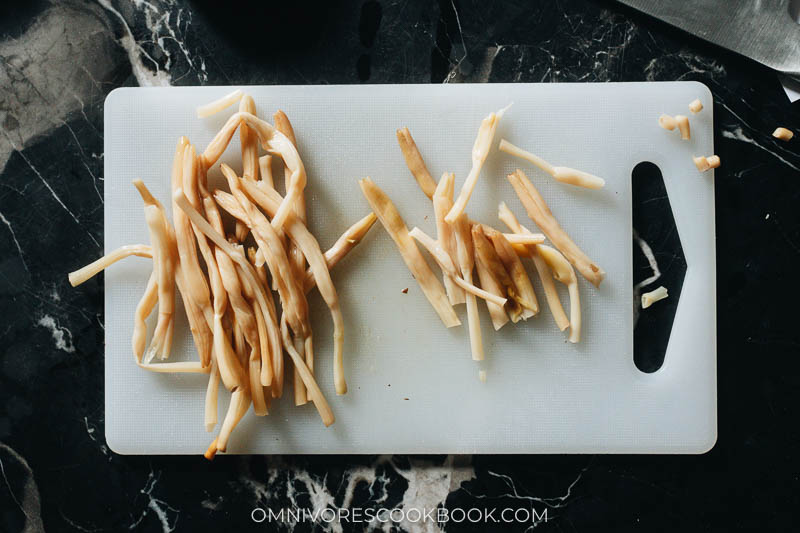 Dried shiitake mushrooms (香菇)
This is another dried ingredient to add smokiness and savory flavor to the gravy. You will need to soak the mushrooms and slice them. Sometimes the dried shiitakes might come with tough stems. In that case you should remove the stems once soaked.
The soaking water has a rich taste and you can also reserve it to make sauces. However, if you do not like a very strong shiitake mushroom taste, you can discard the soaking water as well.
You can easily find the mushrooms in Asian grocery stores or on Amazon.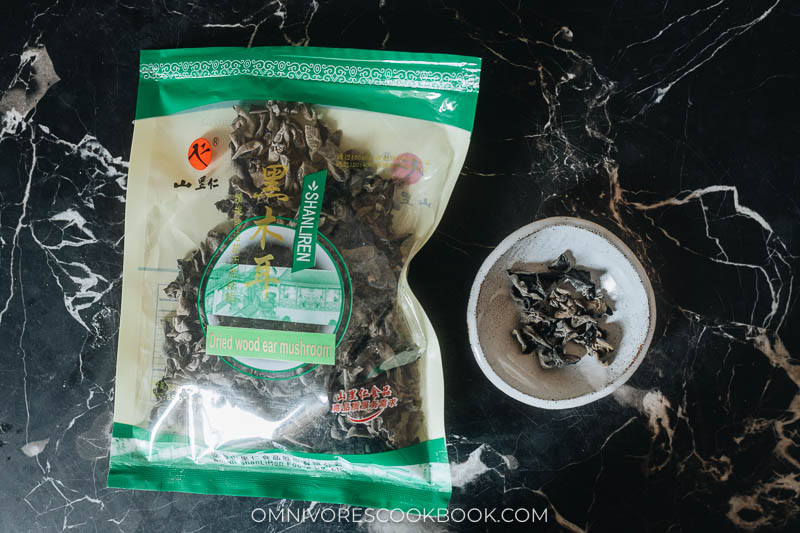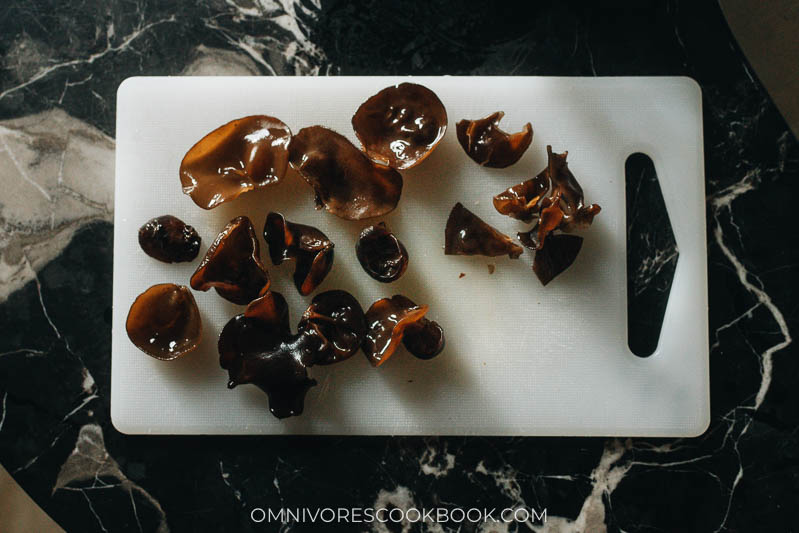 Dried wood ear mushrooms (木耳)
Dried wood ear mushroom is a type of fungus that's commonly used in Chinese cooking. It has a crunchy texture once rehydrated and has a very mild taste. It's often used to add texture to a dish because it literally tastes like whatever sauces you cook it in.
For the best result, try to find dried wood ear mushrooms that come in very small pieces. The back of the mushroom should have a greyish color. Avoid the type that looks thick and the back has a light silver color. I've found the texture of those to be not as delicate as the smaller wood ear mushrooms.
Once rehydrated, the mushrooms will expand a lot. You can chop them into bite-size pieces or slice them before cooking.
Don't use the soaking water for the wood ear mushrooms because it has very little flavor.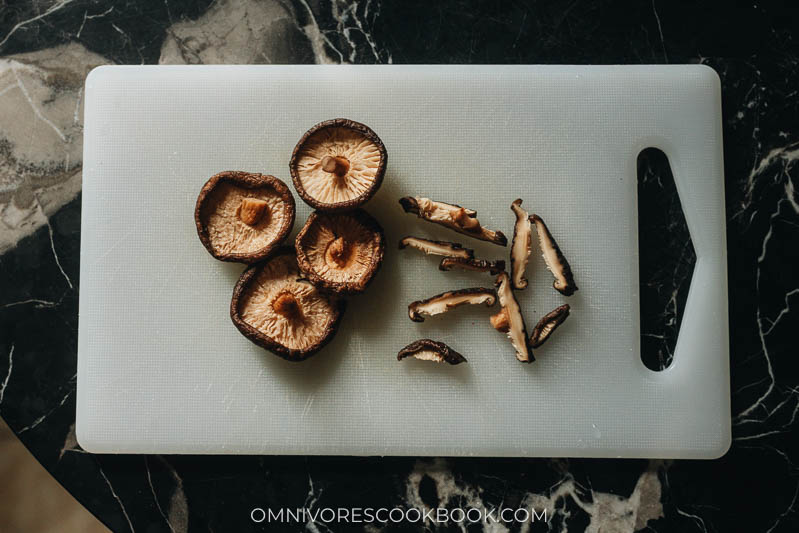 Prep & Ingredients
You should have all the ingredients ready and the dried ingredients cooked and chopped before you start cooking Dou Fu Nao. However, you don't need to measure out all the seasonings such as soy sauce and Shaoxing wine. The cooking is quite simple and I usually pour the liquid ingredients out of the bottles directly.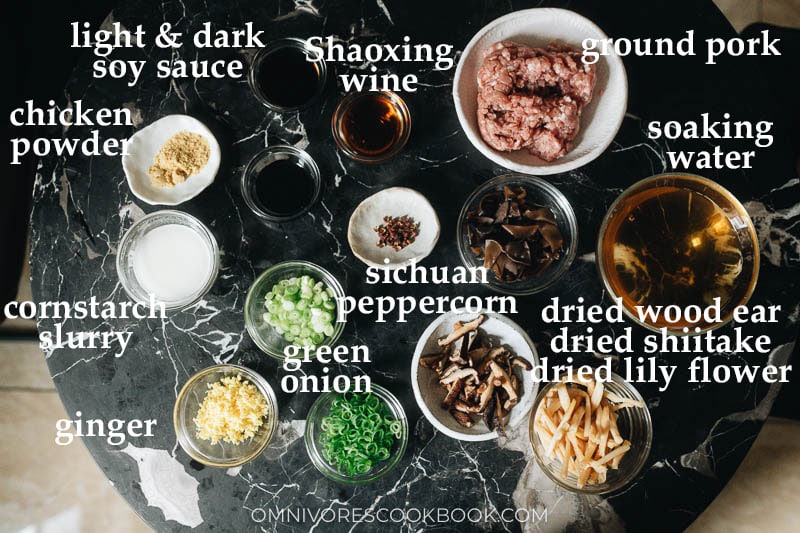 NOTE 1 – I used a bit more pork in this recipe compared to the street version in China. It makes the gravy a bit more flavorful and the dish more substantial.
NOTE 2 – I added chicken bouillon powder in this recipe because it's the traditional way of cooking it. You can skip it if you're not comfortable with the MSG in it. But you might need to add more salt to compensate for the taste.
Dou Fu Nao Cooking process
To cook Dou Fu Nao:
Pan fry the Sichuan peppercorns to infuse their aroma into the oil (Optional)
Saute the rehydrated dried ingredients to bring out their taste
Gently cook the aromatics to release their fragrance
Brown the ground pork
Add the seasonings and mix well
Add water and the soaking liquid and boil for a few minutes
Thicken the sauce with the cornstarch slurry
Ladle the gravy onto the tofu pudding and serve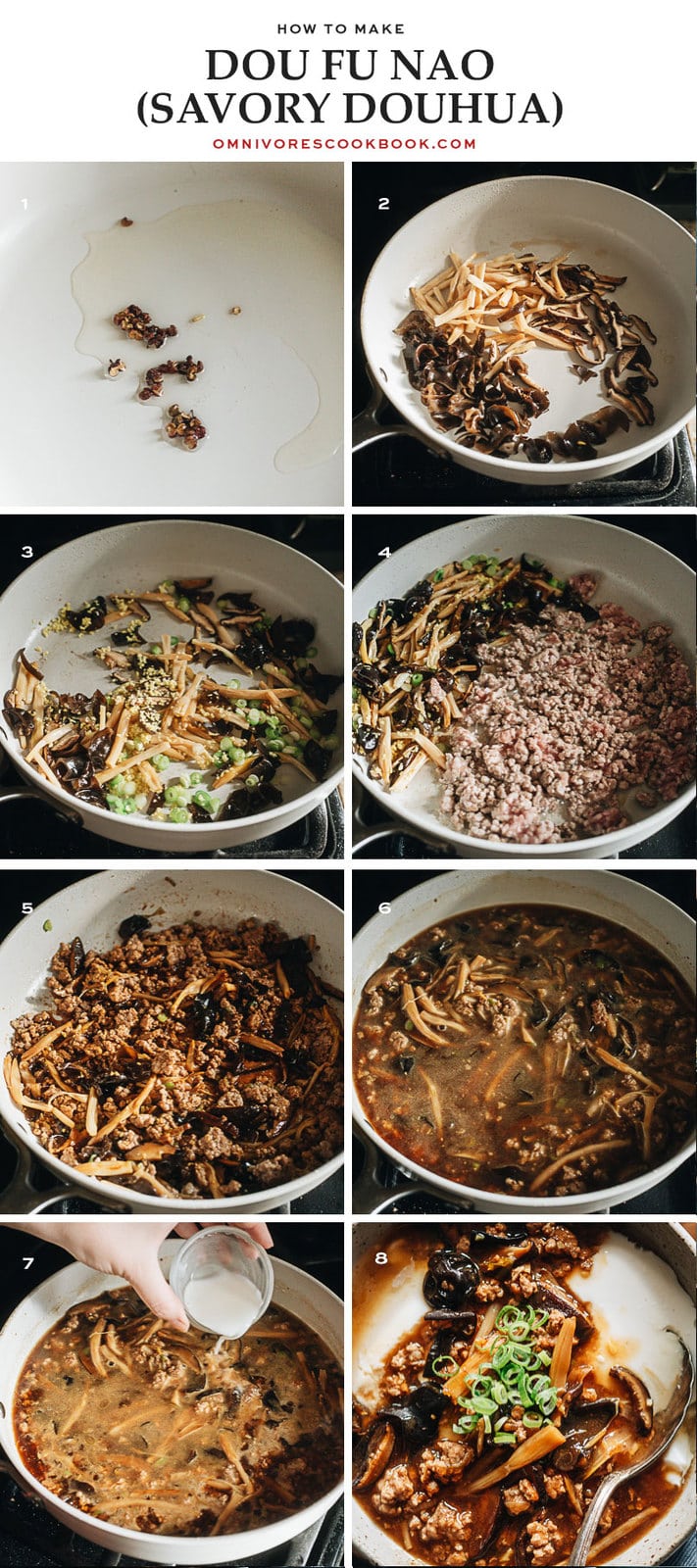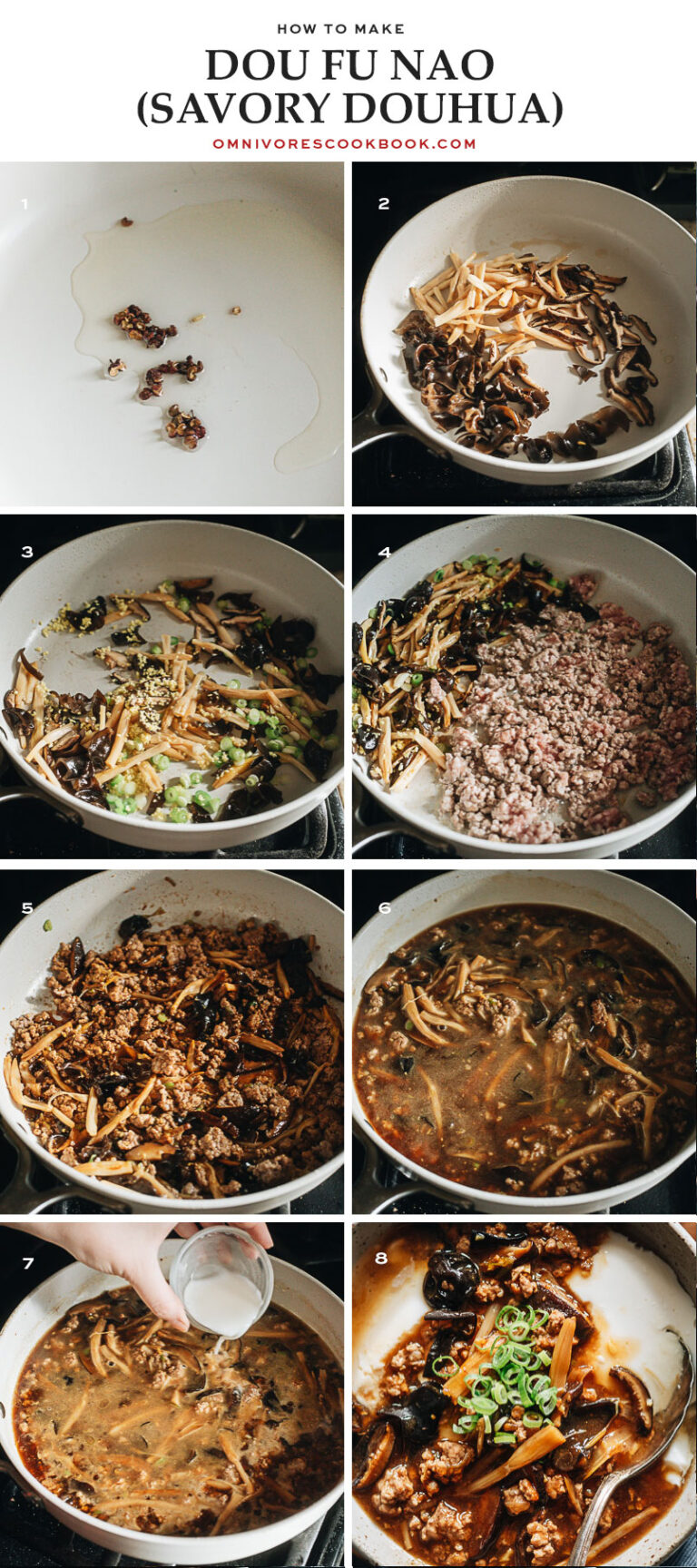 TIP: This is a gravy for tofu pudding, but you can use it as a noodle sauce as well. I would serve it over a thin type of wheat noodles (such as Somen noodles) and the dish will be super delicious.
Afterthoughts
Dou Fu Nao paired with You Tiao is truly the ultimate comfort breakfast and it brings back a flood of childhood memories. Since it's a street food, my mom didn't allow me to eat it often (she was afraid of the poor quality ingredients that street vendors use and their questionable sanitation). I guess it actually made it even more desirable because it was an occasional treat.
I admit, Dou Fu Nao is pretty complicated to make if you're making the tofu pudding from scratch. It's definitely not something I recommend for everyday cooking. But if you're interested in Northern Chinese food and enjoy a savory breakfast, give this gravy a try. Simply use it as a noodle sauce if you cannot make or buy tofu pudding easily.
Making Dou Fu Nao lets me appreciate Chinese food even more, because of the steps involved for such a simple down-to-earth breakfast item that is bursting with flavor.
After moving to the US, I only occasionally make it and eat it as a treat, just like I did when growing up.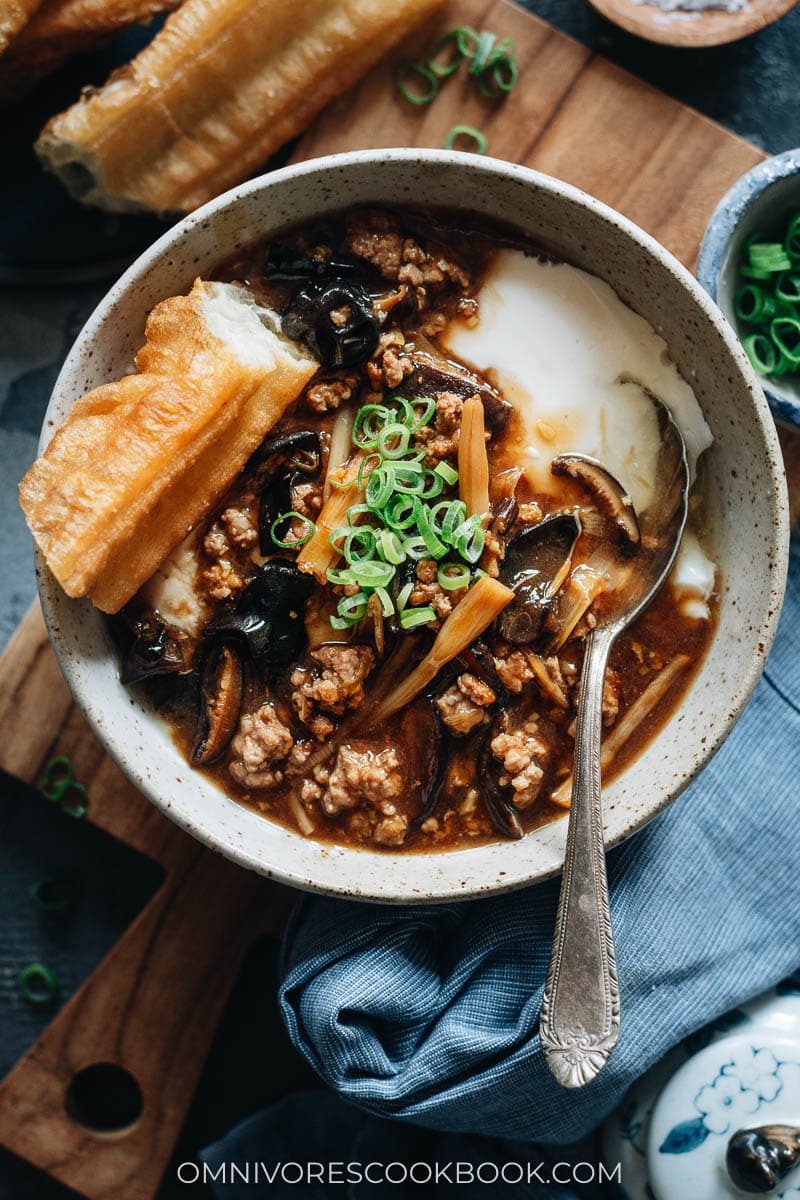 More Chinese breakfast recipes
Want to learn more about Chinese Cooking? Sign up my newsletter to receive the 5-Day Chinese Cooking Crash Course and recipe update!
Want to Know More?
Receive our 5-Day Chinese Cooking Crash Course & Recipe Updates! Subscribe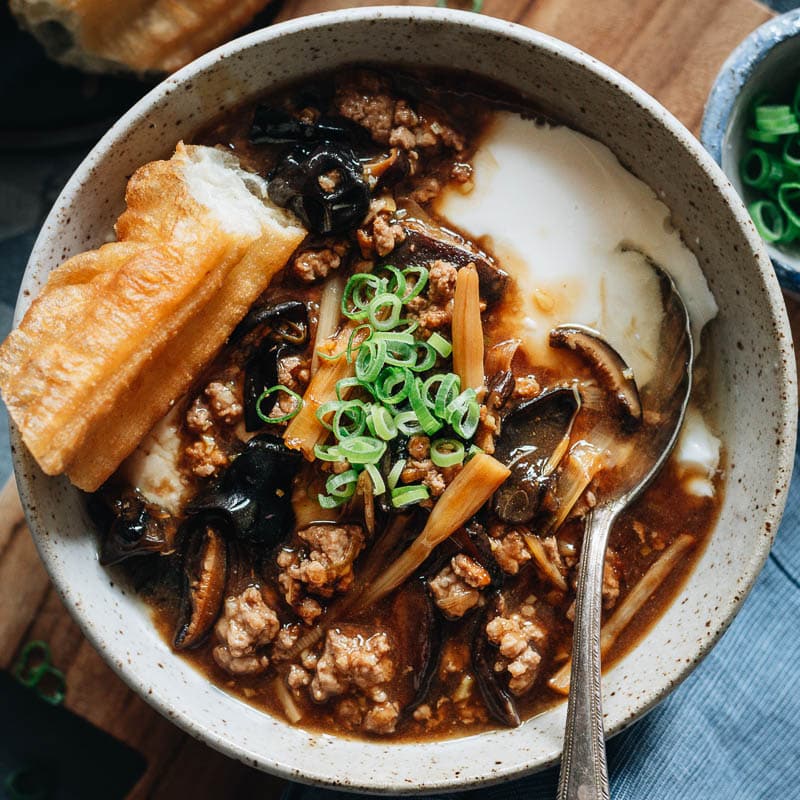 Dou Fu Nao (豆腐脑, Beijing-Style Tofu Pudding with Gravy)
Sharing a street-style recipe for dou fu nao, a classic breakfast in Beijing. The extra soft tofu pudding is served with a brown gravy, made with pork, dried lily flowers and mushrooms, for a satisfying savory and earthy umami. Serve it with you tiao (Chinese fried donut) and you'll have a hearty Northern-style Chinese breakfast that will warm your soul. 2
Instructions
Prep
Gently rinse the dried lily flower buds, wood ear mushrooms, and shiitake mushrooms with tap water and transfer them into three bowls. Add 1/2 cup hot water to each bowl to cover. Let soak until tender throughout, 30 minutes or so. Once done, squeeze out the marinating liquid back into the bowls and gently rinse them with tap water again to remove any dust on the surface. Slice the shitake mushrooms. Cut the lily flowers in half. And chop the wood ear mushrooms into small pieces. Reserve the marinating liquid from the shiitake mushrooms and lily flowers for the gravy.
Prepare gravy
Heat 1 tablespoon oil in a large skillet over medium heat. Add the Sichuan peppercorns. Cook, stirring occasionally, until you can smell a strong fragrance and the peppercorns turn darker (but not black). Scoop out the Sichuan peppercorns and discard them (*Footnote 1).

Add the rehydrated lily flowers, shiitake mushrooms, and wood ear mushrooms. Cook, stirring frequently, for 1 minute or so. Be careful, the rehydrated ingredients might cause oil splatter.

Add the white part of the green onion. Cook and stir for 30 seconds to release the fragrance.

Move everything to one side of the pan and add the remaining 1/2 tablespoon oil to the other side. Add the ground pork on top of the oil, then use a spatula to spread it out. Let the pork cook for a minute without moving to brown the bottom, then cut it into small pieces.

When the pork is cooked through, pour in the Shaoxing wine and scrape the pan to release any brown bits.

Pour in the light soy sauce and dark soy sauce. Stir to coat well.

Add the water and the reserved 1 cup of soaking water. And the chicken bouillon powder. Bring to a boil, stirring occasionally, and cook for 2 minutes.

Meanwhile, dissolve the cornstarch in 1 tablespoon of water in a small bowl. Pour the cornstarch slurry into the pan. Stir to mix well and let cook until the sauce thickens. Taste the gravy and adjust the seasoning by adding a pinch of salt, if needed.
Serve
To serve, scoop the tofu pudding using a large spoon (the larger and flatter, the better) into two serving bowls. If too much liquid is pooling in the bowl, tilt the bowl carefully to drain off the excess liquid (it's OK to have some liquid in the bowl). Ladle the gravy on top of the tofu pudding. Serve immediately.
Notes
You can reserve the Sichuan peppercorns for other dishes as well. To use them, grind them into flakes and store them in an airtight container in the fridge. You can use them on noodles, vegetables, and salad as topping to add flavor.
The nutritional facts below are only an estimate because the nutritional information for some of the specialty ingredients was hard to find.
Nutrition
Serving:
1
serving
,
Calories:
291
kcal
,
Carbohydrates:
8.2
g
,
Protein:
31.3
g
,
Fat:
14.3
g
,
Saturated Fat:
3.1
g
,
Cholesterol:
83
mg
,
Sodium:
987
mg
,
Potassium:
594
mg
,
Fiber:
1
g
,
Sugar:
0.8
g
,
Calcium:
28
mg
,
Iron:
2
mg
If you give this recipe a try, let us know! Leave a comment, rate it (once you've tried it), and take a picture and tag it @omnivorescookbook on Instagram! I'd love to see what you come up with.
More Northern Chinese recipes