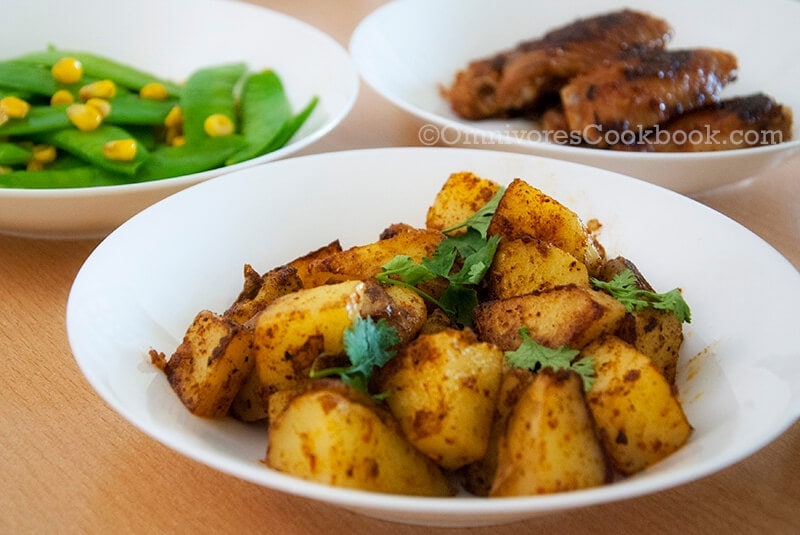 A perfect side dish for Sunday brunch. I cooked this sauteed potato in Chinese style by adding cumin, pepper and five-spice powder. Boil the potato first and do a quick saute will let the finished potato taste very soft inside and crispy outside. Serve it alone as a snack or  serve with fried egg, bacon, sausage and green salad for breakfast.
Sauteed Potato
Author:
Omnivore's Cookbook
Ingredients
1 big potato (or 2 small potatoes), halved
1 1/4 teaspoon salt
1 teaspoon cayenne pepper
1 teaspoon cumin powder
1/2 teaspoon five-spice powder
1/2 teaspoon chicken stock
1 tablespoon butter
1 table spoon chopped cilantro
Instructions
Add potato in a medium pot with a teaspoon of salt. Add water to cover potato and boil about 20 minutes, till you can poke through potato with a chopstick.
Drain potato and let it chill a bit. Cut into 1.5 cm squares.
While boiling potato, mix cayenne pepper, cumin powder, five-spice powder, chicken stock and the rest of salt in a small bowl.
Add butter in a non-sticky skillet and heat with medium heat. When butter melted and stop bubbling, add potatoes and spice mixture, stir fry till potatoes are evenly seasoned and browned all sides.
Garnish with cilantro and serve immediately.