Chinese sausage rice made easy using the Instant Pot. No rice soaking required, minimal active cooking time, and perfect results. The rich and savory sticky rice is seasoned with soy sauce and mixed with sweet Chinese sausage and crunchy water chestnuts. It's a perfect one-pot weekday dinner!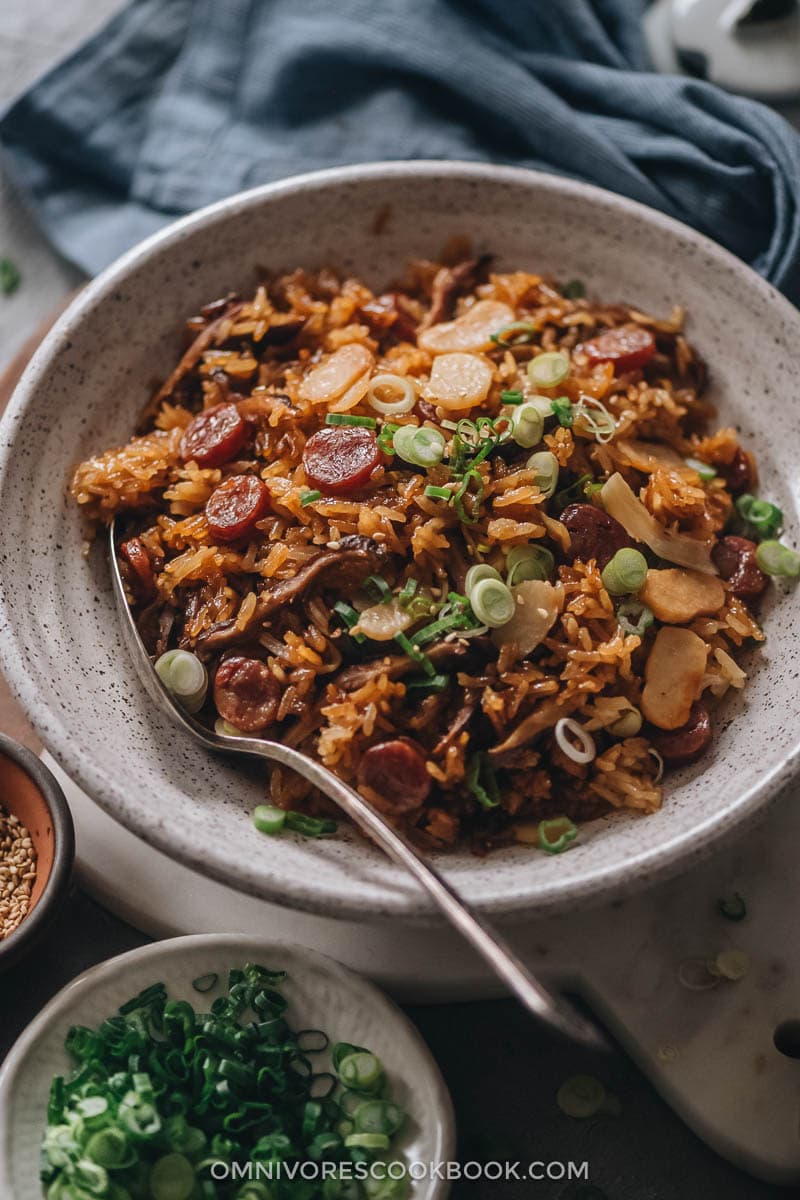 Since I published the Sticky Rice Stuffing, I've received so much positive feedback and lots of questions on how to cook it in an Instant Pot. After testing it out, I was surprised to find out that the Instant Pot version is so easy and the result turned out just as great.
Why this recipe?
No rice soaking required. Glutinous rice usually requires overnight soaking to cook it on the stovetop. You can skip that step when using this recipe.
Minimal active cooking time. All you need to do is to brown the aromatics and the sausage in the Instant Pot. It takes about 10 minutes.
Shortened cooking time. It takes about 25 minutes to cook this dish on the stovetop. The Instant Pot version only takes 12 minutes.
Consistent (perfect) result. The rice and sausage will be cooked until soft and buttery and the chestnuts until crunchy.
The Instant Pot Chinese sausage rice is so simple to make that I would totally cook it on a busy weeknight. If you have an Instant Pot, I highly recommend using this version to make your cooking easier.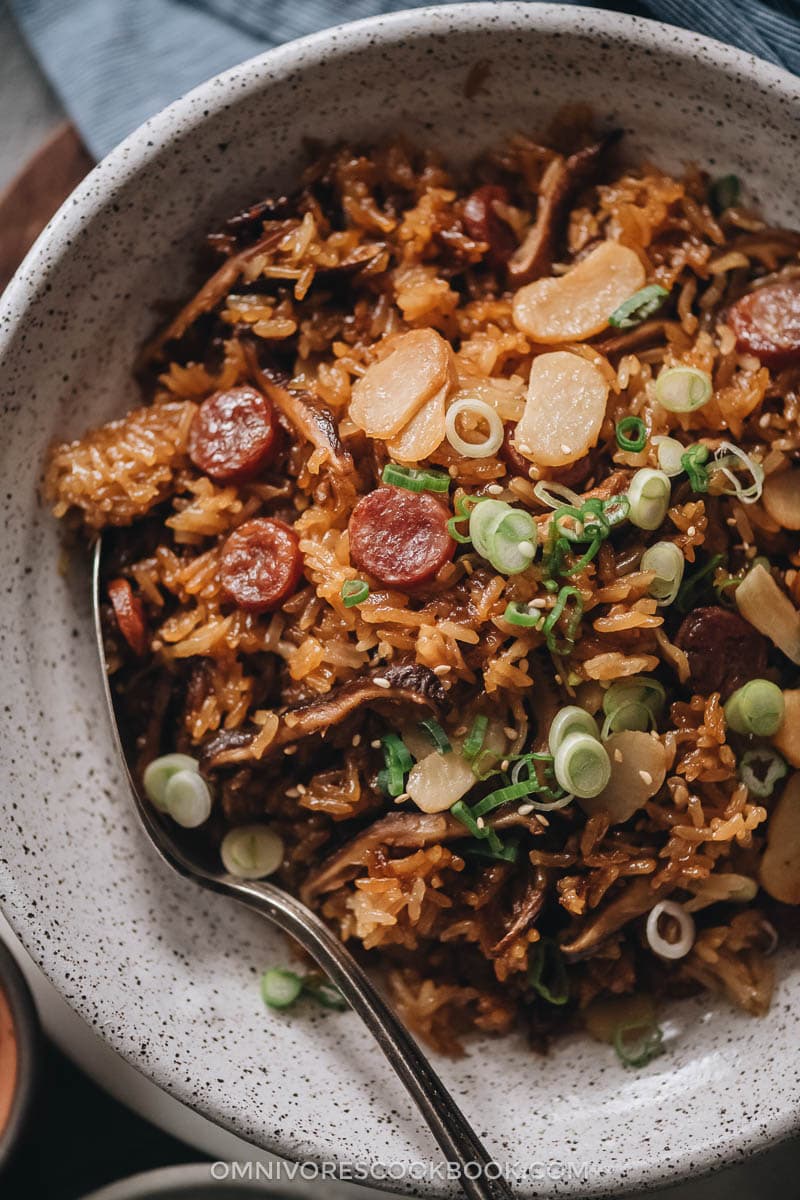 Chinese Sausage Rice Cooking notes
1. What is Chinese sausage?
Chinese sausage is made from fatty pork. It is normally smoked, sweetened, and seasoned with rose water, rice wine, and soy sauce. Depending on the brand, the sausage itself can be quite tough. But once cooked with the rice, it becomes melt-in-your-mouth tender. The fat and sweetness melt into the gooey rice and taste so good.
These days you can easily find Chinese sausages in an Asian market. I've even seen Costco carry them a couple of times. If you can't find them in your local stores, you can also purchase them from Amazon.
2. Dried Shiitake mushrooms
I highly recommend using dried shiitake mushrooms because they have an intense smoky flavor that fresh ones do not have. However, if you prefer using fresh shiitake mushrooms, you can replace the dried mushrooms with 8 to 10 medium-sized fresh ones.
You can find dried shiitake mushrooms in most Asian markets and even in regular grocery stores. You can also purchase them on Amazon.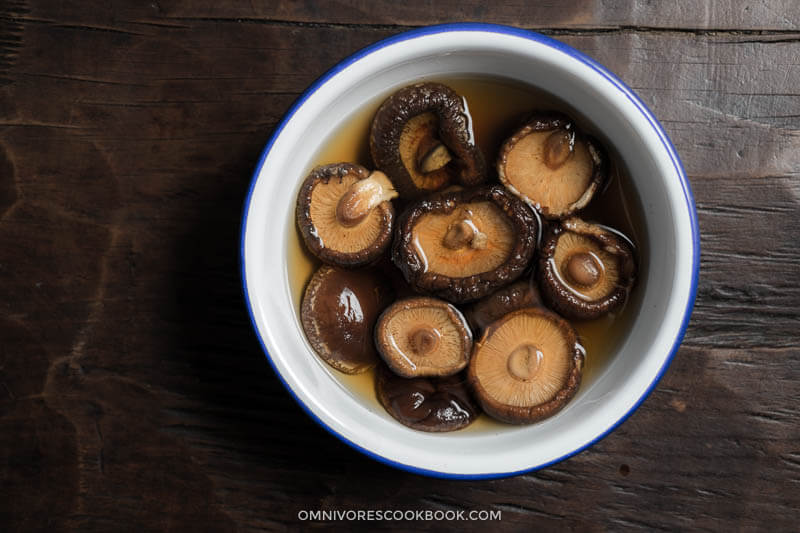 3. Workflow
Making Chinese sausage rice in an Instant Pot is super easy.
Prep
Soak the dried shiitake mushrooms before preparing the other ingredients.
Slice all the ingredients into even-sized pieces, to ensure a pleasant texture.
Cook
Saute the shallots and shiitake mushrooms in butter. Then saute the sausage to brown the surface.
Add the sticky rice and mix it up, so it is coated evenly with butter.
Add the water chestnuts and the rest of the seasonings.
Set on high pressure and cook for 12 minutes. Let it rest for 5 minutes, then use the fast release method to let out the pressure.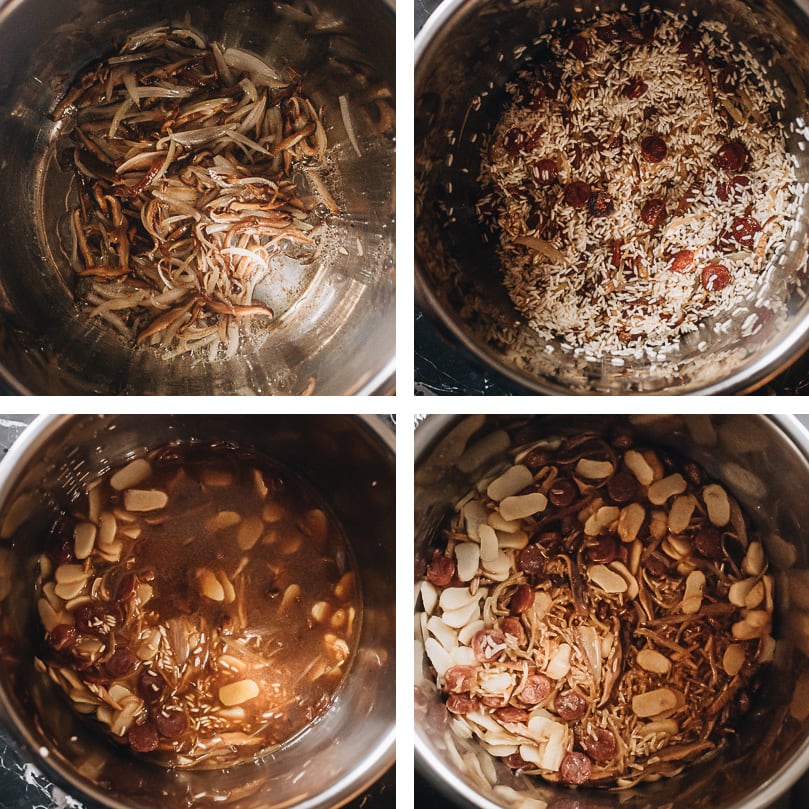 4. Clean up
When I cook this dish on the stovetop, the bottom of the rice gets burned (due to the soy sauce). However, I found that the Instant Pot version doesn't have this issue. The bottom of the rice will still be very crispy, but you can easily scrape it off using a wooden spatula. If your rice doesn't come off easily, simply soak the pot in hot water before scrubbing.
Afterthoughts
I love receiving requests and questions from you, the reader, because it makes me think outside the box and improve my recipes. Such as this Instant Pot Chinese sausage rice. I would not have imagined I could cook glutinous rice in an Instant Pot without soaking. But from now on, this will be my go-to method.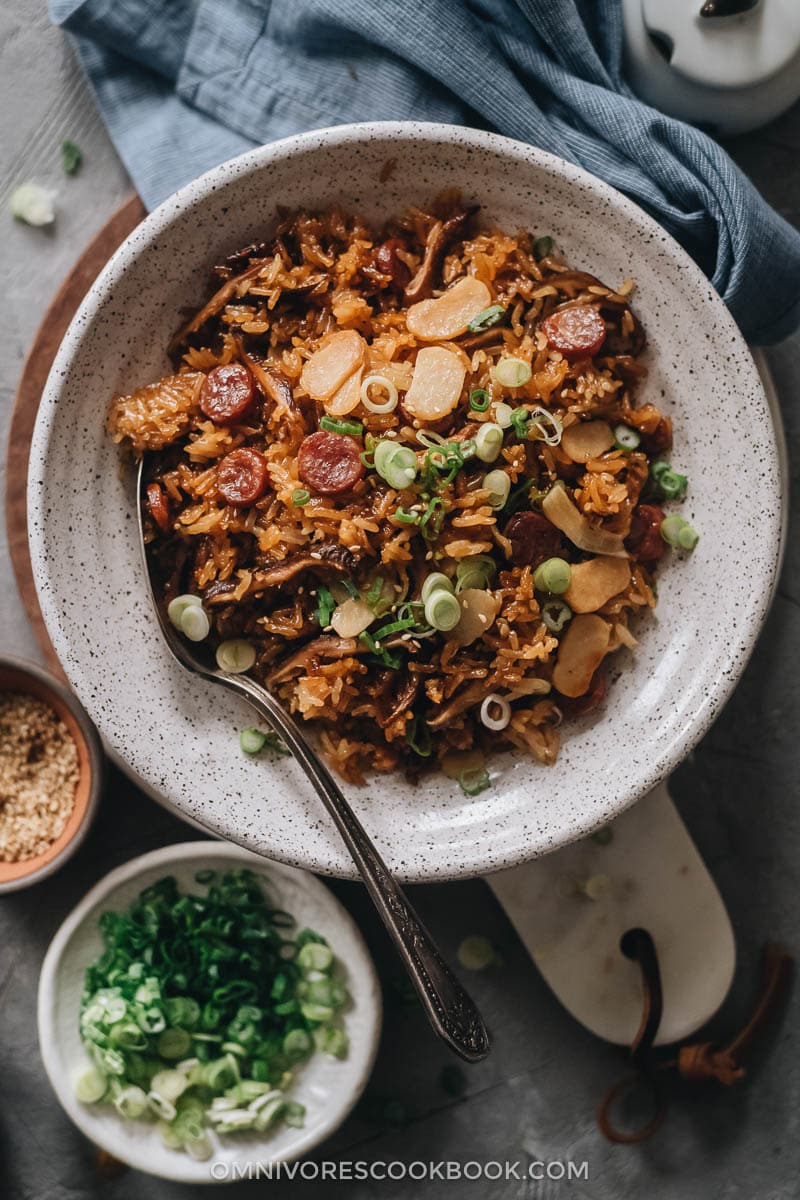 Want to Know More?
Receive our 5-Day Chinese Cooking Crash Course & Recipe Updates! Subscribe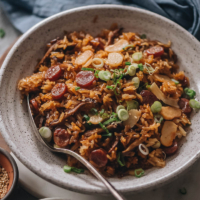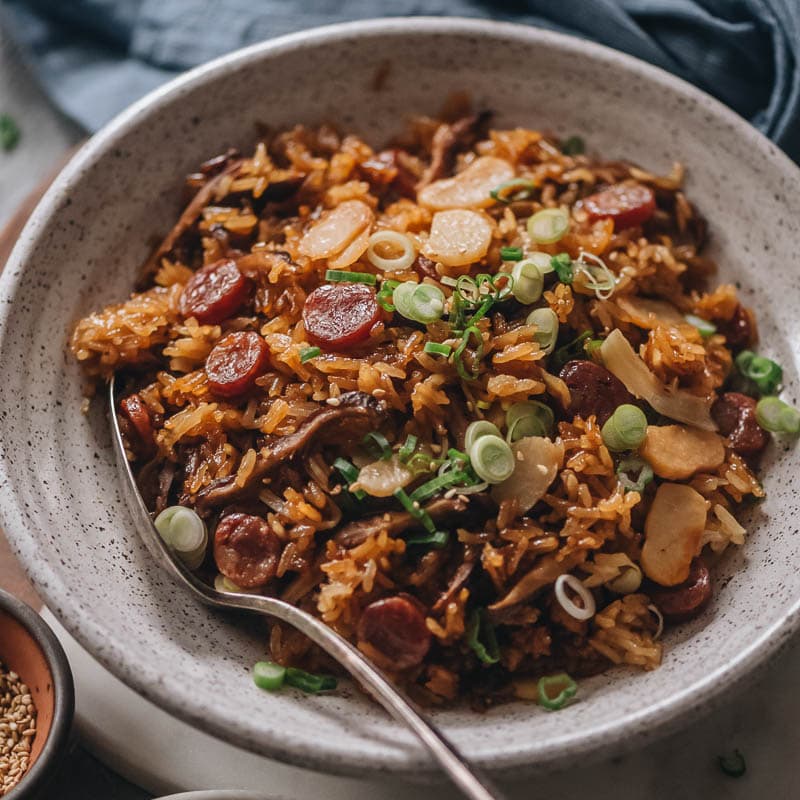 Instant Pot Chinese Sausage Rice
Chinese sausage rice made easy using the Instant Pot. No rice soaking required, minimal active cooking time, and perfect results. The rich and savory sticky rice is seasoned with soy sauce and mixed with sweet Chinese sausage and crunchy water chestnuts. It's a perfect one-pot weekday dinner!
Ingredients
2 1/2

cups

glutinous rice

(long grain or short grain sticky rice) (*Footnote 1)

4

tablespoons

unsalted butter

2

large

shallots

, sliced (or 1 onion)

8

(about 0.5 oz / 15 g )

dried shiitake mushrooms

(medium-sized)

5

links (7 oz / 200 g)

Chinese sausage

, sliced

1/4

cup

Shaoxing wine

(or dry sherry)

2

cups

chicken broth

(*Footnote 2)

1

cup

whole water chestnuts

, sliced

2

tablespoons

soy sauce

2

teaspoons

dark soy sauce

(or soy sauce) (*Footnote 3)

1/2

teaspoon

salt

2

green onions

, thinly sliced, for garnish
Instructions
Prep
Add the rice and enough water to cover the rice into a large bowl. Use your fingers to gently rinse the rice in a swirling motion, then drain the water.

Heat 1 cup of water in the microwave until hot. Add the dried shiitake mushrooms. Soak until the mushrooms turn soft, 15 to 20 minutes. Once done, squeeze the liquid out of the mushrooms into the soaking water. Slice the mushrooms thinly. Reserve 1/2 cup of the soaking water for cooking.

Cut the rest of the ingredients while rehydrating the mushrooms.
Instant Pot
Turn on the "Saute" function on your Instant Pot and wait until it's heated. Add the butter and stir a few times until it melts.

Add the shallot and shiitake mushrooms. Stir a few times to coat well with butter. Then spread the ingredients into a single layer. Let cook, stirring occasionally, until the edges of the onions turn golden, 6 minutes or so.

Add the Chinese sausage. Cook and stir until the edges turn golden and crispy, 2 minutes.

Pour in the Shaoxing wine. Use your spatula to release any brown bits stuck to the bottom of the pan. Cook until the wine has evaporated completely.

Turn off "Saute". Add the rice. Stir to mix the rice evenly with the other ingredients. Add the chicken stock, the 1/2 cup mushroom soaking liquid, water chestnuts, soy sauce, dark soy sauce, and salt. Stir to mix well.

Cover the Instant Pot and seal the valve. Set on "Rice" for 12 minutes.

Once the Instant Pot is done cooking, wait for 5 minutes, then switch to fast release by using a long spatula or other utensil to rotate the valve to "Venting" (or use the release button on your Instant Pot lid). Stay away from the Instant Pot to avoid being burned by the hot steam coming out of the pot when using fast release.

Fluff the rice and garnish with sliced green onions.

Serve hot as a main or side dish.

Store the leftovers in a sealed container in the fridge for up to 3 days or in the freezer for 1 month. Reheat in the microwave before serving.
Notes
I used the standard US measuring cup (8 oz. / 240 ml), not the rice cup that comes with your rice cooker.
If you prefer slightly chewy rice, reduce the chicken stock to 1 1/2 cup.
You can use soy sauce to replace dark soy sauce, but your rice will have a lighter color.
Nutrition
Serving:
1
serving
,
Calories:
365
kcal
,
Carbohydrates:
59.4
g
,
Protein:
10.8
g
,
Fat:
8.1
g
,
Saturated Fat:
3
g
,
Cholesterol:
21
mg
,
Sodium:
767
mg
,
Potassium:
336
mg
,
Fiber:
1.6
g
,
Sugar:
1.8
g
,
Calcium:
31
mg
,
Iron:
3
mg
More Instant Pot recipes
Lilja Walter is a part of the Omnivore's Cookbook team and worked closely with Maggie to develop and test this recipe.