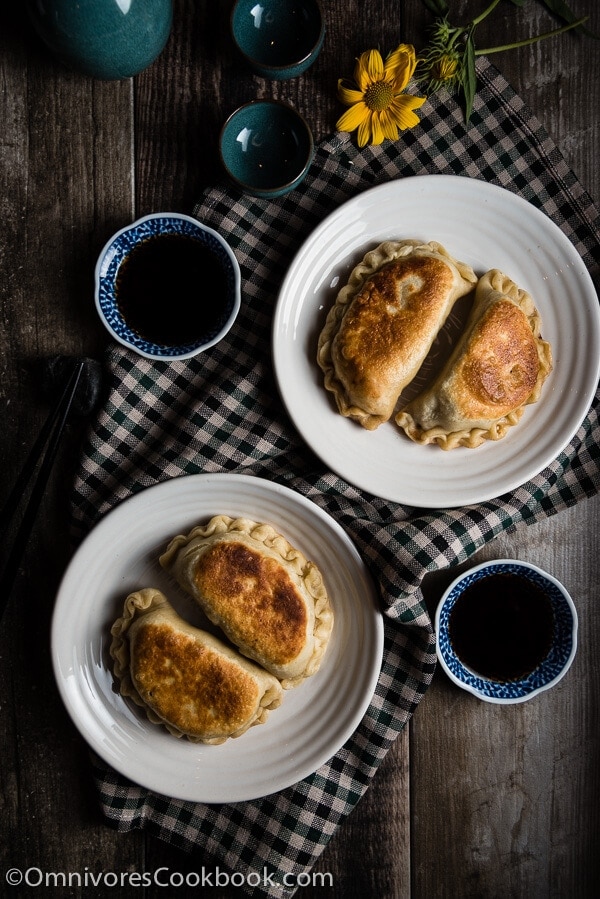 The Chinese meat pie is a classic northern pastry. It has a moist savory filling and a crispy crust. It's a large version of the potsticker and tastes even better!
The Chinese meat pie (馅饼, Xian Bing) is a very popular and tasty comfort food in the northern part of China. The idea is similar to that of the potsticker, but with a much bigger size. It has a crispy crust and a juicy filling. The cooking method is similar to that used for potstickers, too – using a soft piece of dough to wrap raw filling and grilling it in a frying pan.
While Xian Bing is a cheap street food, you can easily find it in restaurants, too. It's typically listed with the staple foods, which include dumplings and rice. You can also find them at most supermarkets and vegetable markets, packed in plastic bags of half-a-dozen at a really cheap price.
The crucial part of making a tasty meat pie is the dough. Unlike potstickers and dumplings, it uses a layered oily dough to create a super crispy surface.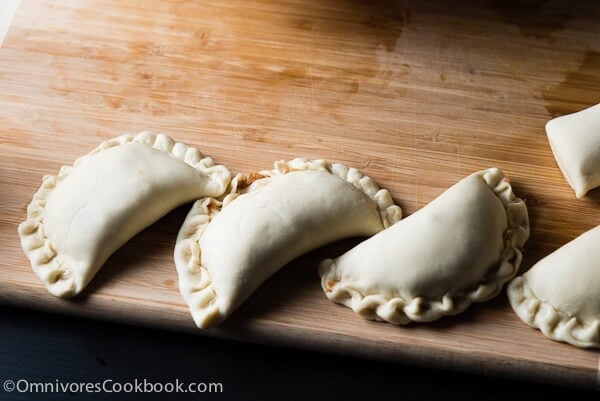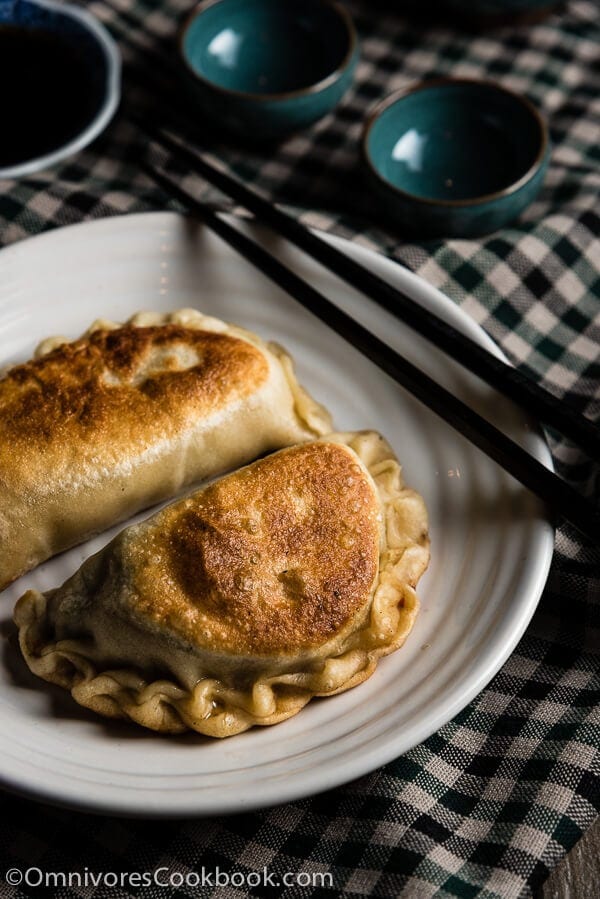 I was quite surprised that although lots of foreign friends in Beijing love dumplings and potstickers, they rarely eat Xian Bing. To a Chinese northerner, Xian Bing is as popular as dumplings, and much more popular than potstickers. I like Xian Bing most of all, because it has a layered crispy surface, like pastry dough, with a meaty filling that is more substantial than in potstickers.
The recipe might look a bit daunting, but trust me, it is actually very easy and straightforward once you try it out. I personally like to serve meat pies instead of potsticker. They are larger in size, which means you will roll less dough and wrap fewer times than you would making potstickers.
There are several ways to fold a meat pie. The recipe below uses the simplest, no-fail way, which will result in a pie with a thin, crispy crust and lots of filling. The wrapping process is like making a quesadilla, but you take it one step further and press the edges of the dough together to seal the pie.
There are many choices of filling too, from all-meat to all-vegetarian. Today I will introduce my favorite, one with ground beef and mixed vegetables. If you like Chinese dumplings or potstickers, I recommend you try making Xian Bing once. You will definitely love it!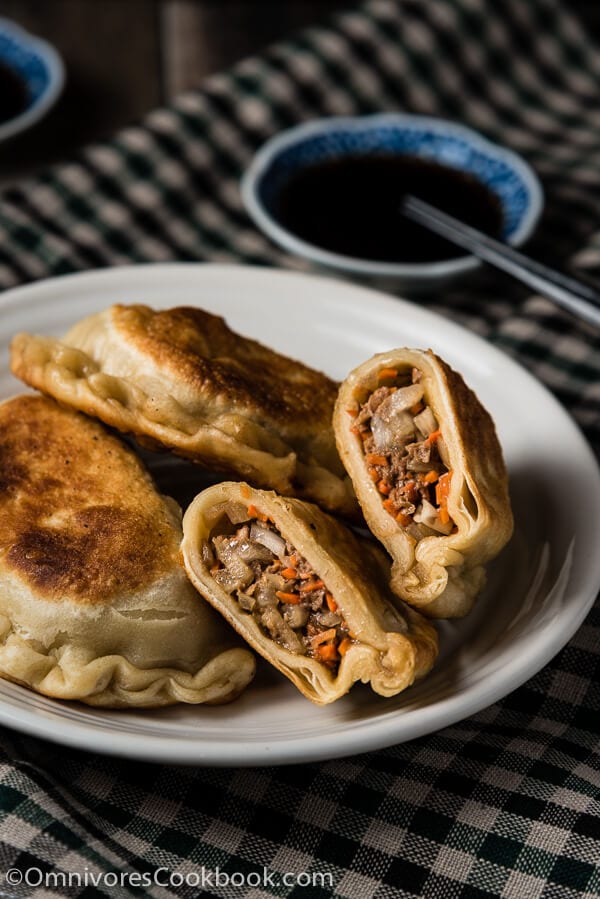 Do you like my recipes? Sign up for Omnivore's Cookbook's weekly newsletter to get the latest updates delivered to your inbox and a free e-cookbook! And stay connected via Facebook, Instagram, Pinterest and Google+. Thanks for reading and happy cooking!
Want to Know More?
Receive our 5-Day Chinese Cooking Crash Course & Recipe Updates! Subscribe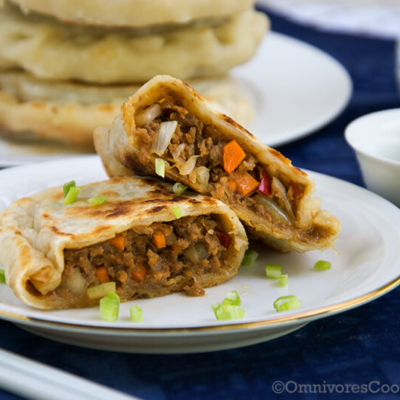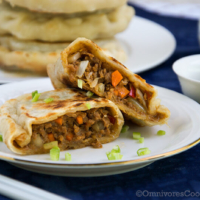 Chinese Beef Meat Pie
The Chinese meat pie is a classic northern pastry. It has a moist savory filling and a crispy crust. It's a large version of the potsticker and tastes even better!
Ingredients
Dough
500

grams (17 ounces)

all-purpose flour plus extra to coat hands

see how to convert to cups

1

cup

water

1

tablespoon

vegetable oil plus extra for cooking
Filling
350

grams (12 ounces)

ground raw beef

(lean fat ratio 8:2)

1

tablespoon

ginger

, minced

1

tablespoon

Shaoxing wine

(or Japanese sake)

1

tablespoon

light soy sauce

2

teaspoons

dark soy sauce

1/4

teaspoon

freshly ground Sichuan peppercorn

(or black pepper)

1

(400 grams / 14 oz.)

onion

, finely chopped

1

(120 grams / 4 oz.)

carrot

, minced

1

teaspoon

sugar

1

and 1/2 teaspoon

salt

1

tablespoon

sesame oil
Instructions
To make the dough
(Option 1) Using a mixer: Add flour and turn on at low speed. Gradually add water. Let mix until the surface of the dough becomes smooth, about 8 minutes.

(Option 2) Kneading the dough by hand: Add flour to a large bowl. Gradually add water and whisk flour with a spatula until water is fully blended. Dust both hands with dry flour and knead the dough. If there is dry flour in the bowl that is difficult to blend into the dough, add a bit more water to the dry flour, 1 tablespoon at a time. Knead until there is no dry flour left. The dough should feel springy and you should be able to easily pick it up without it sticking to the bottom of the bowl. Dust a working surface with dry flour and transfer the dough onto it. Knead until the surface of the dough turns smooth.

Wrap and seal the dough with plastic wrap. Let for 30 minutes up to 3 hours.
To make the filling
Prepare the filling while resting the dough. Combine ground beef, minced ginger, Shaoxing wine, light soy sauce, dark soy sauce, and ground Sichuan peppercorn (or black pepper) in a big bowl. Mix well until the liquid ingredients are fully absorbed.

Prepare and cut vegetables, but do not add them to the ground beef yet.

Right before assembling the pies, add the onion, carrot, salt and sugar to the beef filling. Mix well. Add sesame oil and mix again. (*footnote 1)
To assemble the pies
Add oil to a small bowl and prepare a small brush. Dust both hands and a large cutting board with dry flour. Transfer the dough to the cutting board and knead for a few times. The dough should be a bit softer, springy, and smooth.

Divide the dough into two equal pieces and put one piece back in the bowl and cover it with plastic wrap. Roll the other half into a ball. Press it into a flat circle. Use a rolling pin to roll it into a thin round disc, about 4 millimeters (1/8 inch) thick.

Brush a thin layer of oil on top. Sprinkle a pinch of salt over it and brush it again until evenly spread. Roll the round sheet into a long stick. Cut the stick into 6 equal pieces.

Work on the meat pies one at a time. Cover the rest of the dough with plastic wrap.

Pinch the two ends of each piece to seal the oil inside. Press the dough (the sealed ends are on the left and right) and gently roll it into a thin round disc. This step is help to create a layered crust.

Scoop 2 to 3 tablespoons of beef filling and place it on one side of the dough pancake, in a half-moon shape, as if making a quesadilla.

Fold the empty half over and press the edges together by hand. Turn the edge upward and press it again to further seal the pie.

Set pie aside and work on the rest of the dough in the same manner.

Cover the meat pies with plastic wrap while working on the rest of the pies, to prevent the dough from drying out.
To cook the pies
Heat a large nonstick skillet with 1 tablespoon oil over medium heat until warm. Transfer meat pies to the skillet without overlapping. Brush the top side with oil. Cover skillet and cook over low heat until the bottom side turns golden brown, 3 to 4 minutes. Flip with a spatula and cook the other side. Cover and cook until the bottom side turns golden brown, 3 minute. Transfer the meat pies to a plate. Cook the remainder of the meat pies the same way.

Serve warm with

Chinese black vinegar

. If the meat pie is not salty enough, blend 1 teaspoon light soy sauce with 1 tablespoon black vinegar as a dipping sauce.
To store the meat pie
Place meat pie in an airtight container. Store in the fridge up to 3 days or in the freezer for 1 month.

To reheat the meat pie. Heat oil in a skillet until warm. Add meat pies. When the skillet is hot, add 2 to 3 tablespoons water and cover immediately. Flip once during the cooking. Cook until both sides are crispy and the inside is hot.
Notes
Do not mix the filling too soon before the dough is ready. It will make the filling watery later.
Nutrition
Serving:
138
g
,
Calories:
253
kcal
,
Carbohydrates:
35.4
g
,
Protein:
10.3
g
,
Fat:
7.7
g
,
Saturated Fat:
2.3
g
,
Trans Fat:
0.1
g
,
Cholesterol:
15
mg
,
Sodium:
441
mg
,
Potassium:
211
mg
,
Fiber:
2.1
g
,
Sugar:
2.4
g
,
Vitamin A:
1700
IU
,
Vitamin C:
4.1
mg
,
Calcium:
20
mg
,
Iron:
2.7
mg
The recipe was originally published by October 1, 2013