A hearty chicken potato stew in a rich Chinese-style sauce served on top of noodles. It's one of those one-pot comfort recipes that you always crave.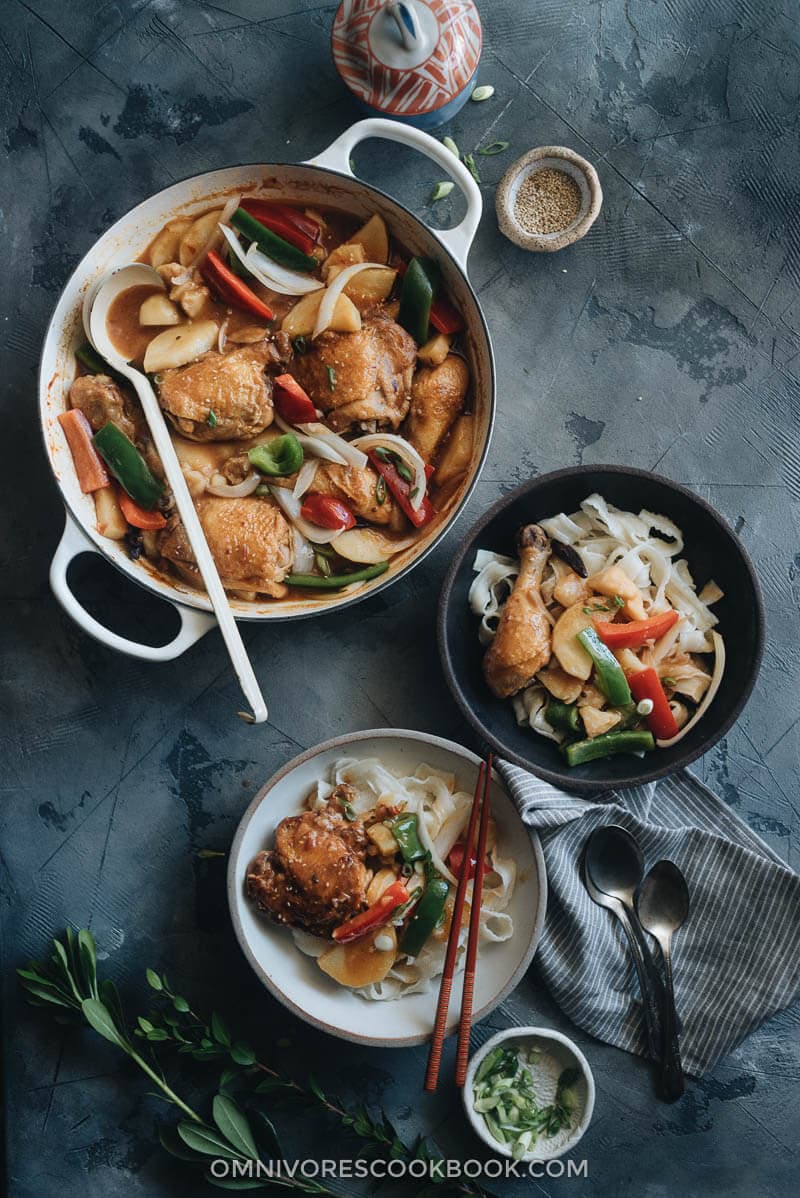 Da Pan Ji, which can be translated literally to "big plate chicken", is a hearty chicken potato stew from Xinjiang Cuisine. It is one of those dishes that you might never have heard of outside of China, but will fall in love with the first time you try it.
Combining the flavor profiles of Middle Eastern cuisine and interior Chinese cuisine, the dish uses tons of garlic, ginger, star anise, chili peppers, cumin, fermented bean paste, and Sichuan peppercorns to create a super rich broth. The stew is loaded with chicken, potatoes, peppers, and onions. In Xinjiang restaurants, it is often served on hand-pulled noodles, and sometimes with naan, as well. It is a dish that many families cook at home. But it is so popular that it is a top dish for every Xinjiang restaurant.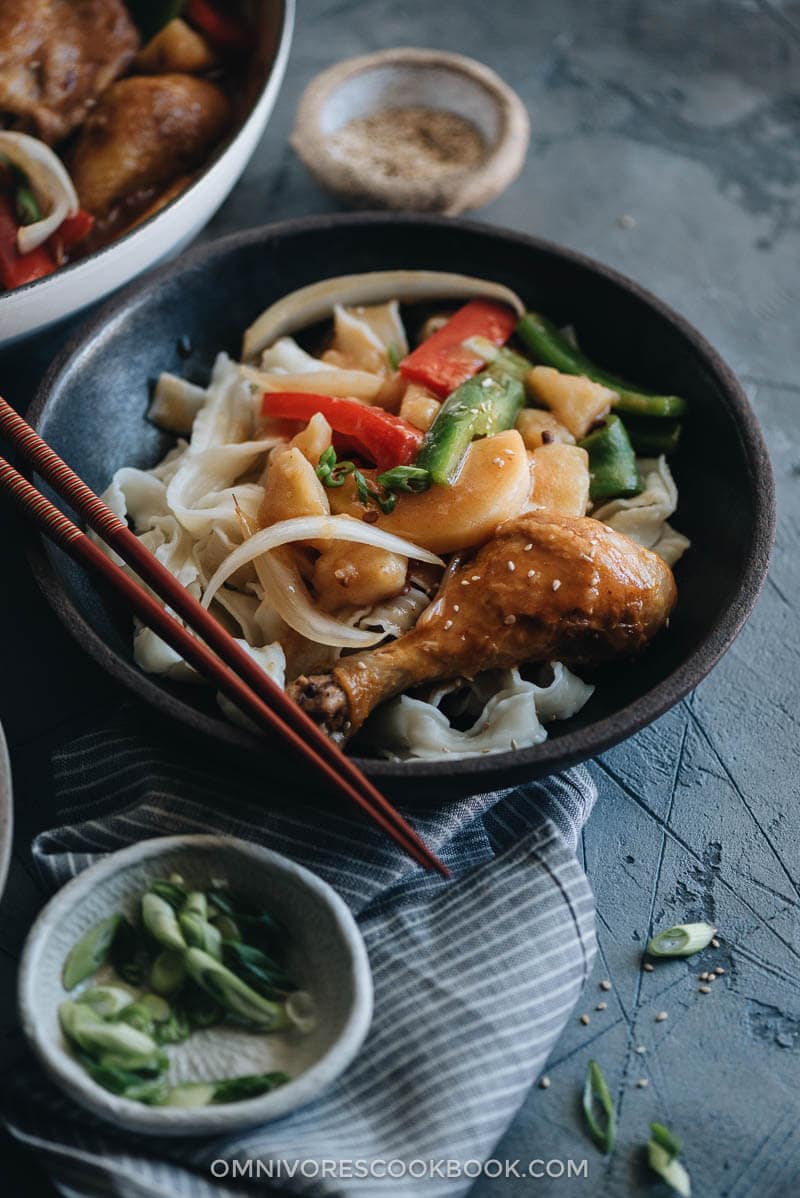 Cooking notes
It took me a while to decide how to approach this recipe, because I wanted to keep it as authentic as possible, but also more practical to make in a Western kitchen. Eventually I came up with a happy solution to make a modern Da Pan Ji without losing the original taste.
Cuts
To make the dish the authentic way, you should always use a whole chicken and chop it into bone-in bite-size pieces. The reason is that the bones will make the broth extra flavorful, and the meat will be seasoned well due to the small size.
Cooking in an American chicken, chopping up a whole chicken is my least favorite thing to put on a daily to-do list. It requires a heavy cleaver that I don't have and it's messy. However, I did want to use bone-in cuts instead of boneless ones.
In the end, I settled on bone-in thighs and legs. They are the next best thing to a chopped whole chicken. They are much easier to deal with and the result is just as good.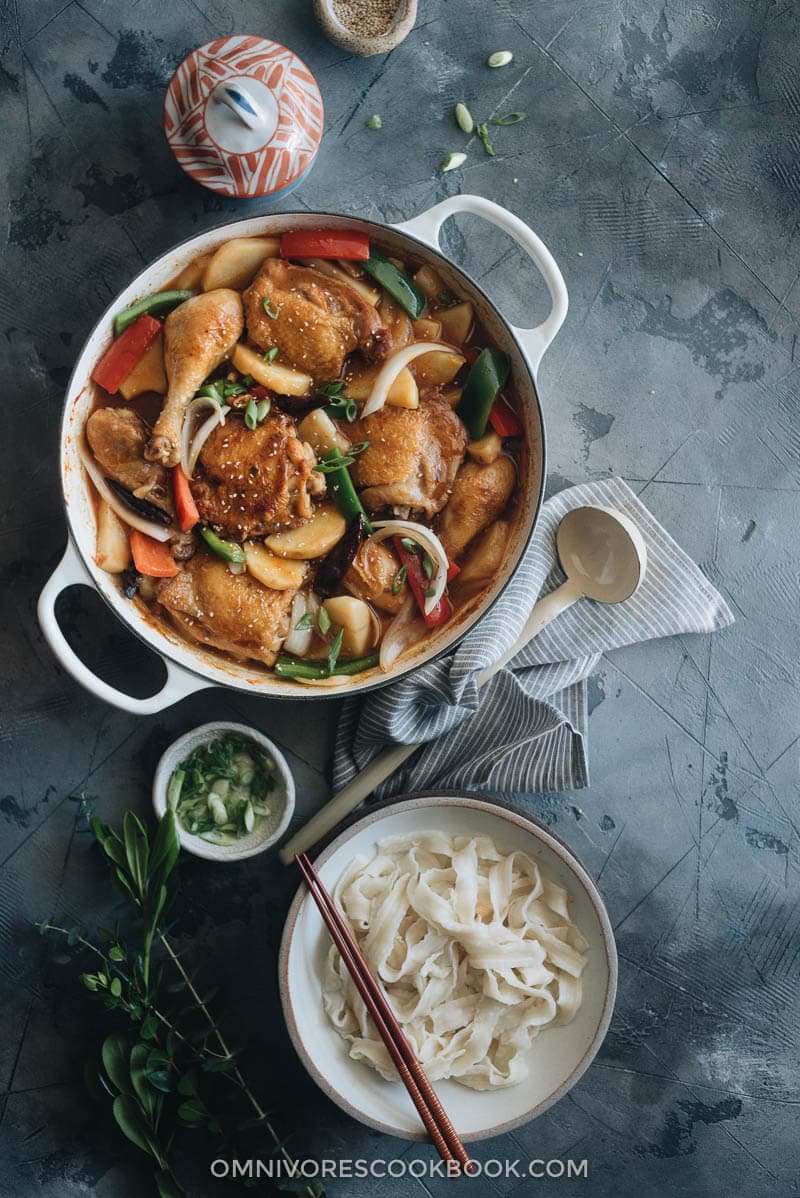 Cooking utensils
The original Da Pan Ji (and almost every Chinese meat stew, for that matter) is cooked in a wok. It's a great way to braise meat because you can use less liquid to cover all the ingredients.
In this recipe, I decided to use my dutch oven to make this dish. There are two reasons I made the change:
Because the larger cuts of chicken are easier to brown in a dutch oven than in a wok.
I intentionally made more sauce for this recipe, so it would make the final noodle dish more scrumptious.

Serve
I love serving this dish with wide, thick noodles. If you live close to an Asian market, you can find them in the refrigerated section. You can also use other types of wide dried noodles such as udon noodles. If you're feeling extra fancy, you can also serve the dish with hand pulled noodles.
One last word. Always make a full batch because it takes the same amount of time and you'll always want to save some leftovers for later.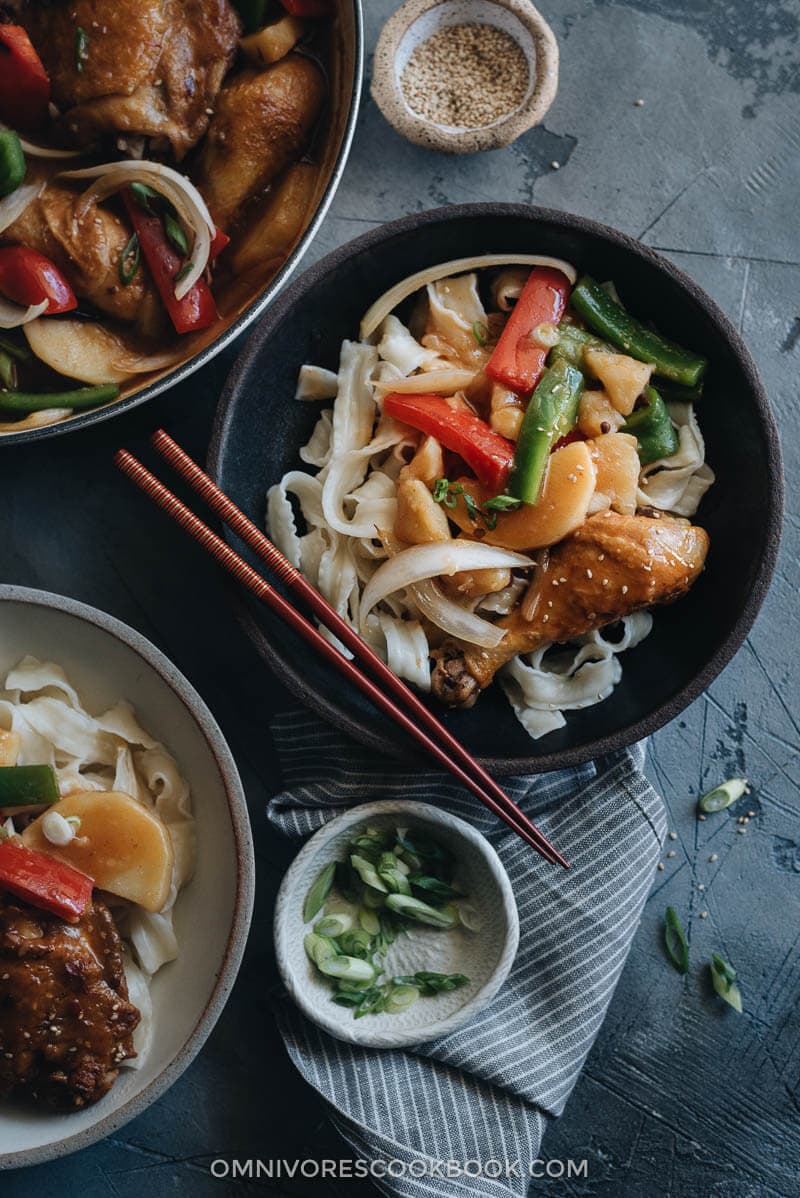 More Xinjiang recipes
If you give this recipe a try, let us know! Leave a comment, rate it (once you've tried it), and take a picture and tag it @omnivorescookbook on Instagram! I'd love to see what you come up with.
Want to Know More?
Receive our 5-Day Chinese Cooking Crash Course & Recipe Updates! Subscribe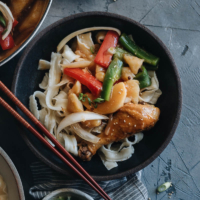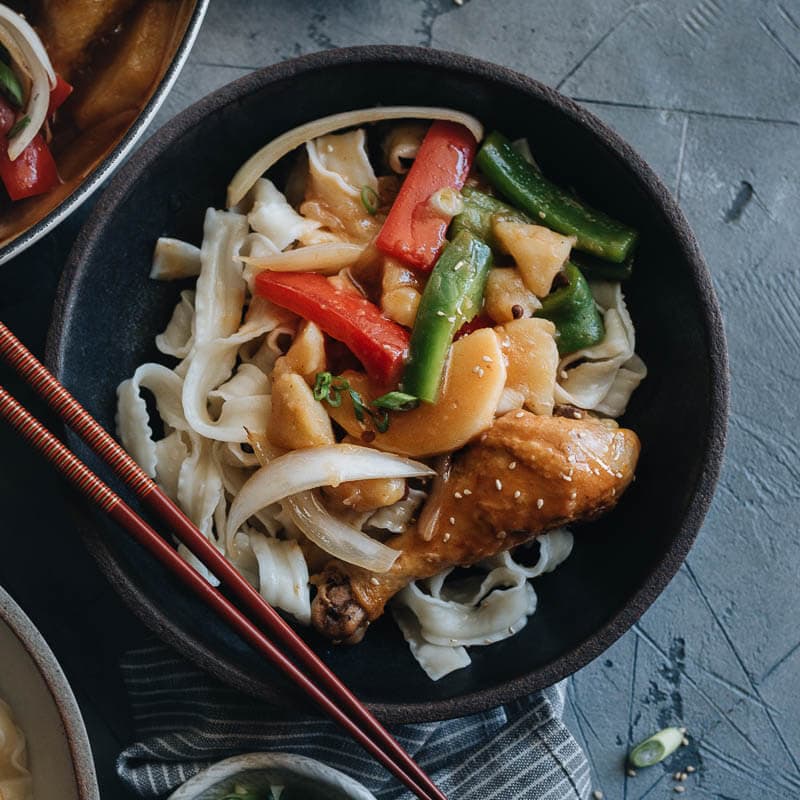 Da Pan Ji (Chicken Potato Stew with Noodles, 大盘鸡)
A hearty chicken potato stew in a rich Chinese-style sauce served on top of noodles.
Ingredients
2

lbs (1 kg)

bone-in chicken legs and thighs

(*Footnote 1)

Salt

1

tablespoon

vegetable oil

1

tablespoon

Sichuan peppercorns

1

thumb ginger

, sliced

6

cloves

garlic

, smashed with a knife

6

Chinese chili peppers

, dried

1

tablespoon

doubanjiang

Spicy Fermented Bean Paste

1

tablespoon

cumin powder

2

tablespoons

tomato paste

12

oz (330 ml)

beer

2

cups

chicken stock

2

tablespoons

soy sauce

2

teaspoons

sugar

2

(about 2 lbs/1 kg)

russet potatoes

, peeled and chopped

1/2

onion

, chopped

2

bell peppers

4

tablespoons

cornstarch

(Optional)

24

oz (660 g)

noodles

, dried (preferably a thicker-style flat noodle)
Instructions
Pat dry chicken with paper towel and sprinkle salt on both sides.

Heat oil in a 4.5-quart dutch oven (or a deep skillet) over medium heat until hot. Add the chicken, skin side down. Cook until golden brown, 4 to 5 minutes. Turn to the other side and cook until golden brown. Transfer the chicken to a big plate.

Your pan should have a lot of fat rendered from the chicken skin. Remove some fat using a few layers of paper towel held in a pair of tongs. If not (if using skinless chicken), add 1 tablespoon oil. Turn to medium low heat.

Add the sichuan peppercorns. Cook until dark, scoop out with your spatula, and discard.

Add ginger, garlic, dried chili peppers, and star anise. Stir a few times to release fragrance.

Add the doubanjiang, cumin powder, and tomato paste. Stir and cook until the doubanjiang releases oil, 1 minute or so. Be careful not to burn the paste.

Pour in the beer. Use your spatula to scrape the bottom to release the brown bits. Add back the chicken. Add the chicken stock, soy sauce, and sugar. Cook over medium heat until bringing to a boil. Turn to medium low heat. Cook covered for 20 minutes.

Uncover, add the potato and the onion. Cook uncovered for 8 minutes. Cook for 15 minutes if you like softer potatoes.

Add the bell peppers. Cook until the peppers turn tender, about 5 minutes. Taste the broth. It should be a bit salty by itself, if you're planning to serve it over noodles. Add salt if needed.

There are two ways to thicken the broth. Method 1: mix cornstarch with 1/3 cup water and stir to dissolve completely. Add half to the stew and stir. Continue adding the slurry and stirring until the broth turns thick enough to coat a spoon. Method 2: Remove the chicken from the pan. Use a spoon to smash some of the potatoes to release starch to thicken the broth.

When the chicken stew is almost ready, bring a big pot of water to a boil. Cook the noodles according to the instructions.

To serve, place noodles onto a plate, top with the stew as a sauce. Enjoy!
Notes
If you don't like chicken skin, you can use bone-in or boneless skinless thighs, as well. I recommend using a bone-in cut, so the sauce will be more flavorful.

The nutrition facts below are calculated based on 1 of the 8 servings of the stew without the noodles.
Nutrition
Serving:
8
g
,
Calories:
139
kcal
,
Carbohydrates:
24.9
g
,
Protein:
3.2
g
,
Fat:
2.2
g
,
Saturated Fat:
0.4
g
,
Sodium:
479
mg
,
Potassium:
609
mg
,
Fiber:
3.6
g
,
Sugar:
4.9
g
,
Calcium:
20
mg
,
Iron:
1.4
mg