Cooking Chinese food does not require a ton of special kitchen tools, and you probably already have many of them. However, there are a few items that are quite important and they can make your cooking so much easier. Below are some of the essential Chinese cooking tools and appliances in my kitchen. I use them very frequently and some of them daily.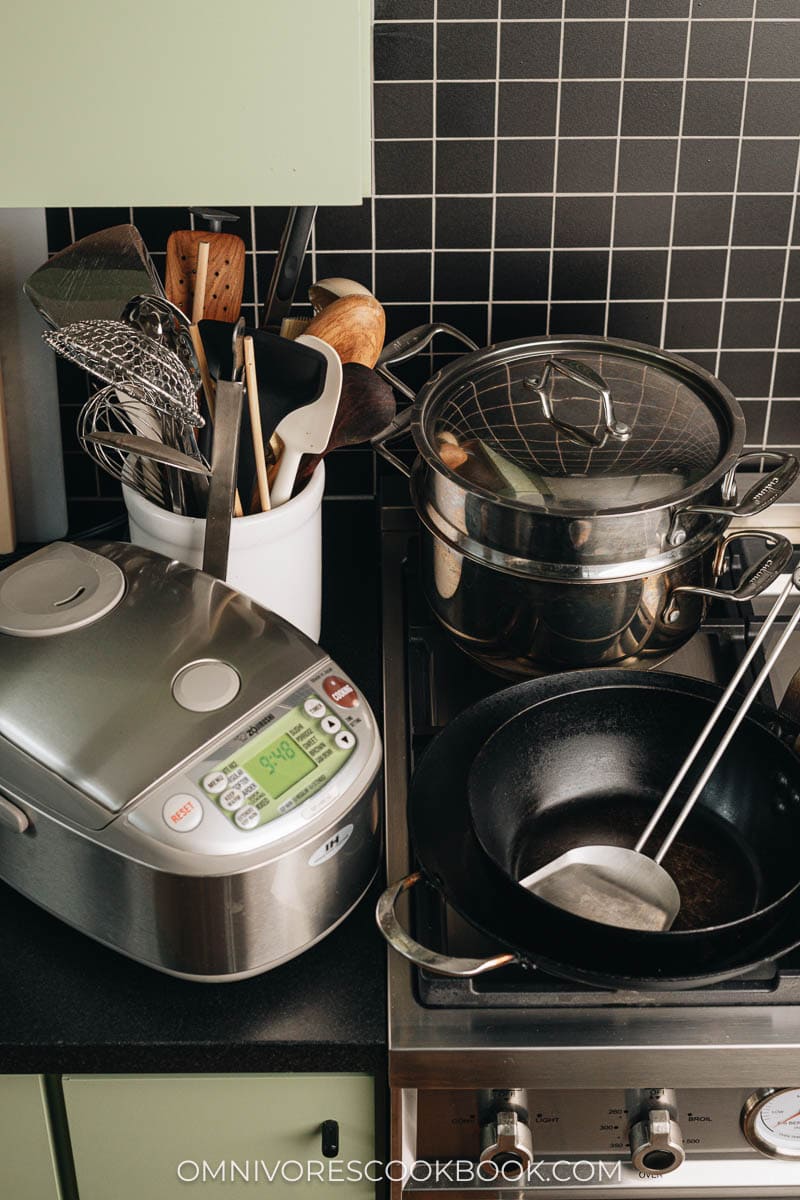 Essential Chinese Cooking Tools
One of the most important Chinese kitchen tools is a pan for making stir fries.
I recommend a large nonstick skillet to anyone who is just starting to learn to cook Chinese food because it is the easiest to master and yields great results. I've talked at length about why you should choose a skillet over a wok, and whether you should choose a skillet or a wok depending on your kitchen setup.
Most American kitchens do not have a gas stove, and many gas stoves do not have a high enough BTU output to properly heat up a wok. A skillet has a larger contact surface and heats up better, since it sits closer to the heating source and will be fully in contact with the cooktop if it's electric or induction.
Large Nonstick Skillet
A nonstick skillet is a great option, because many Chinese stir fries deal with starchy ingredients. For example: marinated meat that contains cornstarch, as well as rice, noodles, and dumplings. If you don't use a nonstick, it will require more oil and a bit of experience to prevent the food from sticking. Nonstick pans do not have this issue.
How to choose a nonstick skillet
To choose a nonstick pan that's suitable for stir fry, try to find one that has some weight – this way it will distribute heat more evenly and maintain heat better.
You should choose a pan that's large enough, so you can properly sear the food without crowding the pan too much. If you cook for more than two people, you need a pan that is 11" to 12" in diameter. If you're cooking for one to two people, a 9" or 10" pan should be big enough.
It helps a lot if your nonstick pan has a higher rim, so it will contain the food better when you do the stirring motion. Sometimes it helps to search for the terms "deep frying pan", "saute pan", or "jumbo cooking pan".
Currently I'm using an OXO 12" Nonstick Frying Pan in my kitchen. I like the quality of the pan, but the rim is a bit on the low side for stir frying.
NOTE: Nonstick pans have a shorter lifespan depending on how and how often you use them. The coating will gradually wear off and the pan will eventually start to stick. If you use your nonstick pan frequently (several times a week) with high heat, you will probably need to replace it every three years or so. So you should choose your price point with this in mind.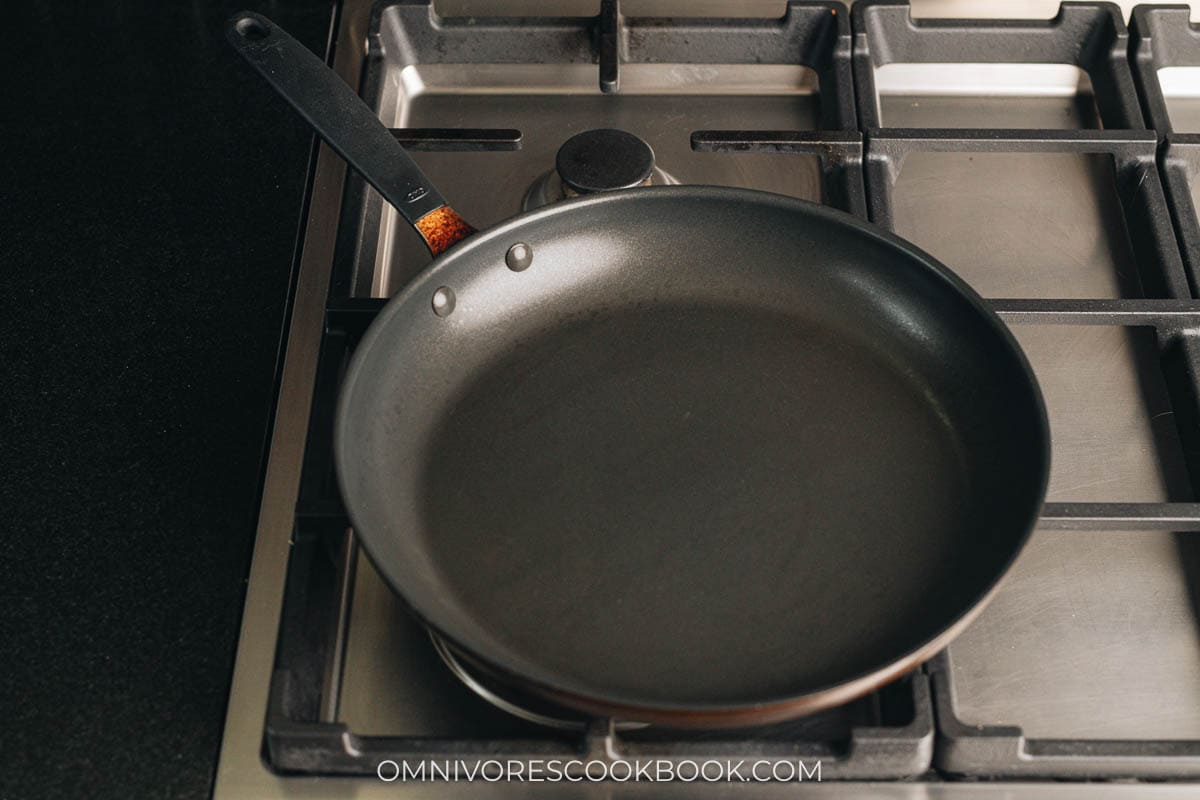 Carbon Steel Skillet
I highly recommend a large carbon steel skillet if you are a more experienced cook, do not mind using a bit more oil in your dishes, want a pan that will last a lifetime, and/or are concerned about the health effects of nonstick coatings. Check out my post on why you should use a carbon steel pan to cook stir fries.
How to choose a carbon steel skillet
Choose a properly sized pan. Since carbon steel pans are quite heavy (although they are still lighter than cast iron), it's important to choose a size that you're comfortable handling. If you need to cook for four people, a pan between 11" and 13" will be best. For cooking for two to three, choose a pan from 10" to 11". Use a pan that's 8" to 9" if cooking for one.
Make sure the pan is compatible with your cooktop, especially if you use an induction stove.
Keep in mind that you will need to season the pan before using it, if your pan arrives unseasoned.
Some of the most reputable carbon steel skillet manufacturers are De Buyer and Matfer. I've been using my De Buyer 12.6" frying pan for years and absolutely love it.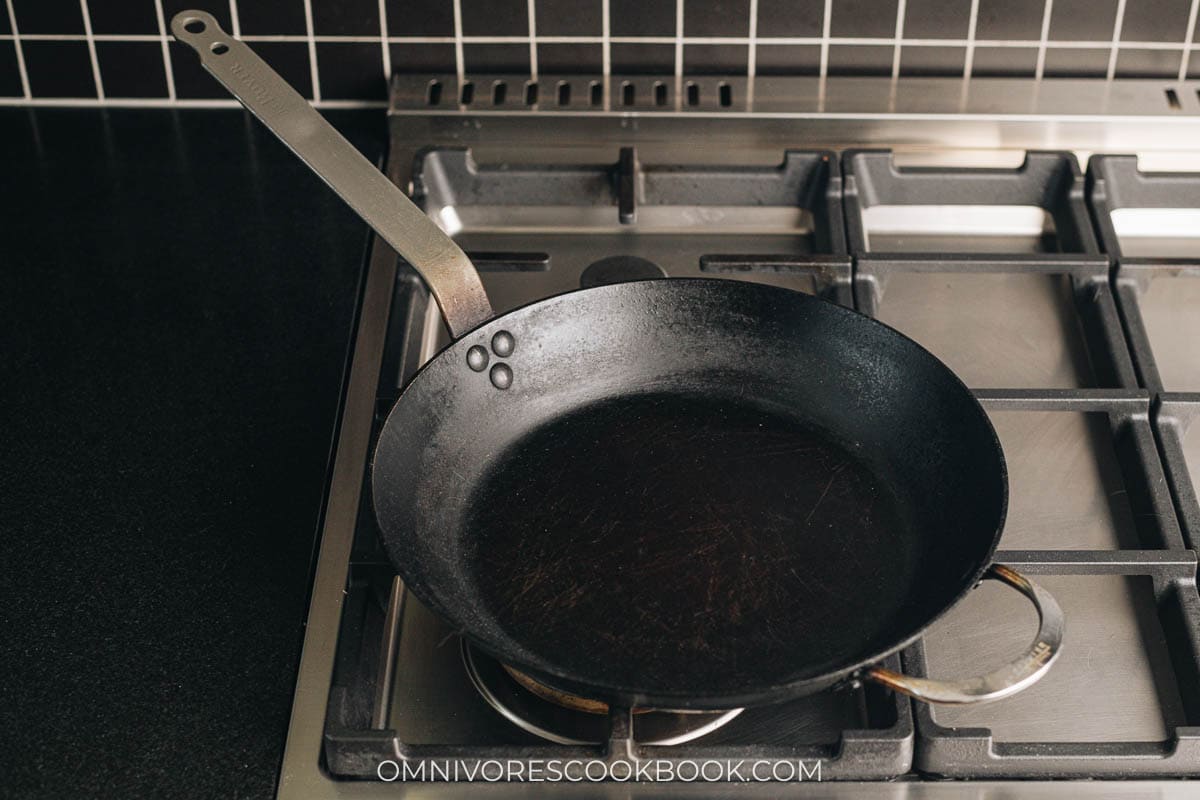 Flat Bottom Wok
If your goal is to make super authentic tasting Chinese food that has that smoky aroma (wok hei), you might want to consider a flat-bottom wok.
I prefer a flat-bottom wok over a round-bottom one. For a round-bottom wok, you will need a wok ring so the wok will stand on the stove properly, which further increases the distance between the wok and the heating source. A flat-bottom wok usually heats up better.
How to choose a flat bottom wok
Confirm you have a gas stove before purchasing a wok. I've tried cooking with different types of flat-bottom wok on an electric stove, and none of them really worked.
Make sure the weight of the wok is within the range you can handle. I usually prefer a carbon steel wok that is on the heavier side, so it holds heat better. And it can get heavy quickly. If you're cooking for three to four people, you will need a wok that's 11" to 12" in diameter. If cooking for two, you can get away with a wok that's 9" to 10".
For easy cleaning and a lighter weight, consider a nonstick wok. For a nonstick wok, you shouldn't heat it too hot since it will damage the coating. But for most home cooks, it might be a great option because it has an easier learning curve.
I love my De Buyer 9.5" Country Chef Pan (it is shaped like a flat-bottom wok) and use it to make simple stir fries for two people. I've tried their 12.5" flat bottom wok in the past and loved its performance, but I stopped using it because it was too heavy for me to handle.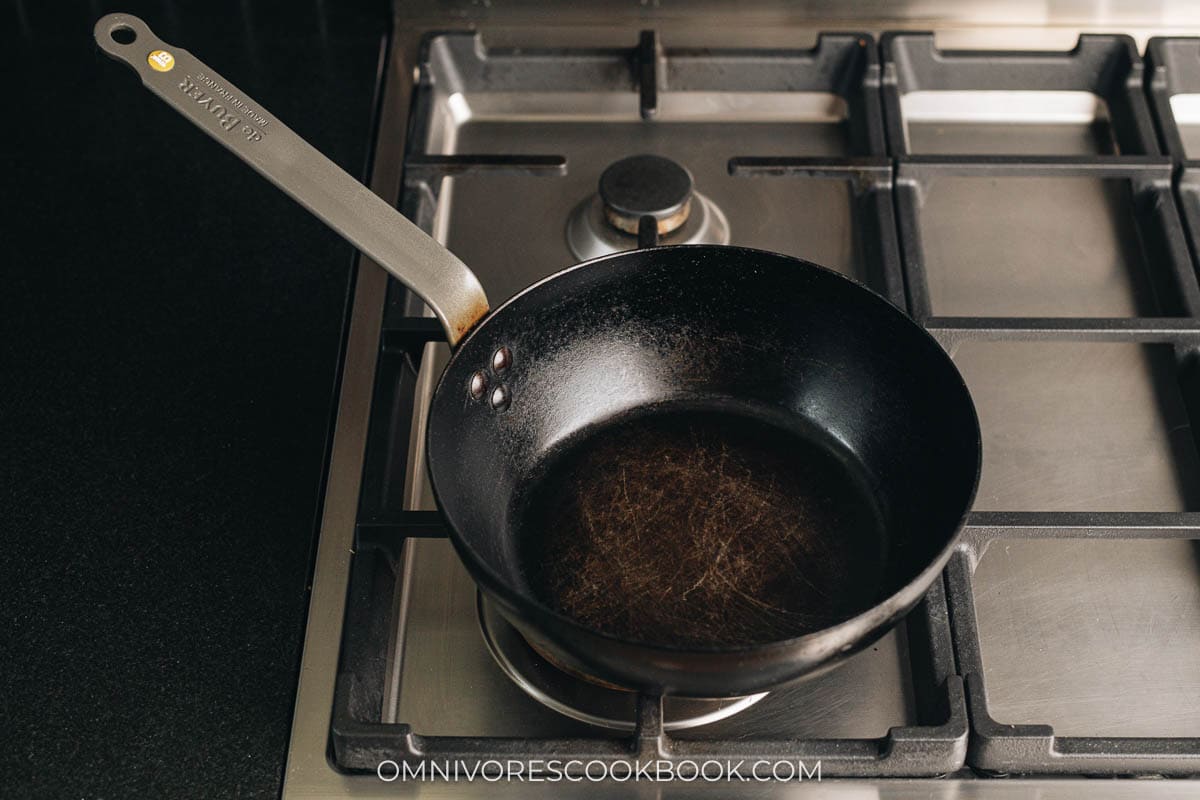 Stir Fry Spatula / Wok Turner
Unlike the wood and silicone spatulas that are popular in Western kitchens, the Asian style wok spatula has a sharper edge and lopsided design that helps flip the food and makes it easier to transfer food to a plate.
For a carbon steel or cast iron pan, choose a stainless steel wok turner. For nonstick wok, use a silicone wok turner to avoid damaging the nonstick coating.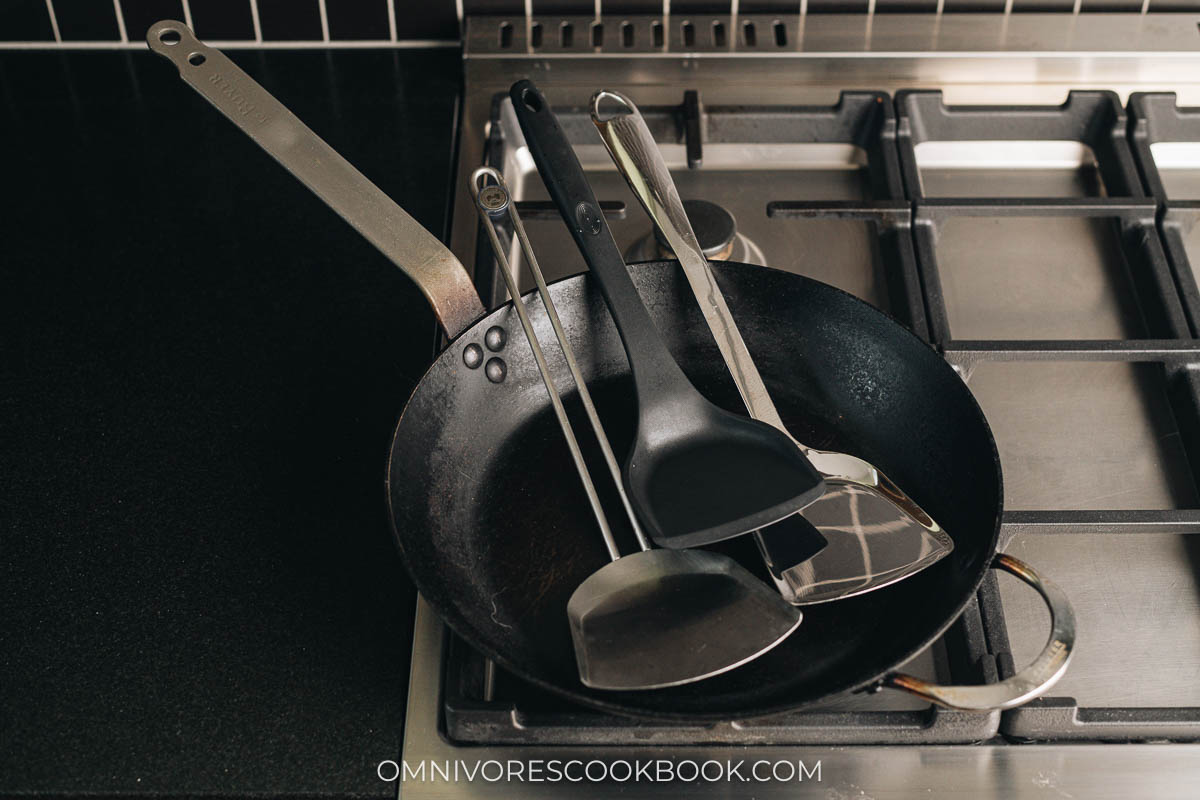 Steamer
A steamer is quite essential in a Chinese kitchen, but I wouldn't consider it a must-have depending on your cooking style.
If you love dim sum, steamed buns, and other steamed dishes, then you will need a steamer. If you don't usually cook these types of dishes, you can skip it.
What type of steamer to buy?
There are two types of steamers: stainless steel and bamboo steamers.
Stainless steel steamer
This is my favorite type of steamer. I have a small kitchen and space is precious. A stainless steel steamer can also double as a large soup pot, which is super convenient.
Bamboo steamer
Bamboo steamers can be stacked, so they are great for steaming a lot of food at the same time. The bamboo steamer lid releases steam better than the stainless steel, so delicate food such as yeasted steamed bread usually comes out better.
The downside of bamboo steamer is its size. Plus, you will need a very large and deep pan (this is usually a wok in China; a very large and deep skillet with a steaming rack will also work) to hold the water and the steamer. The whole setup takes up a lot of space in the kitchen.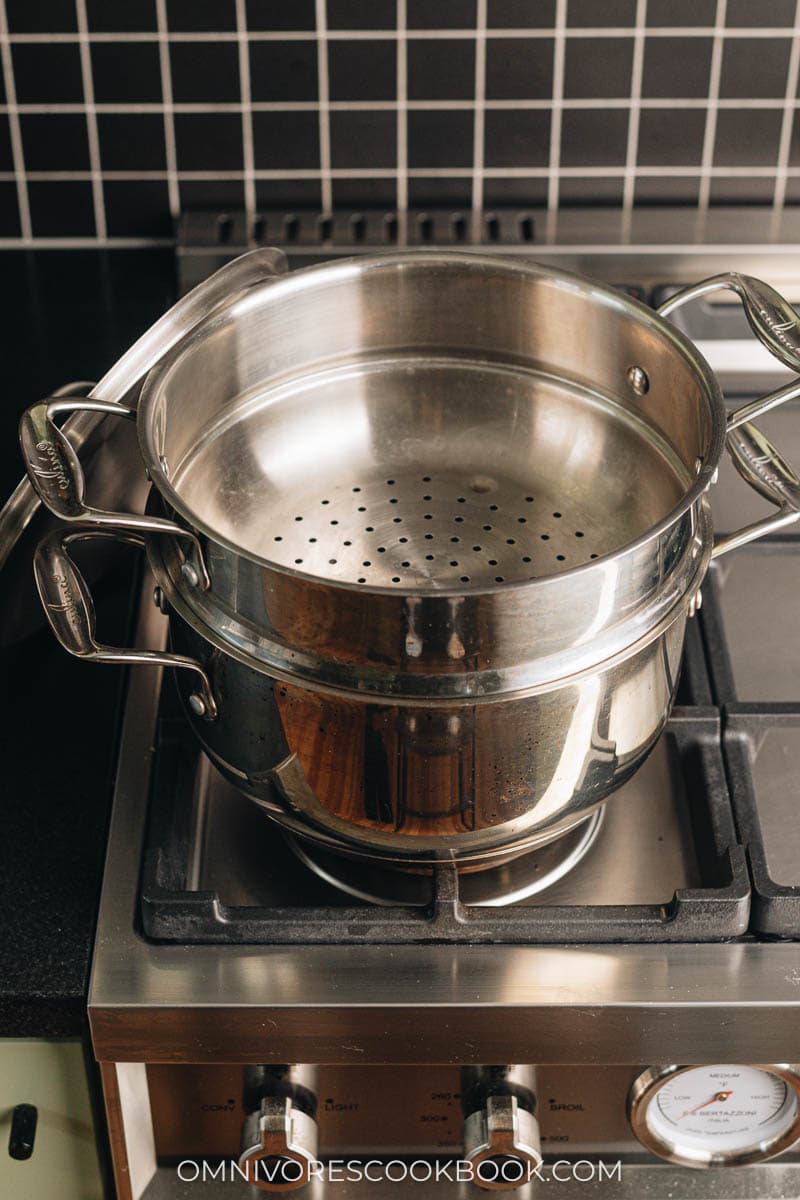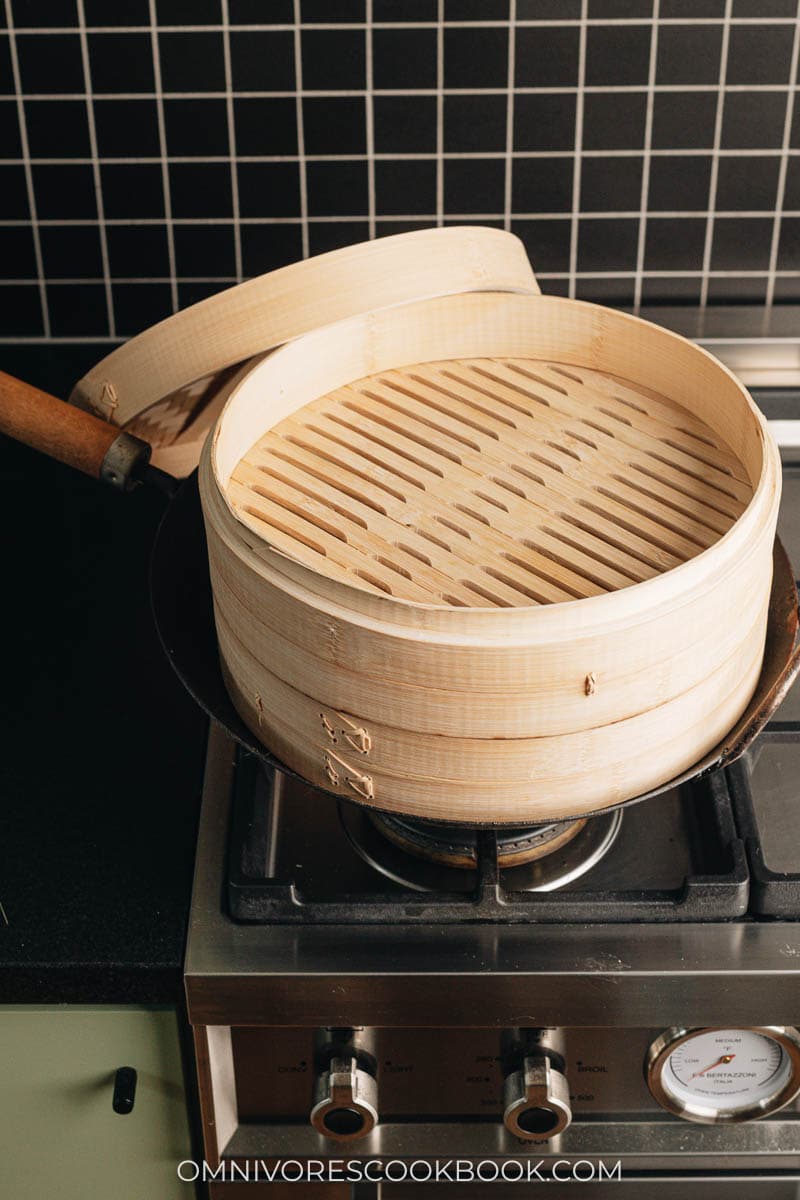 Steamer cloths or parchment paper
No matter which type of steamer you use, you will need parchment paper or steamer cloths to line the steamer, so food like steamed buns and dumplings can sit properly and won't stick.
Knives
Every kitchen has knives, but for cooking Chinese food, a very sharp knife that's comfortable to hold is super important. No matter whether you are slicing meat, cutting vegetables or mincing aromatics, Chinese cooking involves a lot of knife work. You should shop for a knife that balances well in your hand and is comfortable to hold. It should be sharpened frequently to maintain its edge.
How to choose a knife for Chinese cooking
If you only buy one knife, some of the most versatile knives are the chef's knife, Chinese cleaver, Santoku, and Nakiri.
The Chinese cleaver is usually the default knife in a Chinese home kitchen and it can handle every task from mincing herbs to chopping through chicken bones. For me, I found it a little heavy to handle. And since I've adapted my cooking quite a lot since moving to the US (less chopping up whole chickens), I rarely use a cleaver.
The chef's knife and Santoku have a similar shape and they are extremely versatile. Chef's knife is usually heavier and longer. Because I'm short and have small hands, I always prefer a Santoku, which is easy for me to maneuver.
Recommendation
My personal favorite knife is a Japanese Nakiri knife, which is shaped like a small cleaver but it is smaller and lighter. It is designed for cutting vegetables, but it's OK for cutting meat as well.
My favorite knives are Korin Tsuchime Hammered Damascus Santoku and Korin Tsuchime Hammered Damascus Nakiri. Both are well-built beautiful knives that are well priced (they are often out of stock and have a long waitlist).
For a cheaper price range, the Zwilling Chef's Knife and Global Santoku Knife are great options.
For a slightly higher budget, check out the Miyabi Chef's Knife and Miyabi Santoku Knife.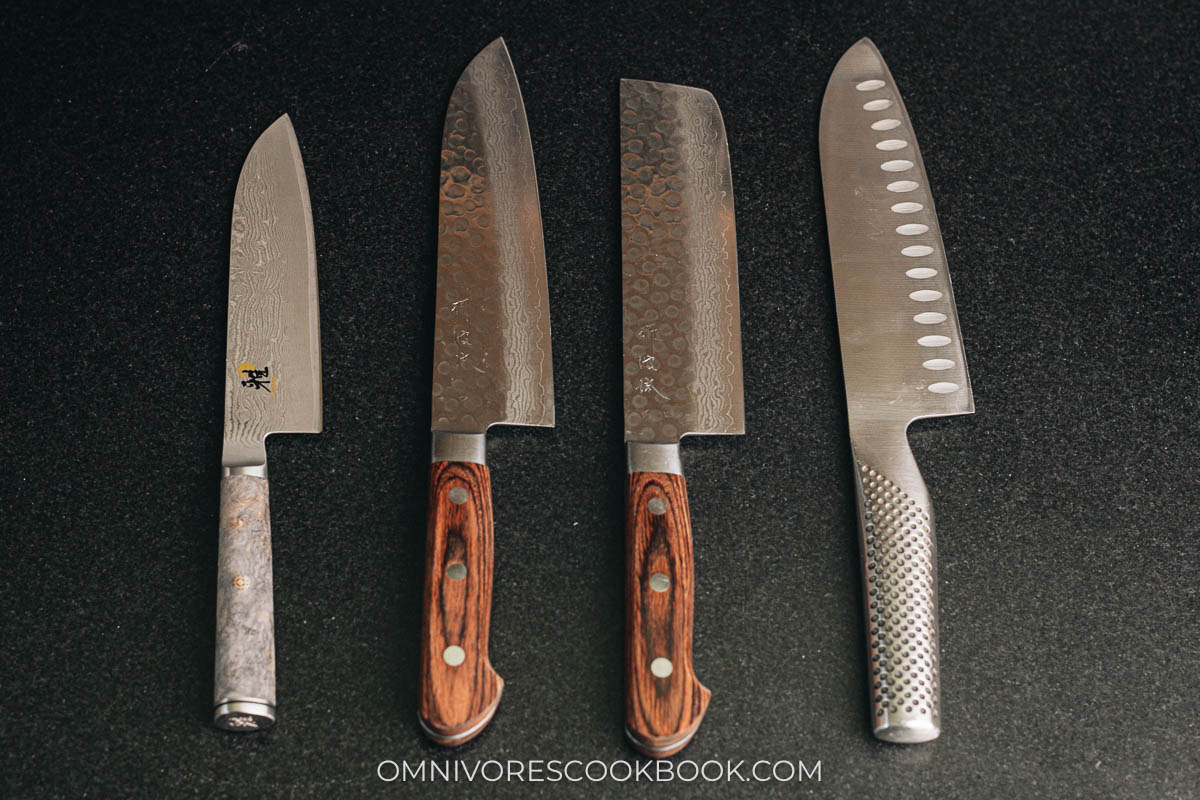 One word on knife sharpening
Sharpening your knife is as important as the quality of the knife itself, if not more so. I have this brandless cheap knife with a plastic handle. I still keep it in my kitchen, even after collecting many high-end knives after all these years, because it still cuts super well due to proper maintenance.
If you plan to sharpen the knife at home, DO NOT use those knife sharpening stations that have multiple sharpeners embedded on a base. Each knife has its own character and requires different sharpening angles. A sharpening station won't work properly sometimes and might damage the blade.
If you want to learn how to properly sharpen your knife, check out the how-to videos by Korin Knives and use Japanese water stones. Alternatively, you can also find a knife sharpening service close to you and spend a small fee to keep your knife well maintained.
Cutting Board
You should always use a cutting board whenever you pick up your knife. It will protect your blade, it makes cutting easier, and it keeps the knife from slipping, which causes injuries.
Synthetic cutting board
My favorite cutting board is the Tenryo Hi-Soft Cutting Board. It uses a high quality synthetic material that is easy on your hand and has a lower impact on the knife. I find it more comfortable to cut and I like that it prolongs the knife's lifespan, and keeps your hands safe. The downside is, the cutting board will gradually wear and show shallow scratch marks, so you might need to replace it every few years.
Plastic cutting board
Even though I try to reduce the use of plastic products around food, my set of IKEA plastic cutting boards will always have a spot in my kitchen.
Plastic cutting boards are lightweight, have a texture that is not too tough, and the surface has enough grip so the knife doesn't slip. It also lasts a very long time, is quite cheap to buy, and does not require special maintenance.
Other types of cutting boards
I've also used bamboo cutting boards and various types of wooden cutting boards, but they are not my favorite.
Bamboo boards are lightweight and quite durable. But they are hard on the knife and the surface can be slippery. Depending on the climate, your bamboo cutting board might crack and need replacement.
Wooden cutting boards are beautiful. But depending on the type of wood, it might be hard on the knife and the surface can be slippery. Wooden cutting boards also require special care such as applying oil to protect the surface. Even with care, wooden boards might crack with heavy usage, or be stored in a climate that's not suitable for the specific type of wood.
Cooking Chopsticks / Tongs
Cooking chopsticks are something I use daily and they are extremely important in a Chinese kitchen. No matter whether you're using them to flip meat when searing it, trying to fish out ingredients from a hot pot, or removing noodles from a pot of water, cooking chopsticks constantly come in handy.
Alternatively, you can consider a pair of kitchen tongs for these tasks, although they'll give you less precision. Kitchen tongs are also great for flipping noodles without spilling during a stir fry.
For cooking chopsticks, I prefer ones that are skinny and long, which are lightweight and easier to handle. They should be made of wood and have a natural finish. This way, the surface will have enough grip to prevent the food from slipping. A natural finish is also more durable since the chopsticks continually come in contact with high heat.
Slotted Spoon / Spider
A slotted spoon and strainer spider are very useful when you need to remove food from frying oil, pick out ingredients from broth, or transfer dumplings out of boiling water.
Fine Mesh Skimmer
A fine mesh skimmer removes scum from the surface of braising / boiling liquid to keep the broth clear. It can also remove small spices from soup and residue from frying oil.
Zester / Grater
I use a skinny zester to grate garlic and ginger in addition to zesting citrus and grating cheese. I found this type of zester very easy to handle and the blade quite sharp. It creates finely grated aromatics for dumpling fillings and dipping sauces.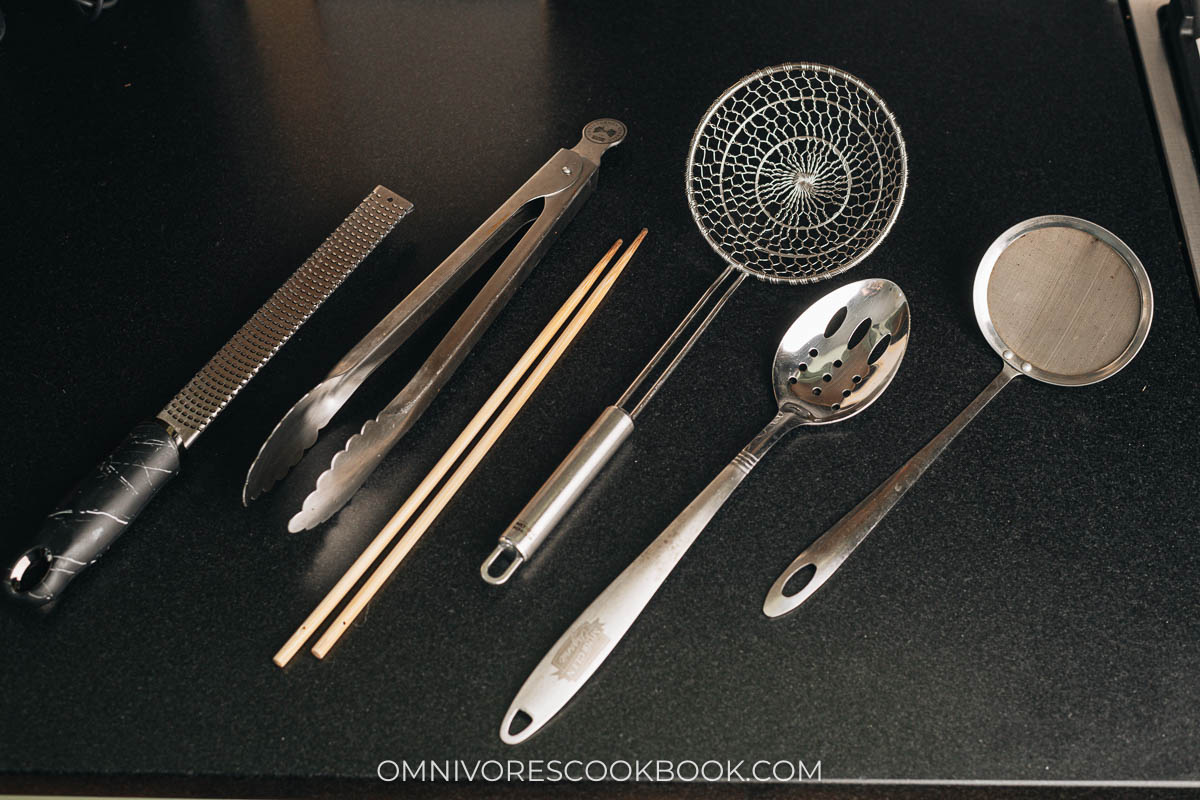 Kitchen Scale
Even when you're not baking, a kitchen scale can be super helpful if you're not familiar with Chinese cooking. Sometimes ingredients are hard to measure in spoons or cups. For example, dried goods such as mushrooms and lily flowers, as well as vegetables that come in very different sizes such as bok choy. I try my best to measure all my ingredients by weight to prevent confusion.
I love my Zwilling Kitchen Scale. It has a sleek and minimal design, and it comes with a USB charger.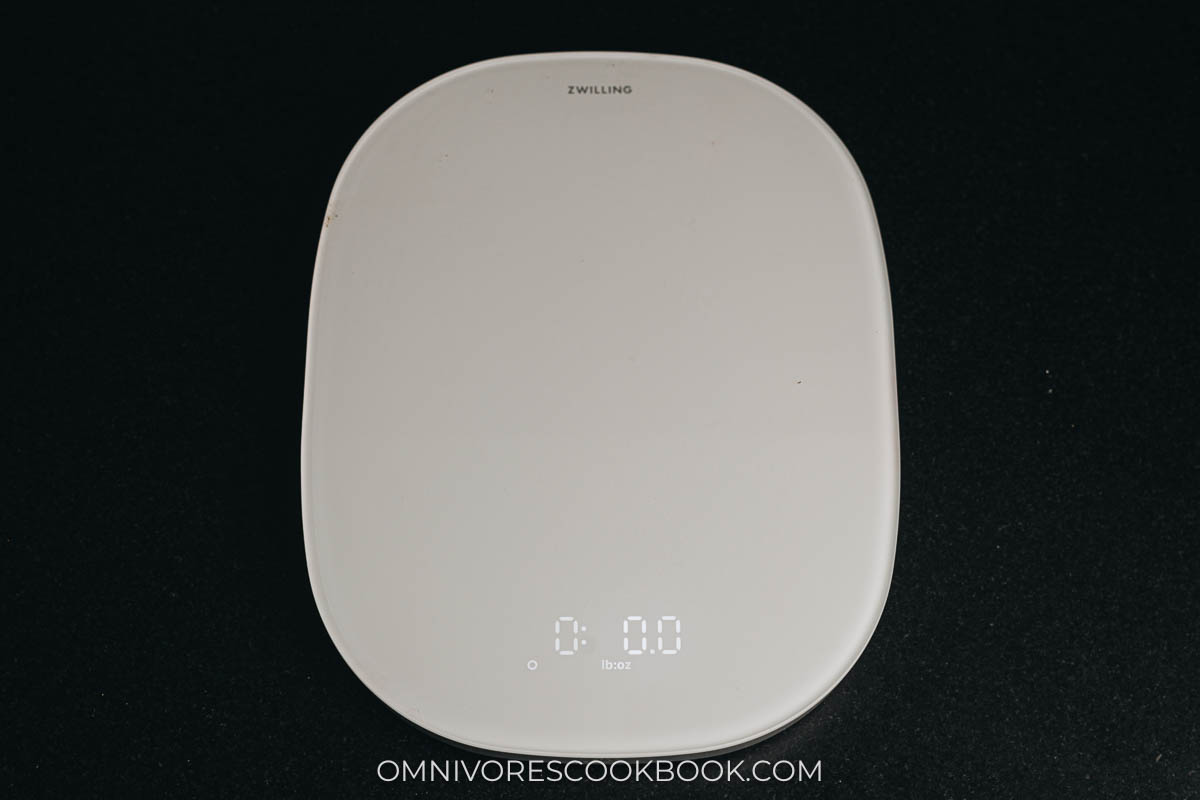 Vacuum Containers
This is not limited to Chinese cooking, but I found the Zwilling Vacuum Sealer and Containers very practical in my kitchen.
Sometimes I use them to store prepped ingredients. A lot of the time I use them to store leftovers or meal prep, because freezing can cause textural changes for certain foods.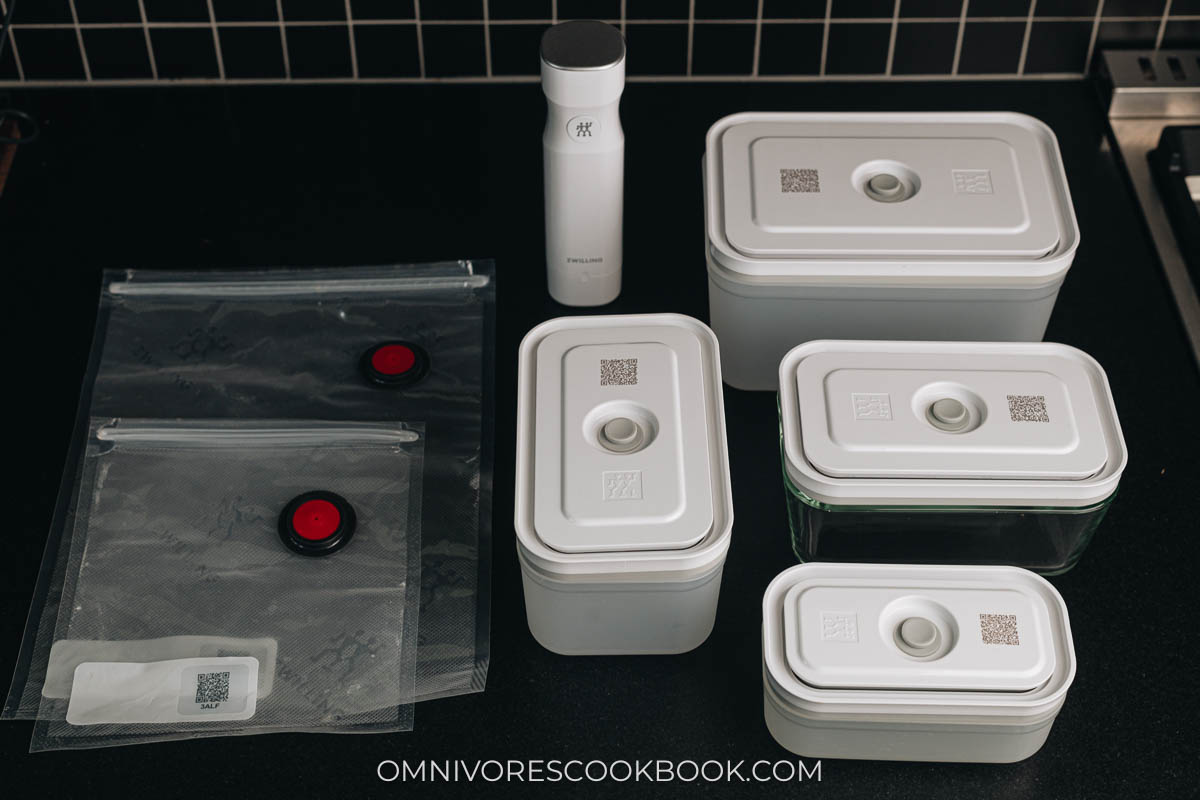 Appliances that makes your life easier
Rice Cooker
Although you can always cook your rice in a regular pot, a rice cooker is a must-have in my kitchen. You can set it and forget it. You don't need to worry about burning on the bottom. And it cooks brown rice and multigrain rice perfectly every time without soaking. If rice is a staple in your diet, I highly recommend a rice cooker.
I use a Zojirushi Rice Cooker that has multiple functions such as sushi rice and brown rice. I highly recommend the Zojirushi brand no matter which line you pick.
Kettle
The Zojirushi Kettle is the appliance we use daily to make coffee and tea. It has different temperature settings and keeps the water heated to that setting. Since my husband Thomas and I are heavy tea drinkers, this kettle is a must-have in the kitchen.
If you want something smaller and cheaper, this Cuisinart Electric Kettle is another great option. It also has different temperature settings for various types of tea. It doesn't keep hot water warm for very long, but it boils very fast.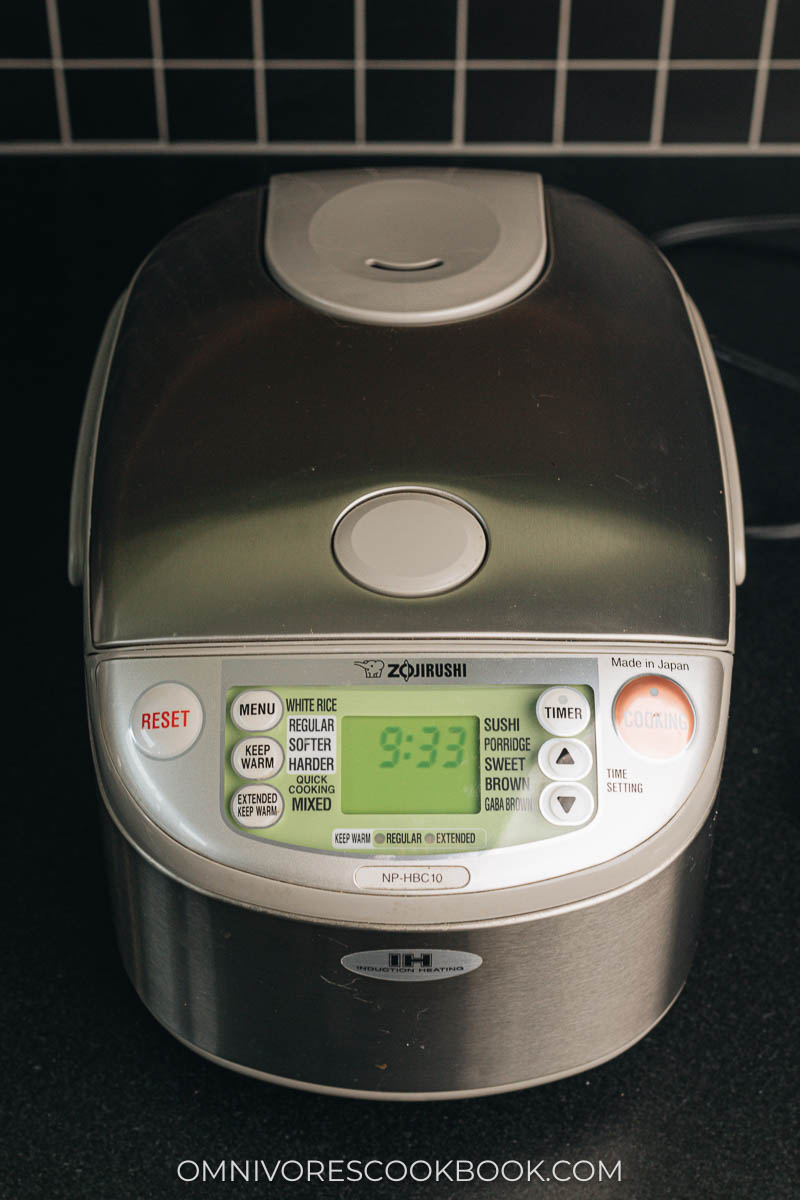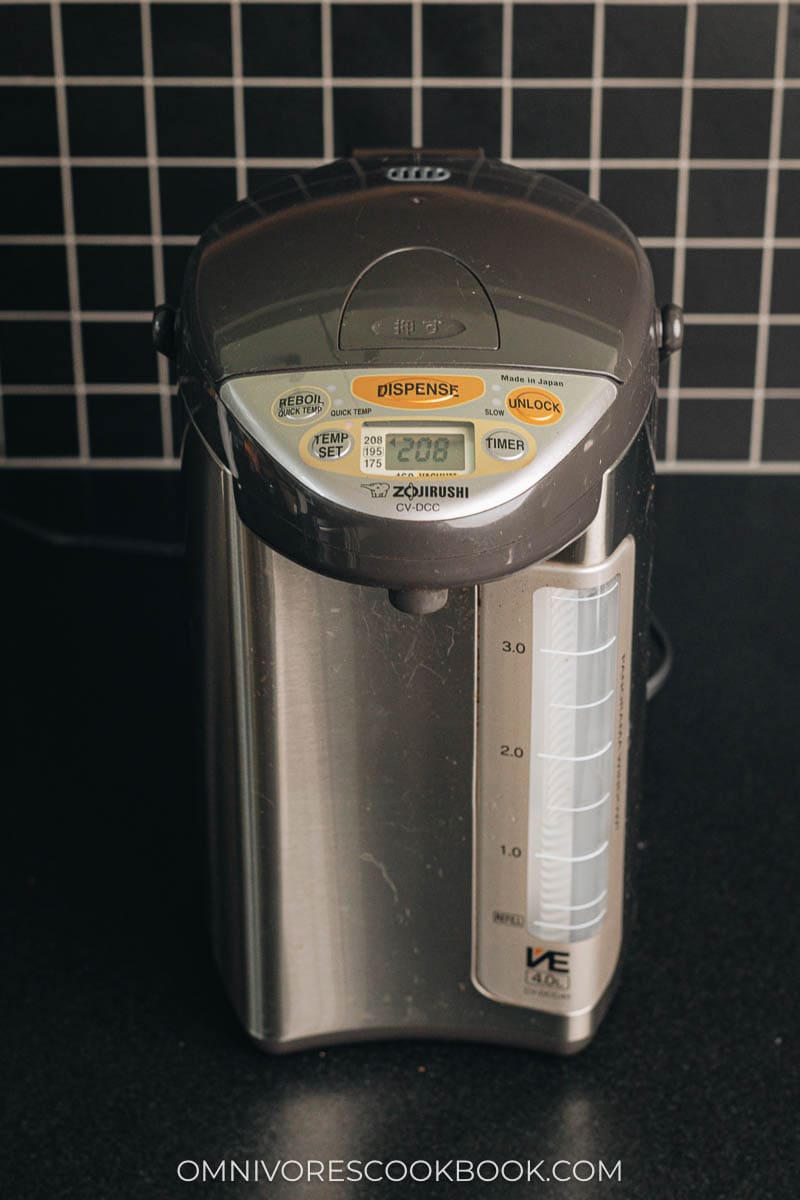 Instant Pot
I love to use my Instant Pot to make congee and beans, and to braise meat. It is essentially a pressure cooker, but I love that you can set it up and forget about it. It is super helpful if you like to cook things in bulk for meal prep. And it is perfect for shortening the cooking time needed for beans and tough cuts of meat.
Air Fryer
I rarely use the oven these days since I bought my Cuisinart Air Fryer Toaster Oven. I use it to roast vegetables and meat and make fried food without deep frying. Compared to my big oven, an air fryer heats up so much faster, and it cooks faster too. It sears food well and you can reduce the oil you use in your cooking. My air fryer / toaster oven takes quite some space on my counter, but I like the fact that it can hold quite a lot of food so I don't need to cook in batches.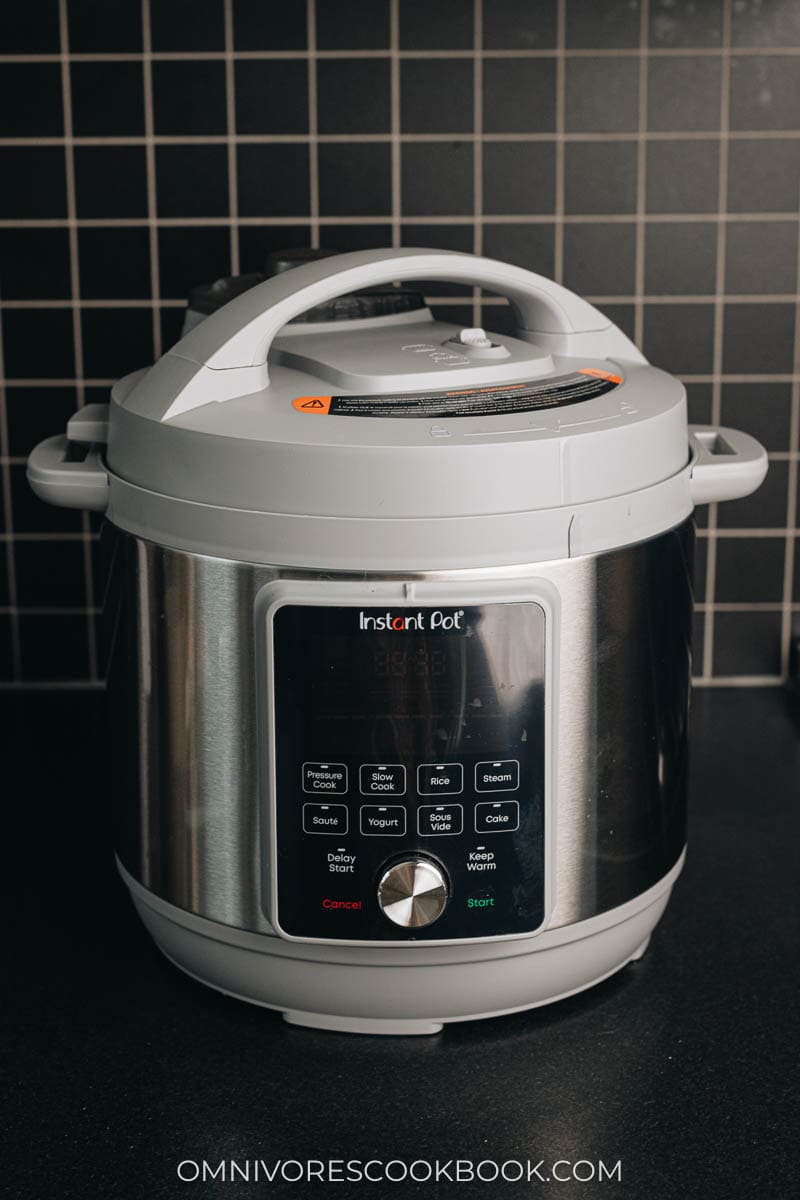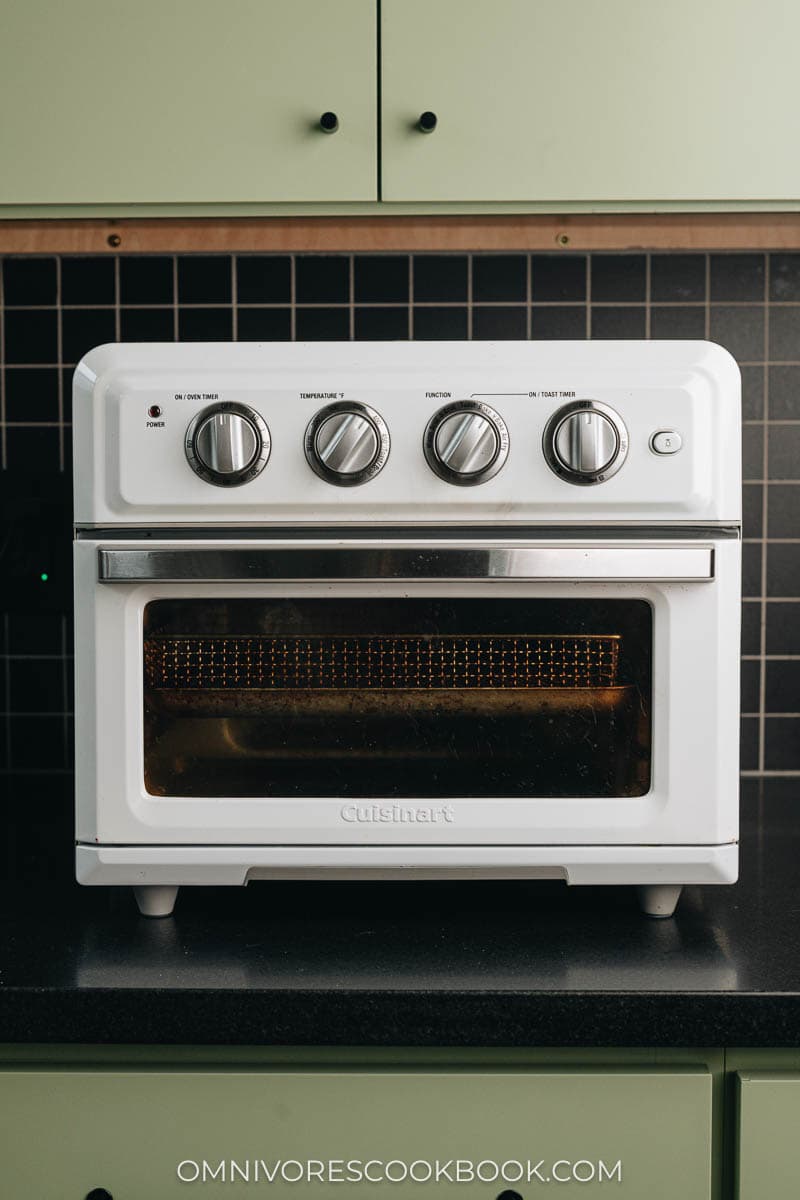 More Chinese Cooking How-Tos