Pork and chive dumplings are one of the most popular types of dumplings in Northern China. The filling is made with juicy pork, bursting with an intense savory flavor of garlic chives, and boiled until tender and hearty.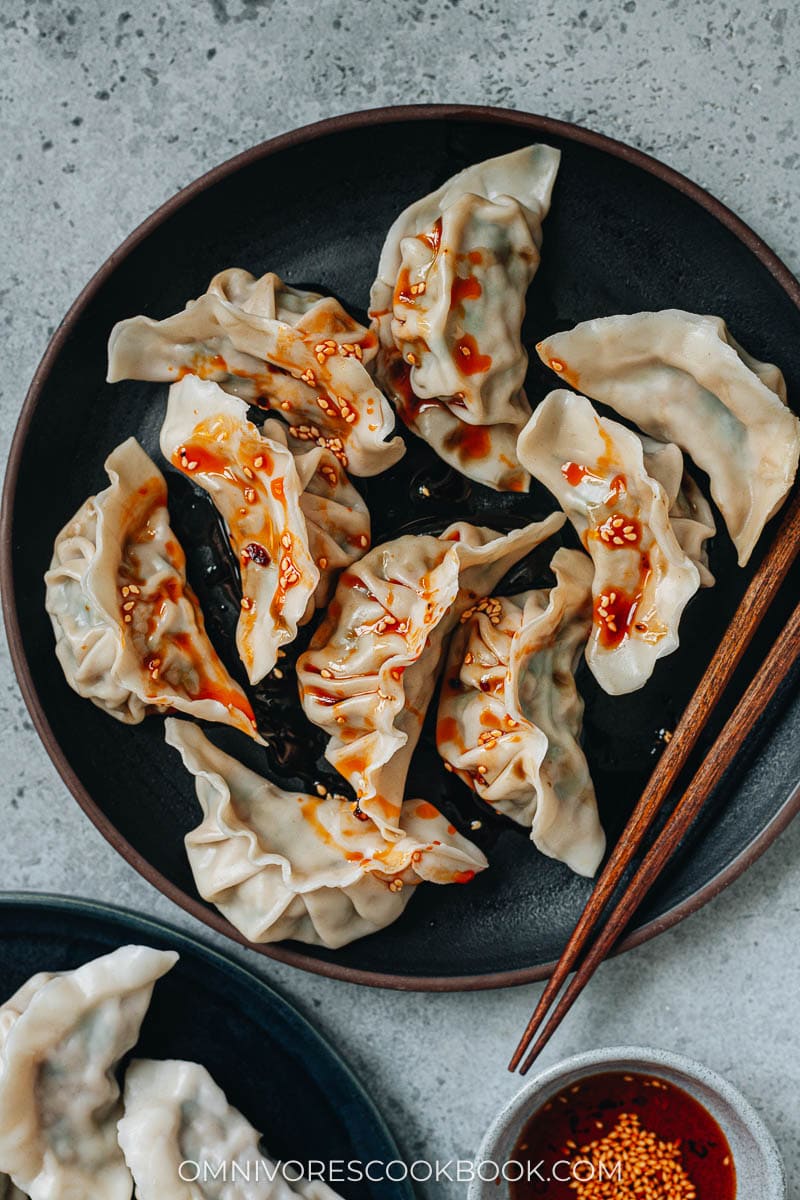 Growing up in Beijing, pork and chive dumplings are one of the most popular types, along with pork and napa cabbage dumplings and three treasures dumplings (pork, mushroom and shrimp).
They are traditionally eaten during the Lunar New Year to bring good luck and wealth. Many believe that the more dumplings you eat, the wealthier you will become.
But for our family, making dumplings is also a special weekend activity we enjoy from time to time. My parents would start the dough in the morning, making dumpling wrappers from scratch, and fill them with the delicious pork and chive filling.
We'd always boil these dumplings, since boiling makes for a tender wrapper and juicy filling. But you can also pan fry or steam them.
The freshly boiled dumplings are so good that I would always eat a few plates of them!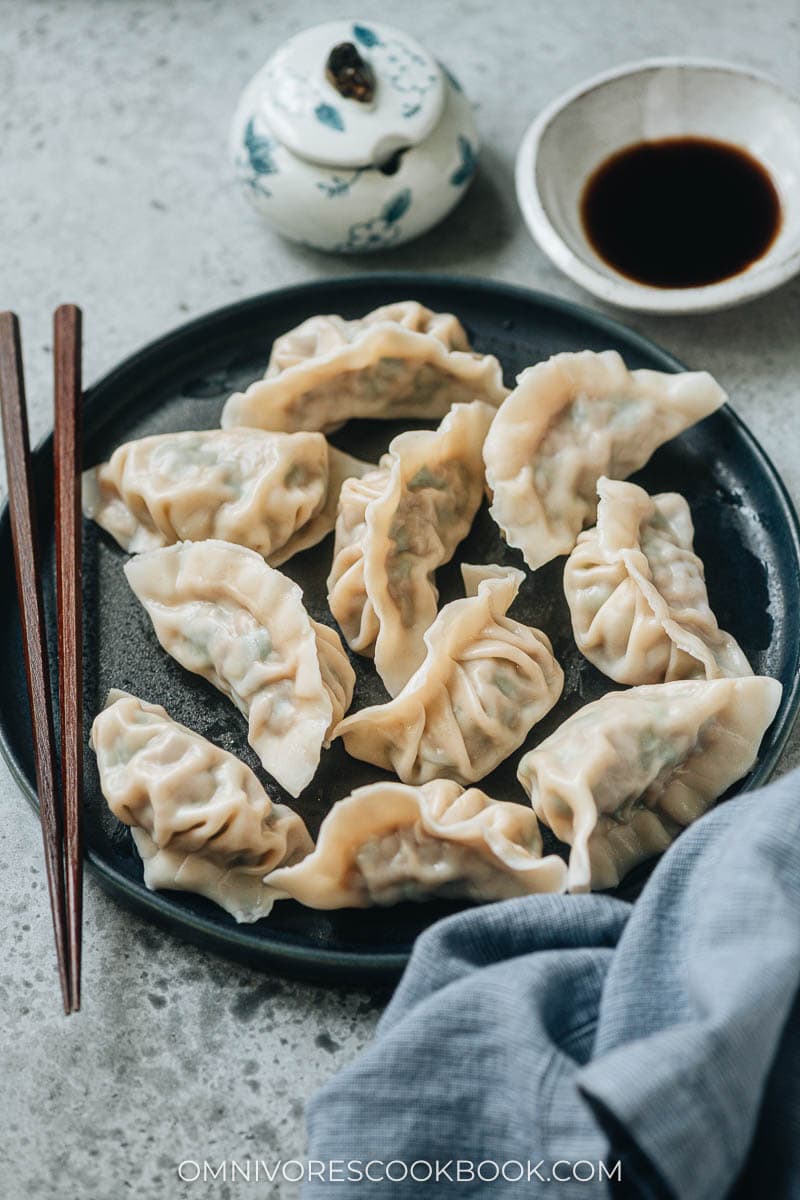 Ingredients for Pork and Chive Dumplings
What are Garlic Chives?
Garlic chives are one of the main ingredients in the filling of the pork and chive dumplings. They are different from the regular chives you may find in an American grocery store. Garlic chives have flat leaves, are solid rather than hollow, and have a very strong garlic flavor. Many Chinese dishes use this potent herb to add a fresh, garlicky taste at the end of the recipe. You should be able to find garlic chives easily at any Asian market.
What type of dumpling wrappers to use?
It's important to use the right type of dumpling wrappers for these boiled pork and chive dumplings. If you use wrappers intended for other dumpling styles (steamed, fried, etc.) the dumplings may fall apart during boiling.
Both Shanghai style (as shown in the photo) and Northern style will work well. The Chinese character 水 (water) on the package means that the wrappers are suitable for boiled dumplings. For some reason, no similar indication is given in English.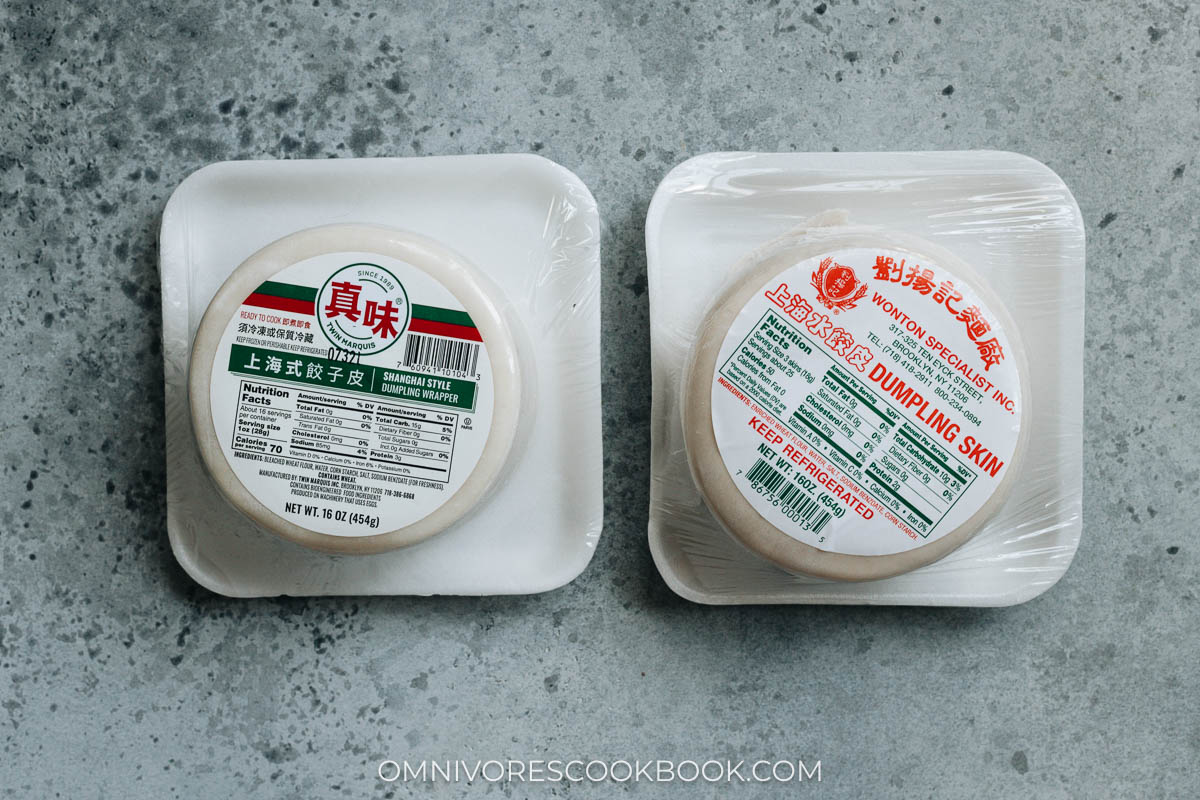 Dried papery shrimp
Dried papery shrimp (虾皮, Xia Pi) are tiny dried shrimp that are a bit salty and full of seafood flavor. They're commonly used in pork and chive dumplings to further enhance the umami. Note, this type of dried shrimp is very small and does not require rehydration before using. You can easily find them at Chinese markets, but you can also skip them if you don't have them on hand.
Alternatively, you can also use fresh shrimp to replace some of the ground pork.  For example, using 1/2 lb fresh shrimp and 1/2 lb of ground pork will make a very good filling. My parents especially like this method for special occasions, since shrimp is usually a bit pricey and special.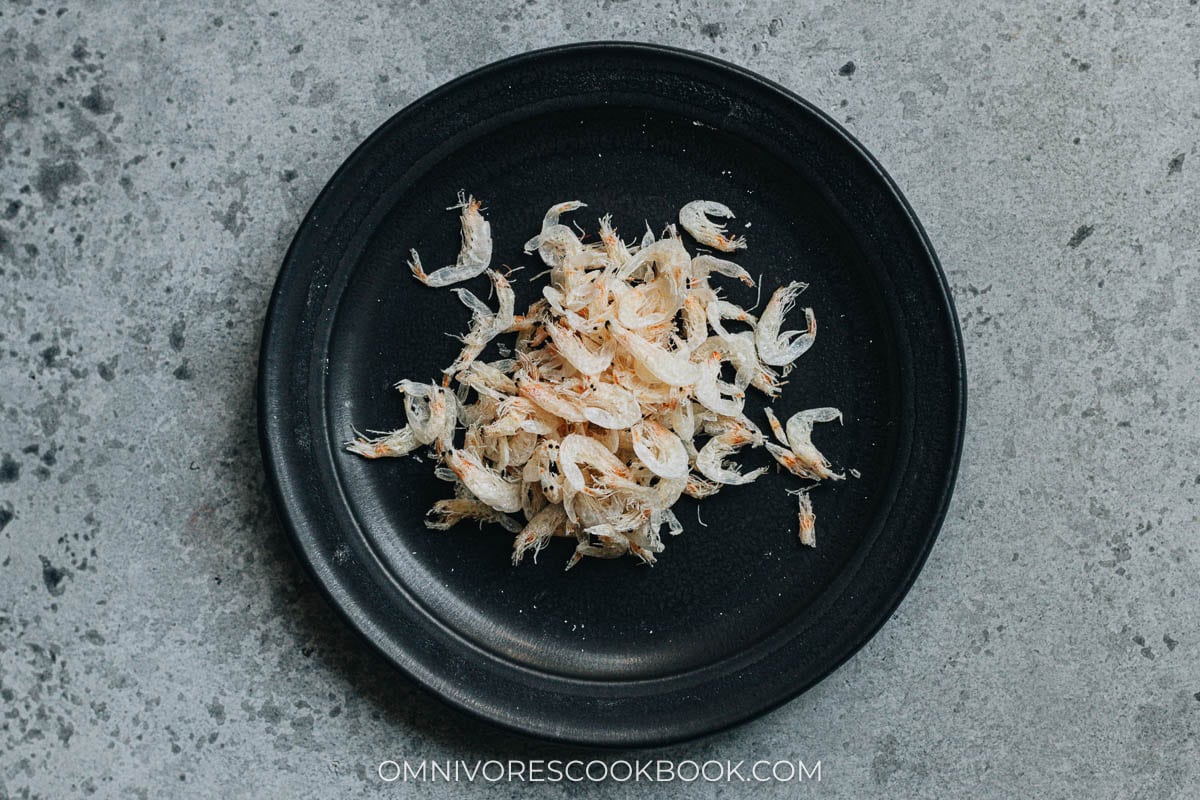 Mise en place
Dumpling wrappers
Ground pork
Papery shrimp (optional)
Garlic chives
Seasonings for dumpling filling

Light soy sauce
Shaoxing wine
Dark soy sauce
Ginger
Salt
Sugar
Ground white pepper
Toasted sesame oil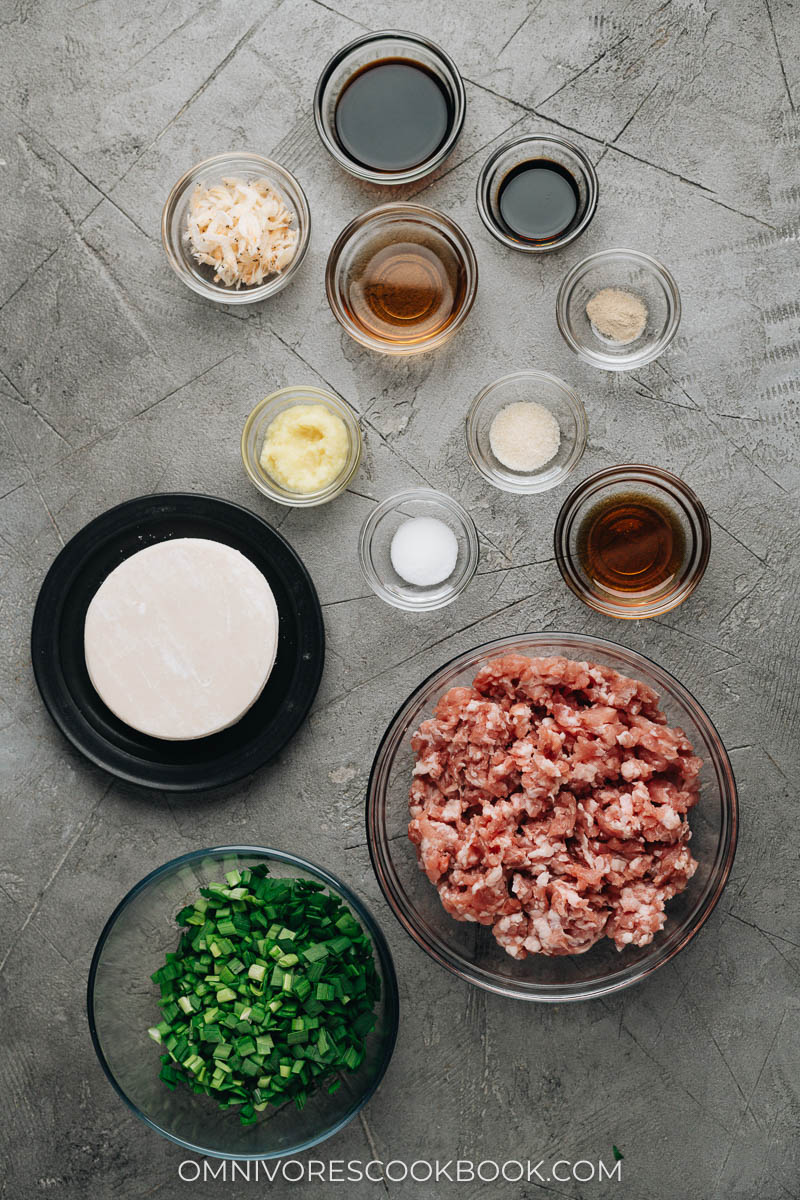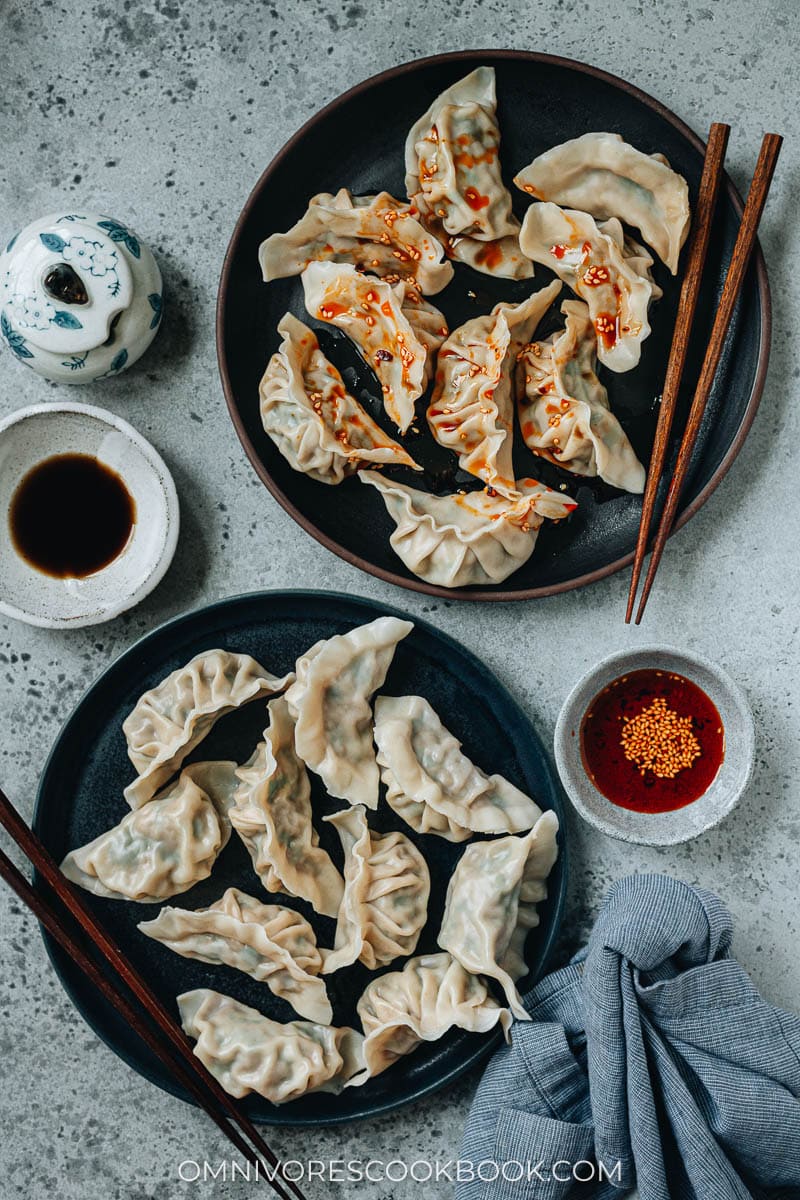 You don't need to measure out the seasonings for your mise en place. Just have them handy and measure them as you add them to the bowl.
How to Make Pork and Chive Dumplings
Start by making the filling for the dumplings.
Add all of the filling ingredients to a bowl except the garlic chives and sesame oil
Mix the ingredients until sticky
Add the sesame oil and garlic chives
Mix again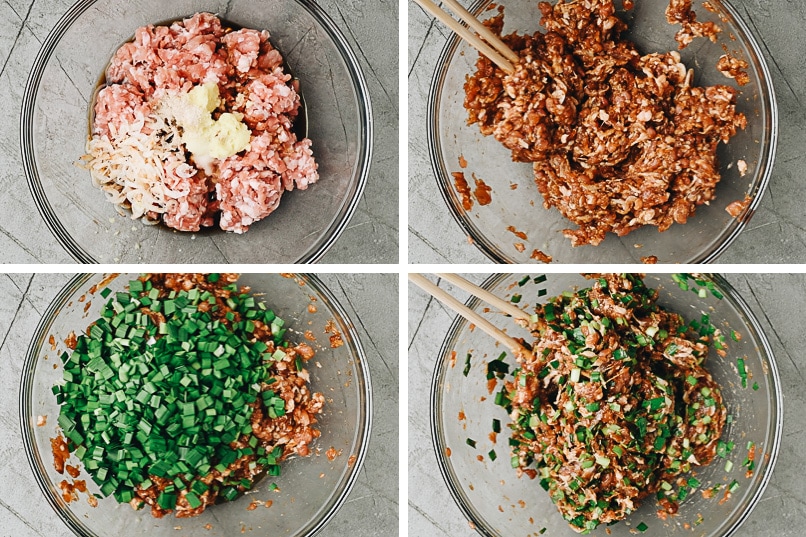 Assemble the dumplings next.
Wet the edge of the dumpling wrapper.
Add one tablespoon of filling into the center of the wrapper
Fold the wrapper in half.
Fold one side of the wrapper like a fan, folding back and forth to enclose the filling and make the dumpling nice and tight
Pinch the edges of the dumpling wrapper to really seal the filling well
Make sure to use wet paper towels to cover up the uncooked dumplings so they don't dry out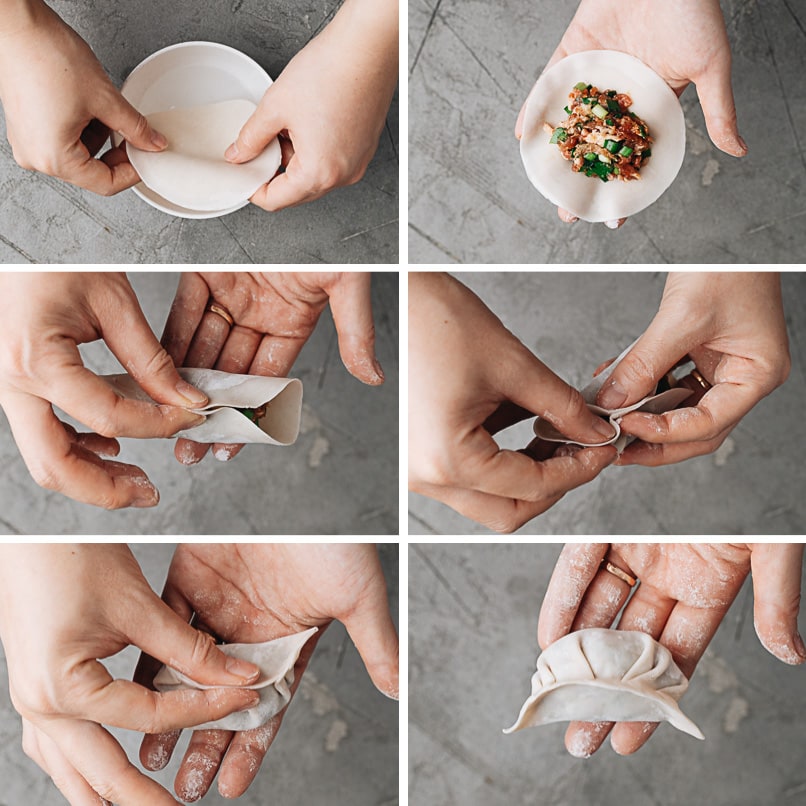 Boil
Boil the dumplings until they float to the top
Boil for 2 to 3 minutes
Drain and transfer to a plate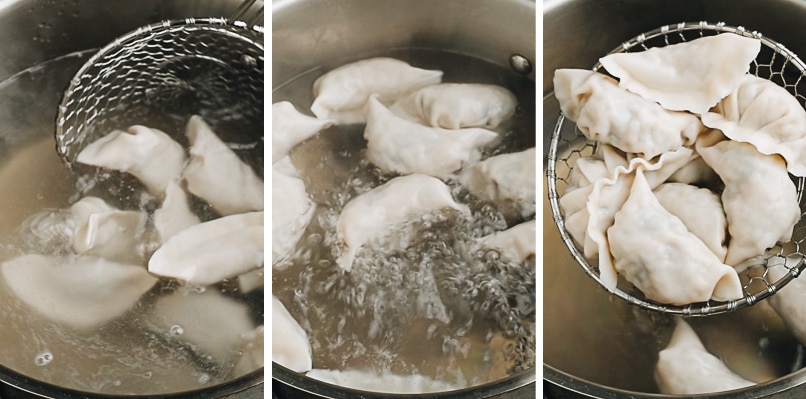 PS: If you prefer to steam or pan fry the dumplings, check out the recipes below:
Tips and Tricks to Make Perfect Dumplings
Many people are intimidated by assembling dumplings. They may look a little tricky but they are actually quite easy. Here are a few tricks I have learned over the years that will help you make perfect dumplings.
Don't overstuff the dumplings. You may be tempted to add more of the delicious filling into each dumpling wrapper but this is a bad idea. Too much filling will cause the dumplings to open and fall apart as they boil. One tablespoon of filling is the perfect amount!
Keep the dumpling wrappers moist as you work. I like to cover them with a damp paper towel (not too wet!) so they stay soft. This will make them easier to work with.
Be sure to wet the edge of the dumpling wrapper before you seal it together. This helps the wrapper stick together and stay closed.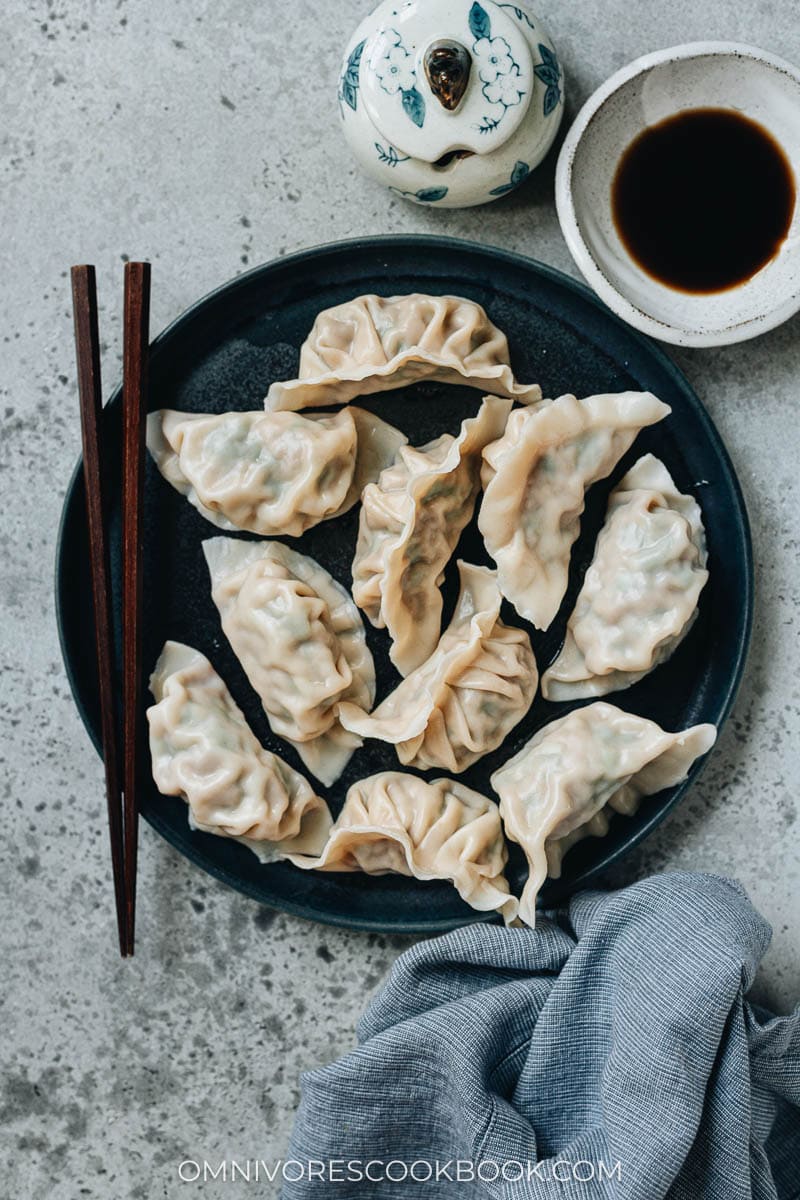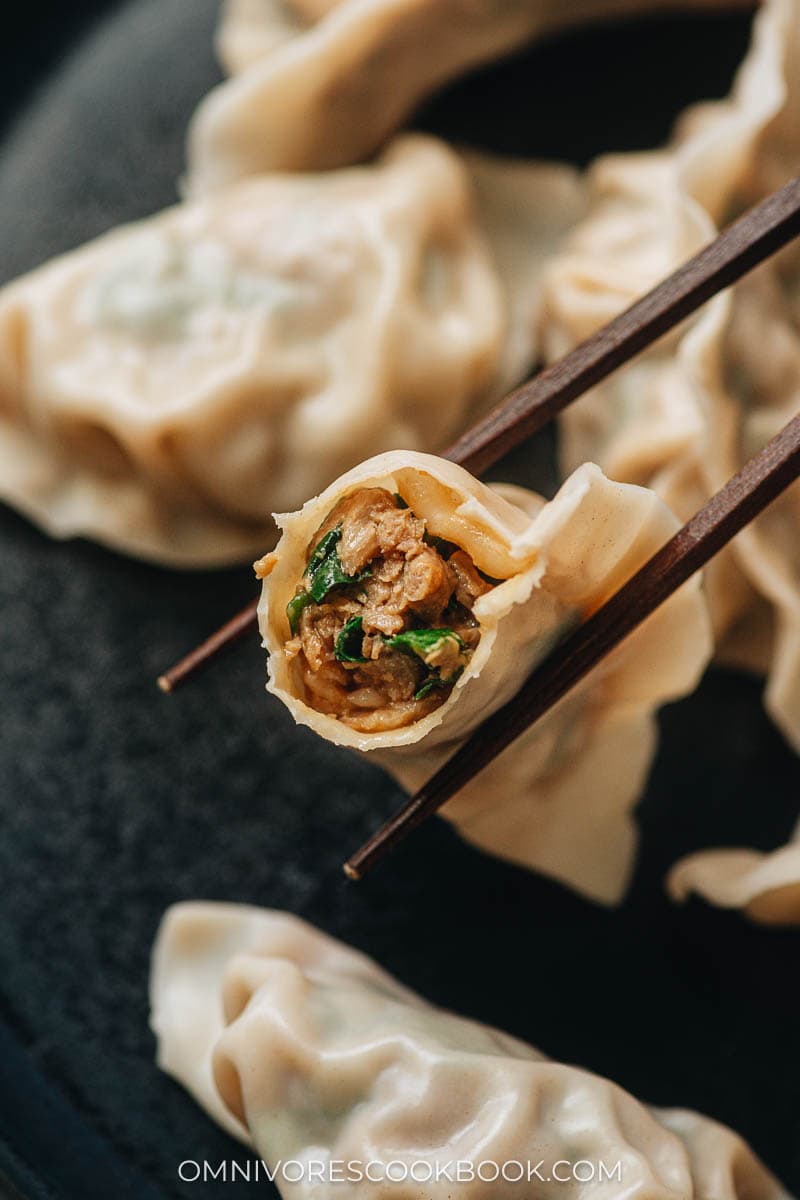 Easy Pork and Chive Dumplings Recipe
My recipe for pork and chive dumplings makes about 32 dumplings. You can easily double the recipe (or even triple it!) to make extra and freeze them for later. I like to assemble the dumplings completely and then freeze them in large, gallon-sized freezer bags. Anytime I am craving pork and chive dumplings, I can take them out of the freezer and pop them right into a pot of boiling water to cook. The frozen dumplings only take about a minute longer to boil and this gives me a very quick and easy meal!
Give these authentic pork and chive dumplings a try and you will see why they are so popular. Don't be afraid to eat a lot of them just in case they really do bring luck and wealth! Enjoy.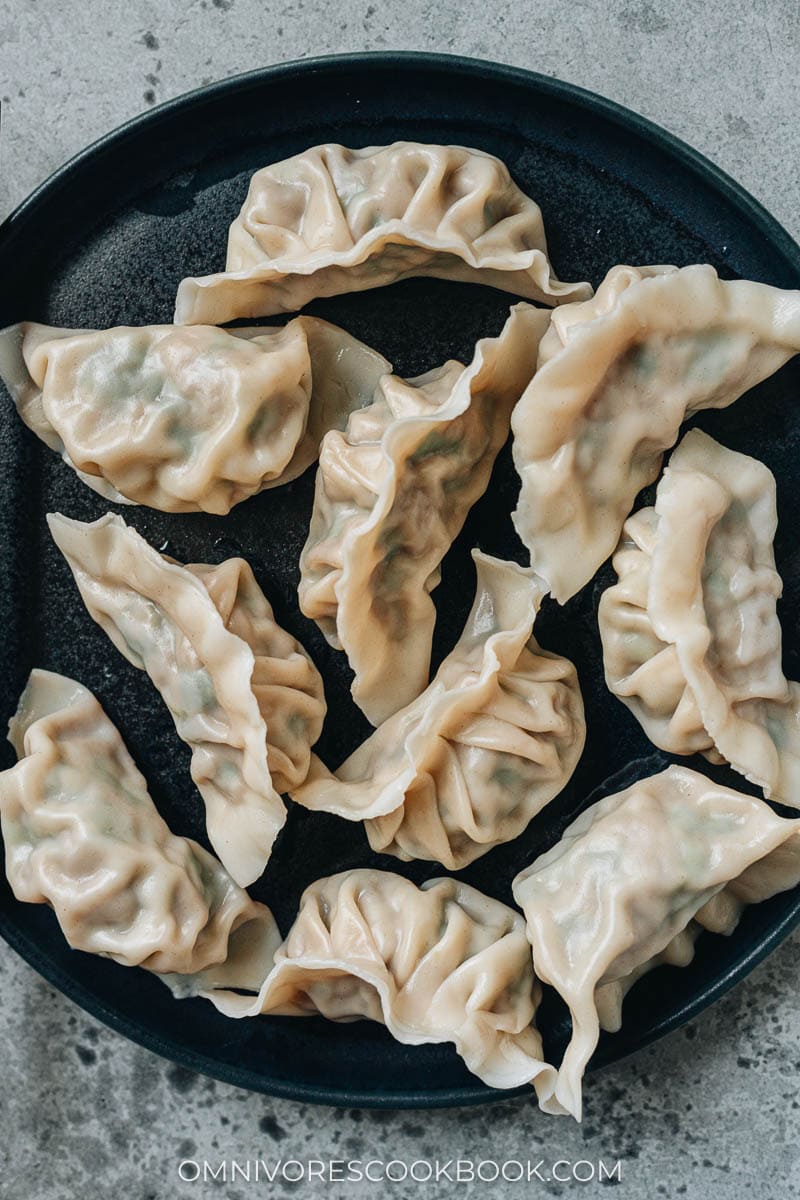 More delicious dumpling recipes
Want to Know More?
Receive our 5-Day Chinese Cooking Crash Course & Recipe Updates! Subscribe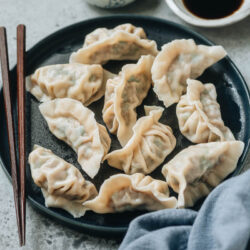 Pork and Chive Dumplings (猪肉韭菜水饺)
Pork and chive dumplings are one of the most popular types of dumplings in Northern China. The filling is made with juicy pork, bursting with an intense savory flavor of garlic chives, and boiled until tender and hearty.
Servings:
32
dumplings (4 to 6 servings)
Ingredients
Filling
1

lb (450 g)

ground pork

2

tablespoons

papery shrimp

(Optional)

2

tablespoons

light soy sauce

(or soy sauce)

2

tablespoons

Shaoxing wine

(or dry sherry)

1

teaspoon

dark soy sauce

1

tablespoon

grated ginger

1/2

teaspoon

salt

1/2

teaspoon

sugar

1/8

teaspoon

ground white pepper

1

tablespoon

toasted sesame oil

14

stalks (130 g)

garlic chives

, sliced into 1/4" (0.5 cm) pieces
Dipping sauce options
Instructions
Prepare the filling
Add the pork into a medium-sized bowl and the rest of the filling ingredients except for the sesame oil and garlic chives.

Beat everything together in one circular direction with a pair of chopsticks or a spatula, until all the liquid is absorbed and the pork is streaky.

Add the sesame oil and Chinese chives. Mix for another minute.
Wrap the dumplings
Prepare a small bowl of water on the side. Cover the dumpling wrappers with damp paper towels to prevent them from drying out.

Wet the edge of a dumpling wrapper. Scoop about 1 heaping tablespoon of dumpling filling and place it in the center of the wrapper. Hold the dumpling with one hand and start sealing the edges with the other hand (watch the video below for the wrapping process). After folding, press the edges again to seal well. You can use any way to fold the dumplings as long as you're comfortable with it. Cover the dumpling wrappers and wrapped dumplings with wet paper towels to prevent them from drying out.

Now you can freeze the assembled dumplings if you aren't going to cook them immediately. Place them onto a baking tray and seal with plastic wrap. You can store the dumplings in the freezer for up to 1 month. Once the dumplings are completely frozen, after about a day, you can transfer them to a gallon zipper bag to save freezer space.
Cook the dumplings
To boil the dumplings: Bring a large pot of water to a boil. Carefully add dumplings into the water, one at a time. Use a big ladle to stir the dumplings gently in a circular motion, until the water starts to boil again, so the dumplings won't stick to the bottom, for about 1 minute. Adjust the heat so the water is at a gentle boil. When the dumplings float to the surface, continue boiling until the dumplings are filled with air and swollen, and the dough starts to become transparent, 2 to 3 minutes. Immediately transfer all the dumplings to a plate.

To cook pan fried dumplings: Cook the dumplings in batches. Heat the 1 tablespoon of oil in a nonstick skillet over medium heat until hot. Add dumplings. Add 2 tablespoons of water and cover. Cook until the dumplings are cooked through, 2 to 3 minutes. Uncover and keep cooking until the bottom side turns golden. If using frozen dumplings, the cooking process is the same, but you will need to cook the covered dumplings for 4 minutes before uncovering the pan.
To serve the dumplings
Serve the dumplings hot with some Chinkiang vinegar or dumpling dipping sauce.
Nutrition
Serving:
1
serving
,
Calories:
359
kcal
,
Carbohydrates:
47.8
g
,
Protein:
28.6
g
,
Fat:
5.8
g
,
Saturated Fat:
1.3
g
,
Cholesterol:
71
mg
,
Sodium:
820
mg
,
Potassium:
419
mg
,
Fiber:
2.7
g
,
Sugar:
2.2
g
,
Calcium:
33
mg
,
Iron:
2
mg