A classic Shanghai dish, braised chestnut chicken is a super comforting dish that is very easy to prepare and extremely satisfying to eat. It's a great centerpiece for your Sunday dinner, or you can make a huge batch for meal-prep.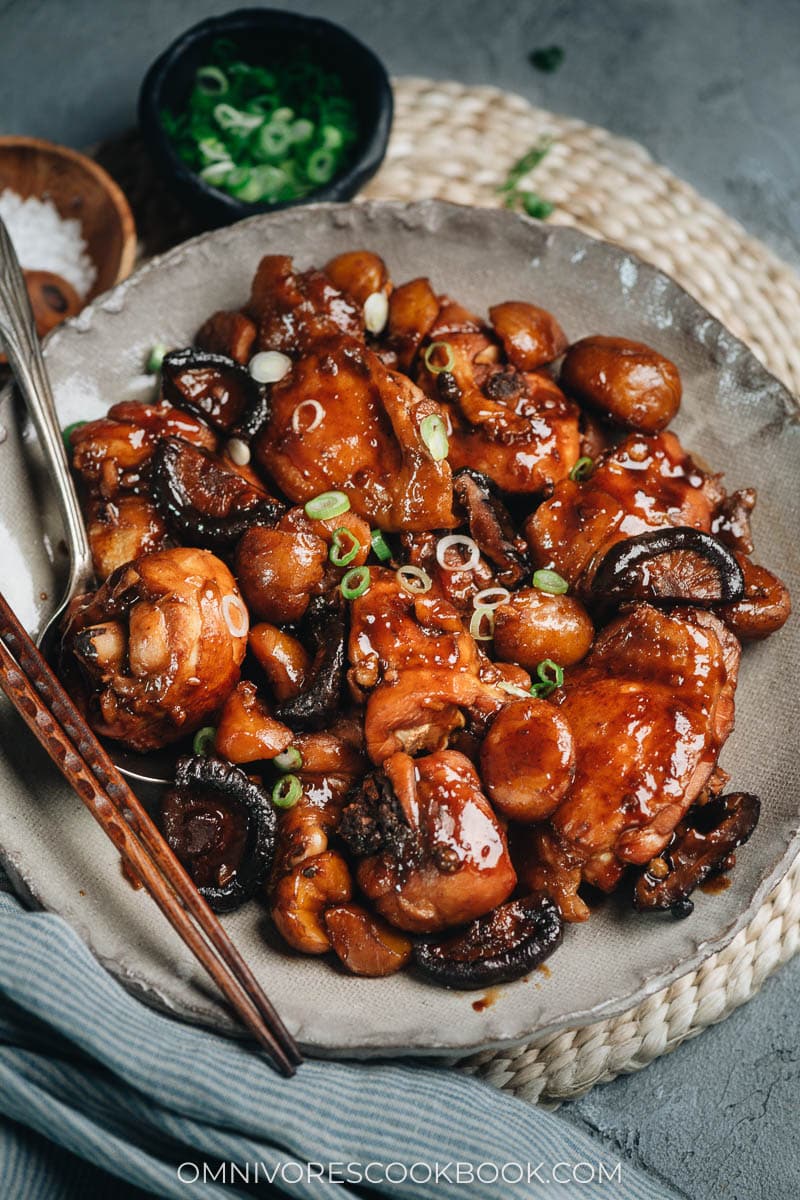 Braised chestnut chicken is a comforting dish that I enjoyed eating growing up in China. When chestnuts are hard to find or not in season, we usually make the braised chicken with shiitake mushrooms. But when I saw the recipe in Belly Liu's newly released cookbook My Shanghai: Recipes and Stories from a City on the Water, I immediately bought the ingredients and made the dish in my kitchen.
Compared to the braising method my mom uses, Betty's version requires a bit of extra love, which makes the dish even more flavorful. Once the dish is done, my kitchen smells so good and the dish makes me feel like I'm back in my mom's kitchen again.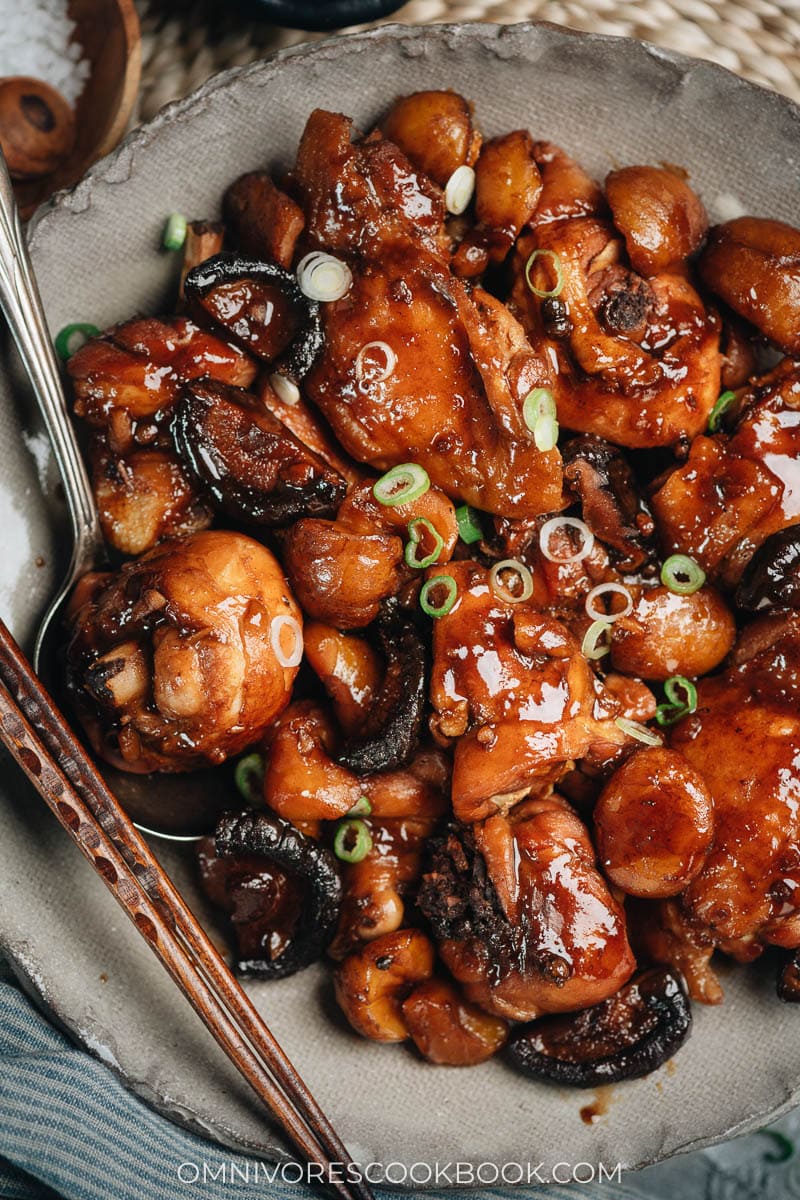 My Shanghai Cookbook
I'd been following Betty's work for a few years before she released her book this March. When I received the book, it was just as beautiful as I imagined it would be.
Betty's book takes you to Shanghai through her stunning photography, anecdotes of her stories living in the US while deeply rooted with the city, and family recipes.
The recipes stay authentic while sharing many tips for audiences overseas, who might not have access to seasonal produce. Beyond well-known dishes and restaurant style food, the book shares many homestyle recipes too, and I enjoy those the most.
I highly recommend adding her cookbook to your collection, since it serves both as a beautiful coffee table book and as a book you'd enjoy cooking from, a rather rare combination.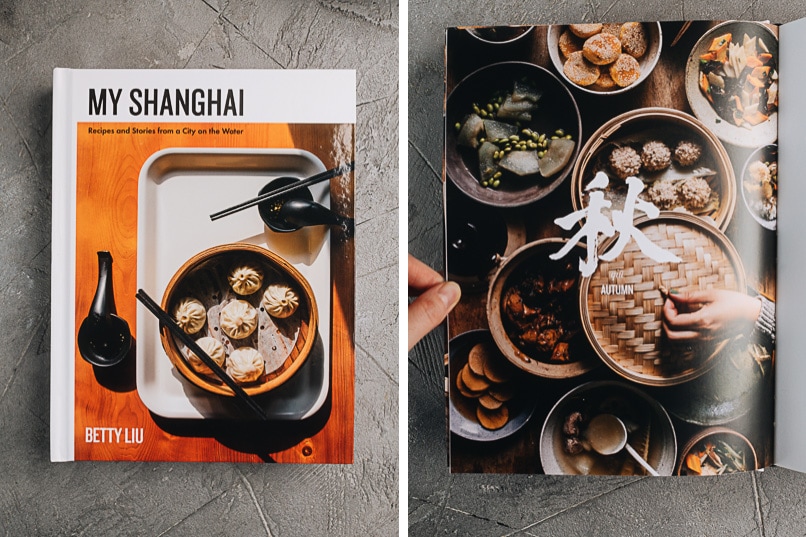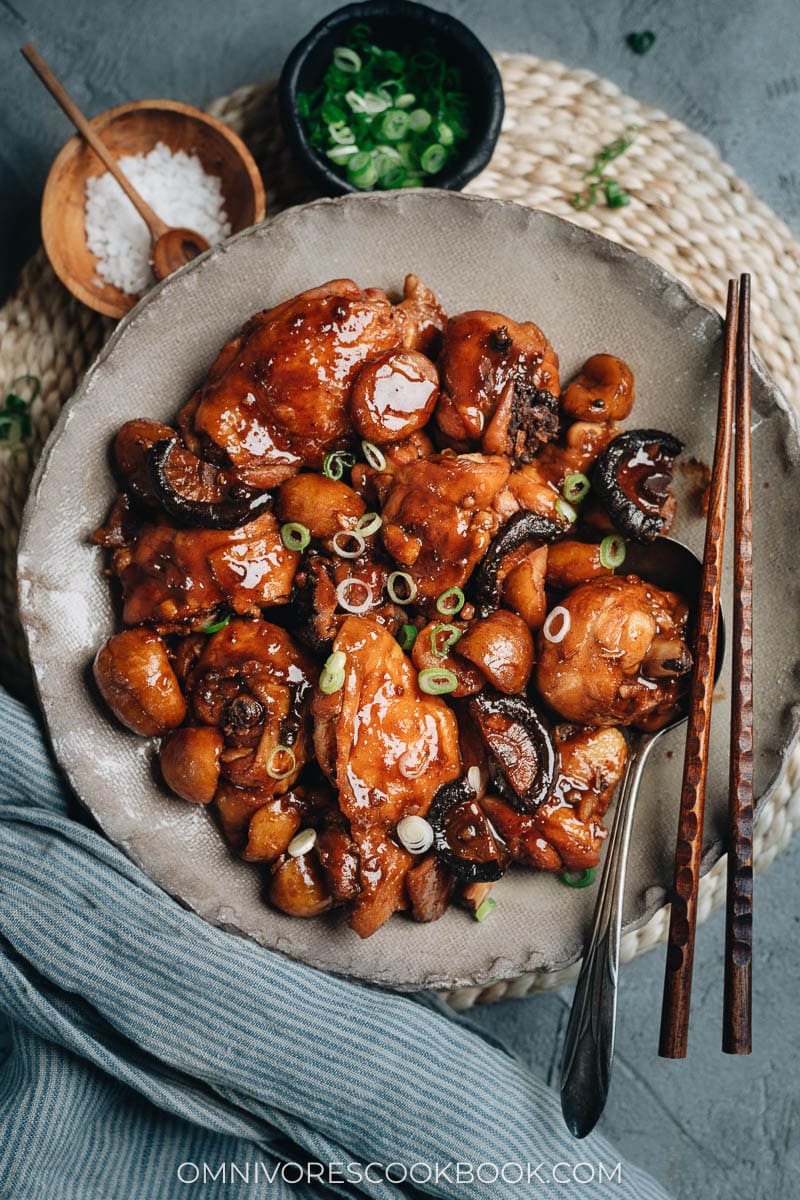 Ingredients for braised chestnut chicken
Most of the ingredients for braised chestnut chicken are easy to acquire and you probably already have them in your Chinese pantry.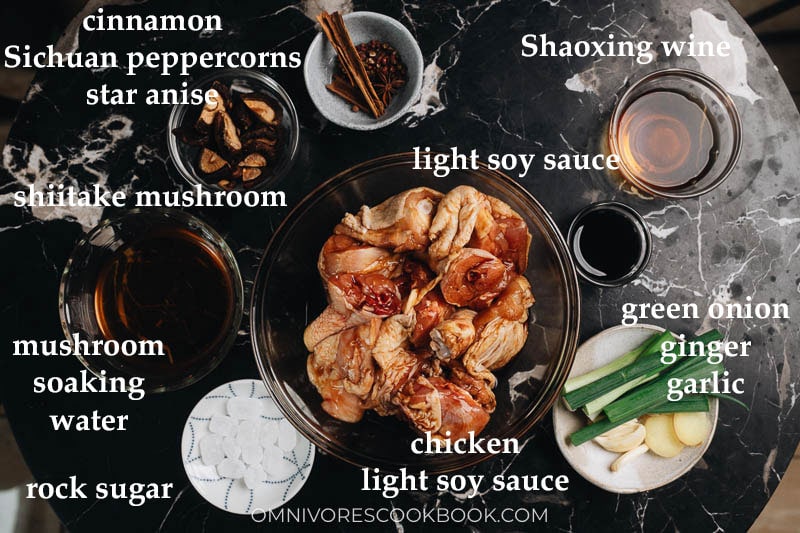 Chestnut
The single item in this recipe that's quite rare is the chestnut. It's a seasonal product you will see in Chinatown or Asian markets during fall. If you don't have access to the fresh ones, you will need to use the frozen, vacuum packed, or canned type. When the fresh ones are not available, my favorite version is the frozen type. They are quite close to the fresh ones if prepared properly. You can use the vacuum packed or canned chestnuts as well. But they might come pre-seasoned and might fall apart more easily during braising.
Chicken
To make the best braised chestnut chicken, you will have to use bone-in skin-on chicken chopped into bite-sized pieces. When you use bite-sized bone-in pieces, the meat will cook faster while staying juicy, the bones will release flavor into the broth, and the fat from the skin will be emulsified in the broth to make it sticky and extra rich.
In China, a whole chicken is usually used for this dish. But in the US, it's easier to use chicken leg quarters, each chopped into four pieces.
It's very easy to chop bone-in chicken with a cleaver if you have one. But if you only have a chef's knife, it's totally fine as well.
Cut along the joint to separate the thigh and leg
Cut the thigh and leg further into four pieces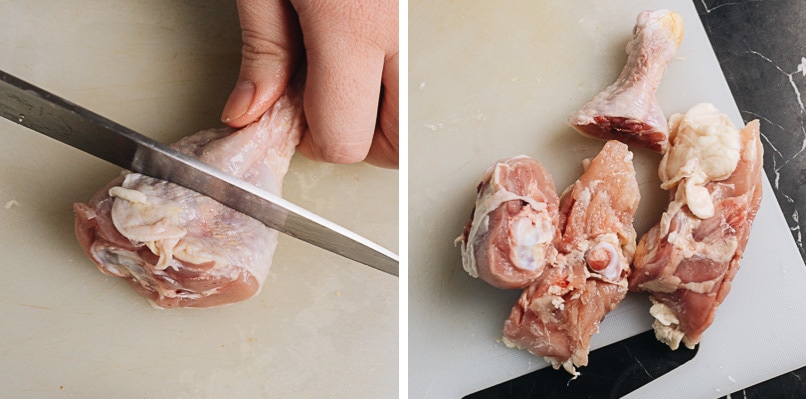 If your knife is on the light side and you think it might be impossible to hack the bone in one motion, do not swing your knife from the top many times trying to cut through at one point. Instead, cut through the meat first, then use your other hand to hold the chicken piece, then swing the knife and chicken piece at the same time, a few inches from the cutting board. This way, you can cut through the bone easily without messing up the meat.
Rock sugar
Rock sugar is another ingredient that makes your braised meat taste better, and it and creates a beautiful glaze. You can usually find it in Asian markets or on Amazon.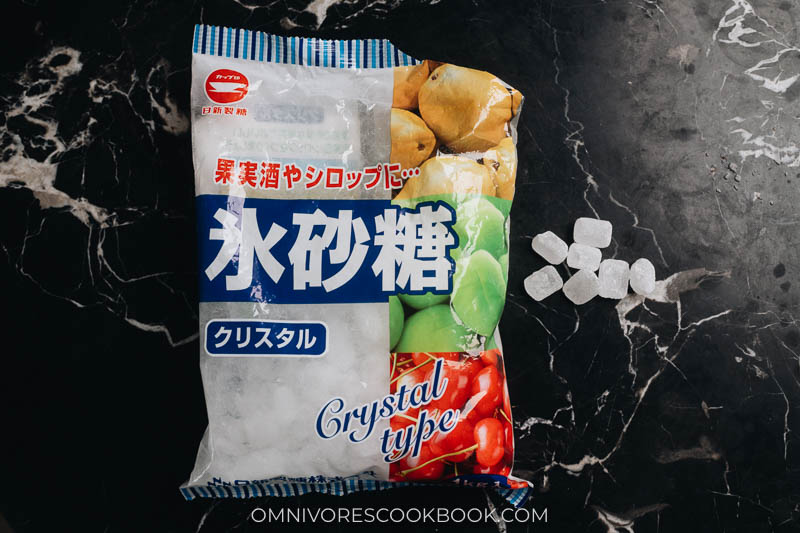 Sometimes the rock sugar might come in the form of giant crystals. In this case, you will need to use a mortar and pestle to grind it into smaller pieces.
Rock sugar is less sweet than regular sugar. If you use regular sugar to replace rock sugar, you should use a smaller amount.
Dried shiitake mushrooms
It takes a bit of time to soak them but doing so adds tons of flavor to the broth. I highly recommend using the dried ones because they taste richer than fresh mushrooms used this way.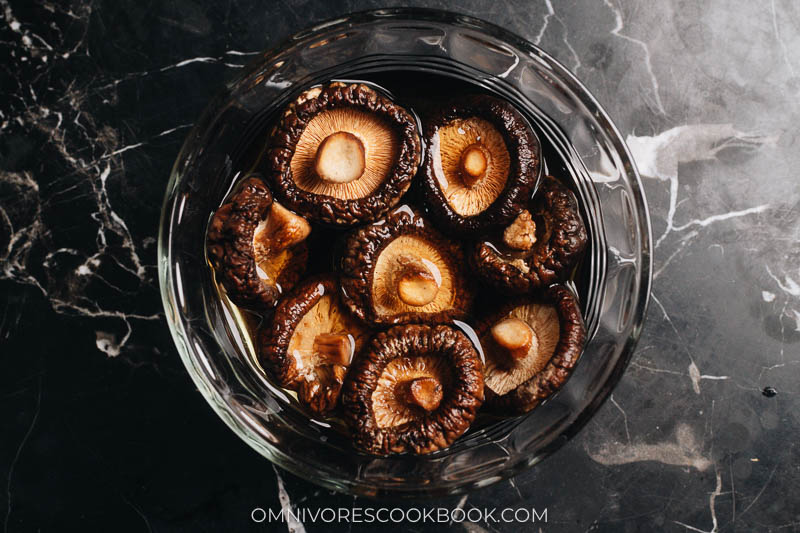 Cooking process
Blanche the chestnut, then pan fry them (skip the blanching if using vacuum-packed or canned)
Brown the aromatics and the mushrooms
Brown the chicken
Add water and spices to braise
Stir occasionally, until the chicken turns very tender
Turn up the heat to reduce the sauce if needed, then serve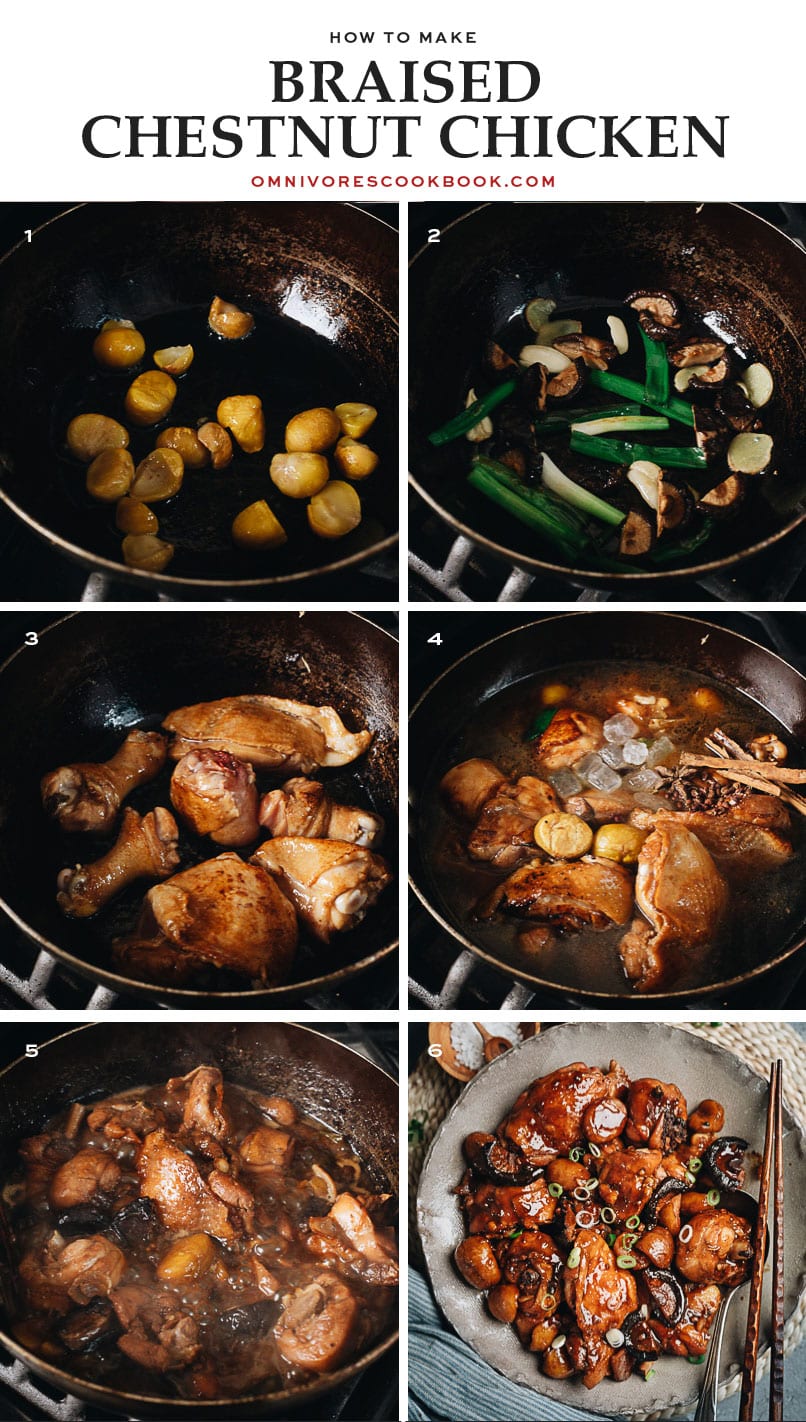 How to serve
I love to serve braised chestnut chicken over steamed rice, along with some green vegetables and a simple soup.
Here are some dishes that go well with it: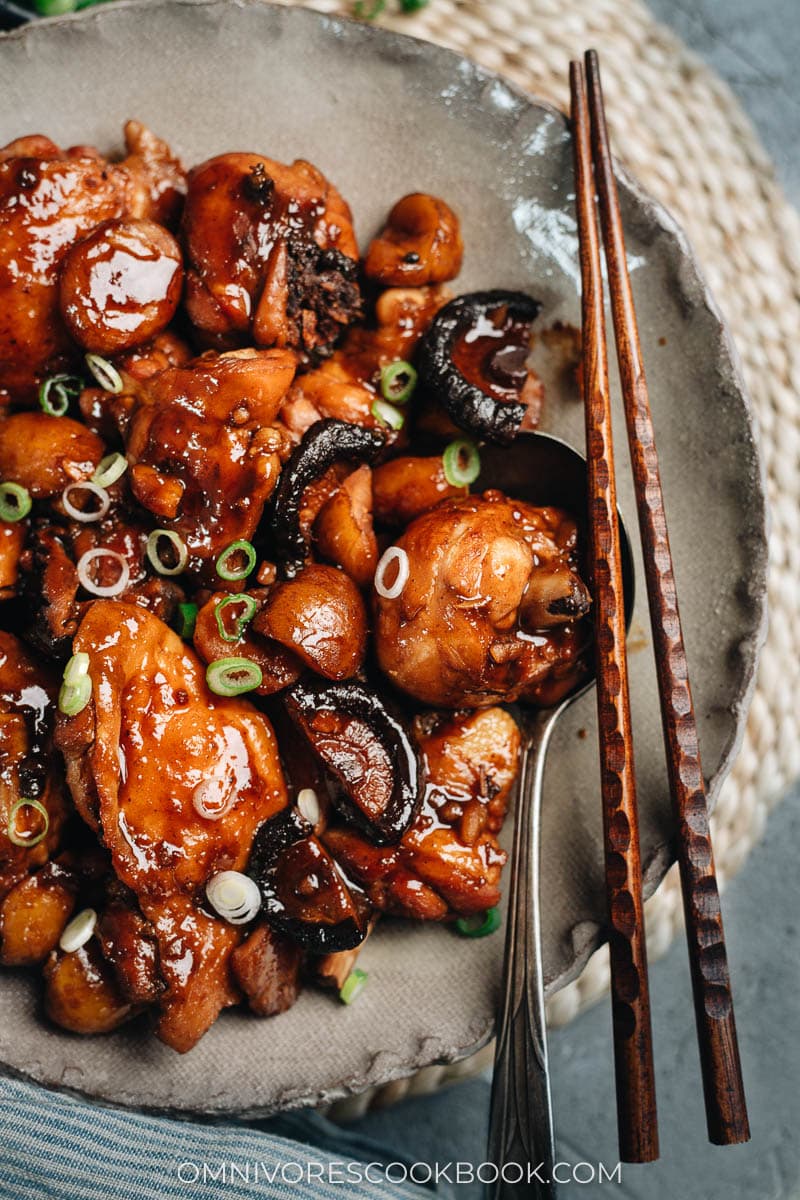 Want to Know More?
Receive our 5-Day Chinese Cooking Crash Course & Recipe Updates! Subscribe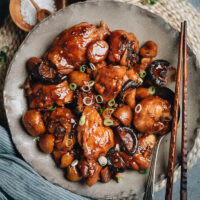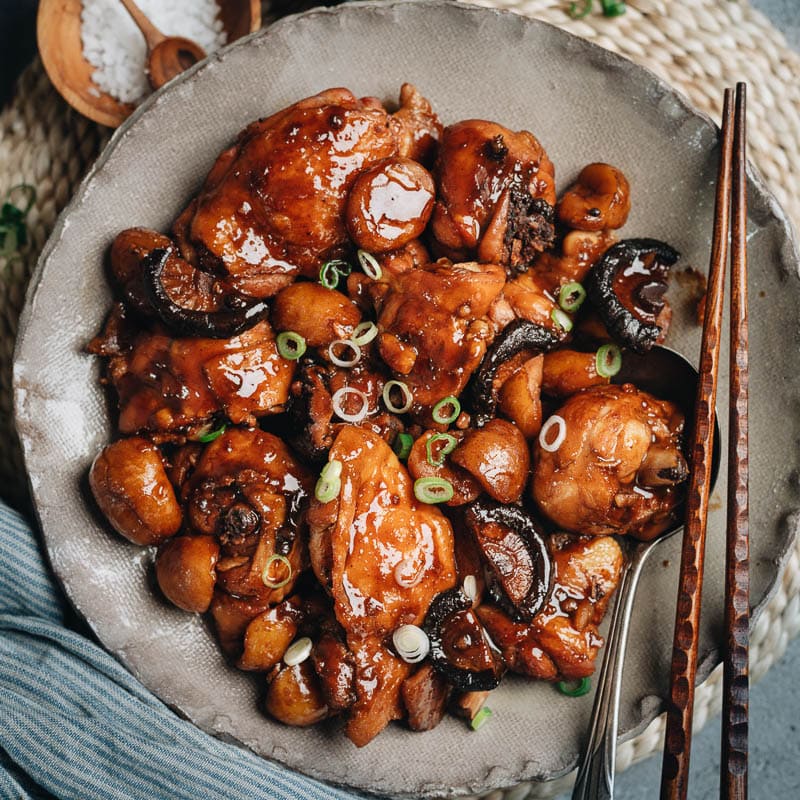 Braised Chestnut Chicken (板栗炖鸡)
A classic Shanghai dish, braised chestnut chicken is a super comforting dish that is very easy to prepare and extremely satisfying to eat. It's a great centerpiece for your Sunday dinner, or you can make a huge batch for meal-prep.
Ingredients
1.5

lbs (680 g)

bone-in chicken leg quarters

, cut into four bite-sized pieces (*Footnote 2)

3

tablespoons

light soy sauce

12

chestnuts

, fresh, frozen, canned, or vacuum packed (*Footnote 1)

2

tablespoons

peanut oil

(vegetable oil, or lard)

3

green onions

, two chopped into 2" (5 cm) pieces and one finely chopped

3

cloves

garlic

, smashed

2

pieces

ginger

3

tablespoons

Shaoxing wine

(or dry sherry)

1

tablespoon

dark soy sauce

1/2

teaspoon

kosher salt

2

tablespoons

rock sugar

(or 1 tablespoon regular sugar)

1

piece (3" / 7.5cm)

cinnamon stick

1

teaspoon

Sichuan peppercorns

(optional)

1

teaspoon

sesame oil

(optional)
Instructions
Place the shiitake mushrooms in a small bowl and add 1/2 cup warm water. Let soak until the mushrooms turn soft throughout. Once done, gently rub the mushrooms to remove any dust on the surface. Squeeze the excess water from the mushrooms and reserve the soaking liquid.

Add the cut chicken pieces and the light soy sauce in a big bowl. Toss to mix well and set aside.

Bring a small pot of water to a boil over high heat. For fresh chestnuts, slice off their bases, boil for 3 to 5 minutes. Once done, transfer the chestnuts using a slotted spoon to a bowl. Taking care not to burn yourself, rub until the skins fall off and a pale yellow nut is revealed. Dry thoroughly. If using peeled frozen chestnuts, boil according to the package instructions (mine said 10 mins, but yours may be less).

In a medium-sized dutch oven or wok, add the oil and heat over medium heat until hot. Add the chestnuts. Cook, stirring occasionally, until lightly browned. Transfer to a plate.

Add the green onion, garlic, ginger and soaked mushrooms. Cook until lightly browned. Transfer everything to the plate with the chestnuts.

Add the chicken pieces without overlapping (you might need to cook them in two batches). Let cook until the bottom side is lightly browned, and then flip to brown the other side. (*Footnote 3)

Pour 1 1/2 cups water into the pan. Use your spatula to scrape off the browned bits from the bottom. Add the 1/2 cup of the reserved mushroom soaking liquid, but be careful not to add the residual bits on the bottom of the bowl.

Add the Shaoxing wine, dark soy sauce, kosher salt, rock sugar, star anise pod, and Sichuan peppercorns. Add back the cooked chestnuts with the aromatics. The liquid should cover most of the chicken. If not, you can add a bit more water.

Cook over medium-high heat until bringing the broth to a low boil. Then adjust the heat so the broth remains at a low boil (*Footnote ). Cook uncovered for 25 minutes, or until the chicken turns very tender. Over the final 10 minutes of cooking, keep an eye on the chicken and stir carefully a few times.

Once the cooking is done, the broth should be reduced to able to coat the chicken with a thin layer. And it will thicken a bit more once it has cooled a bit. If there's too much broth left but the chicken has already turned very tender, you should transfer the chicken to a serving bowl and keep reducing the broth over high heat, until it thickens. If the chicken is not too tender, you can reduce the sauce while keeping the chicken in the pot.

Once done, drizzle sesame oil over the chicken if using. Sprinkle chopped green onions for garnish.

Serve hot over steamed rice as a main course.
Notes
Fresh or frozen chestnuts are the best and they require some prep. Canned and vacuum packed chestnuts do not require prep. Although they might end up a bit mushy after braising.
I highly recommend chopping the chicken leg into smaller pieces, which will cook faster and let the meat soak up more flavor. The chicken bones will help season the sauce and make it more flavorful.
The original recipe suggests transferring everything to a clay pot to braise if you have one.
Keeping the broth at a low boil instead of a simmer will help some of the oil / fat to emulsify with the broth, which yields a thick flavorful glaze at the end. If you prefer a clear broth, you will need to simmer the chicken instead, which will result in a thinner sauce.
Nutrition
Serving:
1
serving
,
Calories:
387
kcal
,
Carbohydrates:
35.3
g
,
Protein:
36
g
,
Fat:
12.3
g
,
Saturated Fat:
3
g
,
Cholesterol:
101
mg
,
Sodium:
1217
mg
,
Potassium:
539
mg
,
Fiber:
3.1
g
,
Sugar:
11.4
g
,
Calcium:
26
mg
,
Iron:
2
mg
Lilja Walter is a part of the Omnivore's Cookbook team and worked closely with Maggie to develop and test this recipe.