Jing Jiang Rou Si, or Peking shredded pork with sweet bean sauce, features tender pork bites cooked in a thick savory brown sauce that is aromatic and sweet. Served with scallions, you can either wrap it in tofu sheets or duck pancakes, or serve it over steamed rice for a decadent meal.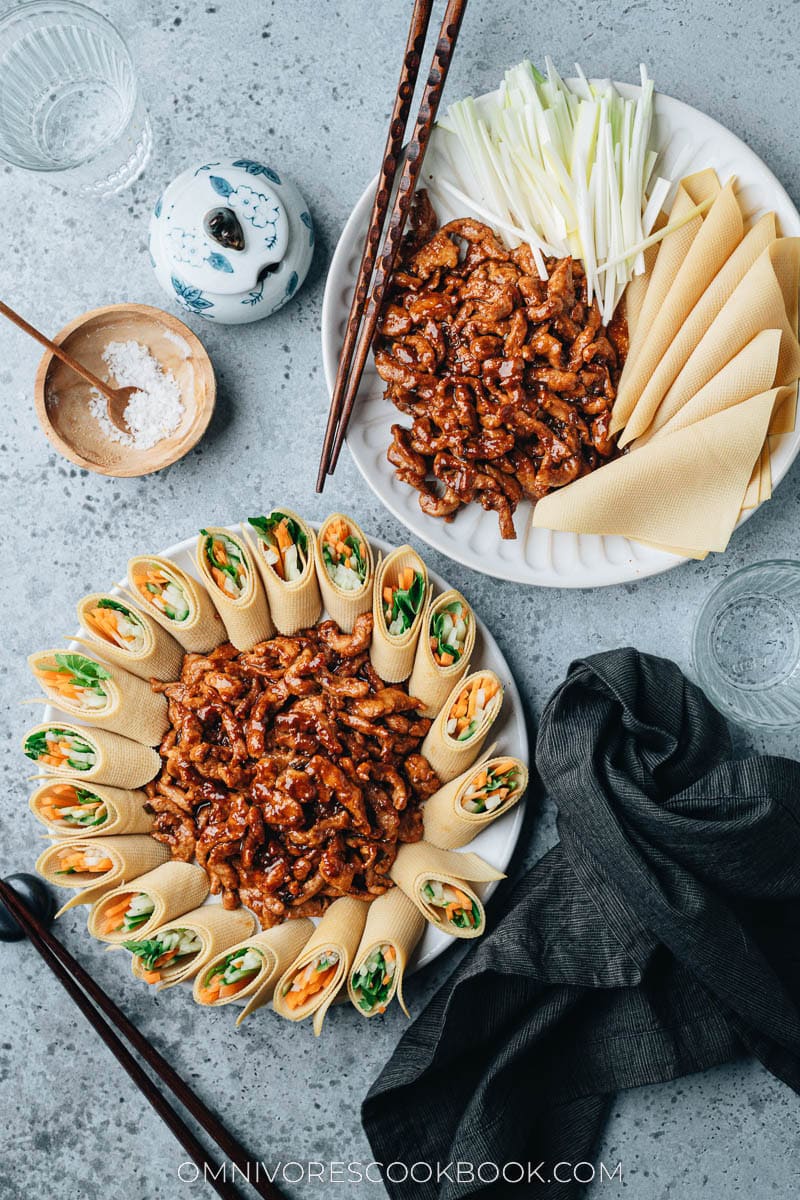 If you asked me to pick a dish that represents Beijing cuisine, Jing Jiang Rou Si and Zha Jiang Mian (Beijing fried sauce noodle) would come to mind immediately. Both dishes use very affordable and down-to-earth ingredients to make a satisfying and filling meal. Both are quite easy to put together and are very suitable for a weekday dinner.
What is Jing Jiang Rou Si
Jing Jiang Rou Si (京酱肉丝), which directly translates to Peking sauce shredded pork, is a signature dish from Beijing that I ate growing up. It's a popular dish in restaurants and you see quite a few different ways to serve it, depending on the chef. The main star of the dish is the thinly sliced pork cooked in a thick sauce that is super rich, savory and sweet. The pork is very tender and juicy. In a nicer restaurant, it is often served with sliced Chinese scallions and tofu sheets on the side. You can roll the pork and a piece of scallion in a tofu sheet to make a small "burrito" as you eat. At a hole-in-the-wall diner or school cafeteria, the pork would simply be served over a bed of steamed rice.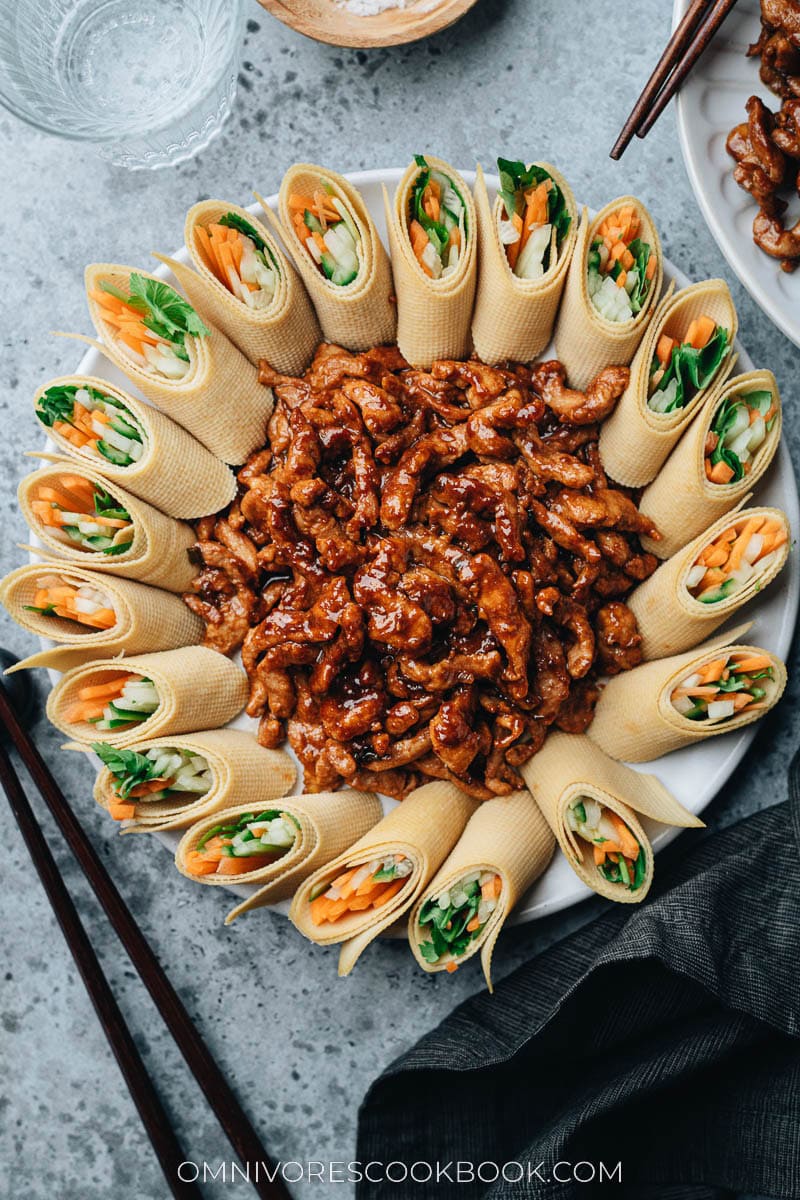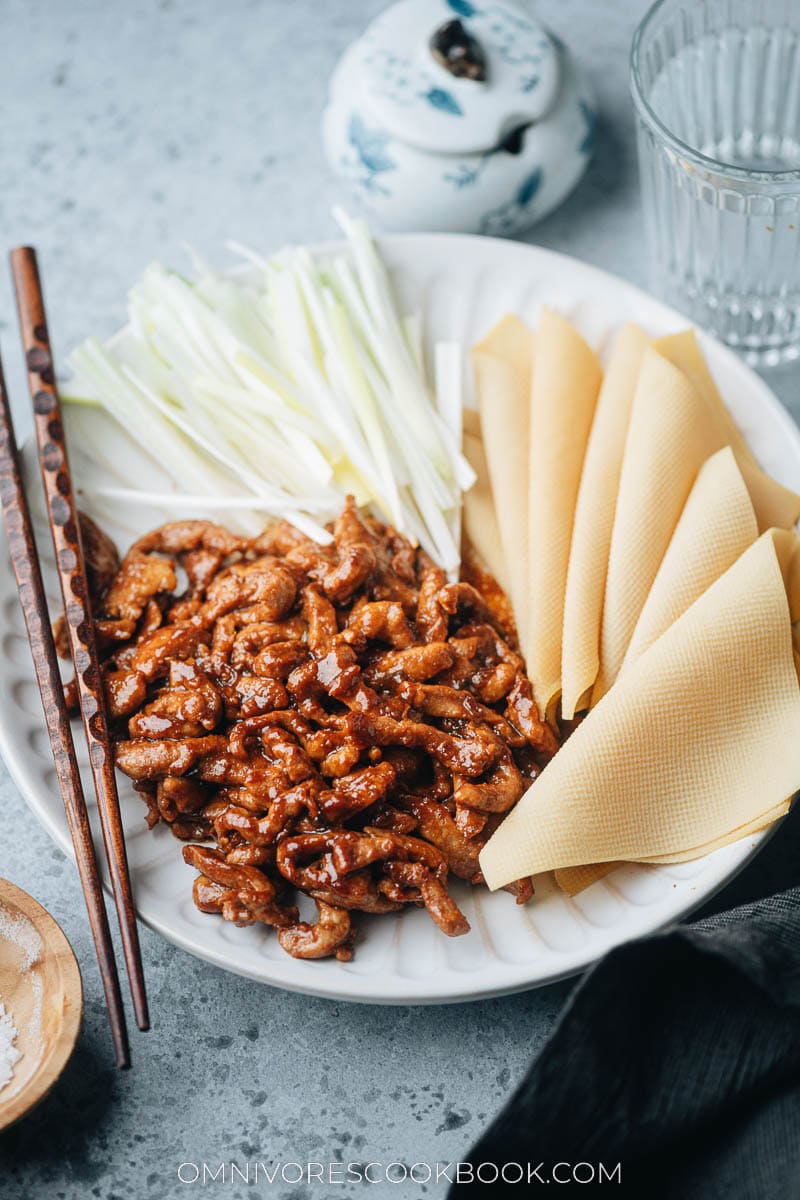 Ingredients for Jing Jiang Rou Si
Sweet Bean Paste
Sweet bean paste (甜面酱), sometimes called sweet bean sauce or sweet flour sauce, is the main ingredient in the Jing Jiang Rou Si sauce. The sauce is made primarily from fermented flour, fermented soy sauce, sugar and salt. It is a thick, opaque, reddish dark brown sauce that tastes salty, slightly sweet, and has a savory umami that is similar to that of fermented soybeans.
Sweet bean paste is also the main ingredient in Peking duck sauce. It is sometimes labeled as "hoisin sauce" at Chinese restaurants in the US, because hoisin sauce sounds more familiar. Sweet bean sauce tastes much better due to the depth of flavor, since it goes through a fermentation process which hoisin sauce lacks.
You can find sweet bean paste at Chinese markets and Japanese markets. You can also purchase it on Amazon.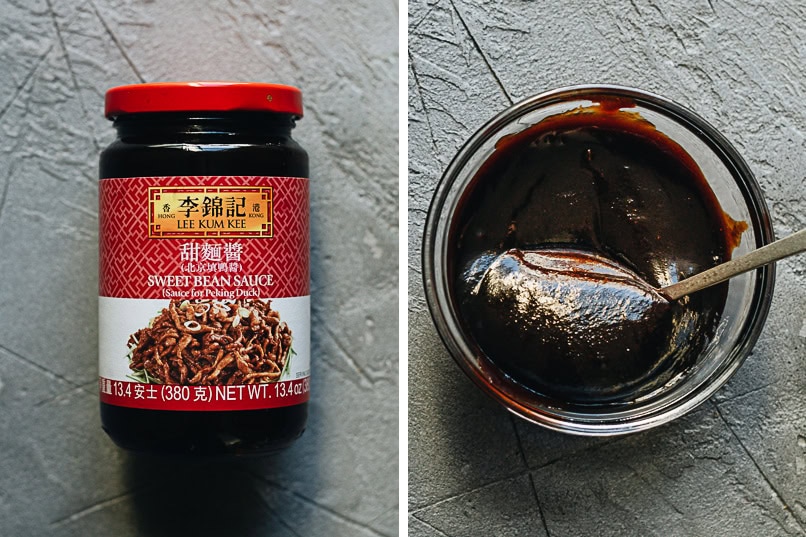 Tofu sheet
Tofu sheet (豆腐皮), sometimes called soy sheet, is a type of tofu product made from soybeans and water. Due to the different manufacturing process, tofu sheets have a much tougher texture and are thinner than firm tofu, and they can hold their shape pretty well without falling apart.
When serving Jiang Jiang Rou Si, you can use tofu sheets to wrap up the pork to make small "burritos". It's a nice way to add more texture and make the meal more filling.
You can find tofu sheets at many Asian grocery stores, usually in the refrigerated section, and sometimes in the freezer section.
This is one potential serving option for Jing Jiang Rou Si, and you don't have to use this ingredient if it's hard to find.
Chinese scallion
Chinese scallion (大葱), is called big scallion in China. Compared with the green onions often seen in US grocery stores, Chinese scallions are much bigger in size (similar to leeks). Their texture is tougher and the flavor more pungent. Jiang Jiang Rou Si is traditionally served with Chinese scallions, whose sharp spiciness cuts through the rich flavor of the pork. It is totally fine to use regular scallions to replace Chinese scallions.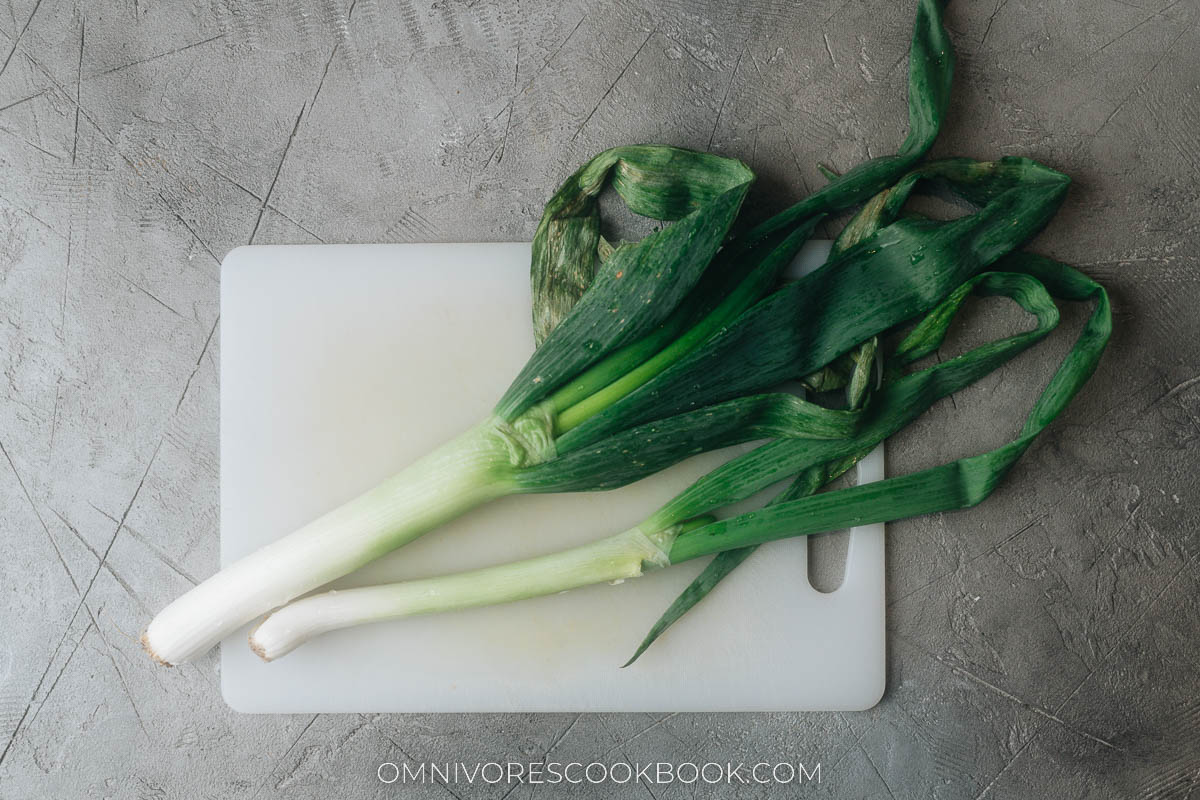 Which cut of pork to use
You can either use pork tenderloin or pork loin to cook Jing Jiang Rou Si. However I highly recommend tenderloin because of its tender texture.
To cut the pork:
Cut the pork into sections that are about 2.5" (6 cm) long
Slice the pork along the grain into 1/4" (4 mm) thick slices
Further slice the pork along the grain into 1/4" (4 mm) thick matchsticks
Cutting the pork might be the most time consuming part of the dish.
My favorite way is to thaw the frozen pork overnight in the fridge, so it's still quite frozen the next day, but possible to cut through with a knife. It is much easier to cut when the pork is half frozen.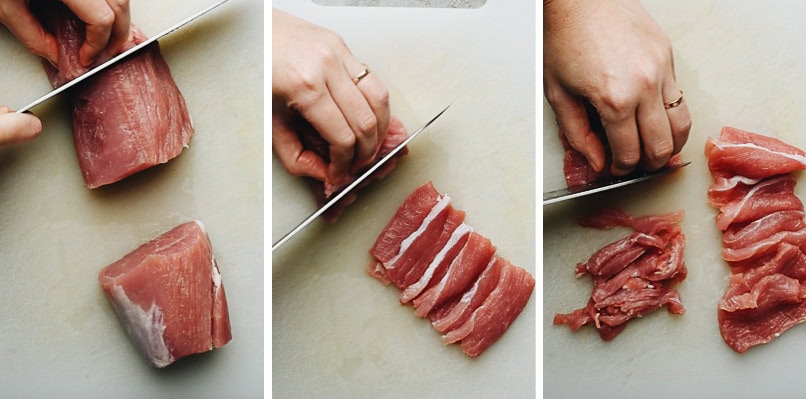 Mise en place
When you're ready to cook, your table should have:
Sliced green onion (for cooking)
Mixed sauce
Marinated pork
Sliced Chinese scallion (for serving)
This recipe uses ginger in the marinade to tenderize the meat. And the egg white helps keep the pork juicy and tender during cooking.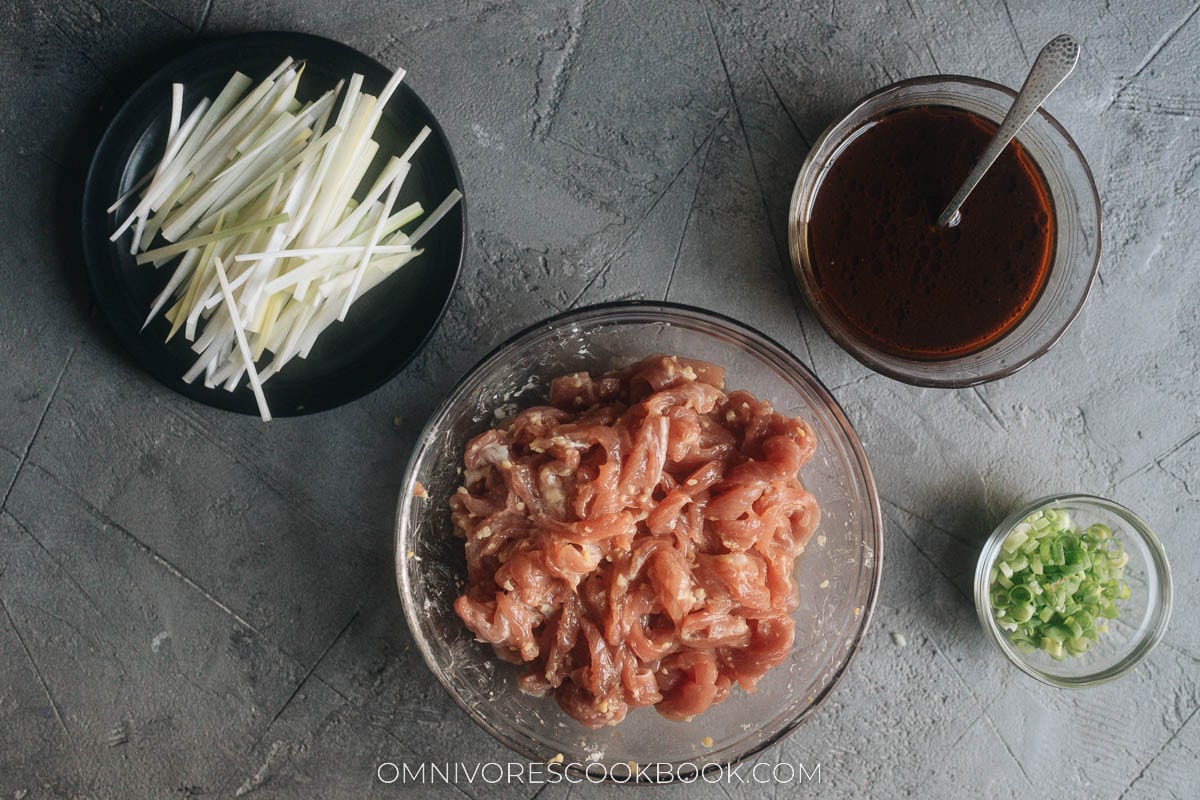 Jing Jiang Rou Si cooking process
Cooking Jiang Jiang Rou Si couldn't be easier. The only thing you should be careful of is not to overcook the pork.
Cook the pork in a nonstick pan. It's important to keep the pork a bit undercooked, so it will be just cooked through after cooking with the sauce.
Saute the green onion.
Cook the sauce until it thickens. You can use your spatula to draw a line in the pan. The sauce will be thick and won't run back immediately.
Add back the pork for a final stir. As soon as the pork is coated, immediately transfer everything to a plate to prevent it from overcooking.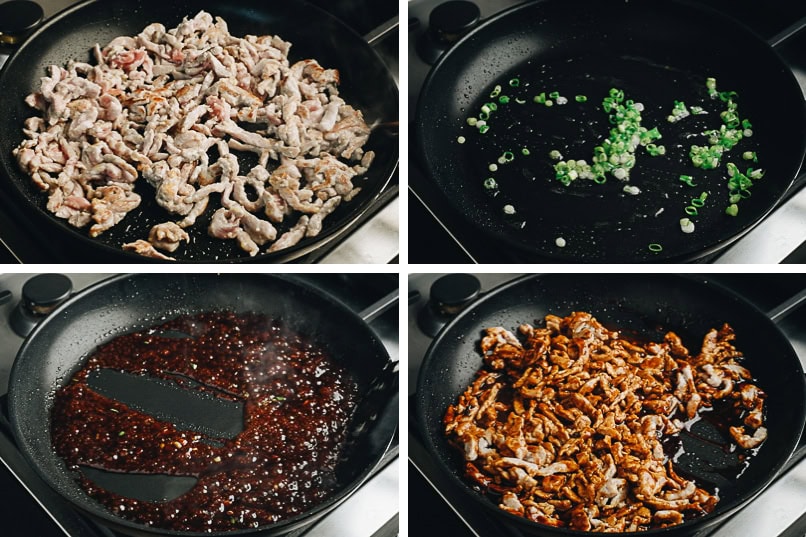 A nonstick pan works better
Because the thinly sliced pork is quite tender and delicate, it is much easier to use a nonstick pan to help the pork stay in one piece.
Chinese restaurants use a carbon steel wok with a large amount of to flash fry the pork. It is not very suitable for home cooking so I opt to pan fry instead.
How to serve Jing Jiang Rou Si
There are many ways to serve Jiang Jiang Rou Si and all of them are delicious.
Serve it over steamed rice
Frankly, this is the easiest way to serve the dish. The savory rich sauce goes very well with rice. And you can easily put the rice together while preparing the pork. No special ingredients needed.
Serve with duck pancakes
You can use duck pancakes (also called mandarin pancakes and moo shu pancakes) to wrap up the pork and scallions to make a burrito. I consider this to be a cheaper (and easier) version of Peking duck. Because the sauce is very similar to Peking duck sauce, with the tender pork and spicy scallion, the flavor is quite close to the experience of a Peking duck wrap.
Serve with tofu sheets
In China, restaurants usually serve Jing Jiang Rou Si with sliced tofu sheets cut to the size of wonton wrappers. To eat, add a few slices of the pork and scallion onto the tofu sheet to make a "taco". The tofu sheet adds an interesting texture and makes the dish more filling.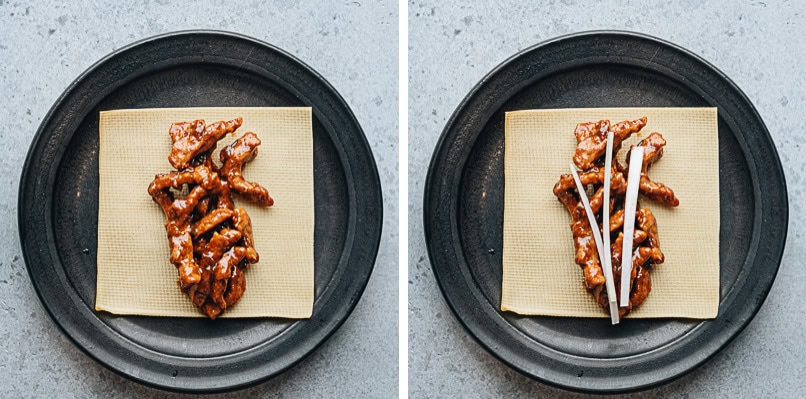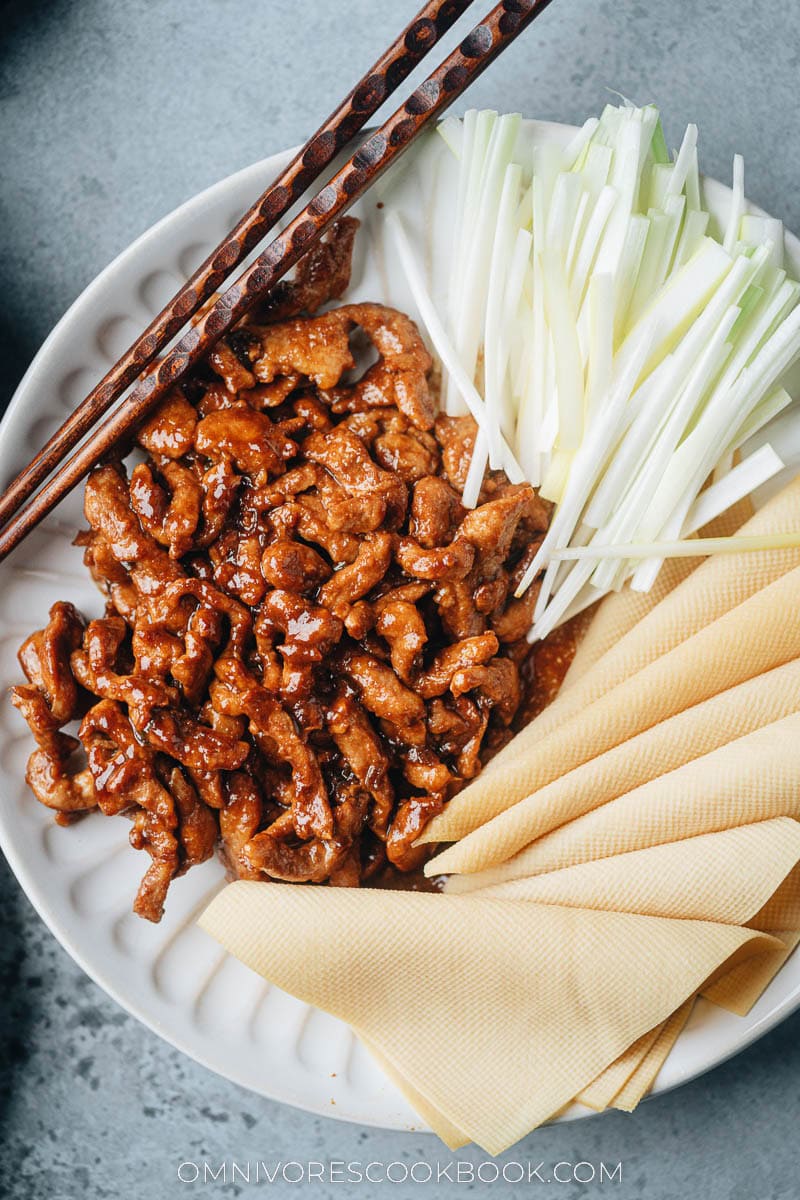 Serve with tofu vegetable wraps
This is a slightly unconventional way to serve Jing Jiang Rou Si, but I like it a lot. The vegetable wraps are made with:
A tofu sheet (without cutting it into small squares), topped with sliced carrot, cucumber and cilantro.
Roll up the tofu sheet while tucking in the vegetables
Slice the roll diagonally
Carefully plate the rolls cut-side-up
You can eat the pork together with the rolls. You can also dip the vegetable rolls in the sweet bean paste. It is very delicious (if a bit time consuming) to make! I recommend making it if you're hosting a dinner party, because the presentation is quite stunning.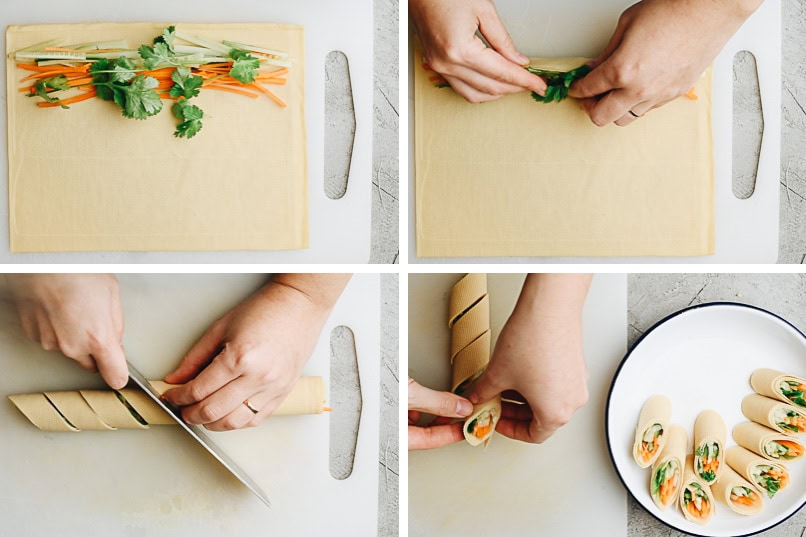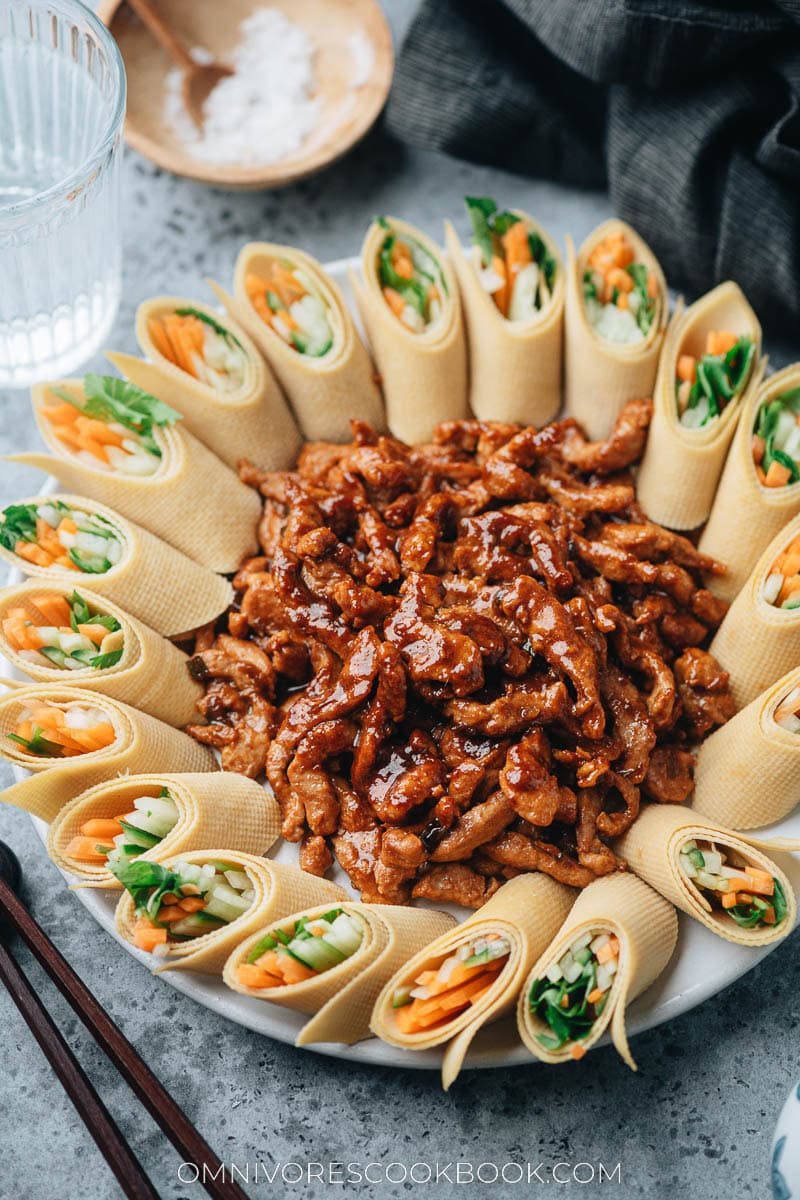 Afterthoughts
Jing Jiang Rou Si is a very popular dish where I grew up, but is less known outside of China. It's a dish I have been meaning to share for several years, but hesitated as I was worried that people wouldn't want to cook it. If you've never heard of the dish before but enjoy a rich tasting stir fry, I hope you give it a try!
Other delicious northern Chinese dishes
Want to Know More?
Receive our 5-Day Chinese Cooking Crash Course & Recipe Updates! Subscribe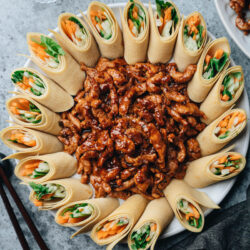 Jing Jiang Rou Si (Peking Shredded Pork, 京酱肉丝)
Jing Jiang Rou Si, or Peking shredded pork with sweet bean sauce, features tender pork bites cooked in a thick savory brown sauce that is aromatic and sweet. Served with scallions, you can either wrap it in tofu sheets or duck pancakes, or serve it over steamed rice for a decadent meal.
Ingredients
For marinating
12

oz (340 g)

pork tenderloin (or loin)

, cut into 1/4" thick matchsticks along the grain (*Footnote 1)

1

tablespoon

egg white

1

tablespoon

Shaoxing wine

1/4

teaspoon

salt

1

tablespoon

ginger

, finely minced

2

teaspoon

cornstarch
For stir-frying
2

tablespoons

peanut oil

(or vegetable oil)

2

green onions

, sliced
Serving options (*Footnote 2)
2

"

Chinese scallions (or regular scallion)

, the white part only, julienned into thin matchsticks

1

carrot

, julienned (Optional)

1/2

cucumber

, julienned (Optional)

1

small batch cilantro

(Optional)

Tofu sheets

, or duck pancakes (*Footnote 3) (Optional)

Steamed rice

(Optional)
Instructions
Marinate the pork
Add the pork, Shaoxing wine and egg white in a medium-sized bowl. Mix with your fingers until the pork is evenly coated. Add the rest of the marinating ingredients and keep mixing, until all the liquid is absorbed and the meat is evenly coated with cornstarch. Marinate for 15 minutes while preparing the rest of the ingredients.
Mix the sauce
Combine the sauce ingredients in a small bowl. Stir until the sauce becomes smooth.
Cook the pork
Heat 1 tablespoon of oil in a large nonstick skillet until hot. Add the marinated pork. Use chopsticks to separate the strips so they overlap as little as possible. Cook, stirring occasionally, until the surface of all the pieces of pork has turned white, but the inside is still a bit pink. Transfer the cooked pork to a plate.

Add remaining 1 tablespoon of oil and green onion. Stir a few times to release the fragrance, 20 to 30 seconds.

Turn the heat to medium-low. Pour in the sauce mixture carefully. Let simmer for 2 minutes, or until the sauce starts to thicken and turn darker.

Return the cooked pork to the pan. Immediately stir to mix everything so the pork is coated with the sauce, 1 minute or so. Then transfer everything to a serving platter.
To serve and eat
Option 1: Cut the tofu sheets into 3" (8cm) squares. Place the scallion on top of the pork and lay the tofu sheets on the side of the platter. To eat, add a small amount of pork and a few slivers of scallion onto the tofu sheet. Roll up and enjoy.

Option 2: Lay a large tofu sheet on a working surface. Add carrot and cucumber onto one side of the sheet, then roll up the sheet to wrap in the vegetables. Use your knife to slice the tofu roll into 1" (2.5 cm) pieces. Make a second roll using the same method. Plate the cooked pork in the center of the plate with scallions on the top. Then place the rolled up vegetables around the pork. Serve hot.

Option 3: Place the scallions on top of the pork. Serve hot over steamed rice.

Option 4: Place the scallions on top of the pork. Serve hot with moo shu pancakes. To eat, add some pork and a couple pieces of scallion on the pancake and make a "burrito".
Notes
Pork tenderloin is more tender and yields a better result. The meat will be a little bit tougher if using pork loin, but delicious nonetheless. If the meat is difficult to cut, you can freeze it for an hour or so, to help with the cutting. My favorite way is to thaw the frozen meat the night before in the fridge, so it's still quite stiff the next day and it's very easy to cut.
You only need one or a few ingredients below. Check my blog post above for more detailed serving options and pictures. So you can decide which ingredients to prepare. If you decide to make the vegetable rolls, you should prepare them prior to cooking the pork, so you can serve the dish hot.
Sometimes the tofu sheets can have a strong soybean taste. To eliminate it, blanch the tofu skin in boiling water for 2 minutes, then drain and set aside to dry.
Nutrition
Serving:
1
serving
,
Calories:
271
kcal
,
Carbohydrates:
17
g
,
Protein:
23.9
g
,
Fat:
11.7
g
,
Saturated Fat:
2.4
g
,
Cholesterol:
62
mg
,
Sodium:
609
mg
,
Potassium:
409
mg
,
Fiber:
0.4
g
,
Sugar:
12.1
g
,
Calcium:
13
mg
,
Iron:
1
mg