This spicy wonton recipe yields the most scrumptious hot sauce, just like the street food you'd get in Sichuan.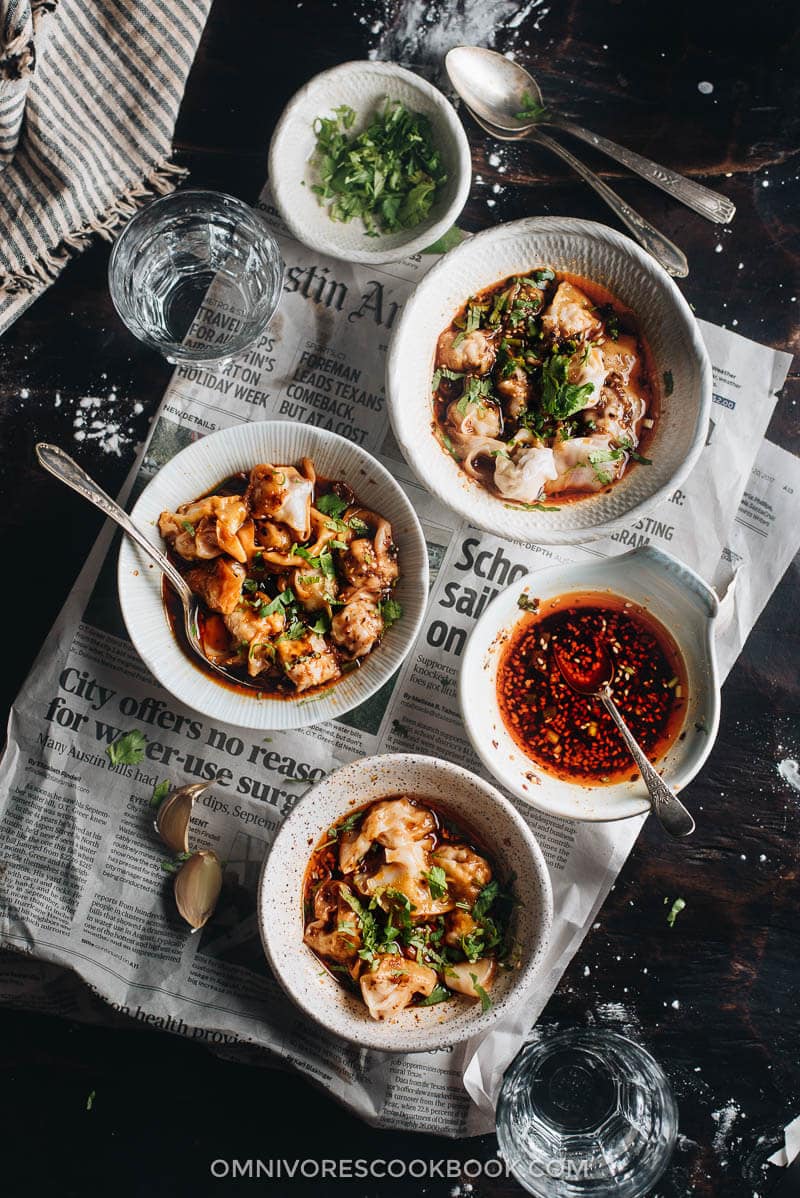 If you're looking for red oil wontons like you'd eat in a small hole-in-the-wall diner in Sichuan, you've come to the right place. This recipe is different from many spicy wonton recipes out there. There are no shortcuts used. And it guarantees maximum satisfaction with that real-deal Sichuan flavor.
On my summer trip to Chengdu, Sichuan this year, I learned a few facts about red oil wontons, or 红油抄手 (Hong You Chao Shou).
The wontons are made with very simple and plain ingredients which create a silky filling.
The sauce is quite sweet and very rich, with a thick and sticky texture.
There are two ways to serve the wontons, with or without the soup.
So how did I recreate it?
I found the answer after a lot of research.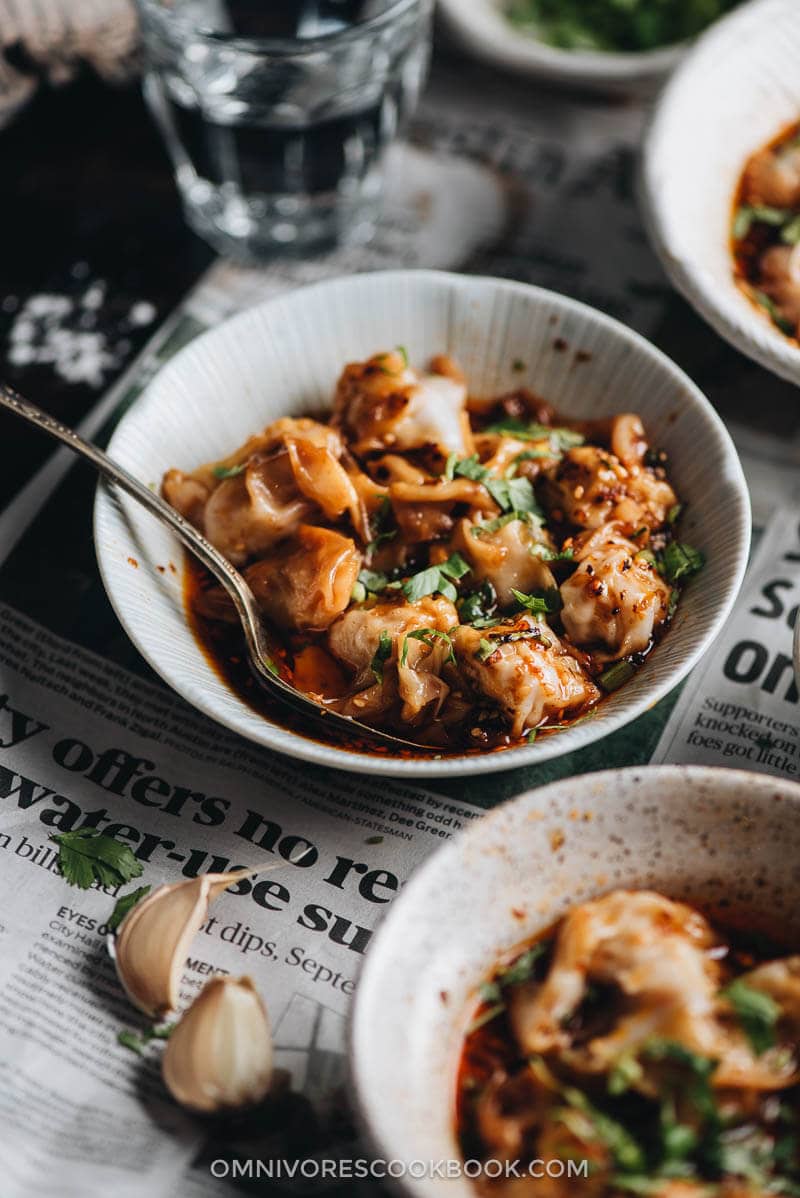 The key to the best Sichuan-style spicy wontons
Use aromatics-infused water to season the filling
Instead of chopping aromatics to be included in the filling, using aromatics-infused water will create a silky texture with no possibility of accidently biting into a piece of ginger or garlic. It requires some advance planning, but is very simple to make.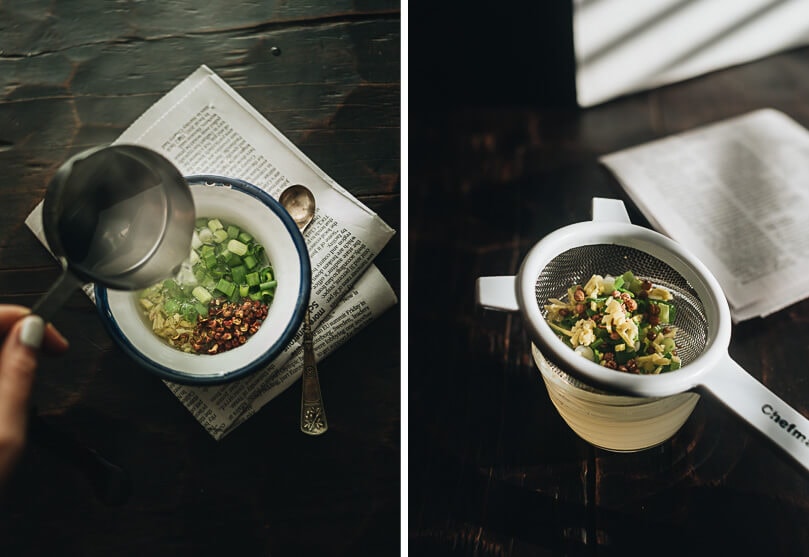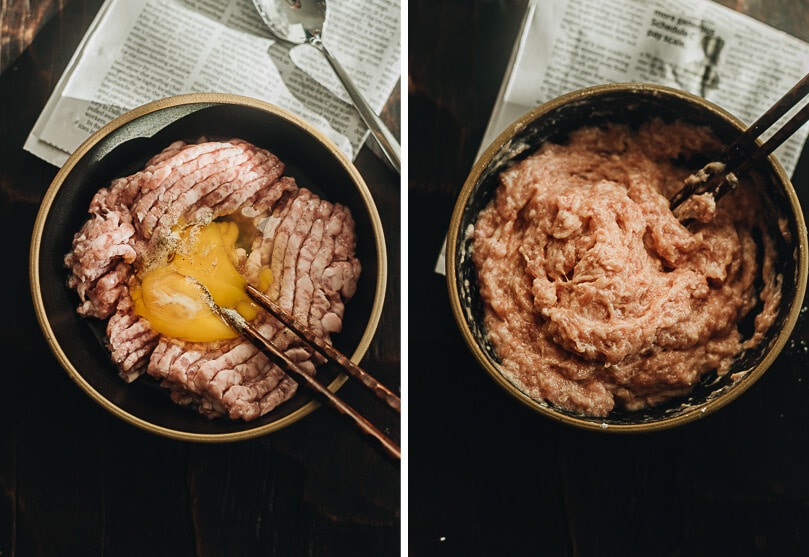 Use homemade chili oil
It is the number one ingredient in Sichuan cooking and probably the most commonly used homemade ingredient. You can see my recipe here. The process might look a bit intimidating at first. But the good news is, it requires merely 10 minutes to make and will last practically forever in your fridge. Once you make this ingredient, you can start to cook Dan Dan Noodles and Sichuan cold chicken like a pro.
Use a homemade flavored sweet soy sauce
It's probably the detail that recipes ignore most often. Homemade soy sauce is a thick, rich sauce reduced from soy sauce, sugar, aromatics, and tons of spices. Many recipes use the combo of soy sauce and sugar to replace this ingredient, but it just isn't the same. Using homemade sweet soy sauce will yield a thick hot sauce with a rounded flavor and it will coat the wontons very well. It takes some time to make, but is necessary for that real-deal Sichuan taste that other ingredients cannot replicate.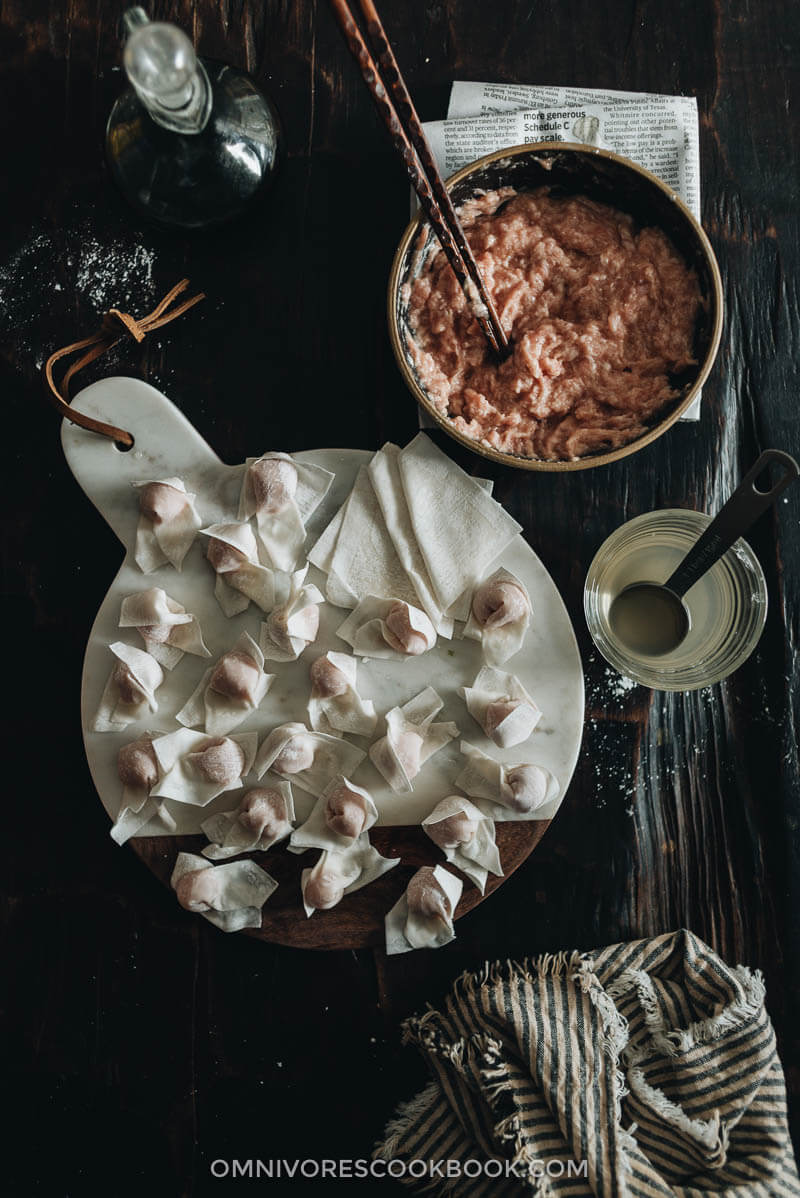 Other cooking notes
Don't know how to wrap wontons?
Watch this video, which contains the detailed steps. Or you can watch this video, which includes four ways to wrap wontons.
Two ways to serve the wontons
You can serve the wontons with the sauce or in soup. I personally like the former way, which provides a richer mouthfeel. To serve the wontons in soup, simply pour some of the wonton boiling water into your serving bowl and maybe add an extra spoonful or two of hot sauce.
Make extra sauce
I always make extra sauce and save it for later. You can use the sauce in stir fries, noodle soup, or fried rice. It makes everything taste better!
Make extra wontons
Uncooked wontons freeze well and you don't need to thaw them before boiling. Since we've already gone to the trouble of making the sauce and the filling, I highly recommend you make extra wontons and freeze the ones you don't serve immediately. You will feel extra happy later, when you can get a bowl of hot homemade spicy wontons ready in five minutes.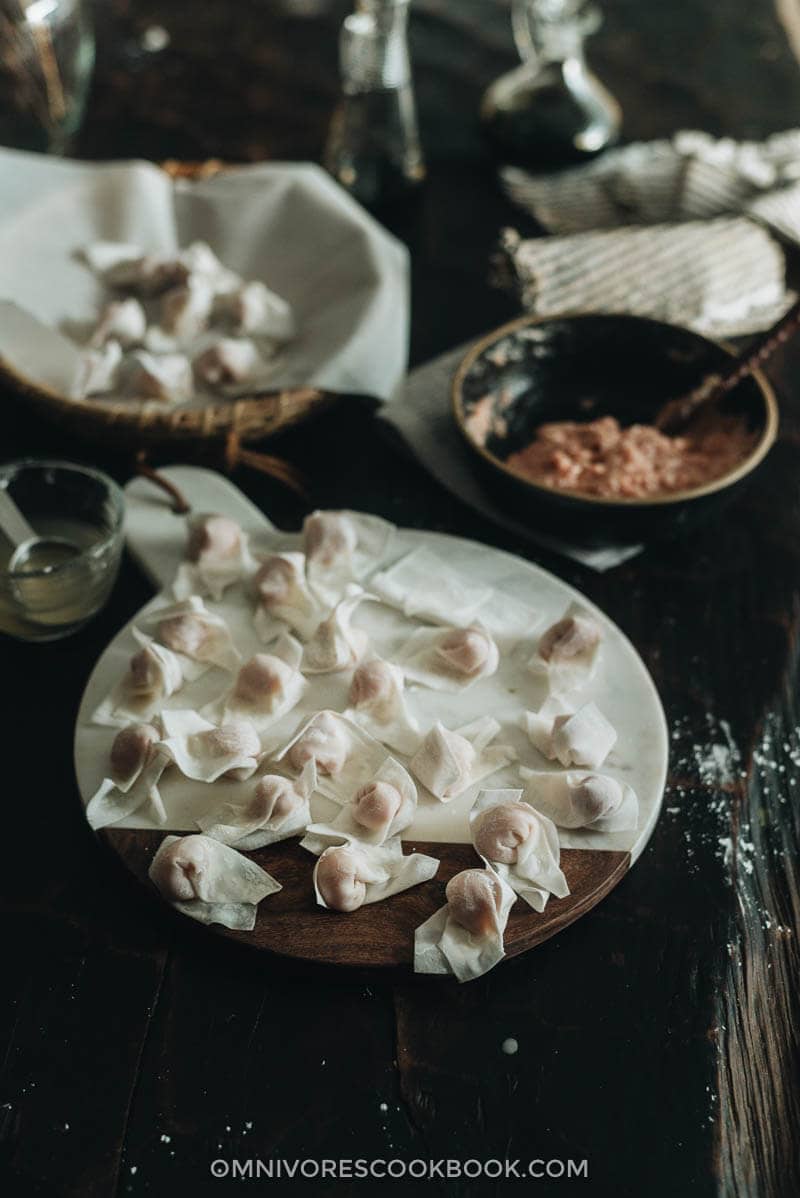 More real-deal Sichuan food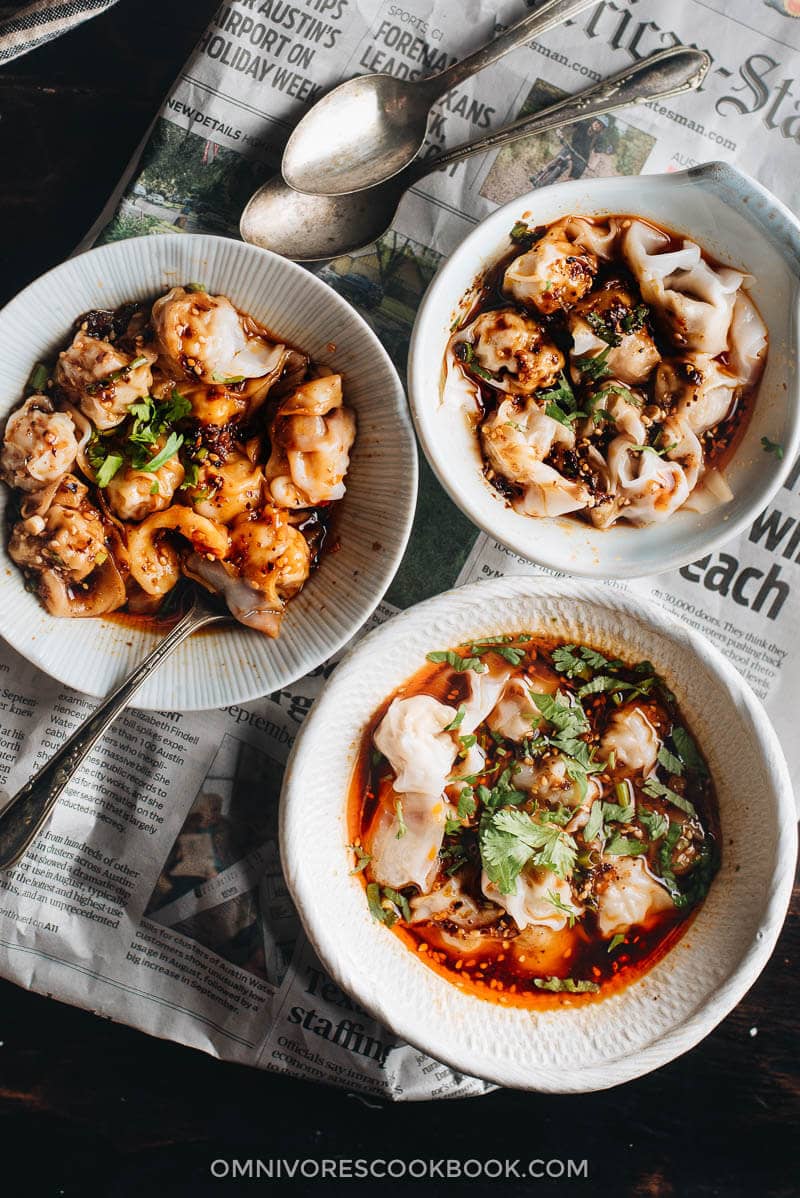 If you give this recipe a try, let us know! Leave a comment, rate it (once you've tried it), and take a picture and tag it @omnivorescookbook on Instagram! I'd love to see what you come up with.
Want to Know More?
Receive our 5-Day Chinese Cooking Crash Course & Recipe Updates! Subscribe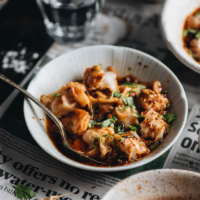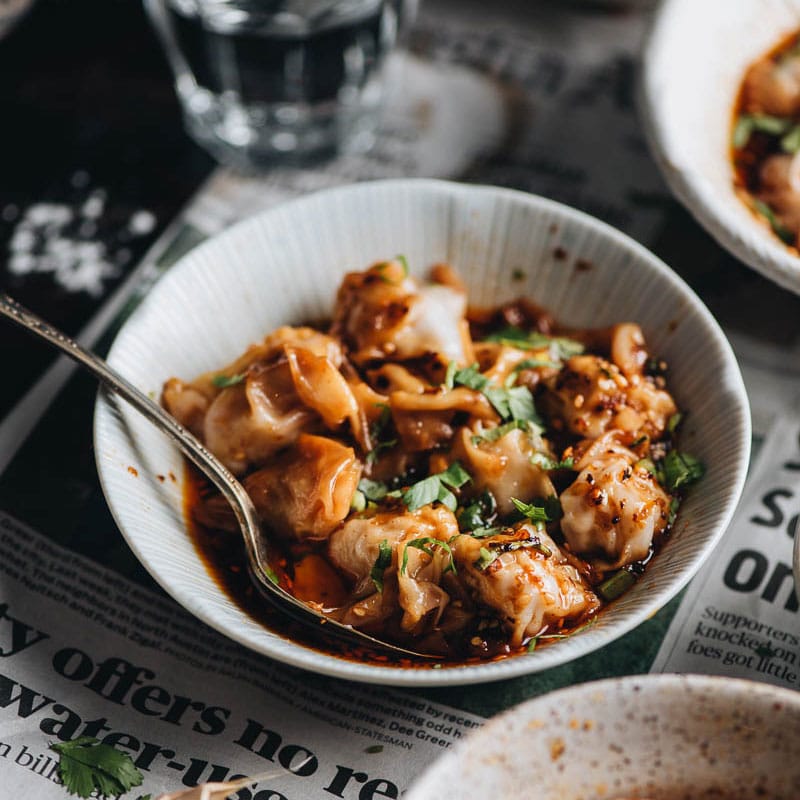 Sichuan Spicy Wonton in Red Oil (红油抄手)
The real-deal recipe that yields the most scrumptious hot sauce with hearty wontons.
Servings:
4
to 8 servings
Ingredients
60

small wonton wrappers

, thawed (or 40 large wonton wrappers)
Aromatic water
1/4

cup

boiling water

1/4

teaspoon

salt

2

green onions

, sliced

1

tablespoon

ginger

, minced

1

teaspoon

Sichuan peppercorns
Filling
1/2

lbs (225 g)

pork

, minced

1

large

egg

2

teaspoons

cornstarch

1/8

teaspoon

white pepper powder
Garnish
A few tablespoons hot water from cooking the wontons

(Optional)

Chopped cilantro, toasted ground Sichuan peppercorn flakes, and toasted sesame seeds for garnish

(Optional)
Instructions
Prepare the aromatic water
Combine all the ingredients for the aromatic water in a small bowl. Stir to mix well and let infuse for 20 minutes. Strain and discard all the solid ingredients.
Prepare the red oil sauce
Combine all the sauce ingredients in a medium-sized bowl. Stir to mix well.
Make the wontons
Add the minced pork into a medium-sized bowl. Add the aromatic water, egg, cornstarch, and white pepper powder. Mix until it forms a smooth and sticky paste.

Work on the wontons one at a time. Place about half a teaspoon of filling (or 1 teaspoon filling for bigger wontons) on the lower third of the wrapper. Fold the bottom side over the filling, then roll the filling all the way across to the other side of the wrapper. Brush a thin layer of egg white on one end of the wonton wrapper. Bind both ends and press them together to lock the filling inside the wrapper. Place on a big plate, a finger's width apart.

When you've finished 10 to 15 wontons, cover them with a wet paper towel to prevent them from drying out.

If you are not going to cook and serve the wontons immediately, you can store them in the fridge for a day, or freeze them for up to a month. Seal the tray of wontons with plastic wrap and place it in the freezer. When the wontons are completely frozen, you can transfer them to an airtight ziplock bag to free up freezer space.
Cook and assemble
Bring a large pot of water to boil. Add the wontons, 20 at a time. Stir gently with a spatula constantly, to prevent them from sticking to the bottom. Cook until the wontons are floating on top, about 2 to 3 minutes. Transfer 7 to 8 wontons into each bowl. Pour 2 tablespoons of the sauce, and 2 tablespoons of the hot broth used to boil the wontons, and serve.

Mix the wontons well to coat them with sauce. Enjoy!
Store
If you are not going to cook and serve the wontons immediately, you can store them in the fridge for a day, or freeze them for up to a month. Seal the tray of wontons with plastic wrap and place it in the freezer. When the wontons are completely frozen, you can transfer them to an airtight ziplock bag to free up freezer space.
To cook frozen wonton
Bring a large pot of water to a boil over high heat. Add wontons. Stir gently to prevent from sticking. Cook until bringing the water to a boil again. Turn to medium low heat. Cover the pot with a small gap on one side, to prevent from boiling over. Continue boiling for 2 minutes (3 minutes for larger wontons). Stand beside the pot the entire time and monitor the broth. If the broth starts to boil over, uncover and stir, then replace the cover. Uncover, continue cooking for another minute, or until the wontons are cooked through.
Nutrition
Serving:
1
serving
,
Calories:
162
kcal
,
Carbohydrates:
19.8
g
,
Protein:
14.8
g
,
Fat:
2.2
g
,
Saturated Fat:
0.7
g
,
Cholesterol:
59
mg
,
Sodium:
1220
mg
,
Fiber:
0.7
g
,
Sugar:
1.4
g
,
Calcium:
16
mg
,
Iron:
1
mg