With a few drops of fragrant scallion oil, soy sauce, and fried green onions, you'll have a bowl of super flavorful noodles ready in a few minutes. A shrimp topping recipe is included in this post for a fancier version.
A few days ago I received an email from a reader asking a question about Chinese noodles. The question was why Asian people usually only use rice noodles in a stir fry, but do not serve them as a side dish like serving steamed white rice.
The question triggered a chain of thoughts. When I finished typing, I realized the answer had become a short article that includes a few facts on Asian noodle culture. Today, I'd like to share the conversation with you.
Unlike rice, a dish that many Asian countries share the same habit of cooking and eating, noodle are a very unique thing that depends on the region. When mentioning Chinese noodles, the dish that immediately comes to your mind might be fried noodles, chow fun, or noodle soup. However, the method of how to cook and serve noodles varies a lot across different parts of China, and it's also different among families.
Fried sauce noodles are a signature dish in Beijing. Fried noodles, such as beef chow fun and shrimp chow mein, are Cantonese-style dishes and mainly served in southern China. The inland areas (Mid-west China) are often considered "noodle country". Their daily staple is noodles instead of rice. There is beef noodle soup in Lanzhou, lamb sauce noodles in Xinjiang, hot sauce noodles (biang biang mian) in Shaanxi, and shaved noodles in Shanxi. Sichuan has dan dan noodles, and Chongqing has its famous bean starch noodles in extra hot sauce. The list goes on.
Take my own family as an example. I never ate rice noodles or any fried noodles growing up. It's not a thing in northern China. Instead, we use chopped leftover scallion pancakes to make stir fry, which is quite similar to fried noodles. It is SO GOOD. The two types of noodles I'm used to are wheat noodles and noodles made from starch (mung beans, or potato noodles). For wheat noodles, we serve it with sauce, hot or cold. It's like Italian pasta, but you always mix the sauce in the serving bowl. My favorite noodle dish is my grandma's secret gravy noodle.
Back to the topic of today's recipe, the scallion oil noodle (葱油拌面, cong you ban mian), is a famous Shanghai dish. I got to know this dish from a Shanghai colleague back in China and I learned how to cook it by using the recipe from this Chinese blog.
The authentic scallion oil noodle is a super simple dish and does not contain any toppings. To make the noodles, you use a bunch of green onions to make a fragrant oil, then mix in a bit of soy sauce and sugar. That is your noodles sauce. Stir freshly boiled noodles with the sauce, and top with fried green onions. The noodle bowl is done.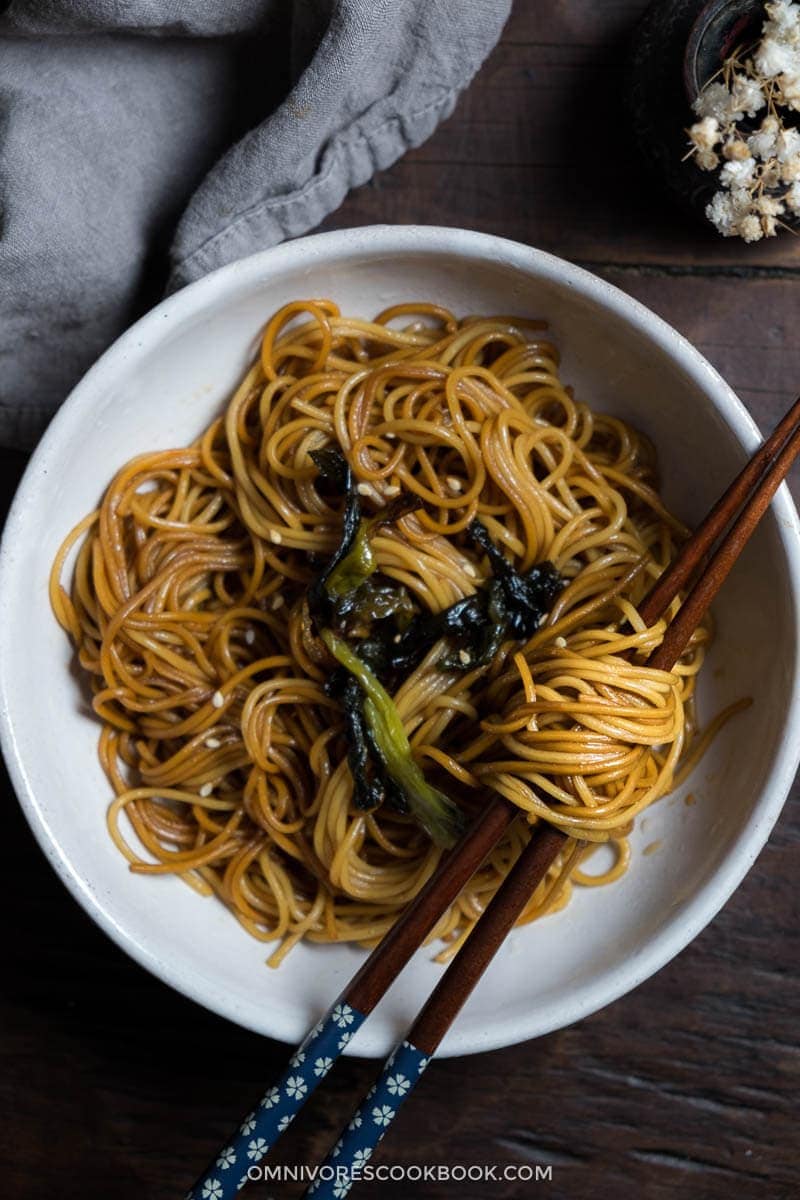 When cooking this dish to celebrate the New Year a few days ago, I made a noodle topping to serve with the scallion oil noodle. I chose shrimp, baby corns and mushrooms as main ingredients, because they represent luck and prosperity.
If a Shanghai person saw this post, they'd probably beat me to death with a wok. They'd claim this is not Shanghai scallion oil noodle at all because you shouldn't serve it with such toppings. It is very true. This recipe is merely the way I enjoy my bowl of noodles.
I've included two recipes below, the authentic scallion noodle recipe without a topping, and the noodle topping recipe. You can use the first noodle recipe to whisk up a simple side dish. Or use both recipes if you want a fancier one-bowl dinner.
In fact, the noodle itself is so flavorful that you can top it with whatever you want. For example, boiled or grilled protein, a salad, or a simple stir fry.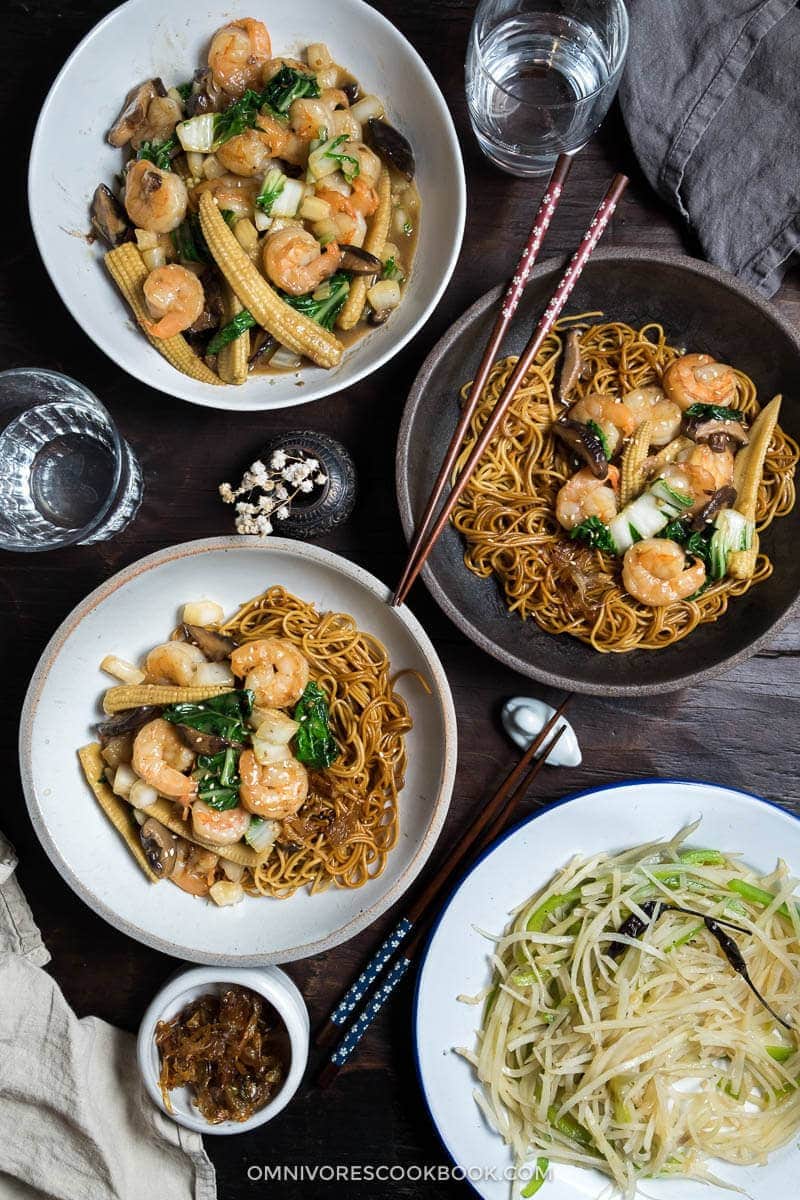 If you give this recipe a try, let us know! Leave a comment, rate it (once you've tried it), and take a picture and tag it @omnivorescookbook on Instagram! I'd love to see what you come up with.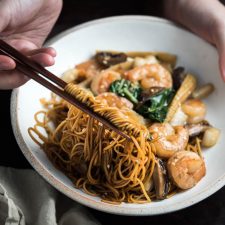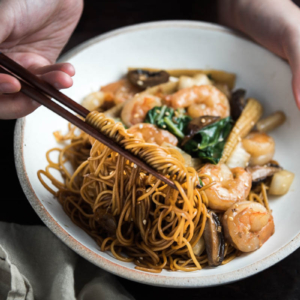 Original Shanghai Scallion Oil Noodle (Cong You Ban Mian)
With a few drops of fragrant scallion oil, soy sauce, and fried green onions, you'll have a bowl of super flavorful noodles ready in a few minutes. A shrimp topping recipe is included in this post for a fancier version.
Print
Pin
Rate
Ingredients
1

pound (400 g)

Chinese noodles

, dried (*footnote 1)
Oil (or homemade scallion oil)
1/4

cup

oil

(peanut oil, vegetable oil, or grapeseed oil)

8

green onions

, chop into 2-inch pieces
Instructions
Add oil to a sauce pan (or a wok) and heat over medium heat until wam. Add green onions. Cook and stir until the green onions turn brown. Remove the green onions with a pair of tongs and place in a bowl, save for later. If you are using

pre-made scallion oil

, heat 1/4 cup oil over medium heat until warm.

Add light soy sauce, dark soy sauce, and sugar into the pan with the scallion oil. Cook until it starts to simmer. Stir to mix well and turn off heat.

Bring a large pot of water to a boil. Cook noodles according to instructions. Once cooked, drain noodles and transfer to serving plates.

To serve the noodles alone, add a few spoonfuls of the noodle sauce into each serving bowl and garnish with fried green onions. Serve the noodles with the rest of the sauce on the side. Mix the noodles with sauce before eating. Add more sauce if needed.

To serve the noodles with a topping, add a few spoonfuls of the noodle sauce into the noodles, mix well with a pair of tongs. Taste the noodles and add more sauce if needed. Transfer noodles into each serving bowl and add the topping (see recipe below). Serve with the rest of the toppings on the side.
Notes
You can use homemade noodles, egg noodles, ramen noodles, or udon noodles in this recipe.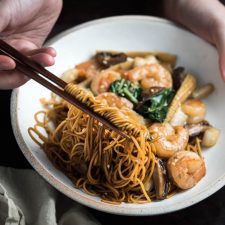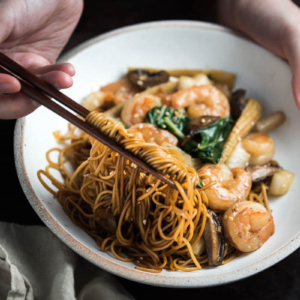 Ingredients
Stir-fry
2

tablespoons

vegetable oil

1

tablespoons

minced ginger

(or minced garlic)

8

dried shiitake mushrooms

rehydrated and sliced (or 2 cups fresh white mushrooms, sliced)

450

g (1-lbs)

lean protein

(ground pork, beef, or chicken; or shrimp)

1/8

teaspoon

sea salt or to taste

1

can baby corn

(or bamboo shoots)

3

cups

chopped bok choy

(or napa cabbage)

2

teaspoons

sesame oil
Instructions
Mix chicken stock, Shaoxing wine, soy sauce, cornstarch, and salt in a small bowl.

Heat oil in a large skillet (or wok) over medium high heat until boiling. Add oil, swirl to coat well. Add minced ginger (or garlic). Stir a few times to release fragrance.

Add mushrooms. Cook until the liquid evaporates and the mushrooms turns golden.

Add protein. Cook and stir until the surface just turns golden while the inside is still a bit raw.

Add the white part of the bok choy. Add a tablespoon of water and cover. Steam for 30 seconds, or until the bok choy softens.

Add bamboo shoots and baby corn. Stir the sauce again to let cornstarch dissolve completely. Pour into the pan.

Cook and stir until the sauce thickens, and the protein is cooked through. Turn off heat. Drizzle with sesame oil and stir to mix well.

Transfer everything to a plate. Cover with aluminum foil to keep warm while preparing noodles.