It has been almost three months since Thomas and I got married. Today, I finally had some time to share the photos and stories from our big day.
If you've read about our engagement, you probably know that Thomas and I had been waiting to get married for almost a year. We filed my immigration petition in August 2014. After many long procedures and periods of waiting, I finally passed my K-1 visa interview in Guangzhou on July 7th. It took me another three weeks to finally get my passport back with the visa in it.
On July 27th, dragging two big suitcases containing all my belongings, I boarded a plane destined for Dallas. The trip was a tough one. Our plane encountered a hail storm and was damaged so badly it was unflyable (I shared a bit few details in this post). It took me an extra day to get onto another flight. On the 29th, I finally arrived at my new home in Austin.
It is funny that although we had been waiting so long to get together, we didn't really have time to plan our wedding.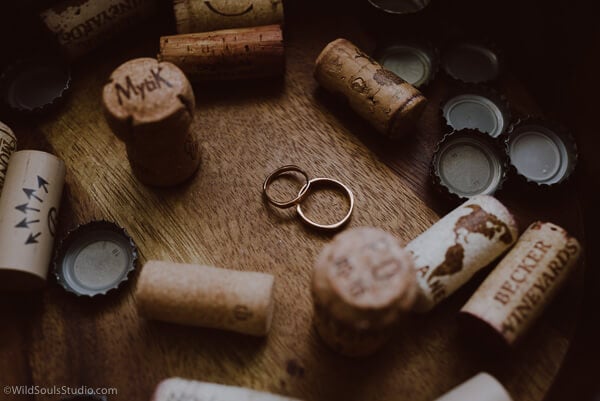 I never knew when and whether I would get my K-1 visa and move to the US, so we held everything up until I got the final confirmation on July 7th.
On the other hand, we had to schedule the wedding as soon as I arrived in the US, because first, the K-1 visa required me to get married within three months of arrival. Second, I needed to be married as soon as possible, so I could start my applications for a green card, a social security number, and permits to work and travel.
In the end, we decided to schedule our ceremony for the ninth of August, just one week after my arrival.
Our whole situation left me a month to plan the wedding.
At first, I thought we would just get married. No fancy dress, hair, makeup, or anything, because we weren't going to have time to invite any family members or friends to attend (I thought about flying my parents to Austin at the last minute, but neither of them had a US visa at that point). Plus, we didn't really have time or budget to plan anything fancy.
After thinking more and more, I thought we should at least document the whole process, to record these important moments. It's one of the biggest days of our life, after all.
So I started to hunt down a photographer to take photos of our ceremony, with all of three weeks' notice. In my research, the extremely high cost figures that came up totally freaked me out. Man, getting married is expensive!
Thanks to my friend Dennis, I realized I could find a photographer within a reasonable budget on Craigslist. Which I did. And I'm so glad I did!
It's almost a miracle that I managed to find two great artists from Wild Souls Studio who could fly to Austin from Boston on such short notice! Not only were they really cool and super nice, they also did such a great job during our ceremony and created these photos, which we love.   
After hiring our wedding photographers, I started working on the schedule for the day. Since it's would be a tiny ceremony that only lasted 15 minutes, I wanted to plan a few things and do a bit more photo shooting. I prepared some more dresses that I could change into, and started to brainstorm shooting locations. Since we were getting married in Texas, I thought it'd be very cool to change into cowboy style clothing. Thomas helped me contact local farms who provide the service. Luckily, we happened upon SunCrest Farm. Not only did they let us take photos with their horses, they even delivered the horses to our chosen location.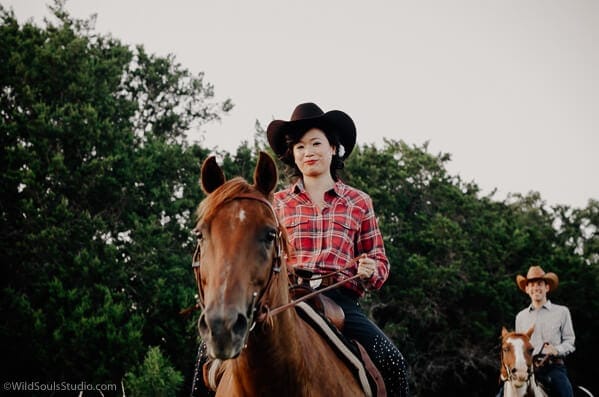 After getting the horses squared away, I started to worry about my hair and makeup. I'm a perfectionist and sometimes I dwell on details a bit too much. I wanted to look amazing and get everything done on a budget and in a style that fit both traditional Chinese and country-Western outfits. Crazy right?
Oh wait a minute, did I mention that I got my Chinese dress tailored in China and that I'd start our wedding day in traditional Chinese clothing?
When I was trying to book a hair and makeup stylist, I came across a new thing, and it was a total culture shock – I needed to pay a wedding day premium. OK, I understand the price of everything related a to wedding is automatically higher than it would otherwise be, but I didn't know that in the US, wedding day costs are much higher than reception day costs (it is the opposite in China).
In China, we don't have the same ceremony typically done in the US. If a couple needs to get married, the they will go to the local registration office and get the information filled out. It usually happens way before the reception, sometimes as much as a year or two ahead. You see, we call the day people get married "the registration day". And we call the reception day "the wedding day" – when you invite family, friends, and colleagues to have a big party.
Before I learned all these things about a US wedding, I always thought a wedding would involve many, many people. Otherwise you shouldn't call it a wedding. I thought it was ridiculous to pay the wedding premium for our ceremony, because, for God's sake, there would only be two of us.
I was so wrong.
I found out that I not only needed to pay the wedding premium, I'd also be lucky to find a stylist who's available. I had no idea that most hair salons aren't open on Sunday! Three days before our wedding, I found my hair stylist, Tammie. She is a famous hair stylist with 25 years experience on bridal up-dos. She always has her year booked up, so I considered myself very lucky!
For the makeup, my friend Meggan from Culinary Hill provided the best idea ever – I could book a makeup session at Sephora. I just needed to spend $50 on makeup after the session, and I'd get the makeup done for free. What a great deal!
Two days before our wedding, we went to Cavender's Boot City to get our Western outfits. Next time you're visiting Texas (there are branches all over), definitely check it out! There are so many nice boots, and at a reasonable price. We managed to get everything really easily.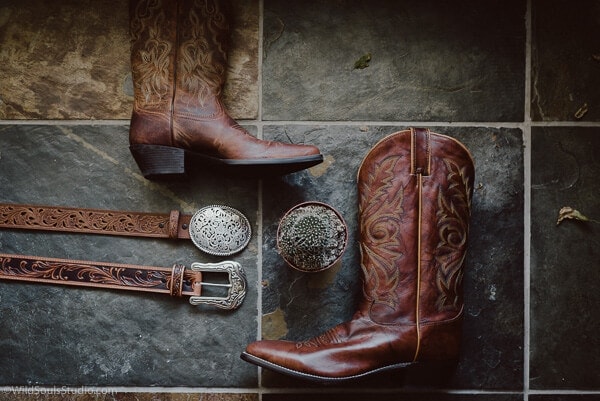 A day before the wedding, I finally got my nails done in the afternoon. The only thing left was the wedding bouquet.
The truth is, the whole flower thing never occurred to me. I thought it'd be easy. Just go to a florist and buy a bouquet, right? Wrong!
Turns out, most florists require several days, up to a week, to book a bridal bouquet. We were running out of time already, so I decided to grab a simple bouquet at a local supermarket. I was wrong again. After taking down my request, I accidentally let slip that the bouquet was for our ceremony. The price of the flowers went from $60 to $160 in 3.0 seconds.
I was frustrated and annoyed. I felt like I was being taken advantage of instead of being blessed.
I didn't order a bouquet in the end. I grabbed $40 worth of flowers from Central Market and ribbons at Joann Fabric. Yes, I would just make the bouquet myself.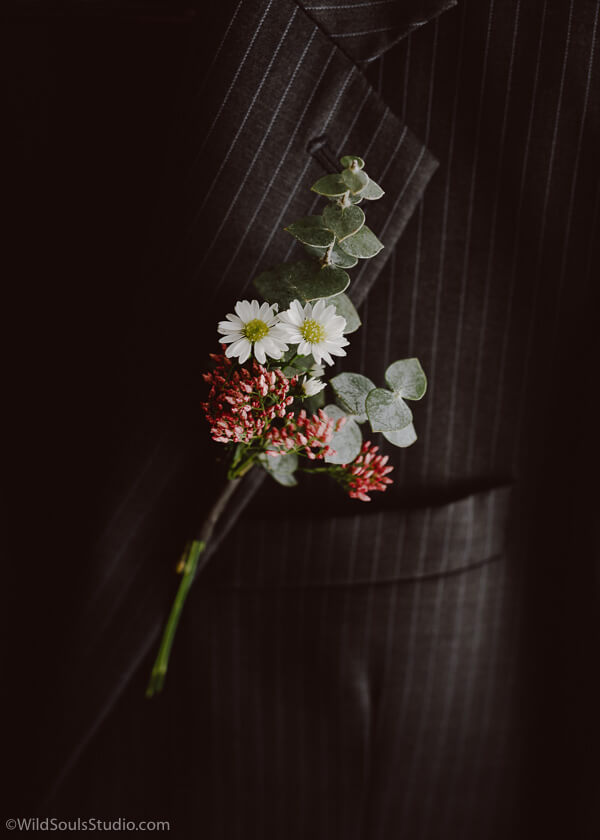 On our wedding day, instead of getting myself ready, I was busy making my bouquet and the boutonniere (which is a new word I just learned a day ago). Which, by the way, led to a fatal mistake later – I forgot to pack my jeans for the horseback riding (!!!).
Thinking back, it's kind of funny that after spending all the money for my dress, for the horses, for the photographers and stylist, that I didn't want to pay an extra $100 for the flowers. On the positive side, we got so many flowers that our apartment looked super nice for the entire month following the wedding.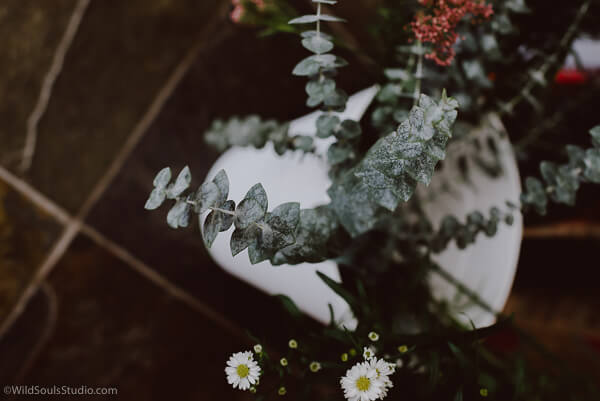 Our wedding day officially started in the afternoon. Our photographers, Christine and Van, arrived at our place to take pictures of us getting ready. I was trying to squeeze in a few shots outdoors before the ceremony, but none of us felt like going outside when the car thermometer read 102 F.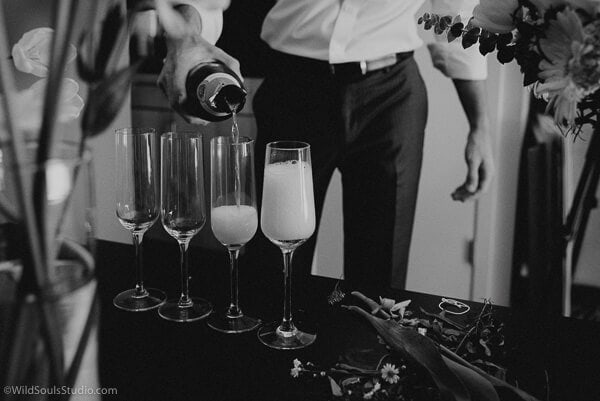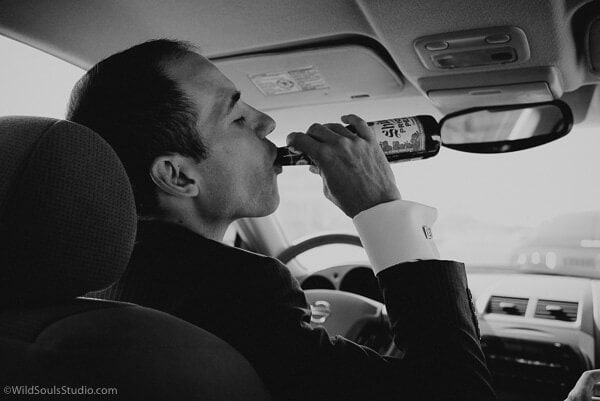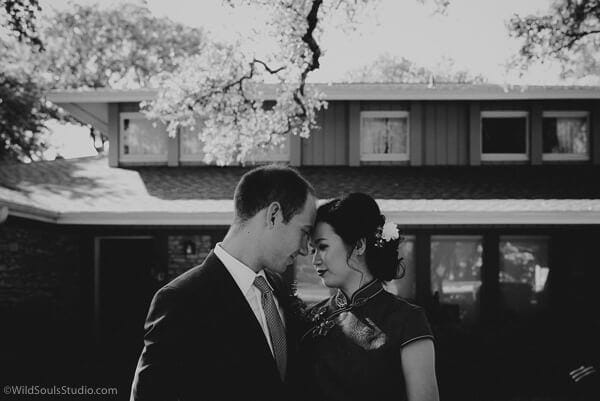 After hanging out and finishing a bottle of sparkling wine, we headed to Judge John's place for our ceremony. It was taken on his back deck, which overlooks Buzzard Canyon. The ceremony itself was very short and sweet.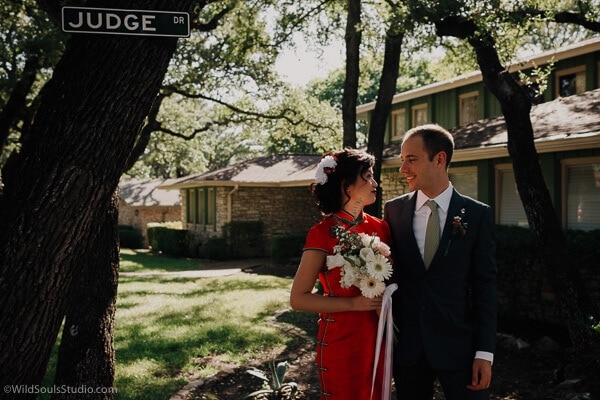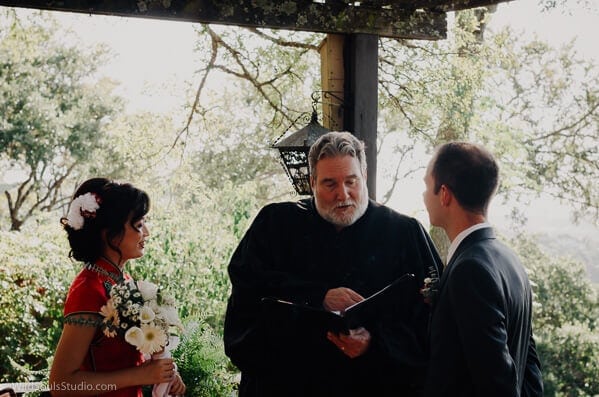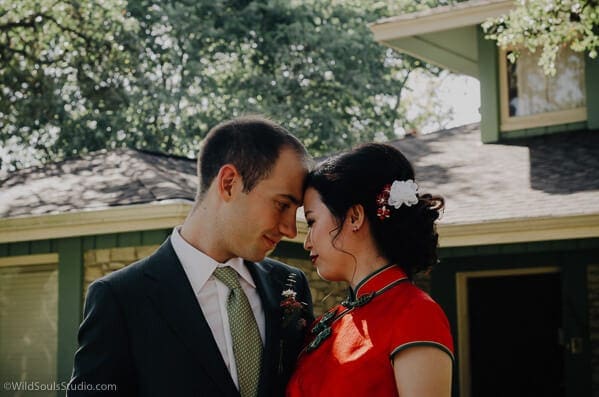 Afterwards, we drove to St. Edward's park to pick up the horses. That's when I realized I didn't pack my jeans!!!! And I didn't bring any other pants. I was SO lucky, that a friend of the horses' owner, Stephanie, happened to have an extra pair of jeans and lent them to me. Yay, I wouldn't have to ride a horse in my skirt!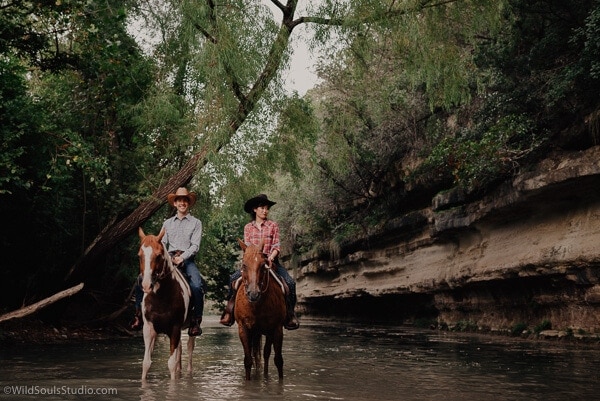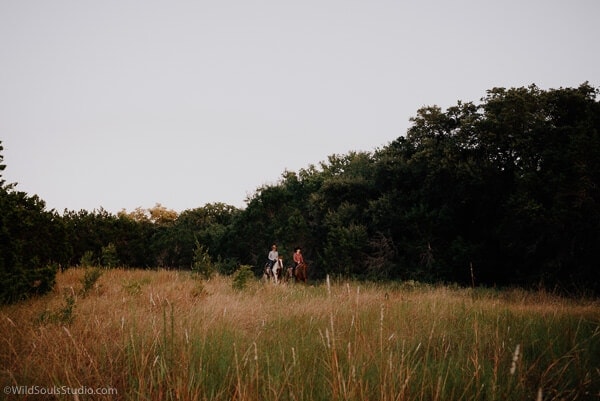 The horseback riding session was a lot of fun, and we managed to get a lot of photos taken. Although it was so hot outside and I constantly felt dehydrated, it was one of the best times of my life. Christine and Van took a lot of amazing photos during a short time, even as everything fell out of schedule. They were not on horseback and tried very hard to keep up with us on foot. They even ventured into the water to take these pictures that we love the most.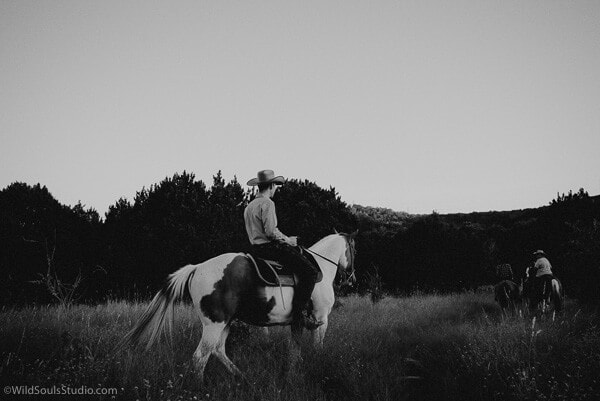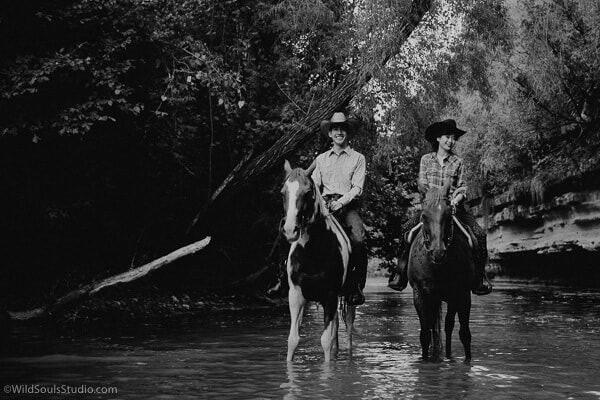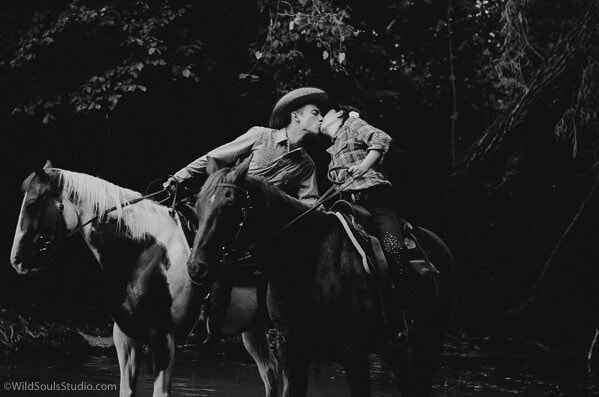 The time passed so quickly. After the horseback riding session, it was already really dark. There went the blue dress photos I was planning to take after the ride.
Lesson learned, again, do not schedule too many things that are impossible to achieve. It put me under huge pressure the whole time, and the things on my crazy schedule simply could not be finished at the end of the day.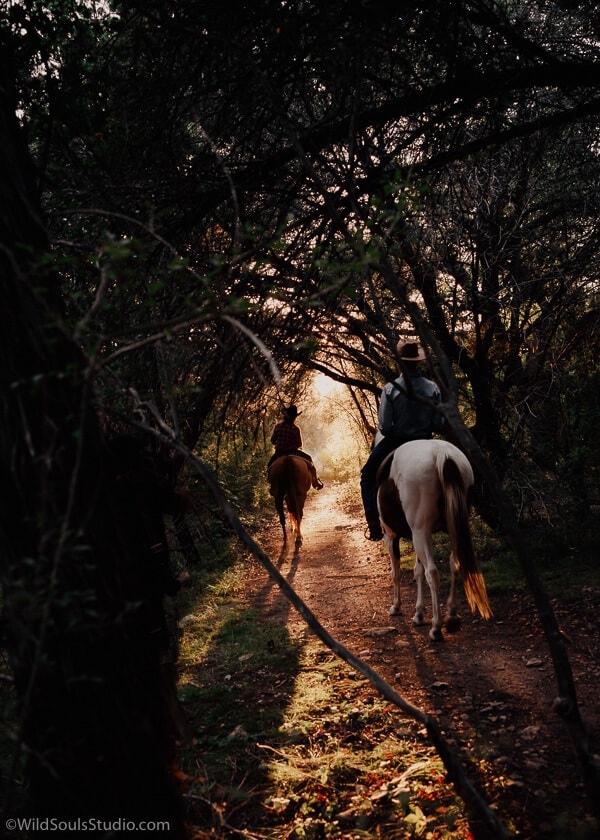 After a long, exhausting day and at the time most restaurants were already closed, Thomas and I stopped by Chilantro (Korean fusion) to have our first dinner as a married couple. We were exhausted but very happy. In the end, we both agreed it was a good call to plan some special things for our wedding.
After all, it was the biggest day of our life.