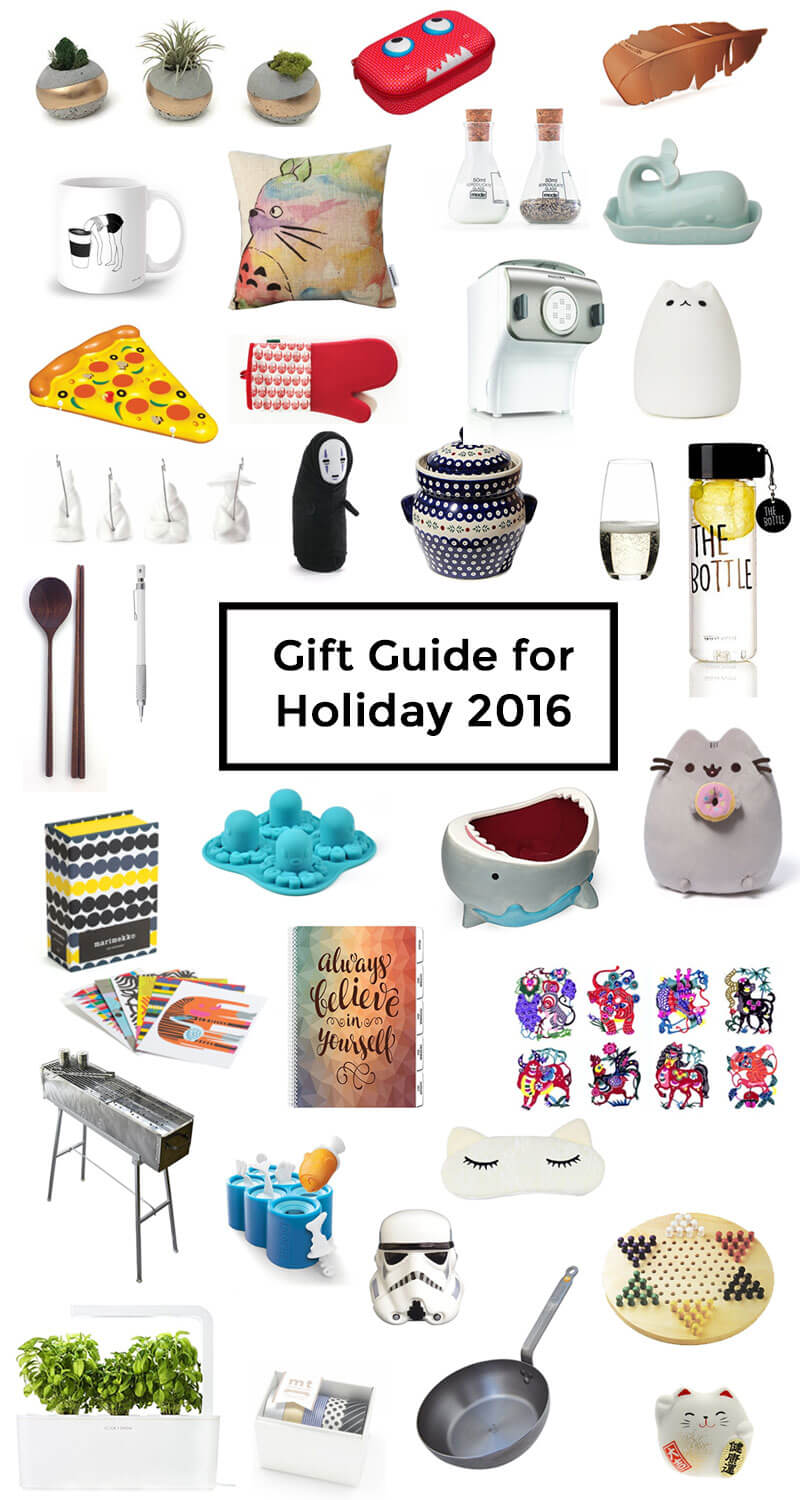 Gift shopping can be fun and a hassle at the same time, especially the time right before Christmas. Every year, I face the challenge of picking special, creative, AND useful gifts for my family and friends. It usually takes me hours to browse through shopping sites, just to find a perfect gift for everyone in the family. This year I gathered all my cool gift ideas here in this post, so you don't have to spend hours looking for inspiration. I hope you enjoy it!
For your kitchen
Carbon steel pan with a high edge – My favorite stir fry pan for electric stoves. It works like a traditional wok, but holds heat better and heat up five time faster.
Pottery fermenting jar – It's designed with an airtight, water-sealable cover that allows gases to escape without letting oxygen in. Perfect for making kimchi and sauerkraut in small batches.
Enamelware prep bowls – I use them every day in my kitchen.
Magnet meat cooking temperature guide – Fits perfectly on your fridge, so you don't need to Google it every time when cooking steak or fish.
Electric tea kettle – Push one button and the water will be heated to the perfect temperature for different types of teas, in less than 3 minutes.
Sea salt flakes – Replace your table salt with this one as finishing salt for salad, meat, or to sprinkle on bread. All your food will taste better immediately.
Pasta maker – Make noodles and pasta of all shapes by simply adding flour and water into the machine, less than the time it takes to boil a pot of water.
Champagne glasses – For your parties and Sunday brunch.
For Chinese fans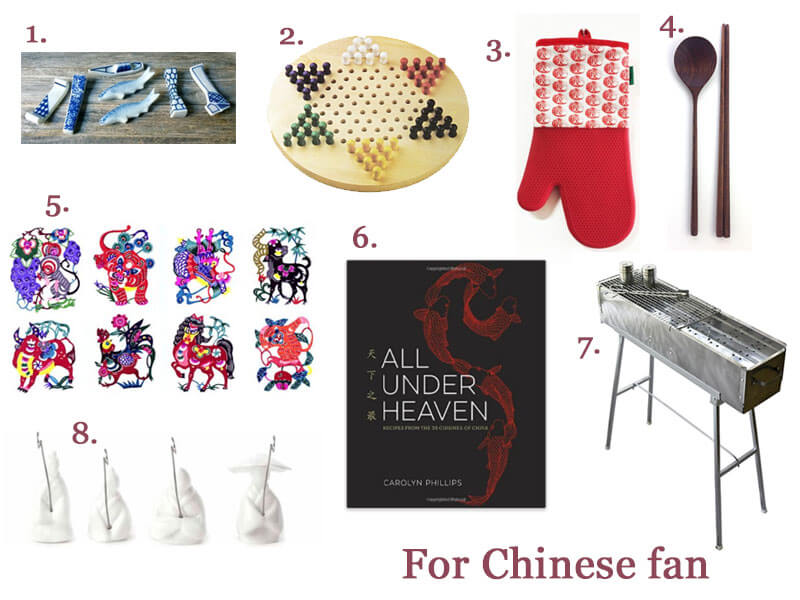 Chopsticks rest – Aren't they adorable?
Chinese checkers – A good ol' memory of my childhood. Perfect for holiday gatherings.
Chopstick and spoon set – Must-have for enjoying Chinese food like a local.
Bao oven glove – Designed with a Chinese heart.
Chinese zodiac paper cut – We glue them onto windows for celebrating Chinese New Year. It is a great gift too.
Cookbook: All Under Heaven – To make authentic Chinese food in your own kitchen.
Chinese charcoal grill – To cook Asian skewers properly.
Tea bag holder – The cool way to drink tea.
For kids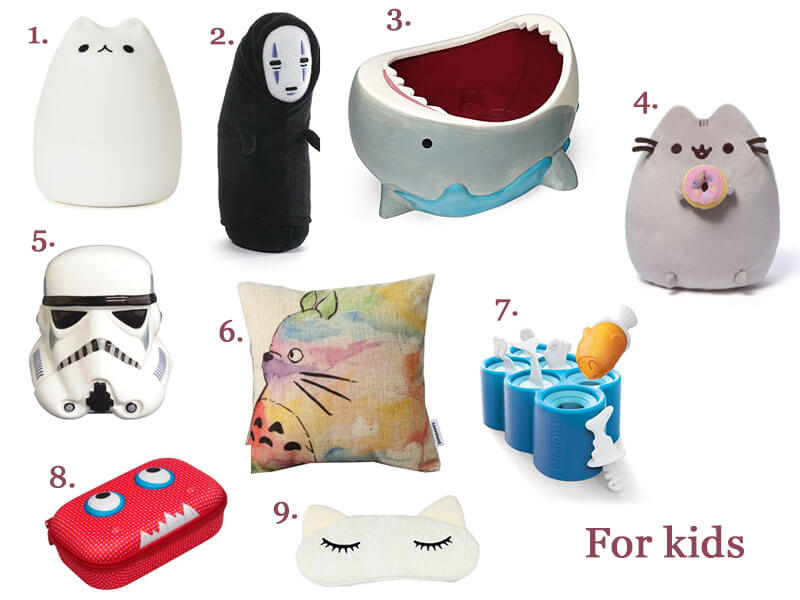 Kitty night light – I want one in my room too!
No Face plush toy – Watch Spirited Away if you haven't yet.
Shark attack bowl – Perfect cereal bowl.
Cat plush toy – I have a thing for cats.
Star War piggy bank – Your kid's Star Wars themed room will be complete.
Totoro pillow case – Beautiful design.
Fish pop molds – Fun projects for the weekend.
Beast pencil box – For school.
Sleeping mask – To sleep better.
For men
For your best friend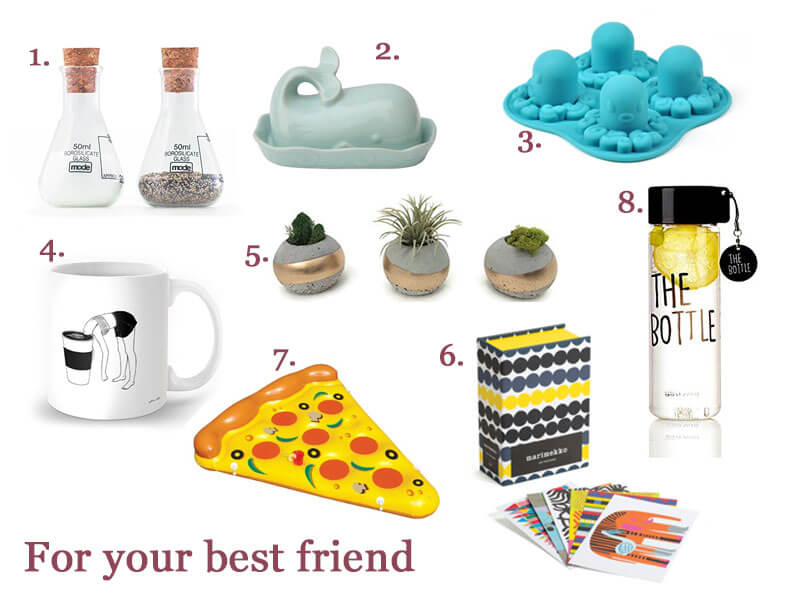 Salt and pepper shake – Every dinner table needs a set.
Whale butter plate – Cutest butter plate ever.
Octopus ice tray – You can make chocolate in them too!
Fun Coffee Mug – For coffee lovers.
Handmade succulent planter – Great table decor.
100 post cards – With different patterns in one box.
Pizza float for pool party – It's the best because it's pizza.
Water bottle – To stay hydrated on the go.
For the coming New Year