An introduction to 20 essential Chinese ingredients that help you cook delicious Chinese food like Chinese restaurants. I've included online stores so you don't need to live near to an Asian market to cook great Chinese food at home.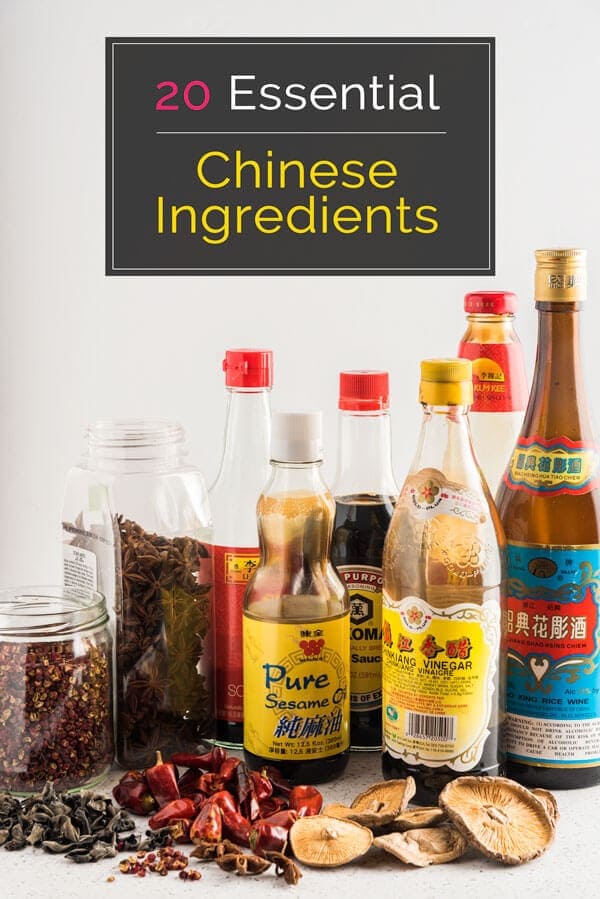 Do you often struggle with Chinese cooking because you don't have certain ingredients in your kitchen? Or have you discovered a delicious recipe, but couldn't make it because the nearest Asian market was an hour away? Have you thought about making your favorite take-out dish at home but are too intimidated to start?
You'll feel relieved after reading this post.
In fact, you only need a few basic Chinese ingredients to cook most Chinese dishes. In the list below, I've included two sections. The first section contains 10 must-have ingredients that might require a trip to an Asian market. The second section contains 10 ingredients that are nice to have and will expand your ability to cook even more authentic Chinese dishes. But you might not need all of them, depending on your personal cooking habits. After getting these basic Chinese ingredients, you'll be able to cook a wide variety of Chinese dishes by combining them with other ingredients from the average grocery store.
Don't believe me? Let's take a look.
[I have included a short introduction for each ingredient. If you want to read more about it, click on the picture or title. It will lead you to a more thorough article on use, storage, and shopping.]
10 must-have Chinese ingredients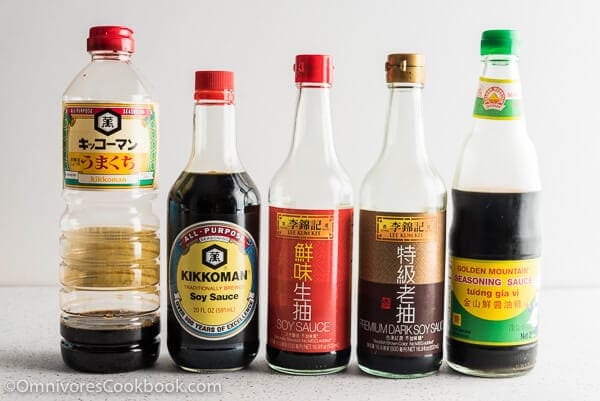 I personally keep a stock of soy sauce, light soy sauce, and Thai golden mountain sauce (a flavor-enhanced soy sauce), which I use on a daily basis.
Soy sauce is the foundation of Chinese and other Asian cooking, so you'll really want to get the right type. Read the label before you buy any soy sauce. The main ingredients should be just soybeans, wheat, water and salt. Some of the flavor enhanced-soy sauces also contain syrup and alcohol. These should always come after the main ingredients.
Back in China, we mostly use light soy sauce, which has a lighter color than regular soy sauce and tastes saltier. We pair it with dark soy sauce, to add color to a dish, if needed. If you don't want to have too many bottles in your pantry, you can get regular soy sauce instead. It creates very authentically tasting Chinese food. The dish might be a bit lighter colored than you hoped, but won't taste any different.
Where to Buy
You can buy light soy sauce on Amazon.
Shaoxing wine (or Japanese sake, or dry sherry)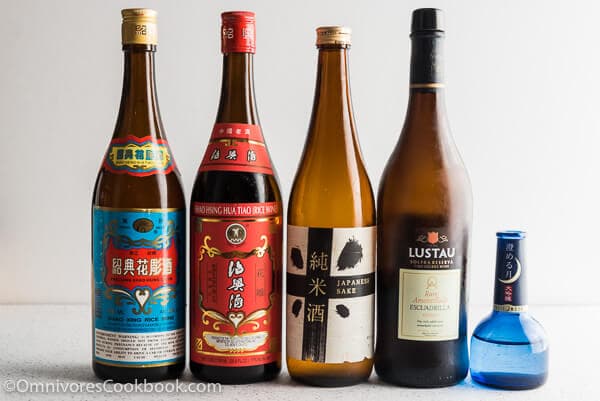 I have Shaoxing wine, Japanese sake, and dry sherry in the pantry. Although sometimes we run out of Shaoxing wine (We have to travel 3 hours to get a proper non-salted one).
Shaoxing wine is the only cooking wine used by most Chinese families, but the right type can be tricky to find outside of China. Read the label before you purchase any Shaoxing wine. It should NOT contain salt. The US-branded Shaoxing wine often contains a very high salt content, because that's the only way it can be sold in a shop without liquor restrictions. Do not get this type.
Alternatively, do consider Japanese sake and dry sherry. Both do very well in Asian cooking and can result in a very similar flavor.
Generally speaking, dry sherry is closer to Shaoxing wine, only with a slight hint of sweetness. Japanese sake is more delicate and mild, and also has a sweet flavor. If you have both on hand, use dry sherry in pungent dishes (esp. spicy ones), and use sake to cook delicate dishes (such as dumpling filling, soup, etc.). We always have sake in the fridge, because we love to drink it, too!
Where to Buy
You can find Shaoxing wine in an Asian grocery store, at the alcohol section. Be careful, the ones in the condiment section are usually the salty type. You can find dry sherry in an alcohol store.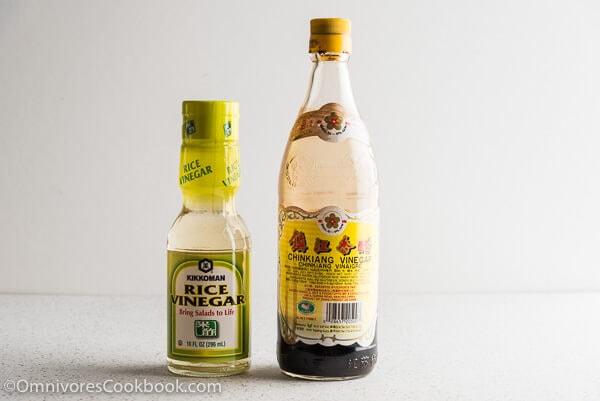 Although Chinese cooking uses both Chinkiang vinegar (also called Chinese black vinegar) and rice vinegar, the former is used more often in authentic Chinese cuisine. It may also be referred to, using the modern pinyin romanization, as Zhenjiang vinegar.
As its alternate name suggests, Chinkiang vinegar has a much darker color, close to that of soy sauce, due to the long aging process. It has a rich, pungent, and tart flavor, with a fermented, malty taste and woody character that distinguishes it from the light colored and fruity rice vinegar.
It's a key ingredient in cold salad, dumpling dipping sauce, sweet and sour sauce, and hot noodle sauce.
There is no substitute for Chinkiang vinegar.
Where to Buy
You can buy Chinkiang vinegar on Amazon.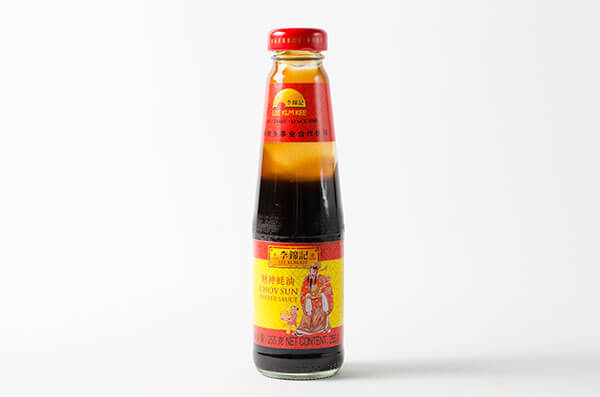 Like hoisin sauce, the oyster sauce will make every dish taste better. The difference between the two sauces is that oyster sauce is much less sweet and has a richer umami flavor. If you add a drop of oyster sauce to simple fried noodles or noodle soup, it will enhance the depth of flavor and make the dish instantly taste better. It's also a very important ingredient in marinades for roast chicken and Chinese char siu (BBQ pork).
I always use Lee Kum Kee's oyster sauce, because they invented oyster sauce. For vegetarian dishes, make vegetarian oyster sauce at home or use store bought mushroom oyster sauce as an alternative.
There is no substitute for oyster sauce.
Where to Buy
You can buy oyster sauce on Amazon.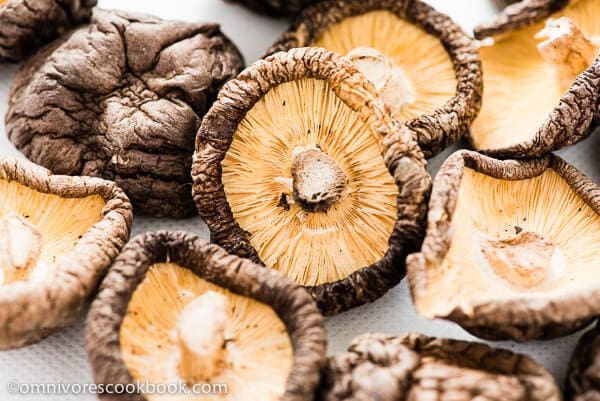 This is one of the most important ingredients in Chinese cooking and is used to add umami and depth of flavor.  They have a very concentrated flavor and most of the time cannot be replaced by fresh shiitake mushrooms. Various classic dishes such as hot and sour soup, egg rolls, and potstickers use shiitake mushrooms to enhance the flavor. The mushrooms also taste wonderful in noodles, claypot rice, and braised meat dishes, in which they get infused with meat drippings.
I always prefer whole dried shiitake mushroom to sliced ones.
Where to Buy
You can buy dried shiitake mushroom on Amazon.
Dried chili peppers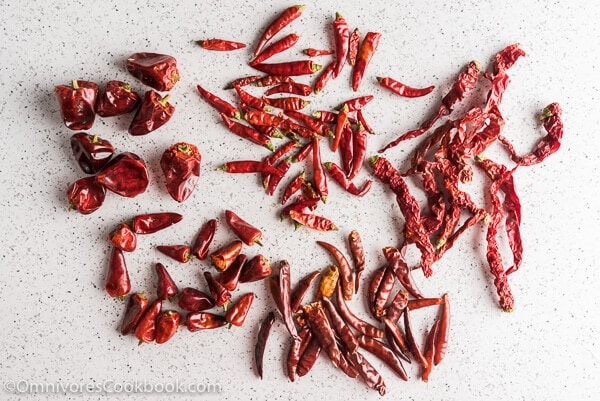 The key ingredient in Sichuan cooking and an important ingredient in all sorts of Chinese dishes. To cook real, authentic Sichuan food, you ideally need several types of chili pepper that range from super spicy to super smoky. The next best thing would be Korean or Thai chili peppers, which are more common in the Asian market.
Where to Buy
You can buy high premium Sichuan chili peppers on The Mala Market.
It is the most important ingredient in Sichuan cuisine (as crucial as chili pepper), and commonly used in all sorts of Chinese cooking. It's the essential spice for creating pantry sauces such as chili oil and spicy garlic sauce. It's a must in almost all Sichuan dishes, including dry fried green beans and kung pao chicken. It's a very convenient spice to infuse in hot oil (instead of using garlic, green onion, or ginger) to create simple, delicious stir fried dishes, such as this cabbage dish or this okra dish.
It is very difficult to source good Sichuan peppercorns in the US. Because of the low turn around, they lose most of the numbing potency that creates the true essence of Sichuan cuisine and taste stale. That's why I highly recommend the premium Sichuan peppercorns from The Mala Market. They carry the most fresh Sichuan peppercorns in the US.
Where to Buy
You can buy premium Sichuan peppercorns on The Mala Market.
Doubanjiang (fermented spicy bean paste)
A basic ingredient in Sichuan cuisine. Just like oyster sauce, it makes every dish taste better, but in a spicy way.
You'll need it to cook basic dishes such as mapo tofu and Chinese beef noodles. You can also use it to create these very simple baked wings and stir fried green beans.
Where to Buy
Try to find the brand Pi Xian Dou Ban (named after its origin and current source of production). It's the most famous brand in China and it guarantees the best flavor. You can shop for this brand on Amazon or on The Mala Market (Premium 3-Year Fermented).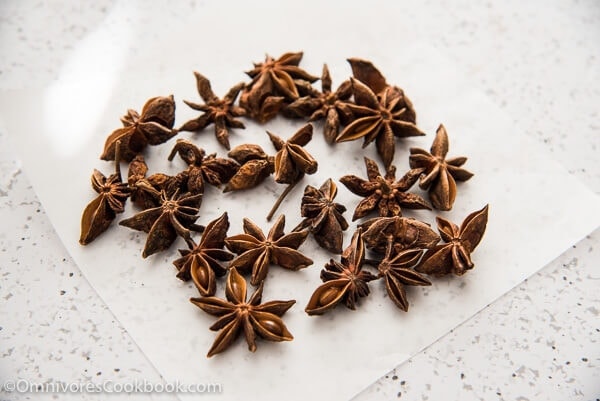 Whole star anise pods are widely used in braised dishes, such as braised spareribs, beef stew, and braised duck. It's also a key ingredient in beef stock and noodle soup,
Star anise pods are powerful and have a very long shelf life. So it's always nice to have them in your pantry.
Where to buy
You can find star anise pod in most grocery stores or on Amazon.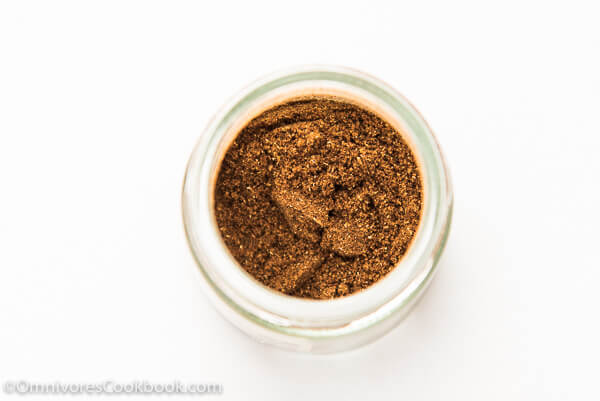 This is a very powerful spice and is convenient to have around. It's an important ingredient in marinating and braising, but you can add it to any other dish for depth of flavor. You can easily make five spice powder in your own kitchen. The fresh homemade spice mix is more fragrant. Plus you have total control of the flavor according to your preference. However I find that keeping a jar of store-bought does come in handy when I feel lazy. Just remember, a tiny amount goes a long way.
Where to buy
You can find five spice powder in most grocery stores or on Amazon.
10 nice-to-have Chinese ingredients
Dark soy sauce is more like food coloring, as it is used to darken a dish with an appetizing color. It is usually used in combination with light soy sauce in fried rice, fried noodles and braised meat. It will last a very long time in the fridge, so it's nice to have in your pantry. We always keep a bottle of dark soy sauce in the fridge.
On the other hand, you can use ordinary soy sauce, as it still gives the meat a nice seared color. But if you want to create beautiful chow fun, you will need dark soy sauce.
Where to Buy
You can buy dark soy sauce here.
Hoisin sauce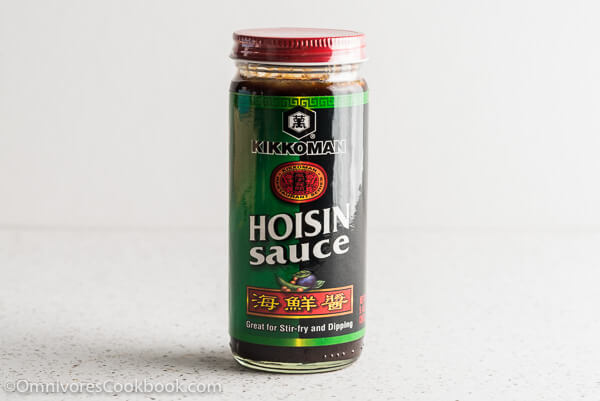 Hoisin sauce is important for cooking Chinese BBQ and as a dipping sauce when serving duck pancakes. I believe it's a must-have seasoning for some cooks. The reason I listed it here is because you can make your own hoisin sauce quite easily.
Where to Buy
You can find hoisin sauce in Asian section of most grocery stores or on Amazon.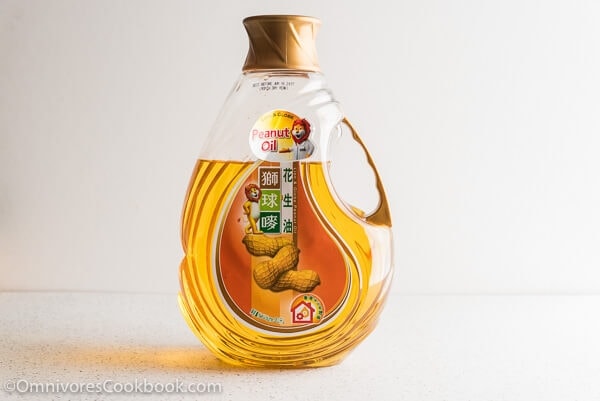 A great bottle of peanut oil will make all your stir-fried dishes instantly better. Try to find an Asian brand that consists of 100% peanut oil. When you open the lid, the oil should be particularly fragrant and smell like peanut butter. It is as fragrant as toasted sesame oil, but with a higher smoke point and a much lower price (per volume, anyway). If you cook simple vegetable dishes, such as bok choy with hot garlic soy sauce or stir fried cabbage, you'll notice a big difference when using pure peanut oil instead of regular vegetable oil.
Where to Buy
You can find the high quality peanut oil in an Asian grocery store.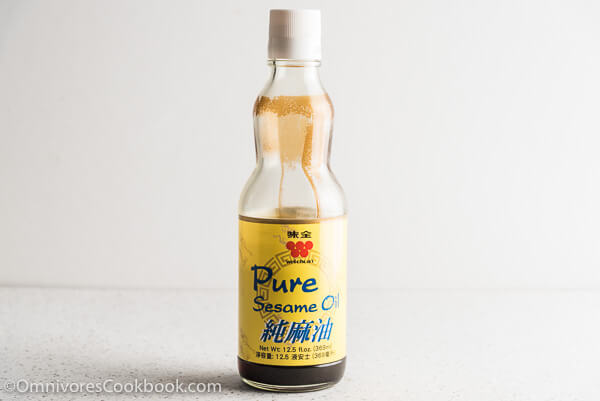 Another flavor enhancer in Chinese cooking that's usually added at the end of a stir-fry, or into dumpling filling. Please note, there are a few types of sesame oil and you'll need the toasted one for Chinese cooking. It has a transparent reddish brown or amber color.
On the other hand, if you already have a bottle of high quality pure peanut oil, you can use that as a substitute for toasted sesame oil and still get very satisfying results.
Where to Buy
You can find sesame oil at the Asian section in most grocery stores, on Amazon, and find cheaper brands in Asian grocery stores.
A common ingredient in hot and sour soup, moo shu stir-fry, egg rolls, noodle gravy, and many other dishes, to add texture. Fresh or rehydrated wood ear mushrooms have a crunchy texture and earthy flavor. They do not taste like much by themselves, but absorb the flavor of whatever they're cooked with. You'll need this ingredient in your pantry if you want to cook real-deal Chinese food.
Where to Buy
You can find dried wood ear mushrooms in Asian grocery stores or on Amazon.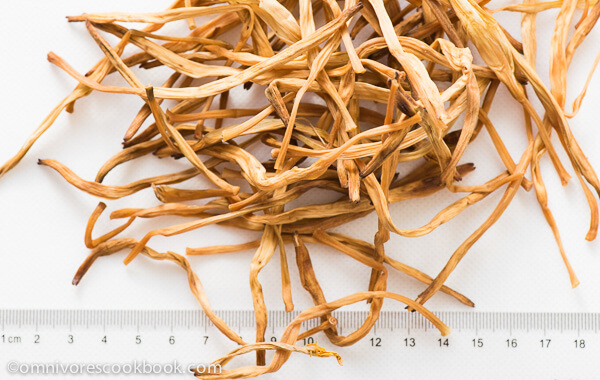 Just like dried shiitake mushrooms, dried lily flower is another flavor enhancer used in all kinds of dishes, and especially in vegetarian dishes. Lily flower itself has a very earthy flavor. When added to a dish, it lends both a nice crunchy, chewy texture and a rich umami, almost like bamboo shoots. It's a key ingredient in Buddha's Delight and moo shu vegetables.
Where to Buy
You can find dried lily flowers in Asian grocery stores or on Amazon.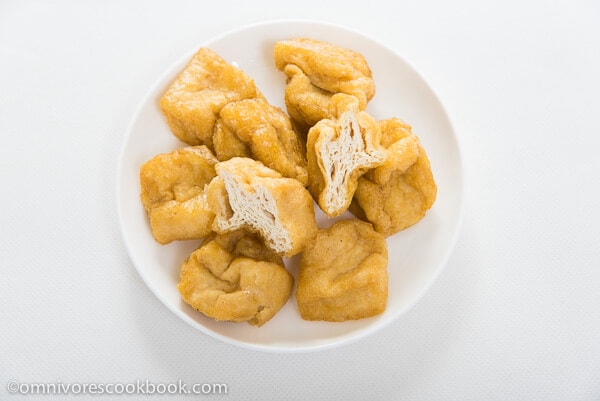 We have a name for this type of tofu in Chinese – vegetarian meat. Just as the name suggests, you can use it in a vegetarian dish and it will turn out as satisfying as if you had used meat. If you don't believe me, try out this stir fried baby bok choy or this Korean stew.
You can find it in any Asian market, though it might be labeled very differently in Japanese, Korean, and Chinese markets. Look for it in the frozen aisle (and sometimes the refrigerated aisle). It comes in different shapes, but all have a golden surface and fluffy texture.
Where to Buy
You can find deep fried tofu at the refrigirated and frozen sections in Asian grocery stores.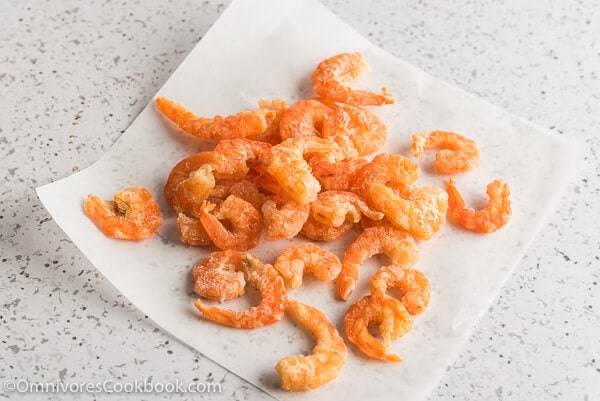 Dried shrimp is a handy ingredient to have in your pantry, to add a seafood-like flavor to soup and dumplings without adding many calories to a dish. If you generally enjoy cooking with fresh ingredients and make dishes without a pungent flavor, this will be a great one to try out. Read more about how to buy, prep, and store them in this post.
Where to Buy
You might able to find dried shrimps at the Mexican section in a grocery store, or in Asian grocery stores, or on Amazon.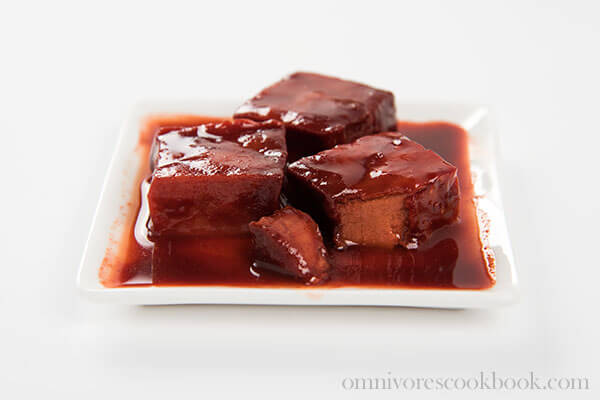 I call it Chinese cheese, because its production process and taste are quite similar to those of cheese. You can add it into braised meat (red-cooked) as a hidden flavor. Or you can simply serve it with porridge or noodle soup as a side. Just like you'd spread just a small chunk of bleu cheese on toasted bread, a small piece of this goes a long way. There are two types – white and red. I always prefer the red one because I'm a Northerner.
Where to Buy
You can find fermented bean curd in Asian grocery stores or on Amazon.
Fermented black beans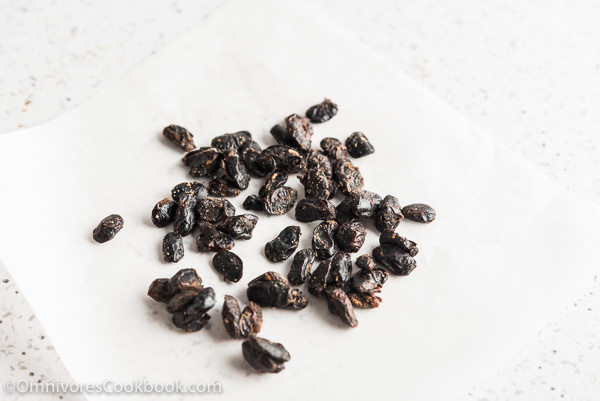 The key ingredient in black bean sauce. The flavor is similar to that of soy sauce, just more pungent and powerful. They're usually used in stir fried and steamed dishes, especially in southern Chinese cuisine.
You can buy them at an Asian market, on Amazon.
Shop premium Chinese ingredients online
Visit my partner's online store for premium Chinese ingredients by clicking the banner below. Even you live near an Asian market, I highly recommend you to check out their Sichuan peppercorns. It is truly fresh and makes your dish better immediately.