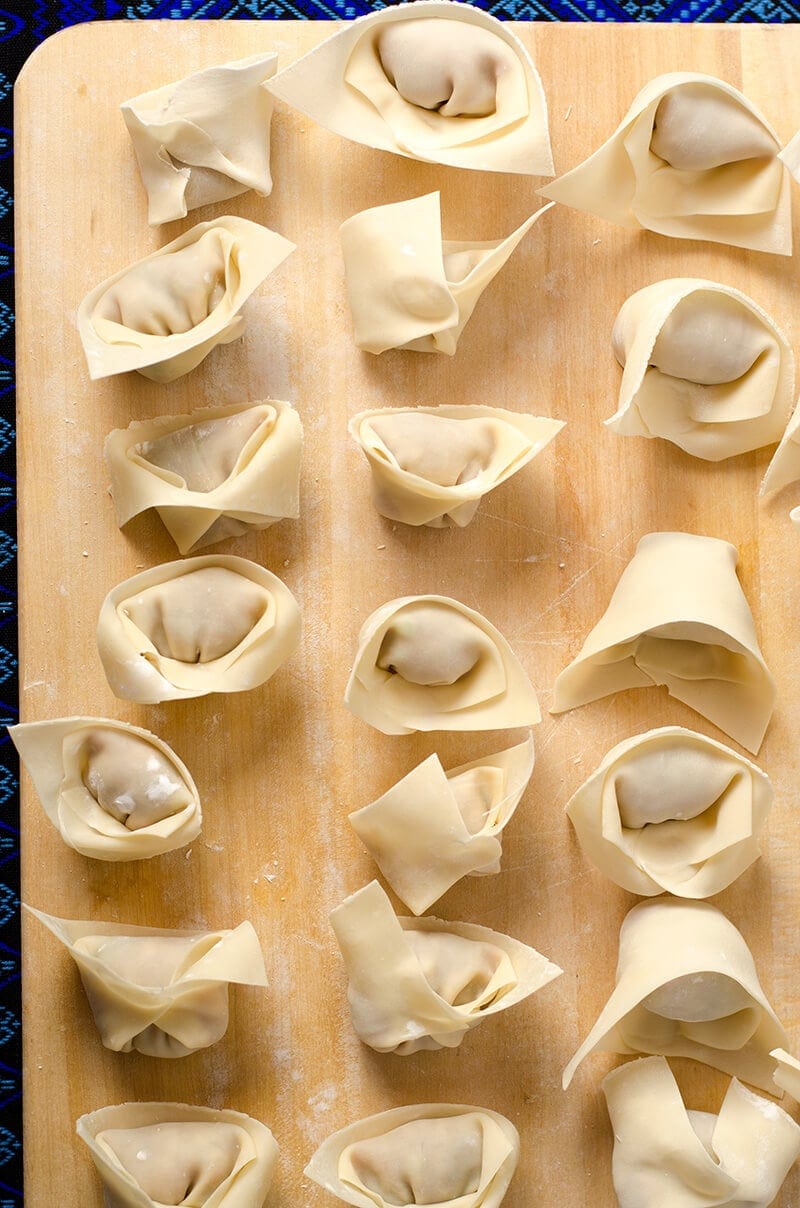 It was rainy during the weekend. Although Beijing has entered full-blown summer, and daytime temperatures generally reach 30 degrees C, it was a cool day yesterday and the weather was lovely.
I decided to make wonton soup. Although the warm soup sounds like a winter dish, it's one of my all time favorites, and a nice bowl of soup is perfect on a rainy day.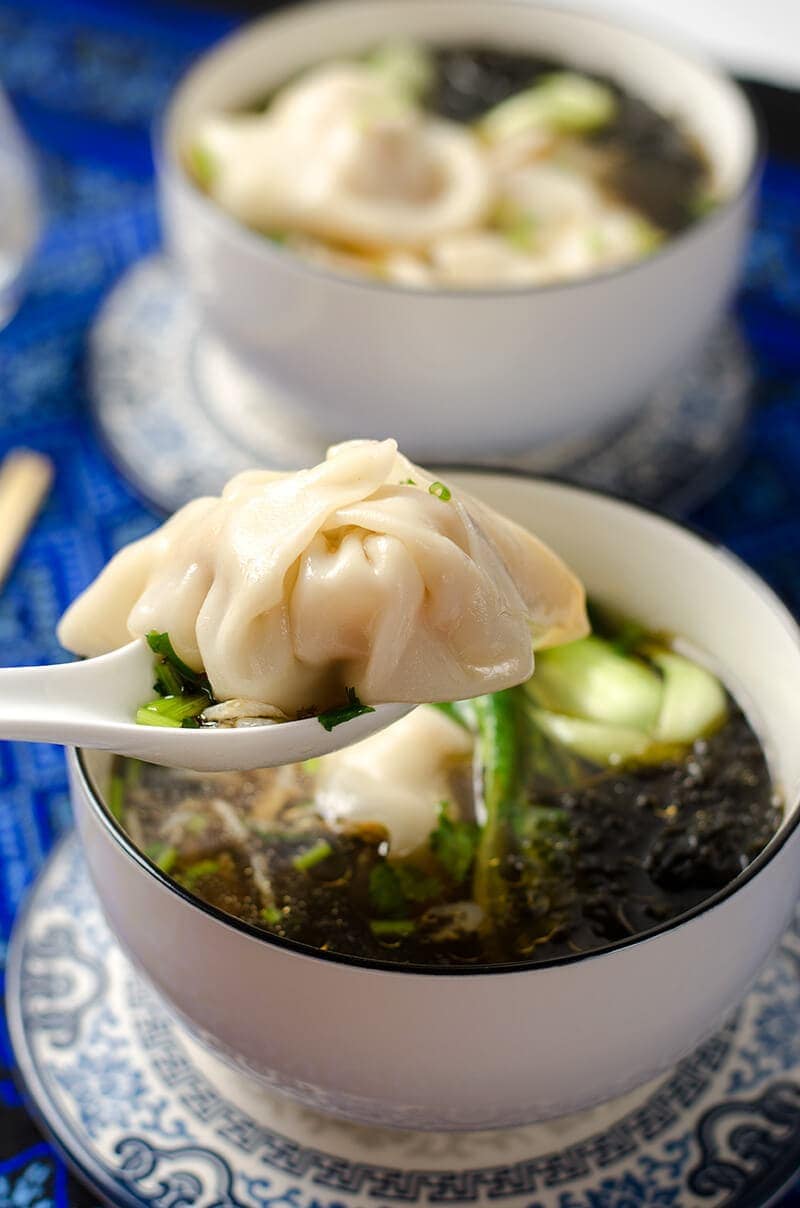 Speaking of wrapping wontons, it might sound intimidating. Well, at least it did to me at first. But the truth is, wonton soup is extremely easy to prepare from scratch!
The process of making wonton soup includes:
1. Prepare wonton filling
2. Fill and wrap wontons
3. Prepare soup base
4. Boil wontons and assemble everything together.
Making wonton filling is similar to preparing any kind of meatball. It's quite a flexible process and you can add whatever meat and spices you prefer. In this recipe, I use the classic combination of shrimp and pork, with the traditional northern Chinese style spices of ginger and green onion. With this combination you can hardly go wrong. Even if the wonton turns out too salty or a bit plain, you can still adjust the flavor of the soup to balance the whole dish in the end.
Wrapping wontons, the simplest way is to roll the filling in the wrapper and press both loose ends together to lock in the filling, regardless of whether you're using a square shaped or a wedge-shaped wrapper.
If the wrapper is not freshly made, there's a good chance that it will not be sticky enough and you'll have trouble pressing the ends together. To solve this problem, you can brush some water or egg white onto the wrapper. To make it even easier, you can use the back of spoon (which you're using to scoop the wonton filling) to brush the meat juice left on the spoon onto the wrapper ends. This way, the wonton wrapper will hold together after pressing, and the wonton won't fall apart while it's being boiled.
But sometimes, there are several broken wontons no matter how careful you are. Here, I have some good news. The wonton will still taste good in the soup, even if it fell apart. Unlike that of dumplings, wonton filling is generally smaller and more solid (wontons tend to uses less/no vegetables for fillings and vegetables are served in the soup). The filling inside the wrap won't fall apart even if you over boil the wonton. Worst case scenario, even if all the wontons are broken, you'll still have a flavorful bowl of noodle soup with meatballs. Not too bad right? 🙂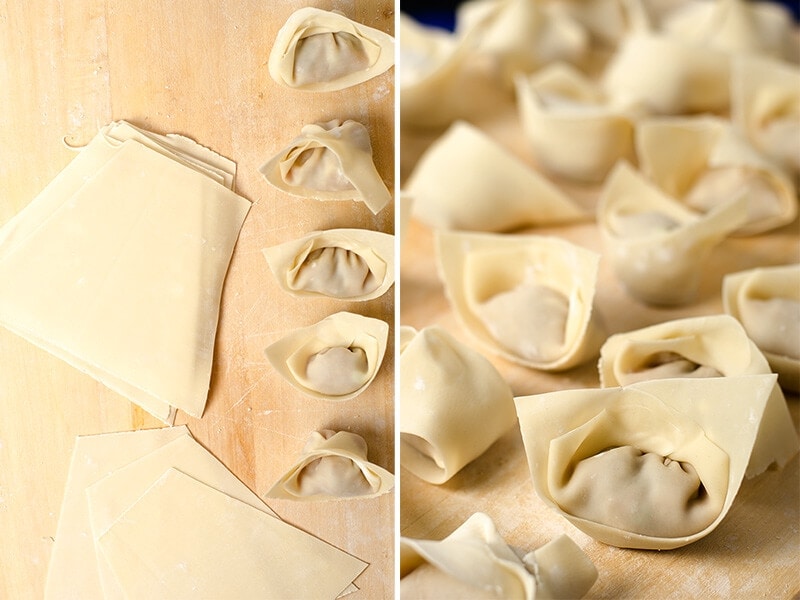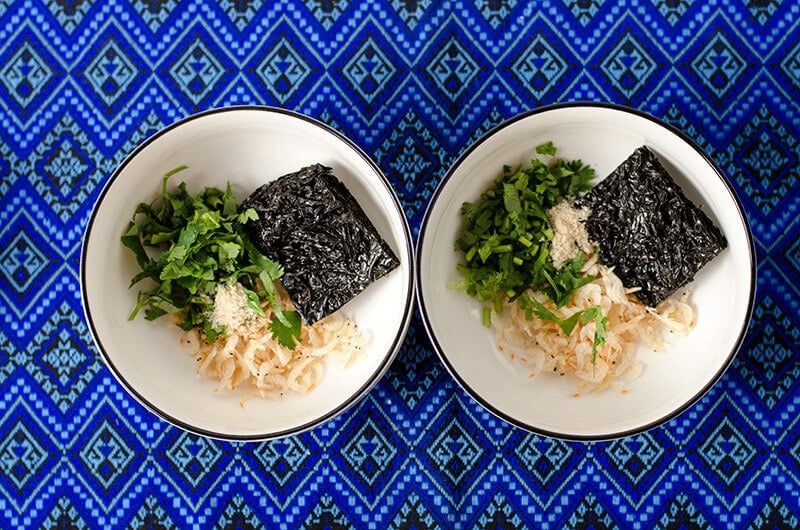 Preparing the soup base is even easier, because it has the same logic as making instant noodles. You only need to add several seasonings and green vegetables into the bowl, then the wontons, then pour in boiling water to mix everything together. The secret of the soup base is to use papery dried shrimp (虾皮, xia pi), dried seaweed, soy sauce and sesame oil. Those ingredients work like magic together and turn a bowl of boiling water into a rich and savory soup that's full of umami.
The amount of seasoning you can put in the soup is highly flexible. If you're not so familiar with those ingredients, you could try the ratio of 1 cup of water to 1 tablespoon dried shrimps, 1/4 teaspoon chicken bouillon and 1 – 2 teaspoons soy sauce. The soup should have amber color and the saltiness could be easily adjusted by adding more soup or soy sauce.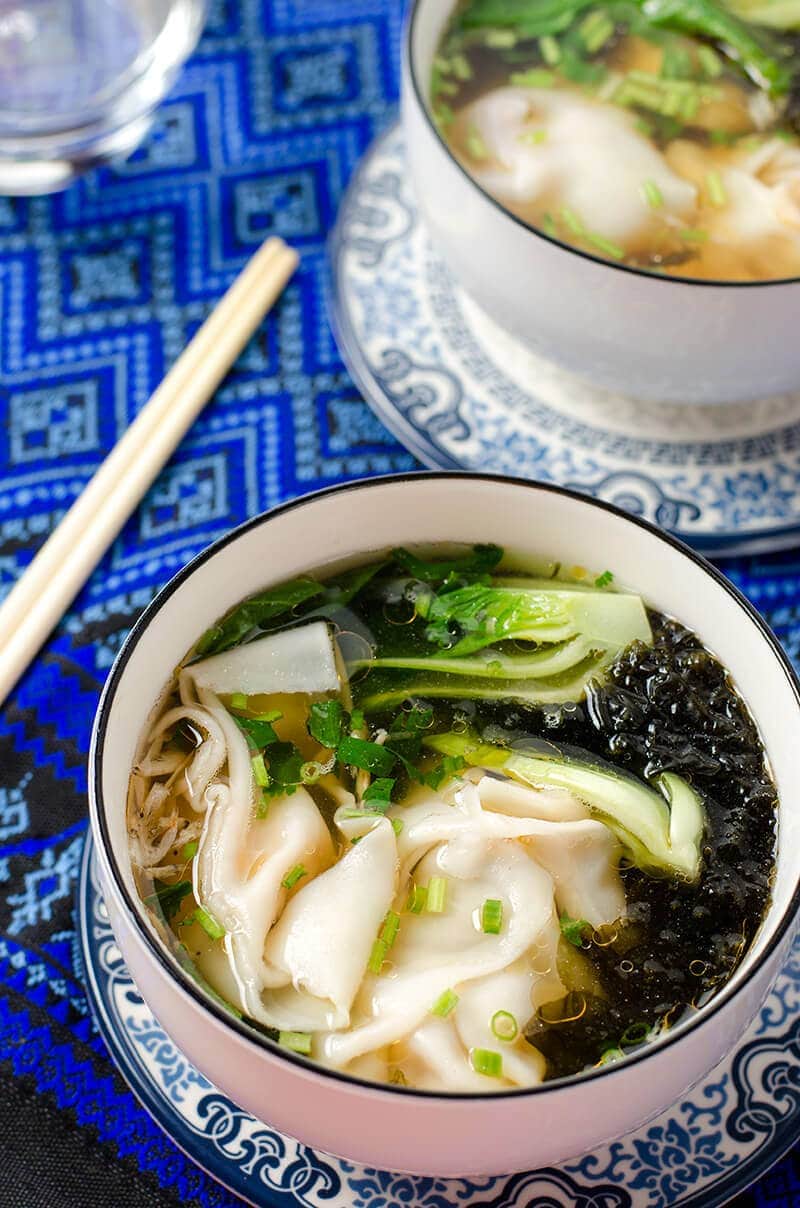 I hope this post helps you understand the process of making authentic wonton soup. If you have any questions, please feel free to drop me a note below and I'll try by my best to answer.
I made a short video to show you just how easy it is. If you like the video, don't forget to check out my YouTube channel! I have a collection of cooking videos that walk you through the delicious recipes at Omnivore's Cookbook. It is one of the fastest ways for you to get used to the techniques that are used in Chinese cooking!
Need more delicious idea to enjoy wontons? Check out my Cantonese Wonton Noodle Soup and Tomato Beef Wonton!

Wonton Soup
This recipe generates 50 - 60 small wontons (normal size) or 35 big ones (size similar to dumplings).
Ingredients
Filling
200 grams (7 ounces) ground lean pork
200 grams (7 ounces) peeled shrimp, each chopped into 3 to 4 pieces
1 tablespoon minced ginger
5 tablespoons green onion, finely chopped
1 tablespoon light soy sauce
2 tablespoons Shaoxing wine
1/2 teaspoon salt
2 tablespoons sesame oil
50 - 60 wonton wrappers
Soup
1 batch of cilantro, chopped
4 tablespoons papery dried shrimp, or to taste
4 big pieces of dried seaweed (nori)
4-6 baby bok choy, quartered
2 teaspoons chicken bouillon
4 teaspoons light soy sauce or to taste
4 teaspoons sesame oil
green onion, chopped
Instructions
Add ground pork, shrimp, ginger, green onion, soy sauce, Shaoxing wine, salt and sesame oil in a big bowl, mix well with a fork for about 3 minutes, until everything combines well together and the mixture feels a bit sticky.
To make wontons, place a wonton wrapper in one hand, scoop wonton filling with a spoon and place near the narrow side of wonton wrapper. Fold the narrow side over the filling, then roll the filling all the way through the other side of the wrapper. Bind both ends and press together to lock the filling inside the wrapper. If you find the wrapper is silky and difficult to stick together (esp. when using store-bought wrappers instead of freshly made ones), brush a thin layer of wonton filling ( or egg white or water) on the wonton wrapper, and it will easier to press the ends together. Make one wonton at a time, and line up all the wontons on a big wooden cutting board. If you aren't going to boil the wontons immediately, use a wet and light paper towel (or cheese cloth) to cover the wontons to avoid drying out. If you aren't going to boil the wontons the same day, place them in an airtight container with several layers of wet paper towels on the bottom. This way, they can be stored in the fridge up to 2 days.
To prepare 1 serving of wonton soup base, add a big spoon of of cilantro, 1 tablespoon papery dried shrimps, a generous piece of dried seaweed, 1/4 teaspoon chicken bouillon and baby bok choy into a big bowl. Repeat the process to prepare the rest of the soup base.
To boil the wontons, heat a big pot of water until boiling. Add 10 to 20 wontons at a time and boil on medium heat until wontons are floating on the surface of water. Continue to boil until the wrapper is swollen, around 2 to 3 minutes for small wontons and 3 to 4 minutes for bigger ones. Take 1 wonton out by colander and split it by chopstick or fork. If the wonton is cooked through, stop heat immediately. If not, continue to boil until cooked through.
To make 1 serving of wonton soup, use a ladle to transfer wontons and the hot soup into the big bowl with all the ingredients from step 3. Drizzle 1 teaspoon soy sauce and 1 teaspoon sesame oil into the bowl and give it a gentle stir. The soup should be amber colored. Add extra soy sauce or salt if the soup is not salty enough. Scatter green onion on top and serve immediately.
The nutrition facts are calculated based on 1 of the 4 servings generated by this recipe.