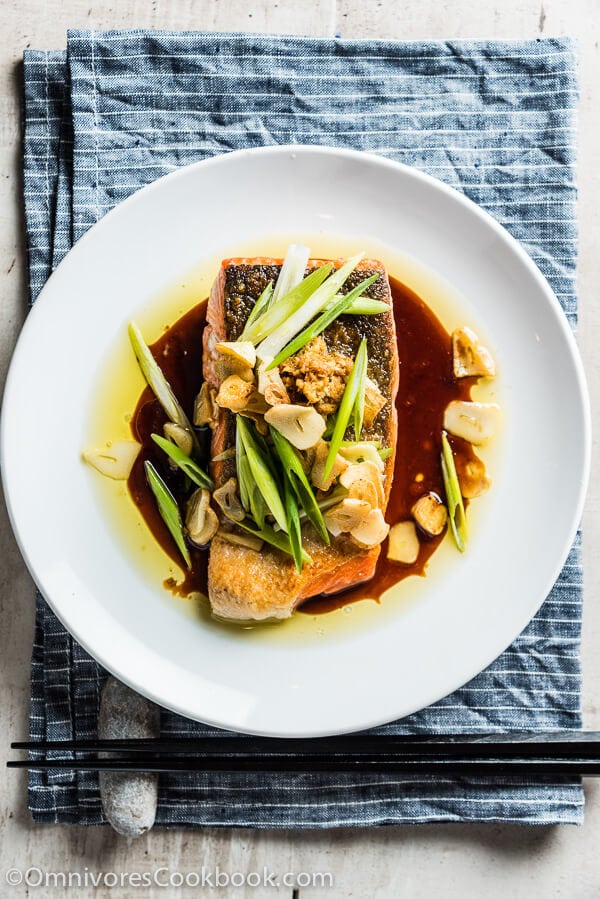 This recipe combines the delicate flavor of Chinese steamed fish with the crispy skin of grilled salmon in one dish. You don't need to marinate the fish, and you can achieve it on the stovetop in 10 minutes. Isn't it perfect?
You might have never heard of a dish called salmon with ginger soy sauce. That's because I just invented it.
After moving to Austin, I found that the types of fish I can get in the average supermarket are very different from those I'd find in China. I was very happy to find sea fish fillets accessible on a daily basis, at a pretty reasonable price. I had been looking for a way to cook sea fish in an Asian way, but found it challenging.
Chinese cooking methods are great for dealing with freshwater fish, which are way cheaper than those from the sea. To cook freshwater fish, you need to use heavy seasoning to eliminate any unpleasant muddy taste. If you applied the same seasoning to sea fish, it would definitely overpower the taste of the fish itself.
The Chinese steamed whole fish is an exception. It is a classic Chinese dish that uses minimal seasoning and fresh herbs to bring out the great flavor of fresh fish. To make the dish work, it requires a whole, live fish.
I ventured to apply the steamed fish seasoning and cooking technique to grilled salmon the other day. I was thrilled when the dish turned out perfect.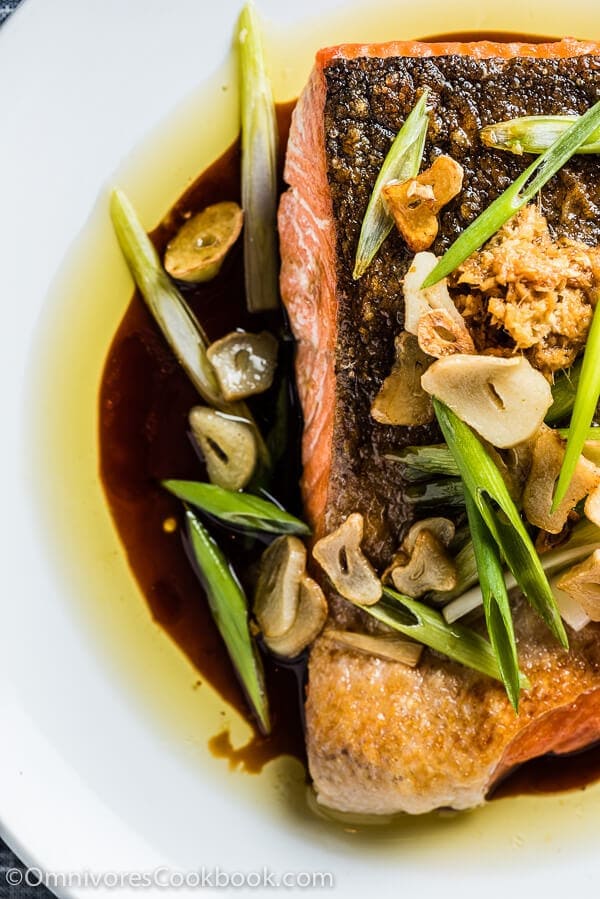 The recipe works great because: (1) It uses the just the right amount of seasoning without overpowering the fish; (2) It creates super crispy skin, which is impossible to get by steaming the fish; (3) The method works perfectly with a piece of fish fillet, so it eliminates the trouble involved in finding a live fish.
I found it to be a perfect solution for creating authentic Chinese taste with a very different type of fish, and it tastes even better.
I don't know about you, but I enjoy crispy fish skin even more than the fish itself. If you have had a negative experience with fish skin, chances are, that it wasn't cooked properly. I learned this great method from Epicurious, and now I get perfectly browned salmon skin with a tender fillet every single time.
The cooking process in this recipe is simple. You need to brown the salmon on the stovetop first. Then you simply use the same old trick – with the salmon on a plate, and lots of herbs covering it, drizzle hot oil onto the herbs and fish (we use this method with fish and veggies), then immediately drizzle soy sauce onto the hot oil. The hot oil will cook the raw herbs on the fish, and will also slightly cook the soy sauce without burning it. The herbs, soy sauce, and oil, combined, will infuse a great umami into the fish, eliminating the need to marinate the fish before cooking. Quick and easy.
We have been cooking salmon with this method lately and enjoy it so much. It requires so little time yet brings you the greatest flavor!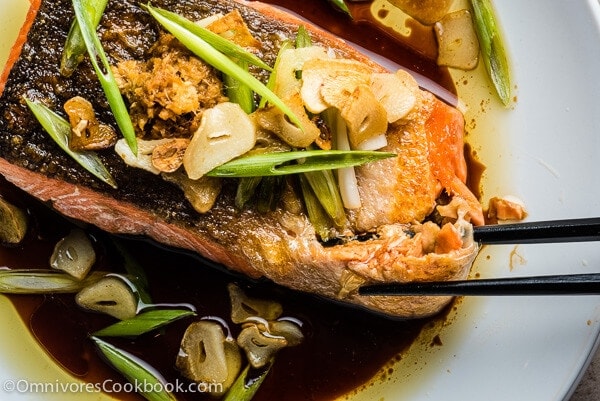 Did you check out the SizzleFish Giveaway? Enter now for a chance to earn a $100 value fish and seafood!
Do you like my recipes? Sign up for Omnivore's Cookbook's weekly newsletter to get the latest updates delivered to your inbox and a free e-cookbook! And stay connected via Facebook, Instagram, Pinterest and Google+. Thanks for reading and happy cooking!
Want to Know More?
Receive our 5-Day Chinese Cooking Crash Course & Recipe Updates! Subscribe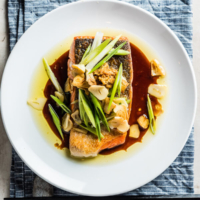 Crispy Salmon with Ginger Soy Sauce
This recipe combines the delicate flavor of Chinese steamed fish with the crispy skin of grilled salmon in one dish. You don't need to marinate the fish, and you can achieve it on the stovetop in 10 minutes. Isn't it perfect?
Ingredients
2

pieces

SizzleFish salmon fillet

Sea salt

3

tablespoons

olive oil

4

cloves

garlic

2

teaspoons

ginger

, minced

2

green onion

, chopped

2

teaspoons

light soy sauce

(or tamari for gluten-free) (or to taste)
Instructions
Check salmon carefully. Use a paring knife to scale the salmon (if any scales remain) and use a pair of fish tweezers to remove pin bones (if necessary). Thoroughly pat dry salmon with paper towel.

Lightly season the skin side of the salmon with sea salt.

Heat 1 tablespoon olive oil in a nonstick skillet over medium high heat until hot.

Place one piece of salmon into the skillet, skin side down. Immediately use a spatula to push the salmon against the skillet (*see footnote 1) and turn to medium low heat. Let cook for 1 minute without moving your spatula. Continue cooking and move spatula around the salmon to press the fillet firmly and thoroughly, 2 to 3 minutes. When the shape of the skin is set, you can add the second piece of salmon and cook with the same method. Cook salmon until the skin is nicely browned and crispy, and the flesh is mostly cooked through. It takes 6 to 8 minutes, depending on the thickness of the salmon. Flip and cook the other side until just cooked, 1 minute or less.

Transfer fish to serving plate, skin side up.

Add 1 teaspoon minced ginger and half the chopped green onion onto each piece of fish.

Return the skillet to the stove. Add the remaining 2 tablespoons olive oil and garlic. Cook over medium heat until the oil is hot and the garlic is slightly charred on the edges.

Remove the skillet from stove and drizzle half of the hot oil and garlic onto each piece of fish. You should hear a nice sizzling. Immediately drizzle 1 teaspoon light soy sauce onto each piece of fish while the oil is still hot.

Serve immediately as a main dish.
Notes
Salmon skin will shrink when heated. By pushing the salmon against the skillet, you can create evenly browned skin that is flat and crispy. You can use two spatulas to do this if you're grilling two pieces of salmon at the same time.
Nutrition
Serving:
152
g
,
Calories:
234
kcal
,
Carbohydrates:
5
g
,
Protein:
23.3
g
,
Fat:
14.2
g
,
Saturated Fat:
2
g
,
Cholesterol:
50
mg
,
Sodium:
505
mg
,
Potassium:
542
mg
,
Fiber:
0.8
g
,
Sugar:
0.6
g
,
Vitamin A:
250
IU
,
Vitamin C:
6.6
mg
,
Calcium:
70
mg
,
Iron:
1.4
mg