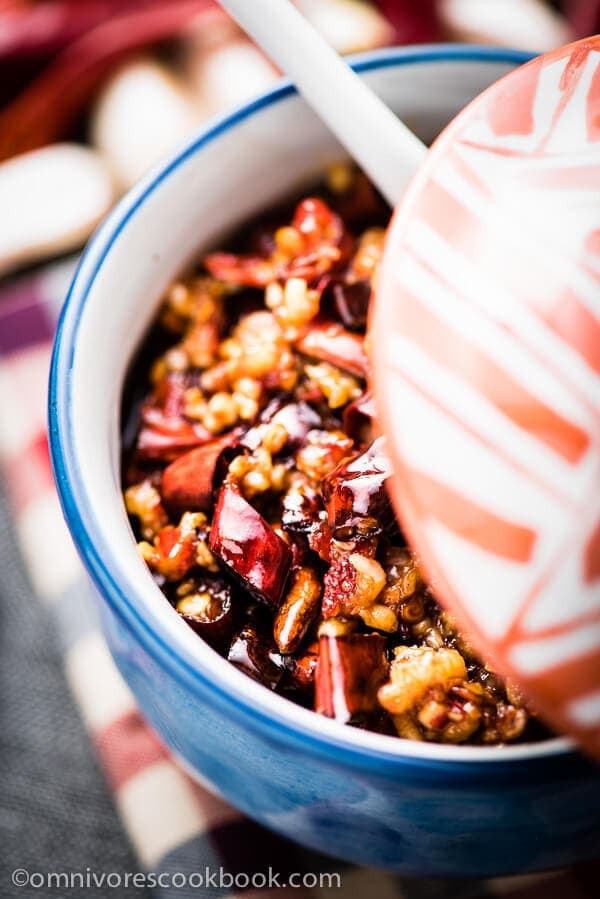 Do you like Sichuan food? Do you want to spice up your dish with a pungent and appetizing flavor? Cook this versatile chili garlic sauce and you can easily create your favorite Sichuan dishes in under 20 minutes!
In this post, I will discuss:
– The inspiration for creating this recipe
– Why use this recipe
– An example of how to use the master sauce by itself
– More quick & yummy Recipes by using this sauce
– Recipe
Inspiration
Before I started talking about this amazing sauce, I need to thank Nagi of RecipeTin Eats for this wonderful idea! When Nagi created this super convenient and versatile Chinese all purpose stir fry sauce, she told me that a reader would also like to cook a Sichuan all purpose sauce but she couldn't find the recipe. I thought it's a brilliant idea. I am a big fan of Sichuan food, and I wanted to create a sauce I could use to cook all my favorite Sichuan dishes in no time.
However, when I started this mission, I found the recipe development not as easy as I thought. For authentic Sichuan food, there are so many flavors beyonds spiciness. For the mainstream Sichuan flavors, there are:
Mapo, 麻婆 – the classic mapo tofu has a deep savory and numb flavor from Sichuan peppercorn and fermented chili bean paste.
Yu xiang, 鱼香 – directly translated, means "fish fragrant", it has a spicy, sweet, and sour flavor. The ingredients include vinegar, soy sauce, and sugar (very close to kung pao, but with more sour and sweet flavor).
Ma la, 麻辣 – or numb spicy flavor, uses a lot of Sichuan peppercorn to create a numbing taste.
Guai wei, 怪味 – directly translated into weird flavor (it sounds weird, I know). It uses Chinese sesame paste, vinegar, and sugar to create a nutty aroma with a sweet, sour, spicy flavor.
(There are a few more authentic flavors, but they're less known outside of China.)
So you can see, it is impossible to include everything in this one sauce.
However, I did find some common characteristics and a few shared ingredients among all the flavors. In the end, I created this Sichuan all purpose chili garlic sauce – to be used as a master sauce.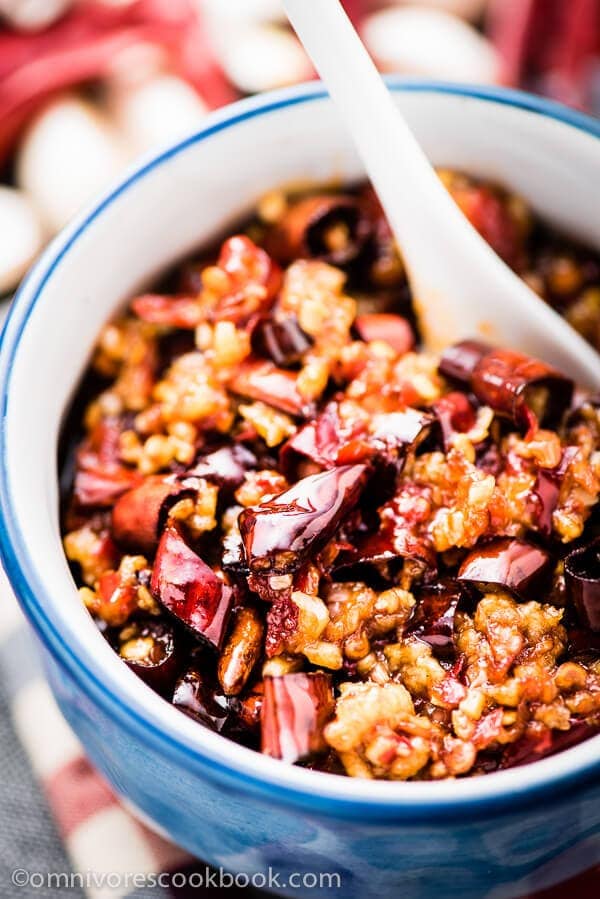 Why this recipe
– Save you tons of time chopping garlic and cutting chili peppers every time you want to cook a simple dish.
– Adds a kick to a normal stir fried dish and turns its taste into authentic Sichuan within a minute.
– You can spend an extra 3 minutes to blend a few (very few) more ingredients to the master sauce and turn it into any of the mainstream flavors listed above. So, making this master sauce really puts 5 sauces at your disposal.
– The sauce gets even better after being stored for a while.
– Your friends will be amazed at how you can cook your favorite spicy shrimp dish in 5 minutes (get recipe here).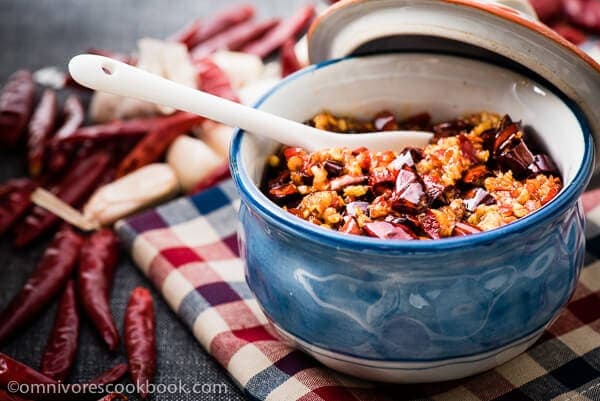 One example of using the master sauce by itself
The day I created this sauce, I cooked a stir fried spicy chicken wing dish. I know it's a bit strange to use wings in a stir-fry, but that's the only thing I had in my fridge that day.
What I did is marinate 10 wings with 1 tablespoon soy sauce, 1 tablespoon Shaoxing wine, 1/2 teaspoon salt, and 2 teaspoons cornstarch (a very standard marinade for almost any protein) for 10 minutes. I heated 2 teaspoons oil with 2 tablespoon chopped green onion. I grilled the chicken on stove top until cooked through and slightly charred. And added a chopped green pepper (Chinese jalapeno) and mixed in 2 tablespoons of this chili garlic sauce in the end. And voila, a Sichuan style stir fried chicken was ready in 20 minutes.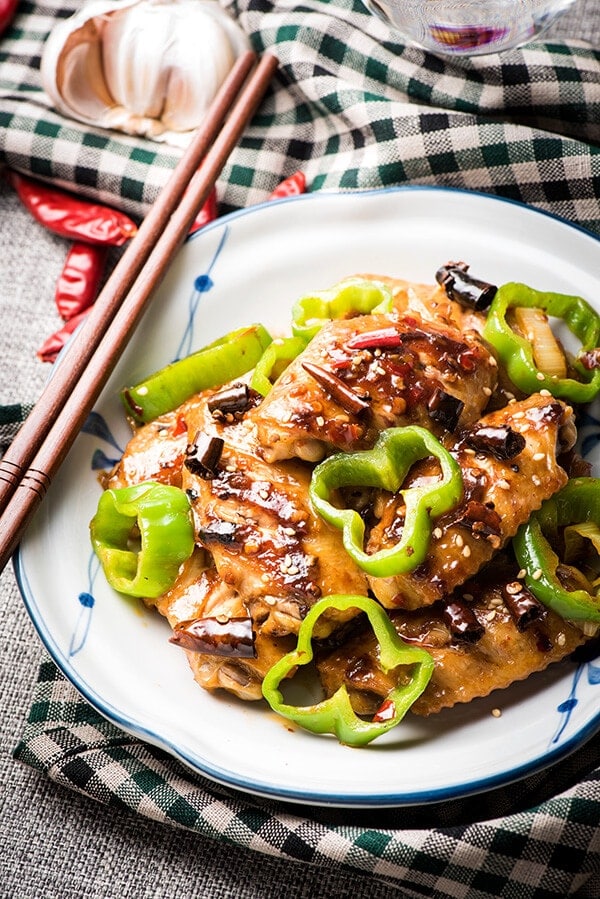 Only one thing to take note of, you should always add a generous amount of the master sauce to give the dish a nice flavor. I will generally use 2 tablespoons of the sauce for a normal stir fried dish (which serves two), but I might use up to 4 tablespoons if I have many ingredients (for a dish that serves four). So depending on the type of chili pepper you use, the dish might end up quite spicy. Read the footnote in the recipe about creating a less spicy sauce.
Use this all-purpose chili garlic sauce to cook: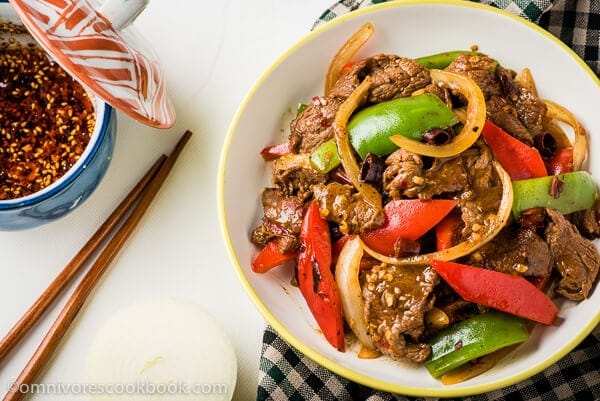 Spicy Beef Stir-Fry with Pepper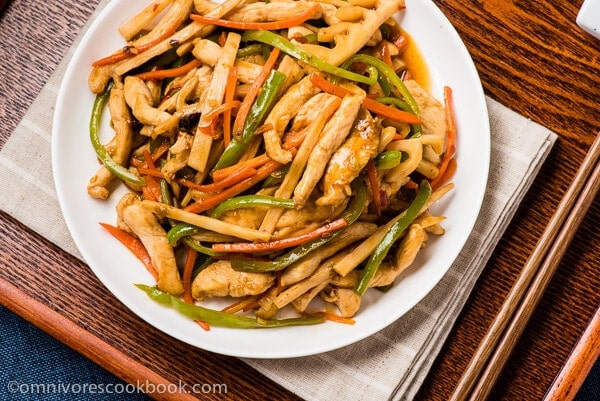 Yu Xiang Rou Si (Sichuan Shredded Chicken Stir-Fry)
What is your favorite Sichuan dish? Drop a note below if you're looking for a Sichuan recipe, and I can create it for you! 🙂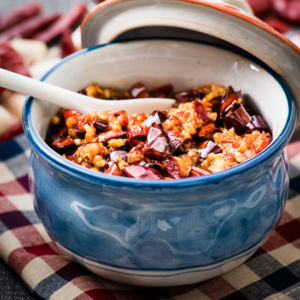 Sichuan All Purpose Chili Garlic Sauce
Do you like Sichuan food? Do you want to spice up your dish with a pungent and appetizing flavor? Cook this versatile chili garlic sauce and you can easily create your favorite Sichuan dishes in under 20 minutes!


Print
Pin
Rate
Ingredients
30

grams (1 cup)

chili peppers

, whole dried (*see footnote)

15

grams (1 thumb)

ginger

, minced

60

grams (15 cloves)

garlic

, crushed

1/2

cup

peanut oil

(or vegetable oil)

2

tablespoons

Sichuan peppercorn

4

tablespoons

spicy fermented bean paste

1

tablespoon

sugar
Instructions
To cook the sauce
Use scissors to cut each chili pepper into 4 to 5 pieces. Prepare ginger and garlic.

Add oil and peppercorn to a wok (or small skillet) and heat over medium heat. When the peppercorns start sizzling, continue cooking for about 2 minutes, until they turn dark brown and you can smell a pungent fragrance. If the oil starts to smoke, turn to lowest heat. Remove the peppercorns with a straining ladle or spatula and discard them.

Add chili peppers and cook over low heat until the color darkens. This will happen very quickly, in less than 1 minute, if you're using a gas stove.

Add ginger and garlic and give it a quick stir. Add chili bean paste and sugar and continue to cook over low heat until everything is mixed well and you can smell a strong garlicky aroma, 1 to 2 minutes. Turn off heat and transfer everything to a large plate to cool off.

When the sauce has cooled, transfer it to a clean jar. You can store the sauce at room temperature for a month or in the fridge for up to 3 months.
Use the master sauce to cook meat, poultry, and/or vegetables
You can add the chili garlic sauce into any stir fried dish at the end of cooking and mix well. The dish will be infused with a pungent and hot flavor just as in authentic Sichuan dishes (example below).

Slice or cube half a pound of meat or poultry into bite sized pieces. Chop 2 cups vegetables.

Marinate meat or poultry with 2 teaspoons soy sauce, 2 teaspoons Shaoxing wine, and 1 teaspoon cornstarch.

Heat 1 tablespoon of oil in a skillet (or wok) and cook the protein until the surface is cooked but is still raw inside. (Skip this if you're cooking a vegetable dish)

Heat 2 teaspoons of oil in the skillet (or wok) until warm and add minced ginger (or green onion) to infuse flavor. Add veggies and cook until almost cooked through.

Add cooked meat back into skillet. (Skip this if you're cooking a vegetable dish)

Add 2 tablespoons chili sauce with salty seasoning (about 1/2 salt or 1 spoonful light soy sauce). Mix well and adjust seasoning.
To use the sauce with other seasonings to create a new sauce
(option 1) Combine the chili garlic sauce with other ingredients such as soy sauce, black vinegar, Sichuan peppercorn powder, spicy fermented bean paste and / or sugar, and then use as a sauce for stir frying. It will create a lot of authentic Sichuan flavor, like that found in yu xiang (literally "fish fragrant", practically spicy, sweet, and sour), xiang la (sweet spicy), mapo (savory spicy).

(option 2) You can also add it to oyster sauce or hoisin sauce to spice up a comforting American Chinese dish.

More detailed recipes are coming soon.
Notes
Depending on the type of chili pepper you're using, the sauce will have varying levels of spiciness. I prefer to use a less spicy chili pepper, so the sauce will be well balanced and not too spicy. If you're not sure about the spiciness of the pepper, smell them when you just open the package. If you can smell a strong and pungent aroma, that makes your nose itch, then you should be careful. You can discard the seeds after breaking the peppers. If you don't smell a very pungent aroma, you can use the whole chili pepper with seeds.
Nutrition
Serving:
16
g
|
Calories:
67
kcal
|
Carbohydrates:
3.8
g
|
Protein:
0.8
g
|
Fat:
5.8
g
|
Saturated Fat:
0.9
g
|
Sodium:
130
mg
|
Potassium:
50
mg
|
Fiber:
0.8
g
|
Sugar:
1.5
g
|
Vitamin A:
400
IU
|
Vitamin C:
1.7
mg
|
Calcium:
10
mg
|
Iron:
0.2
mg