These braised pork trotters are fall-off-the-bone tender and have a rich savory taste. It's an affordable way to create a scrumptious and filling main dish that is full of collagen and healthy fats.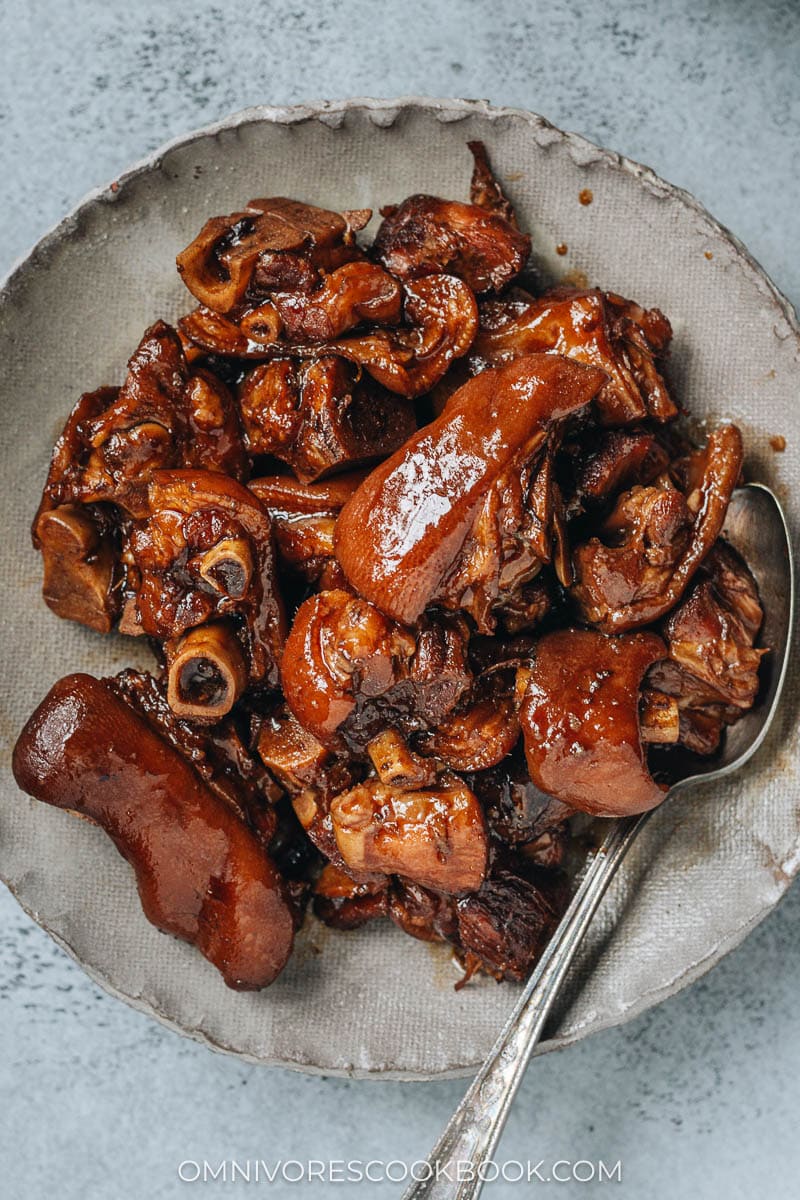 Chinese cuisine is known for utilizing different parts of the whole animal to create delicious meals. For example, chicken liver and pork liver are used to create tasty stir fries. Oxtail makes a super luxurious stew. Beef tripe, lung and tongue with red chili oil makes a rich tasting cold appetizer. Bones are often made into hearty bone broth for noodle soup and stews.
Braised pork trotters is one of my favorite homestyle dishes that my mom has been making since I was a kid. The trotters are carefully boiled first to remove the impurities. They're cooked until very tender in a pressure cooker, then braised with aromatics and sauces to achieve a rich, savory flavor. The end dish is fall-off-the-bone tender but doesn't taste greasy at all. The connective tissue becomes so tender, and the lean meat in between just melts in your mouth. On top of steamed rice, it makes a satisfying main dish without breaking the bank.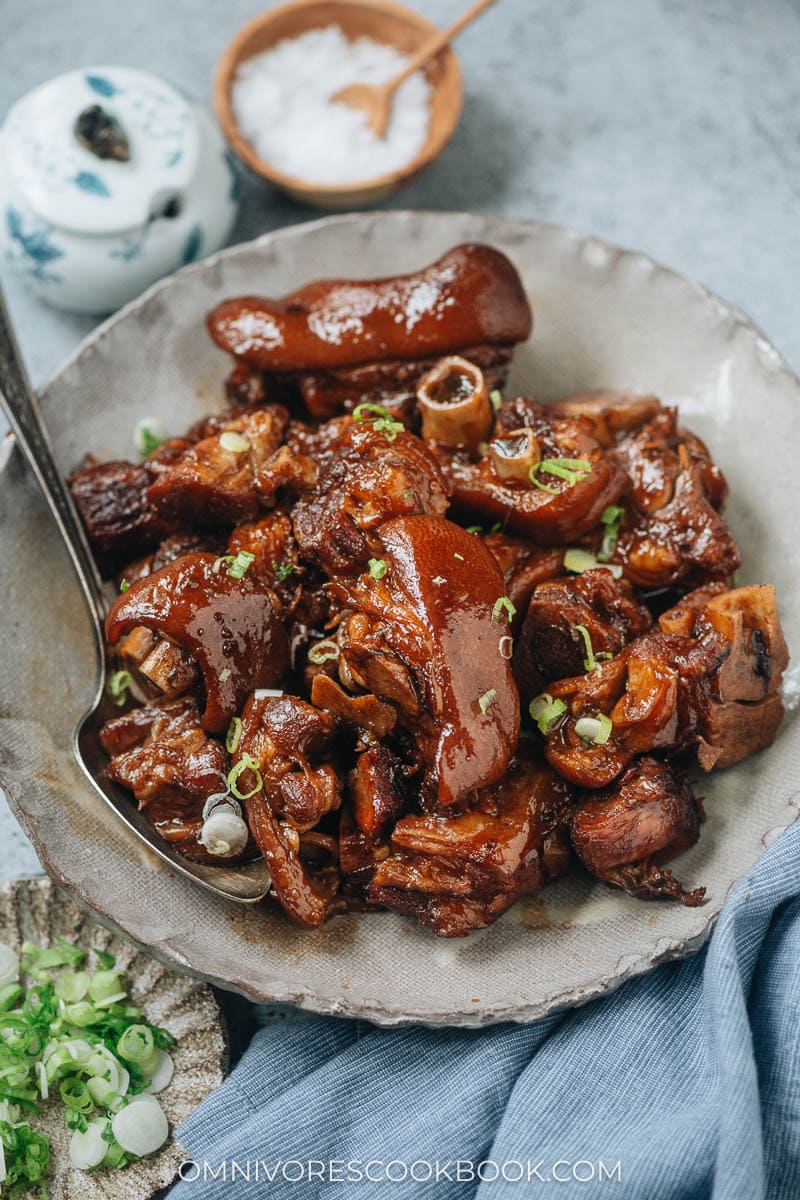 Braised pork trotters ingredients
Pork trotters
You can find pork trotters at most Chinese markets and Asian online grocery deliveries. These days, most shops sell the pre-cut trotters that you can cook directly. If you're purchasing whole trotters, make sure to let the butcher cut them into large bite-size pieces (they usually cut one trotter into 6 pieces). The butcher has a very sharp saw to make clean cuts, which is much nicer than chopping them at home using a cleaver.
Mise en place
Making braised pork trotters requires a few common pantry ingredients:
Pork trotters, cut into small pieces
Aromatics: ginger and green onion
Spices: star anise, clove, dried chili pepper
Sauce: dark and light soy sauce, Shaoxing wine, sugar and salt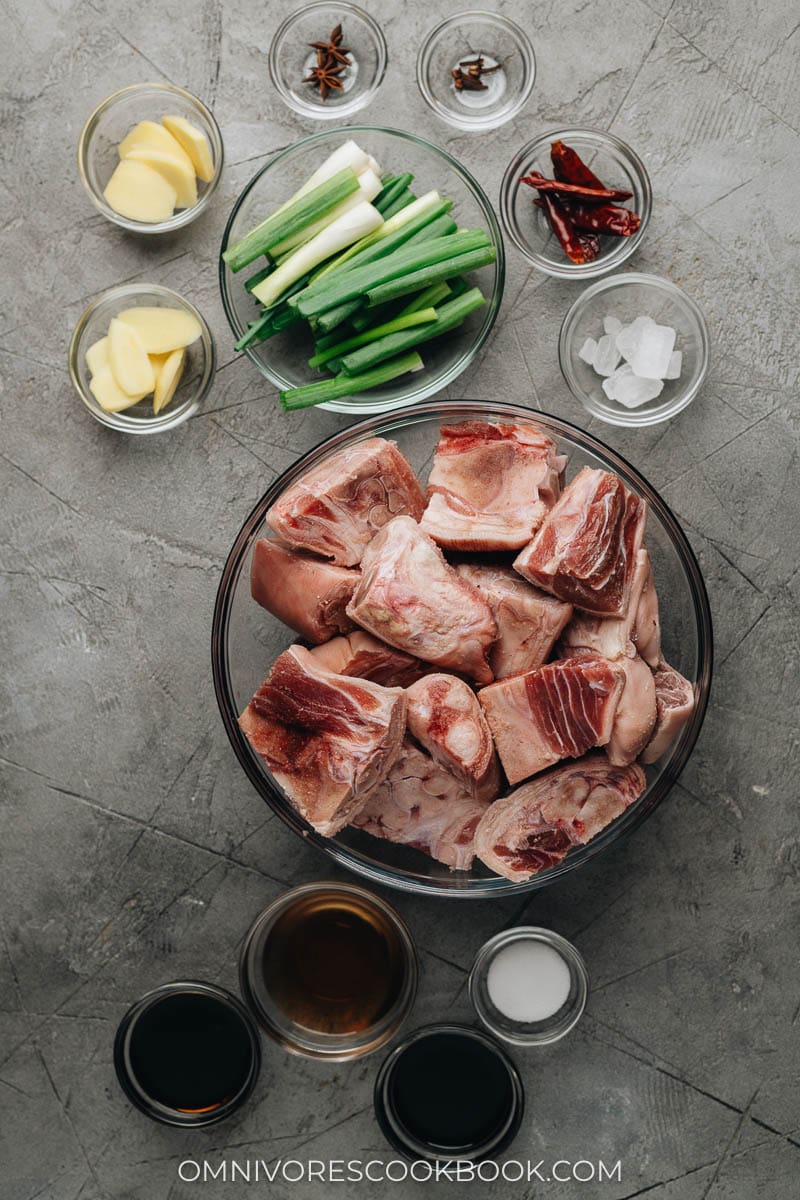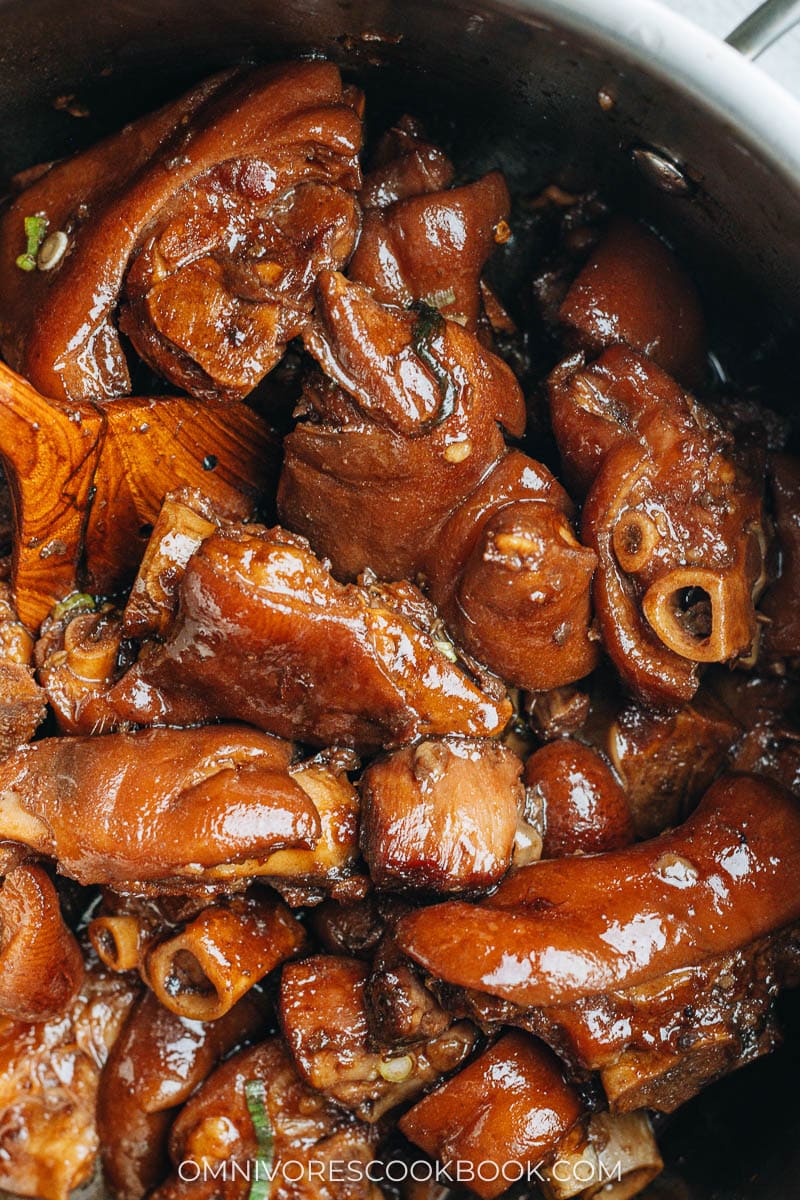 I used rock sugar in this recipe, which gives the sauce a more glossy look. You can use regular sugar as well.
Dark soy sauce is used in this recipe to add an appetizing dark brown color to the sauce. If you don't have it on hand, you can use regular soy sauce (with a touch of molasses if you have it). The sauce will come out with a lighter color but still be delicious.
Cooking process
Cooking braised pork trotters is quite easy, but it involves a bit of passive waiting time. That's why I usually prefer to make a large quantity at one time and freeze the portion that I plan to serve later.
Start the cooking with pork trotters, cold water and ginger
Once boiling, skim the brown bits off the top
Boil and skim until the broth almost runs clear
Transfer the trotters with some of the broth into an Instant Pot or pressure cooker
Pressure cook until the trotters turn tender
Move the trotters and the broth to a large pot to cook on the stovetop
Simmer with aromatics, spices and sauce
Cook until the pork has become flavorful and super tender
Reduce the sauce so it becomes thick and glossy
Add back the pork and mix well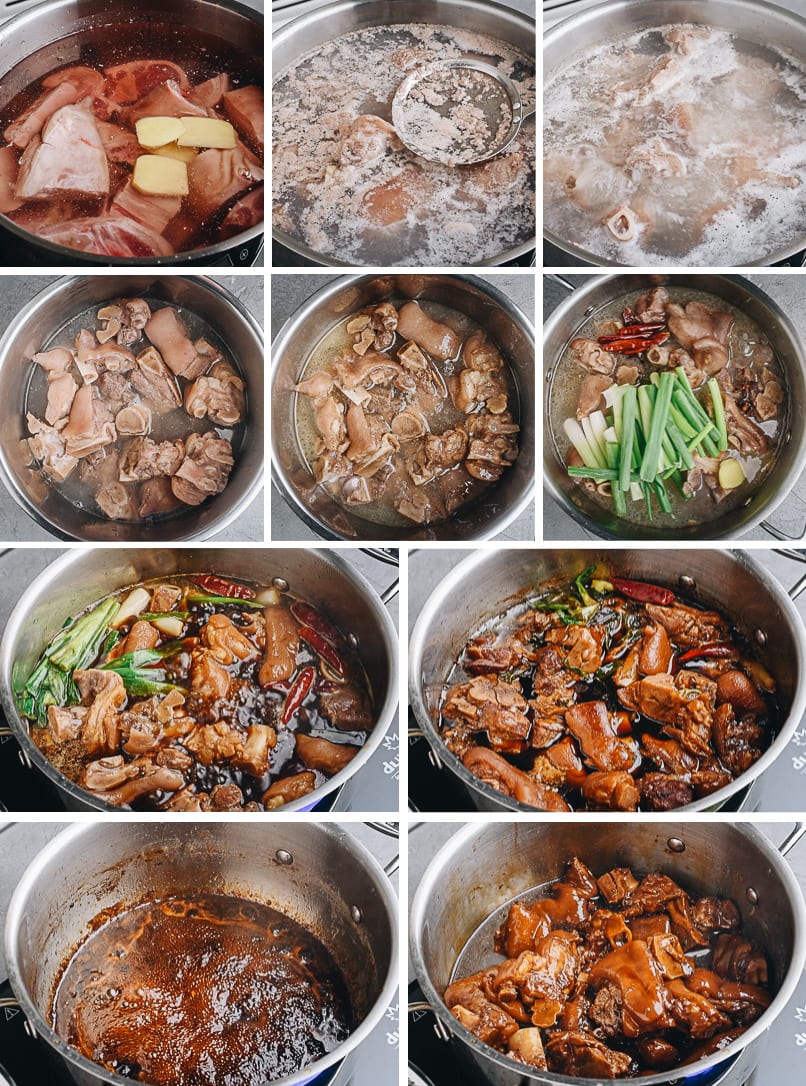 The whole cooking process does take some time, but most of it is passive. I highly recommend making the dish on the weekend, so you won't be in a hurry and can use the time in between to do other things.
Frequently asked questions
Can I cook braised pork trotters without an Instant Pot?
Yes! It is quite easy to do so but will require a longer cooking time. It will take about 2 hours to simmer the pork in this case.
If you do cook this dish on the stove, I would also add the aromatics and spices at the beginning (once you finish skimming the broth). Then add the sauce ingredients after 1 hour. This will give the pork an even richer taste.
Do I have to reduce the sauce at the end?
I took the extra step of removing the pork from the pot and reducing the sauce, so the sauce will be thick and glossy. The thicker sauce stays on the pork better and gives it a richer flavor.
To simplify this step, you can leave everything in the pot and use high heat to slightly reduce the sauce at the end. In this case, make sure to constantly stir the pot, so the pork won't stick to the bottom.
It's also totally OK to not reduce the sauce at all, if you're happy with the seasoning the way it is.
How to serve braised pork trotters
I always love to serve braised pork trotters over a bowl of steamed rice. Although some Chinese restaurants also serve them in noodle soup. Check out this simple tomato noodle soup recipe if you want to serve the trotters over noodles.
Since braised pork trotters are so rich tasting, I would pair them with a simple side dish such as Fried Cabbage, Baby Bok Choy Stir Fry, Spinach and Peanuts Salad, or Cucumber Salad.
How to reheat and store braised pork trotters
I like to store the extra portion in small containers in the freezer. They stay good for 3 to 4 months. To reheat, the best way is to thaw them overnight in the fridge, then heat them up thoroughly in a steamer. If you haven't reduced the sauce much, you can also reheat them in a small pot over medium-low heat (you need to stir frequently to prevent it from sticking).
It's possible to directly reheat them without thawing first, but it will take longer.
Do not heat the trotters in a microwave. The skin and connective tissue don't heat well and will make explosive sounds. The dish will end up heating up unevenly and leave a mess in your microwave.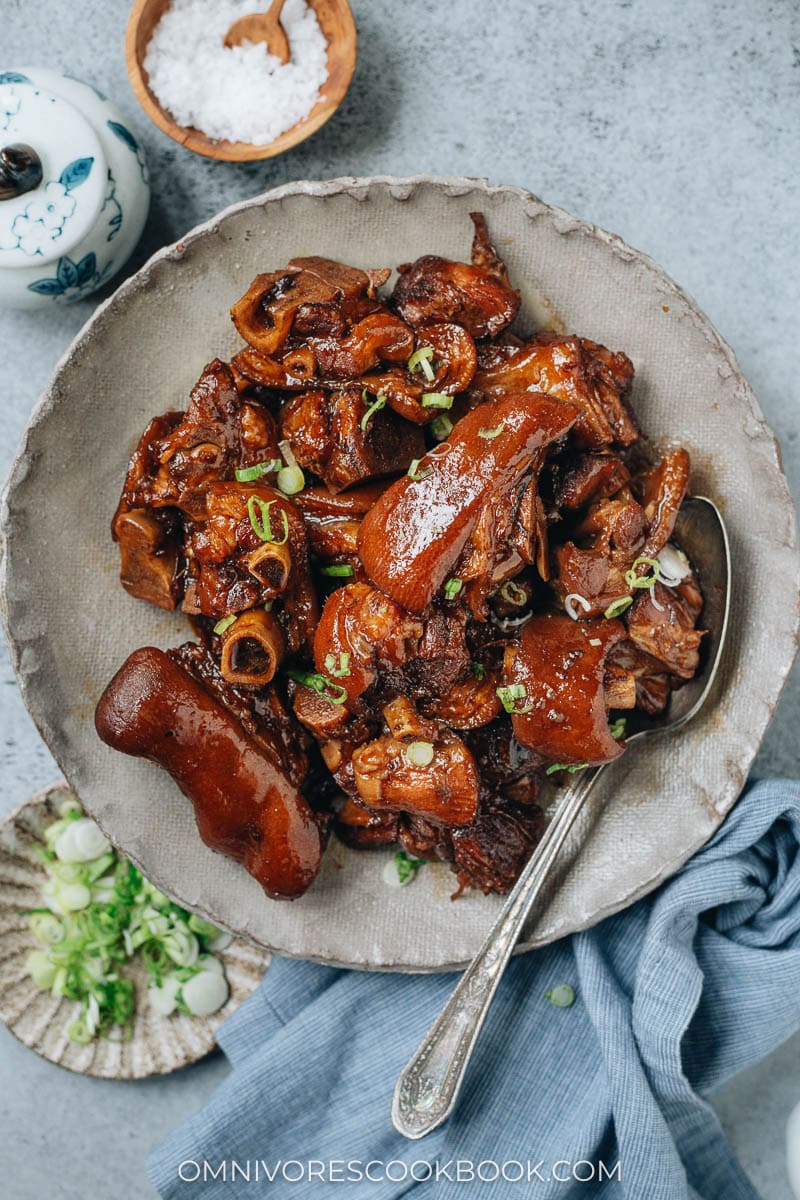 Other delicious make ahead main dishes
Want to Know More?
Receive our 5-Day Chinese Cooking Crash Course & Recipe Updates! Subscribe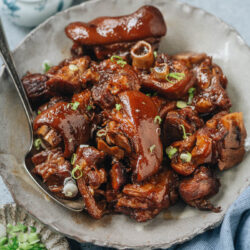 Chinese Braised Pork Trotters (红烧猪蹄)
These braised pork trotters are fall-off-the-bone tender and have a rich savory taste. It's an affordable way to create a scrumptious and filling main dish that is full of collagen and healthy fats.
To make this dish gluten free, use dry sherry instead of Shaoxing wine, and use tamari to replace soy sauce.
Servings:
6
to 8 servings
Ingredients
3 to 4

lb (1.3 to 2 kg)

pork trotters

, cut into large cubes (*Footnote 1)

2

thumbs ginger

, thickly sliced and divided

4

tablespoons

Shaoxing wine

(or dry sherry)

3

tablespoons

light soy sauce

2

tablespoons

dark soy sauce

4

green onions

, cut into 4" pieces (or 2 Chinese scallions)

4

cloves

1

heaping tablespoon (20 g)

rock sugar

(or regular sugar)

2

teaspoons

salt
Instructions
Place the pork trotters and half of the ginger slices in a large pot and add cold tap water to cover. Bring the water to a boil. Stir occasionally to prevent the bottom from sticking. Continue boiling while skimming off the brown foam from the top until the broth is mostly clear, 10 to 15 minutes. Transfer the pork to an Instant Pot (or pressure cooker). If the boiling broth is clear and doesn't have a strong smell, transfer 5 cups of broth to the pot with the trotters, or until the broth almost covers everything. If the broth looks very cloudy and smells strong, discard the broth and add 5 cups of cold tap water. (*Footnote 2)

Set the pressure to high and timer to 15 minutes for fall-off-the-bone tender pork (or 12 minutes for tender pork with some texture). Press start. (*Footnote 3)

Once the Instant Pot is done cooking, release pressure naturally for at least 15 minutes. Then switch the valve to fast release. Transfer pork and the broth back to the large pot.

Add the rest of the ingredients into the same pot and turn to medium-high heat. After bringing the broth to a boil, reduce to medium-low heat and simmer for 40 minutes or so, until the pork has absorbed a lot of flavor. Stir pork occasionally to avoid burning on the bottom.

Transfer the pork to a large bowl. Use a ladle to remove and discard the solid spices and aromatics from the broth. Turn to medium-high heat to boil the broth until it reduces to half of the volume and gets thicker, 15 minutes or so. Keep an eye on the broth so it doesn't reduce too much. The broth will continue to thicken when it cools down a bit, so you don't need to reduce it too much.

Add the trotters back to the pot and mix everything together. Serve hot as a main dish. You can store the leftovers in the fridge for 3 to 4 days, or in the freezer for up to 3 to 4 months.
Notes
If you purchase the pork feet in an Asian market or online, most of the time the pork feet are already pre-cut into cubes. If you purchase whole pork feet, ask the butcher to cut the pork feet into 6 pieces using their saw. This recipe cooks up to 4 lbs (2kg) pork trotters, which is about 4 whole pork trotters.
The pork will release juice during the cooking process, so you don't need to add too much water to fully cover the pork.
To cook without a pressure cooker, add boiled pork, water and all ingredients into a dutch oven. Add the broth (or water) until it covers the pork. Once boiling, simmer for around 2 hours. If the water level becomes too low while pork is still tough, add hot water, 1 to 2 cups at a time, and continue braising once the pork becomes very tender. Reduce the sauce according to step 6 if needed.
Nutrition
Serving:
1
serving
,
Calories:
417
kcal
,
Carbohydrates:
5.6
g
,
Protein:
37.8
g
,
Fat:
27.3
g
,
Saturated Fat:
7.4
g
,
Cholesterol:
182
mg
,
Sodium:
640
mg
,
Potassium:
73
mg
,
Fiber:
0.1
g
,
Sugar:
3.6
g
,
Calcium:
2
mg
,
Iron:
2
mg