Thai chicken fried rice is such a fulfilling dish. It is yummy, healthy and colorful. The tender and moist slices of chicken, the slightly charred rice with a tangy flavor of herbs and red curry, and the crispy pepper and cucumber, all coming together on one plate. The dish only takes 30 minutes to cook and you will be surprised that such a vibrant plate could be created from a few leftover ingredients in your fridge.
Fried rice is definitely one of my favorite dishes and it is such a comfort food for me. To tell you the truth, my favorite type of fried rice only requires four ingredients – egg, green onion, salt and rice. I can finish that dish in 10 minutes. It's simple, yet super tasty. But today, I will share a slightly fancier fried rice with you, with chicken and veggies, cooked with curry and oyster sauce.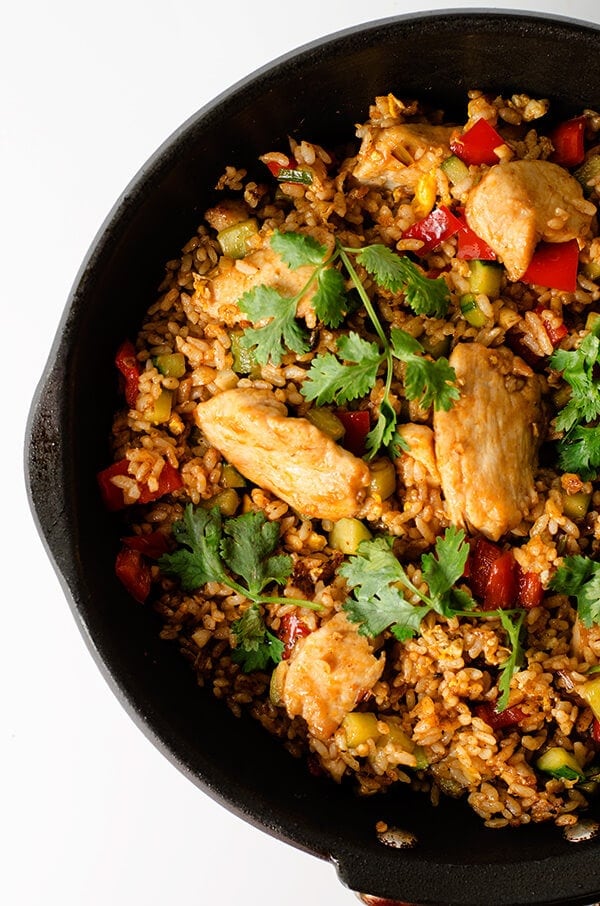 When you look at the long ingredient list, it might seem a bit daunting. But the truth is, once you get the general idea of how to cook delicious fried rice, you will find all fried rice recipes easy to follow. It is also very flexible in the way you can replace any ingredient. This recipe is adapted from the Thai Spicy Basil Chicken Fried Rice.
How to cook fried rice that doesn't suck
Cook the veggies and meat separately (this is crucial!)
No matter what ingredients you decide to use in your fried rice, make sure to cook them thoroughly with light seasoning before adding them to the rice.
The most common proteins to add to fried rice are: ham, shrimp, chicken, pork and beef. The common vegetables are: pepper, peas, carrot and cucumber. In other words, veggies that don't contain a lot of water.
Do not use too many ingredients in addition to the rice
This is similar to the general rule for pizza toppings, that less is more. If your rice is overwhelmed by crunchy veggies and you can't even see the rice, let alone taste it, then what's the point? You should just cook stir fried veggies instead.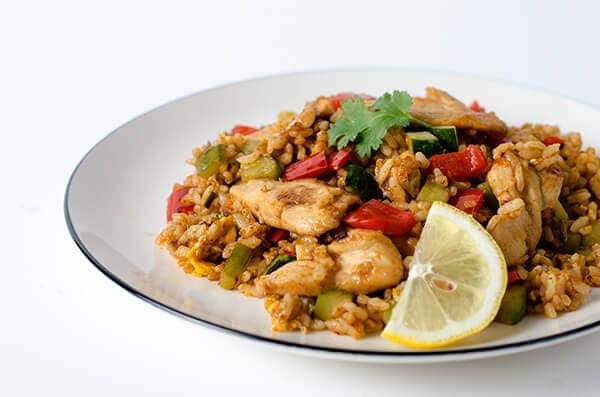 You can use leftover OR freshly cooked rice
You might have read this hundreds of times – you should only use leftover rice to cook fried rice. It is NOT true. The only reason to use leftover rice is because the rice is drier and easier to break apart, so you won't end up with a soggy final product.
However, sometimes you don't have leftover rice and want to enjoy fried rice the same day. The best solution is to cook the rice with slightly less water than your usual steamed rice, so the cooked rice won't be especially sticky. Once the rice is cooked, use a spatula to stir the rice a few times to release the steam. Spread the rice across a large plate to cool it off. Cover the rice and let it rest a while in the fridge before cooking. [Continue reading]