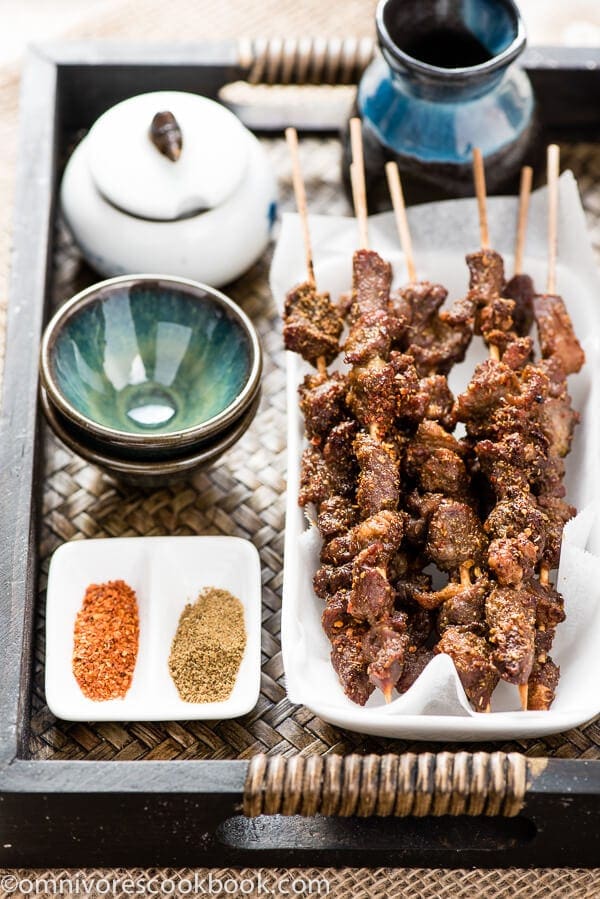 These lamb skewers are beautifully charred and seasoned with cumin and chili powder. The meat is juicy and very flavorful. Paired with cold beer, they are the perfect party food to let your guests have a foodgasm!
If you walk along the streets of Beijing in the summertime after sunset, you'll notice many people sitting outside, drinking beer and eating skewers that look like shish kebabs. It's a typical summer scene here and we all love it!
I've always associated lamb skewers with parties. It's the type of food that tastes better when you're surrounded by family and friends, with a bottle of chilled beer, hanging out in the open air. On one occasion, a friend had a rooftop party and hired a street vendor to cook these skewers at the party, providing free flow of grilled lamb. What a genius idea!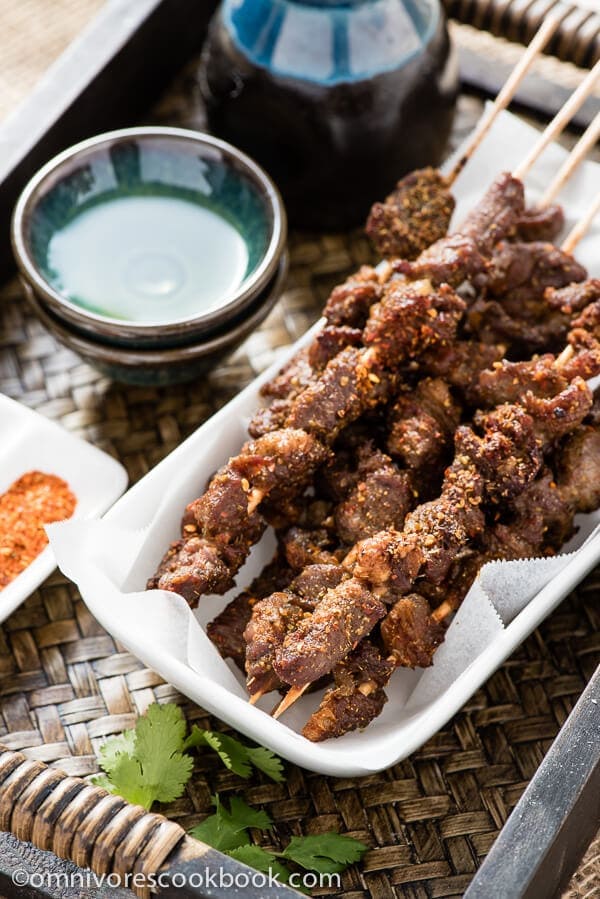 The Star of Xinjiang
The Uyghur style kebab (we call it chuar 串儿, abbreviation of 羊肉串, yang rou chuar) originated in Xinjiang, or Chinese Turkestan. It is an autonomous region located in the extreme west of China. The size of the region is roughly equal to Alaska, but it has thirty the times population. A number of ethnic groups inhabit the area, including Kazakhs, Tajiks, Hui, Kyrgyz, and Mongols. Uyghurs make up the majority of the population.
Different from the rest of China, a majority of the region's native population is Muslim, so Xinjiang cuisine is predominantly halal and generally involves dining habits very different from those in the rest of China. The signature dishes of Xinjiang contain hand pulled noodles, samsa (roasted meat pie), polo (pilaf), and the shining star – Chuar (lamb skewer). It's wildly popular outside of Xinjiang and has made its way to most cities in China. [Continue reading]