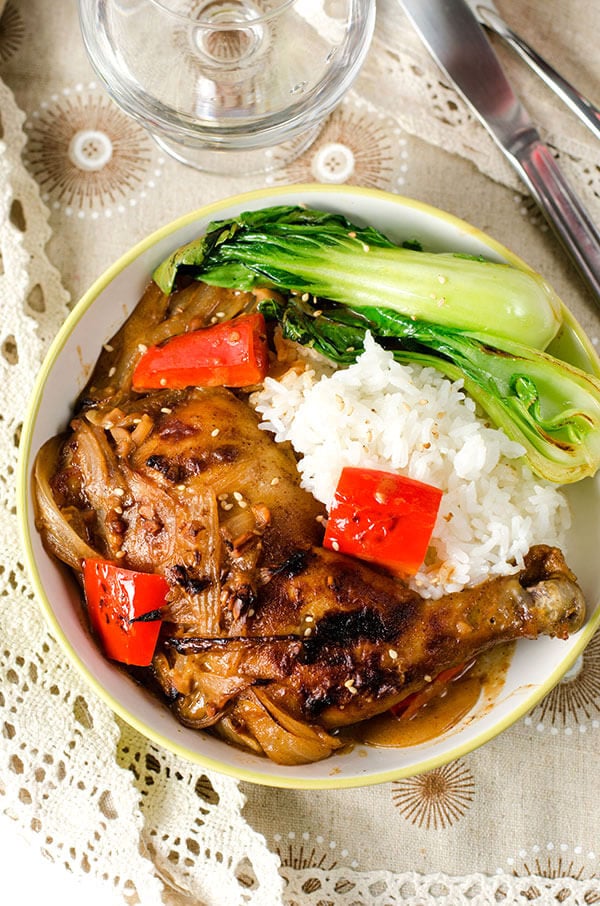 The chicken is baked to a beautiful char, then braised in a sweet, savory sauce of peanut, coconut and peppers. With a single bite, you can feel the juice come out of the tender meat as your mouth is overwhelmed by the sweet and spicy aroma and vibrant nutty flavor.
African chicken (非洲鸡) is an undiscovered treasure in Chinese cuisine. It certainly has a confusing name; although it contains the word "African", it's actually a hybrid of Portuguese and Chinese cuisine, or Macanese. It is a fusion dish that was created when Macau was a Portuguese colony. You can get an idea from the ingredient list. It combines Asian and Western spices – soy sauce, curry and coconut milk plus peanut butter and olive oil.
I found the idea fascinating. Although modern cuisine involves constant discussion of fusion food, how should we define African chicken? The dish was born a fusion Portuguese dish but has become a signature of authentic Macanese cuisine.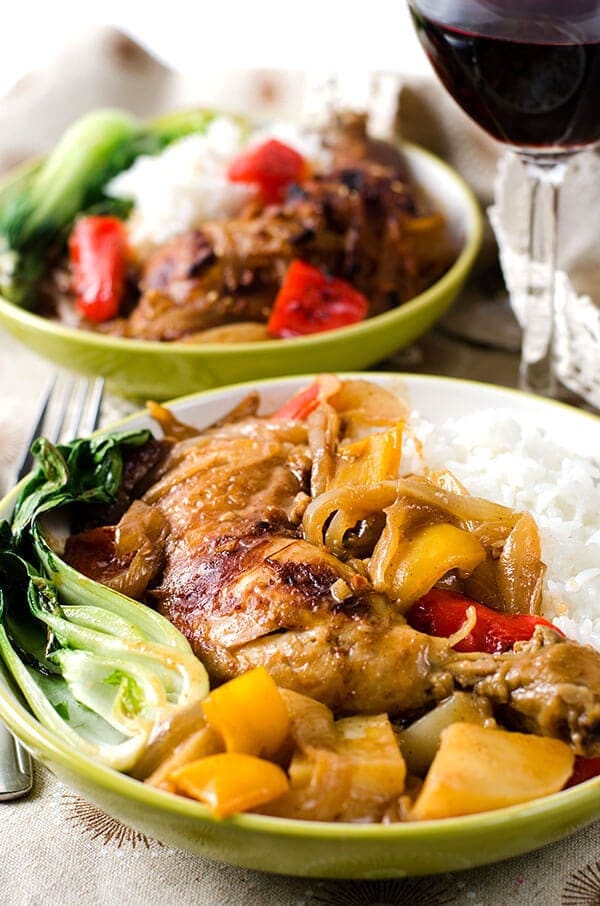 If you have never heard of or tried African chicken, I want to ask for two spare minutes of your time and invite you to look at the recipe below. You will discover with your eyes how amazing this dish tastes!
I had my first experience with authentic African chicken when I traveled to Macau in 2012. Before I put the first piece of chicken in my mouth, the tangy aroma of sweet nuttiness and smoked spiciness had whet my appetite. When I sliced the first morsel of chicken that laid in the creamy sauce, I found the edges of the chicken skin beautifully charred, with the grease seeping from within the tender meat. With the first bite, I felt my mouth burst with the sweet, spicy aroma and vibrant nutty flavor.
African chicken let me experience something new and different. The chicken has a crispy skin, smoky taste and moist texture as a result of being grilled, yet it has so much flavor from the hearty sauce that is only achievable through braising. The sauce has a sweetness from the peanut butter and coconut milk but is balanced by the pungent flavor of the chili and fresh herbs. It results in a familiar, savory taste that is reminiscent of Chinese cuisine.
I've read a few existing recipes (for example, this one and this one) and tried to replicate the dish a few times. But I found that the common way of browning the chicken on the stovetop cannot recreate the charred and crispy chicken skin. So I decided to try a new way. I cooked the chicken all the way through in the oven. The result? I finally experienced the delicious taste of Macau again, this time at home! [Continue reading]