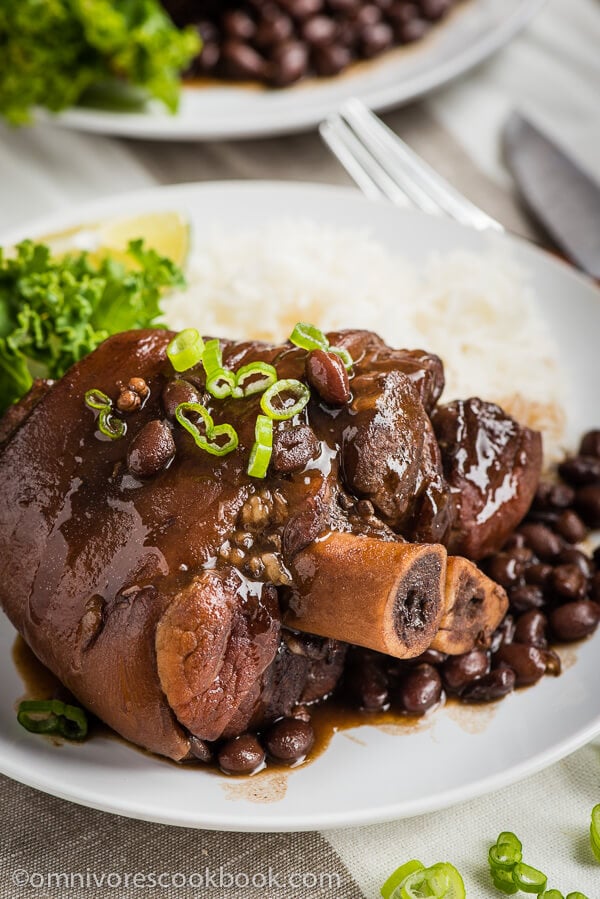 The braised pork shank is so tender that the meat falls from the bone at the slightest touch. The rich sauce is enhanced by the velvety black beans. This is an easy one-dish meal that requires very little active cooking time and ensures the best flavor.
My fridge almost never runs out of braised meat. It is so easy to cook in large batches and freeze for later use. The recipe might look a bit long, but all you really need to do is to brown the meat, dump all the spices in, and let it cook for several hours.
I have posted quite a few braised recipes on my blog, including braised spare ribs, braised chicken, and braised duck leg. Those are all part of my Mom's best series, which contains family recipes handed down from my grandma.
However, the recipe today is a bit different. It's a recipe from my reader Steve, who learned it in a cooking class taught by Chef Ying Sak in Bangkok (Thanks, Steve, for sharing this wonderful recipe!). I cooked it last weekend, with a few small tweaks, and loved how it turned out. Today I'd like to share it with you!
The finished pork shank is moist and tender, with an intense savory taste. The browning and braising will create a nice char on the skin and remove most of its fat, so it won't taste greasy at all.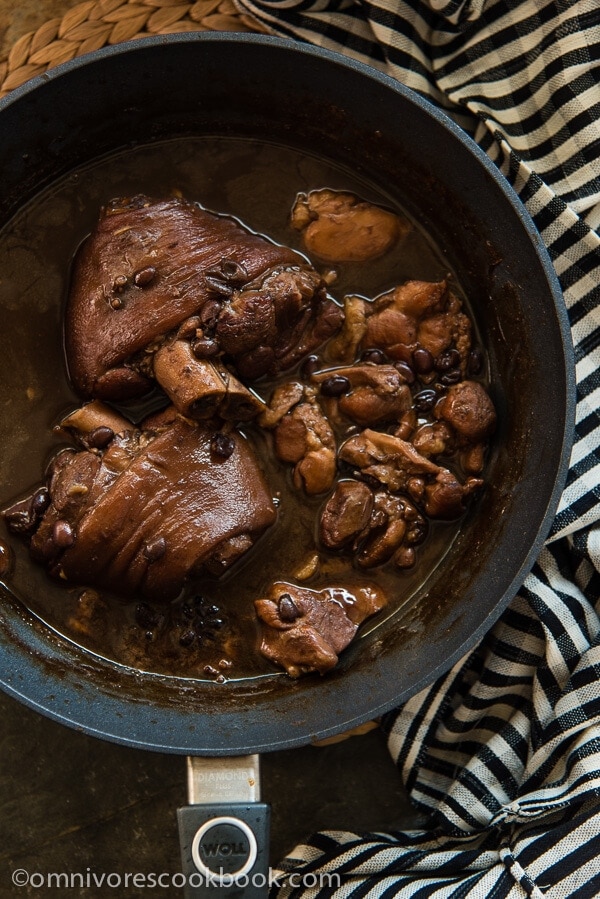 Why you should add chicken into braised pork
There is a new thing I tried when cooking this dish that I really like. I added a few chicken thighs and some black beans in the middle of braising – a super convenient way to get some extra cooking done. The pork broth infuses a great flavor into the black beans and chicken. And the starch from the beans thickens the sauce to create a velvety texture.
You can serve this chicken with rice or noodles, add it into a salad or stir fry, or use it to create pulled chicken sandwiches and tacos.
The same week I cooked this dish, I used the leftover chicken thigh to create some super delicious pulled chicken tacos for lunch. It's extremely easy to prepare and only took me 15 minutes to get 6 tacos done. I included the recipe below, but please feel free to tweak the ingredients the way you prefer. I basically used this to clean up things in the fridge.
By the way, I have another dish for you next week – a new way I discovered to use this chicken, so be sure to come back later and check!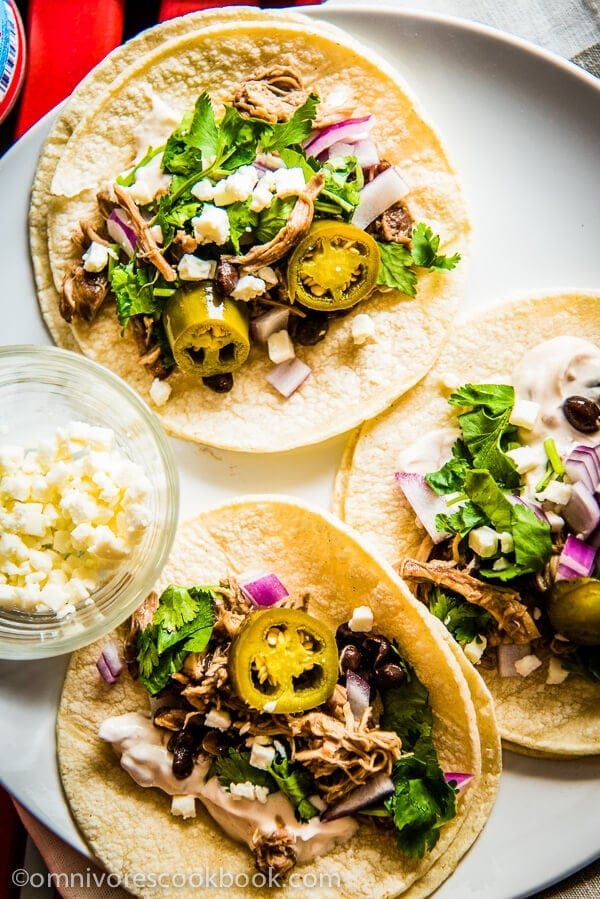 A few extra options when using this recipe:
You could skip the beans and chicken. If you're using a wok, the ingredients in this recipe will be enough to cook 4 pounds of pork shanks (2 big pieces or 4 if cut them into hocks).
You could add one more can of black beans to the recipe. In this case, you can create a one-dish meal with the beans and meat, without having to cook rice.
You could skip the beans and add cubed potatoes to create a one-dish meal, as well.