This breakfast smoothie has a silky texture and a nutty fragrance. Several kinds of nuts and grains are blended with milk and sugar to create this luscious flavor that's both satisfying and fulfilling. It has less than 300 calories per serving and is balanced with carbs, protein, fat and fiber. It's the perfect choice for breakfast, dessert or a post running snack.
This breakfast smoothie with walnuts, peanuts, and rice is a fulfilling and healthy drink. The idea of this drink is similar to horchata, that you blend all the nuts and rice in mixer to very fine powder to infuse the drink with the flavor of the grains. The difference is, instead of filtering out the grains and discarding them, this recipe retains all the ingredients and involves cooking the drink. This way, all the nutrition from the nuts and grains is preserved, and you will get a great smoothie with a silky texture and nutty fragrance.
I learned this recipe from my mom. At first, I was quite skeptical about the taste of the drink because she likes to serve it as a hot drink and I generally don't like the taste of hot milk. However, to my surprise, the drink was delightfully nutty, sweet, and creamy. I tried the drink after it had cooled down, and I'd say that this one tastes great no matter whether served cold or hot.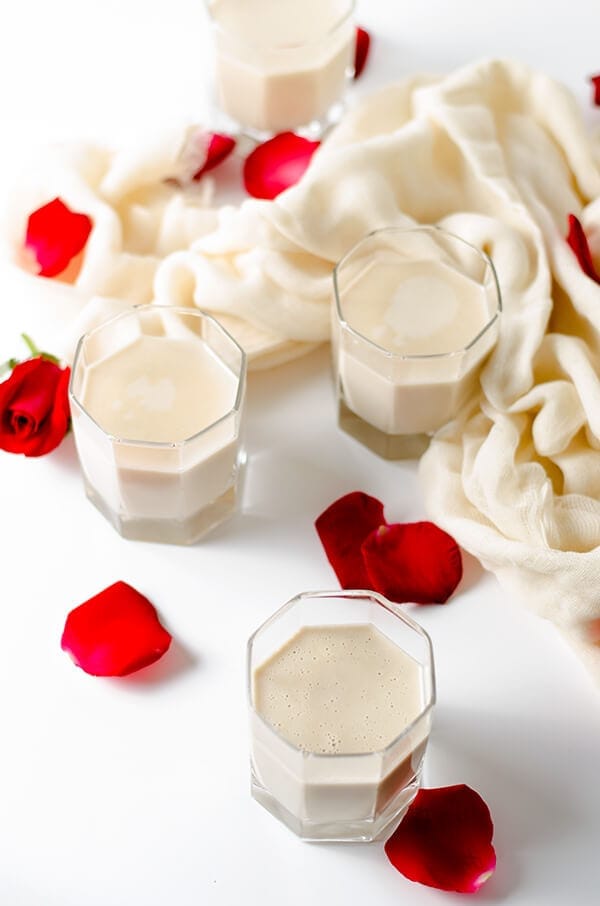 The nut and rice smoothie is a nutritious choice for a breakfast drink or a post run snack. It contains a balanced amount of carbs, fiber, protein and sugar. It is very low in cholesterol and very high in Vitamin B. Moreover, you can replace the sugar with honey to make it even healthier. In addition to breakfast, I actually enjoy it as a dessert or snack. It is way healthier than a cookie and its flavor is so satisfying! One serving of the smoothie is only 267 calories, so I won't feel guilty at all finishing the whole drink when craving something sweet in the evening.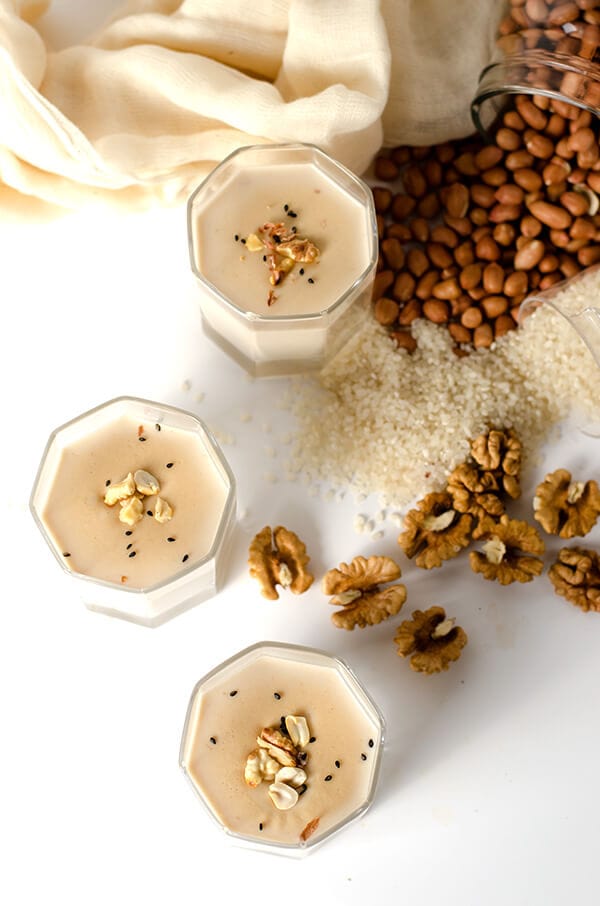 I admit the cooking process looks a bit tedious for a breakfast dish. When you cook it on the stove, you'll need to stir the mixture constantly to avoid burning the bottom, as if you're cooking risotto. That's why I usually make this one on weekends only. The smoothie will stay good in the fridge for 2 to 3 days, so it's possible to make it beforehand and serve it the next day. Further, the combination of nuts and rice is quite flexible. You can slightly alter the ratio of ingredients, or even use your favorite nuts and grains to create new flavors. [Continue reading]