These cheesy kimchi pancakes require minimal prep and only 20 minutes to cook. They also provide a clever way of using up leftovers. Isn't it a great lunch solution?
Kimchi pancakes are one of my favorite breakfast dishes. But lately, I found them a perfect lunch item, too. As long as you have flour, eggs, and kimchi (I always keep a gallon-sized jar of it in my fridge) in your kitchen, you can make these fluffy and appetizing pancakes in minutes.
Plus, the pancakes require minimal prep. The only thing you need to chop is leftover meat. If you want to make meatless pancakes, you won't need to cut anything at all.
Even better, cleanup afterward is really easy – just one big mixing bowl and a skillet.
Here I want to emphasize the reason you should always keep a jar of kimchi at home.
Kimchi goes well with almost anything, no matter whether it's

fried rice

or

chicken quesadillas

.

You can use minimal ingredients when cooking with kimchi, because it contains such a potent flavor and can be used on its own to season an entire dish. You can get an idea of this power from my popular

three-ingredient kimchi filling

for steamed buns.

It's super fast and easy to cook with. Kimchi can be eaten raw and can never be overcooked.

It tastes delicious!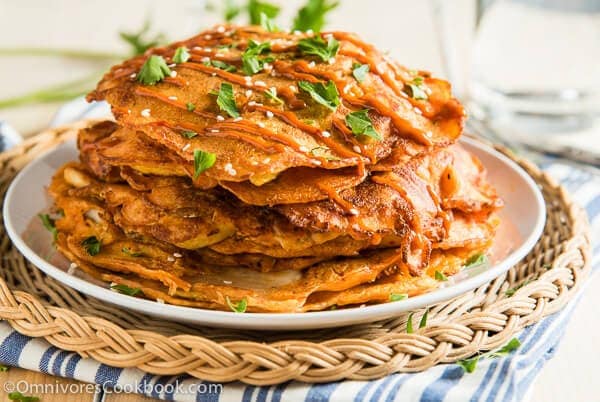 That's why when you cook these pancakes, you don't really need other spices such as ginger, scallion, or soy sauce, to create authentic Asian flavor. Yes, I did add gochujang into the batter, but you can skip it without any problem. I used leftover roast chicken to add volume and protein to our lunch. But you can skip that too, without affecting the flavor of the pancakes.
I created a savory spicy mayo sauce to go with the pancakes. If you don't have these ingredients, no worries. You can use plain mayo and the dish will still taste like heaven. [Continue reading]