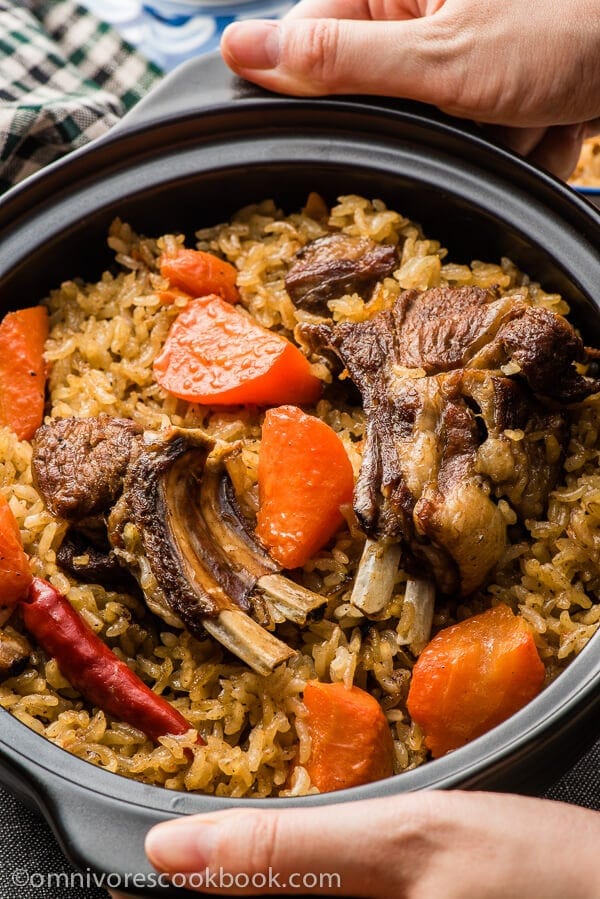 The rice is infused with tons of flavor from the lamb, cumin, and chili peppers, creating a sensational feast. The onion and carrot have a tender, buttery texture. They all come together beautifully with the tender lamb, harmonizing into an addictive flavor that you just cannot stop eating.
If you have read my clay pot chicken recipe, you might have a feeling of deja vu when looking at this lamb pilaf. They even have a very similar cooking method. You need to cook the meat first, then steam the meat and rice in one pot until they are cooked through, just right, at the same time. The meat is cooked until tender and moist. And the rice is soaked with tons of flavor from the meat juices. Not the healthiest type of cuisine, but addictively delicious.
However, the origins of these two dishes are millions of miles away. The clay pot chicken is Cantonese, while the lamb pilaf here is from Xinjiang province, an autonomous region located in the extreme western part of China.
If you google lamb pilaf, the results will show Turkish and Persian versions, which is not surprising. Xinjiang province is also known as Chinese Turkestan and has a lot in common with the countries of the Middle East and central Asia, in terms of culture, cuisine, language, and religion.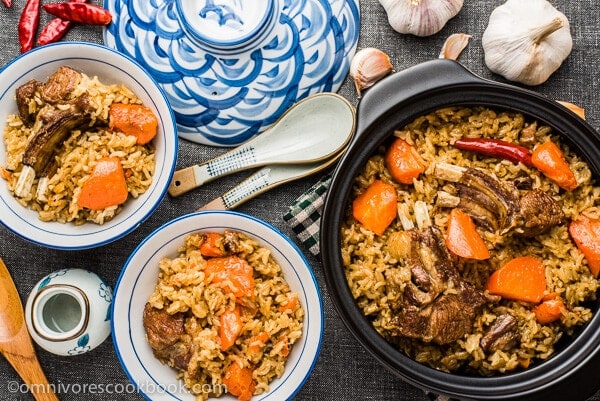 While this recipe includes the signature ingredient cumin, you will also find typical Chinese spices, such as ginger, garlic, and Sichuan peppercorn.
When I cooked this Uyghur style dish, I made a few twists myself, to align it more with the northern Chinese style. I did take care to keep it authentically close to the real Uyghur style, and suppressed my impulse to add soy sauce and cooking wine. However, I skipped the raisins and apricots in order to make the dish more savory. In this way it is closer to the lamb pilaf that my grandma used to cook.