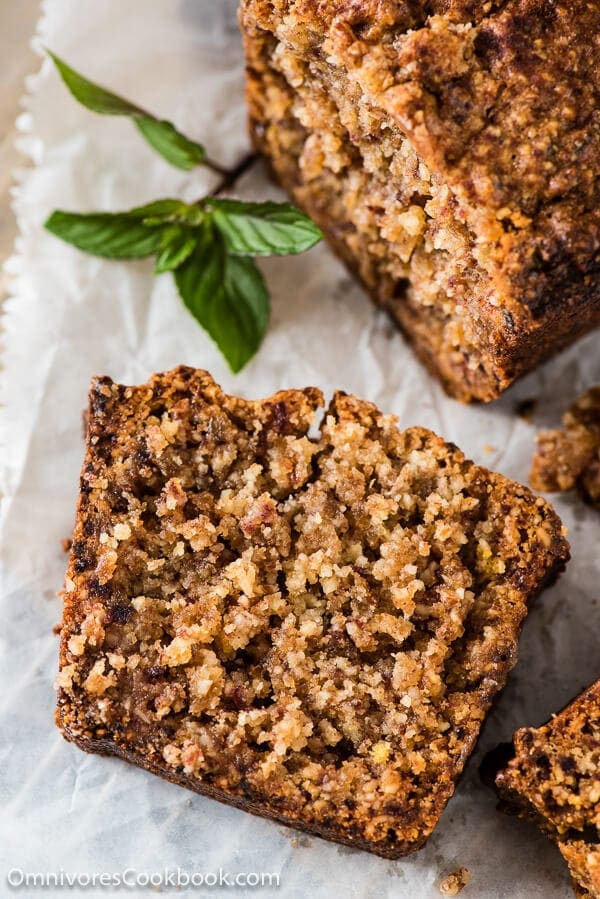 This almond cake (Djamilah) is perfect for a holiday gift. It requires very little prep time. It's refreshing and does not taste too sweet.  It is gluten free and requires no leavening agent, yet the cake turns out so moist and crumbly.
This is an Algerian family recipe (originally called Djamilah) that my dear friend Kara sent me a while ago. She got the recipe from her Algerian friend's mom. To quote from my friend Kara, this is a dense date cake made from almond flour. It's crumbly, semi-sweet, and pairs well with wine or tea. I tried the recipe and immediately fell in love with it.
This is one of the easiest cake recipes ever and it produces amazing results. If you look at the ingredient list, you'll be surprised at how simple it is. It's also super easy to prep, too. It does not require any chopping. You simply blend the almonds, sugar, and dry fruit (dates or plums) in a food processor until it becomes a sweet almond flour. Then you mix all the liquid ingredients together, and blend in the almond flour. In the end, you beat the egg white until foaming, and fold it into the batter to create a fluffy texture. That's it.
The amazing part is, the cake does not require yeast or baking powder at all. It does not even require a lot of butter and egg. The cake won't rise very high in the end, but it has an amazing texture that is moist and crumbly. The dates blend into the texture and flavor so well that you probably won't notice them at first bite.
Kara suggested playing with other flavors in this recipe, too. So I tried replacing the dates with plums, and created a plum almond cake. Compared to the date cake, the plum cake is obviously heavier in texture and taste. I love both versions, but my husband prefers the date version. I included these two versions in the recipe below. Regardless of which one one you choose, the cake will turn out very delicious. [Continue reading]