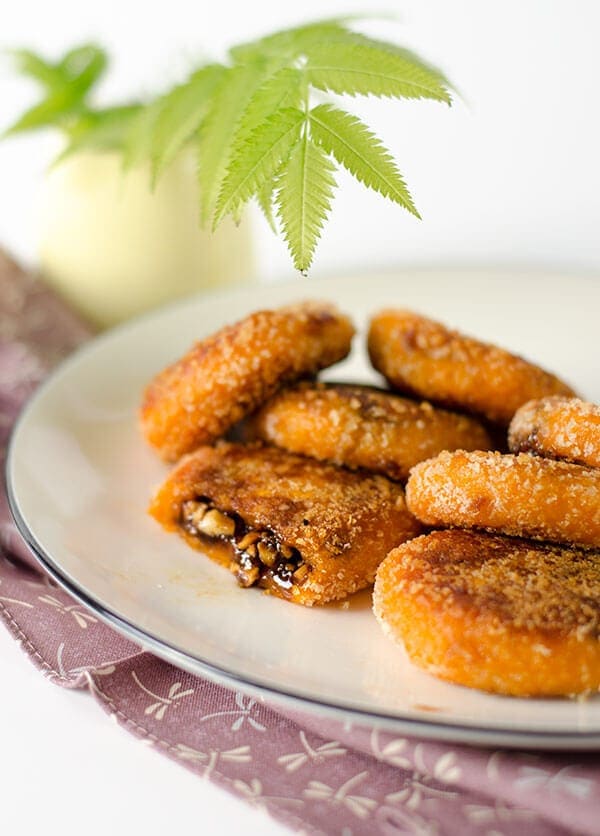 The Chinese pumpkin bun is a warm dessert that is perfect for the chilly days of Autumn. It has a crispy surface, a soft, moist texture, and a runny, nutty brown sugar filling.
To speak of Chinese buns, you might think of pork belly bun or chashu bun, but have you ever heard of pumpkin buns? It is a very popular dessert in local Chinese restaurants and is super delicious. There are several ways to make pumpkin buns. One of the most common ways is to blend rice flour into steamed pumpkin paste, fill it with red bean paste and deep fry it. The other popular way is to mix sugar and rice flour with pumpkin puree, to make a sweet dough, and deep fry it. Either way, you will end up with a beautiful, golden colored bun with a super crispy surface, gooey texture, and sweet taste.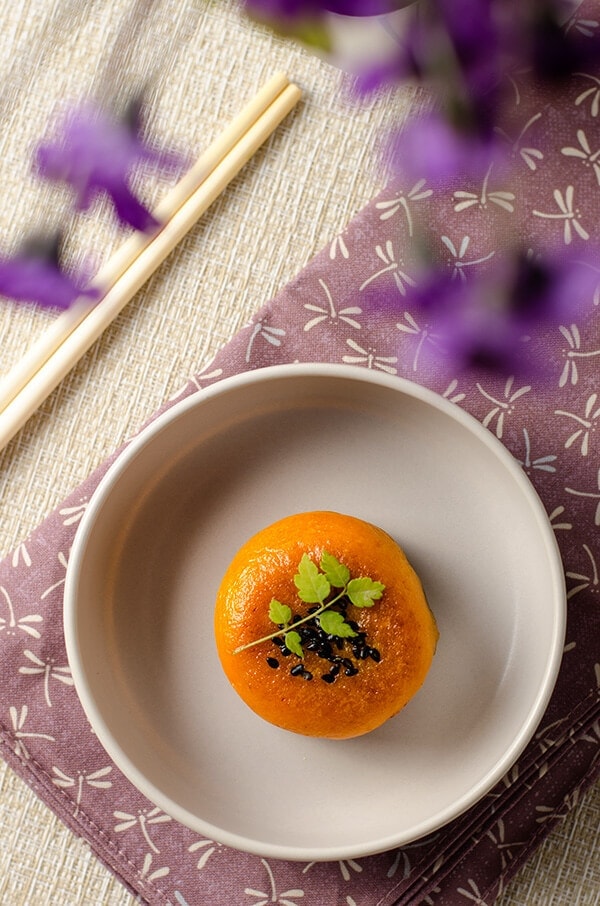 How I came up with this recipe
Personally, I really hate deep frying, because it is messy and uses tons of oil. I was looking for a way to cook the buns without bringing down the quality and flavor. First, I tried the same method I used to cook sticky rice cakes. I filled the pumpkin dough with red bean paste and grilled it in a nonstick frying pan. The result was great, as you can see in the pictures. The pumpkin bun was not too sweet, yet has a very satisfying texture and a tasty filling.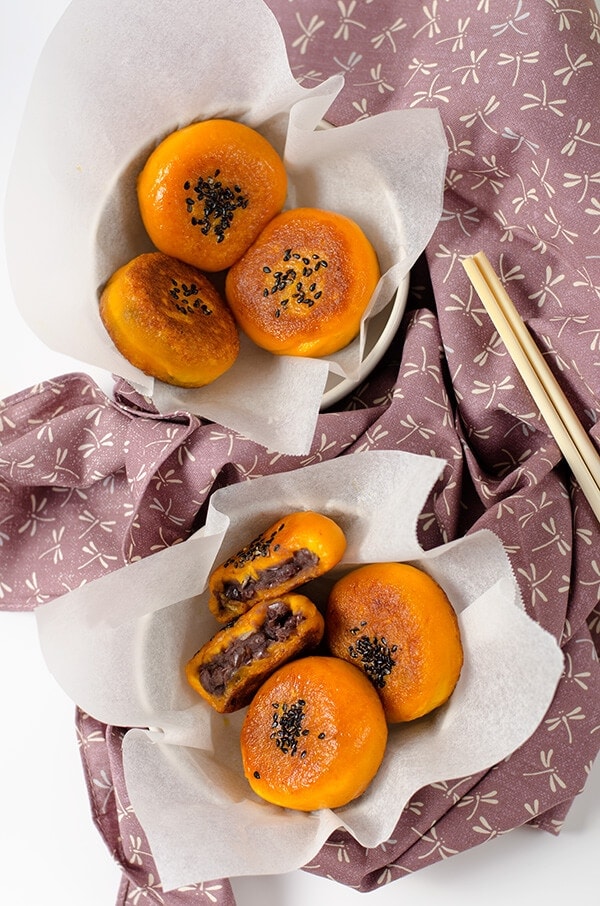 However,  I didn't stop there. When we finished the first batch of pumpkin buns, I thought, why not change up the filling and try something new? In the end, my mom and I came up this idea – we decided to fill the bun with roasted peanuts and brown sugar. Hmmm, I could imagine how great it would taste before even making it!
While we were wrapping those cute little buns, I suddenly remembered that when restaurant chefs make fried pumpkin buns, sometimes they coat them with bread crumbs. Why not apply the same technique in my recipe? We tried it immediately and loved the result! Not only did the buns look look even better, they came out more crispy and delicious too! I didn't even need to deep fry the dough to get a wonderful texture.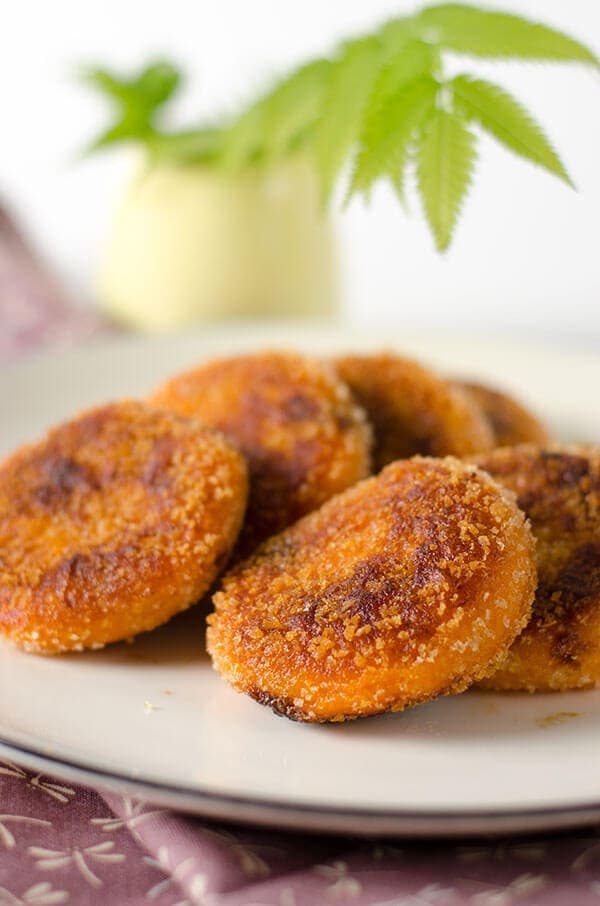 A few Cooking tips
Type of the pumpkin / squash. I used red kuri pumpkin in this recipe. If you want to use other types, try to find the one with bright orange colored flesh, a sweet taste, and a dry texture.
The amount of glutinous rice flour you will use can vary a lot, depending on the texture of the squash. If the pumpkin flesh is moist, you might end up using double the amount given in the recipe.
Knead the dough thoroughly. After blending in enough rice flour, it's very easy to form into dough by mixing it a few times with hand. However, you should knead the dough with both hands for at least for 5 minutes after the dough has formed. It will help the rice flour to incorporate better with the pumpkin, so that the dough will be more elastic.
Adding water to the brown sugar helps it to stick to itself, so you will find it easier to wrap later. In traditional Chinese cooking, oil is added in this process to make the filling easier to shape and taste better. I found that water works as well as oil does, and making this substitution reduces the calories of the dish.
Cook the buns covered on low heat and check multiple times during cooking. The bun contains sugar and high heat will burn the surface in no time. Turn off heat if the surface browns too fast. Leave the cover on to let the heat of the frying pan cook the buns slowly.