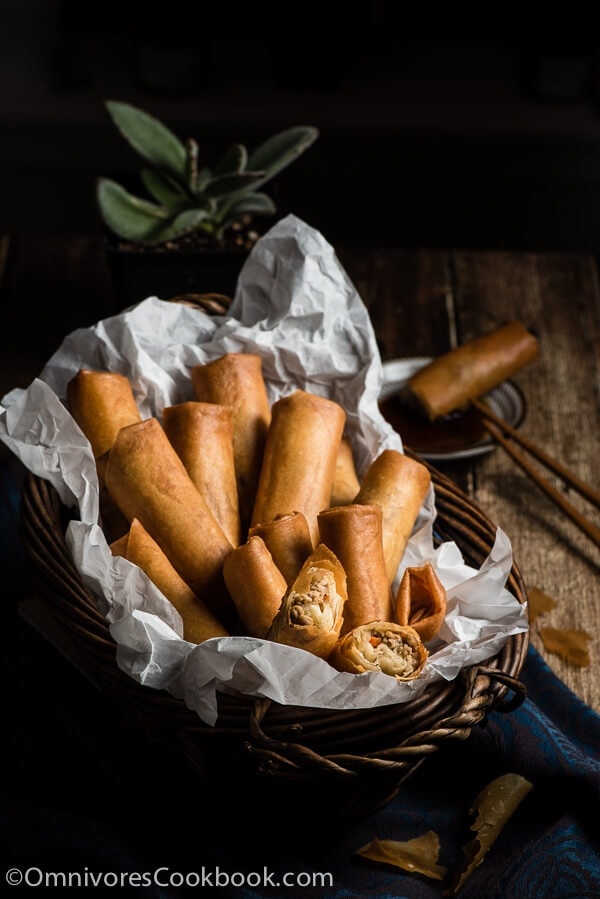 The Cantonese chicken egg roll shows you the beauty of authentic Chinese food. It uses the perfect combination of meat, savory dried foods, colorful veggies, and a well-balanced sauce to release the ultimate umami. I learned this recipe from a famous Hongkongese dim sum chef. This is a must-try if you're into real Chinese food.
If you think an egg roll is a normal food item that we eat on a daily basis in China, you're very wrong. We call egg rolls "spring rolls" (春卷, chun juan) in China. It's a festive dish that people cook and enjoy on the eve of Spring Festival (春节, chun jie), i.e. Chinese New Year. You can find egg rolls in many areas of China, but they are most popular in the southern part, in places such as Shanghai, Fujian, Guangzhou, and Jiangsu. While southerners are frying egg rolls to celebrate the coming of the new year, we northerners are boiling dumplings.
The truth is, I have eaten egg rolls fewer than five times in my 30 years of living in China. They're not a usual item on the dinner table of a northern Chinese family, and you don't really see them in restaurants either, unless you're at a dim sum place.
My spring roll experience didn't start off so well. Unlike with the typical egg roll overseas – a savory snack – we usually stuff them with sweet fillings such as red bean paste. Sometimes, when we have leftover spring roll sheets after the festival, we wrap leftover vegetables in them. They are not bad, but are definitely not something I crave, especially after eating twenty rich, juicy lamb dumplings.
My impression of egg rolls was forever changed two months ago. I had the best egg rolls of my life while visiting Guangzhou in July.
Although I've eaten a lot of Cantonese food in very authentic dim sum restaurants in Beijing, I was very excited to visit a dim sum restaurant in the province where it originated. When I looked at the menu, I had a hard time choosing what to order. There were more than 50 items on the menu and they all sounded wonderful, as they very well should.
In the end, I decided to try the chicken egg rolls. Since they are so popular in overseas Chinese restaurants, I wanted to find out why.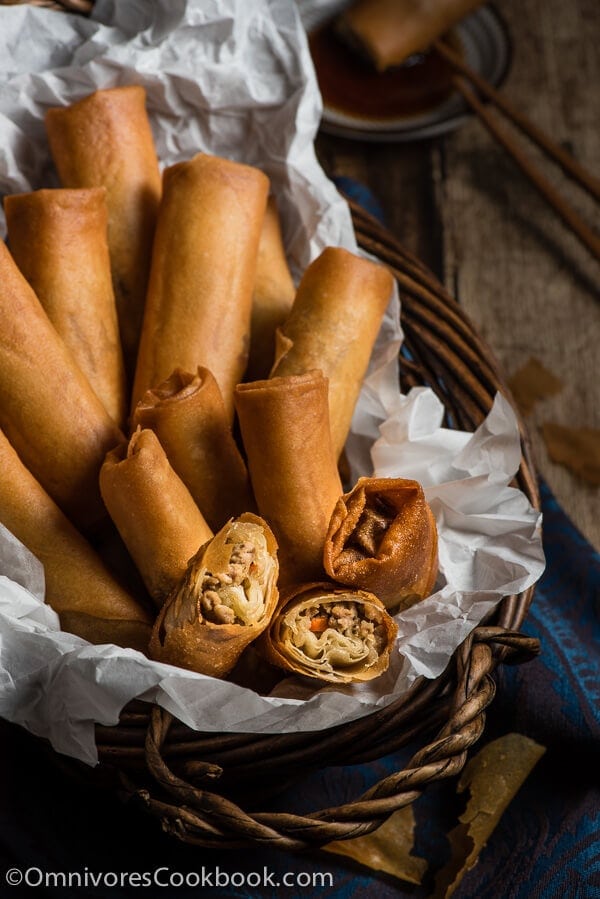 The truth was revealed to me fifteen minutes after I placed my order. The second I bit into the just-off-the-stove crispy egg roll, I thought OH MY GOD this is good! After 3 seconds of don't-bother-me-I'm-in-the-zone, my brain started to process what the hell they put inside the roll to make it SO damn good. I found the filling included bamboo shoots, wood ears, egg, mushrooms, carrot, and ground meat. It was quite different from the combination I usually saw when browsing recipes.
Later on, I purchased a dim sum cookbook at local bookstore. It was written by a famous Hongkongese dim sum chef – Liang Wei Shan (Loeng Wai Saan in Cantonese). I learned all the secrets to creating the best egg rolls from this book, and now I'll share them with you! [Continue reading]