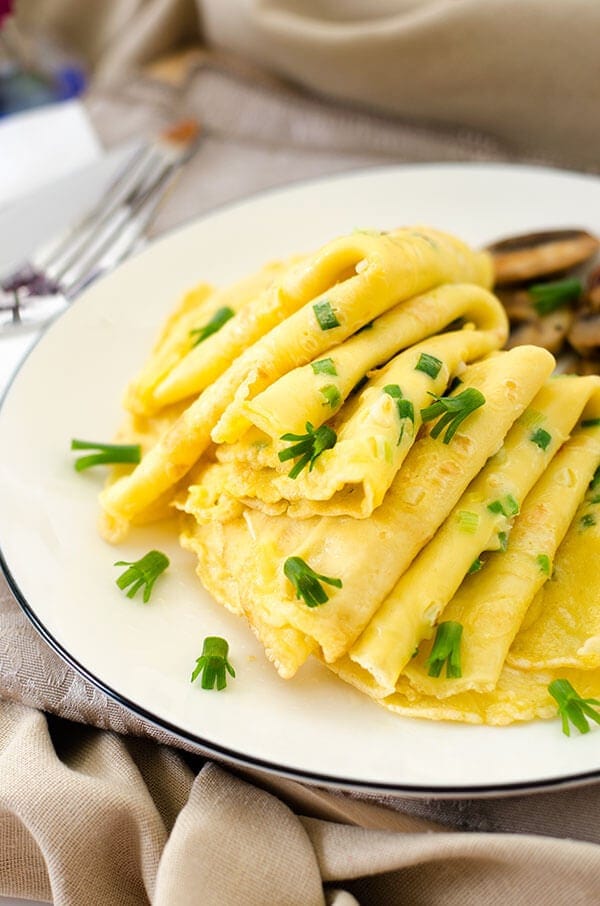 The egg and green onion crepe is light and fluffy. Its flavor simple and comforting. When I am alone, I love to snack on crepes fresh out of the skillet, to enjoy the crispy edges and melt-in-your-mouth texture. The recipe contains only 5 ingredients and takes 10 minutes to cook. Enjoy this hearty dish for a lazy breakfast in bed or a late night snack.
Simple & Savory
Simple is the best. This is especially true when it comes to Chinese crepes. It doesn't use milk in the batter. It doesn't mess with cream or fancy fruit. It isn't drizzled with decadent chocolate sauce or syrup. It is savory, has a very plain look and a hearty taste. It contains only 5 ingredients and needs only 15 minutes to prep and cook.
This is a dish that my dad often cooked when I was small. He is a great cook but seldom enters the kitchen. He would definitely cook this savory crepe for me, though, if I said I was hungry but we didn't have anything to snack on in the house.
I continued the tradition and always kept this dish as my secret weapon. Because even if my fridge is almost empty, I can still whip up some batter and get the snack done in 5 minutes. The recipe might look overly simple, but sometimes, the simplest thing is the best way to satisfy your appetite.
When I serve the savory crepe as breakfast or brunch for two, I make it fancier by adding stir-fried mushrooms or a grilled tomato. The meal goes very well with cafe au lait, black tea or lemonade. When I am alone, I snack on the just-out-of-skillet crepes and my meal will be finished by the time the cooking is done. [Continue reading]