Tender fatty pork cooked in a rich scrumptious sauce that is savory, slightly sweet, spicy, and bursting with umami. This is a detailed guide to help you create that real-deal Sichuan flavor in your own kitchen, and a bonus recipe for the twice-cooked pork sauce bulk version so you can cook any type of protein or veggies of your choice with this addictive sauce!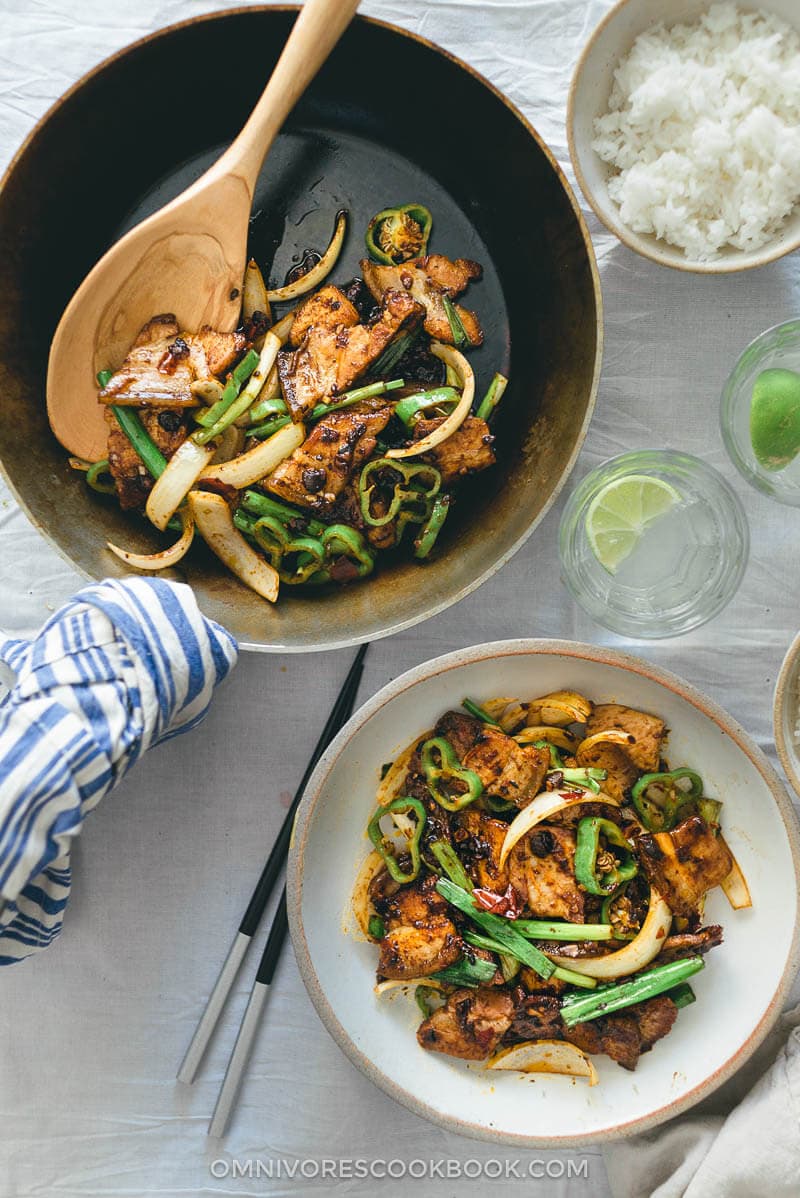 Twice-cooked pork is quite rare on our dinner table, because it's a festival dish for my family. There are two reasons. First, the dish takes some effort to prepare. Just like its name suggested, this dish requires you to cook the pork twice. You need to simmer the whole piece of pork until cooked, then stir fry it with the sauce. Second, you need to use pork belly to achieve that rich taste. We love fatty pork, but we prefer to enjoy it once in awhile just to keep our jeans waist size down.
Since this one is for special occasions, I always make sure to get the dish right by spending a bit of extra time on it. That being said, if you cook it once, you'll find the cooking is rather straightforward and not difficult at all.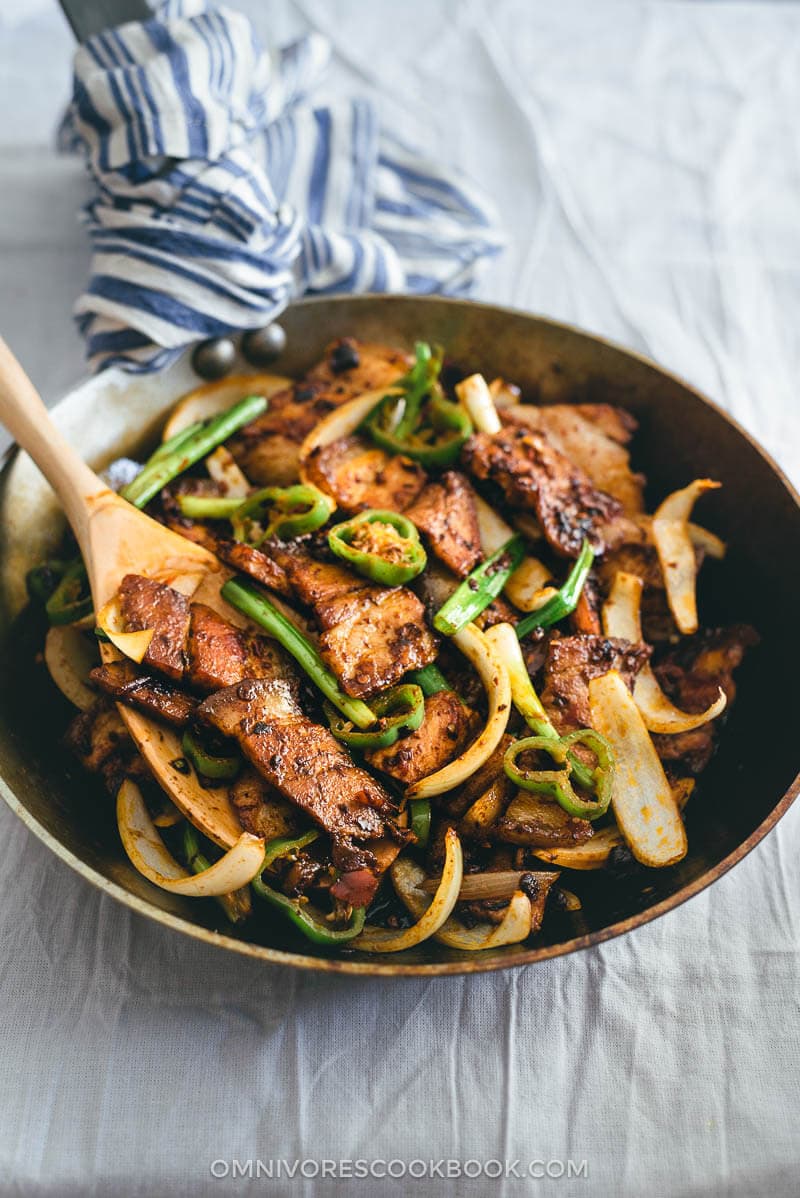 How to make the best sauce
There are many ways to prepare the sauce for twice-cooked pork. Today I want to share the secret ingredients that create the real-deal flavors just like what you get in Sichuan.
Fermented spicy bean paste
Doubanjiang (豆瓣酱), also called fermented spicy bean paste, is not your average hot sauce. It is a super rich, fermented, spicy paste made with dried fava beans, fresh chili peppers, salt, and wheat flour, then aged for between one and eight years. Doubanjiang has a deep savory, spicy and quite salty taste, spicy. It is a key ingredient in classic Sichuan dishes such as Mapo Tofu, Sichuan Eggplant Stir Fry, Sichuan Beef in Hot Broth, and Sichuan Fish with Pickled Mustard Greens.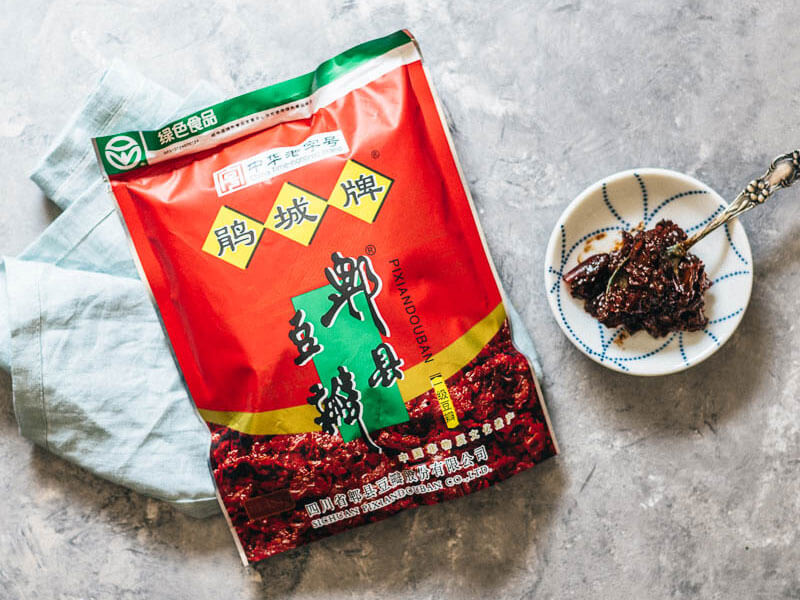 There is no great substitute for Doubanjiang. So grab one bag if you're into real Sichuan food. You can find it in most Asian markets or Japanese specialty stores, or on Amazon, or on The Mala Market. Store it in an airtight jar once open. It stays forever in your fridge.
Fermented black beans
Fermented black beans, or Douchi (豆豉) in Chinese, is a very salty ingredient made from cooked black soybeans fermented in salty water. It has a deep umami flavor like soy sauce but with an even stronger, fermented fragrance. I always add some chopped douchi to my dish to elevate its flavor, just like you grate some parmesan on top of your pasta.
However, do not let this ingredient stop you from making the twice-cooked pork. You can replace it with soy sauce or bottled black bean sauce.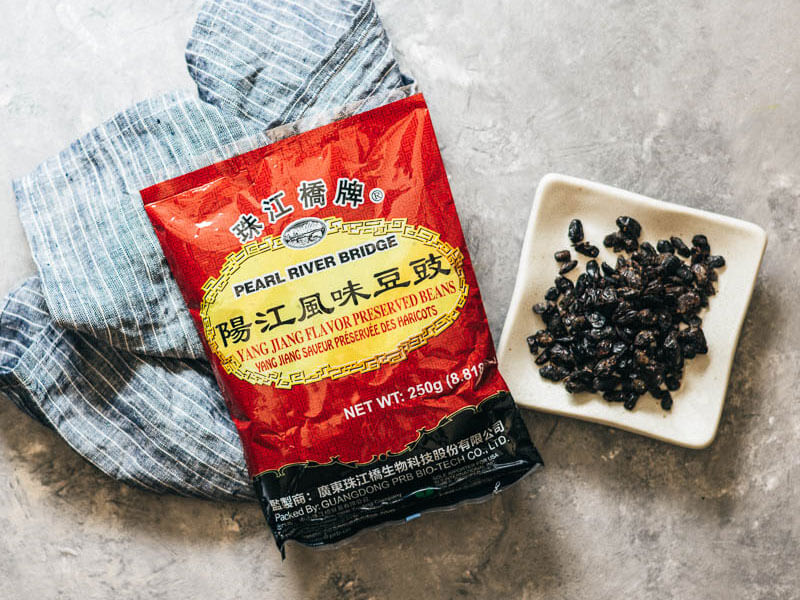 Just like Doubanjiang, you can find fermented black beans in most Asian markets, or on Amazon, or on The Mala Market. Store it in an airtight jar once open. It stays forever in your fridge.
Sweet bean sauce
The sauce called Tian Mian Jiang (甜面酱) in Chinese, directly translates to sweet flour sauce. It is made from fermented flour and water, with a savory, salty and moderately sweet taste.
Tian Mian Jiang is little known in the US. However, I found it's very interesting that many Chinese restaurants actually serve this sauce with their Moo Shu Pork and roast duck. Though they call it hoisin sauce on the menu. Compared to hoisin sauce, sweet bean sauce is less sweet and has more umami from its fermentation process.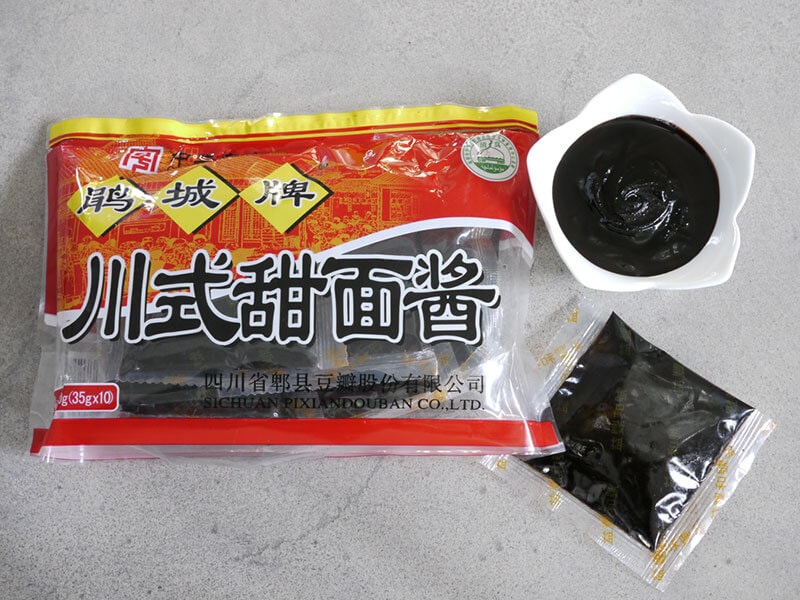 I've learned about this secret ingredient from Anita at Chengdu Food Tours during my visit in Sichuan. This ingredient does the magic and makes your twice-cooked pork stand out.
If you don't have this sauce, the next best alternative is hoisin sauce. If you'd like to explore the authentic taste, get this sauce from the Asian market, or on The Mala Market. Transfer the sauce to a glass jar before you start to cook to avoid making a mess on your kitchen counter.
Why do these ingredients matter?
You might think it's outrageous that I just asked you to buy three things to make one dish. Here is the deal. Each ingredient is fermented for months, sometimes years, to achieve its ultimate umami taste. And you can spend a few dollars to get years of essence packed into your dish. Isn't it amazing? Think about aged balsamic vinegar and parmesan cheese in Italian cooking. It's totally worth the investment.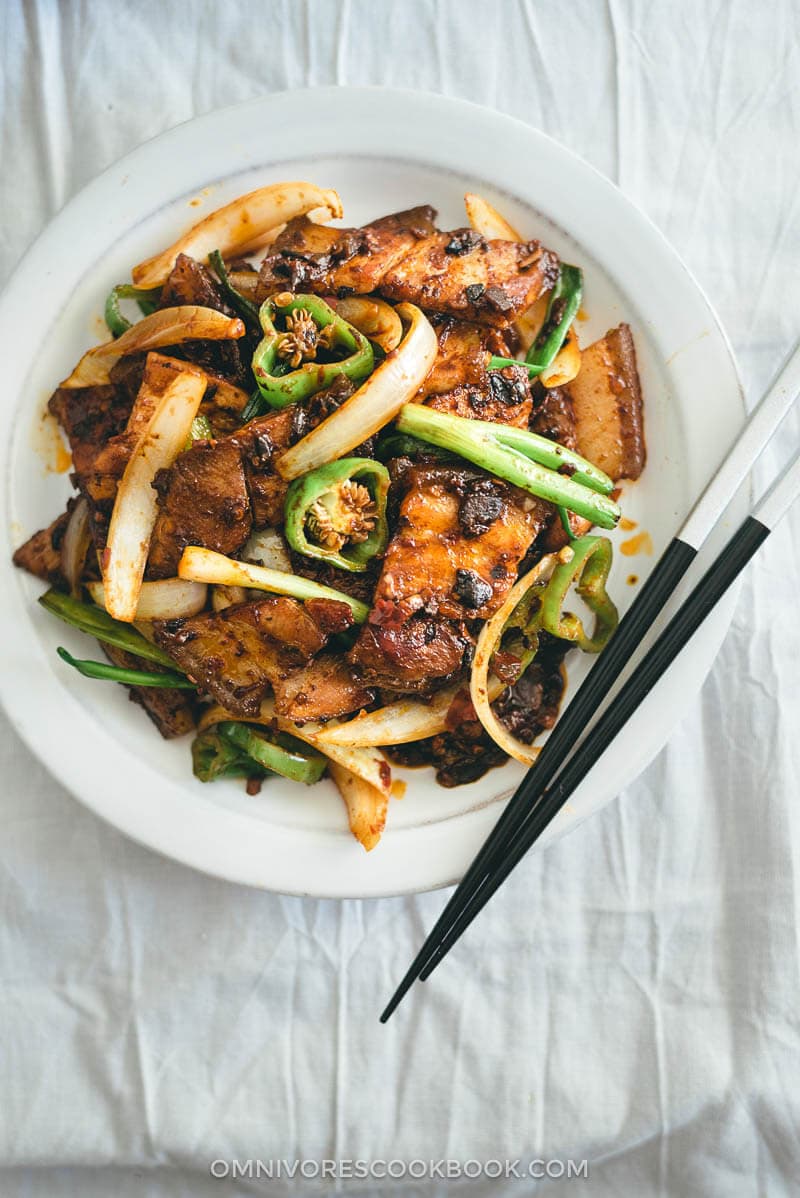 Cooking notes
1. Choose a lean cut of pork belly
The perfect cut for cooking this dish is to use pork belly that has well-layered fat, but contains at least 60% to 70% lean meat. You can find the cut in Asian markets, or sometimes in Costco and Whole Foods. Sichuan chefs always use the cut with the rind on, which creates a slightly chewy texture that Chinese people love. If you do not like the rind, or the pork belly you find is too fatty, trim the rind and a part of the fat off, so your dish won't end up too greasy.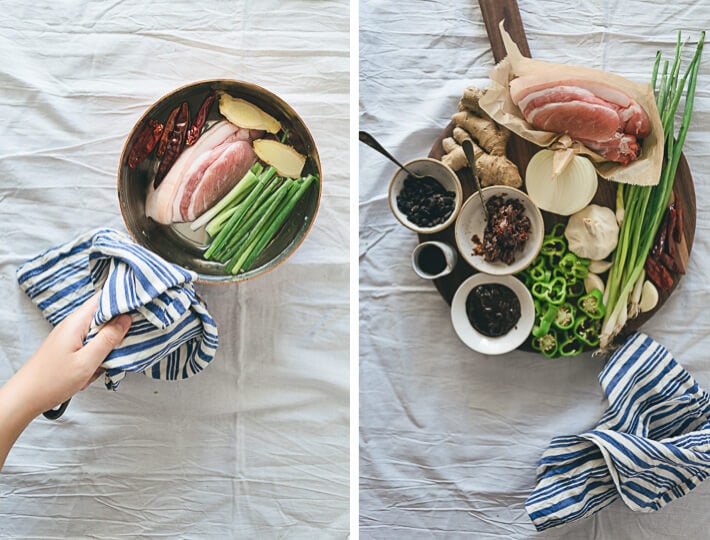 2. Why you cook twice and how to do it properly
After some research, I found the reason behind cooking the pork twice is to make the dish less greasy. The goal of the simmering is to cook through the fat part without overcooking the lean part. So during the stir fry process, it melts more fat quickly to make the pork less heavy without making the lean part too tough.
To simmer the pork, always add plenty of aromatics so the pork will be extra fragrant. You can change up the spices in the broth, using garlic, Sichuan peppercorns, and Shaoxing wine. When boiling, turn down the heat immediately and cook covered. It is even better if the fat part is completely cooked and the lean part is still pink after the simmering.
3. How to slice the pork to get the desired texture
I've tried slicing the pork thinly and slightly thick. My husband raised both his hands voting for the thicker cut that has a tender texture.
When you use a fattier cut (50% fat or more), make thinly sliced pork (1/8-inch or 3-mm) so you can render more fat and crisp up the pork. However, this method might turn the lean part very tough if you cook the pork a bit too long.
My solution is to choose a lean cut (20% to 30% fat), and create a thicker slice (1/4-inch or 5-mm). At the end of the cooking, you will get tender pork that is slightly crispy with the right amount of fat without making the dish too heavy.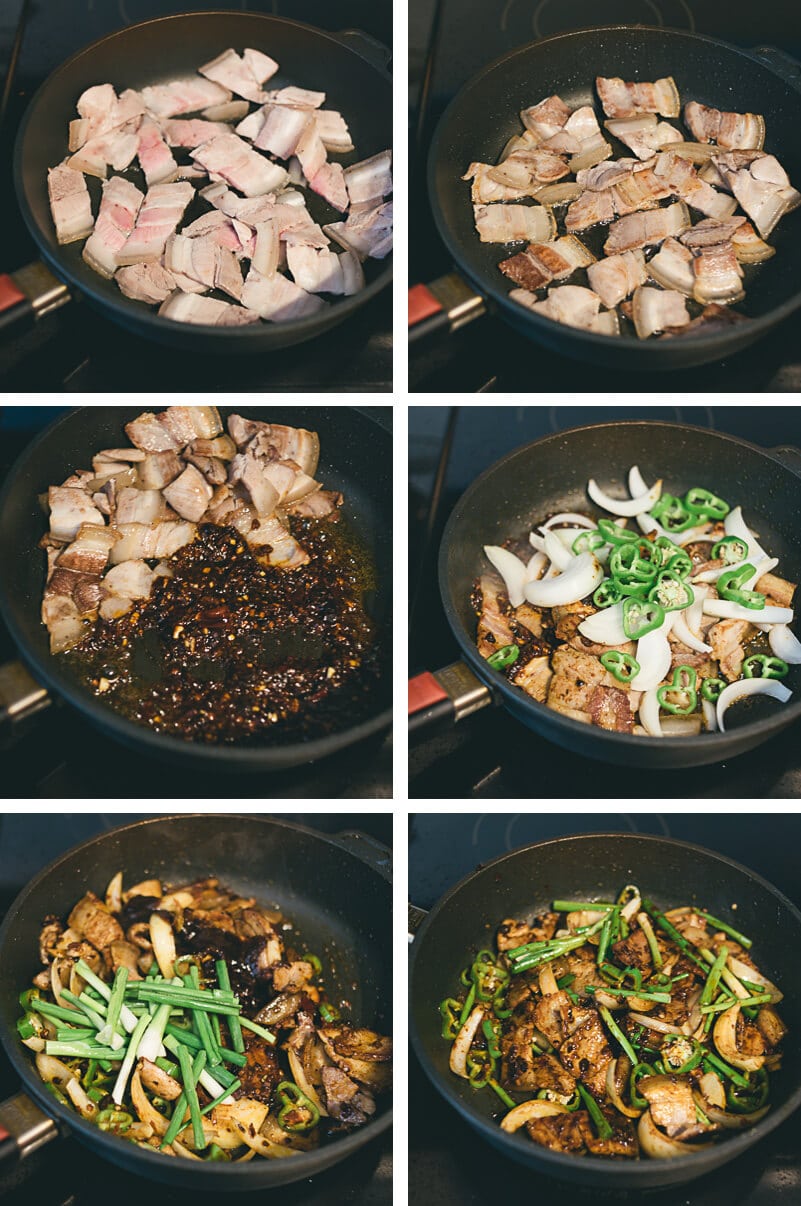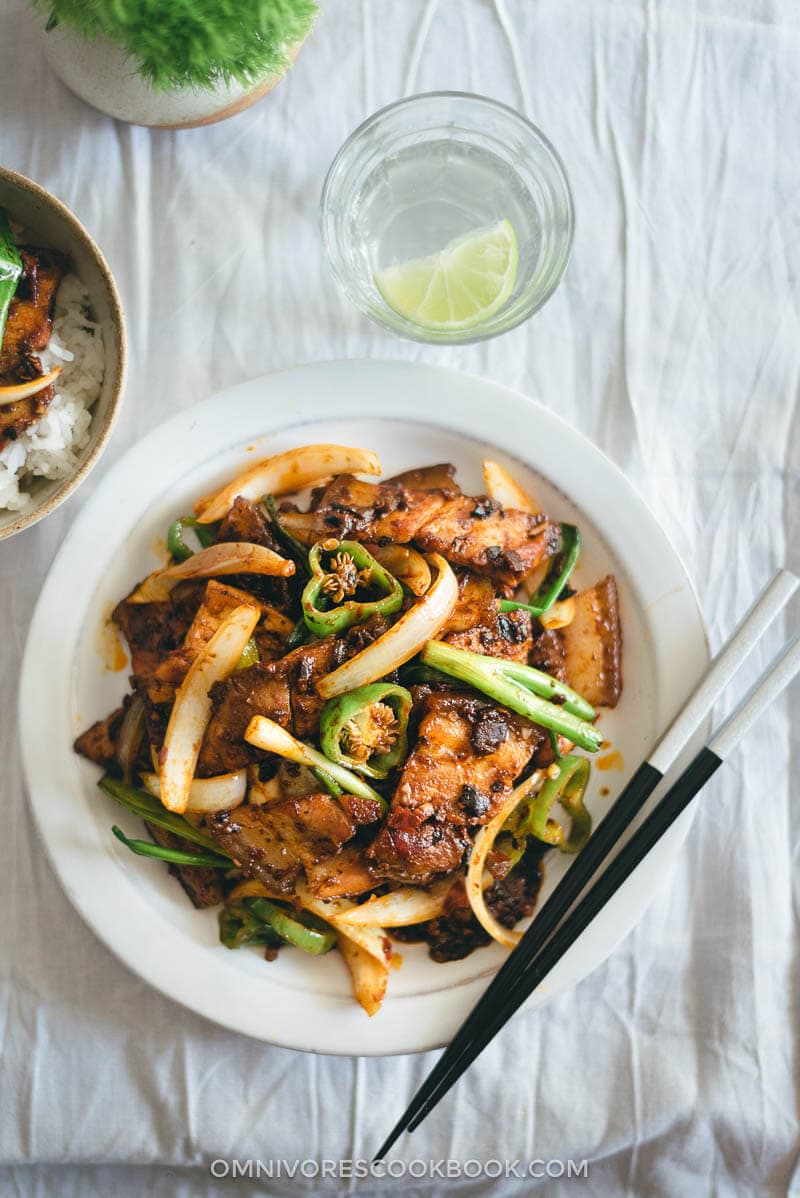 4. Do add some veggies
Although the authentic version only uses scallion, I prefer to add onions and peppers to cut the grease, like many Chinese restaurants do these days. These veggies will taste so flavorful because of the rich sauce, and I sometimes like them even more than the pork! You can add celery and carrots to the dish too. Any combination works as long as the total amount of sliced veggies is about 2 cups.
5. Mise en place
When you are ready to start the stir fry, you should have five plates near your stove.
Sliced and dried pork belly
Two bowls of sauces
Green onion
2 cups mixed veggies of your choice
This setup uses the least plates and makes it very easy to stir fry without forgetting to add an ingredient. We need to use two bowls for the sauces, because one part requires longer cooking time and the other part burns easily if cooked for too long.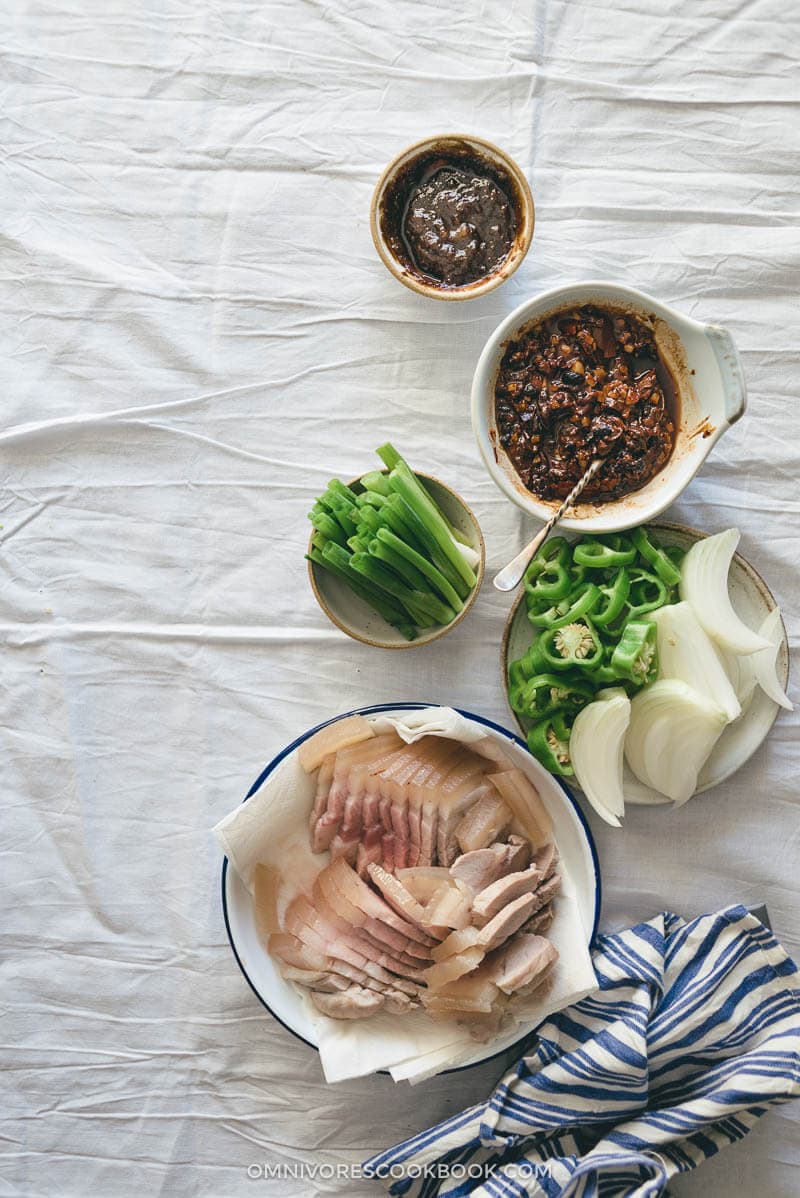 Don't like pork belly?
1. How to use the sauce to cook everything
I totally get you if you prefer to use a leaner cut of meat. I do too!
The twice cooked pork sauce is SO GOOD, that it's kind of wasteful if you only limit it to pork belly. Here is what you could do to make faster and healthier dishes.
Use 1 pound (450 grams) chicken, lean pork, beef, shrimp or tofu to replace the pork belly.
Slice the meat to 1/4-inch or 5-mm pieces; marinate in 1 tablespoon oil with 1 teaspoon cornstarch. Or use this method when you cook with tofu.
Skip the simmering and follow the recipe from step 4.
That's it! Now you can make a quick dinner with this sauce by using any protein of your choice!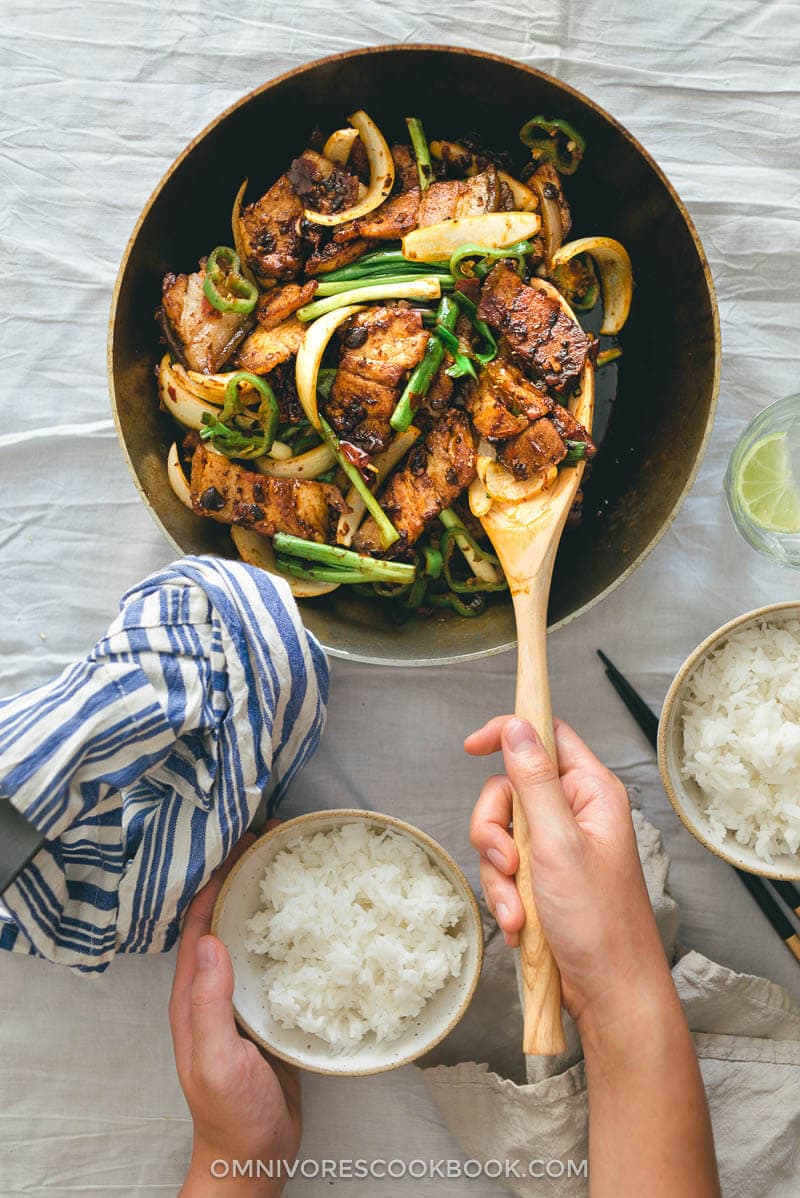 2. How to make the sauce in bulk
If you've been following my blog, you'd know I'm a big fan of cooking stir fry sauce in bulk ahead to make faster dinner later. Scroll down to the end of the post (past the twice-cooked pork recipe) and you will find how to make four servings of this scrumptious sauce.
You can use this sauce to make other stirred fried meat and veggies. Make sure to add the sauce at the end of your cooking so it doesn't burn.
Or you can use the sauce on roasted meat and veggies too. Try it once with roasted potatoes and you'll thank me later 😉
For more information on how to cook stir fry sauce ahead and using it to create a fast dinner, check out my cookbook.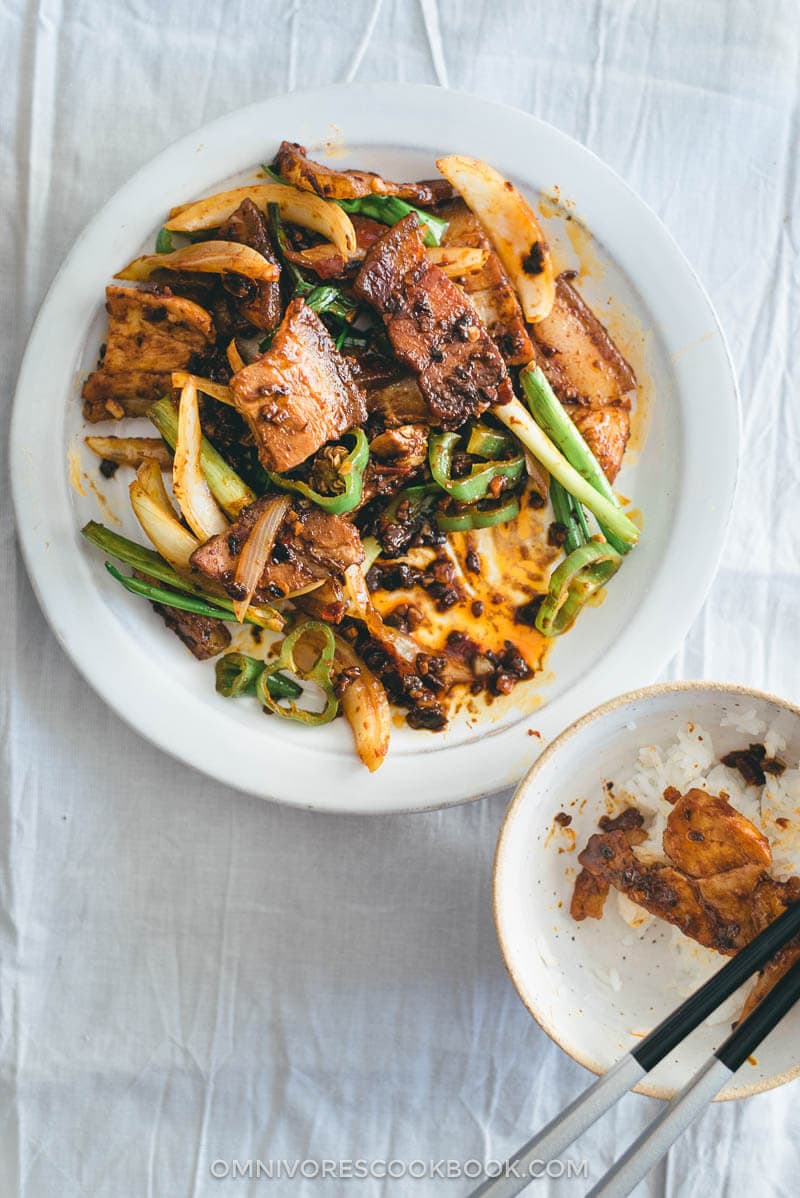 Phew! That's a lot of talking and now it's time to cook the dish! Thank you for reading this long post, and I hope you like my version of twice-cooked pork.
If you give this recipe a try, let us know! Leave a comment, rate it (once you've tried it), and take a picture and tag it @omnivorescookbook on Instagram! I'd love to see what you come up with.
More Addictive Sichuan Dishes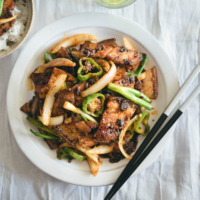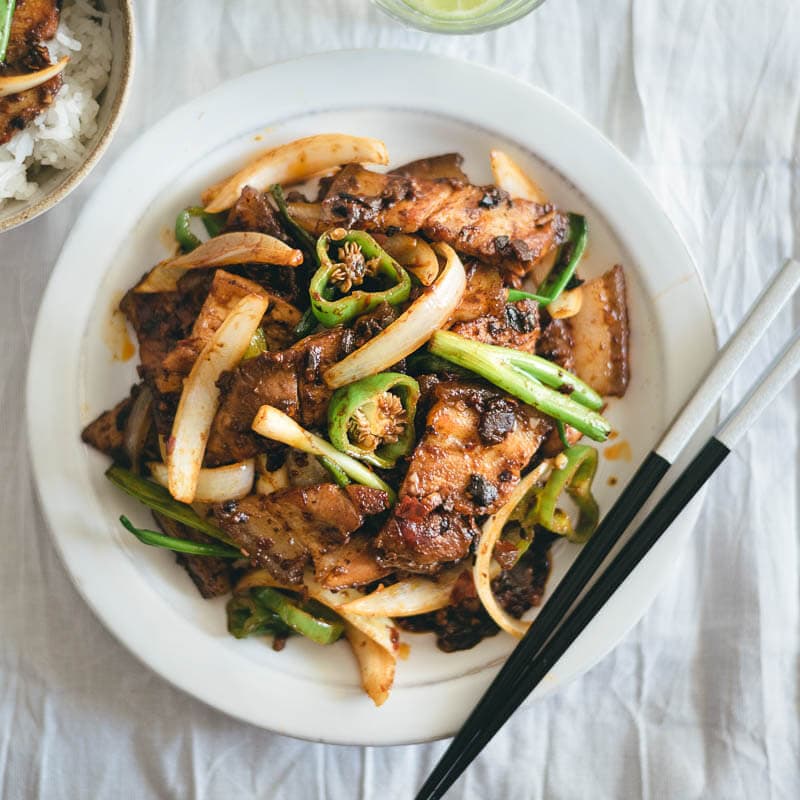 Twice Cooked Pork (回锅肉)
Tender fatty pork cooked in a rich scrumptious sauce that is savory, slightly sweet, spicy, and bursting with umami. This is a detailed guide to help you create that real-deal Sichuan flavor in your own kitchen.
Ingredients
Pork
1

lbs (450 g)

pork belly

(whole piece)

4

chili peppers

, dried

2

green onions

, coarsely chopped

2

slices

ginger
Stir-fry
1

tablespoon

peanut oil

(or vegetable oil)

2

cloves

garlic

, minced

2

teaspoons

minced ginger

1/4

onion

, sliced

4

green onions

, chopped

1

pepper of your choice

(*Footnote 3)
Instructions
Prepare a small pot. Add the whole piece of pork belly, dried chili peppers, green onions, ginger, and cold water to cover 1-inch of the pork. Bring to a boil over medium-high heat. Turn to low heat, cover, and simmer for 20 minutes, until the pork is just cooked through or the lean part is still a bit pink. (*Footnote 4)

Remove the pork from the pot and place on a plate lined with a few layers of paper towel to cool and drain the extra liquid, until you can handle it with your hands. Slice the pork into 1/8-inch (3-mm) pieces. Use more paper towel to dry the pork so it causes less splatter during the stir fry. (*Footnote 5)

While cooking the pork, chop the other ingredients. Mix sauce 1 and sauce 2 in two separate small bowls.

Add oil to a large skillet (or a wok) and heat over a medium heat until hot. Add the pork belly. Cook and stir until the pork turns golden and crispy. Move the pork to one side of the skillet. Your pan should have about 3 to 4 tablespoons of oil left now. (Footnote 6)

Add sauce 1, ginger, and garlic. Cook over medium-low heat until the oil turns red, 1 minute or so.

Turn to medium heat. Mix the pork with the spicy sauce. Add sauce 2, onion, and peppers. Stir and cook for about 1 minute. Add the green onion. Stir a few times just to mix everything together, no more than 10 seconds. Transfer everything to a plate.

Serve hot over steamed rice as a main dish.
Notes
Fermented black beans add another layer of umami to the dish. If you use soy sauce, skip the chopping and mix the sauce directly.

Use sweet bean paste (tian mian jiang) to create the most authentic Sichuan taste. But I find hoisin sauce works in this recipe as well. If you use hoisin sauce, skip the sugar in this sauce.

I like to use anaheim peppers or hatch peppers, because they have a crisp texture and are just spicy enough to cut the grease of the dish. You can use bell peppers as well.

It's very important not to overcook the pork, otherwise, it will turn very chewy after the stir frying.

The pork is easier to slice while it's still warm. It toughens up once it's completely cooled down and can be difficult to cut.

The extra rendered fat is very important in this dish, so your sauce won't dry out. But if you used a very fatty cut, you might render more oil. In this case, dip a few layers of kitchen paper towels attached to the front of a pair of tongs into the pan to drain extra oil. Leave about 3 to 4 tablespoons oil in the pan.
Nutrition
Serving:
1
serving of the 4 servings
,
Calories:
746
kcal
,
Carbohydrates:
11
g
,
Protein:
13.3
g
,
Fat:
72
g
,
Cholesterol:
91
mg
,
Sodium:
514
mg
,
Fiber:
1.3
g
,
Sugar:
6.5
g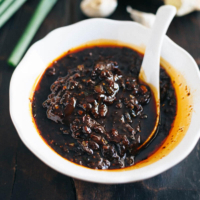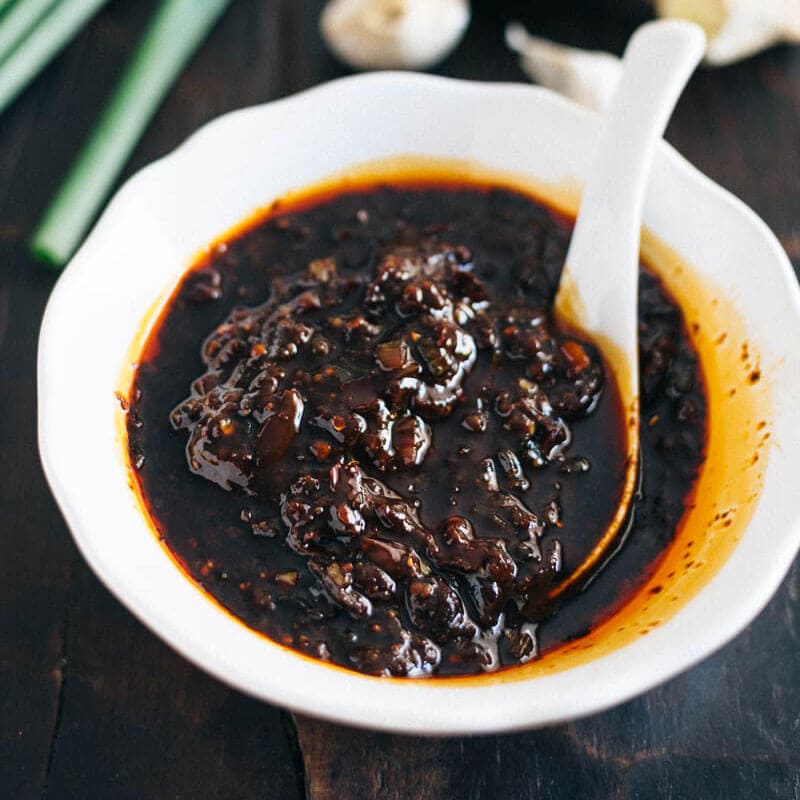 Homemade Twice Cooked Pork Sauce (Bulk version)
A bonus recipe for the twice-cooked pork sauce bulk version. So you can cook any type of protein or veggies of your choice with this addictive sauce.
Instructions
Add oil, doubanjiang, and black bean sauce in a medium size skillet and heat over medium heat until simmering. Turn to low heat. Cook and stir for 1 to 2 minutes, until the oil turns red and the sauce is very fragrant.

Add ginger, garlic and shaoxing wine. Keep stirring and cook for 1 to 2 minutes, to evaporate the alcohol. If the sauce turns a bit dry and starts to stick to the pan, add more water to deglaze, 2 to 3 tablespoons at a time.

Turn off heat. Stir in the sweet bean sauce and sugar, mix well. Transfer the sauce to a bowl to cool off. Store in a clean jar in the fridge for up to 1 month in the fridge or 3 months in the freezer.

Now you can use this sauce in other stir fry dishes, as a veggie dipping sauce, or add it on top of roasted veggies.