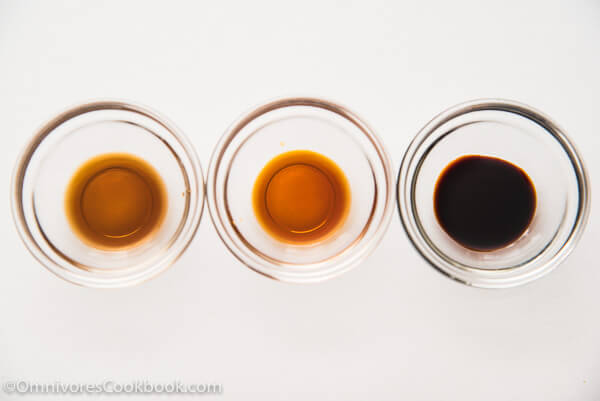 There are three types of soy sauce are in common use – light soy sauce, dark soy sauce and soy sauce.
Soy sauce (酱油, jiang you), the general type that is between light and dark soy sauce, is the most basic ingredient in Chinese and Asian cooking. It is not as salty as the light one, and not as thick as the dark one. I started to use the general type after moving to the US, where the light soy sauce is not always available.
I especially like to use this type in stir fried dishes. It adds better color to a dish without blending in dark soy sauce (less fuss!). You can see this scallion beef stir-fry as an example.
If you do not often cook Asian food and do not want to keep many different types of soy sauce, purchase the general one and you should able to cook 90 percent of Asian food without any problem.
On the other hand, you might find that a lot of authentic Chinese cooking calls for light soy sauce. In this case, you can replace it with the general soy sauce, but you might need to adjust seasoning by slightly adding more salt.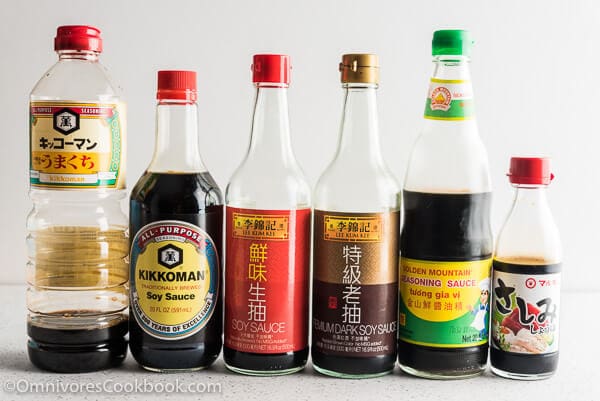 Buy
Soy sauce can be found in Asian market and a lot of supermarkets in the US nowadays. To select good soy sauce, please note the ingredients should ONLY contain soy beans, wheat, water and salt. Some of the flavor enhanced-soy sauces also contain syrup and alcohol. These should always come after the main ingredients. If not, the soy sauce will not taste like the authentic ones and won't bring you the real Asian flavor.
One of my favorite soy sauce is Kikkoman soy sauce. You can find it on Amazon. You can also get the gluten free type here.
Store
Once opened, light soy sauce can be stored in a cool, dark place for up to 6 months. If you seldom use it, it can be stored in the fridge for up to a year.