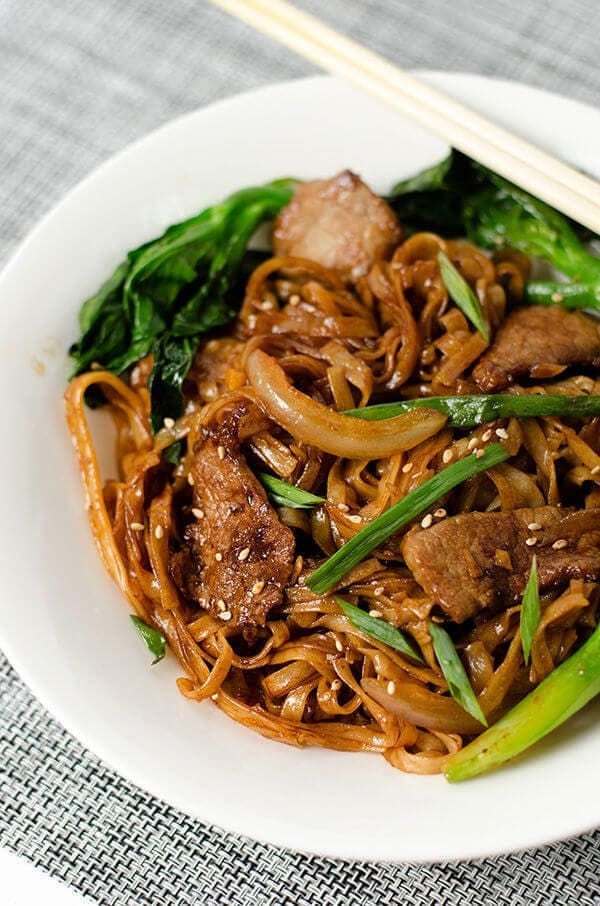 Beef chow fun with Chinese broccoli is rich in flavor, fulfilling in volume, low in calories and balanced in nutrition. The tender and juicy beef, silky and gooey rice noodles, and fresh and crisp broccoli all come together to create a heavenly dish that is hard to resist.
Beef chow fun or stir fried rice noodles with beef (干炒牛河) is a popular Cantonese noodle dish in domestic and overseas Chinese restaurants. It seems like a simple dish, but it requires considerable stir fry skills to make properly. Actually, preparation of this dish is widely used as an entry-level test for someone applying to be a chef in a Cantonese restaurant.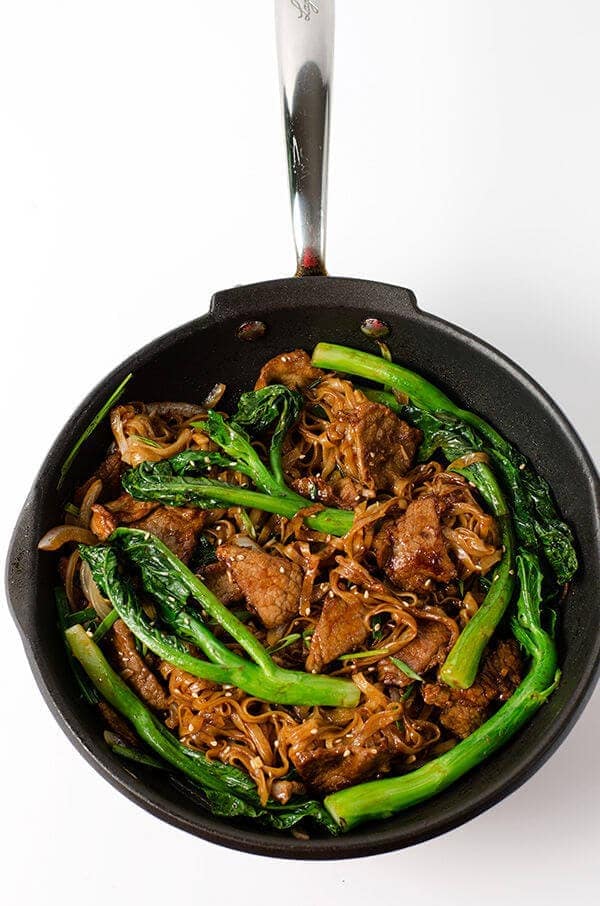 It usually requires a wok and a gas range, so that the noodles will be cooked quickly over high heat. In restaurant kitchens, the chef will hold the wok in one hand and toss the noodles into the air repeatedly, so the sauce will be mixed evenly without breaking any of the noodles. However, if you do not have a wok with a single handle, or don't have the necessary arm strength to perform the feat, wok tossing will look very daunting. That's why I have been experimenting with a flat skillet, trying to find an easier way to cook this dish in the home kitchen.
Good news! I found that it's totally possible to cook super delicious beef chow fun like the kind you'd find in a restaurant. I made a video below to help you walk through the cooking process.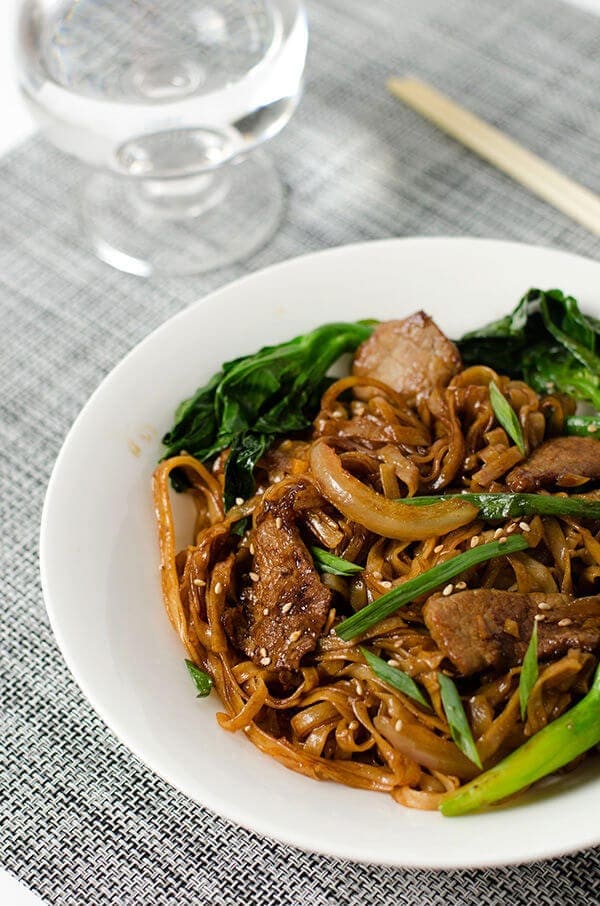 The tricky part is to stir fry the rice noodles without them sticking to each other or overcooking it into a mush. I have several tips to help you avoid such cooking failures.
Rinse rice noodles in warm water thoroughly without over cooking beforehand. I usually use half boiling water and half cold water to soak the noodles for about 10 minutes. You should taste a noodle after 8 minutes to test the doneness. The rice noodles should just be cooked outside and still a bit tough inside.
Rinse noodles under cold water to stop cooking process.
Toss the noodles several times with a spoonful of sesame oil (or vegetable oil) before adding them into the skillet, so they won't stick together in the stir frying process.
Swirl a large spoonful of water over the noodles if they start to feel sticky during stir frying.
Use a pair of chopsticks to stir gently, instead of using a spatula.
Add the rest of the ingredients and cook quickly.
I admit this is not the most authentic way to cook rice noodles, but it's hassle-free and very practical in a less equipped kitchen. I hope you find the recipe and tips helpful, because this is such a tasty dish that I truly wish everyone who wants to try will get great results!
Hope you enjoy the recipe and the short video! If you are new to Chinese cooking, don't forget to check out my YouTube channel. I have a collection of cooking videos that is focused on Chinese cuisine, which will help to get familiar with preparing Chinese dishes in a very short time.
Beef Chow Fun with Chinese Broccoli
Ingredients
150 grams beef sirloin or tenderloin
2 tablespoons light soy sauce
1 tablespoon Shaoxing wine (or rice wine)
1 tablespoon cornstarch
1 tablespoon dark soy sauce
1 teaspoon sugar
150 grams dried rice noodle
2 tablespoons peanut oil (or vegetable oil)
1 tablespoon minced garlic
1 teaspoon minced ginger
1/4 white onion
20 grams green onion, chopped
150 grams Chinese broccoli, tough end removed
Instructions
Slice beef thinly, each piece being bite sized and 3 to 4 mm (0.1 to 0.15 in) thick. Place sliced beef in a small bowl. Add 1 tablespoon light soy sauce, 1 tablespoon Shaoxing wine and 1 tablespoon cornstarch. Use a hand to gently mix the beef and the added ingredients, until the beef is coated with a thin layer of the mixture. Seal the bowl with plastic wrap or a lid and marinate for 15 minutes at room temperature, or up to 3 hours in the fridge.
Combine 1 tablespoon light soy sauce, 1 tablespoon dark soy sauce, 1 teaspoon sugar in a small bowl. Mix well and set aside.
Cook rice noodles according to the instructions until almost cooked through, but still a bit chewy inside. Run rice noodles with cold water and drain.. To avoid sticky rice noodles during stir fry, add 1 teaspoon sesame oil on the drained noodles. Gently toss noodles by hands to separate and evenly cover them with a thin layer of oil.
Add 1 teaspoon of oil into the skillet and turn back to medium high heat. Add Chinese broccoli into the skillet and stir with a spatula. When broccoli is evenly coated with oil, add 2 tablespoons water, cover with lid immediately and steam over medium heat until broccoli is cooked through, about 1 to 2 minutes. Transfer the broccoli to a plate and set aside.
Heat 1 tablespoon of oil in a non-stick skillet on medium high heat until warm. Place beef slices into the skillet one at a time. Do not let the slices overlap. Cook until the bottom side of the beef is seared and has turned light brown, about 1 minute. Flip the beef and cook until the other side turns light brown, but so that the beef is still rare inside, 30 seconds to 1 minute. Turn to lowest heat and transfer beef to a plate immediately.
In the same skillet, add 1 teaspoon of oil and turn to medium heat. Add garlic, ginger, onion and green onion. Stir continuously for 1 to 2 minutes, until onion turns soft.
Add noodles (or rice noodles) into the skillet and drizzle 1 teaspoon of oil onto the noodles. Immediately use a pair of chopsticks to stir the noodles, to mix them with oil and vegetables. If the noodles start to get sticky, swirl in 2 tablespoons water. Add the beef back into the skillet and pour the soy sauce mixture (from step 2) over the beef. Immediately use a pair of chopsticks to stir several times. Add broccoli back into the skillet and mix everything well together. Turn off heat immediately.
Transfer noodles to a plate and serve warm.
The nutrition facts are calculated based on 1 of the 2 servings generated from the recipe.