A plate of crispy mala chicken smothered in chili peppers, Sichuan peppercorns, and tons of aromatics to create an electrifyingly hot numbing sensation that's so addictive. Take the challenge if you can handle the heat!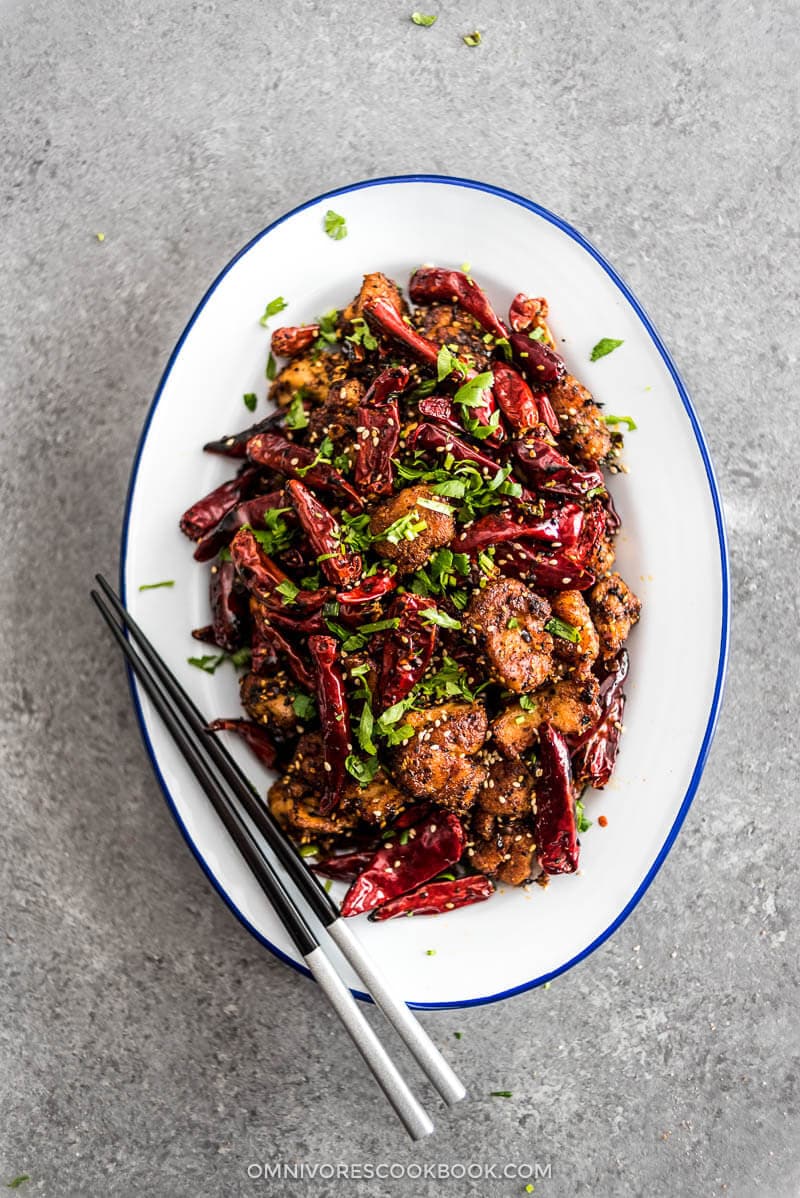 When introducing someone new to Chinese food to real deal Sichuan Mala Chicken, I'd describe the dish as "fried chicken covered in hot sauce". So it won't completely scare them away.
During my years working in Beijing, I took every single foreign colleague to one of my favorite Sichuanese restaurants, Yu Xiang Ren Jia (渝乡人家). Mala Chicken is one of the dishes that always appeared on our lunch table. Although my initial goal was to introduce genuine Sichuan food to the uninitiated, I confess that secretly I just loved my colleagues' stunned faces on seeing the giant plate of chili peppers served in front of them. After staring at the plate for a few moments, they would cautiously dig up a piece of hot chicken with suspicion written on their brow, fearful that it would burn a hole in their stomach.
And you know what? My guests always ended up loving this dish.
Sichuan Mala Chicken is spicy, but doesn't taste as spicy as it looks. Sichuan cuisine pursues truly bold flavors that are well-balanced. In this chicken dish, the balance comes from the spiciness and smokiness of chili peppers, the numbing tingling Sichuan peppercorns, the nuttiness of sesame seeds, savory aromatics, salt, and sugar. The dish offers a deep savory taste by using heat as a medium. It is not like pure, tear-inducing Thai-style spiciness.
Hiding the chicken under a mountain of peppers is just the authentic Sichuan way to display the food. The nutty, smoky fragrance from the vibrant peppers reach your nostrils before your chopsticks, making your mouth water. You'd suddenly feel ten times hungrier.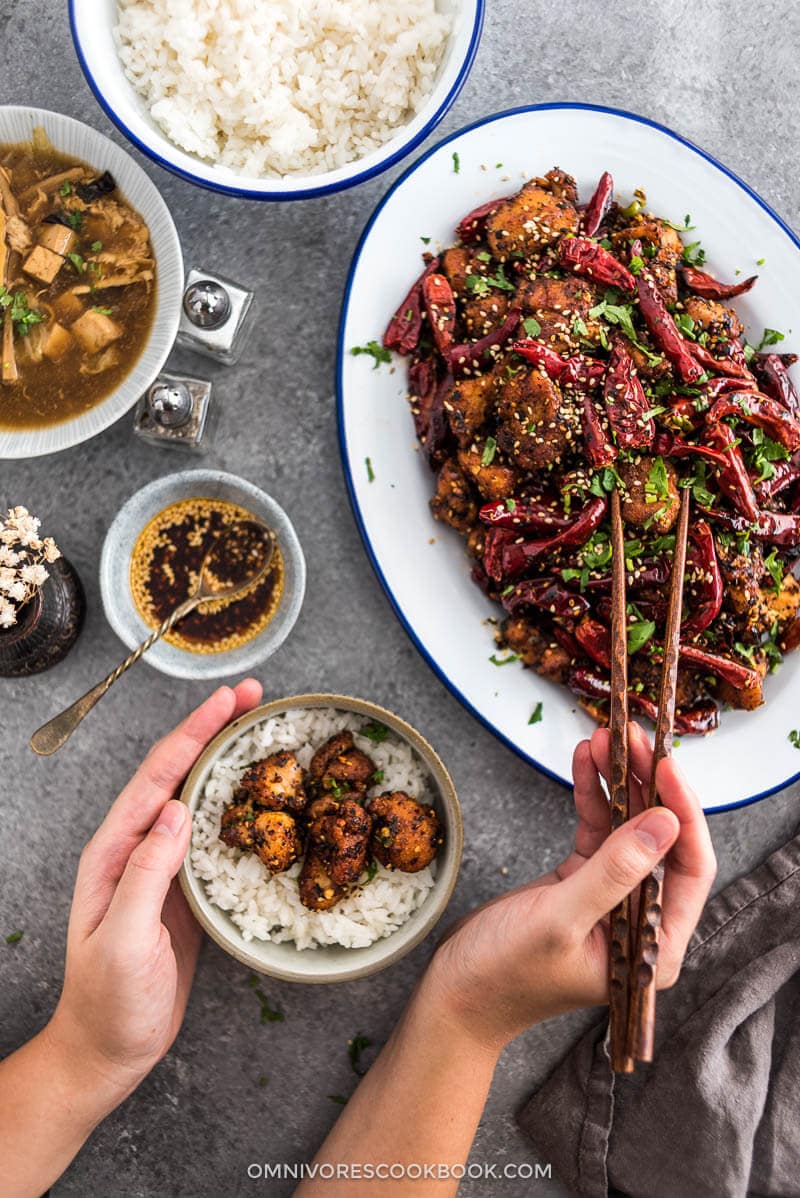 Fun facts about Mala Chicken
Here are some fun facts about authentic Mala Chicken that we serve in China:
Chinese chefs usually use tiny bone-in chicken pieces to cook this dish. It takes some effort to pick the meat from the bones, which makes eating it extra satisfying.
The amount of chili peppers in the dish far exceeds the chicken, so you need to spend quite some time digging through in order to find a chunk of meat.
Tons of numbing, tingling, whole Sichuan peppercorns are used. You need to keep a sharp eye and shake off these fiery little corns before placing a piece of chicken on your tongue, otherwise your tastebuds will completely shut down for the next 10 minutes.
Sounds like fun?
If your answer is YES, congratulations! You just passed the test. Welcome to our hardcore Chinese food club — let's party, Mala style! 🙂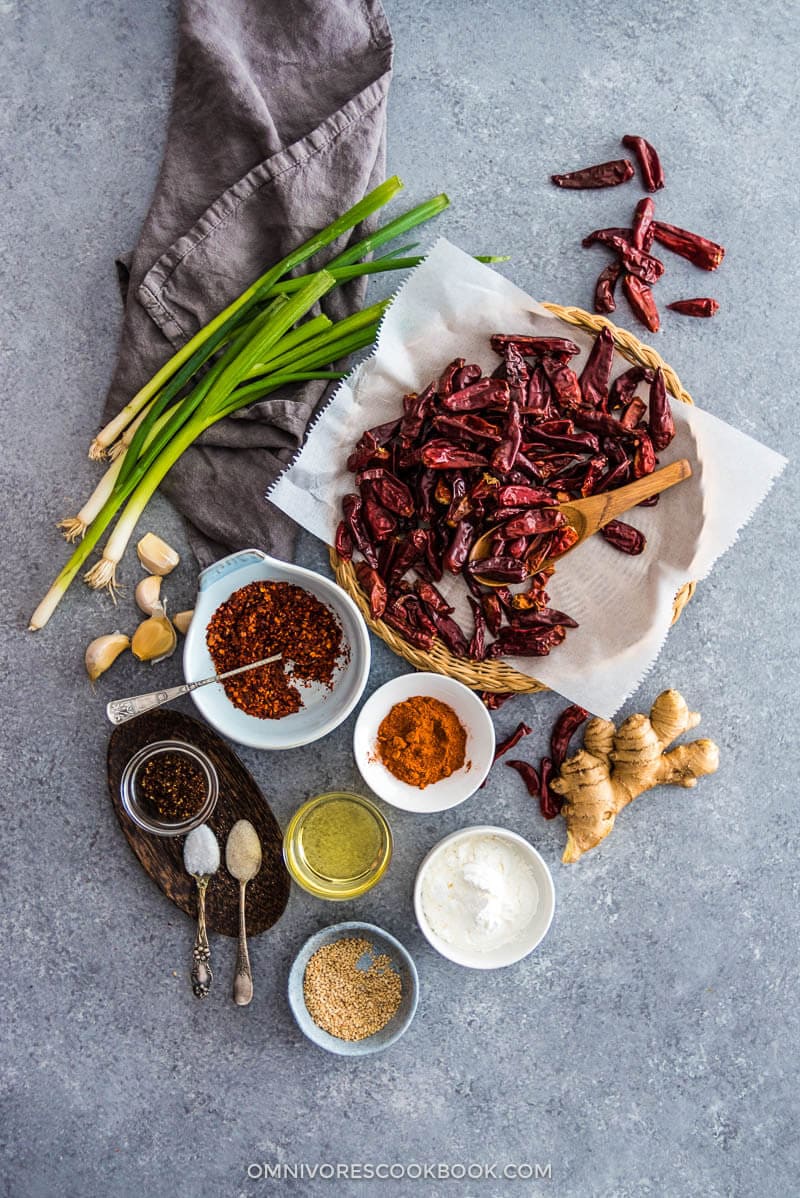 Introducing Real Sichuan Ingredients
To cook real-deal Sichuanese food, Sichuan chili peppers and Sichuan peppercorns are the two irreplaceable key ingredients.
There are a few types of Sichuan chili peppers that are commonly used in Sichuan cuisine.
In the recipe for Mala Chicken, chefs usually use medium heat Bullet Head Chili (Zi Dan Tou, 子弹头) and control the heat level by leaving the peppers whole for milder dish, or slice them to expose the seeds for a much spicier dish.
Sichuan peppercorn (Hua Jiao, 花椒) is another key ingredient that you might not be familiar with. Fresh Sichuan peppercorns have a pungent aroma that lingers around the nose. Its taste is almost indescribable: numbing, tingling and somewhat refreshing like mint. These corns add a savory, smoky and slightly citrusy flavor to a dish that is what makes it genuine Sichuan food. I consider it even more important than Sichuan chili peppers, truly distinguishing the dish and giving it a character unlike anything else.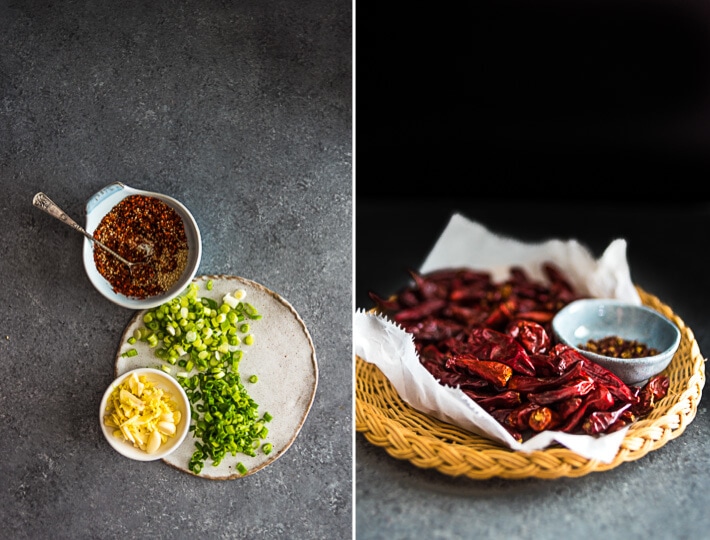 If you're ready to cook up some authentic Mala Chicken or some other Sichuan dishes, order some premium Sichuan peppercorns and chili peppers now. You'll be surprised how good your dish turns out simply by using fresher spices.
Why this recipe
To keep this dish authentic yet practical to make at home, I made a few minor tweaks based on Taylor's recipe:
Shallow fry the chicken instead of deep-fry, so you only need 1/3 cup oil instead of 3 cups.
Adjust the spiciness to a milder degree, so most of your guests can handle the heat of the dish.
Adjust the workflow to adapt the recipe to an electric stove, so you won't burn anything.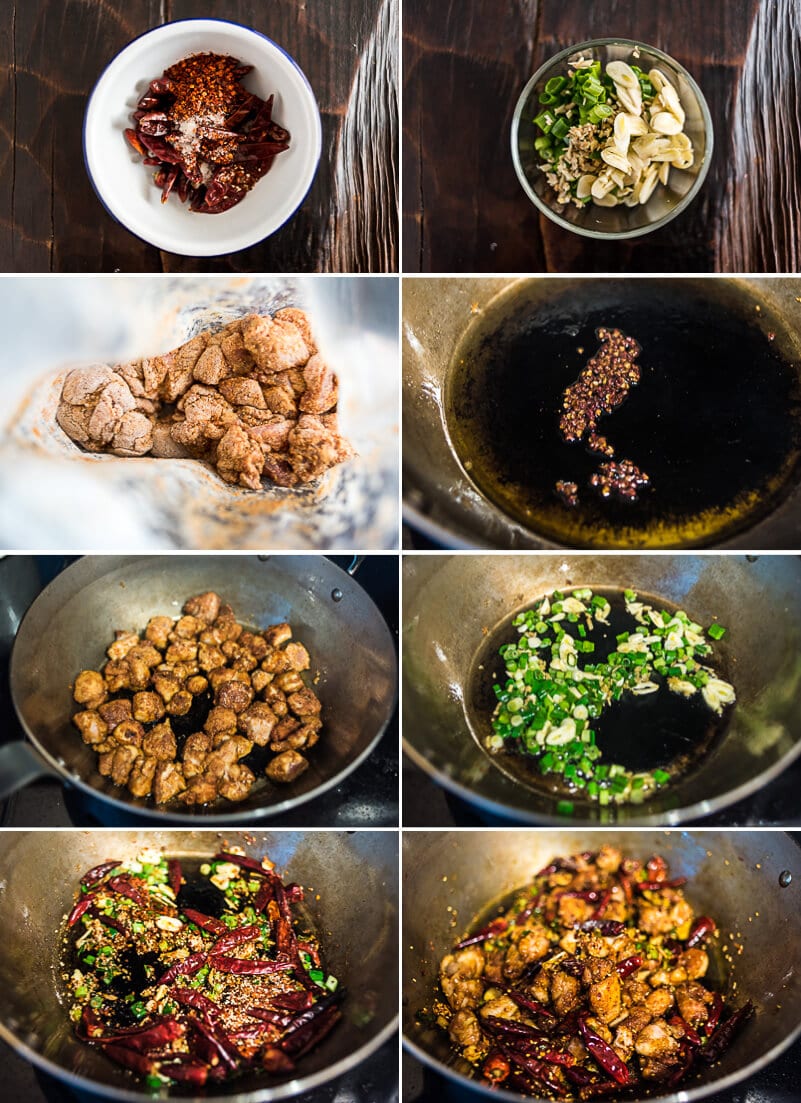 How to serve
A bowl of steamed rice is the default side dish. I also highly recommend to serve another cold appetizer or a light vegetable dish, so you have something to counterbalance the hot chicken.
Here are some great options for appetizers:
Here are some side dish options:
If you want to really surprise and impress your family or friends on a Sunday dinner gathering, serving the real-deal Sichuan Mala Chicken is 100% the way to go!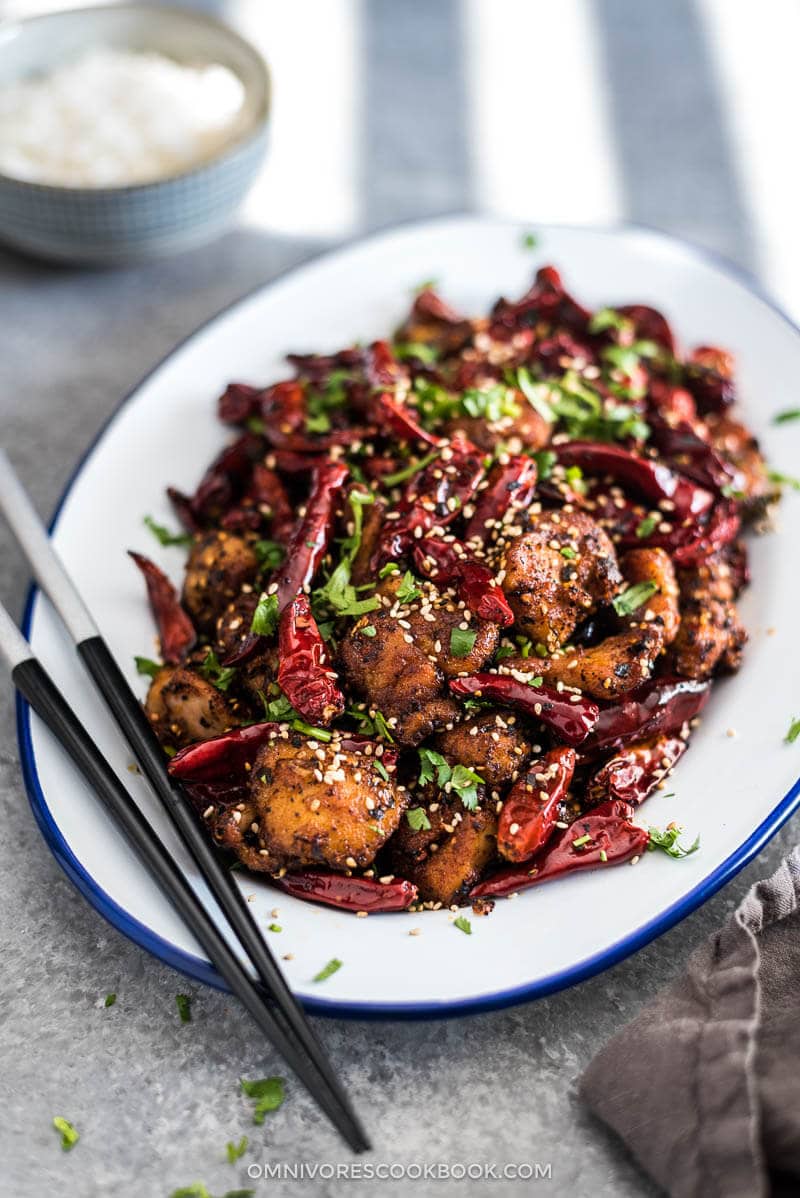 Lastly, do check out my big announcement about The Mala Market, where you can get the hard-to-find premium Chinese spices and Sichuan specialities delivered to your door.
If you give this recipe a try, let us know! Leave a comment, rate it (once you've tried it), take a picture and tag it @omnivorescookbook on Instagram! I'd love to see what you come up with.
Want to Know More?
Receive our 5-Day Chinese Cooking Crash Course & Recipe Updates! Subscribe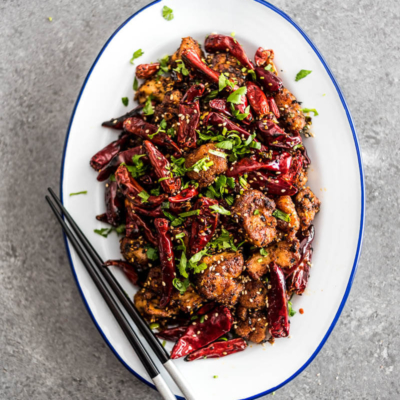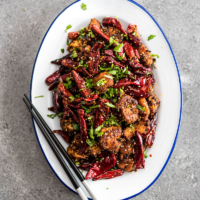 Addictive Sichuan Mala Chicken (辣子鸡, La Zi Ji)
Ingredients
Instructions
Combine chicken pieces, Shaoxing wine, and soy sauce in a bowl. Mix well and marinate for 10 to 15 minutes. If you're planning to marinate the chicken longer, cover with plastic wrap and transfer to fridge overnight.

Add cornstarch, cayenne powder, ground Sichuan pepper and salt in a large sealable bag. Shake to mix well.

Mix all the spice mix ingredients in a big bowl.

Mix ginger, garlic, and green onion in a small bowl.

When you're ready to cook, drain the chicken pieces and discard the marinating liquid. Transfer the chicken pieces into the bag with the cornstarch mixture, and shake until they are lightly coated.

Heat a wok (or a large deep skillet) over medium-high heat until wisps of smoke start to rise. Add oil. (Or add oil in the pan and heat together if using a nonstick skillet.) When oil is hot, spread out the chicken pieces without overlapping (*Footnote 5). Use a pair of tongs or chopsticks to separate the chicken pieces, and allow the chicken to grill undisturbed. When the bottom of the chicken turns golden brown, flip to cook the other side until golden. Stir a few times to make sure the surface of the chicken is evenly cooked.

Remove your pan from the stove, turn to medium heat, then transfer the cooked chicken to a large plate. This step will let your hot pan cool off a bit, so you won't burn anything later.

You should still have some oil in the pan. If not, add 2 tablespoons oil.

Add the Sichuan peppercorns. Cook and stir until the color turns dark brown. Remove them from the pan and save for later. (*Footnote 6)

Add the garlic, ginger and green onions. Stir a few times to release the fragrance. Stir-fry vigorously from now on, as you don't want anything to burn. Add the bowl of spice mix with the peppers. Quickly stir until the peppers just turn a bit darker without turning black.

Add back the chicken. Cook and stir until well mixed. Remove the pan from stove and transfer everything to a plate with chili peppers prominently displayed. Top with cilantro for garnish, if using.

Serve hot (and 'hot'!) over steamed white rice as a main.
Notes
The original recipe calls for 1 tablespoon cayenne chili powder and 1 tablespoon roasted ground peppercorns, which can produce a very hot dish depending on the product you use. I reduced the amount and the result was great for my taste. Note: you need to increase or decrease both spices, so the flavor of the dish stays balanced.
Although many Sichuan recipes suggest dry toasting Sichuan peppercorns and grinding them, I personally prefer to cook them in a bit of oil until turned brown, drain the oil, then grind the Sichuan peppercorns. It eliminates the raw numbing zing and gives it a more rounded aroma. The peppers will be less potent so you can use more to add fragrance.
In the original recipe, Taylor followed the authentic way of cooking, adding each spice separately so the different types of peppers are toasted just to the right degree. However I found this process very challenging on an electric stove without burning anything, so I decided to mix the spices and add them all at once.
Choose fat and large chili peppers that have a milder taste. If you cannot find Sichuan chili peppers, you can alternatively use Korean chili peppers. Do not use Thai Bird's eye chili peppers. I know 3 cups sounds like a LOT of peppers if you cook the dish the authentic way. Alternatively you can use 1 cup chili peppers, which affects the dish's appearance but not the taste.
You might need to cook the chicken in two batches if using a smaller pan.
In China, whole Sichuan peppercorns are always left in the dish. However you do need to pick them out of the dish when eating because it's not very pleasant if you accidentally bite into them -- I infused the peppercorns in the oil and then removed them. Do not throw away the cooked Sichuan peppercorns; instead, blot the residual oil with paper towels and grind them into powder. Store in the fridge and use in any recipe that calls for toasted ground peppercorns.